Dinamo Zagreb: The Most Underrated Academy in Europe
Winning 13 out of the last 14 Croatian top-flight league titles, Dinamo Zagreb have continually impressed since taking back the mantle as the Balkan nation's top dogs in 2005.
Now regularly featuring in the Champions League group stages, the Croatian powerhouse have begun to force their way into the European elite, highlighted this season with their brilliant 4-0 triumph over Atalanta and two entertaining draws against Ukrainian champions Shakhtar Donetsk in the group stages.
With a real lack of money in the Hrvatski Telekom Prva Liga due to its smaller reputation, Dinamo have instead largely invested in their youth academy that now stands as one of the best in Europe. 
Photo: AFP
Founded in 1945 from the ashes of 1. HŠK Građanski, Dinamo Zagreb are Croatia's most successful club and enjoy an illustrious history within the world of football.
With a storied history playing firstly in the Yugoslav First League before moving to the newly established Croatian top-flight in 1992, Dinamo have gone on to win the Croatian Football League 20 times, the Croatian Cup 15 times and are the only Croatian side with European silverware, beating Leeds United in the final of the 1966-67 Inter-Cities Fairs Cup. 
Unlike most other European league leaders though, 'Modri' primarily rely on their youth recruitment and esteemed academy set up for success as opposed to spending tens of millions in transfer fees.
Dinamo Zagreb's first ever junior side was formed in 1945 when the club was forced to restart life away from 1. HŠK Građanski as the new communist government at the time considered the club to be nationalistic and fascist. As a club, time and effort was spent to train youngsters in an effort to bolster their first team squad.
Photo: HŠK Zrinjski – 1. HŠK Građanski Zagreb 2:3, Mostar, 1940.
By 1950, under the management of former star Mirko Kokotović, the junior side had already won the treble, taking the Zagreb, Croatian and Yugoslav championship crowns. Two years later, the Dinamo experienced its true first 'golden generation' whilst under the management of Branko Horvatek which proved to be the building blocks for the club's modern-day academy. 
Dinamo Zagreb's now-famous academy, also known as Hitrec-Kacian, was founded properly in 1967 with Horvatek being elected as its first director. Enjoying even more success in the late 1960's and early 1970's across the Balkan states, the academy became a destination for some of the best coaches from the area.
In the modern era, they boast ten teams across various age groups. Starting at the under 8 age group, the academy works with age groups up to the oldest players at the under 19's level, the under 19 team in particular now enjoys regular appearances in the UEFA Youth League.  
In fact, since the formation of the Croatian Football League in 1991, Dinamo Zagreb have enjoyed huge success especially in its U17's and U19's age groups who between them won 15 league titles by 2010. Since the mid-2000's, the youth academy has regularly been hailed as one of the best in Europe and has seen their youth teams begin to win tournaments on an international scale against some of the biggest clubs in the world. 
In 2011, alongside Barcelona, Inter Milan, Sporting Lisbon, Ajax and Arsenal, the Dinamo Zagreb Academy was awarded one of the 6 Best Youth Academies in Europe by UEFA and it's not difficult to see why with a little research. With notable recent alumni including Luka Modrić, Mateo Kovačić and Dejan Lovren, the club to this day is still producing some of the best players in Europe, if not the world. 
Photo: Reuters
Sat in the shadow of Stadion Maksimir, the academy sits in the northeastern area of Zagreb. With a population of around 800,000, Zagreb is one of the biggest metropolitan areas in Eastern Europe offering a large number of candidates who could make the journey to Dinamo's esteemed academy, but the club's youth players don't all come from Zagreb.
Dinamo and their recruitment staff have grown the expert ability to poach youngsters from other Croatian sides, often bringing them in at a young age for a nominal fee before developing the players and selling them on for profit. 
Romeo Jozak, the former Sports and Academy Director for Dinamo Zagreb, stated during his time with the club:
"A lot of credit must go to the coaches, but we have also shown a good eye for recognising talent – we can't afford to miss any talented players. A couple of years ago, our academy was recognised as one of the best six youth schools in Europe, along with the likes of Barcelona, Inter, Arsenal and Sporting. We work with a budget of around €1m a year, while the other clubs have up to €8m to spend."
Consistently producing some of the best talent in Europe, Dinamo have excelled the careers of many young players at their academy by honing their skills over years of training. With some of the best youth coaches on the continent now working at Dinamo, it's easy to see why most young Croatian footballers want to move to the club's academy at some point in their development as youth players.
Photo: Getty
The academy itself has certain objectives that it tries to reach for all players. These include helping the youngsters to be happy in sport, teaching youngsters the process of developing a healthy lifestyle, teaching responsibility in school and training their players to be good people in the community.
With a clear path to the first team, as Dinamo rely heavily on their youth academy for a first team squad, a high percentage of youngsters who walk through the academy's doors will go on to play for the senior side at some point.
Per an ECA report in 2013, Dinamo aim to integrate two players from every age group into the first-team squad at some point in their development. With over 200 youngsters training with the club, reports suggest that the club spends around €1.2 million a year on their academy.
Between 2008 and 2013, the club enjoyed their most recent golden generation raising over €50 million from the sales of some of the most talented young stars in club history. Dinamo genuinely embrace the fact that they are a selling club however, but despite that the side's management always aim for 50% of their squad to be made up of homegrown talent. 
Former Croatia coach Mirko Jozić stated; "Lots of clubs can learn from the way Dinamo Zagreb work with young players. They have no need to worry about their future."
Dinamo Zagreb's Recent Alumni
Luka Modrić
There's only one player to start with when looking at Dinamo Zagreb's recent academy players: Luka Modrić. A young child during the Croatian War of Independence, Modrić and his family were forced to flee their hometown of Modrici in 1991 and became refugees as a result, spending most of the remainder of his childhood living in hotels in Zadar.
Photo: Goal
The former Dinamo player recalls the period as a tough time for him and his family and explained it as shaping his life for better and for worse. During his time in Zadar as a refugee, he began to play football in the hotel carpark as an outlet and in 1992 began primary school and joined NK Zadar's sporting academy. 
Supported by his family, despite them having little money in the war-torn nation, Modrić began to progress on the field with NK Zadar under the tutelage of head of the youth academy, Tomislav Bašić. Although not signed by Dinamo's fierce rivals Hadjuk Split who deemed the playmaker 'too young and light, Bašić soon engineered a move for Modric to the Croatian capital and at the age of 16 he joined Dinamo's world-class youth academy. 
Spending five years in total with the Croatian champions, Modrić first spent a year at the academy, honing the skills needed to play as a box-to-box midfield. In an effort to get him some game time, in 2003 he was loaned to Bosnian side Zrinjski Mostar where he would be named as the league's player of the year aged still just 18.
The following season Modrić was again loaned out, this time to Croatian outfit Inter Zaprešić who he would help finish second and qualify for the UEFA Cup. Without his presence the season after, as he returned and played for Dinamo, Zaprešić were relegated highlighting how much the young Croatian had already grown as an influence and a player.
In the following season, Modrić was signed to an enormous ten-year contract by Dinamo who understood just how good the midfielder had become through his exposure to football on loan.
Photo: Getty
His skill set went from strength to strength, winning the Prva HNL Player of the Year award in the 2006-07 season and leading his side to the UEFA Cup group stages the year after as captain. Modrić would go to play 94 matches for Dinamo, scoring on 26 occasions as the club began to strengthen their grip on the Croatian Football League.
Now courted by some of the biggest clubs in Europe, Modrić was a man in demand and in April 2008 moved to Tottenham for a fee of £16.5 million. 
From there and over the past twelve seasons with Spurs and then Real Madrid, the Croatian star has become one of the world's best midfielders and after a successful World Cup in 2018, won the Ballon d'Or, breaking Lionel Messi and Cristiano Ronaldo's duopoly.
 Vedran Ćorluka
Another player who, like Modric, went on to play in the Premier League for Manchester City and Tottenham, Vedran Ćorluka left Dinamo Zagreb in 2007 after joining the club aged 8.
Another young player disrupted by conflict in eastern Europe, Ćorluka and family moved to Zagreb when he was six. His professional career began in 2003 but after a season featuring no appearances for Dinamo's first team, he joined Modrić on loan at Inter Zaprešić the following season.
After playing 27 times for Zaprešić he returned to the Croatian capital and helped his side win the Croatian First League title three seasons in a row, making 61 appearances in the process.
Photo: Squawka
In August 2007, Ćorluka joined Manchester City for a fee of around £8 million and a year later, joined up with his best friend Modrić at Tottenham. Both were also joined by fellow Croatian and Dinamo Zagreb academy player Niko Kranjčar who made 84 appearances himself for the Croatian champions between 2001 and 2005.
Ćorluka played 156 times in all competitions for the Premier League duo before joining Bayer Leverkusen on loan for the remainder of the 2011-12 season from Spurs. In 2012, the commanding central defender made the last move of his career as he joined up with former national team manager Slaven Bilić at Russian side Lokomotiv Moscow.
Alongside his domestic career, Ćorluka enjoyed a successful international career with Croatia. With 103 caps to his name, Ćorluka is one of the country's most capped players, playing at five major tournaments before his international retirement in 2018. 
Dejan Lovren
Like Modrić and Ćorluka, current Liverpool defender Dejan Lovren also made the journey from the Croatian Football League to the Premier League but his route took him via France and Lyon. Spending most of his childhood in Germany as a result of the Bosnian War, Lovren's family moved back to Croatia when he was 10.
Playing firstly for German side BSC Sendling then with local sides NK Ilovac and NK Karlovac, Lovren joined Dinamo Zagreb in 2004. 
Photo: Getty
Blessed from an early age with great decision making and concentration, both noticed by scouts at Dinamo, Lovren evolved into a commanding centre-back during his time on loan at Inter Zaprešić between 2006 and 2008.
On his return to Zagreb, Lovren played 37 times for the Croatian champions before moving to French Ligue 1 side Lyon in a deal worth around €9.5 million. After 72 appearances with Les Gones, Lovren moved to Southampton for a season before joining Liverpool for a then club record fee for a defender of £20 million.
Now in his 7th season with the Reds, Lovren was part of Jurgen Klopp's side who won the Champions League last season and look certain to win the Premier League this time around.
Mateo Kovačić
One of the more recent graduates from Dinamo Zagreb's academy is Chelsea central midfielder Mateo Kovačić.
Born in Austria in 1994, Kovacic joined LASK Linz at an early age and quickly became one of the club's brightest prospects. In 2007, the Croatian international was spotted by scouts of Ajax, Inter Milan, Juventus and Bayern Munich but instead joined Dinamo Zagreb after his parents decided to return to Croatia.
Photo: Alamy
Despite suffering a serious injury in 2009 which halted his early development in Croatia, Kovačić went on to make 73 first-team appearances for Dinamo before joining Italian giants Inter Milan in 2013 in a deal worth €15 million in total.
Long-time Inter captain Javier Zanetti stated that, with the exception of Ronaldo, who had arrived at Inter when he was 21, Kovačić was the most promising youngster he had seen in his 19 years at the club.
The midfielder went on to play in 97 matches with I Nerazzurri before joining Real Madrid on a six-year deal in 2015 for a fee of €29 million where he joined up with Modrić. After winning La Liga once and the Champions League three times with Los Blancos, Kovačić most recently joined the Premier League with Chelsea for around £40 million in 2019.
The list of former youth players is expansive even after the four mentioned above and includes Eduardo da Silva, Niko Kranjčar, Milan Badelj, Ivan Kelava, and Šime Vrsaljko amongst many others. The club has also proved to be a successful launchpad for other talent including Marcelo Brozović, Mario Mandžukić and RB Leipzig's Dani Olmo who joined the club further on in their development. 
The club's academy was most recently in the limelight with Croatia's unbelievable run to the 2018 World Cup Final. Losing 4-2 to France in the final, Croatia defied the odds to enjoy a fairy-tale run to the showpiece final.
With 14 players in the national squad being former Dinamo Zagreb players, a new world cup record for representation from a single club, it is not far-fetched to say that the countries run to the final was built in the club's famous academy in the nation's capital. The club also boasted six former players in Croatia's starting eleven in the World Cup final against France.
The Next Generation
The club now still boasts a strong pool of talented prospects, some of which have already transitioned to Dinamo's first-team squad. Over the last season the club has again won the U17 and U19 Croatian league titles whilst making great strides in international tournaments.
Winning the FIFA Youth Cup in 2018 for the first time, the club is beginning to really showcase talent on the world stage and with many more world class prospects currently in their system, there's no sign that Dinamo are slowing down with their production of some of Europe's future best players.
The U19 squad in particular has proven itself on the European stage over the past couple of seasons. Currently in the quarterfinals of the UEFA Youth League vs Benfica this season, prior to the outbreak of COVID-19, the U19 side have beaten both Manchester City and Bayern Munich on route to the last 8 of the competition.
Photo: Getty
There are already a handful of youngsters from the academy within Dinamo Zagreb's squad at present, perhaps the most promising is forward Antonio Marin. Still only 19, Marin is already a Croatian U21 international and has featured seven times for Dinamo's first team this season, scoring once against NK Varazdin in early June.
Known for his fast, skillful play and dribbling qualities, Marin is usually deployed as an attacking midfield either operating through the middle or on the wings. The Croatian signed a three-year contract with Dinamo in 2017 despite being courted by AC Milan, Manchester City, PSG and Juventus at the time highlighting just how special the club's academy is. 
With 108 appearances to his name already, 22-year-old Nikolo Moro is another player destined for the top European leagues in the near future. Usually playing as the anchor in Dinamo's midfield, Moro possesses fantastic all-round qualities that mean he's incredibly comfortable on the ball in the centre of the park.
However, Moro is also a tenacious player who enjoys the physical side of football, making him the perfect all-round central midfielder. With a call-up the Croatian national side said to be on the horizon, Moro continues to go from strength to strength in his development at Dinamo.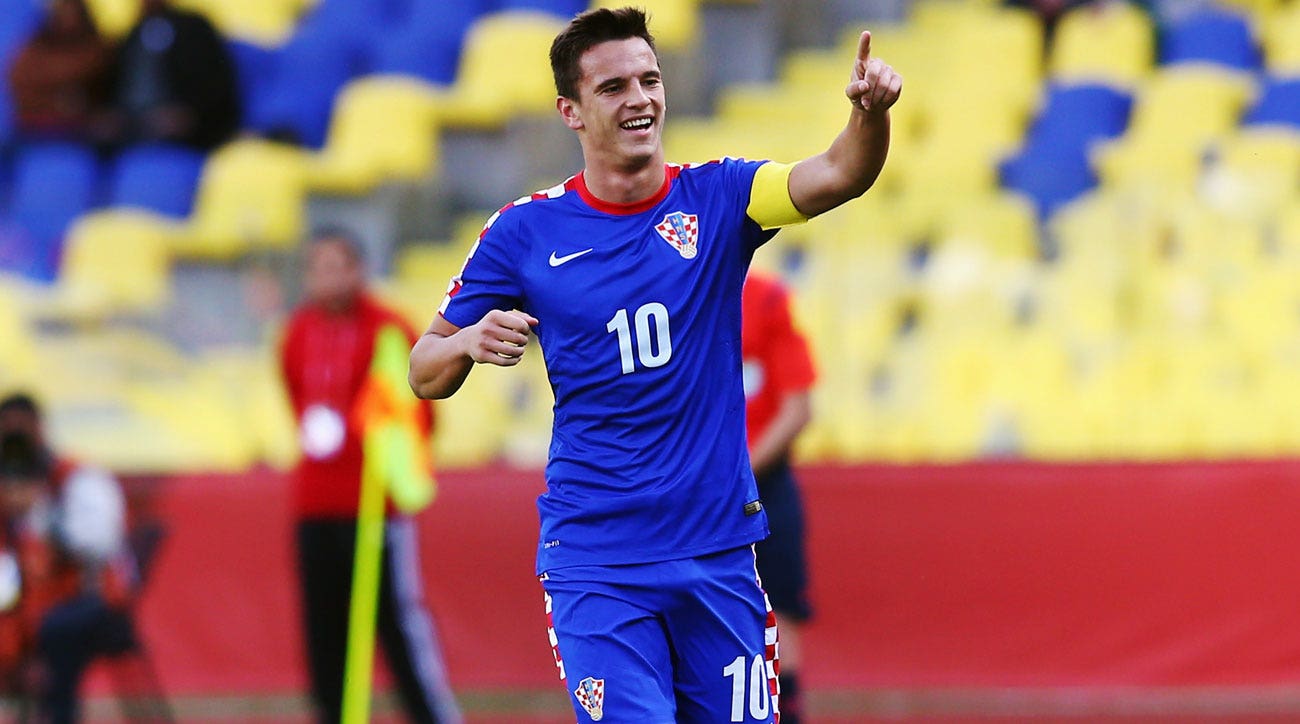 Photo: Alex Grimm / FIFA
As well as Marin and Moro, there are many other prospects in the Dinamo first team set up. Centre back Josko Gvardiol has impressed again this term with the senior squad, making six appearances to date whilst 23-year-old Amer Gojak, who has 21 first team appearances this season, continues to grow since his move from Bosnian side FK Olimpik Sarajevo in 2015.
Ex-Arsenal academy product Robbie Burton, who moved to Dinamo in February of this year, has not played in the first team too much as of yet but his move to the Croatian capital again highlights just how highly regarded the club's academy now is across Europe. 
With a permanent place amongst Europe's best club academies, Dinamo Zagreb has not stopped developing some of the best young footballers on the continent. The academy continues to impress with its constant conveyor belt of talent and with another generation of prospects currently in the making, who knows where Dinamo Zagreb and the Croatian national side will be in ten years' time. 
By: Nathan Evans
Featured Image: @GabFoligno