Analyzing Wolfsburg's Start to Life Under Niko Kovac
VfL Wolfsburg are far from the neutral's choice in the Bundesliga. The North German outfit are constantly criticized for their mediocre fanbase, mocked for their plastic atmosphere and half-empty stadium, and scorned for their controversial circumvention of the 50+1 rule with long-time sponsor Volkswagen.
While a stunning league title, a maiden pokal triumph, and multiple European qualifications have seen Wolfsburg's global appeal increase over the past two decades, for most fans of German football, only one image of VfL reigns true – that of corporate influence and the shift away from the values which set the Bundesliga apart. As Volkswagen continues to dominate the automobile industry and invest millions into the "company club", many of these off-field qualms will remain for fans of "traditional" German football.
Nevertheless, something even the most ardent 50+1 traditionalists will acknowledge is that on the field, VfL Wolfsburg have been captivating for large parts of this season. What has long been a side defined by tepid football and mercenary veterans has more recently looked reinvigorated under the direction of one of the Bundesliga's most misunderstood managers – Niko Kovac. 
While the defense still reigns supreme – only FC Bayern have conceded fewer at the season's halfway mark – Kovac's Wolfsburg can pair stellar off-ball structure with refreshing attacking sequences. Wolfsburg won six straight matches in the Bundesliga — scoring 22 goals and conceding once — returning from winter break with a 6-0 win against Freiburg and a 5-0 win against Hertha Berlin before losing 2-1 to Werder Bremen and falling to a 2-1 defeat to Union Berlin in the cup. 
Wolfsburg's last 6⃣ @Bundesliga_EN matches…

6⃣ WINS
2⃣2⃣ Goals Scored
1⃣ Conceded

Admin right now ⬇️ pic.twitter.com/vQbgZG8Lcw

— VfL Wolfsburg EN/US 🇬🇧 🇺🇸 (@VfLWolfsburg_EN) January 24, 2023
The question is no longer if Wolfsburg can play a part in this season's European equation, but just how far the Croatian manager can take them. This article is an adaptation from Adam Khan's German Football Newsletter. Want Bundesliga & Bundesliga 2 updates throughout the entire season? Subscribe here
Keeping the Big Picture in Mind
With a scintillating run of form that was the longest winning streak in Germany's top 3 divisions prior to their defeat to Werder Bremen, Wolfsburg are well and truly on their way to becoming the team to watch in the Bundesliga. A well-oiled machine with a solid defence and fearsome attack, it's easy to forget that just over 3 months ago this was one of the most disastrous clubs in the topflight.
After 5 matches Wolfsburg had yet to register a win, and after 7 they languished in the relegation zone with only 5 points to their name. With 4 of their first 7 matches ending without a goal – and the only clean sheet coming against hopeless Schalke 04 – the pressure on Kovac was at a monumental high when the Bundesliga split for a short international break at the end of September. 
At almost every club with European aspirations such a poor start would leave the manager's position in question, but given that Kovac's future lay in the hands of one of the most ruthless sporting directors in the country, it felt like almost a certainty that the Berlin native would no longer be on the touchline when the league returned. 
Since he was appointed sporting director in 2018, Jörg Schmadtke has led Wolfsburg with an iron fist. The 58-year-old former Bundesliga goalkeeper is rarely concerned with public scrutiny, and the veteran sporting director never shies away from making a tough decision that goes against the populist view.
In 4 seasons at the club, Schmadtke has worked alongside 5 different managers, sacking two after less than 30 matches in the job (Mark van Bommel & Florian Kohfeldt), and publicly falling out with another despite his qualification for the Champions League (Oliver Glasner). Schmadtke has been labelled a tyrant and chastised for his hire-and-fire approach, but all told, his tight leash has largely steered Wolfsburg in the right direction. 
The Bundesliga Returns: 8 Storylines to Watch for the Remainder of the Season
Taking control of the club following back-to-back relegation-threatened seasons, Schmadtke quickly steered Wolfsburg back up the table with smart transfers and a safe managerial appointment. In his 4 seasons at the helm, Wolfsburg have qualified for Europe twice, and never finished within 10 points of a direct relegation spot. 
It's a feat of consistency that has been tightly linked with the pressure imposed on the managerial hot seat, and with Niko Kovac becoming the first manager in the Schmadtke-era to not win any of his first 5 matches, all the stars seemed to align for Schmadtke to take his next victim. 
However, whether it be the Croatian's stellar track record, positive internal discussions, or a change of heart given Schmadtke's pending retirement at the end of this transfer window, Wolfsburg opted to hold on to their manager. It's a decision that has undoubtedly been key to the surge up the table. Strengthened by the support from Schmadtke's unique show of faith, Niko Kovac began to shape the side in his vision. 
It was his integration of young talent, and the renewal of a sense of on-field identity that would define the club's reversal of fortunes, but it was arguably the squad overhaul which began earlier in the summer that had the biggest impact on Wolfsburg's astounding resurgence. 
Let the Kids Play
In the past, many footballers looked towards Wolfsburg as an ideal destination to collect an oversized paycheck, or attempt to rebuild a faltering career. Signings like Andre Schürle (2014 – €32m), Julian Draxler (2015 – €43m), Ignacio Camacho (2017 – €14m), and Max Kruse (2022- €5m) highlighted a transfer policy with far more money than sense.
Thankfully, this has drastically changed within the last 6 months. In the summer transfer window, Wolfsburg made 6 external signings which combined had an average age of just under 21 years. It's an eye-opening statistic that plainly highlights a club looking to overhaul its squad structure.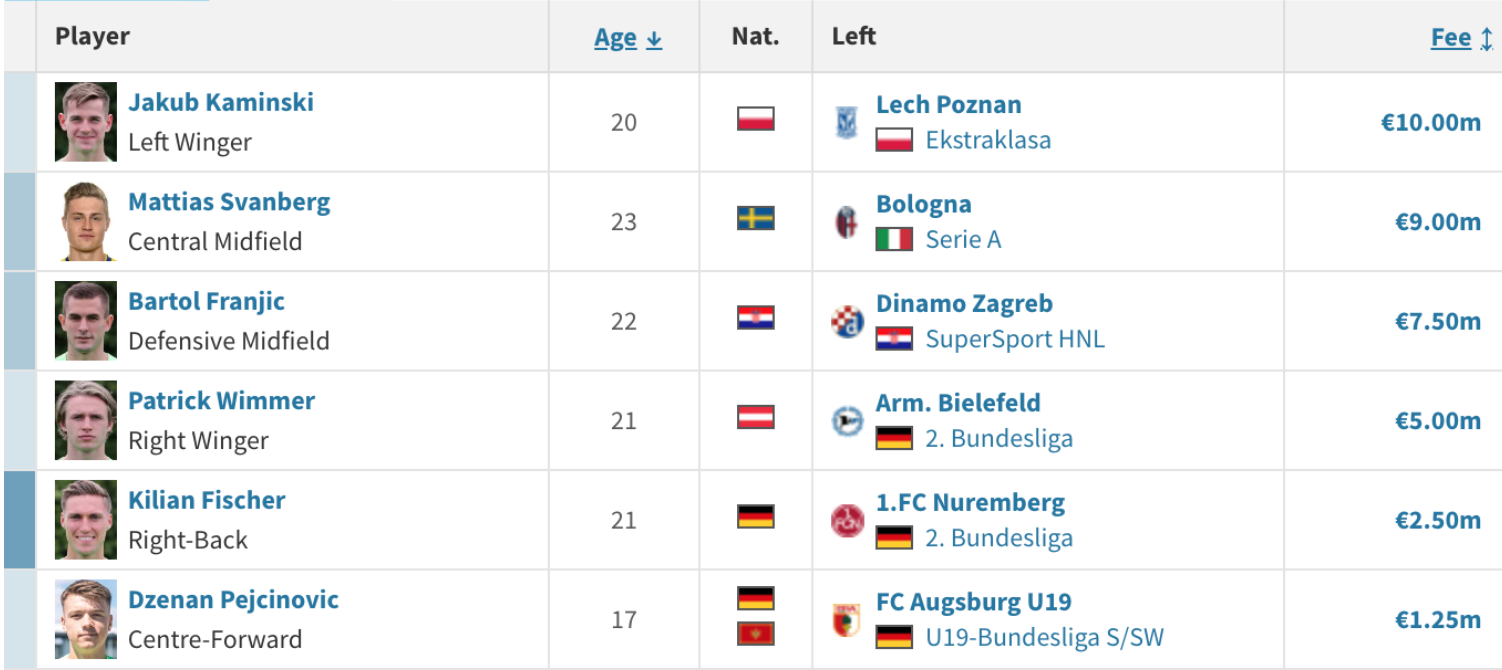 Whereas last season Die Wolfen had the 6th oldest squad in the division – with an average of 25.3 yrs – at the time of writing, only VfB Stuttgart are younger than the Wolfsburg roster. Dropping the average age by almost an entire year didn't only necessitate signing youthful talent, but it also meant selling the aging stars who played a starring role in Wolfsburg's previous plans.
In the past 12 months, Max Kruse (34 yrs), Jérôme Roussillon (30 yrs), Wout Weghorst (30 yrs), and John Anthony Brooks (29 yrs) have left the club. Should Josuha Guilavogui (32 yrs) depart this January – something which remains a possibility given his diminished status and links to VfB Stuttgart – Wolfsburg will not have a single outfield player over the age of 30 in their roster. 
This new transfer policy isn't just saving on wages, eliminating poisonous characters from the dressing room, and making Wolfsburg a more attractive destination for international fans, but it has also transformed the club's fortunes on the pitch…
A United Wolf Pack
Having a squad overflowing with young talent determined to prove themself at the Bundesliga level has raised the atmosphere and morale around the club, but it is the competitiveness this model has bred which has truly elevated Wolfsburg to new heights. Particularly in forward positions, Niko Kovac has struck a perfect balance that keeps an over-supply of forwards hungry to improve despite no single player being guaranteed to start or regularly finding the net. 
While only 3 clubs have scored more than Wolfsburg's 35 goals this season, the club's top-scorer is right-back Ridle Baku with only 5 goals to his name. Bar Schalke 04, no Bundesliga club has a top-scorer with fewer goals.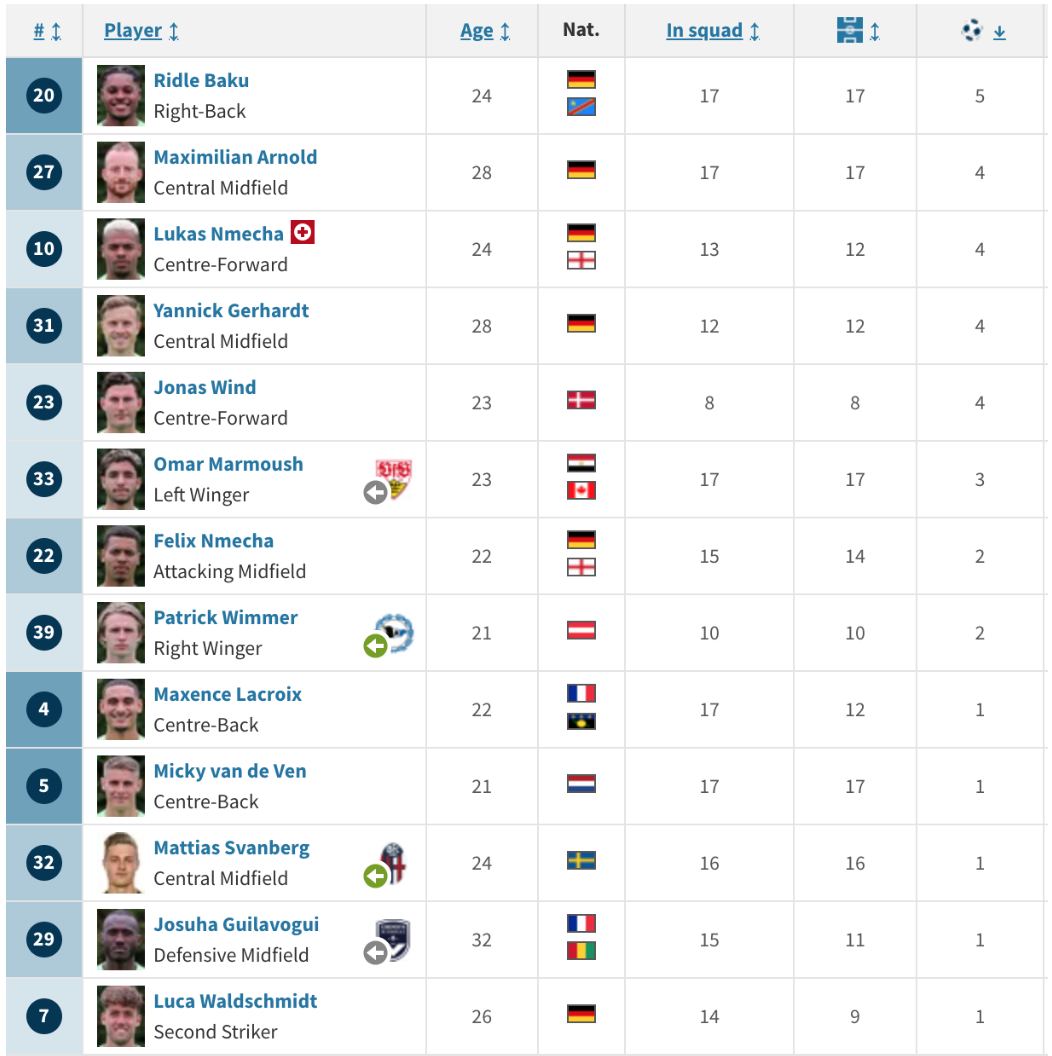 The lack of a reliable goalscorer may look like a weakness on the surface, but it only further highlights how well Wolfsburg's competitive model allows the entire squad to share the burden. Of the 23 current Wolfsburg players who have featured in the Bundesliga this season, 21 have contributed at least a goal or assist. Even goalkeeper Koen Casteels notched his first-ever Bundesliga assist mid-week after 240 topflight matches!
The threat of losing one's position under a manager who refuses to select a best eleven can add unnecessary pressure to a forward searching for a goal, but for Wolfsburg, it's only made the entire squad more effective. A great way to look at this is the amount of impact that Kovac is getting from his substitutes. On only one occasion during their 7-match winning streak has Kovac opted against using his full allotment of substitutes, routinely reaping the rewards of the injection of energy his bench brings to the game. 
Often these late substitutes have delivered structure and stability to ensure Wolfsburg hold on to their advantage, but on multiple occasions, they've also proved crucial in providing a second wind in the attack.  The numbers reflect this, with only Eintracht Frankfurt and Borussia Dortmund's substitutes scoring more goals this season.  Whether it's a result of the attacking depth, the healthy competitiveness within the squad, or a combination of both, VfL Wolfsburg are displaying a completely united front that gets the very best out of individuals pushing for the collective good.
While it would be foolish to consider any match of this Bundesliga season a given, it's probably the weekend's test against FC Bayern where we will see Wolfsburg's true quality tested. Will Niko Kovac get one over on his former employer? Or will Wolfsburg fail to win their 18th (!) match in a row against Der Rekordmeister? Whatever the result, one thing is for certain. VfL Wolfsburg is on the rise again. 
The club's financing and management will continue to divide opinions, but on the pitch, Niko Kovac has returned one of last season's most dreary outfits to a place of prominence in the Bundesliga. Long may this youthful reinvention continue!
Want more German Football Content? Subscribe to The German Football Weekly now to never miss an upload!
By: Adam Khan / @XxAdamKhanxX
Featured Image: @Juanffran / Getty Images