An Analytical Look at Bruno Fernandes in Possession
When Manchester United completed the signing of Portuguese international Bruno Fernandes during the final hours of the January transfer window, they found themselves in desperate need of a playmaker who could awaken a team that had been sleepwalking through the first half of the season.
Paul Pogba, United's chief midfield creator, had missed the bulk of the first half of the season due to recurring ankle problems, whilst Marcus Rashford looked set to miss a considerable amount of matches with a stress fracture on his back. To add insult to injury, United had lost 2-0 to Burnley a week prior at Old Trafford, with the Red Devils continuing to slip behind Leicester City and Chelsea in the race for Champions League football.
In his first match for the club, a stalemate at home against Wolves, he often dropped deep inside his own half to receive possession, before spraying passes around with a maturity and composure that belied his 25 years of age. Playing inside the hole of Ole Gunnar Solskjaer's 4-2-3-1, Fernandes stamped his authority on the match, attempting the most passes in the match as well as completing the 2nd most touches on the ball.
As seen in his touch map below, Fernandes was instrumental in United's possession, drifting around the pitch to receive the ball and creating dangerous goalscoring opportunities in the half spaces.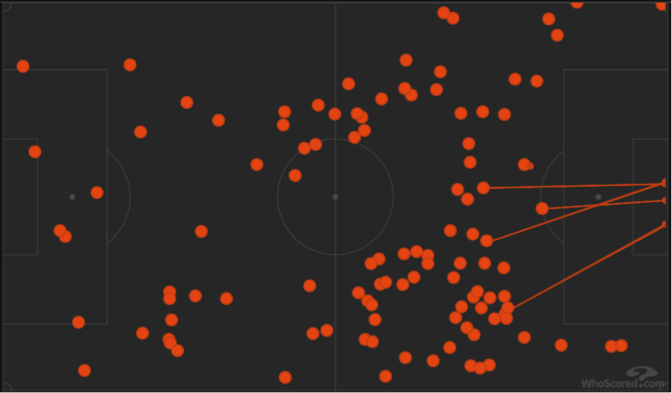 Photo: WhoScored
Since joining from Sporting CP for an initial fee of €55 million as well as €25 million in potential add-ons, Fernandes has completely revitalized United's attack. The Red Devils have not lost a league match since his arrival, winning nine matches and drawing five during that span, whilst also picking up more points than any other Premier League club. Despite facing a seemingly insurmountable gap to Leicester and Chelsea, United have gone on to leapfrog both of them, finishing the season in third place.
Fernandes provided 8 goals and 7 assists during United's run-in and won back-to-back Premier League Player of the Month awards in February and June. But apart from the goals and assists, just why has Fernandes been so crucial to United's drastic upswing in results? Let's take a deeper look at the underlying numbers as well as Fernandes's typical actions during a match.
While United were heavily linked to Fernandes last summer, the deal eventually fell through due to Sporting's initial asking price of €80 million. Reports also suggest that the United staff were hesitant to bring in the Portuguese midfielder due to concerns over his ball retention, or lack thereof. While this shortcoming has reared its head from time to time in the Premier League, it is a risk vs. reward scenario where the reward was more often than not, the outcome.
Fernandes has a certain flair about his game and is not afraid to try and play penetrative passes. This of course will result in a number of incomplete passes, due to the high-risk nature of his attempted passes. Though his passing percentage in the league was a pedestrian 75.7%, we can look to some of his other statistics to explain this. Using data from Wyscout, we can see that out of all Premier League players this season, only Kevin De Bruyne (3.64) attempted more though balls per 90 minutes than Fernandes (3.38).
These types of passes are defined as "passes into empty spaces behind defenders," and also "a player's vision to create opportunities for his teammate." In the example below against Bournemouth, Fernandes is able to receive the ball in the right half space, and by opening his shoulders and controlling the ball with his first touch, he is able to play Odion Ighalo through on goal for a goal scoring opportunity, using his second touch to open the defense with a through ball.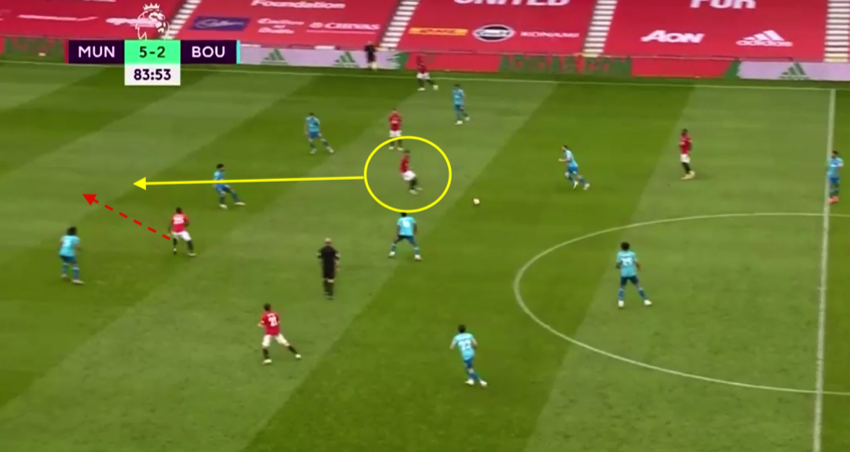 Fernandes also ranked 3rd in the league for smart passes per 90 minutes with 3.16. Again, looking at the Wyscout definition, these types of passes are described as "significant" or "something more than a simple pass, not so easy to be done." Another indication of his progressive style of play is highlighted by the fact that only five other central midfield players had more deep completions per 90 minutes that him, with the ex Sporting midfielder averaging an impressive 2.04.
Shifting our data analysis from Wyscout to Smarterscout, we can see some other impressive underlying numbers produced by Fernandes. Smarterscout uses an advanced algorithm that measures a player's playing style. The dimensions are rated on a scale of 1-99 with 99 being the best.
One of these dimensions is called Passing toward goal, which they define as "a pass that brings the ball at least 10 meters closer to the center of the opponent's goal." Under this category, Fernandes is rated as an outstanding 98. This is yet another clear indicator of his desire to progress the ball towards goal, which can sometimes result in poor ball retention statistics.
Smarterscout also offers another statistic which is more self explanatory by nature, which they call % involvement in moves ending in a goal. This statistic gives us another look at just how instrumental the attacking midfielder has been to United's attacking success upon his arrival, as he is credited with a 75% involvement rate in moves ending in a goal.
Key Performance Indicators
Since arriving at Old Trafford in January, Fernandes has almost exclusively played as the attacking midfielder, or the "10" in Solskjaer's 4-2-3-1 formation. However, after Pogba made his return to the starting line-up on June 24 in a 3-0 victory against Sheffield United, Fernandes's positioning has changed.
With Nemanja Matić usually playing on the left side of the double pivot and Pogba operating on the right, Fernandes has been afforded less freedom to drift around from side to side. As Pogba tends to advance forward on the right, Fernandes has found himself in the left half spaces more often than not.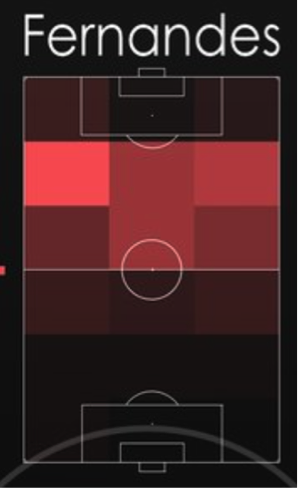 Photo: @UtdArena
In the above diagram, we can see his 'Pass Reception Zones,' which demonstrates where he typically receives the ball. The Portuguese midfielder tends to drift into the left half spaces to receive, before attempting to create a goalscoring opportunity in the final third.
Fernandes loves to receive the ball at his feet, often in between the lines. His elegant first touch and close control enable him to quickly advance towards goal after receiving the ball on the half-turn, using his second touch to play a through ball into the final third.
In this examples below against Leicester City, Fernandes receives a pass from Pogba in the left half space, picking out an open pocket of space behind Hamza Choudhury and Wilfred Ndidi. Using one touch to face the goal, Fernandes plays a penetrative pass to Anthony Martial with his second touch.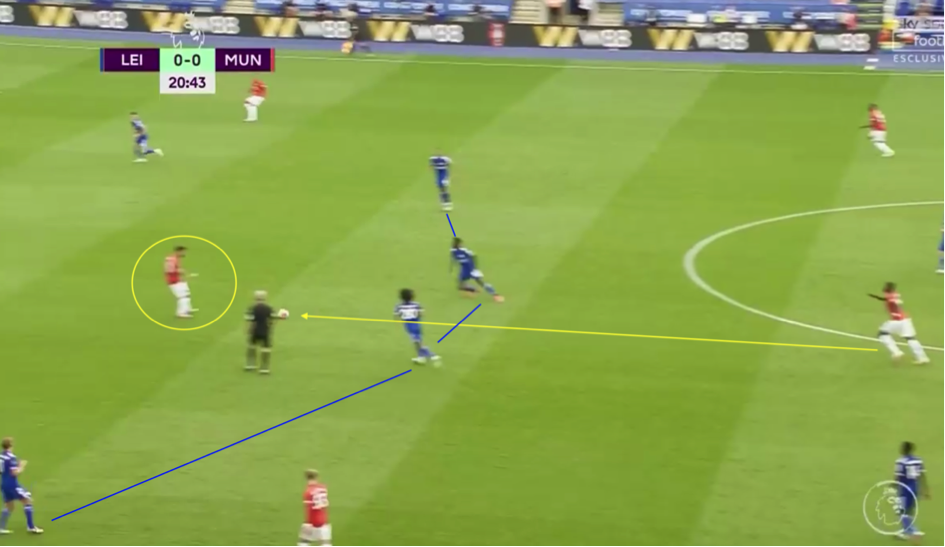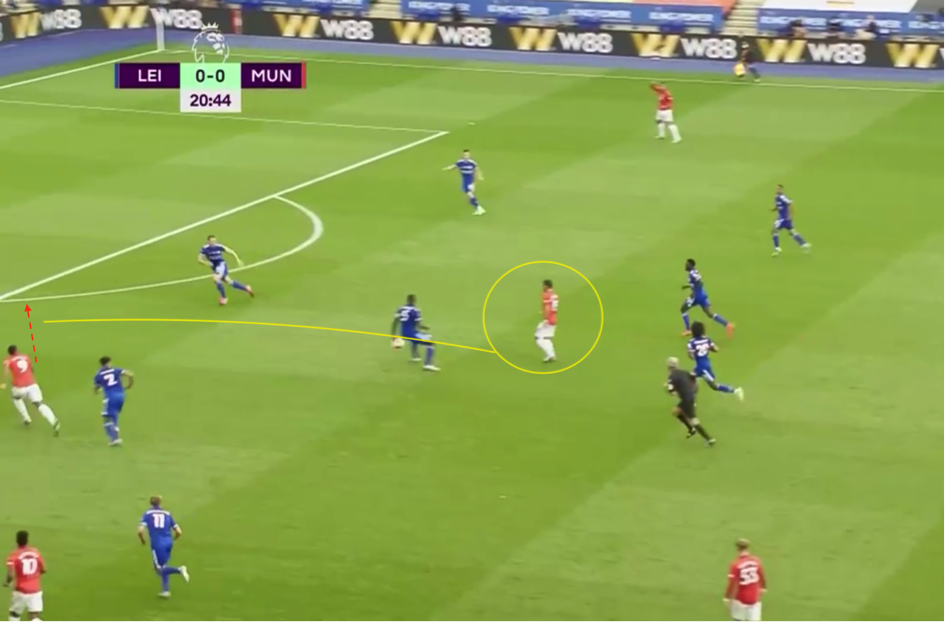 Since taking over as caretaker manager on December 19, 2018, Solskjaer has been clear in his desire for his players to be able to "express" themselves. This bodes well for a creative outlet such as Fernandes. While United have often been criticized for lacking movement and ideas in the attacking third, Fernandes has done remarkably well to ease those concerns.
To many supporters on the outside looking in, Manchester United look like a team who are instructed to be positionally disciplined in the first two phases of the attack, with more freedom in the final third. This often causes their attacks to appear stale and fizzle out when players run out of ideas. On the other side of this, though, we can also witness brilliant attacks with quick movements and one and two-touch passing.
Fernandes thrives in these types of situations as he is adept at finding the small pockets of space between the lines and breaking the lines. As previously mentioned, his first touch and positioning allows him to play the pass with his 2nd touch. In the example below, Pogba does well to find Fernandes in a tight space between five Leicester defenders.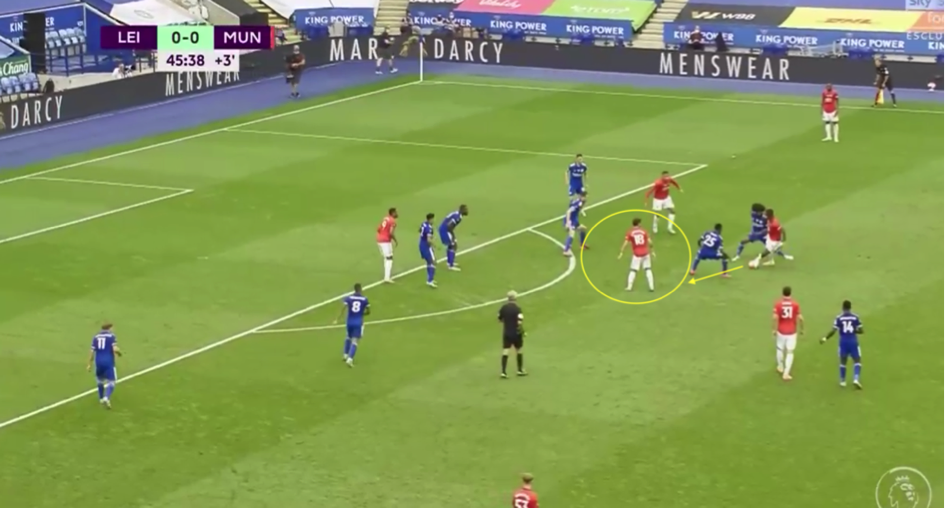 With his controlled first touch and clever movement from Martial, Fernandes is able to play Martial into a bit of space for a shot on goal.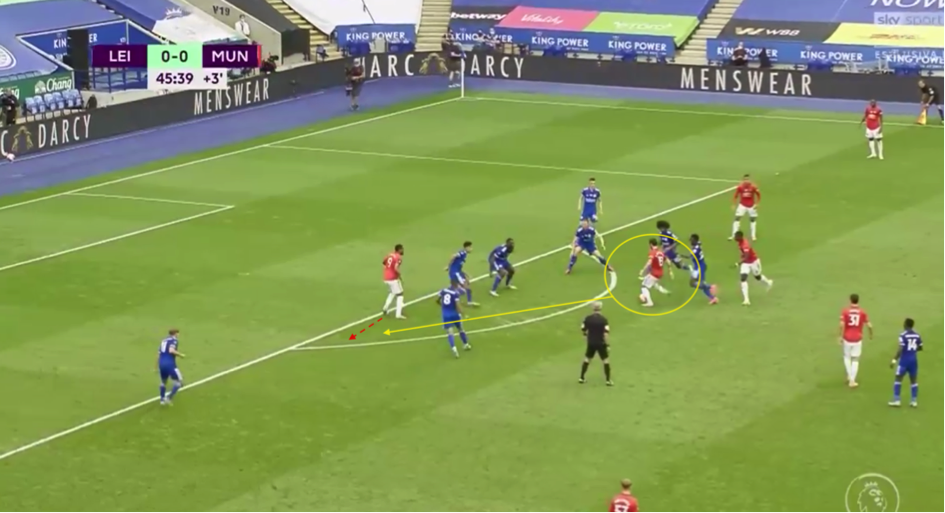 Overall Impact
Before Fernandes's arrival, Manchester United often struggled to break down teams that defended compactly in a low block. The Portuguese's creativity and freedom to attempt difficult passes forced opposing defenses to be a bit more proactive when he played. This was key in opening up spaces which he was then able to exploit.
Despite his lean frame, Fernandes has taken to the physically demanding and fast-paced Premier League seamlessly, as seen in the heat map below.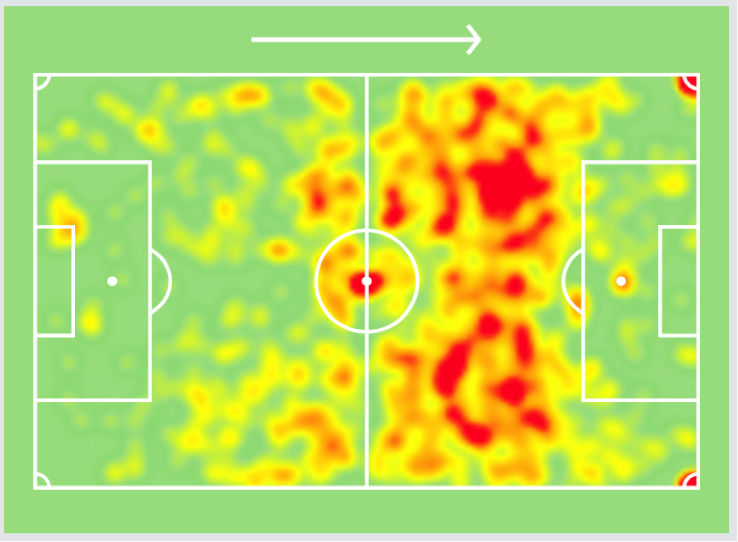 Photo: SofaScore
As touched on above, a majority of his actions take place in the half spaces, but he hasn't shied from his defensive responsibilities either; rather, his presence is felt over the entirety of the pitch.
It has been nothing short of a stellar start to life in England for Fernandes, and with Manchester United competing for the Europa League title in Germany, expect him to play an even greater role as the Red Devils look to pick up the first silverware in Solskjaer's time at the club.
By: Eric J. Laurie
Featured Image: @GabFoligno