Dani Ceballos — What Next?
The boy from Utrera, Spain is nearing the end of his second loan spell at Arsenal, and Mikel Arteta now has an important decision to make regarding the future of Dani Ceballos. The young Spaniard is expected to return to Madrid at the end of the season, where he has a contract until 2023, although Los Blancos have reportedly set an asking price of £22 million for him. It begs the question — should Arteta retain Ceballos on a permanent deal?
Ceballos has been paired with either Granit Xhaka, Thomas Partey or Mohamed Elneny as a double pivot this season. Arsenal have had a poor season all around, right from defending to finishing. They have tried hard but struggled to find the rhythm needed to succeed week in week out. Through injuries and other reasons, there has always been a constant change in the defensive mid position which has helped teams lay the Gunners bare on certain occasions.
For a defensive midfielder the most important skills are tackles and interceptions. We look at the metric leaders of the Premier League this season. Note: All midfielders have played a minimum of 1080 minutes this season.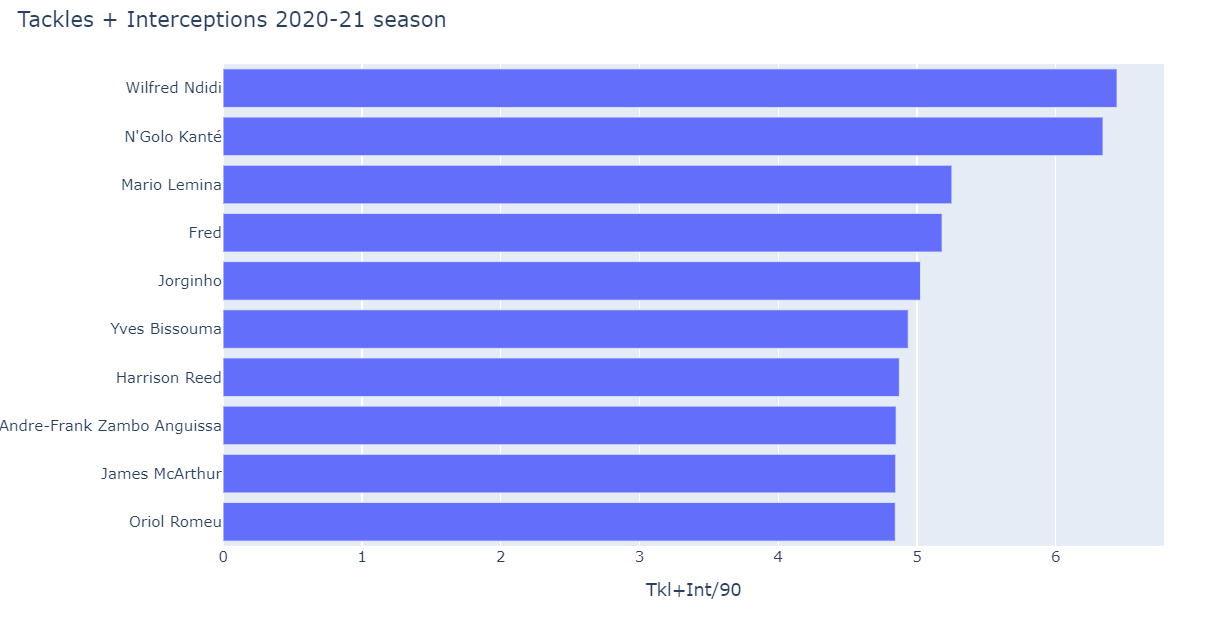 In terms of tackles and interceptions, Jorginho, Yves Bissouma, N'Golo Kanté and Wilfred Ndidi lead the way, with the latter two being a cut above the rest. Perhaps the biggest surprise from this list is Southampton-owned midfielder Mario Lemina, who has spent the last two campaigns on loan at Galatasaray and Fulham, respectively. The league average of this dataset of midfielders is 4.9 (=median). Below are Arsenal's players this season.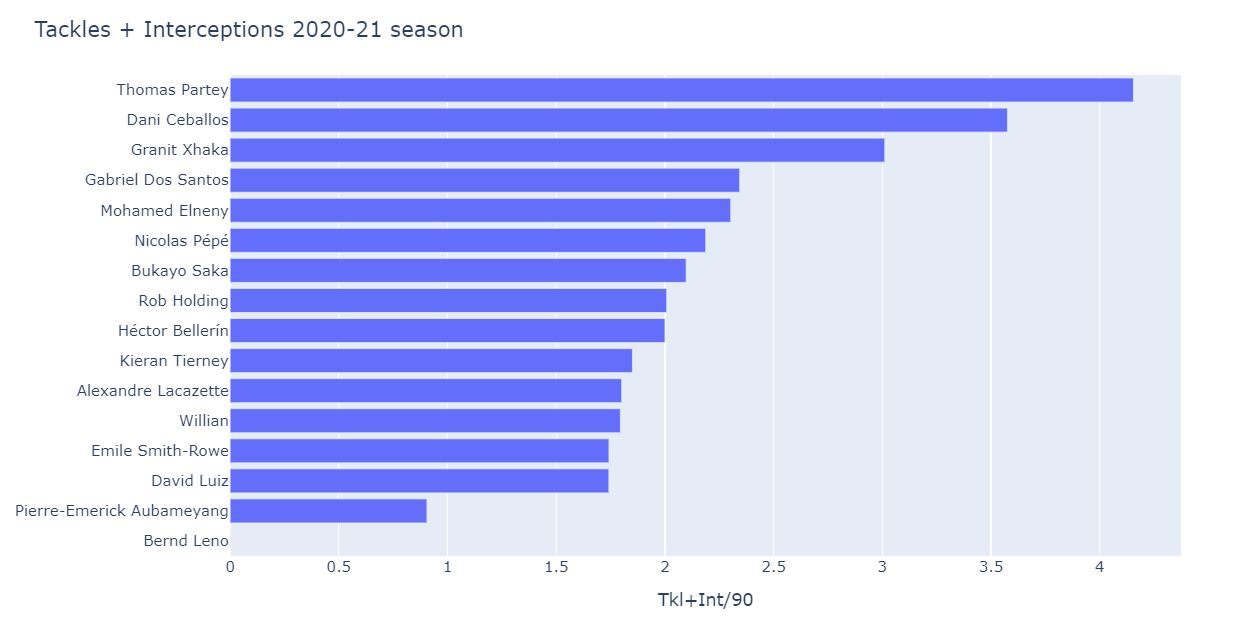 Ceballos averages 3.57 tackles per 90 which is lower than the league average, whilst Thomas Partey's tally of 4.15 tackles per 90 puts him in close proximity with the likes of Oriol Romeu, James McArthur, André-Frank Zambo Anguissa and Harrison Reed. The team average is 2.003 which clearly signifies the need for urgent changes in the team's defensive organization.
The Spanish midfielder clearly isn't the best when it comes to tackling. We will get a clearer picture of his tackling efficiency in the scatter plot below. Note:- Size of markers is indicative of the number of 90s the player has played.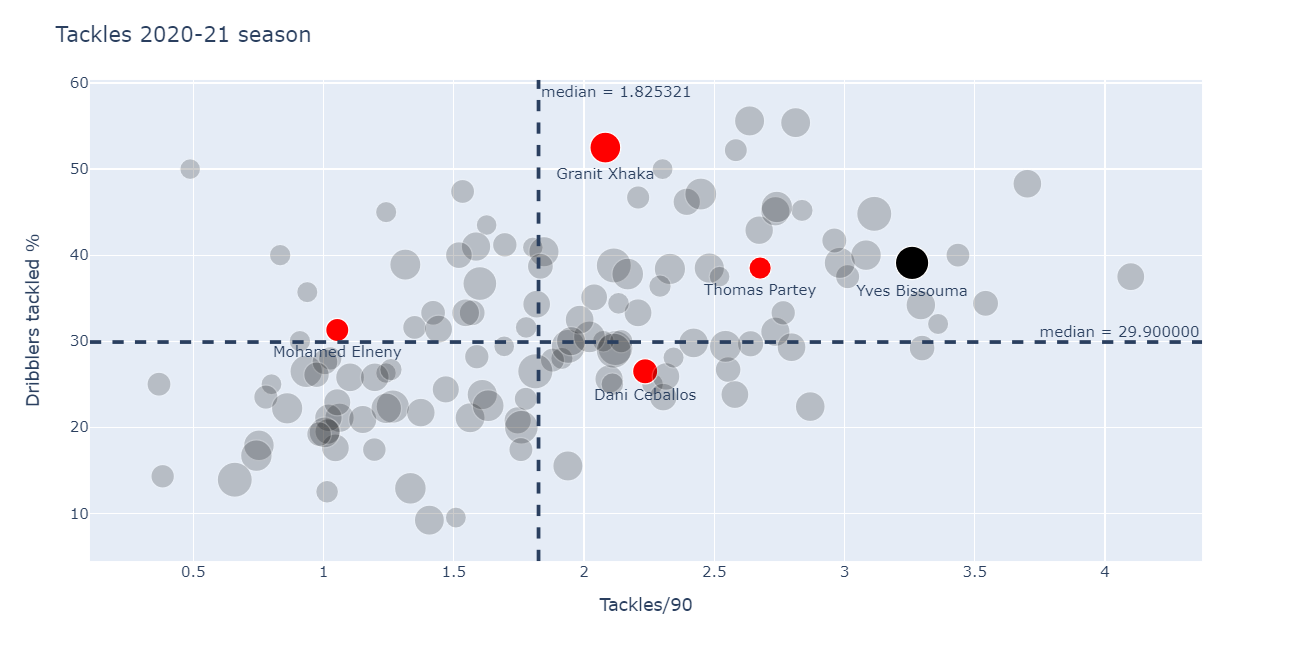 As we can see, Ceballos attempts tackles but has a really poor 26.5% success rate in tackling dribblers. In comparison, Granit Xhaka has really impressed with a 52.5% success. The Swiss tackles at least twice per 90. We can say, however, that Xhaka with a Tackles+Interceptions/90 = 3 has a tougher time closing the passing lanes by intercepting them. Can we attribute this to his slower reactions or poor positioning? Up for debate.
A third metric we can quantify a defensive midfielder's quality is through the number of pressures a player applies. Arsenal's gameplay has seen the team not apply much pressure on the attacking opposition.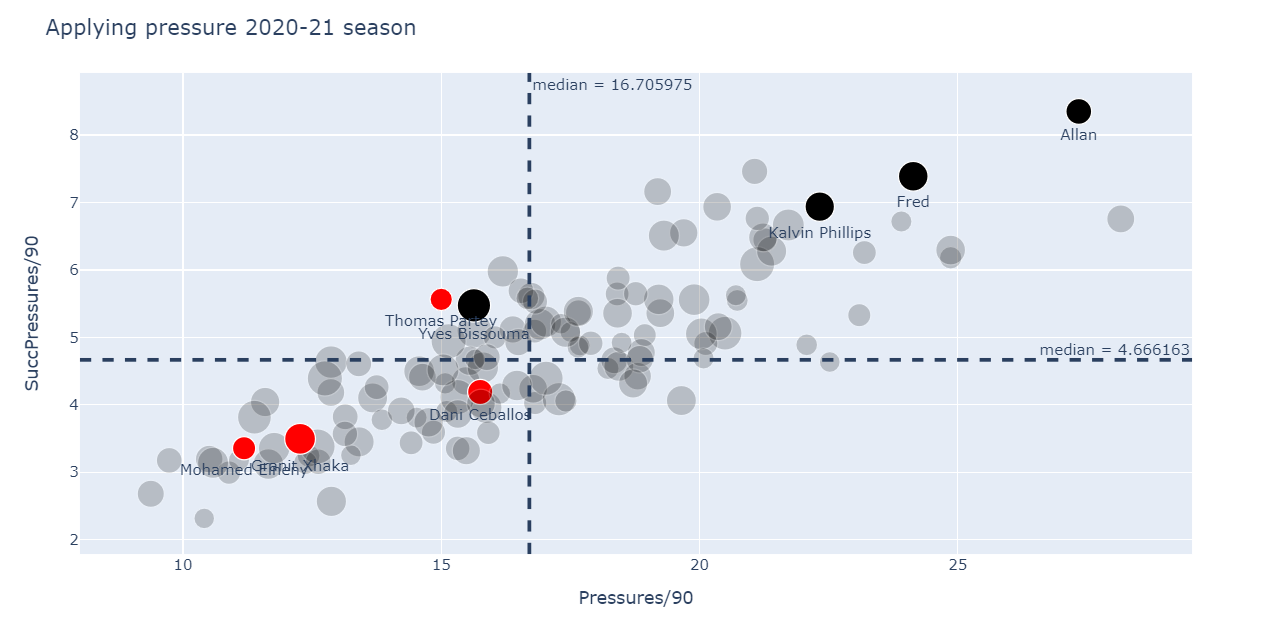 Ceballos has attempted to apply the most pressure than all of Arsenal's midfielders but has been fairly unsuccessful in doing so. In both the plots above, he is trying to help the team in defense (tackling and applying pressure) but is falling short on both the instances. Several players who shine above the rest in these aspects in terms of their intensity off the ball are Leeds United's Kalvin Phillips, Manchester United's Fred and Everton's Allan.
The Spaniard's primary quality though is his progression. Ceballos is miles ahead of his Arsenal counterparts and the league average in terms of carrying the ball towards the opposing half. The skillful midfielder averages 2 dribbles per 90 and has a success rate of 72%. These numbers are a significant bump from his time in La Liga where he would be successful only 58% of the time during the 2018–19 season with Real Madrid.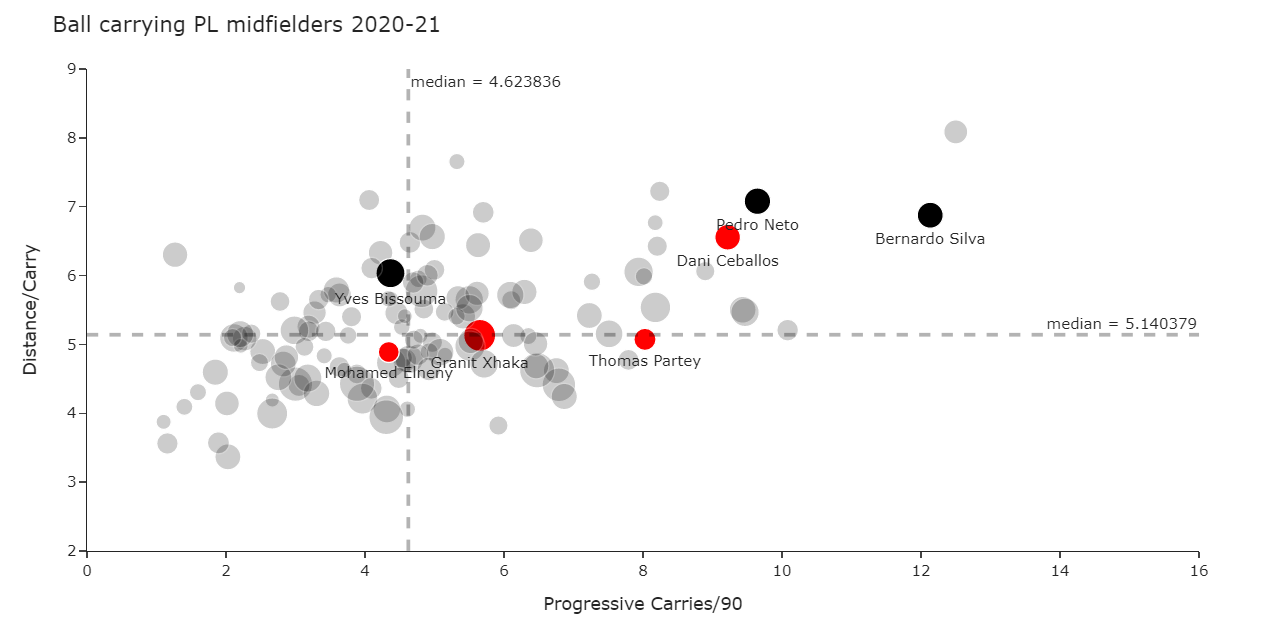 Along with carrying the ball forward, another important trait that central midfielders playing in a double pivot must possess in abundance is moving the ball ahead through their passes. Again Ceballos impresses here with his fairly good passing skills.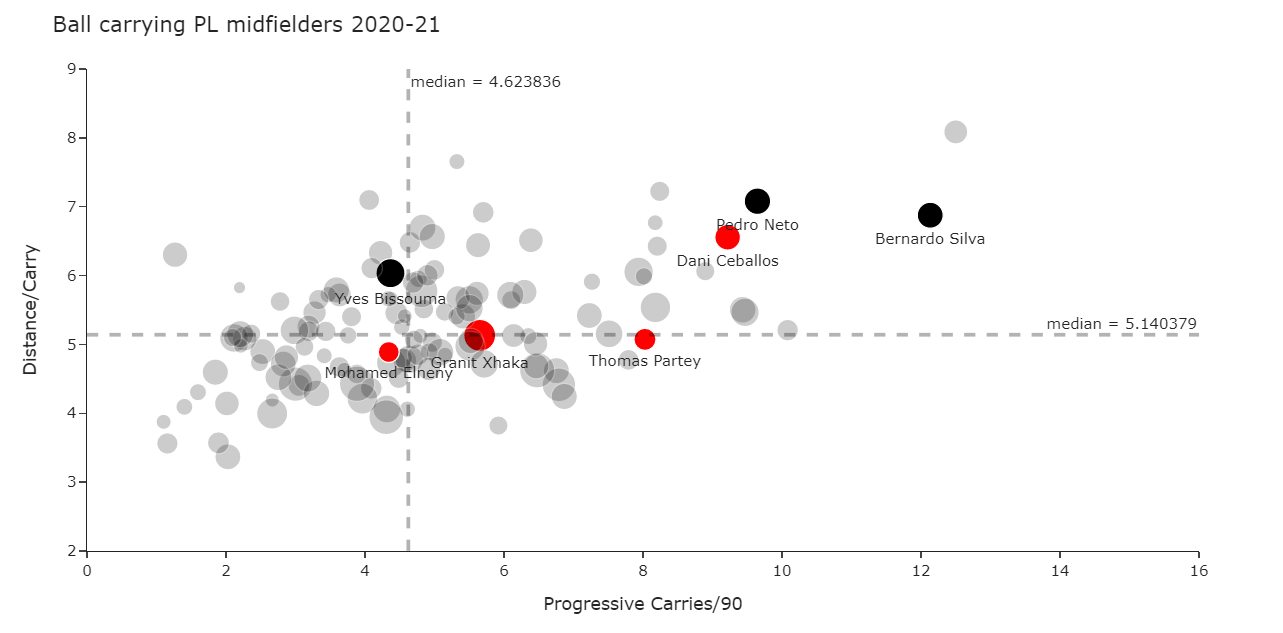 Even though, as we saw above Partey was having a tough time covering distances with the ball at his feet due to his positional responsibilities and his role in the team, he makes sure the ball reaches ahead. Ceballos completes close to 6 passes per 90 into the opposition half as compared to the Ghanaian's 6.6. Ceballos has an xG Assisted of 2.9 this season, lower only than Bukayo Saka and Kieran Tierney in this Arsenal team. With all this progression, however, he has had a tough time putting the ball into the penalty area, doing so only 22 times this season.
In the 2018/19 La Liga season, Ceballos had registered 50 shot-creating actions in the 1260 minutes he had played then. With a 3.07 per 90 of such actions this season, he has shown his willingness to join the team in attack, often leaving massive spaces in defense. His lack of pace makes it difficult for him to track back and has often seen Arsenal exposed at the back. He somewhat makes it up with his attacking prowess, but at what cost?
One player who has stood out in almost all these charts is Yves Bissouma. Three years after joining from Lille, Bissouma has emerged as one of the most exciting midfielders in the Premier League, and with his contract expiring in 2023, the Malian international could be set for a move away from Brighton. With just 13 key passes and an xG assisted of 1 this season, he isn't an attacking midfielder but he could be the perfect answer to give Partey attacking freedom and roam around the pitch while also protecting Arsenal's shaky defense.
Thomas Partey has a tough time playing with Dani Ceballos, since they both have identical forward playing styles. Partey is usually left alone in defensive positions due to Ceballos' commitment in the attack. The addition of a strong defensive midfielder (not Xhaka) who can cut passing lanes and tackle effectively is what the team really needs. With Bissouma attempting the most tackles in the Premier League with an above-average success rate and ranking 6th in the number of interceptions and tackles per 90, he may just be what Arteta's side need to take a push forward.
Arsenal will not be playing European football for the first time since 1995/96, and with the likes of Mattéo Guendouzi, Joe Willock and Lucas Torreira returning from loan and Miguel Azeez waiting in the wings, it seems that Arsenal would be better off using their limited resources on different objectives than a permanent deal for Ceballos. The bright side for Ceballos, is that with Zinedine Zidane likely to depart Real Madrid at the end of the season, he may find more game-time in Chamartín next season.
By: Sandipani Basu
Featured Image: @GabFoligno / Pool – Getty Images