Data Analysis: Belgium's Top Three U-23 Right Backs
From Victor Osimhen to Kalidou Koulibaly to Wilfred Ndidi, Belgium's Jupiler Pro League has produced a treasure trove of elite talents in recent years. In this article, we will analyze three of the highest-rated right backs in Belgium's top flight: Genk's Joakim Mæhle, Antwerp's Aurélio Buta, and Gent's Alessio Castro-Montes.
Issa Kaboré (19) has made waves for Mechelen since joining from Burkinabé side Rahimo FC in August 29, prompting Manchester City to sign him for €4.5 million, but due to his relative lack of minutes at the top level, we have excluded him from this analysis.
Role of a Right Back
The primary and traditional role of a right back is to stop an opposition player if they are in his area.  Soccer Training Guide says that marking the forwards is the main task and that the right back's focus is defense. Expert Football.com says that right backs get actively involved offensively by staying wide and making overlapping runs to spread the defense apart. 
So, basically, the right back has two main duties – defend the right side of defense and provide width and an attacking threat on the offensive side during attacking plays as an additional attacking player. Some right backs better in defensive side (Aaron Wan-Bissaka) whilst others are offensively better (Trent Alexander-Arnold)
So, based on this idea, let's see how the top three right backs match up against each other. We have used Wyscout data from the 2019/20 Jupiler Pro League season and we will convert the raw per 90 values to percentile rank values to see how they shape up against the other full backs in Belgium.
Defensive Comparison
From a defensive perspective, I have taken following criteria 
Defensive Duel and defensive duel success %

PAdj Interceptions

Fouls
Now, let's see how our three protagonists fare against each other.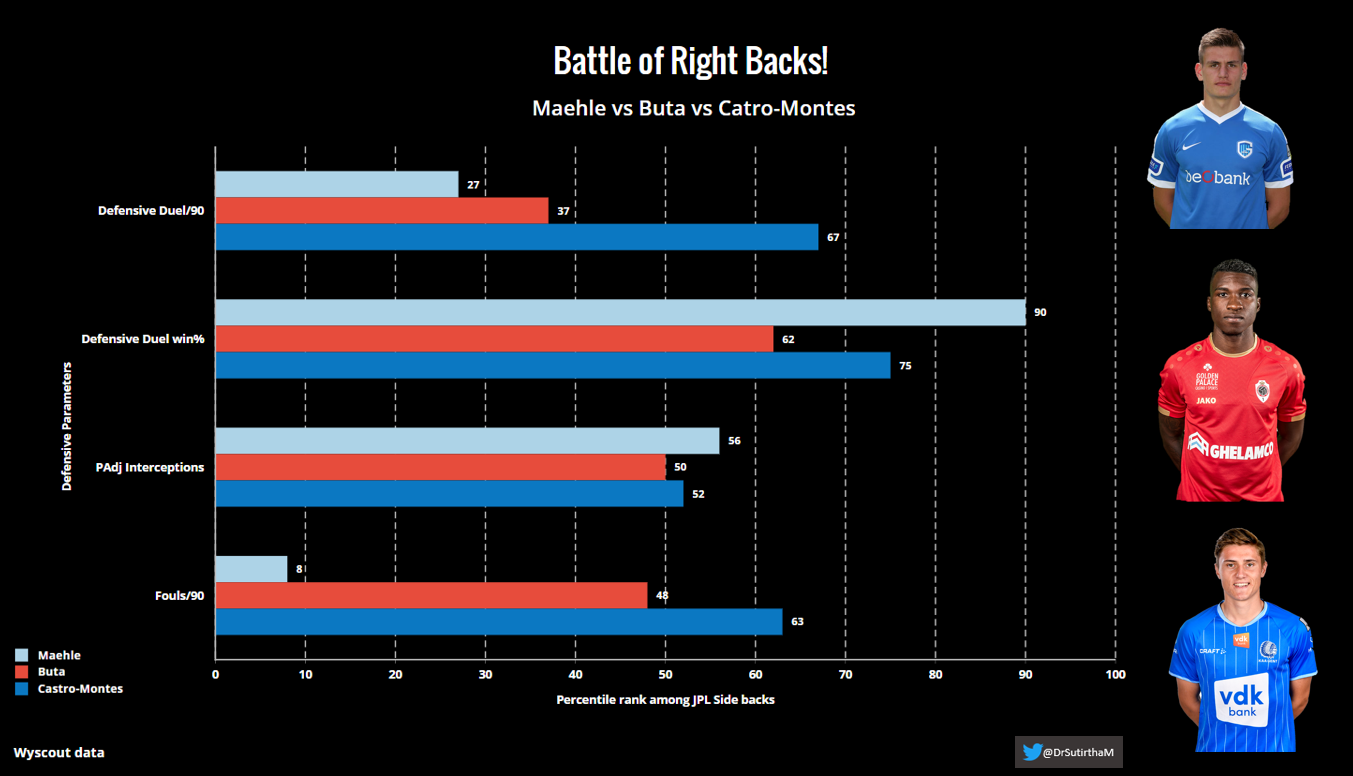 It's clear that each of these right backs have extremely different styles. Mæhle goes for less defensive duels per match but when he goes for a defensive duel, he wins most of them. The Dane is also the cleanest tackler among the three with the fewest number of fouls committed.
Castro-Montes loves a defensive duel and has fairly high win rate for those defensive duels. His enthusiasm sometimes gets the better of him and as you can see, he commits the most number of fouls among the three.
Buta falls somewhere in the middle in both defensive duels and fouls, as he is far more conservative than Castro-Montes in rushing into a duel. All of them are very similar in their interceptions. Overall, Mæhle is the best defensively among the three followed by Castro-Montes. 
Passing Comparison
Passing is a very important part of the right back's job description. Right backs are supposed to join the attack and be an outlet for launching attacks.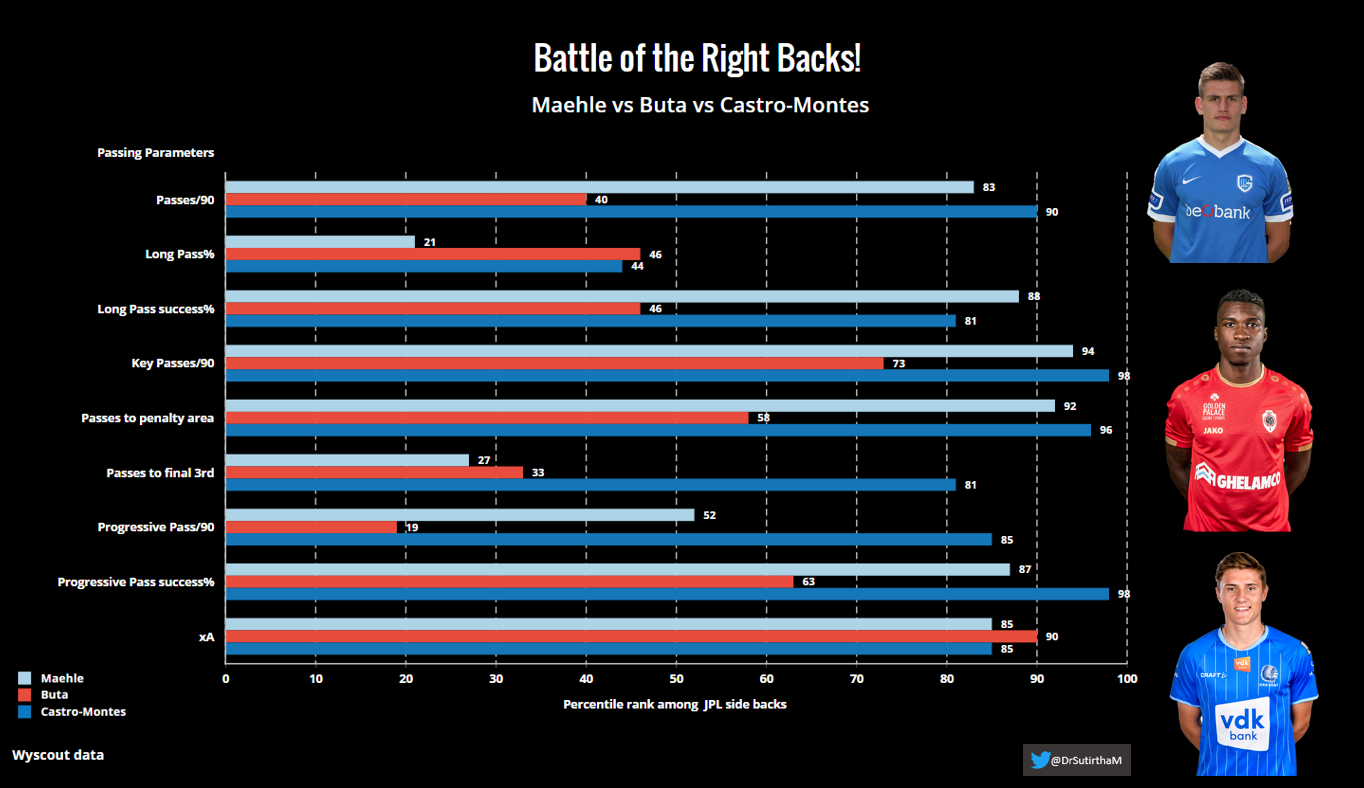 Here, we can see a clear trend emerging from the data. Buta averages the highest % of long passes among the three but he still has the lowest success % for the long passes. Mæhle has the lowest % of long passes among the three, but has the highest success rate.
Castro-Montes really shines in ball progression with his progressive passes – with the highest number and highest success percentage among the three. He is also the best among the three in terms of passes into the opposition's final third and passes to opposition penalty area.
Overall, Castro-Montes is the best at ball progression via passing and chance creation, although Mæhle comes close second here. Buta is 3rd but he is also hampered by Antwerp's relatively defensive style of play. 
Attacking comparison
In modern football, fullbacks are often the free man in attack and are very important in providing an extra option going forward.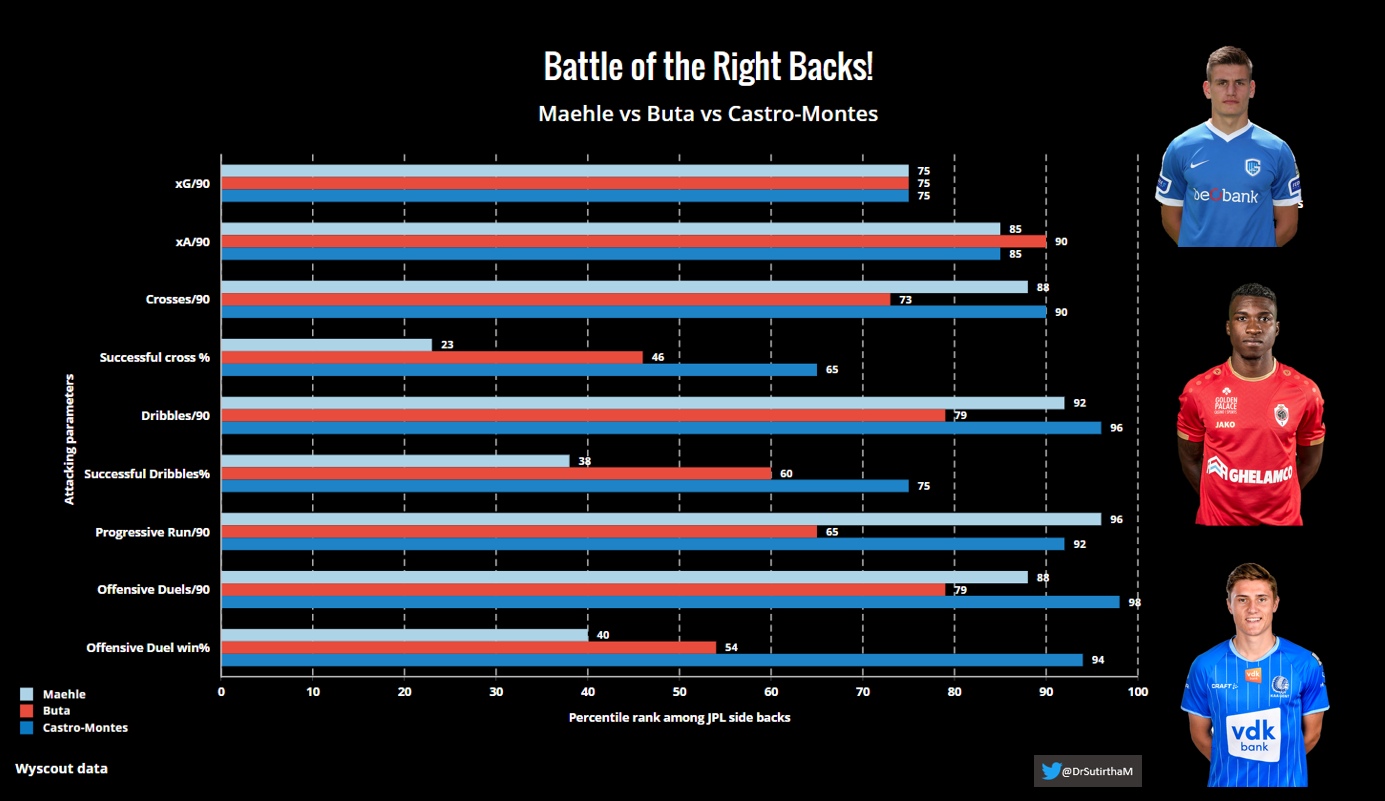 Once again, Castro-Montes comes up first, impressing with the highest crossing success rate among the three. The Belgian loves to attempt a dribble and also ranks ahead of the others in terms of winning offensive duels, progressing the ball via Progressive runs, and protecting the ball with his body.
While the Angola-born Buta is a strong, athletic fullback, he comes up short against Mæhle and Castro-Montes due to his conservative style. The Danish right back is far more positionally aware and defensively solid, and as proven by Marseille's deadline day bid, he is by far the most polished out of the three. Castro-Montes is the more attacking of the three, and while he is an exciting talent, he is still far more raw and has flashes of rash decision making and lack of positional judgement. 
Let's take a deeper look at each of the three players and how they stand out on their own.
Joakim Mæhle: Having joined from AaB Fodbold in the summer of 2017 to replace the departing Timothy Castagne, Mæhle has been a regular starter for Genk over the past two seasons, attracting interest from the likes of Arsenal, Sevilla and Southampton.
The 23-year-old Dane is pacey, agile, aggressive, athletic, a player who loves to bomb up and down the right flank with tremendous energy. He was called "Forrest Gump" by a former coach for his high stamina levels and his sheer pace.
Using the Smarterscout Smartermap and the Wyscout heatmap, we can see how he is covering the whole of right side and how much he is involved in attacking third for Genk.

His impact can be assessed from following statistics – Genk made 68.9% of their total crosses from the right side last season and Maæhle was responsible for 32% of those crosses.
The below pass map from a JPL match against Gent via @11tegen11 shows how almost everything that Genk did in attack flowed through Mæhle.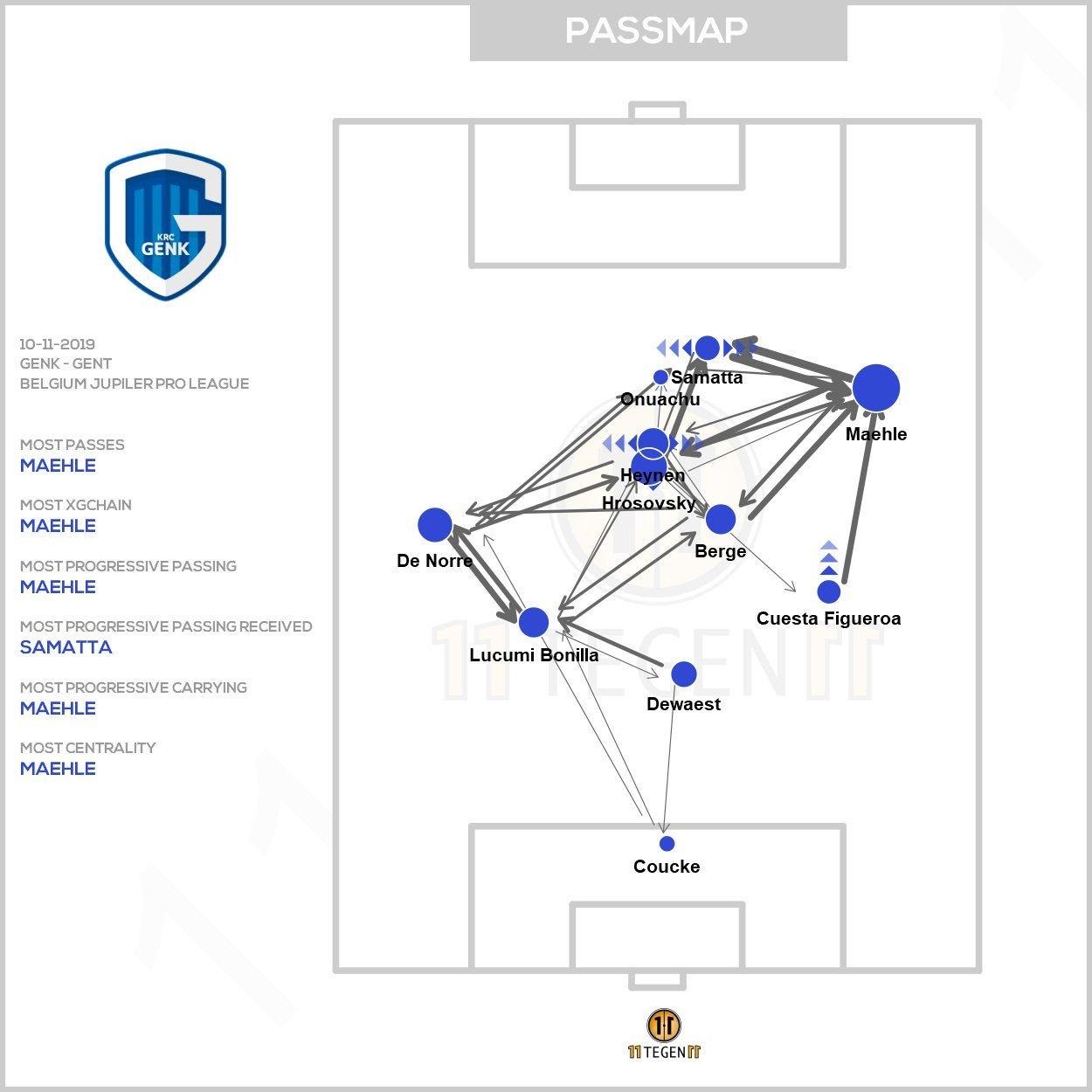 After selling Bouna Sarr to Bayern Munich for €10 million on deadline day, Marseille attempted to pull off a deal for Mæhle in the final hours of the window. Marseille reportedly reached an agreement to sign Mæhle for a loan fee of €2 million as well as an option to buy of €8 million (which would become permanent after Mæhle played 15 games for the club).
However, the negotiations broke down at the final moment when Genk changed their price tag, demanding €15 million, well above the €8 million + €4 million in bonuses that Marseille were willing to offer. Mæhle was frustrated from this last-minute transfer collapse, but if he keeps up the performances shown in the 2019/20 season, it'll only be a matter of time before he is playing in Europe's top 5 leagues.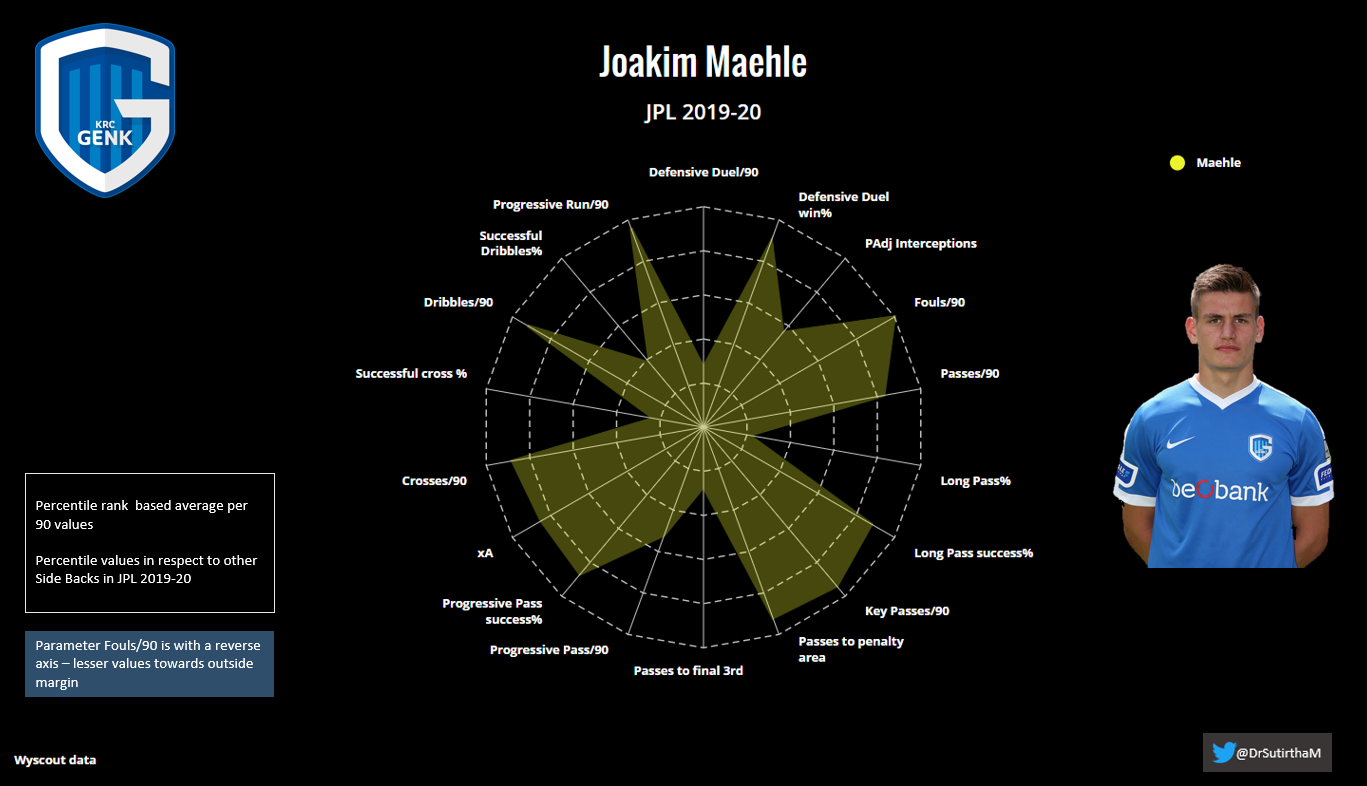 Alessio Castro-Montes: Similarly to Mæhle, Castro-Montes is also a 23-year-old right back whose pace, agility, and athleticism has seen him become an instant hit in the Jupiler Pro League. He is an impressive dribbler who prefers to attack than defend, and is vital at advancing the ball into the final third via progressive passing and dribbling, as seen in the below pass map via @11tegen11.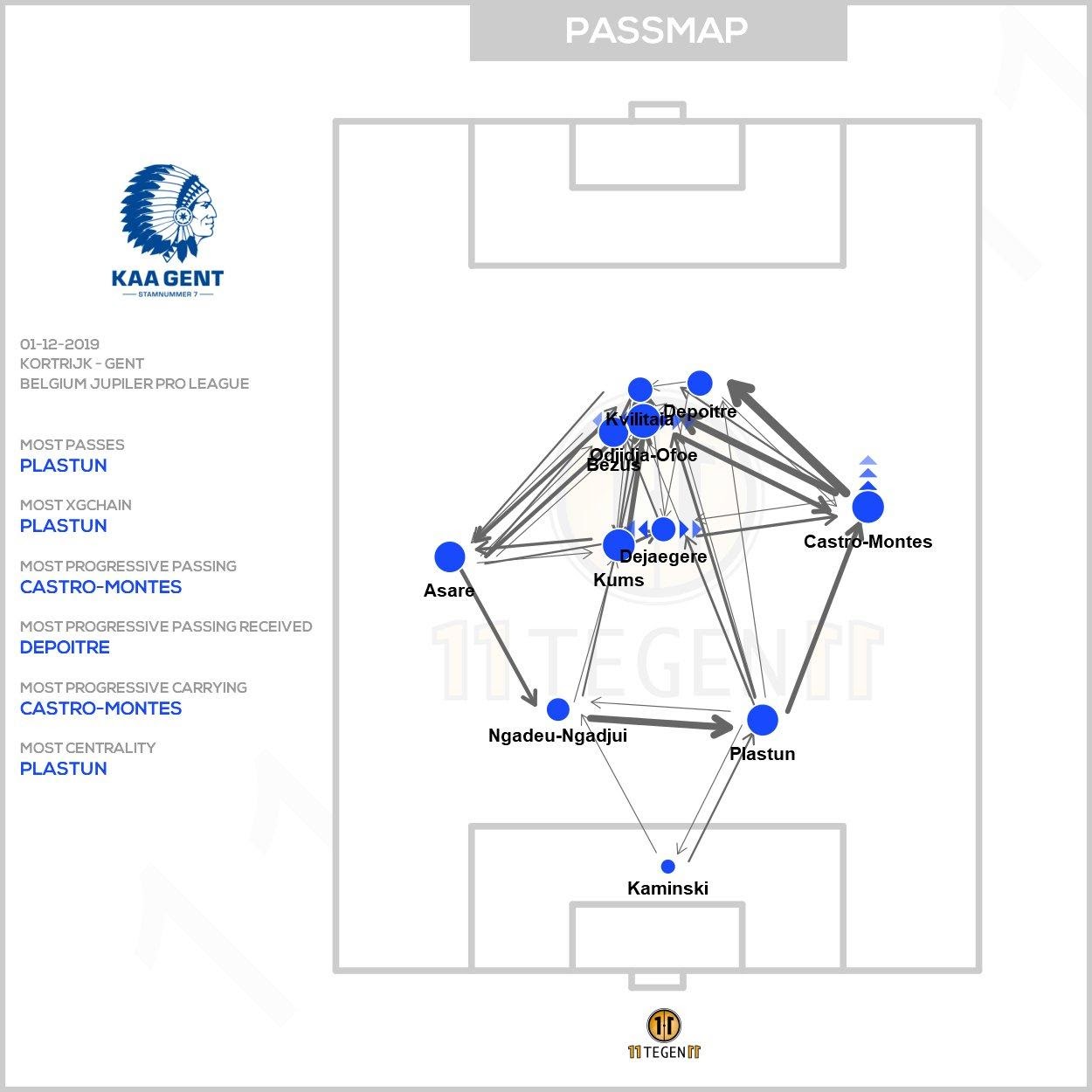 Gent made 51% of their total crosses from the right side last season and Castro-Montes is responsible for 30% of those crosses. Using the Smarterscout Smartermap and the Wyscout heat map, we can see how he is covering the whole of right side and is constantly involved in the attacking third.

From Samuel Kalu to Jonathan David, plenty of youngsters have left Gent to play for clubs in Europe's top five leagues, and Castro-Montes could be the next export. Sevilla have been linked, but there are plenty more clubs who could use a low-cost, attack-minded right back like the Belgian right back.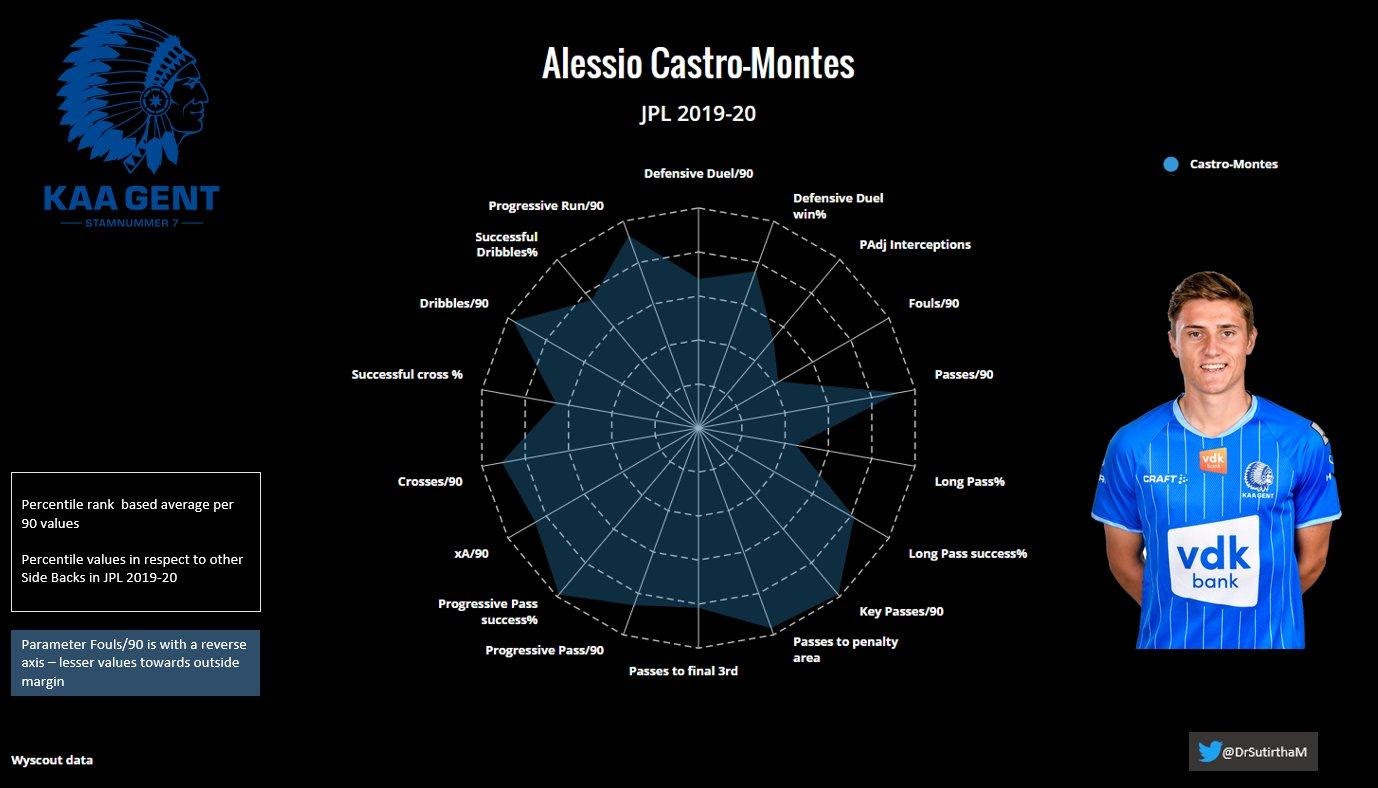 Conclusion
While Buta would suit a more defensive side, Mæhle and Castro-Montes are both solid right backs who are ready for moves to attacking sides. Castro-Montes is more of an attack-minded fullback than the Dane, but he is also more prone to defensive errors. Either way, all three of them have the potential to succeed in Europe's top five leagues.
By: The Mukherji
Featured Image: @GabFoligno / DeFodi Images / Getty Images