Data Analysis: Emile Smith Rowe
Heading into Boxing Day, Arsenal sat 15th experiencing their worst start to a campaign since 1974/75 and the club flirting with the relegation zone. Confidence was at an all-time low, pitiable performances from experienced heads and player social media feeds filling with apologies game-after-game. The squad found themselves in a lamentable state. 
With that, Arsenal manager Mikel Arteta turned to 'the kids' for inspiration, bringing in Emile Smith Rowe and Gabriel Martinelli to accompany Bukayo Saka building a youthful side. Altogether they have inspired drastic change dragging the side from the relegation zone's murky waters and progressing in the FA Cup with four wins out of four. Of the three, Smith Rowe's has been arguably the most impactful to the squad.
The boy dubbed the 'Croydon De Bruyne' returned from loan at Huddersfield having helped their Championship survival and returned with newfound confidence. However, it hasn't always been plain sailing for the youngster. He faced numerous setbacks including a groin injury whilst on loan at RB Leipzig and a right shoulder injury stopping his development earlier this season.
Nevertheless, his perseverance has paid off as he finds himself undroppable from the Arsenal first team. So how has Smith Rowe managed to change Arsenal's fortunes for the better?
Positioning
Smith Rowe's introduction forced Arteta to shuffle the formation into a 4-2-3-1 to accommodate the number 10 role. He has now begun to occupy spaces that were void of presence before, but rather than remaining static he tends to drift wide. This opens gaps for teammates to exploit, as he lures opponents from their duties and disrupts defensive structure.
He also provides an outlet for wide players, a particular problem on the right side with Willian and Nicolas Pépé often left isolated in the 3-4-3 formation. Below shows the structural change of the squad with a new balance.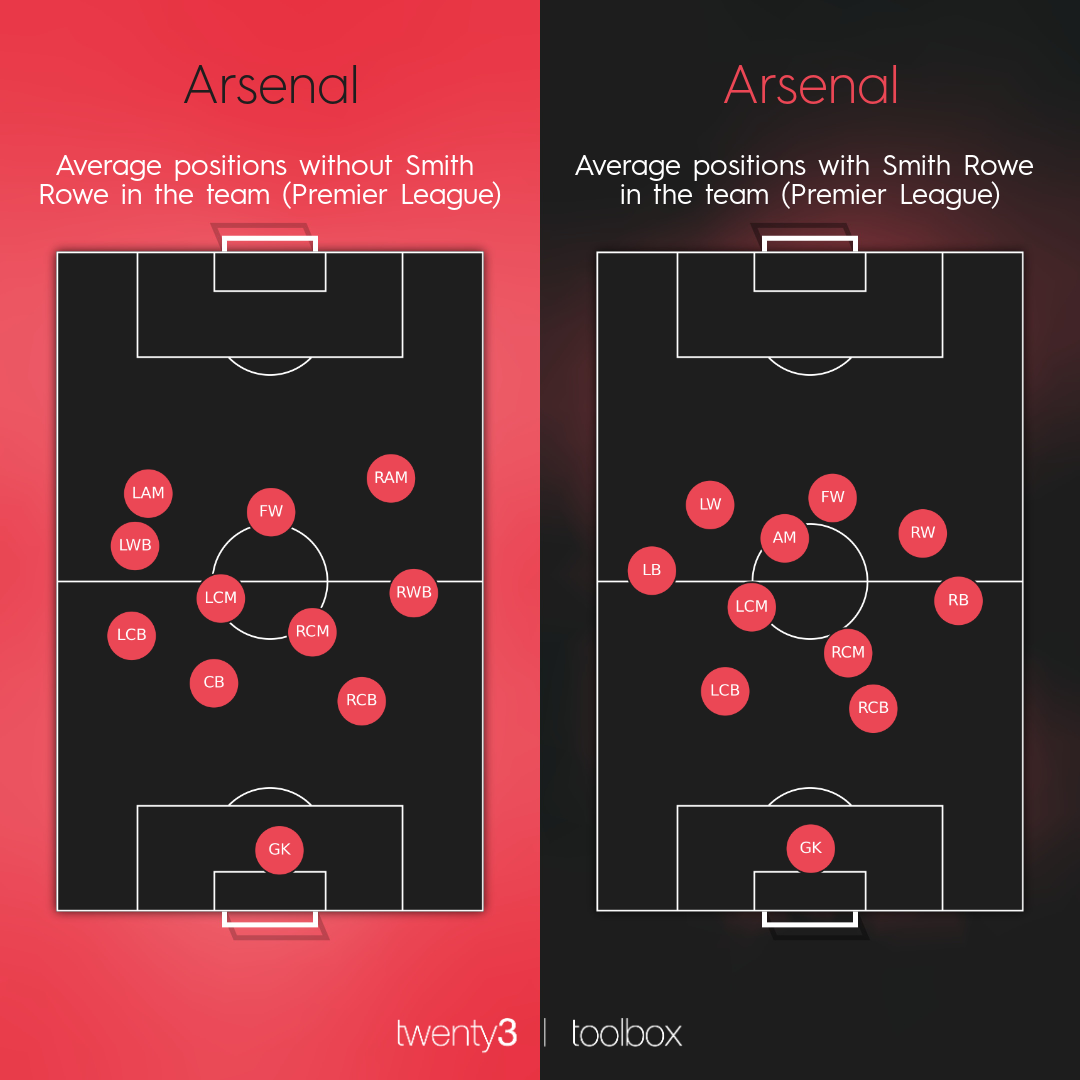 Photo: Twenty3/Wyscout
The switch to 4-2-3-1 has also reduced the left from overcrowding, allowing Kieran Tierney to showcase his full attacking capabilities with ceaseless runs and deadly crosses for Pierre-Emerick Aubameyang and Alexandre Lacazette to exploit. In his last three games alone he has now got two assists and a goal to his name (Previously 0 in both stats for this season).
As for Smith Rowe's involvement with the ball, he is not too dissimilar from Aston Villa's Jack Grealish. The two tend to gravitate towards the touchlines whilst showing their support in the build-up of play (Grealish shows significantly more usage and involvement in-possession).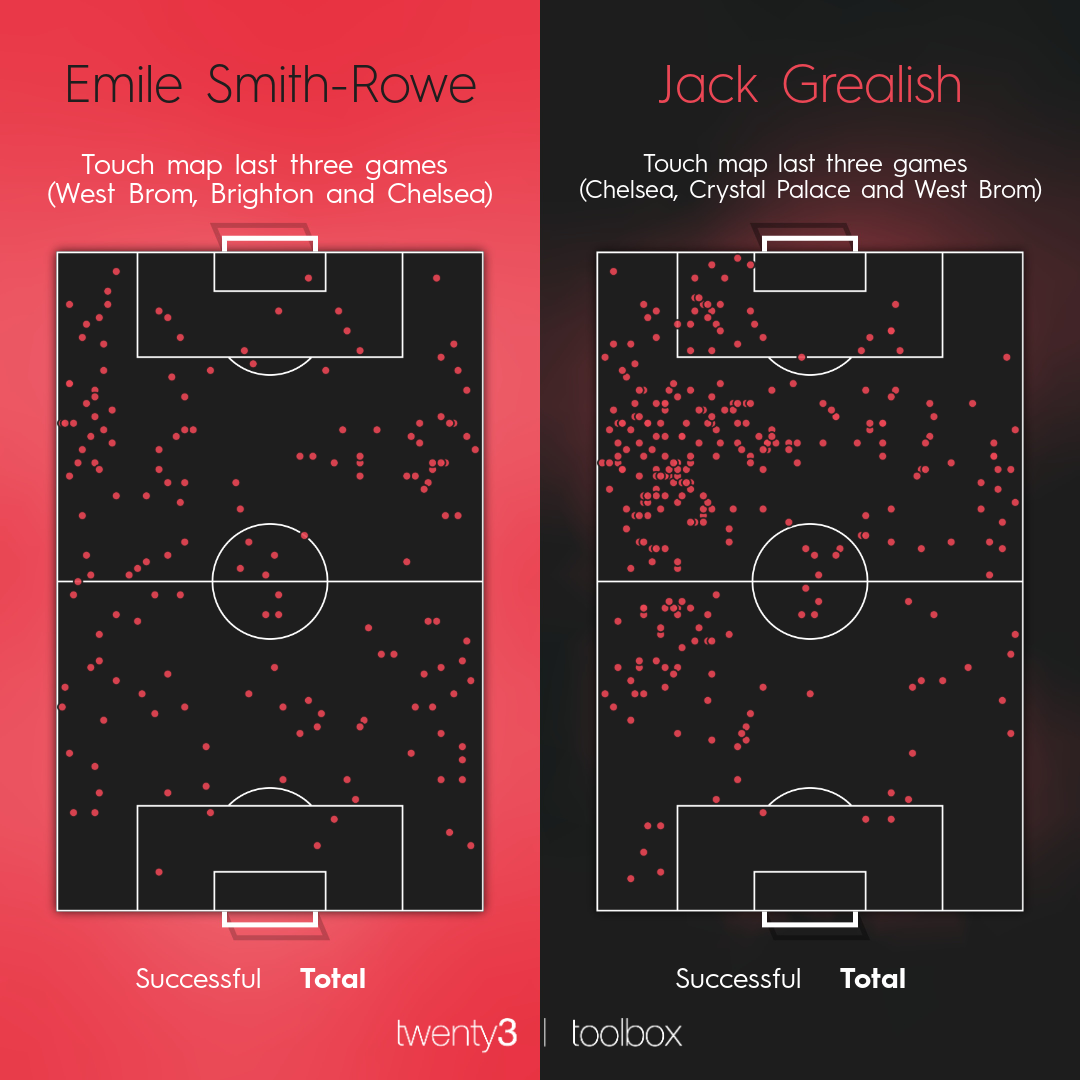 Photo: Twenty3/Wyscout
On the other hand, Leicester City's James Maddison takes a more traditional approach to the #10 role in which he spreads evenly across the opposition's half to impact the game in the centre of the field.
Playing Style
Comfortable on the ball and in possession, Smith Rowe looks to receive passes on the half-turn and play quick one-twos with teammates, breaking defensive lines. His close control allows him to receive the ball in small pockets of space to supply or recycle play. Furthermore, his quick decision making and ability to drive with the ball has made Arsenal a more minacious proposition going forward, especially in counter-attacking situations.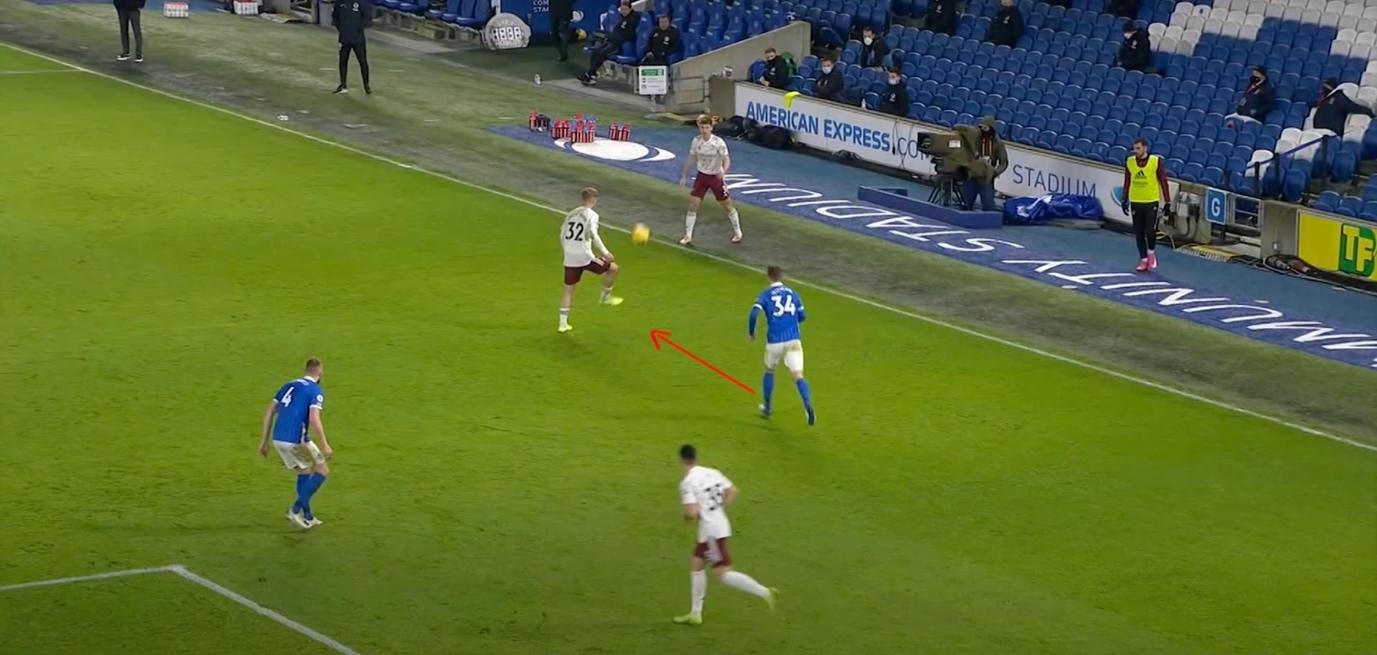 In this example against Brighton & Hove Albion, Smith Rowe (32) is on the receiving end of a throw-in with Joël Veltman (34) pressuring.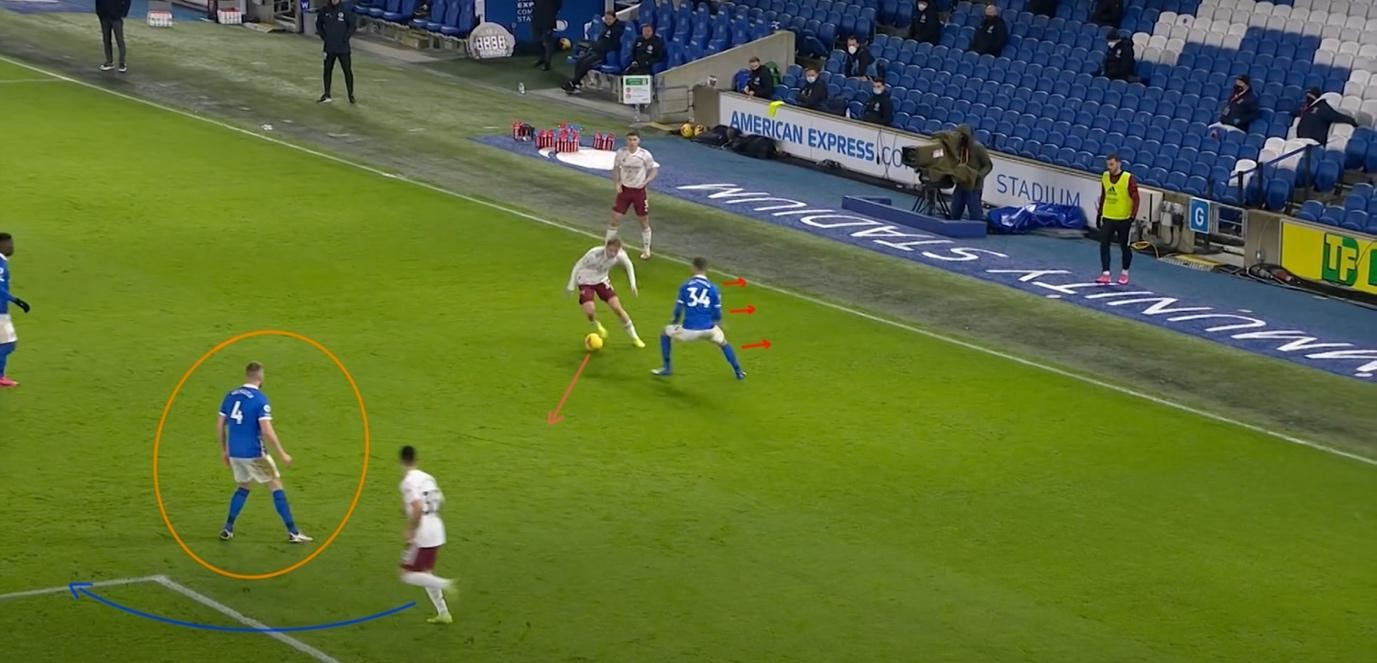 He shows his close control by immediately turning to face Veltman head-on. Martinelli recognising, moves to the inside to drag Adam Webster (4) and give Smith Rowe more space to attack.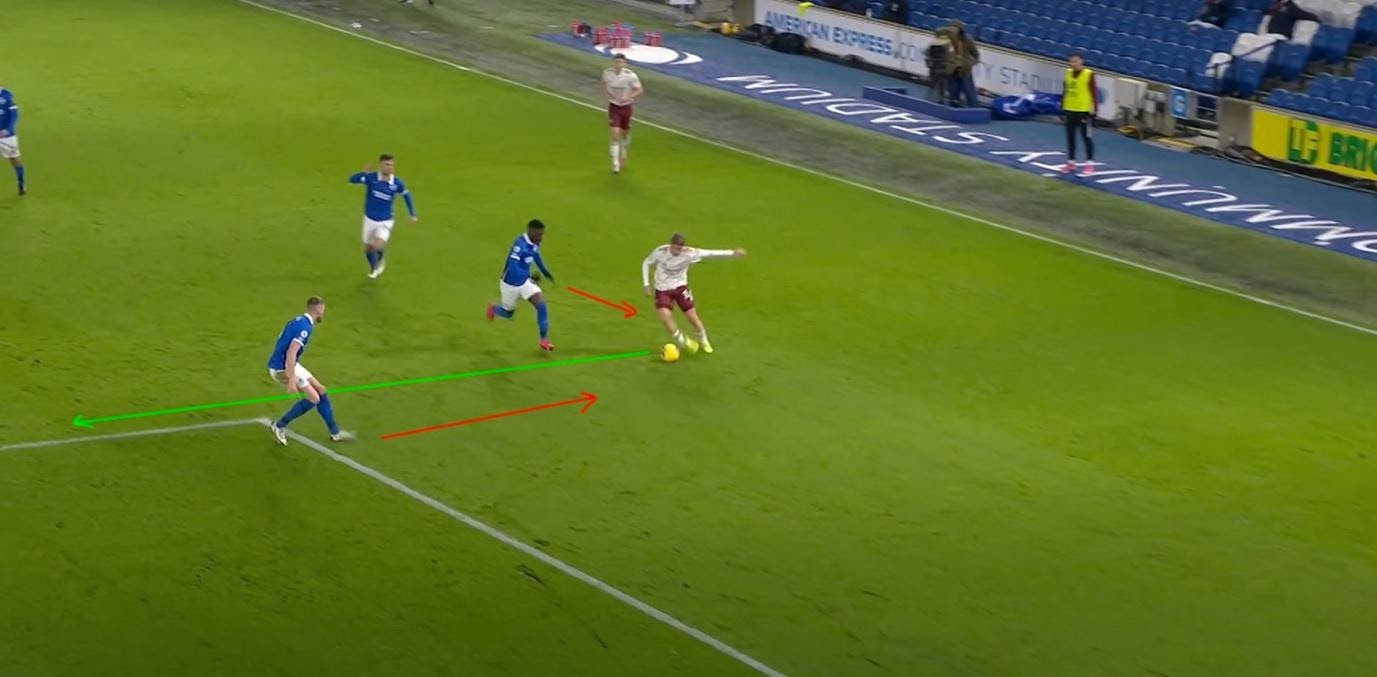 Smith Rowe beats his man and Yves Bissouma comes over to cover. Martinelli has made the inside option but Webster sticks to his area, recognising this Smith Rowe looks to pass inside.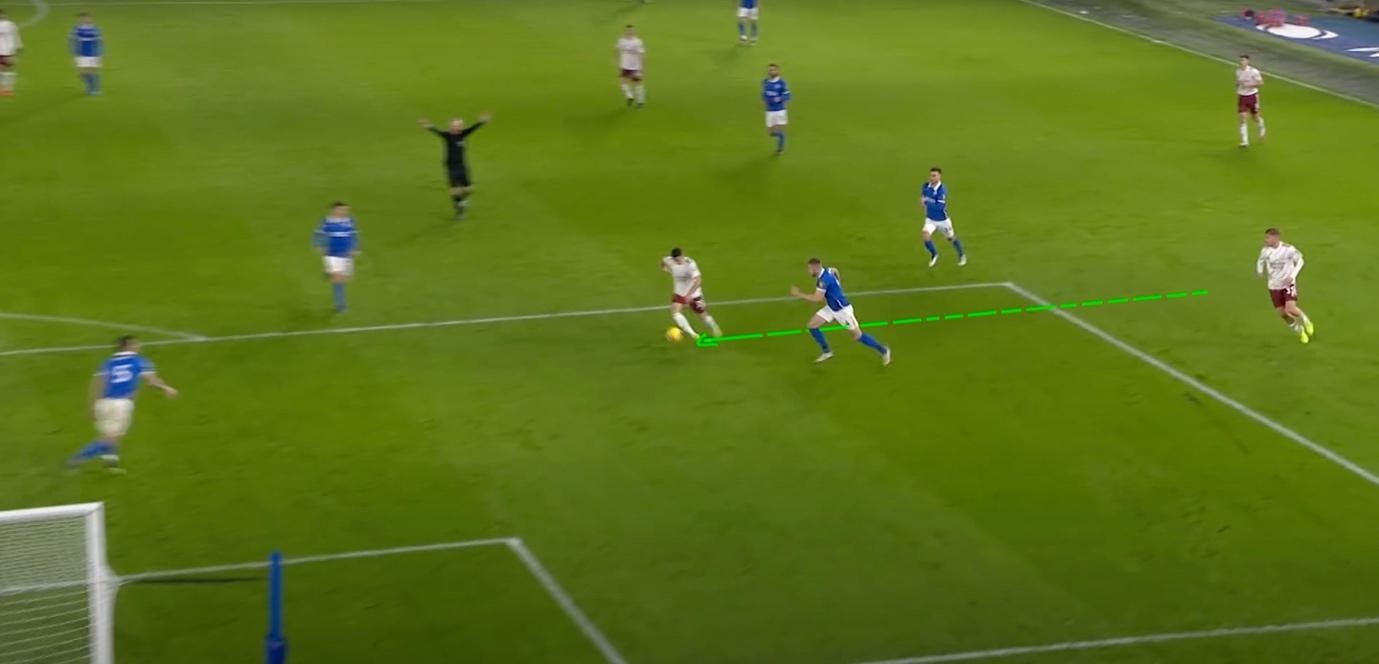 Smith Rowe keeps his balance and successfully finds Martinelli inside the box who is well closed down by Lewis Dunk (5) and rushes his shot over the bar.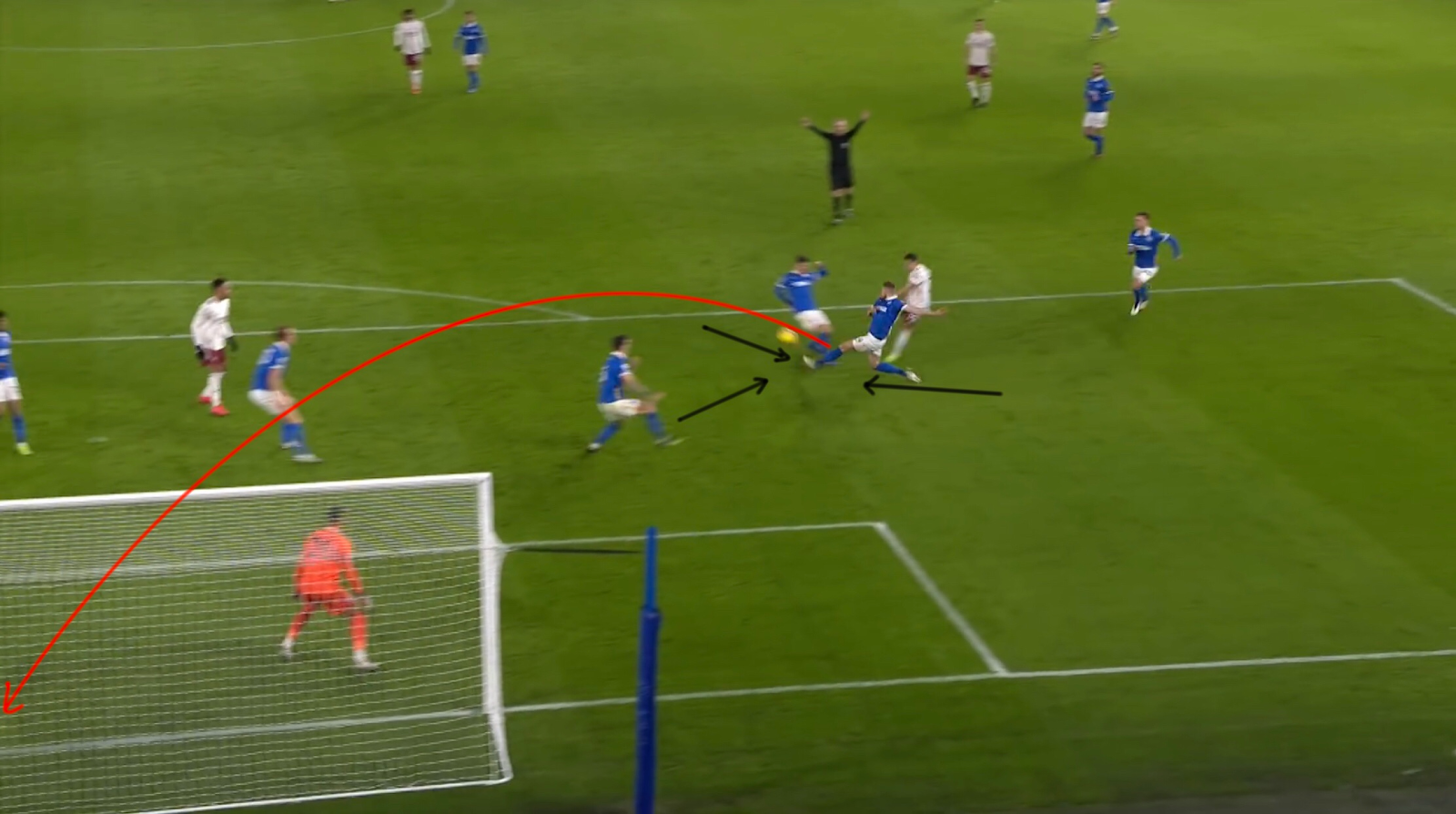 When passing Smith Rowe tends to keep it simple opting for security, but when an opportunity arises for an inventive pass, he takes it. This season has already seen him rack up four assists (1st in Arsenal assist table) and nine key passes in 438 minutes of play. His pass map shows his inclination to drift wide whilst also showing a number of inventive passes into the box which has been missing previous to his inclusion.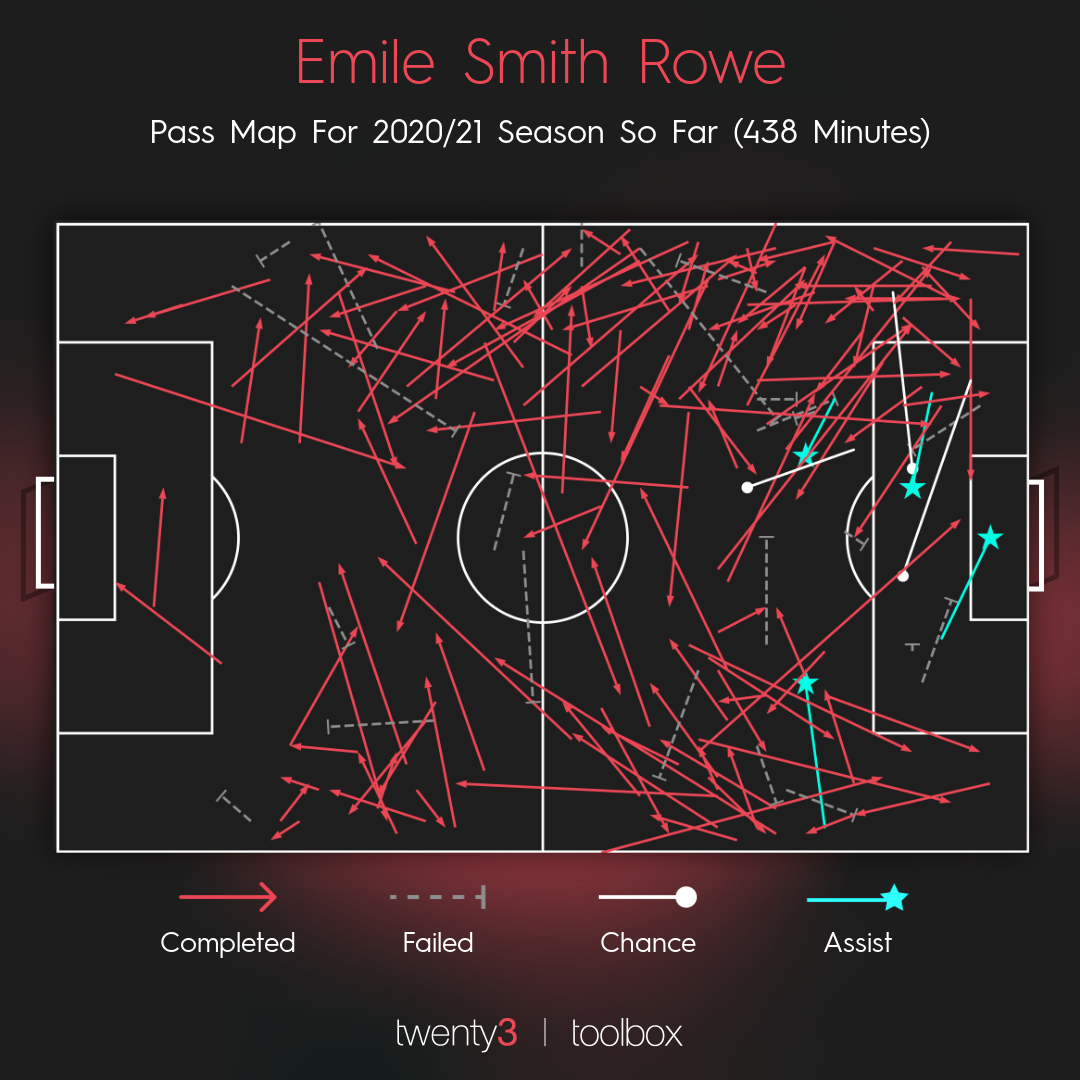 Photo: Twenty3/Wyscout
Notably, Mesut Özil's absence has meant a lack of innovation from the Arsenal midfield with an obvious disconnect between midfield and attack. Smith Rowe's introduction has reconnected the two, allowing for attacks to grow organically through the opposition's half rather than Lacazette dropping all the way to the halfway line to receive passes.
The young Gunner also possesses an eye for goal. Many Arsenal fans will recollect his long-range finish in pre-season against Atlético Madrid and more recently, his goal against Newcastle in the FA Cup.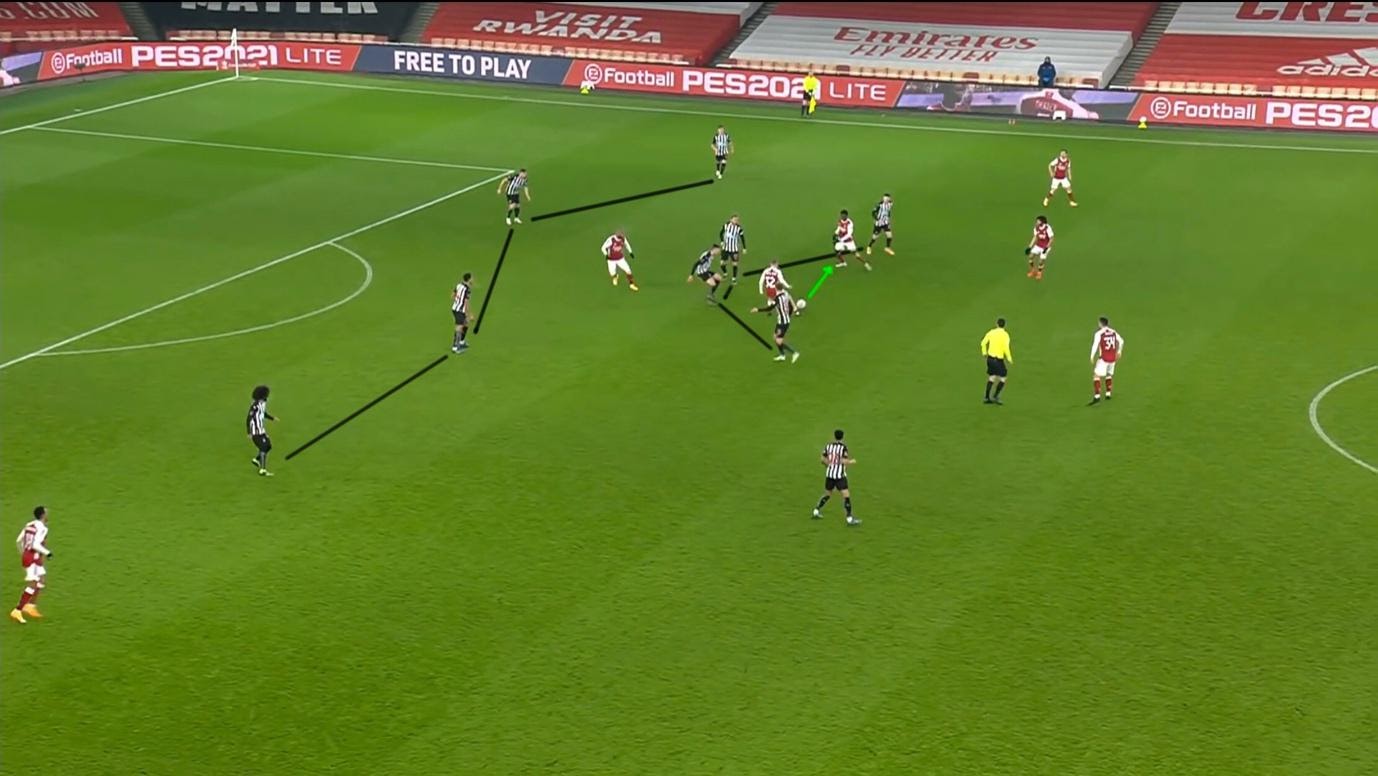 Smith Rowe quickly passes into Saka. Newcastle have a strong defensive line with four midfielders surrounding both Smith Rowe and Saka.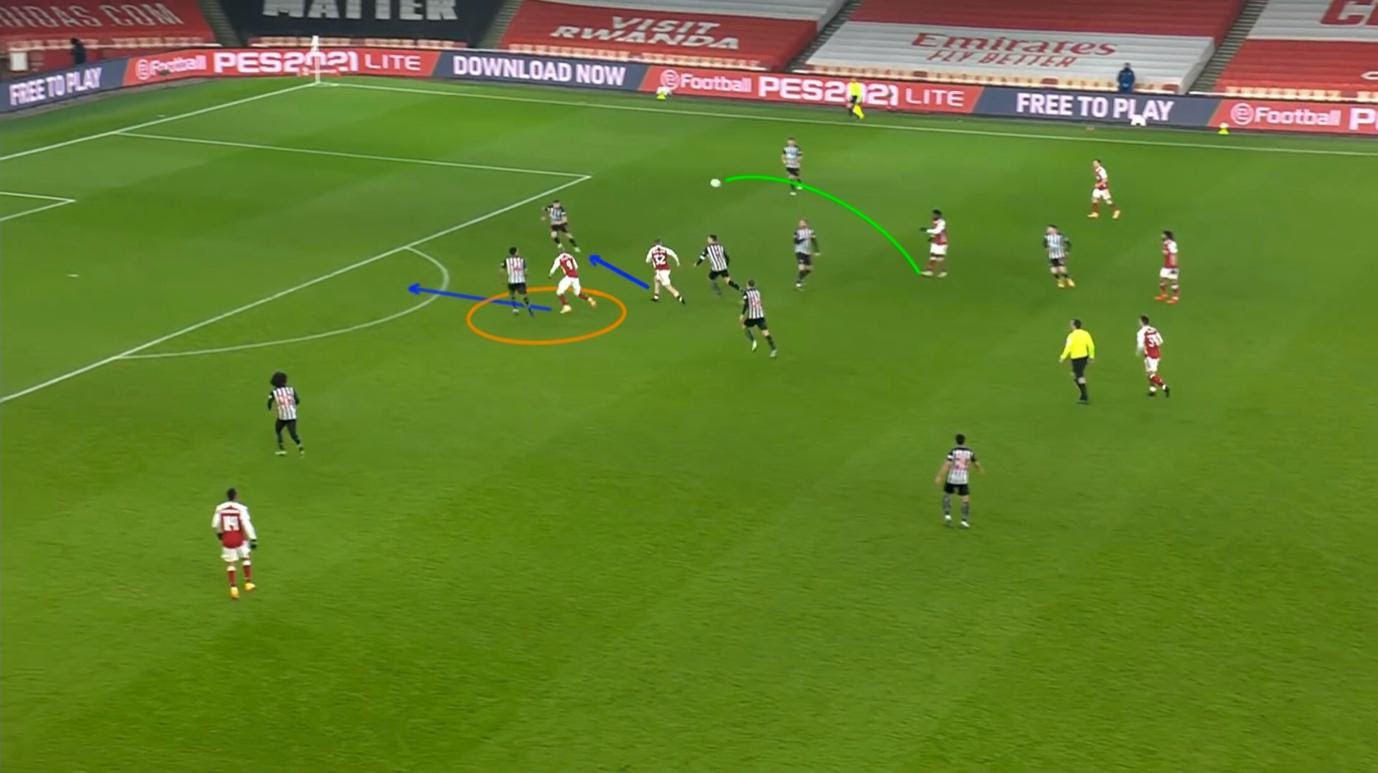 Saka places a cheeky chip to Lacazette to get out of the busy midfield. Smith Rowe starts his run after passing in an effort to make another option.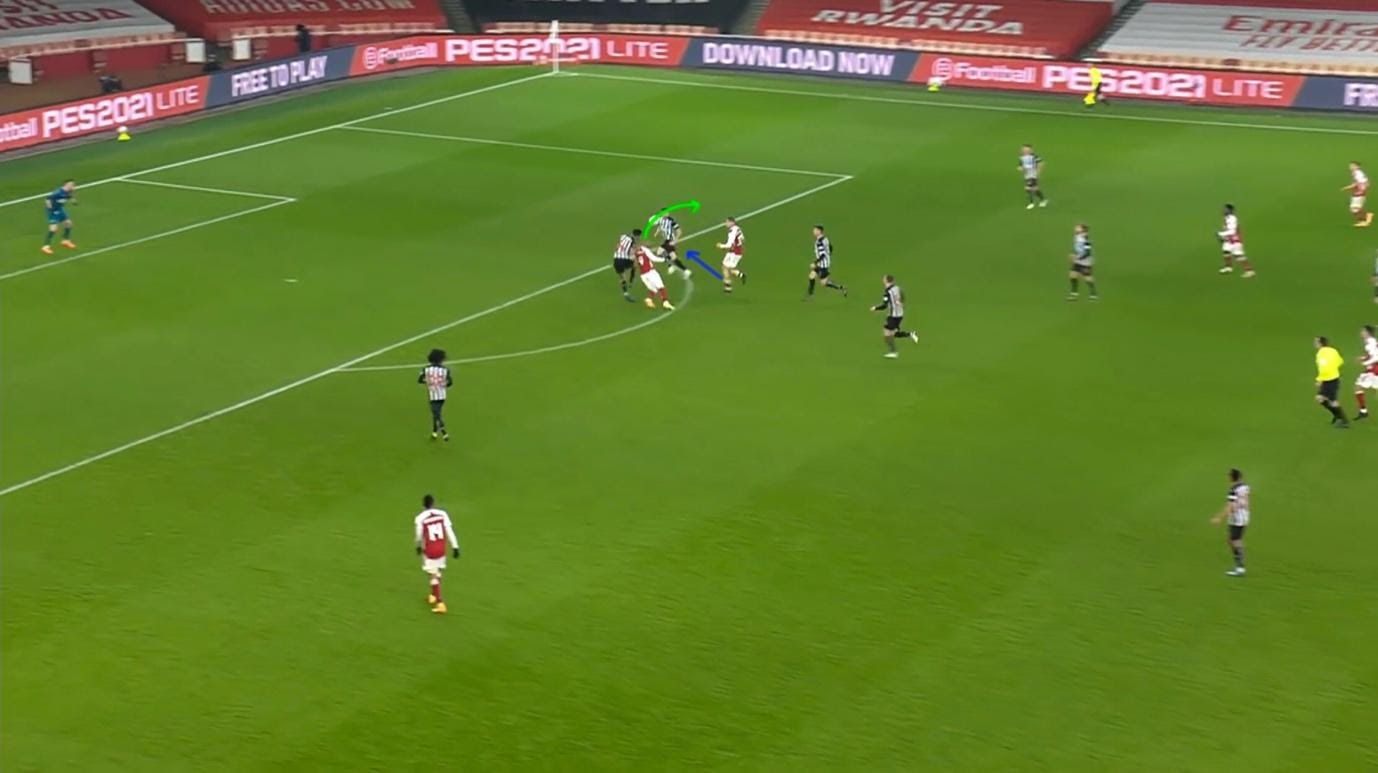 Lacazette tussles with the defender in an effort to pass into Smith Rowe's supporting run.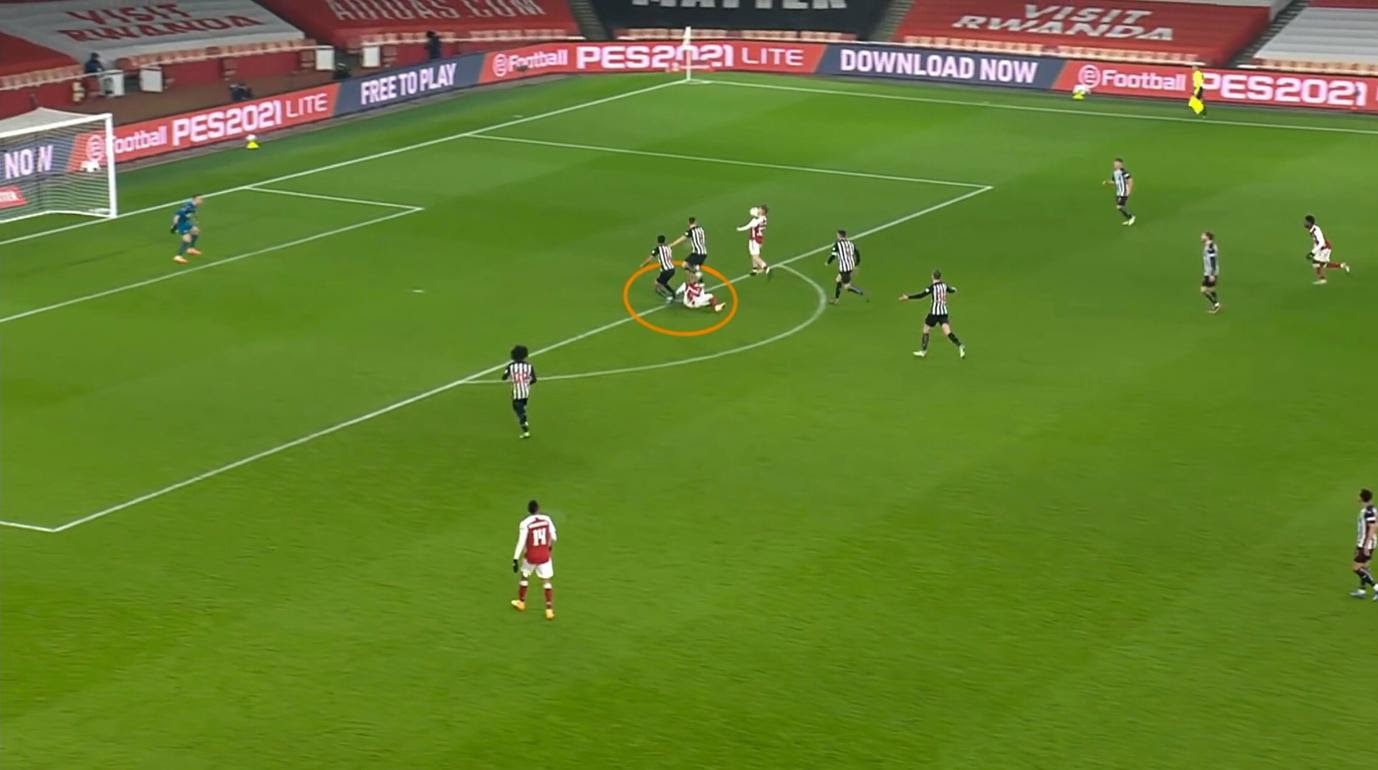 Smith Rowe brings the ball to ground with an adroit touch on his chest.
Smith Rowe's touch gives him the opportunity to have a shot. He slides the ball under Martin Dúbravka hitting the inside of the post and into the back of the net to put Arsenal a goal up in the 109th minute.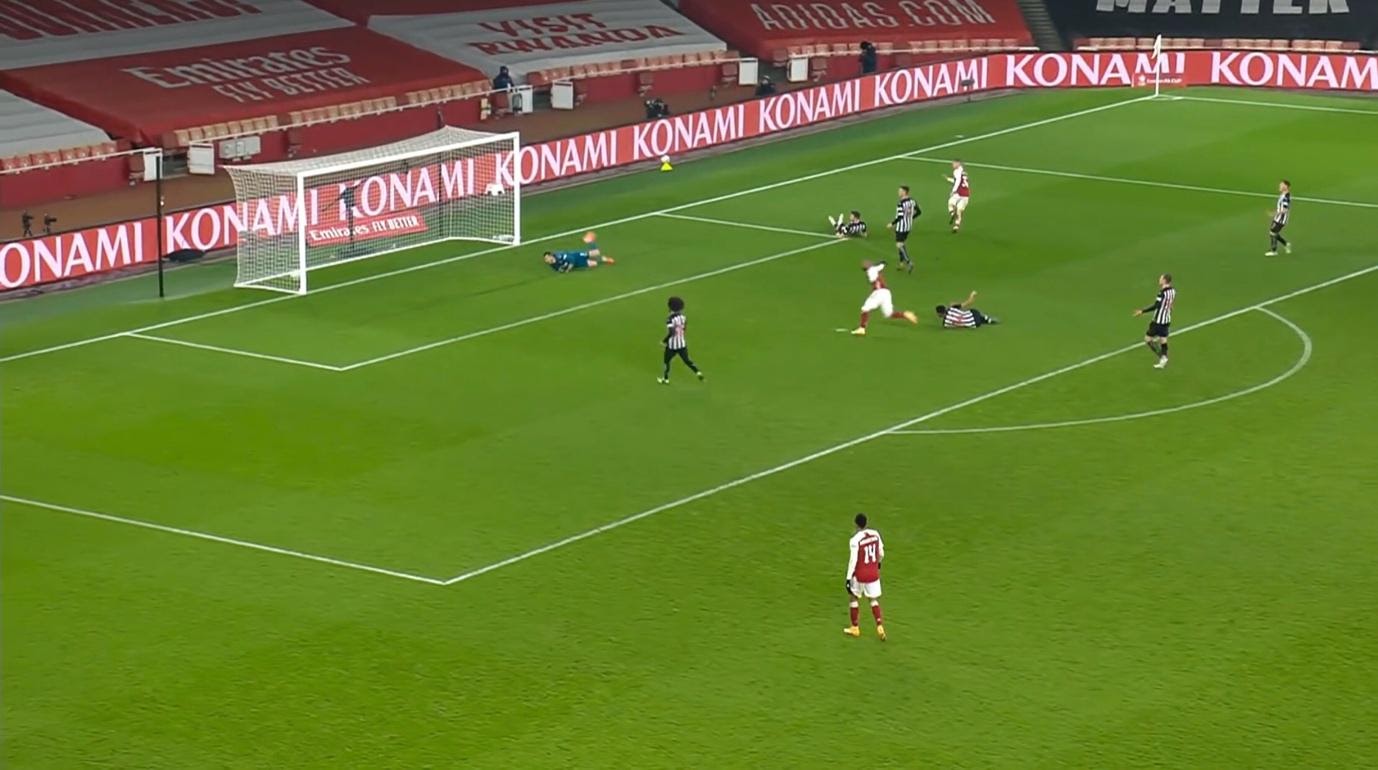 Whilst Smith Rowe has exhibited deadly finishing, his most impressive attribute is his off the ball intelligence. Smith Rowe constantly makes second-option runs when recognising space and attacks it relentlessly as he did against Newcastle.
This allows link-up play to take effect whilst providing opportunities for return passes. His Newcastle goal was a prime example, but his assist against West Brom as snow cascaded down over the Hawthorne Stadium possibly eclipses his FA Cup goal.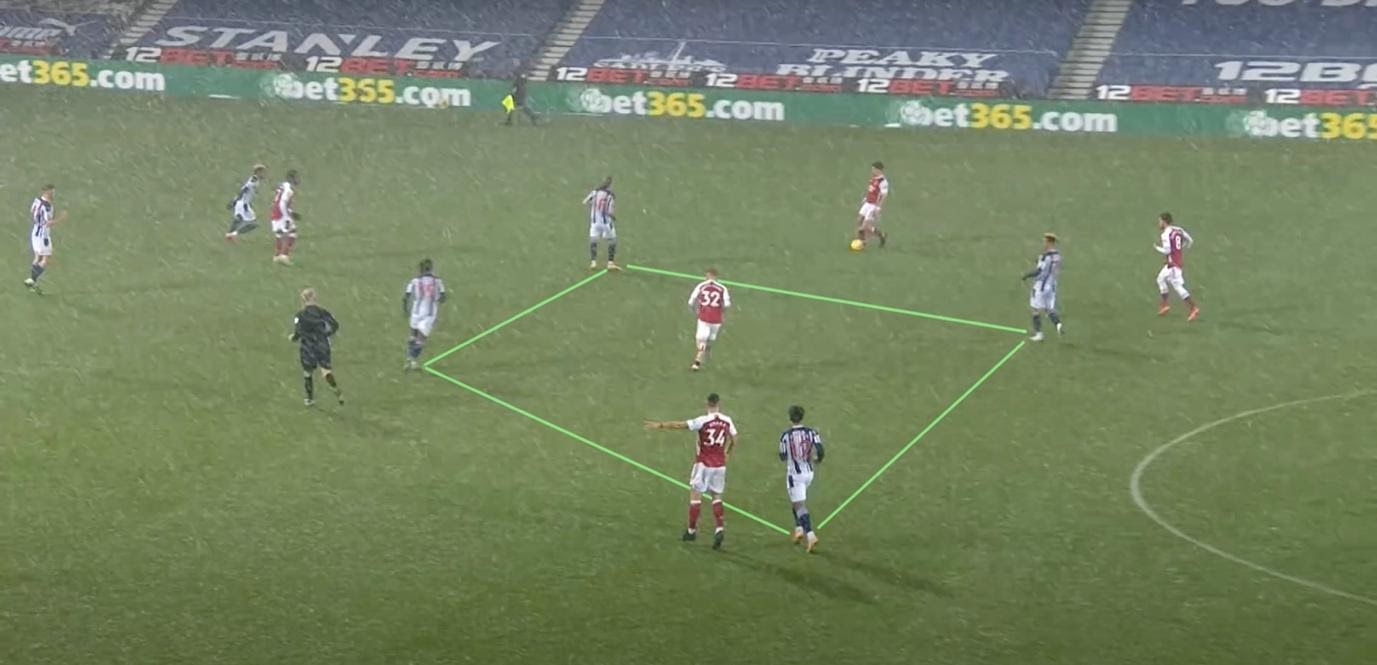 Smith Rowe actively makes an option for Héctor Bellerín between the West Brom midfielders and quickly glances up at Saka before receiving the pass.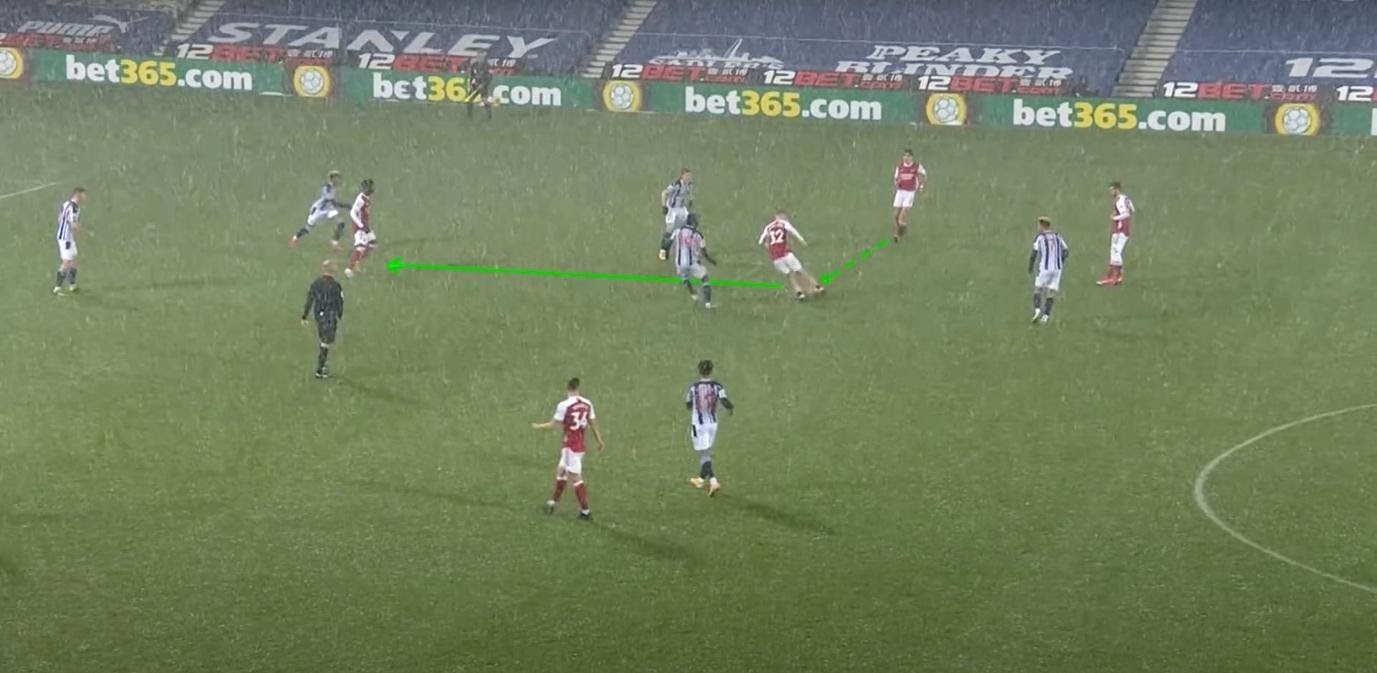 Smith Rowe then initiates the sequence with a pass to Saka's feet first-time after receiving the pass.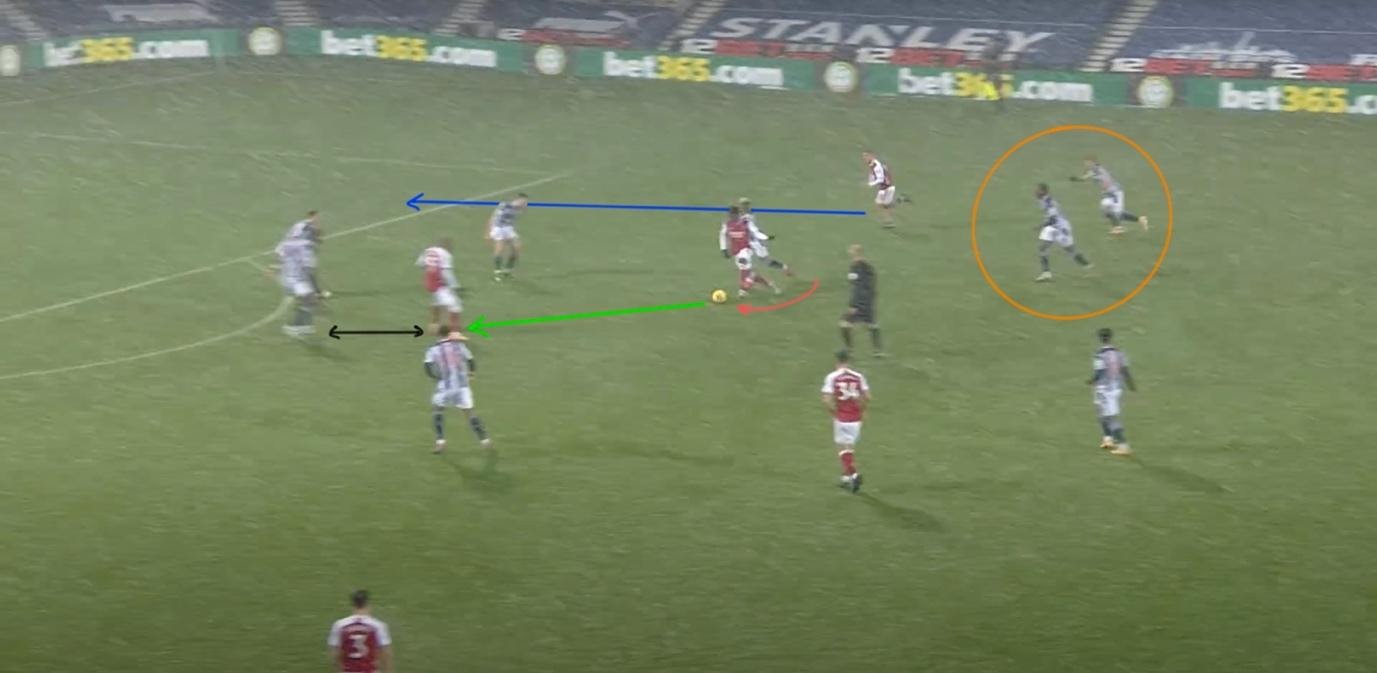 Saka swivels past his man and plays it into Lacazette, with the West Brom defender not tight enough to the Frenchman. Smith Rowe makes a supporting run into the space Saka had previously occupied with both West Brom midfielders recognising his run too late.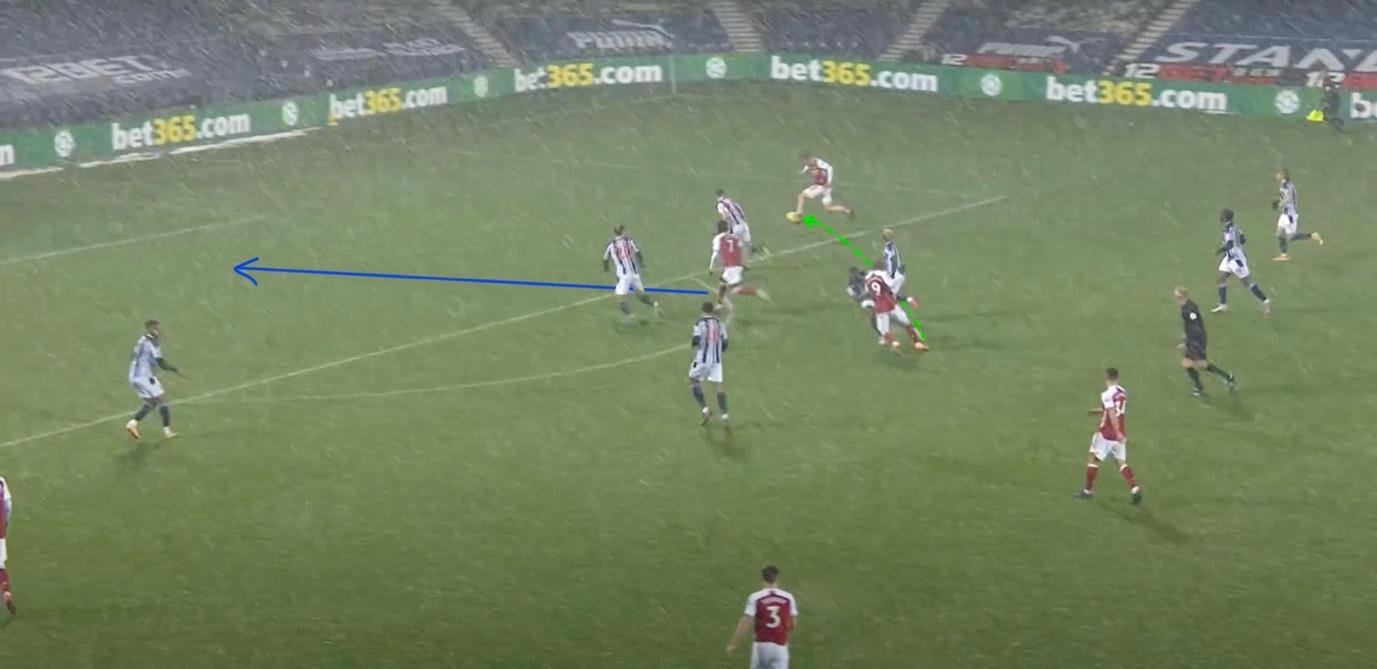 Lacazette finds a nice pass back to Smith Rowe who controls it with Saka darting in front of Branislav Ivanović. Smith Rowe then nonchalantly rolls the ball into Saka's path with the outside of his boot for an open goal.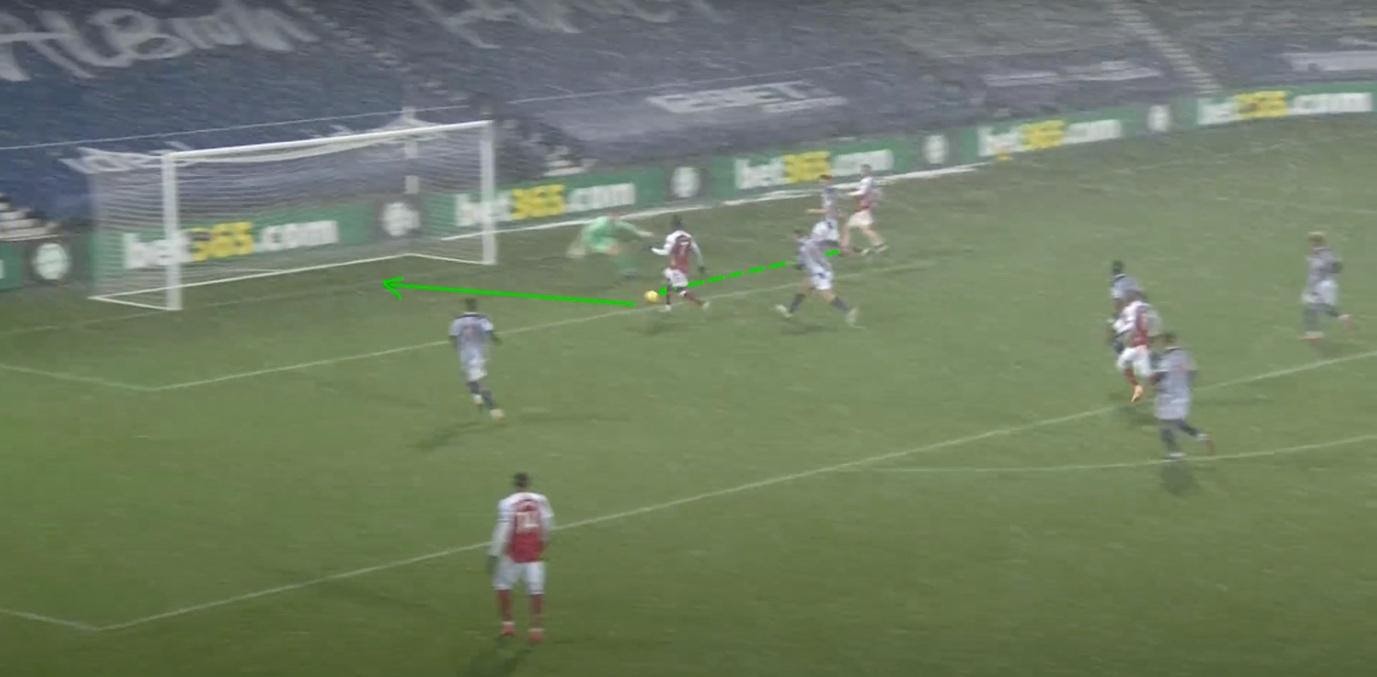 Making secondary runs has been crucial to Arsenal's attacking revival, attacking play has become more fluid and harder to defend than the hit-and-hope crosses from deep that had been easier and easier for opponents to foresee and defend. Now the crosses are coming from a shallower more dangerous position, rather than the high looping crosses before-hand.
Defensive Contributions
Supplementary to Smith Rowe's offensive prowess is his defensive work-rate that was fostered during his time in the championship at Huddersfield. Smith Rowe makes evident efforts to pressure players, sprint back to position and make key challenges in breaking up play, which he displayed against Brighton when tackling Alireza Jahanbakhsh (16) inside the box.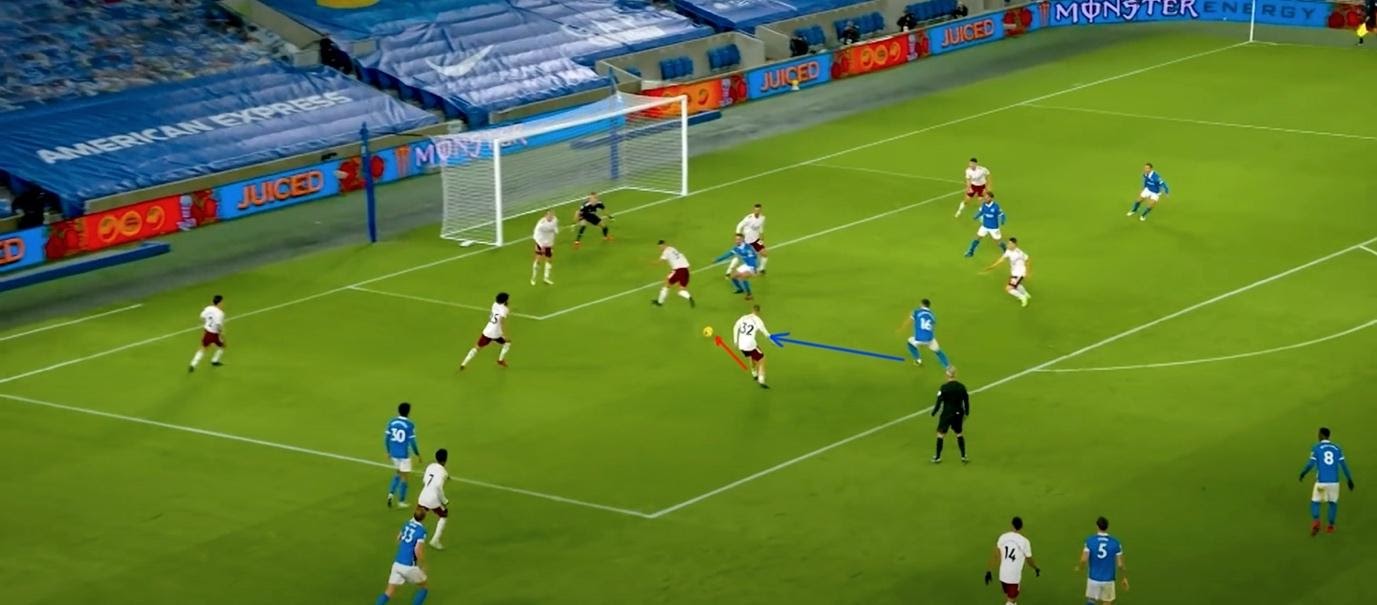 There is a loose ball in the box with Granit Xhaka disoriented, Mohamed Elneny sucked out wide, but Smith Rowe as the third midfielder is in the space to make the challenge and is actively on the balls of his feet.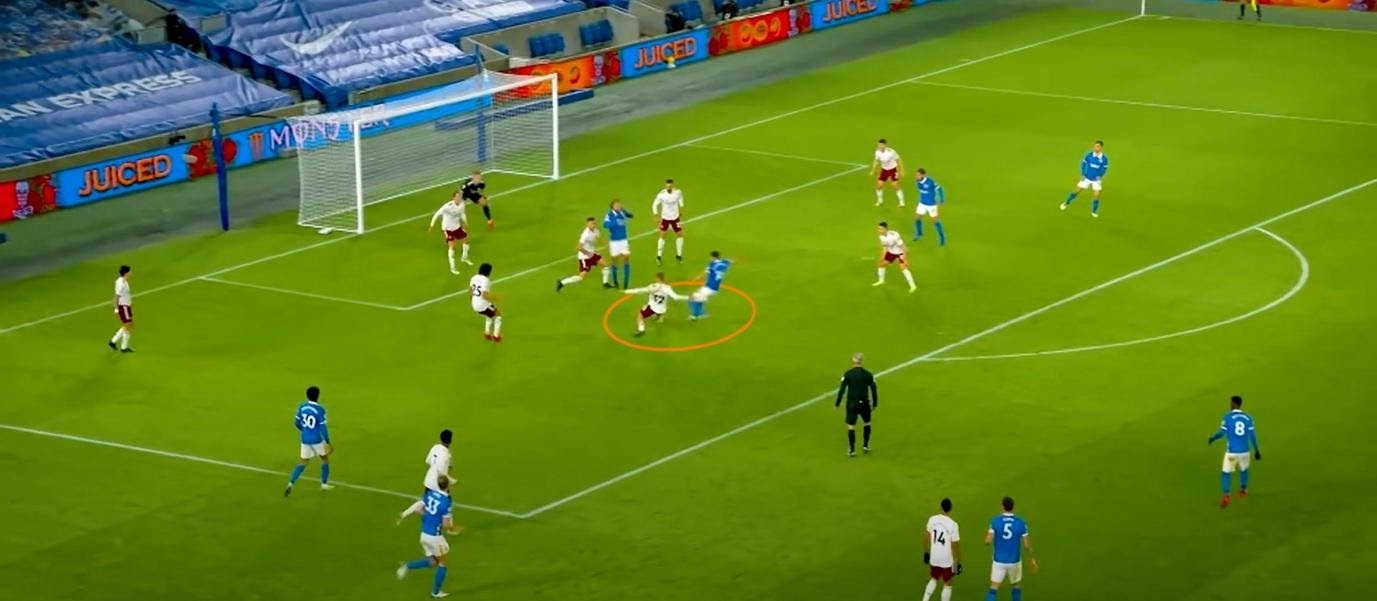 Smith Rowe goes in for the challenge and pushes the ball into Martinelli's path to clear the danger.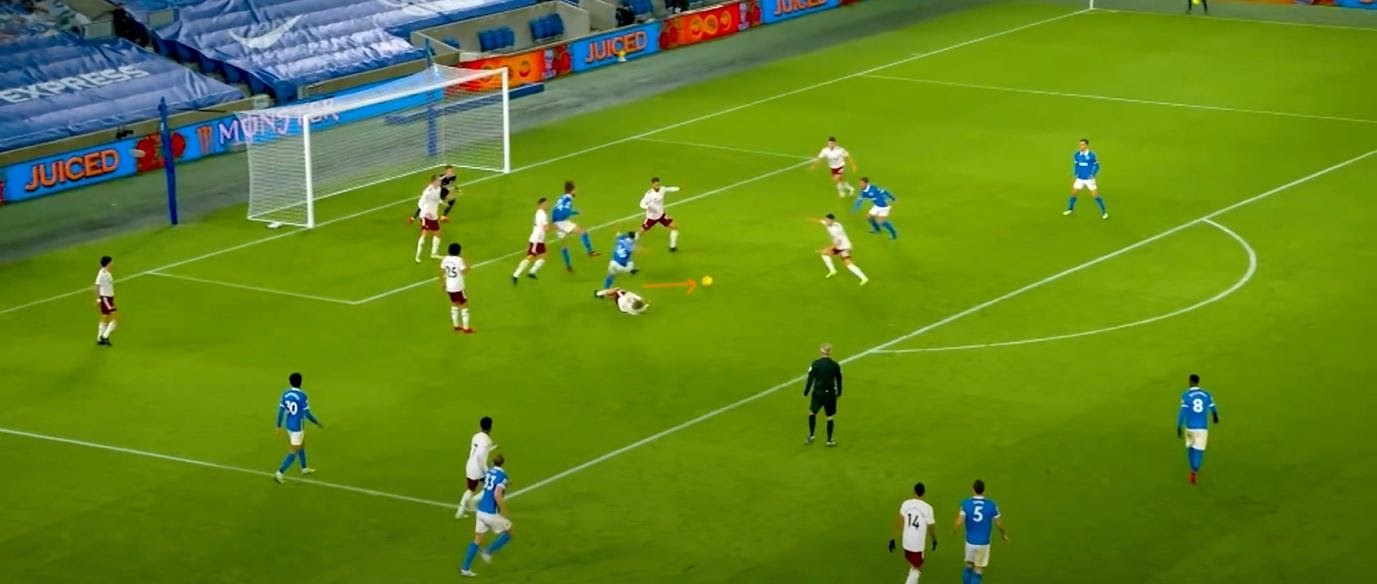 And what Arteta has repeatedly echoed since the day of his appointment has been the "non-negotiables" the need for hard work, demanding the highest standard on-pitch and recognising that it is a privilege to play for Arsenal Football Club, which Smith Rowe has shown in abundance since his selection.
Conclusion
What Smith Rowe so desperately needs now more than ever, is minutes. A consistent run of games injury-free to accumulate the first-team experience which he lacks. Smith Rowe's introduction has been a breath of fresh air and turned around Arsenal's poor form but burdening him with being the sole creator in the squad could be expecting too much. His injury-record and young age could prove too much especially down the stretch of the congested season with competitions in Premier League, Europa League and the FA Cup.
If Arsenal were to bring in another creator with reports suggesting interest in Emiliano Buendía and Julian Brandt. The burden of creativity would be shared while providing healthy competition and adding balance to the bloated squad. Regardless of whether Arsenal choose to act in this winter window, Emile Smith Rowe has shown sparks of his brilliance in recent performances and if he can maintain fitness, he has an exceptionally promising career ahead.
By: Toby Rathborne
Featured Image: @GabFoligno / Stuart MacFarlane – Arsenal FC