Data Analysis: Harry Maguire's 20/21 Season
Much has been said about Harry Maguire's form this season. Links between Maguire's summer antics and lack of ability to play for Manchester United Football Club burgeoned as a result of United's catastrophic start to the season.
Criticism of Maguire was tainted by hyperbole. Beleaguered displays in merely a couple of performances did not warrant the flak Maguire received from fans and the media. This article aims to cut through the venom the extraneous factors surround the England center back and analyse his performances with an objective scope.
Statistical Analysis
Maguire's role for United is as an aggressor; he engages opposition players higher than his partnering centre back. As shown below, he is complemented reasonably by Victor Lindelöf. Maguire's 84.4% aerial dual success is second to only Kurt Zouma this season.
In combination with an average of 2.22 tackles and interceptions per 90, his performance in the aggressor role appears to have been substantial this season. If anything, he's been quietly efficient in a high-risk role. Lindelöf, who tracks runners and prefers to delay rather than engage, plays a safer game to complement Maguire.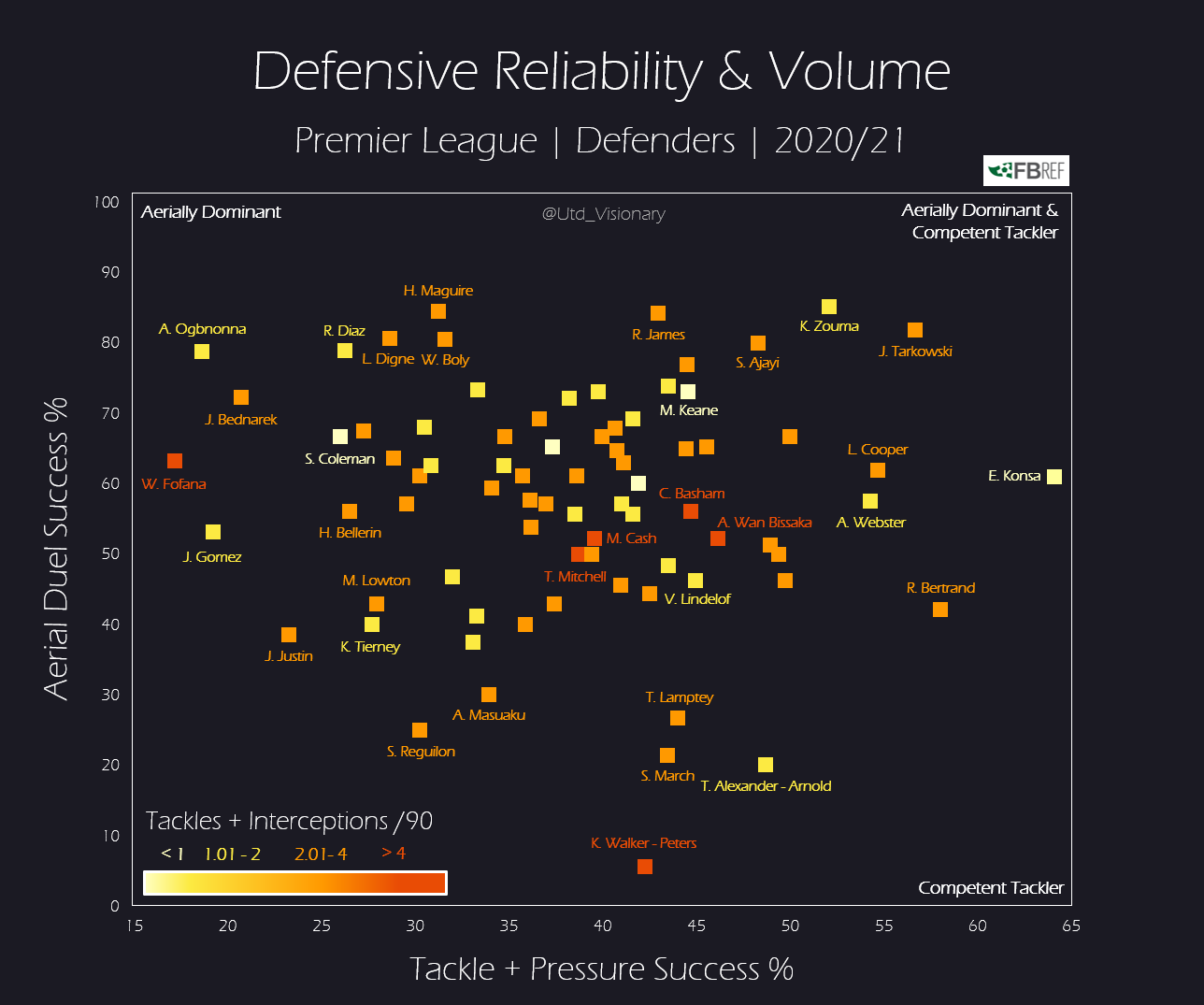 Photo: FBRef.com
Perhaps a better method of presenting Maguire's performance in the aggressor role is a defensive action area map. Presented below is United's most common defensive line for the 2020/21 season. We can see how Maguire engages higher up the pitch more frequently than Lindelöf. His defensive actions cover a vast vertical area.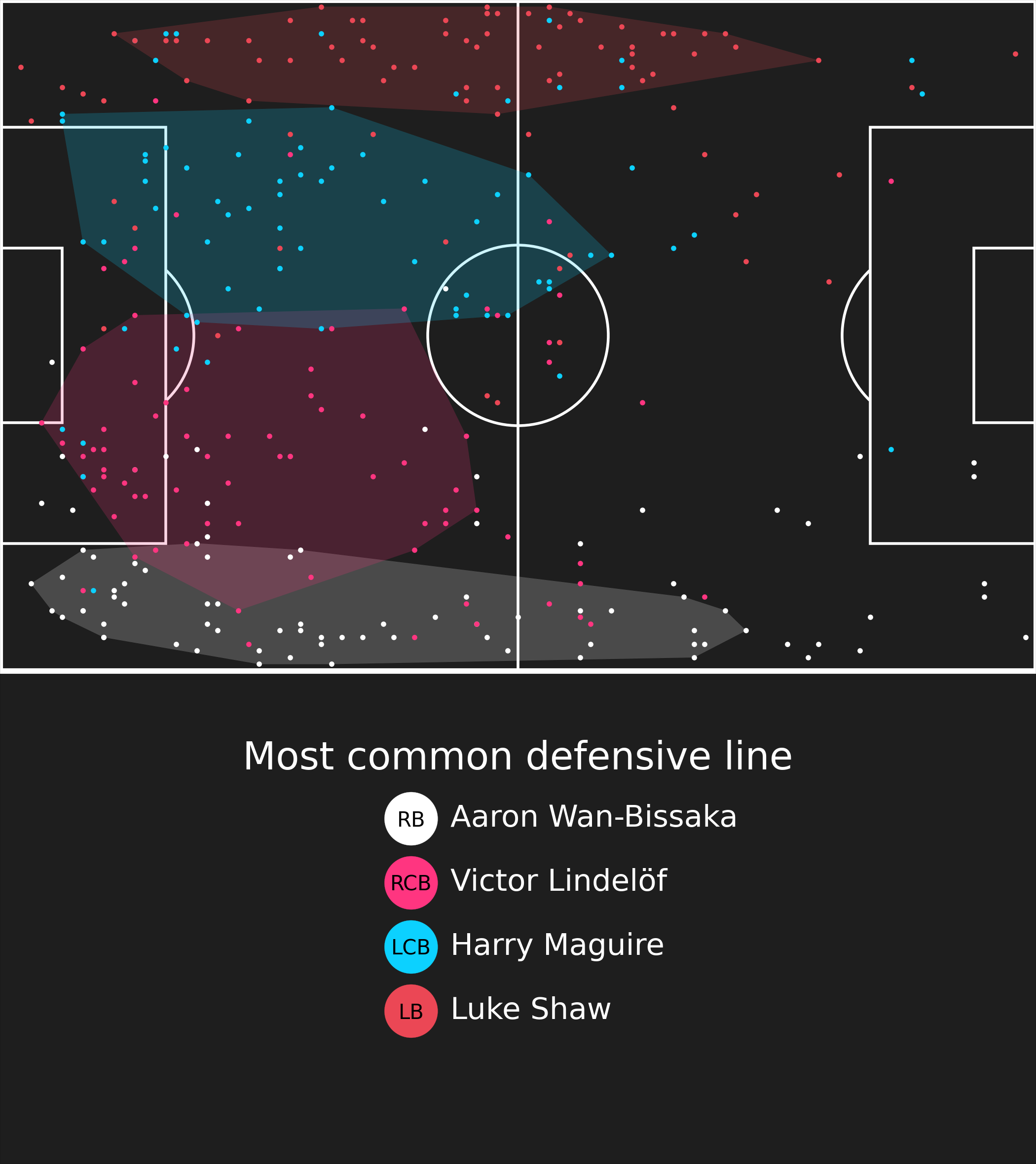 Photo: Twenty3 / Wyscout
Comparing his action map from this season to last presents some intriguing findings. Obviously, the sample size for this season is smaller, but we can see that Maguire has refined his role since 2019/20; he covers far less ground laterally. This is a change for the better; as a good aggressor, a strong defender in the air and on the ground, Maguire should be the one who has a partner to complement him.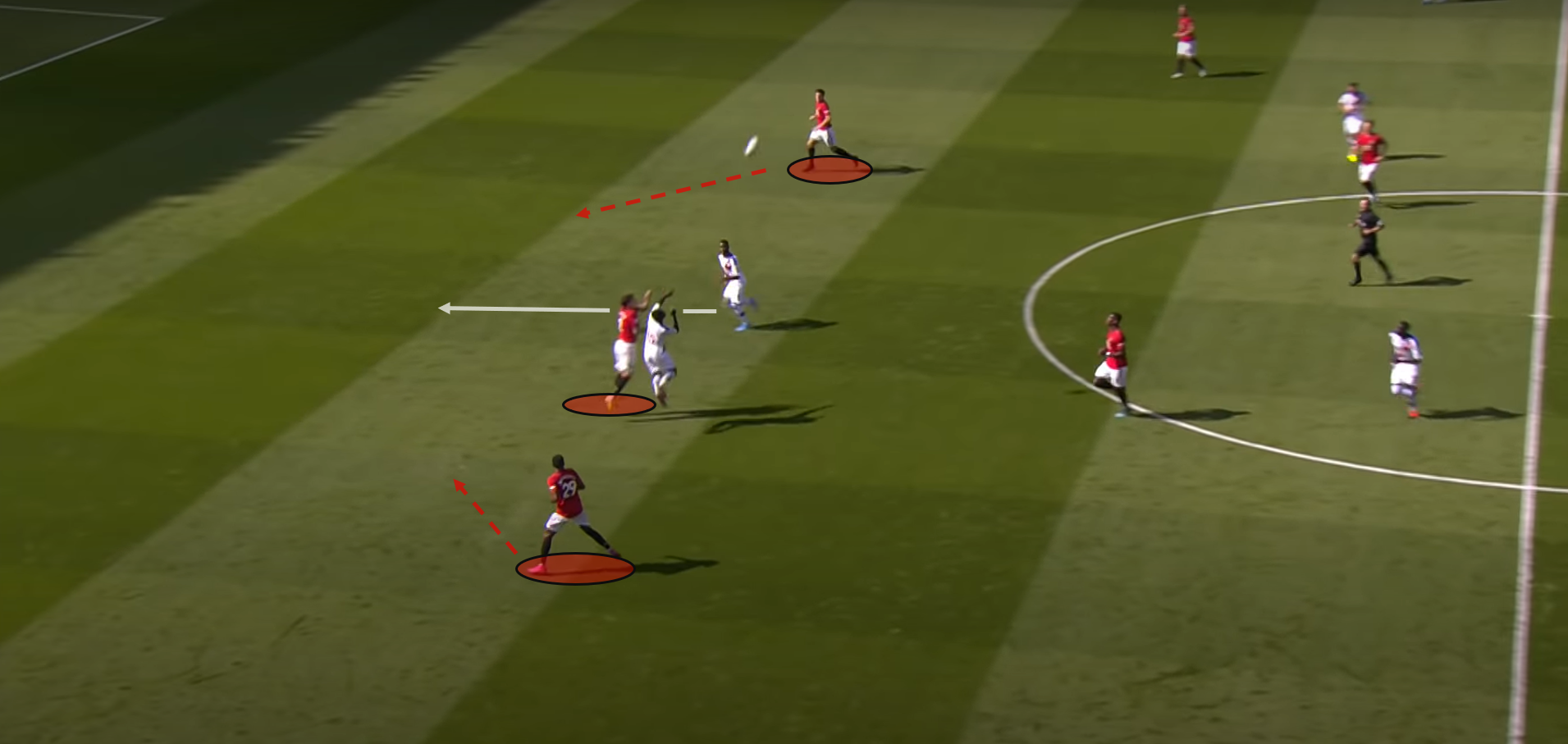 If Maguire commits himself higher up the pitch, Lindelöf should cover and delay. One may ask why Maguire must be covered for if he commits, not vice versa. The answer to this question, is that Lindelöf is simply unreliable in physical duels; particularly aerial.
The most obvious example for why Maguire should be the aggressor, is when Lindelöf committed to a regulation duel at home to Crystal Palace in 2019. Both Aaron Wan-Bissaka and Maguire should have been thinking proactively, anticipating that Lindelöf could lose the duel. Neither did, and Jeffrey Schlupp flicked on to Jordan Ayew who raced through to score.
Should Maguire have engaged in the duel, this situation would have been averted. Additionally, Lindelöf's main strength is anticipation off the ball, so the likelihood is that he would have dropped 5-10 yards to cover.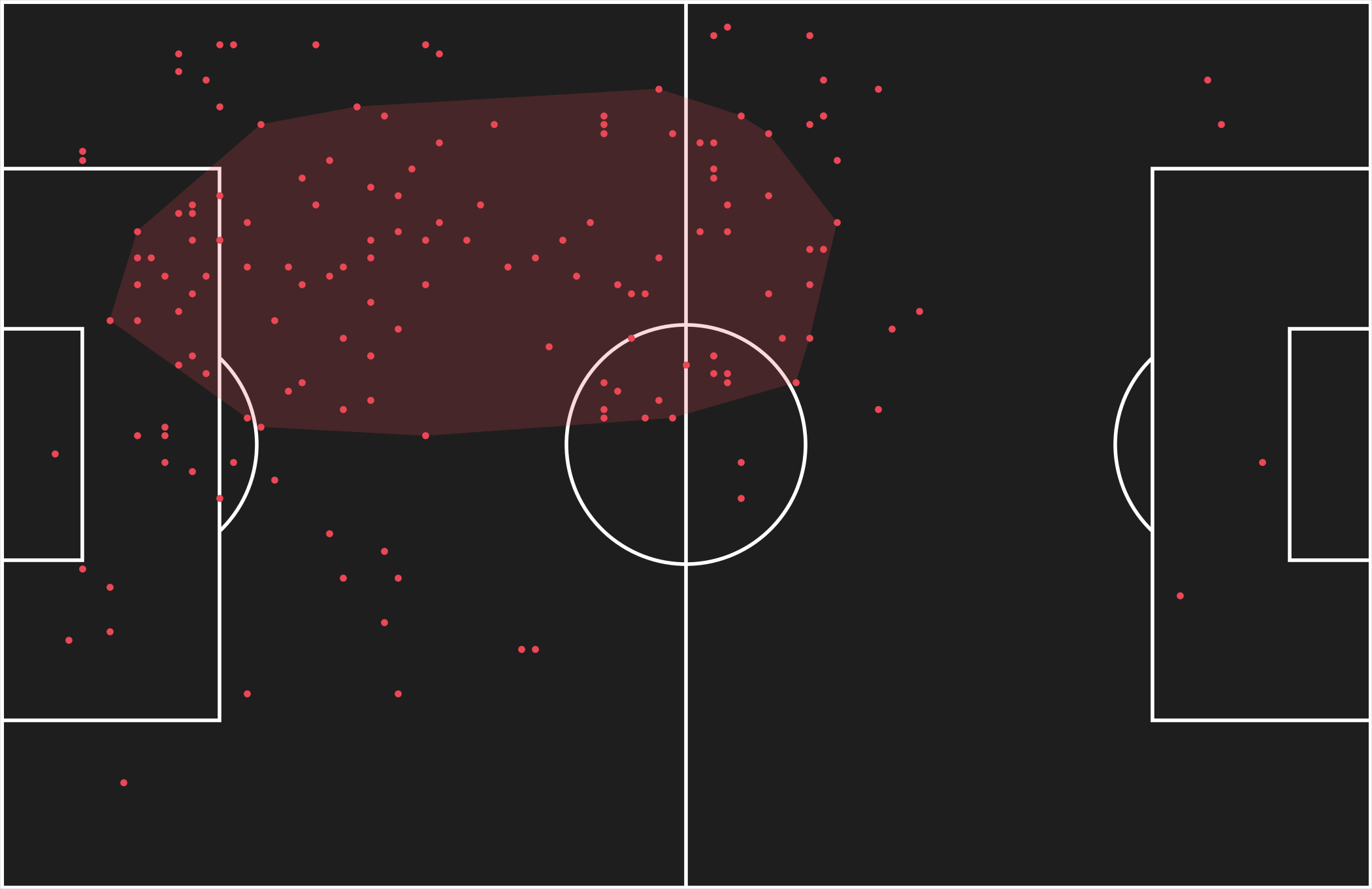 Photo: Twenty3 / Wyscout
It is worth noting that teams will inevitably target long balls to Lindelöf's side; leaving Maguire uninvolved in the duel. Maguire's recoveries have improved over time however; he is patching up the side of his game that he isn't renowned for.
As presented in the radar below, Maguire's recoveries are in the upper echelon for centre backs, which is impressive. Maguire improved steadily last season but has continued that good form (in the large part) this season, according to the stats.
In addition, Maguire has won more loose ball duels than last season, but generally the number of defensive actions he attempts is reduced, providing more evidence for the notion that he is refining his role; he is maturing into an aggressor who has the capability to analyse when a situation is too risky to dive in, or would leave his team fatally exposed in the wake of his attempted action.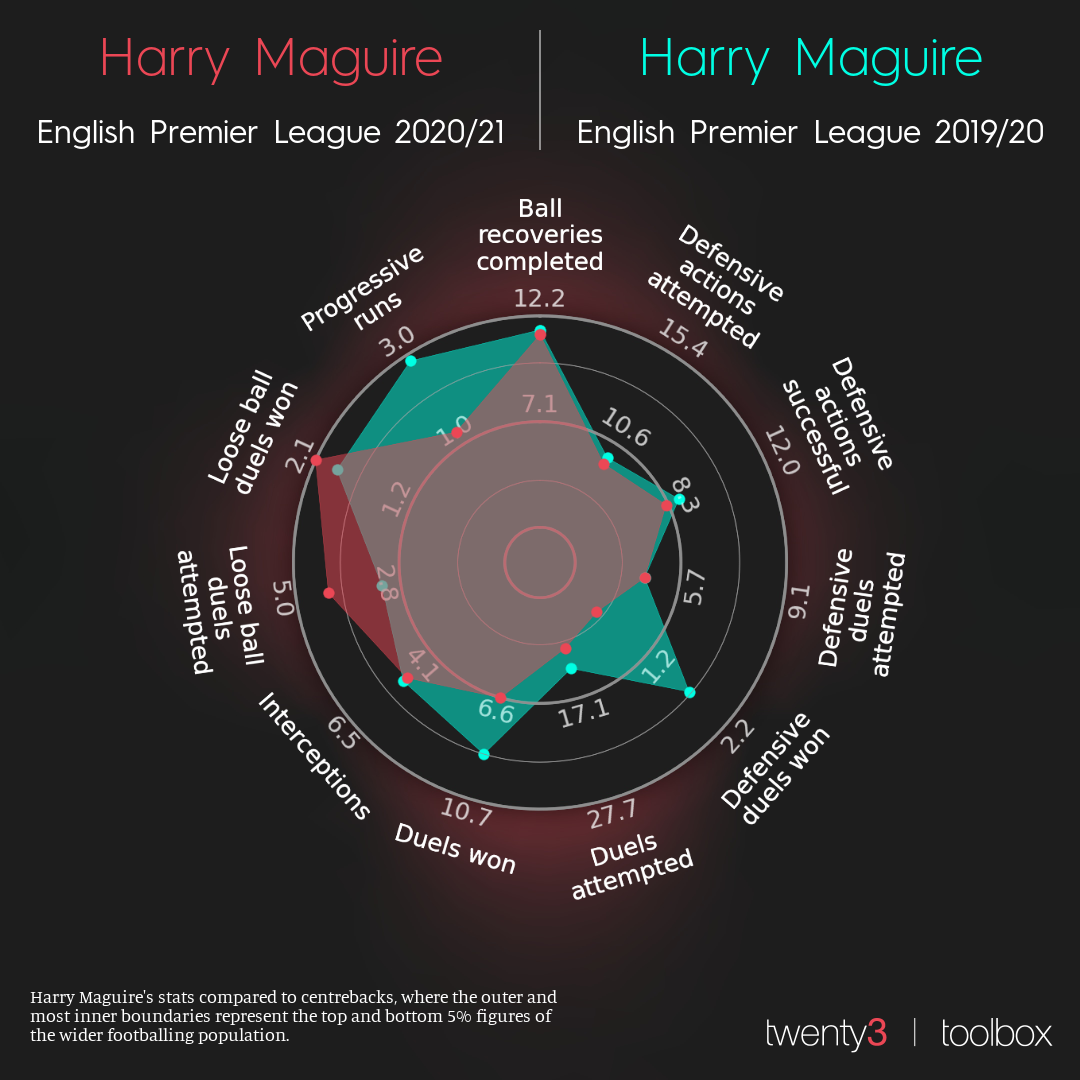 Photo: Twenty3 / Wyscout
Maguire's ability to win duels has not only forced teams to formulate specific plans to bypass him from open play, but has also seen teams utilise specific corner routines. He is so aerially dominant that a United defence that typically fared poorly from set-pieces, has become one of the best at defending them. Maguire is simply asked to cover the central zone of the box and attack any deliveries that land in his zone.
As a result, the only two corners that United have conceded in the league in 2020 (both against Southampton), have stemmed from flick-ons to bypass Maguire. Most notable was in last week's fixture at Southampton, where James Ward-Prowse delivered vicious, dipping deliveries to the near post.
Jan Bednarek subsequently scored after out-jumping Marcus Rashford, with David De Gea rooted to his line. Ultimately, aerial duel success % isn't a telling metric on its own, but the near-immaculate consistency at which Maguire performs these successfully, in the context of his role, can substantially bolster an otherwise uninspiring Manchester United defence.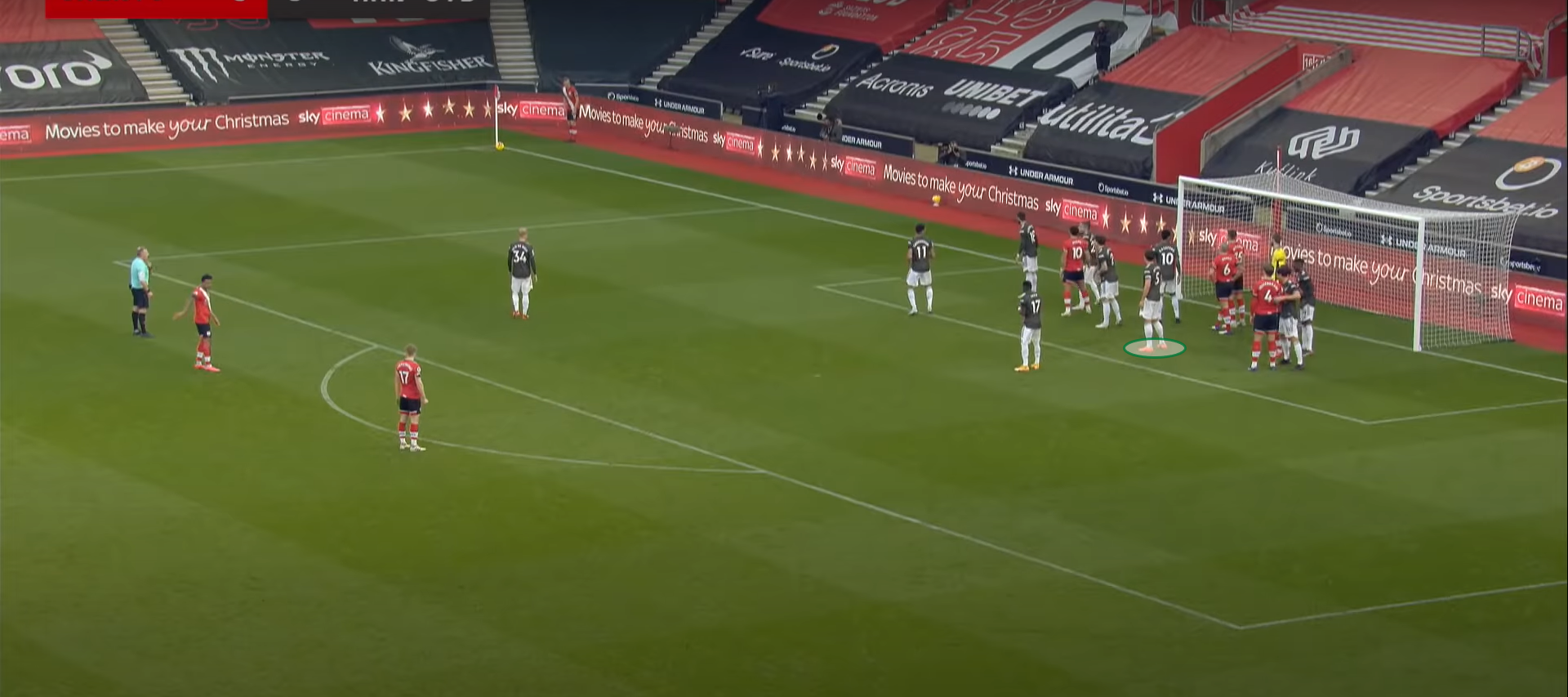 Performance Analysis
Performance analysis can be used to contextualise the intangibles in Maguire's game. A recent performance versus West Brom in the league (a 1-0 victory) is the perfect microcosm of a Maguire performance; dominant and decisive in duels and positioning, and typically progressive on the ball.
In the below examples, a goal kick is launched towards West Brom striker Karlan Grant. Maguire engages, using his aerial prowess to head to Alex Telles. After sustained possession in the second phase, United overload on the right hand side; leaving the left underloaded.
Maguire proactively drifts forwards into the left half-space to receive a switch from Fred, before making a carry and setting up Rashford in a 1v1 scenario on the left. Maguire is typically excellent at timing runs from deep into the half-space to make a carry.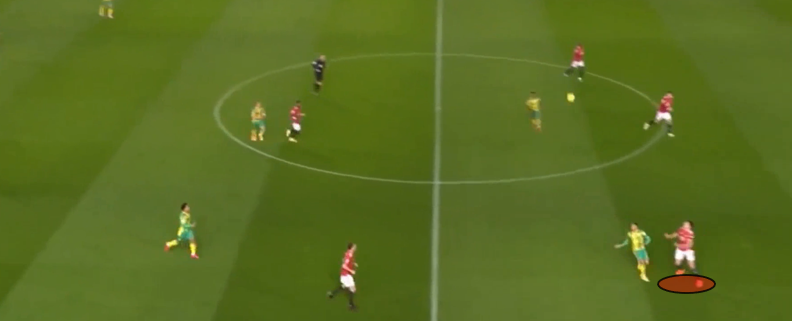 Another example of Maguire's progressive acumen in ball possession is his dribble forward in the 15th minute. He drives through the left half-space, with the body posture of a player looking to cut inside onto their right foot. This shifts West Brom's defensive line laterally, as they anticipate the ball coming central.
Maguire then reverses the ball to Rashford who, due to the previous action of Maguire, has a split-second longer on the ball, before being engaged 1v1. Rashford is able to pick a pass into the box, which leads to a clear-cut chance for Martial.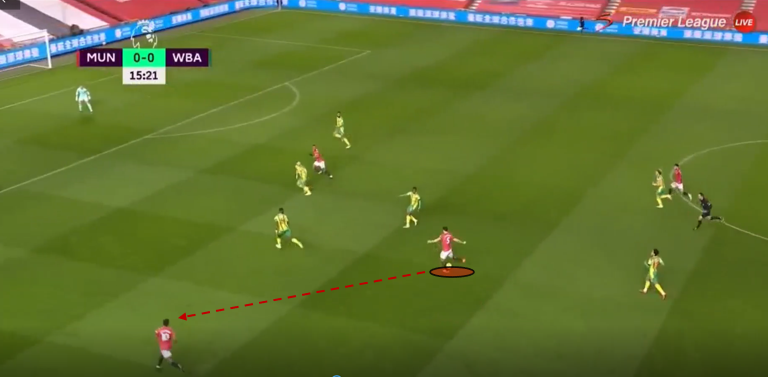 Against West Brom, Maguire accumulated the second highest progressive carry distance (188 yards) and the fourth highest progressive passing distance (410 yards), per FBref. Over the course of this league season, no Manchester United player has accumulated a higher progressive passing distance than Maguire (3,015 yards, per FBref). Just as Maguire is reliable in duels, he is also a reliable progressive option for United in 1st phase build-up, or joining the 2nd phase from deep.
In 'big' games, where United sit deeper — often in the 5-3-2 formation — Maguire plays as the central man in a back three. This reduces his progressive qualities on the ball as he simply has less space and worse angles to receive in. Fortunately, United almost exclusively play in transition in those games, and build-up is hardly prioritised.
Maguire's defensive role is slightly adapted too, mainly in a positional sense. Flanked by two other centre backs, Maguire can remain central and act as a deeper aggressor, engaging only in duels in and around the box. This penalty-box dominance has seen United shut out the likes of Chelsea (twice) and Man City (twice), despite often allowing crosses into the box.
The premise that Maguire has world class ability to defend central areas makes it safer for United to often allow unfettered possession wide areas for the opposition, in order to protect more dangerous zones. Again, Maguire's aerial security is a contributing factor to this (somewhat) risky strategy paying off.
Errors & Improvement
Maguire has made some high-profile errors in recent months. These incidents are fair to be judged as errors, but the extent to which Maguire should receive criticism is largely subjective. Many of these errors are exacerbated by aesthetical factors, such as Maguire being beaten 1v1, leaving gaping holes in an already-understaffed defence, or shunting another defender out of the way.
Rewinding to United's first game post-lockdown in 2019/20, Maguire was criticised heavily for diving into (and subsequently losing) a 1v1 against Tottenham Hotspur's Steven Bergwijn. Bergwijn raced through and scored past De Gea.
Maguire's decision was instantaneous, and off the premise that Lindelöf was in the correct defensive position; five yards deeper in anticipation of a completed take-on by Bergwijn. In hindsight, Maguire should have delayed, but there were sufficient men defending to allow Maguire to engage; the anticipation from other defenders (Lindelöf in particular) was simply awol.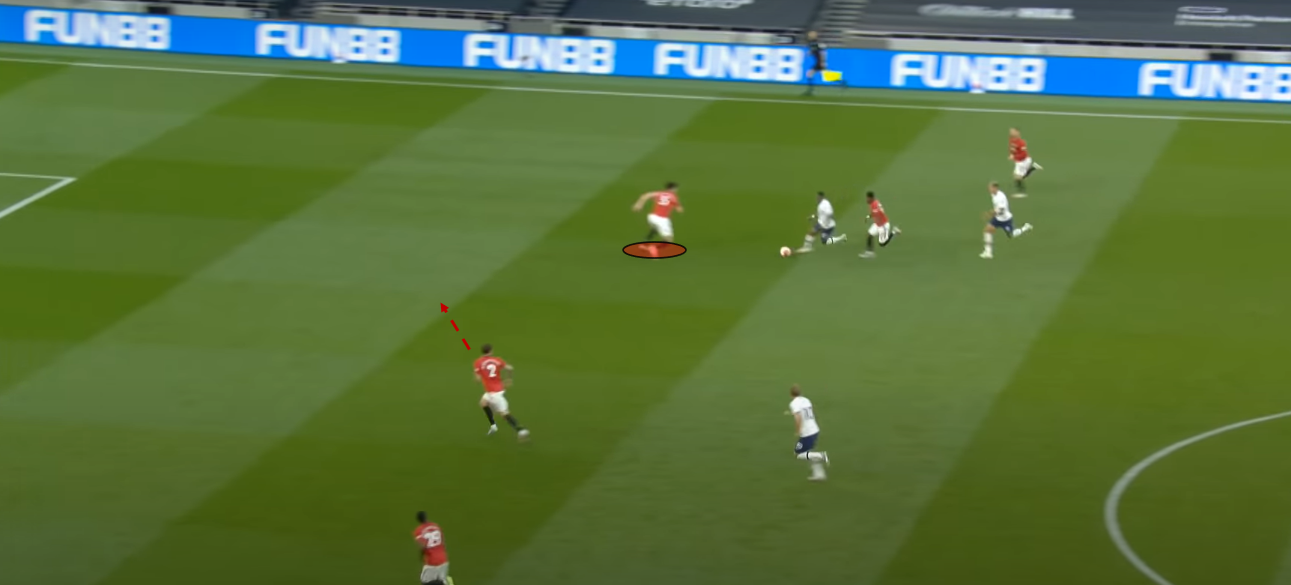 More recently, Maguire had a shaky start to the 2020/21 season; a red card on international duty coming days after 10-man United capitulated 1-6 against Spurs. Maguire's red card for England was extremely poor play (a double yellow from two clumsy tackles), but Kyle Walker hardly got as much criticism for his disciplinary issues when he got sent off in Iceland this September.
His clumsy demeanour induces many to apply subconscious bias when analysing Maguire, with many, if not most, overplaying his mistakes. Against Spurs, the entire United team capitulated after taking a lead in the second minute. Anthony Martial was sent off for violent conduct, Eric Bailly switched off for the second goal, he gave the ball away for the third goal, and Paul Pogba was responsible for the fifth goal.
Maguire's panicked approach to clearing the ball for the first goal did set the tone for United's capitulation; however, again, the criticism he received for his error has shaded the vast majority of football fans' perception on Maguire's abilities, and season-wide performance.
The stats show that Maguire has been quietly proficient over the course of this season. He has had many commanding performances (most recently at Saint Mary's), and responsibility for errors should not be pinned solely on him; we have seen how vulnerable the rest of United's defence can be. The fact that United are so solid aerially and are operating with the fifth lowest Expected Goals Against in the Premier League this season, is a testament to Maguire's ability to bounce back from set-backs.
Whether he was worth 80 million pounds is a separate conversation, but the conclusion on this analysis is that Harry Maguire is a capable, largely consistent centre back who has the unorthodox, yet integral skillset to help maintain United's good defensive form over the course of 2020. Defensively, United are close to being set for the next five years with Maguire in their side.
By: Jamie Scott
Featured Image: @GabFoligno / Stu Forster – Getty Images