Data Analysis: Harvey Barnes
While Jamie Vardy is Leicester City's perennial talisman and James Maddison's linear progress is receiving public acclaim, Harvey Barnes' form has somewhat slipped under the radar. Perhaps this is apt: Barnes isn't a player who exudes flair on the ball, he doesn't appear to be a vociferous personality and he isn't racking up 30 goals a season.
Perhaps it works in Barnes' favour, as he diligently and efficiently goes about his business in a functional Leicester side. There is no doubt that Barnes is turning potential into performances however – this article delves into Barnes' role, performance and underlying numbers.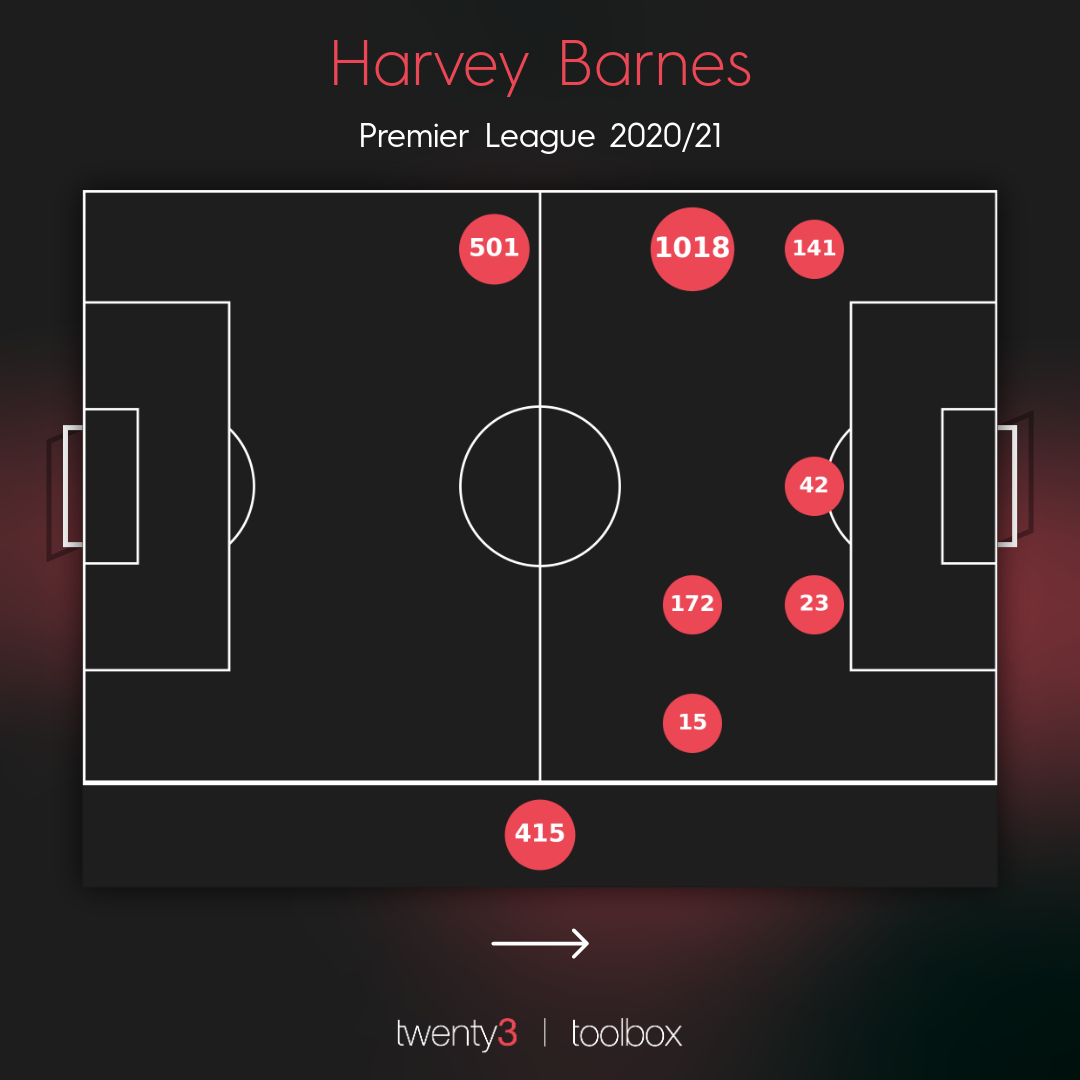 Photo: Twenty3/Wyscout
Primarily right-footed, Barnes often seeks to cut in from the left wing when in possession. This allows him to move into positions of greater threat with the ball, as Leicester's left back maintains team balance by holding width. When looking at attacking output, non-penalty expected goals (npxG) and expected assists (xA) provide a basis for what level of output a player should be producing.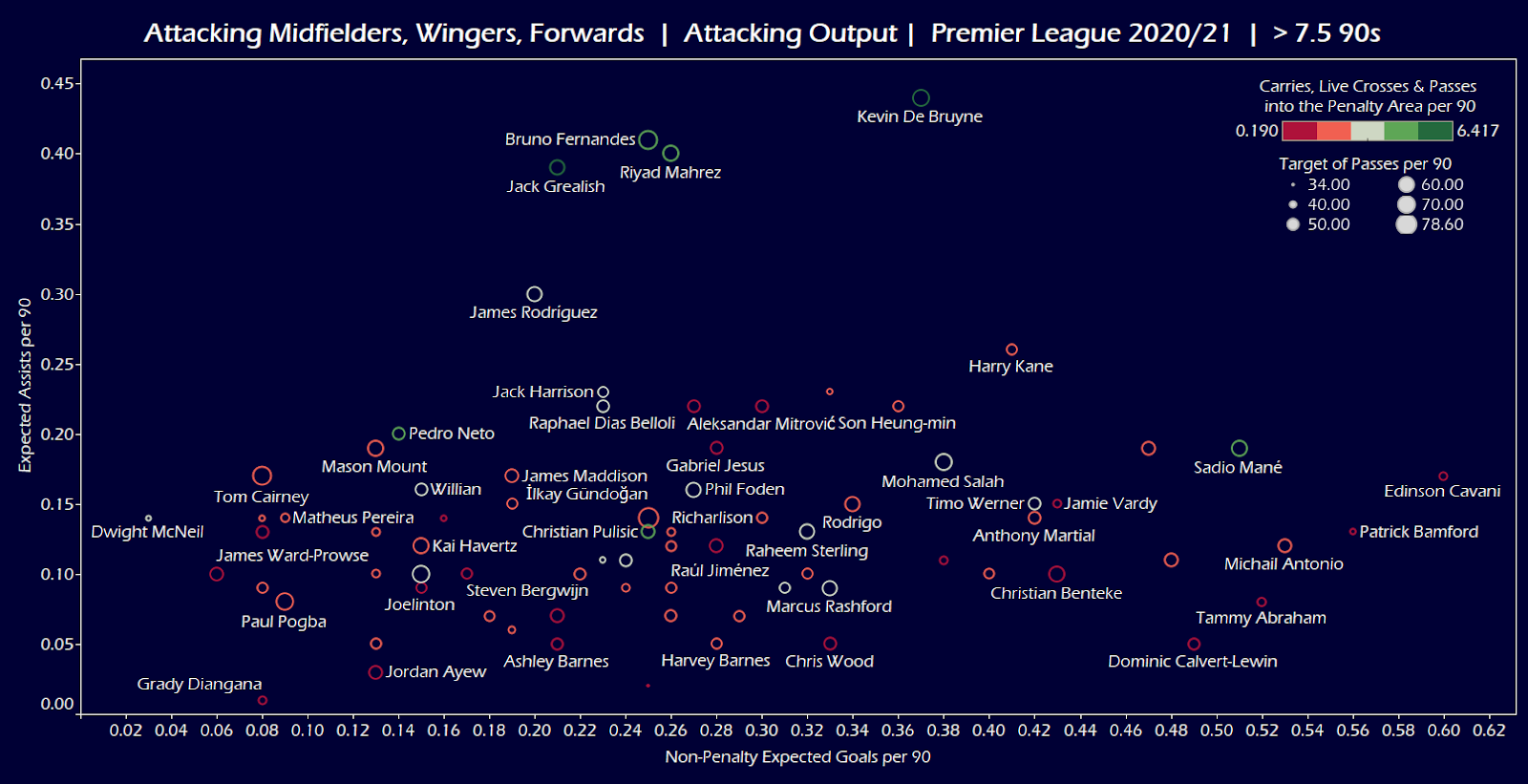 Photo: @utd_Visionary using data from FBref
The visualisation above aims to highlight Barnes' role. He isn't the primary target of Leicester's possession and isn't the main creator; James Maddison is. He isn't the primary goalscorer/chance receiver either; Jamie Vardy is. Given most teams don't play with conventional wingers, it would seem that Barnes is playing in somewhat of an indistinct role. Similar players are shown below, in a clustered version of this visualisation.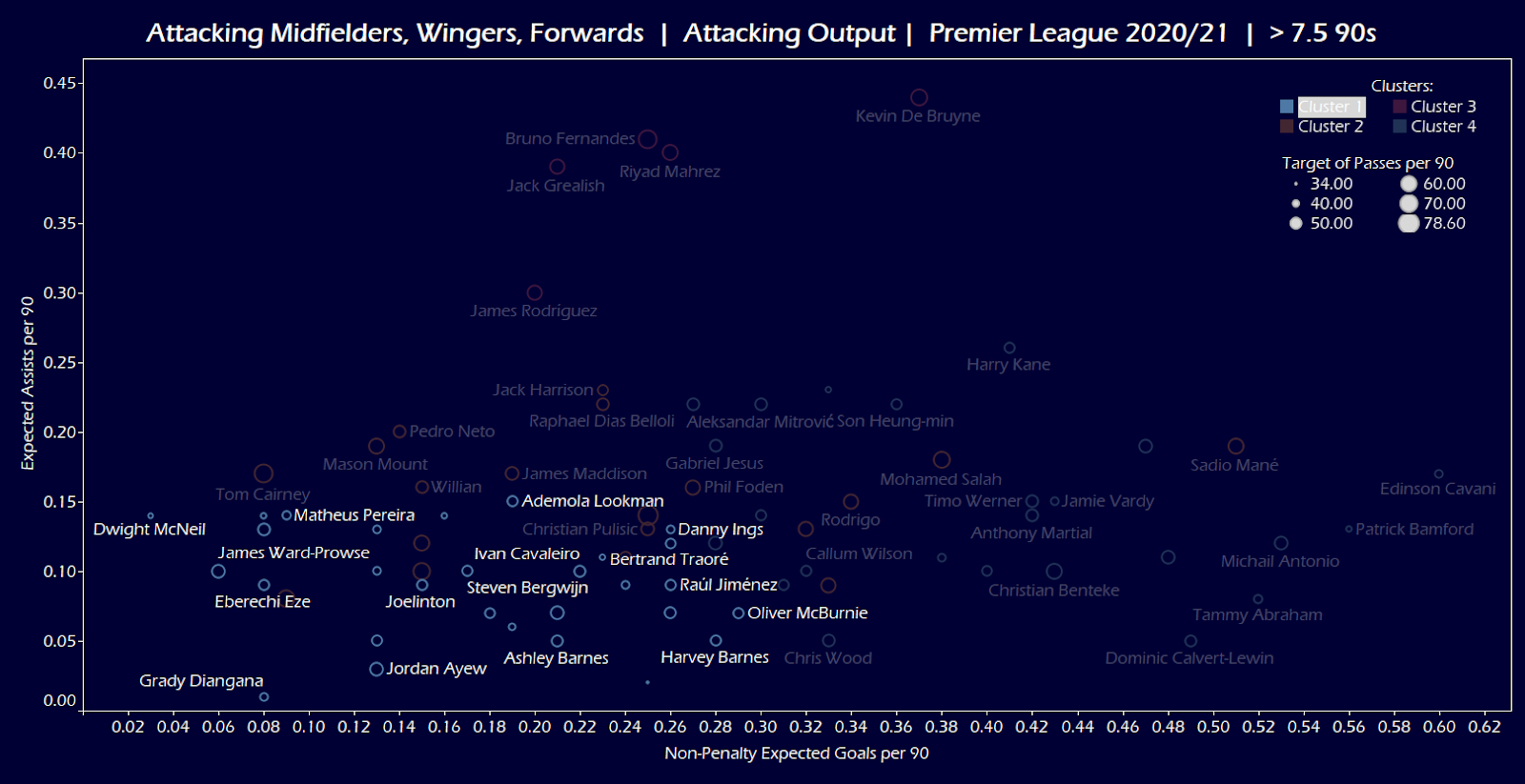 Photo: @utd_Visionary using data from FBref
Barnes is in the cluster with other players who are the target of relatively few passes per 90 but appears to be in the upper echelon of npxG for this cluster – alongside Danny Ings, Raúl Jiménez; players who produce a lot from little possession. This suggests that Barnes is a very efficient player when he does receive possession, as he is often seen driving with intent when in possession.
With less style and poise than a Jack Grealish or a Jadon Sancho, who glide elegantly across the turf, Barnes appears to be more bullish and direct, penetrating space between opposition players. Given his expected goals output, this method appears to be just as effective; most of Barnes shots are from central positions or just to the left of centre.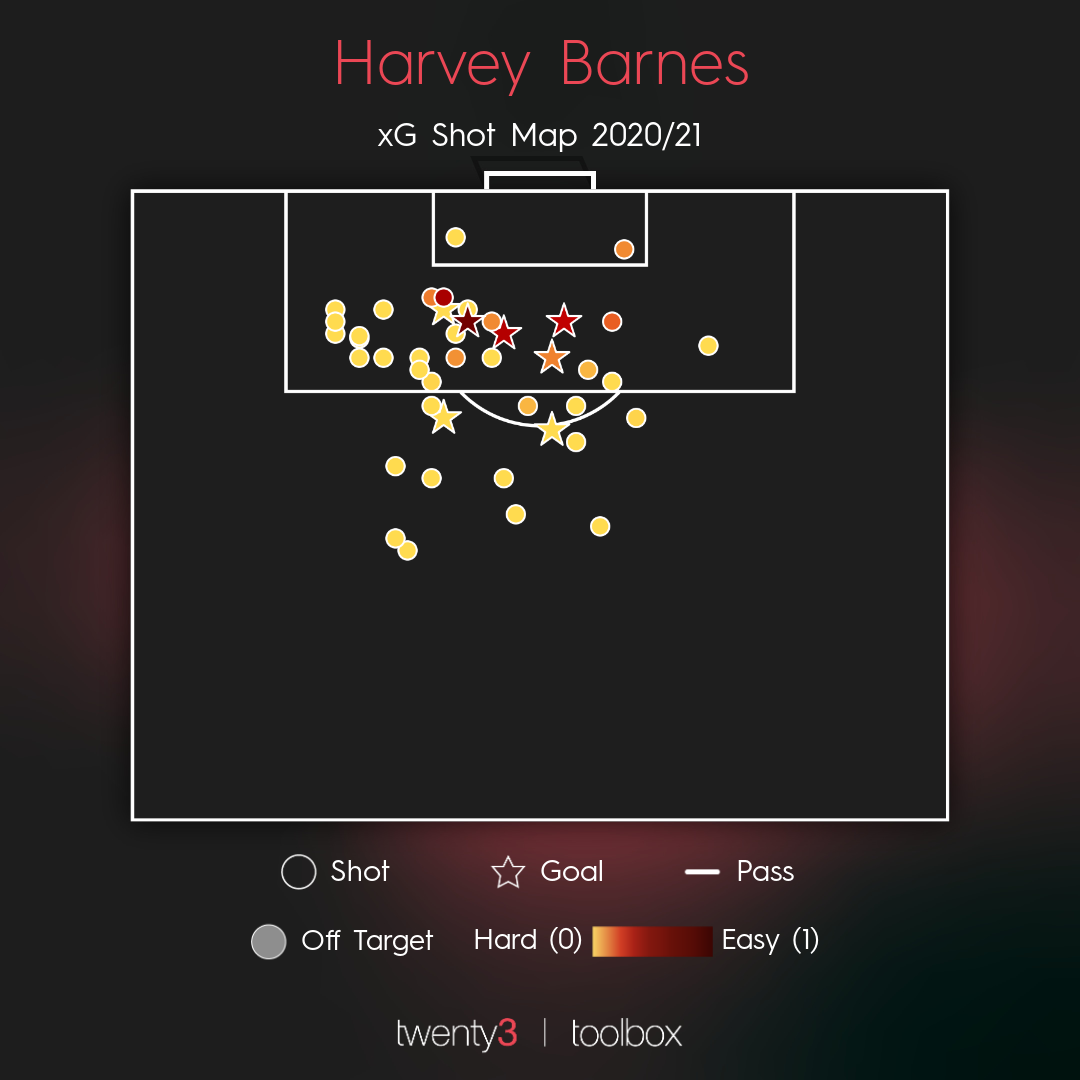 Photo: Twenty3/Wyscout
From the xG map above, we can see that Barnes has scored a wide range of distances, with chances ranging in difficulty. While he almost exclusively shoots from reasonable positions, often on his favoured right foot after cutting in, Barnes' end-product has been more than reasonable.
With seven goals from 5.1 npxG, Barnes has finished well. A reason for this is his shooting technique; he hits the ball hard and straight. The prime example of this finishing technique is Barnes' goal against Manchester United at the King Power on Boxing Day – Barnes rifled past David De Gea (on his left foot) from 25 yards.
This shot wasn't completely in the corner, but the minimal back lift aided the disguise of the shot, giving it an air of spontaneity, surprising De Gea. Against Crystal Palace, Barnes also rifled in low and hard to salvage Leicester a point. Against Leeds, Barnes placed a low shot around the recovering Luke Ayling to score. There is a trend when it comes to Barnes' shooting: he shoots low and hard – a method that is proving to be extremely successful. One could say that Barnes is efficient with his chance conversion.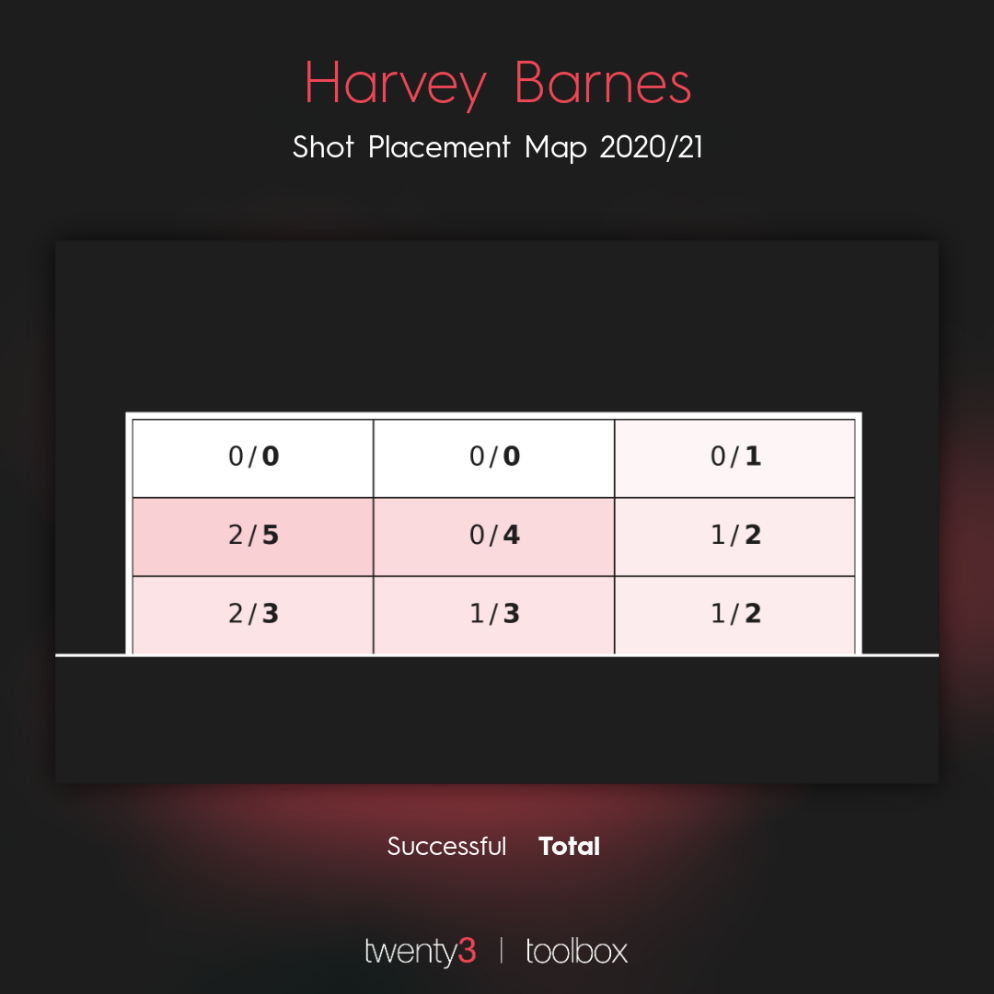 Photo: Twenty3/Wyscout
Additionally, Barnes has three assists to his name too. He isn't limited to direct dribbling and pinpoint shooting; he often seeks to feint away from defenders and combine off the left. His pass map from the last three games helps to highlight his actions in this regard.
When in the attacking third, Barnes appears to be ambitious; risking loss of possession in favour of trying to create, rather than playing to retain possession. What is also vital, is that he is only risky higher up the pitch, where a turnover will not have such negative consequences for Leicester in defensive transition.

Barnes' most potent method of creation appears to be cutbacks, either after beating a man and laying back for a teammate, or by inverting and slipping a pass across the opposition's defence for a Leicester player to run on to. Barnes isn't averse to beating a man down the line and crossing on his weaker left foot either; this versatility helps to make Barnes less predictable in possession.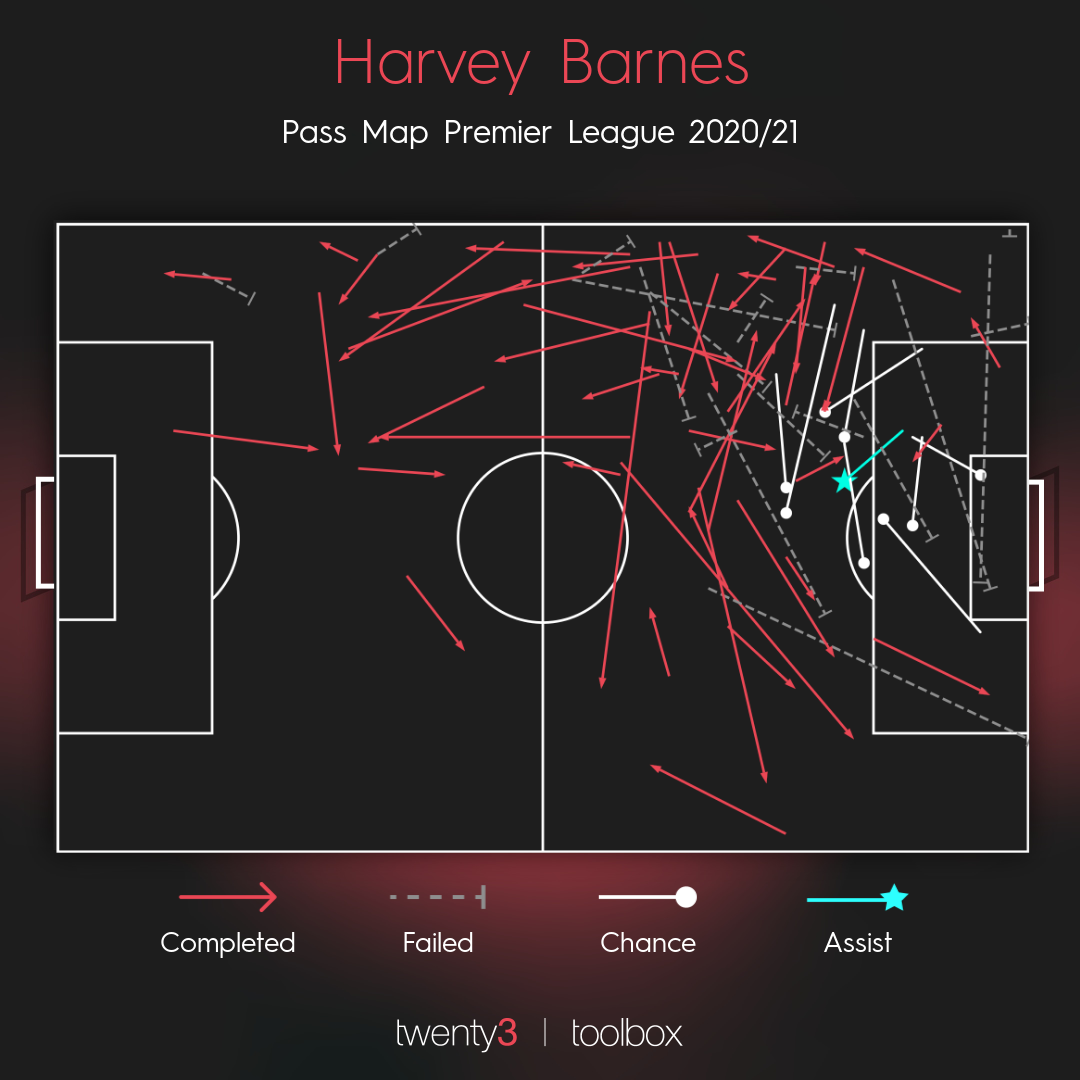 Photo: Twenty3/Wyscout
Harvey Barnes has elevated his game this season, progressing from a hard-working talent in 2019/20 to a more precocious, efficient, output-oriented player in 2020/21. He has always had directness and intensity in possession, but improved finishing and an appetite for involvement coming off the left has seen him perform consistently and begin to excel in certain facets of the game.
To make the next step from a consistent contributor to a persistent, unpredictable threat in attack, Barnes could do with a larger degree of positional freedom/rotation and a more accomplished 1v1 technique, rather than primarily using pace and intensity to beat defenders. His shooting technique from distance has improved his abilities against deep blocks already.
With the Euros upcoming and competition for places in a star-studded England line-up looking fierce, Barnes will likely miss out, but if he maintains this trajectory of improvement, and keeps impacting games in a positive manner, he may well be in contention for a place at the 2022 World Cup.
By: Jamie Scott / @utd_Visionary
Featured Image: @GabFoligno / NurPhoto