Data Analysis: José Mourinho's Roma
There is no manager in world football who causes as much divisiveness among journalists, pundits, and supporters as Jose Mourinho. His AS Roma tenure has only just begun, yet the narrative around his team has already swung one extreme to the other — from potential title contenders to underachievers who may struggle to qualify for Europe.
In many ways, Mourinho himself creates this polarized discourse through his combative approach to interacting with the media. Nevertheless, it makes it difficult to assess Roma. This article will delve into their underlying numbers to get a sense of how the Giallorossi are performing in Serie A under their new boss.
To better contextualize Mourinho's impact on Roma, it's helpful to analyze the team's performance before his arrival and delve into the statistics from 2017/18 through 2020/21, which saw Eusebio Di Francesco, Claudio Ranieri, and Paulo Fonseca operate at the helm at different periods at Roma.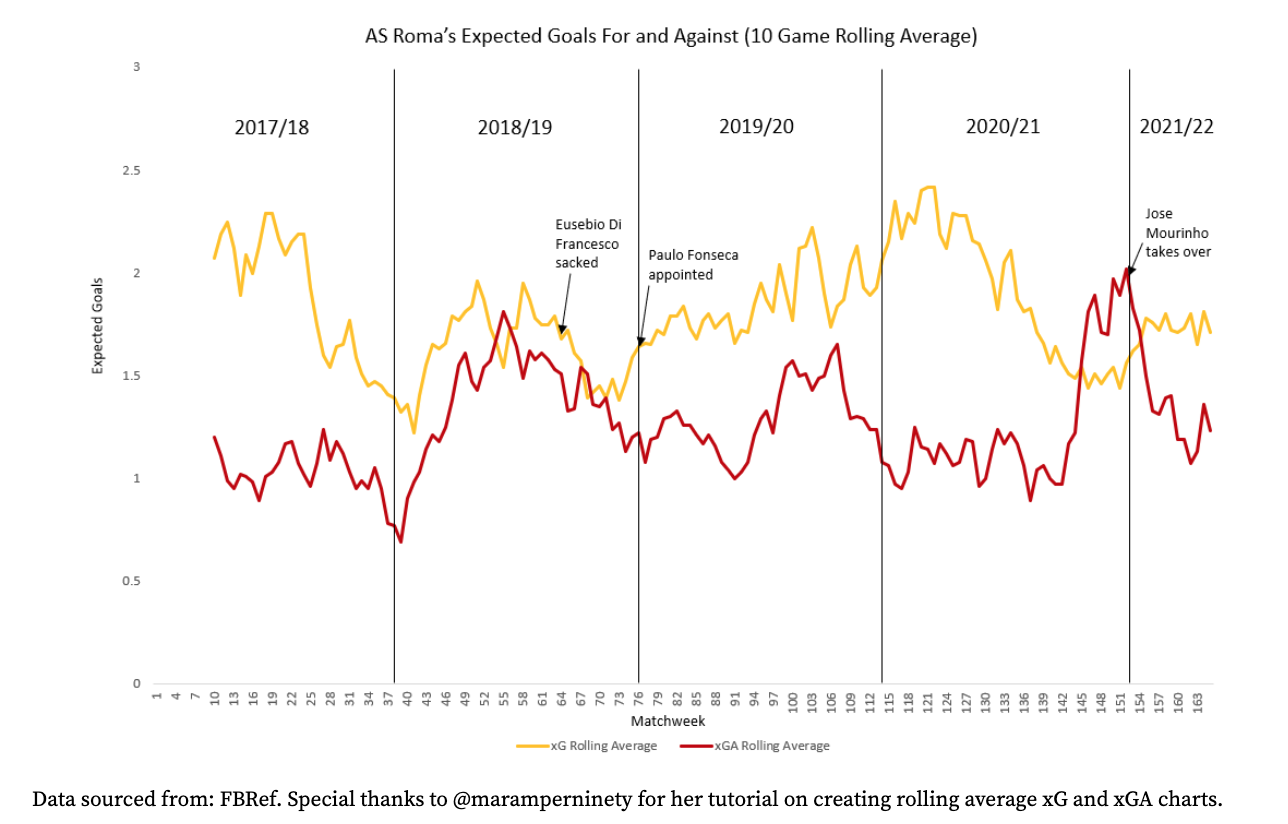 This graph shows Roma's expected goals for and against in Serie A since 2017/18. Since Mourinho has taken over, there's been a sharp decrease in expected goals against and a modest increase in expected goals, suggesting that he's improved their defense significantly relative to their attack. 
Such performance fits the caricature of a Mourinho team, particularly during the past few years of his managerial career. Unlike many of his modern counterparts, the Special One does not coach his team's attack through rehearsed patterns of passing and movement. Rather, he aims to present his players game-like scenarios in training so they can better make offensive decisions in actual matches.
It's a fairly laissez-faire approach to attacking play, and in recent years, it's been criticized as being ineffective at breaking down low-blocks where players are denied the space and time for their creative talents to flourish. However, Roma have generally been effective at creating chances under Mourinho in Serie A thus far.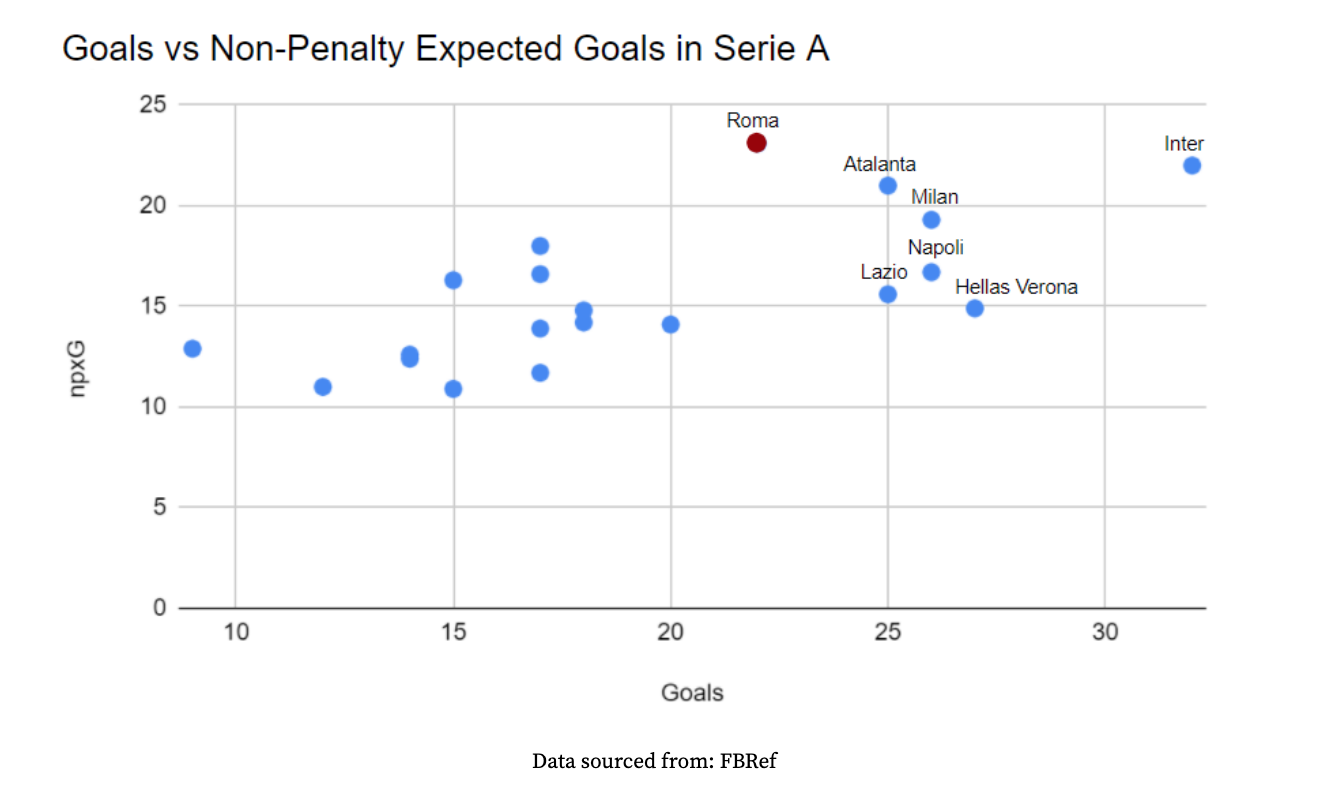 While six teams have scored more goals than Roma this campaign, no team has recorded a higher non-penalty expected goals tally in Serie A. It shows that based on the quality of shots they're generating, Roma should have scored the most goals in the division.
Tammy Abraham, while an exciting signing who will only improve, has underperformed in terms of goal-scoring, scoring four times from an expected goals tally of seven. Other players' poor finishing or especially impressive performances from opposition goalkeepers could also explain the discrepancy between Roma's goals and expected goals. 
Still, the underlying numbers for Roma's attack are positive even beyond their expected goals. Digging into their passing and dribbling metrics — which are insightful to the team's overall offensive productivity — their numbers are in line with a Champions League qualifying team.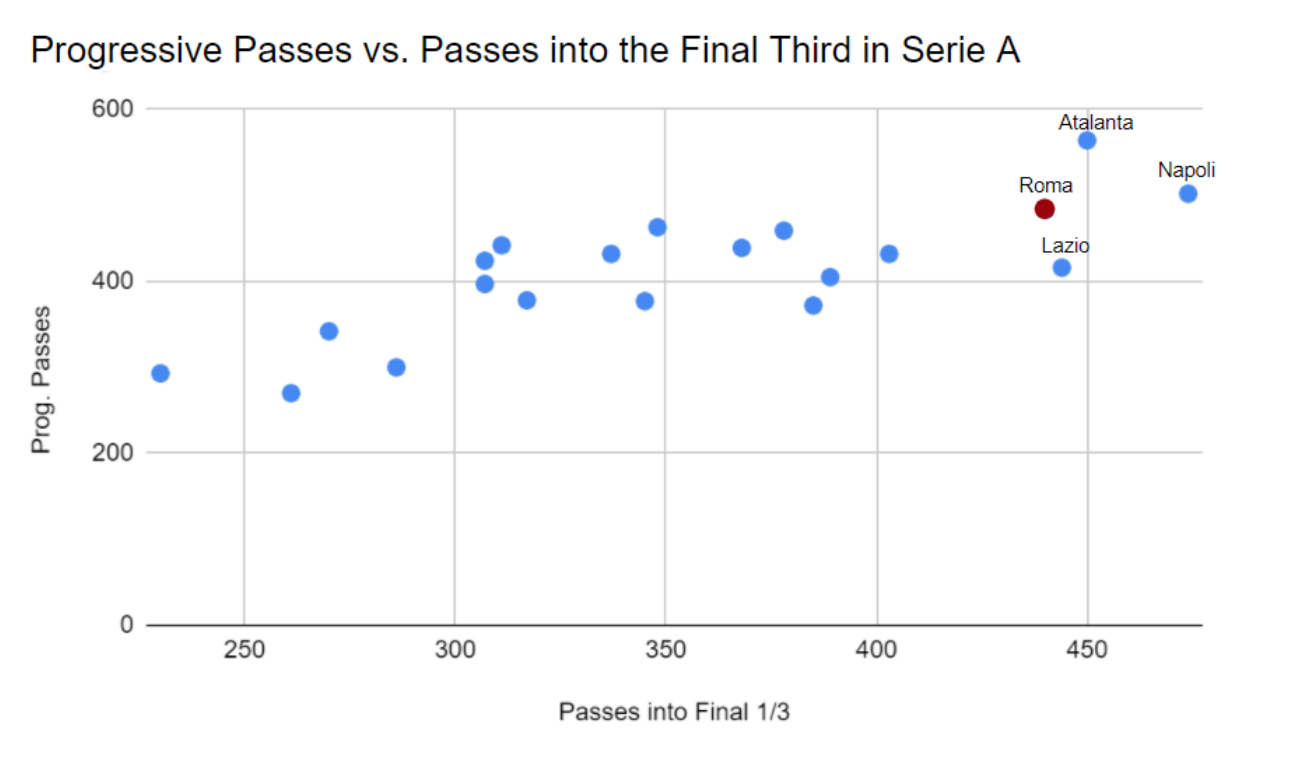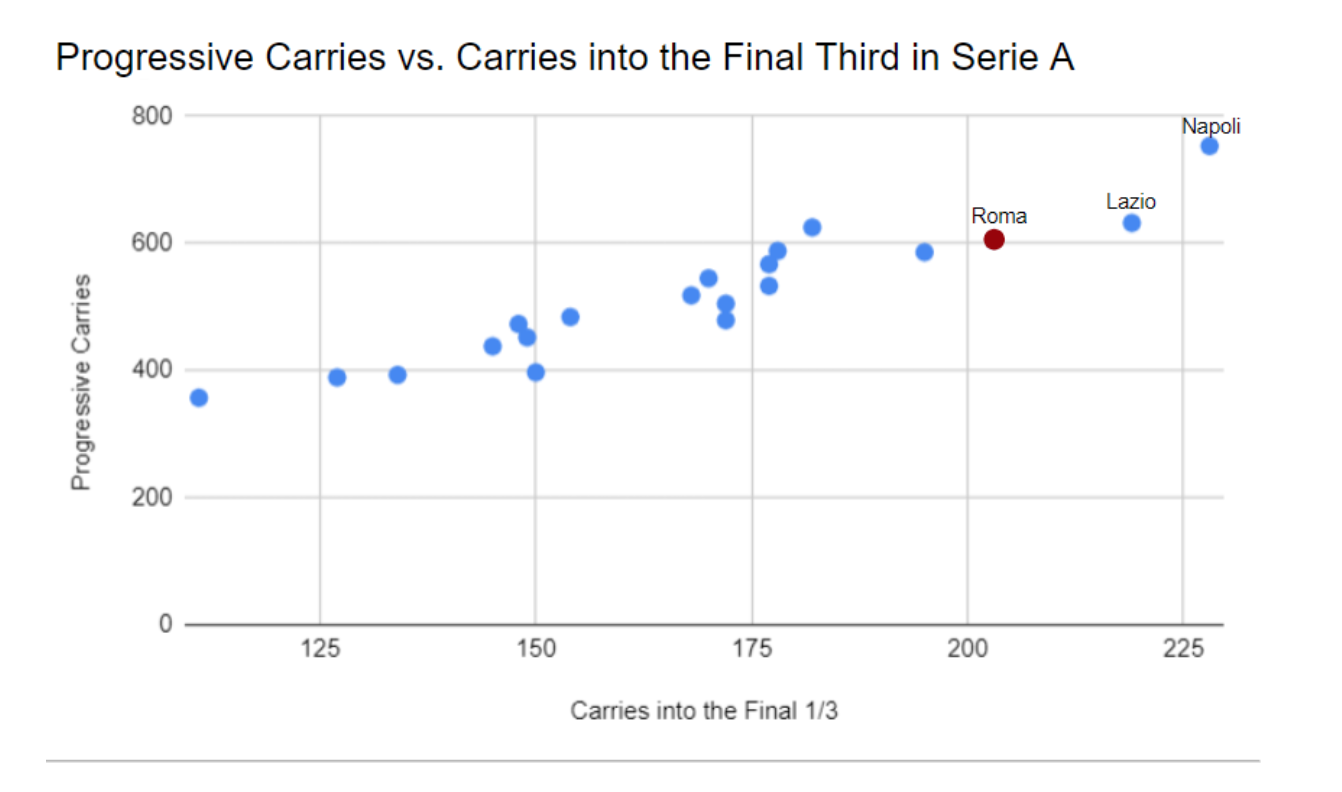 As the data shows, only three teams have made more progressive passes and passes into the final third while only two teams have performed better than Roma for progressive carries and carries into the final third.
This demonstrates that Roma are quite effective at penetrating opposition lines throughout the pitch with either their passing or dribblings. It's reflective of how Mourinho's coaching has been able to implement an effective attacking strategy for Roma thus far. 
The caveat to these encouraging metrics, though, is that Mourinho has heavily relied on a small group of core players rather than rotating frequently to make use of his squad as a whole. Only Spezia have made fewer substitutions in Serie A, meaning that as the season progresses, it's likely Roma's performance will dip. 
Jose Mourinho to Roma: The Special One Drinking in Very Last Chance Saloon
Perhaps therein lies the issue with Mourinho in recent years. His tactics may not be at the cutting edge of modern football, but they can still be effective — his three trophies and 81 point tally with Manchester United showed that.  However, his confrontational style when dealing with players can, at times, produce internal divisions with the club that exacerbate his difficulties.
Mourinho has publicly voiced his frustrations with his squad, and while it's understandable he would want to bring in his own players, such comments have the potential to alienate players. His mistrust in the squad could prove costly for Roma as the season progresses, masking the generally positive start they've made. 
In summary, Jose Mourinho has improved Roma since his arrival. Whether it will be sustainable enough for them to attain Champions League football next season remains to be seen. 
By: Vishnu Anandraj / @vishnua711
Featured Image: @GabFoligno / CPS Images – Getty Images