Finding the Best Championship Centre Midfielder Purely From Data
In today's write-up, we will be finding the best centre midfielder in the EFL Championship from the 2021/22 season purely by the use of data. Disclaimer: I am not suggesting the players mentioned are better than the rest of the central midfielders in the league; this is purely based on research of data/stats.
Just to give an overview, the data that will be reviewed will be a mix of defensive & attacking stats. This will therefore provide an all-rounded best central midfielder rather than someone who just scores the most or who has got the highest tackling ratio per game.
Back in the day, I would look at sites such as BBC football and just check the assists tab and make my mind up on who the best midfielder is or even on a computer game, I'd check who is rated the highest on FIFA for instance. I never thought I would be using purely data to figure this out years later. Let's first look into some of the defensive data and who was ranked in the top 5 before moving on to some attacking data.
Defending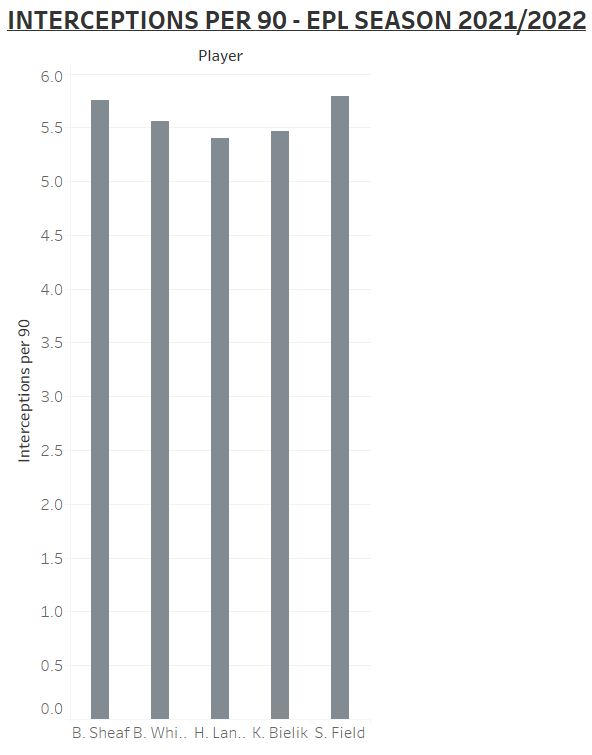 QPR's Sam Field stands out above the rest in terms of interceptions per 90. Field, who joined from West Bromwich Albion last summer on a permanent deal, narrowly edges out Ben Sheaf, who left Arsenal for Coventry City last summer on a permanent deal, but it's worth noting that Sheaf played six more games than Field last season.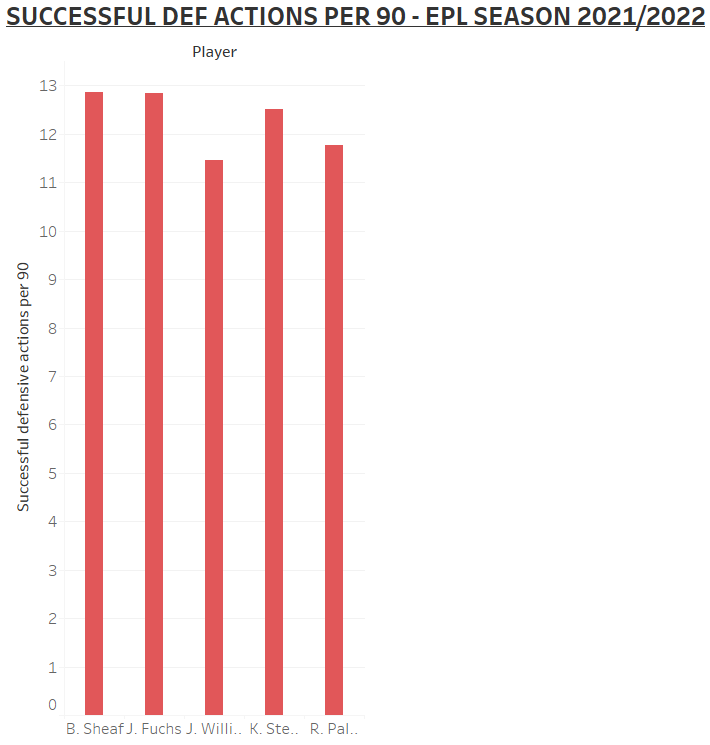 Whilst Sheaf narrowly loses out on the top spot in interceptions per 90 to Field, the Coventry midfielder is edged by Peterborough United's Jeando Fuchs in successful defensive actions per 90.
However, it's worth noting that the Cameroonian played in nearly half as many games as Sheaf after joining Peterborough in January. Fuchs has won 64% of his duels compared to Sheaf at 60%, a prime example of why we cannot suggest a player is better than the other just by looking at a single metric.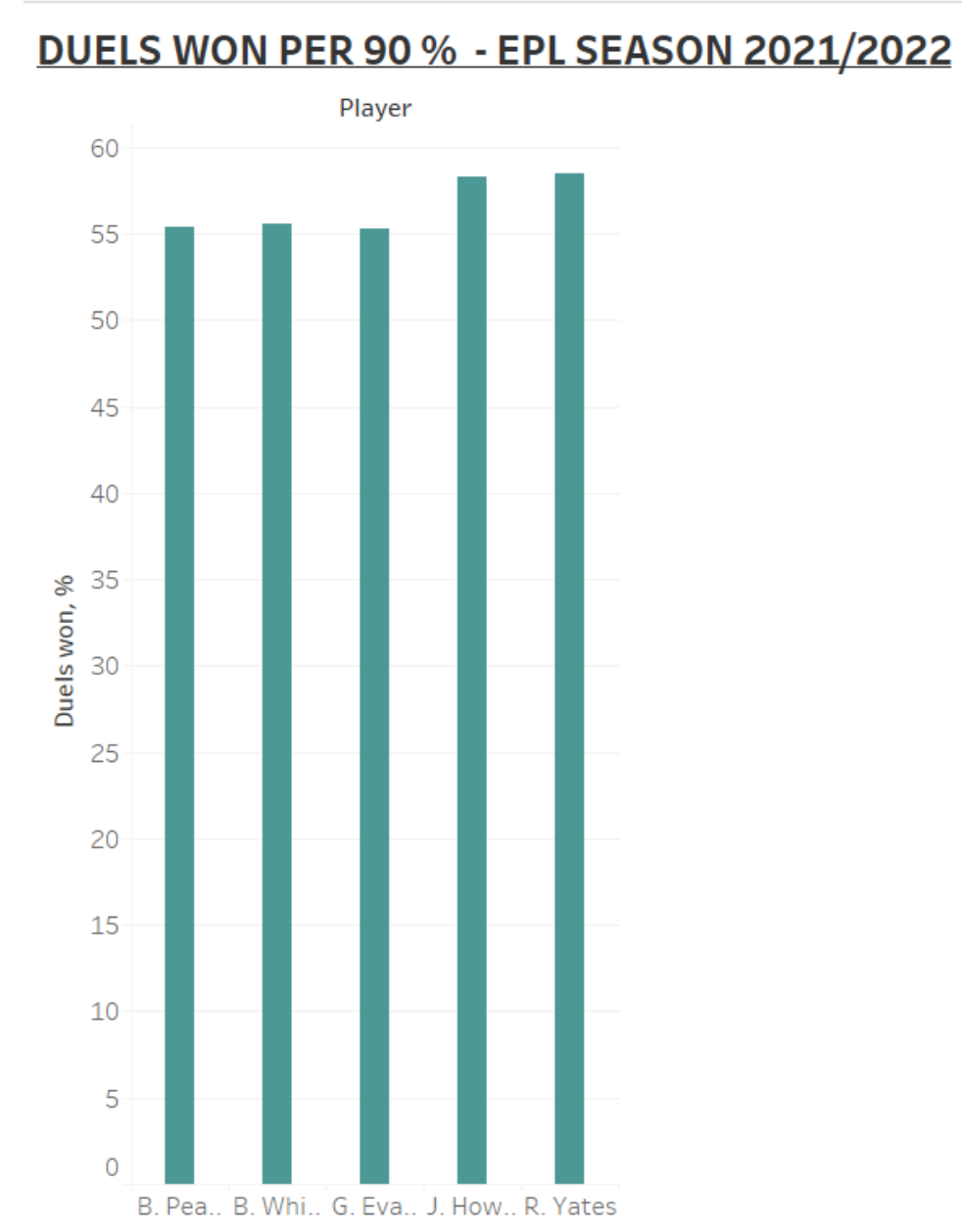 Ryan Yates won't be playing Championship football next season after securing Nottingham Forest's first promotion to the Premier League in the 21st century, but he does come out on top in the percentage of duels won. When reviewing the actual duels made and other factors, he comes out on top again and also stands out in terms of aerial duels won per 90.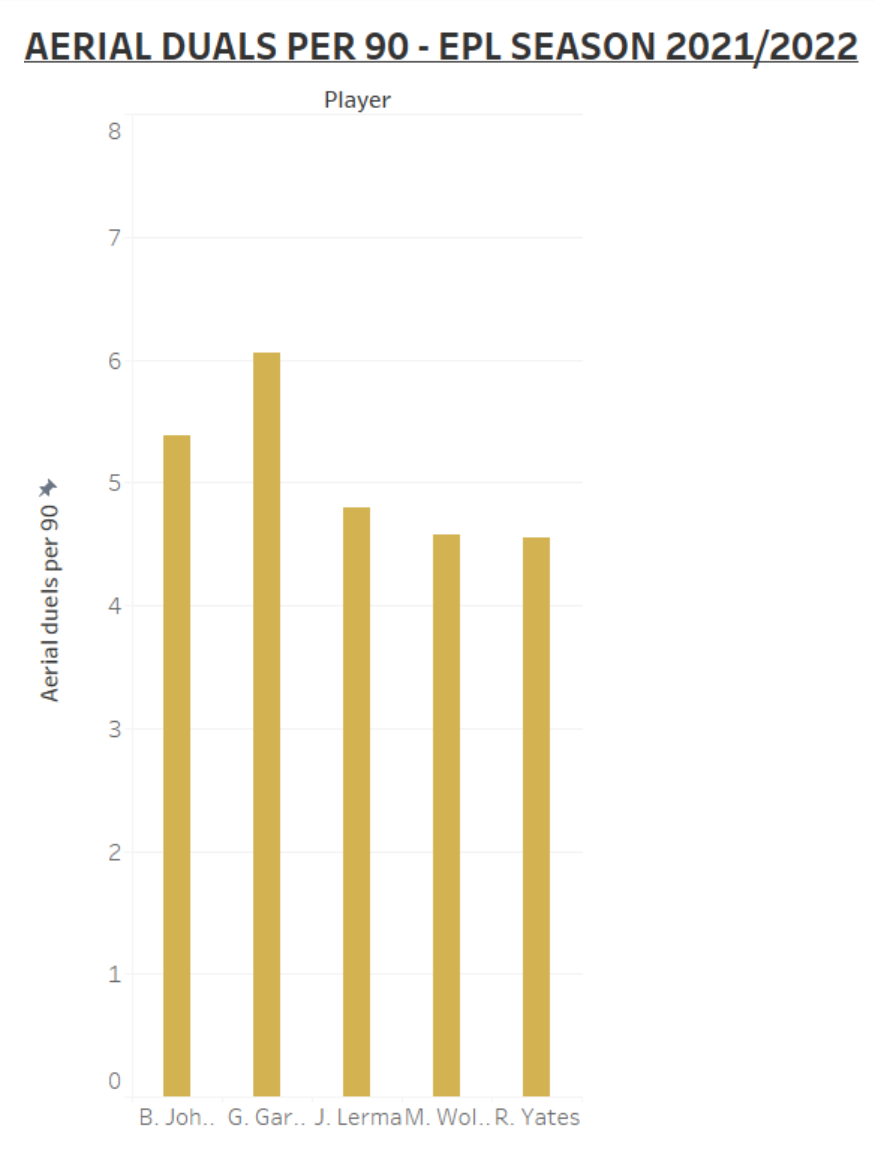 Birmingham City's Gary Gardner came out on top for aerial duels made per 90, but based on just the players noted in the above graphic, it was Brennan Johnson who won the most aerial duels per 90.
Attacking Data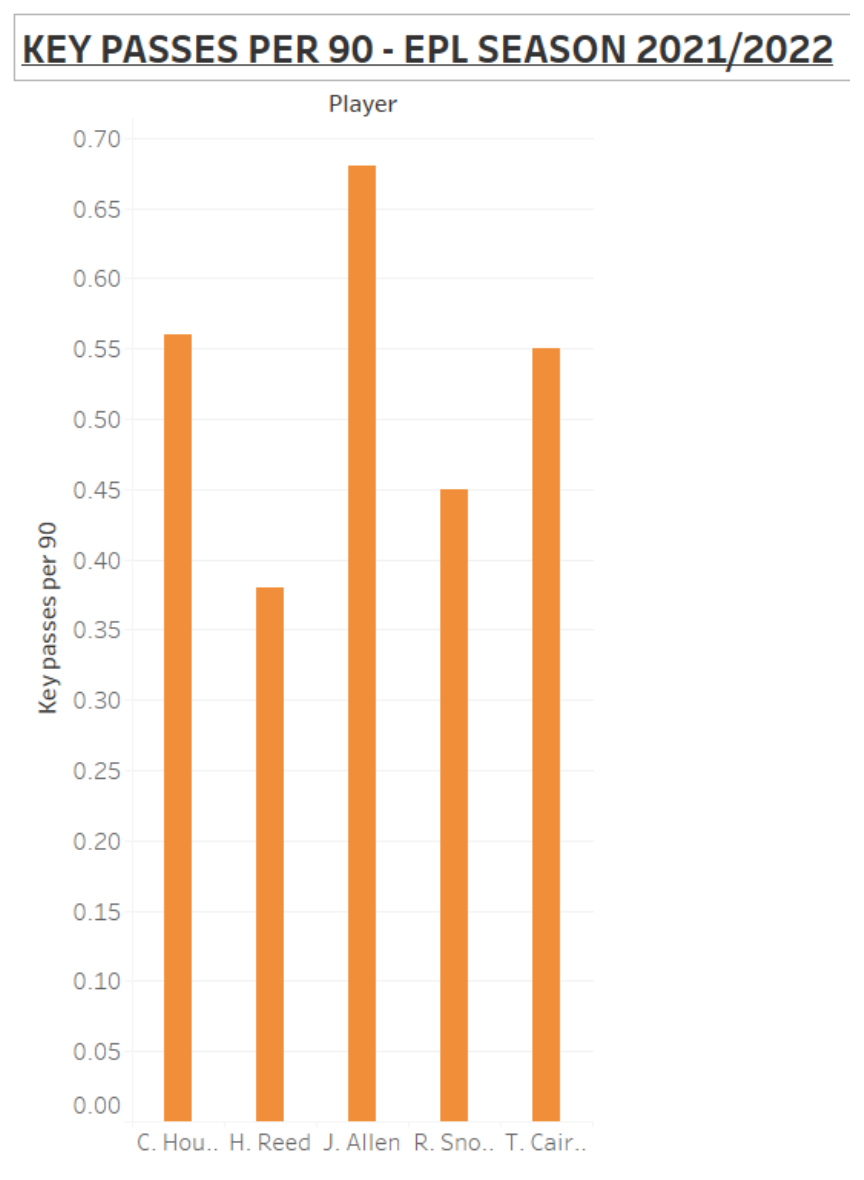 Jamie Allen of Coventry City ranked highest in terms of key passes per 90 and was also ranked highest between the groups of players in the above graphic for passes in the final third per 90 as well as accurate passes to the final third per 90 which rounds up this section rather well.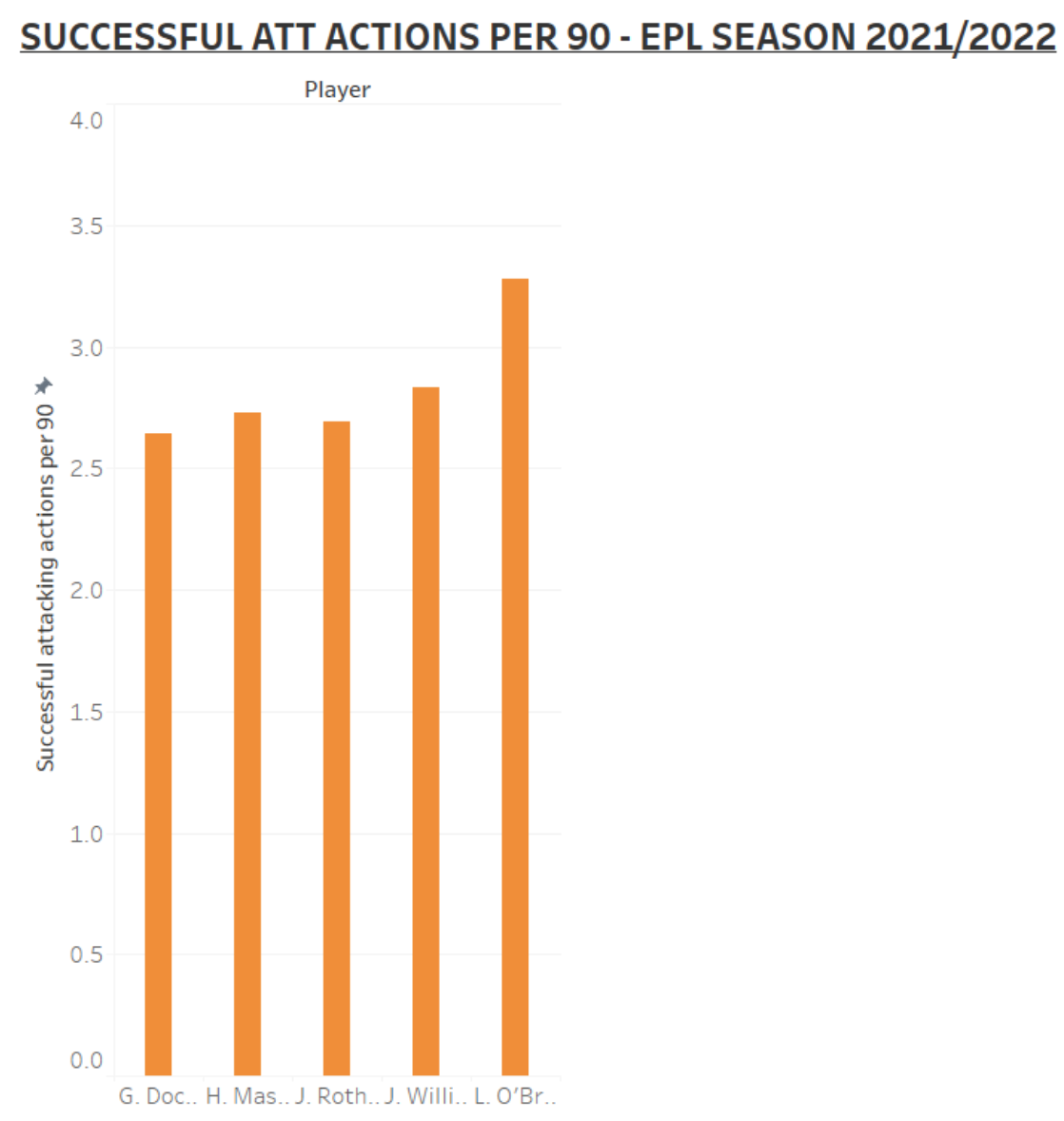 Lewis O'Brien of Huddersfield Town ranked highest in terms of successful attacking actions per 90. Another metric was included for the same players (Shots per 90) which again O'Brien was ranked first.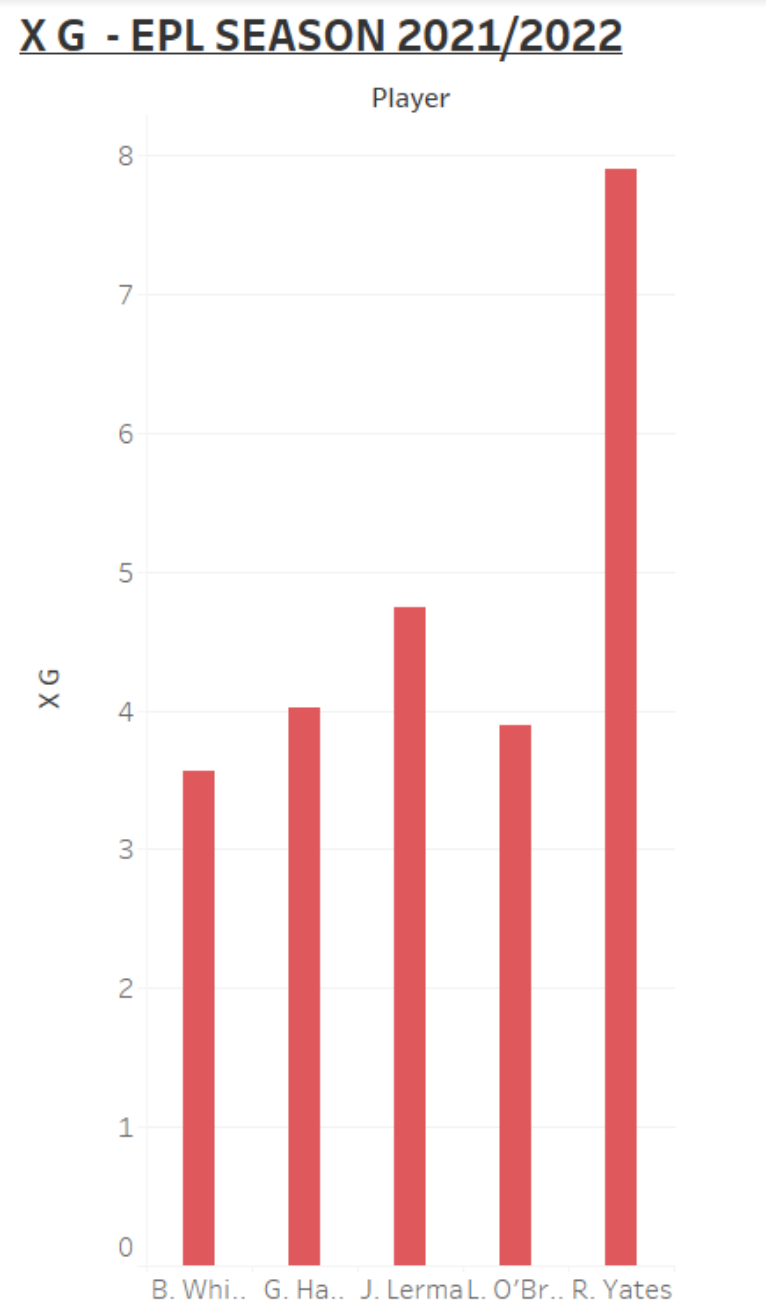 Ryan Yates has appeared again, this time in the attacking stats and ranked first in the xG section. I also reviewed the goals per 90 for these players and again Yates came out on top by some margin. It's no surprise as the 24-year-old has played a crucial role in midfield alongside James Garner in Nottingham's successful promotion effort.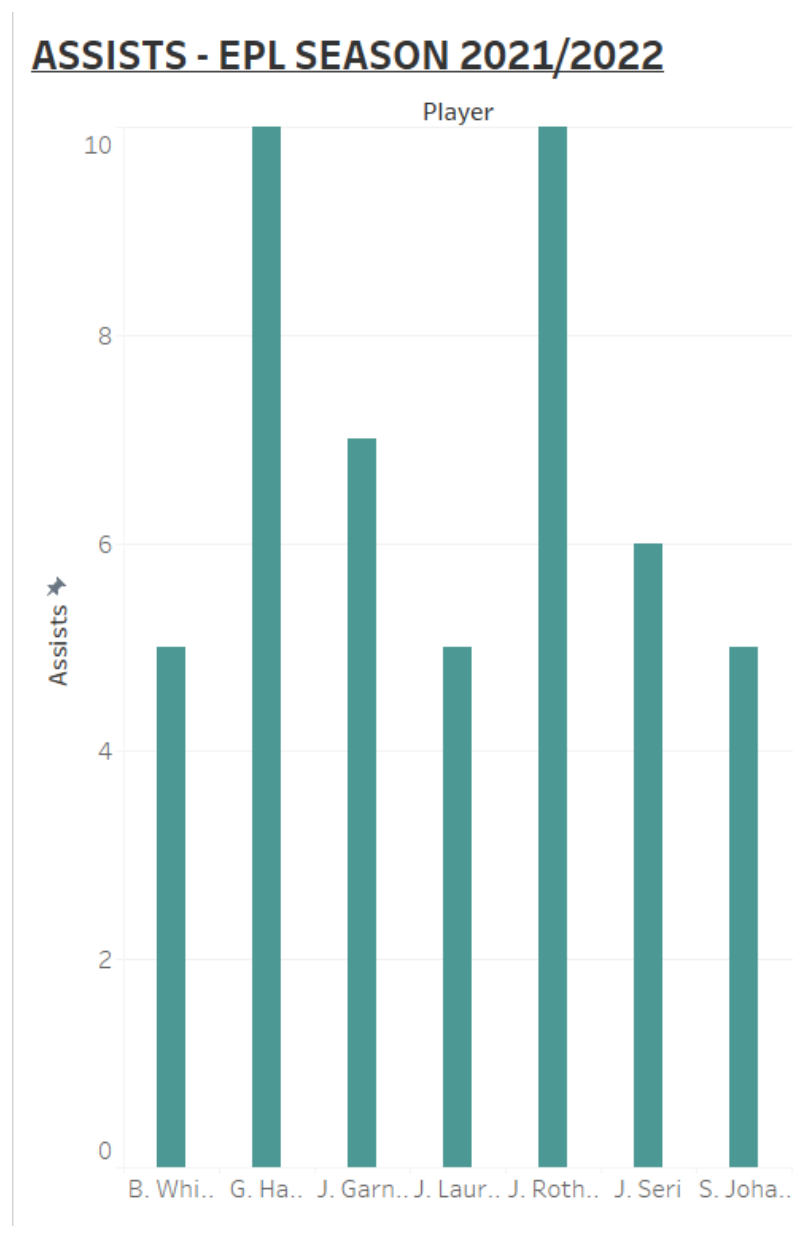 Both Coventry City's Gustavo Hamer and Blackburn Rovers' Joe Rothwell were atop the assists metric, but when comparing them in other statistical areas, Rothwell came out on top in Key Passes per 90 as well as accurate passes forward per 90.  
Progressive Running Data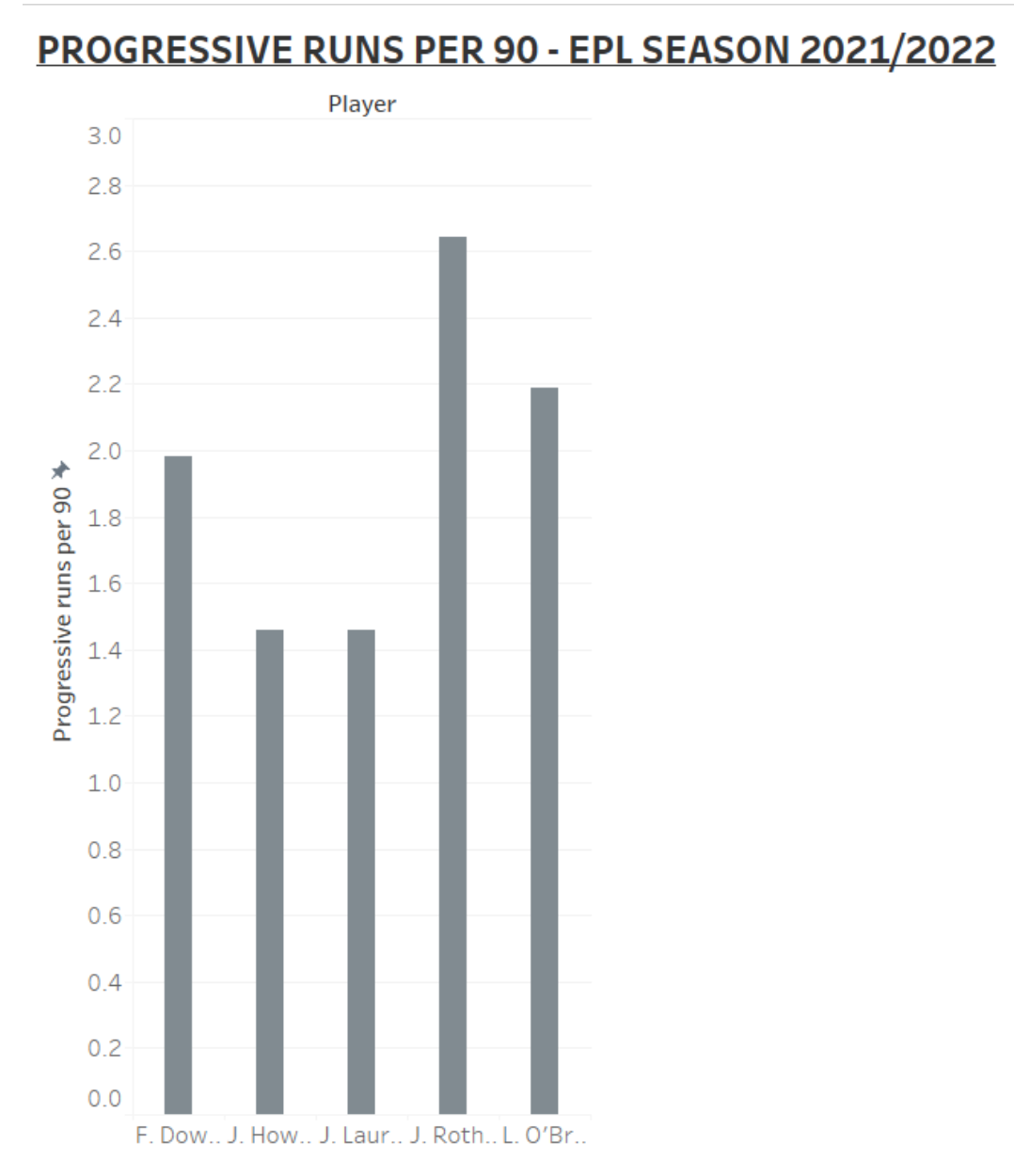 Joe Rothwell came out on top again, this time for progressive runs per 90. Whilst on the topic of progressive, for the passing department it was Middlesbrough captain Jonathan Howson who ranked top just behind Rothwell.
Comparing All The Top Rankers In More Detail
In this section, I will be grouping up the front runners from the above graphic and comparing these players in more detail. Same as above, again I will be deep diving in from a defensive & attacking point of view. This time, we will pick the most suitable attacking midfielder and defensive midfielder before deciding on who I think is overall an all-rounded best central midfielder in the championship purely based on the data.
Overall Attacking Data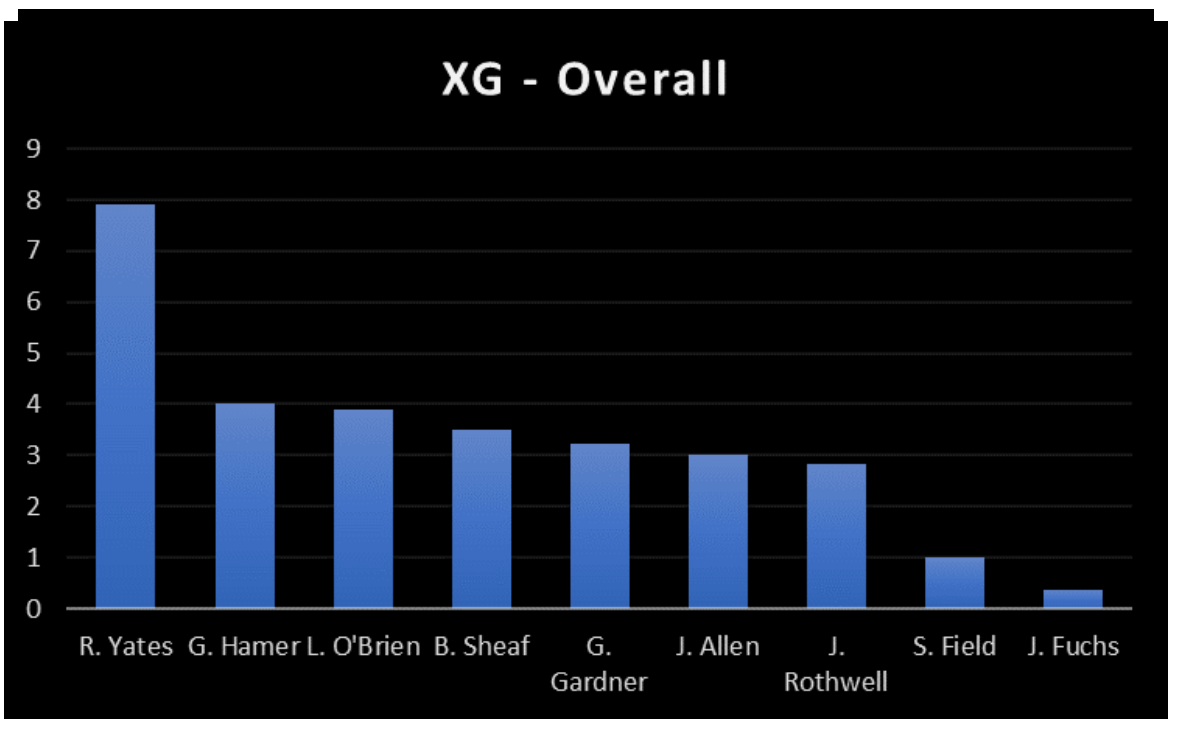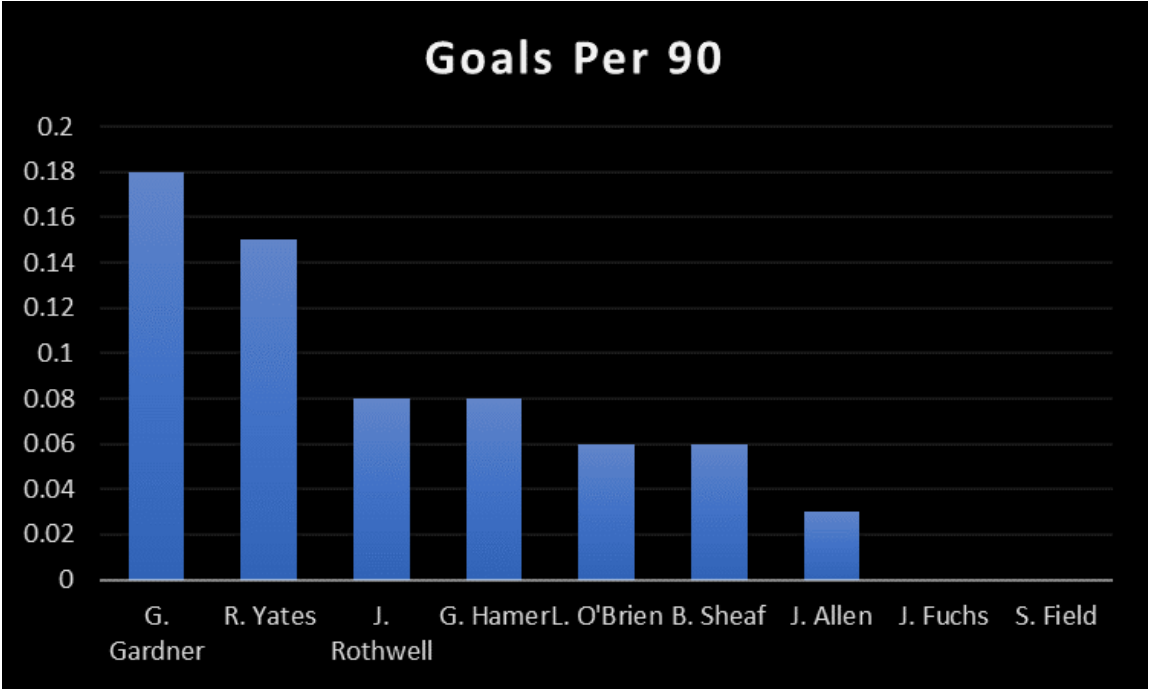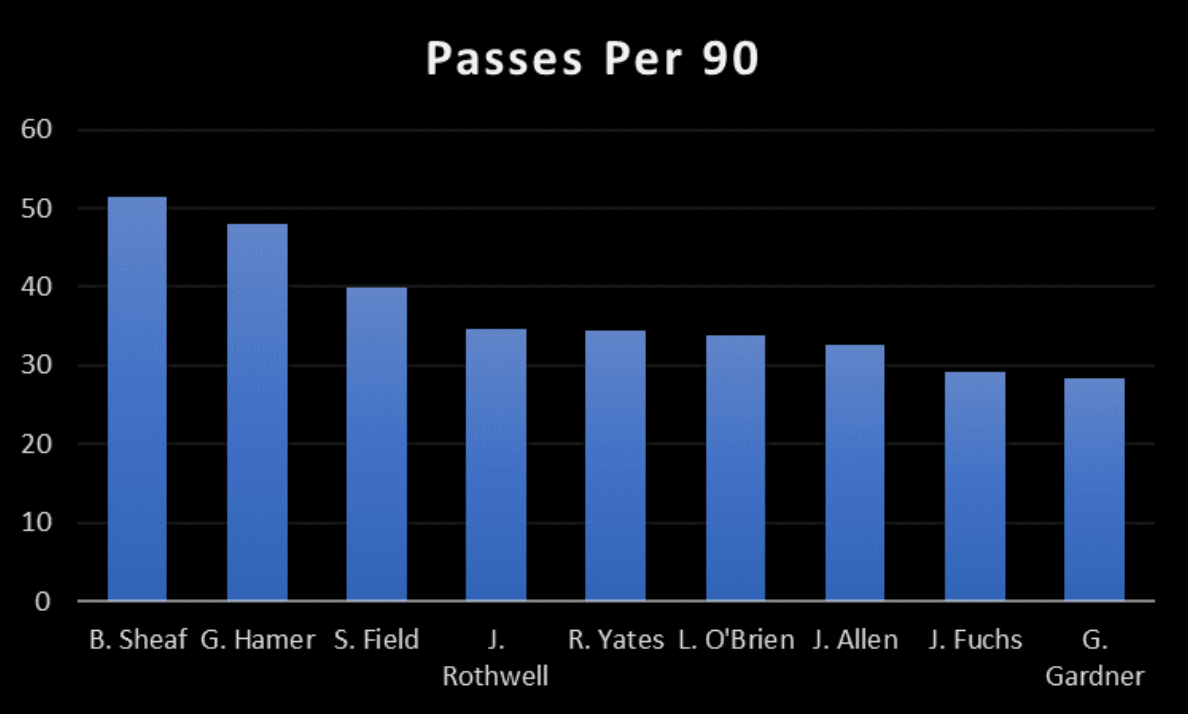 Reviewing the above data, there is not one front runner here however, there are a few cases on why Ryan Yates should be ranked overall as the best-attacking midfielder.
Firstly, Yates has the highest XG and is up there with goals per 90. Goals ultimately can win games so he already has a good case going for him. With regards to passes per 90, this is something which is good to know for instance if we want to know what type of system the player would play in rather than overall ranking the player.
For instance, let's say Ben Sheaf, who ranked highest in passes per 90, would suit a team like Swansea in the Championship because they enjoy a passing style of play and like retaining possession — although Sheaf still has three years left on his contract at Coventry. However, we are not looking at it from which players suit which club, so will move on from this.
Finally, for successful attacking actions, Yates is not ranked near the top however, this is not as crucial as the likes of XG or goals per 90 are the metrics that actually matter in the game, although having said that successful attacking actions do add a good dimension to a midfielder's game for sure.
Overall Defensive Data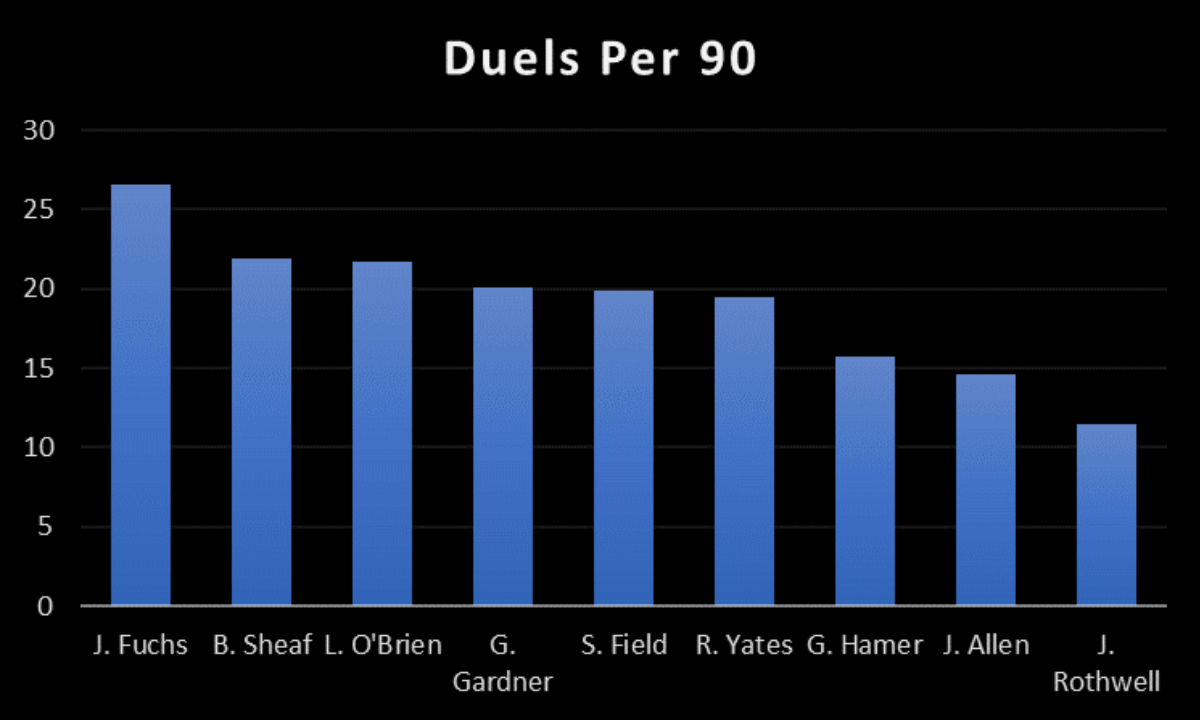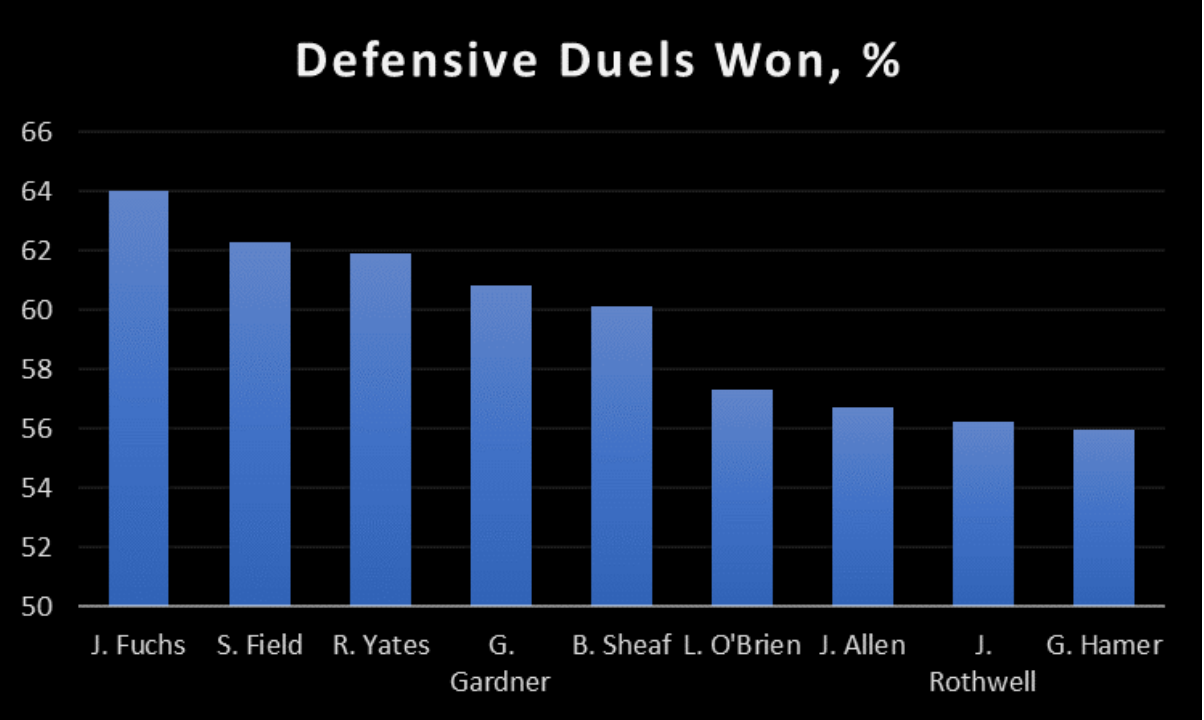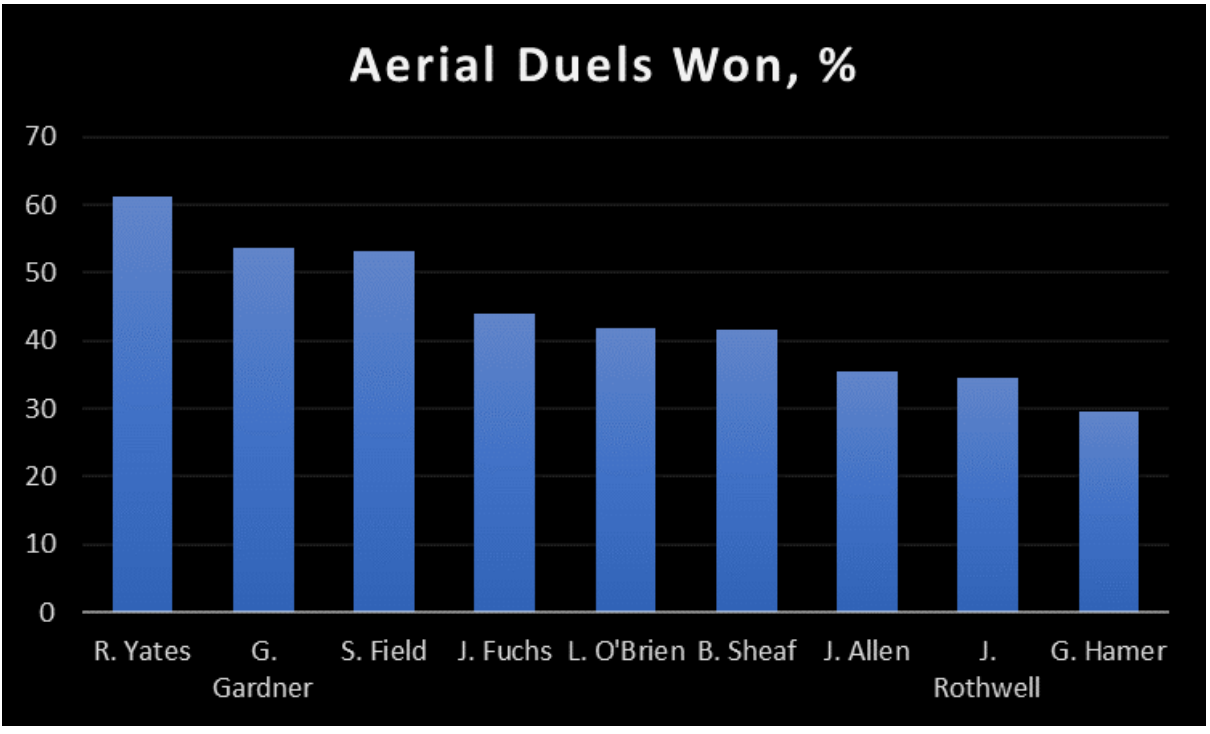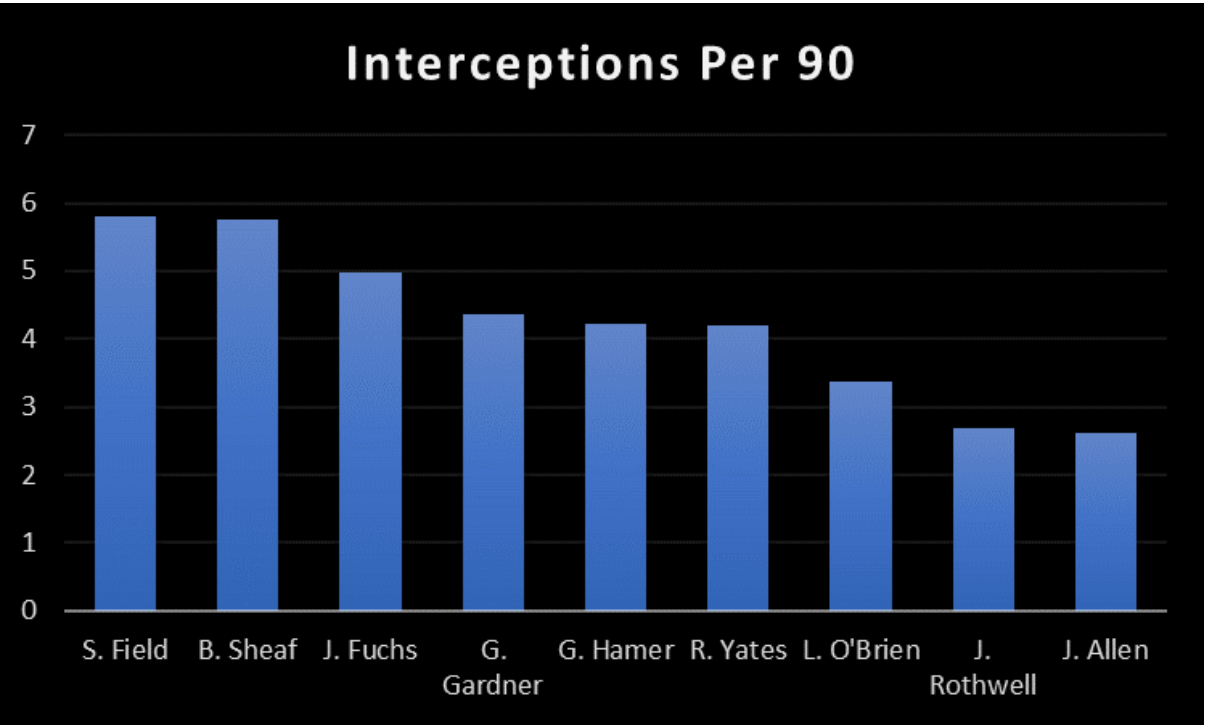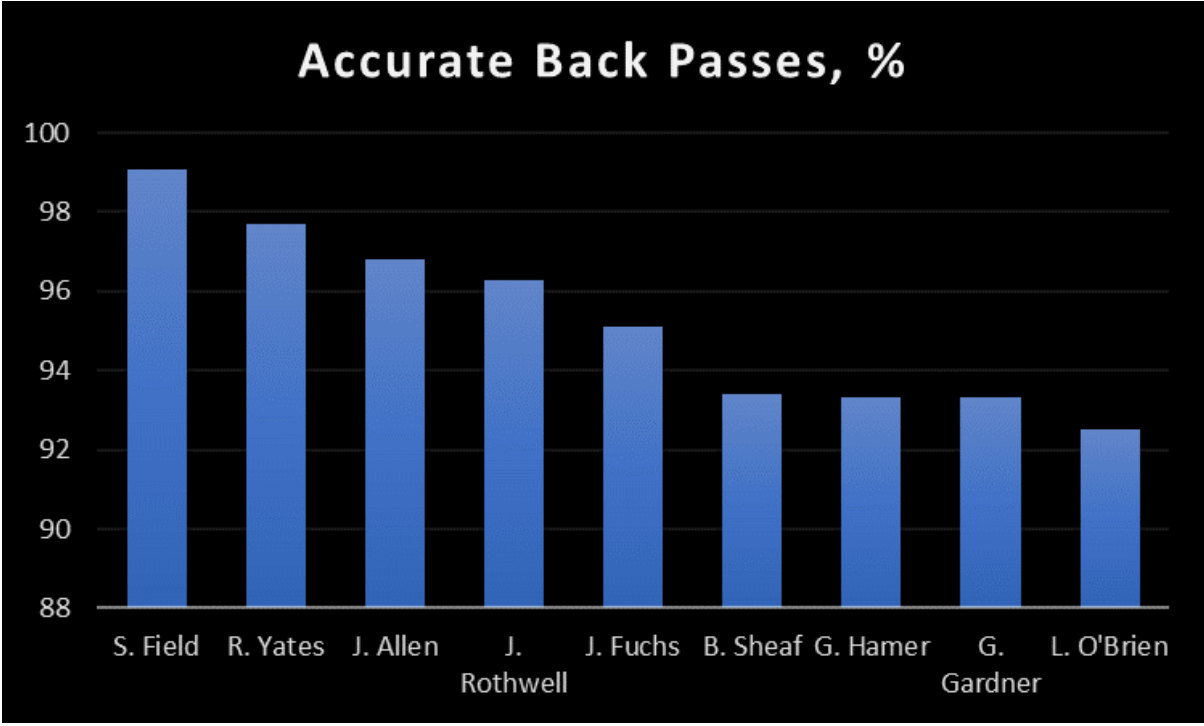 As for reviewing the best defensive midfielder, this proved to be a more tricky task. For the defensive data, there are more important elements that play a big role in the game. Again, data on topics such as accurate back passes & duels per 90 are no game-changers but do help show the type of player we are dealing with.
We want to be looking at who is ranking highest in terms of duels won and interceptions per 90, as these indicate how much of an impact a player can make on the field. However, if I had to go with 1 player it would be Jeando Fuchs, because according to the data presented, he is clearly a suited defensive midfielder.
This is firstly by his duels per 90 followed by the % of these won per 90 are ranked high. Secondly, for all defensive data we have reviewed above, Fuchs is still showing up near the top end of the metrics apart from the accurate back passing which as mentioned isn't something for this particular case we would look into any further.
Despite Fuchs playing lesser games than the rest of the players, I would imagine his stats would only improve if he had played the same amount of games as the other players, therefore as tough of a decision it was to leave out Sam Field or Ben Sheaf, I will go with Peterborough's Fuchs on this one.
Miscellaneous Overall Data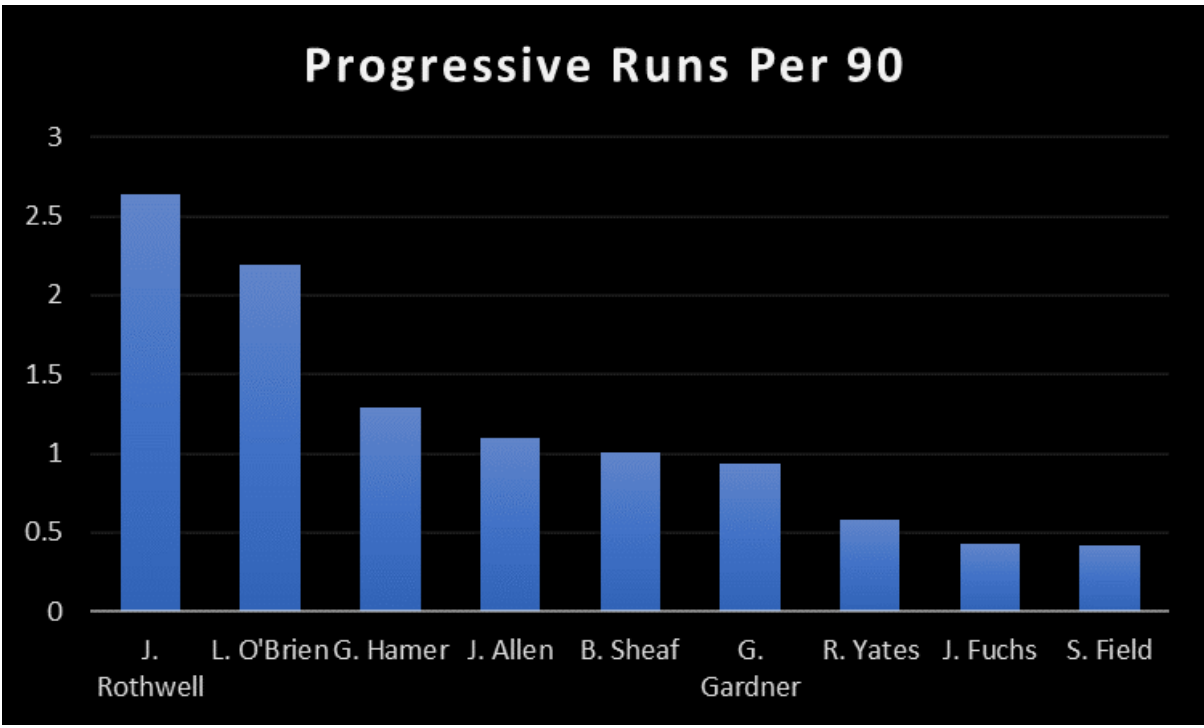 Now that we have got our two players to decide from (Ryan Yates / JeandoFuchs), in terms of who is ranked the best overall central midfielder, we can also use the miscellanous data above to assist on this.
Who Is the Best All-Rounded Central Midfielder in the Championship?
You may think this decision may be the hardest one yet however, this is actually an easier pick as the hard work has already been done as we deep-dived into all sorts of metrics to get to our final 2. We came across so many great central midfielders however, Ryan Yates is the clear winner here.
The 24-year-old not only ranked high in the attacking metrics, but he was also appearing in the defensive metrics. An example of this was the aerial duels won per 90, as he was ranked first on this.
If you go purely by data, Ryan Yates is the ideal box-to-box midfielder and is not only able to contribute to his team's attacking phase, but he can also come back and make an impact, as seen in his interception rate. After playing a vital role in Nottingham Forest's promotion, he'll be looking to continue his development under Steve Cooper as Forest look to survive relegation in their first top-flight campaign since 1998/99.
By: Dhillon Gill / @FMGegen
Featured Image: @GabFoligno / Mick Walker – CameraSport