Henrik Mkhitaryan's Revival at Roma
Armenian international Henrikh Mkhitaryan has arguably been Roma's best player in the 2020/21 Serie A season so far. After impressing on loan during the 2019/20 campaign, the attacking midfielder had his contract with Arsenal terminated by mutual consent and the Giallorossi signed him on a free transfer. His form in his second season at the Italian club has demonstrated that he has been a fantastic bargain.
The 32-year-old has been glittering form for Roma, scoring nine goals – already equaling his tally from the previous season – and providing eight assists in 19 Serie A matches. With Nicolò Zaniolo being absent due to another knee injury and Pedro Rodríguez also suffering from muscular troubles, Mkhitaryan's creativity and finishing touch have served greater importance to this Lupi side.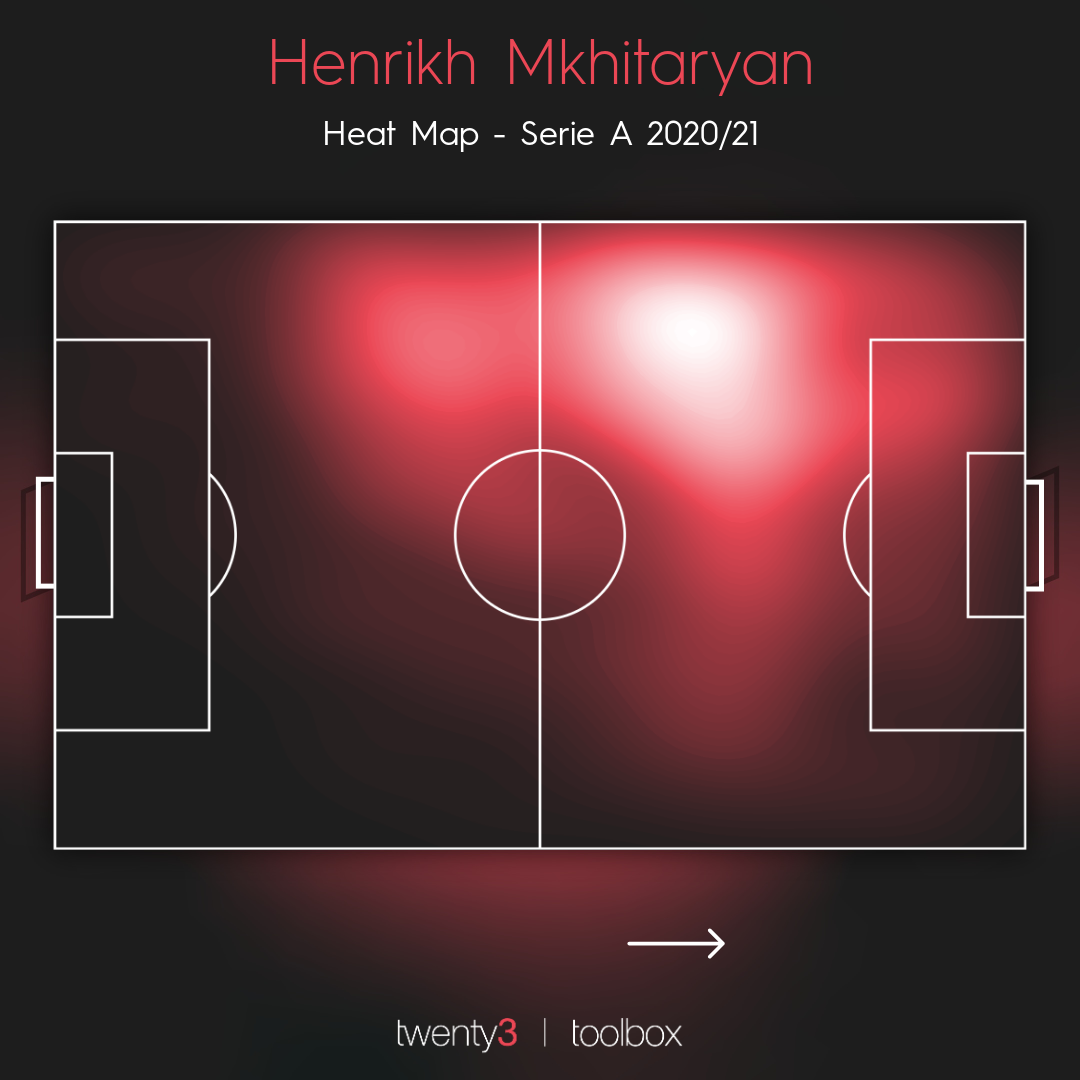 Photo: Twenty3/Wyscout
This is the second season in which Portuguese coach Paulo Fonseca has been in charge of Roma, and he has continued with his implementation of the 3-4-2-1 formation, which he had started to use in the latter stages of the 2019/20 campaign. In that formation, Mkhitaryan operates as the left attacking midfielder behind either Spanish starlet Borja Mayoral or Bosnian veteran Edin Džeko. As indicated by the heat map, Mkhitaryan is often present in that left attacking midfielder position, which allows him to create scoring opportunities for his teammates as well as get into scoring positions himself.
In saying that, he will drift around to other parts of the opposition half to collect the ball and create something. The 32-year-old does not drop into his half very often, but when he does, he is predominantly on the left flank. This is more likely to happen when Roma is out of possession and he has to move back so the team keeps its shape.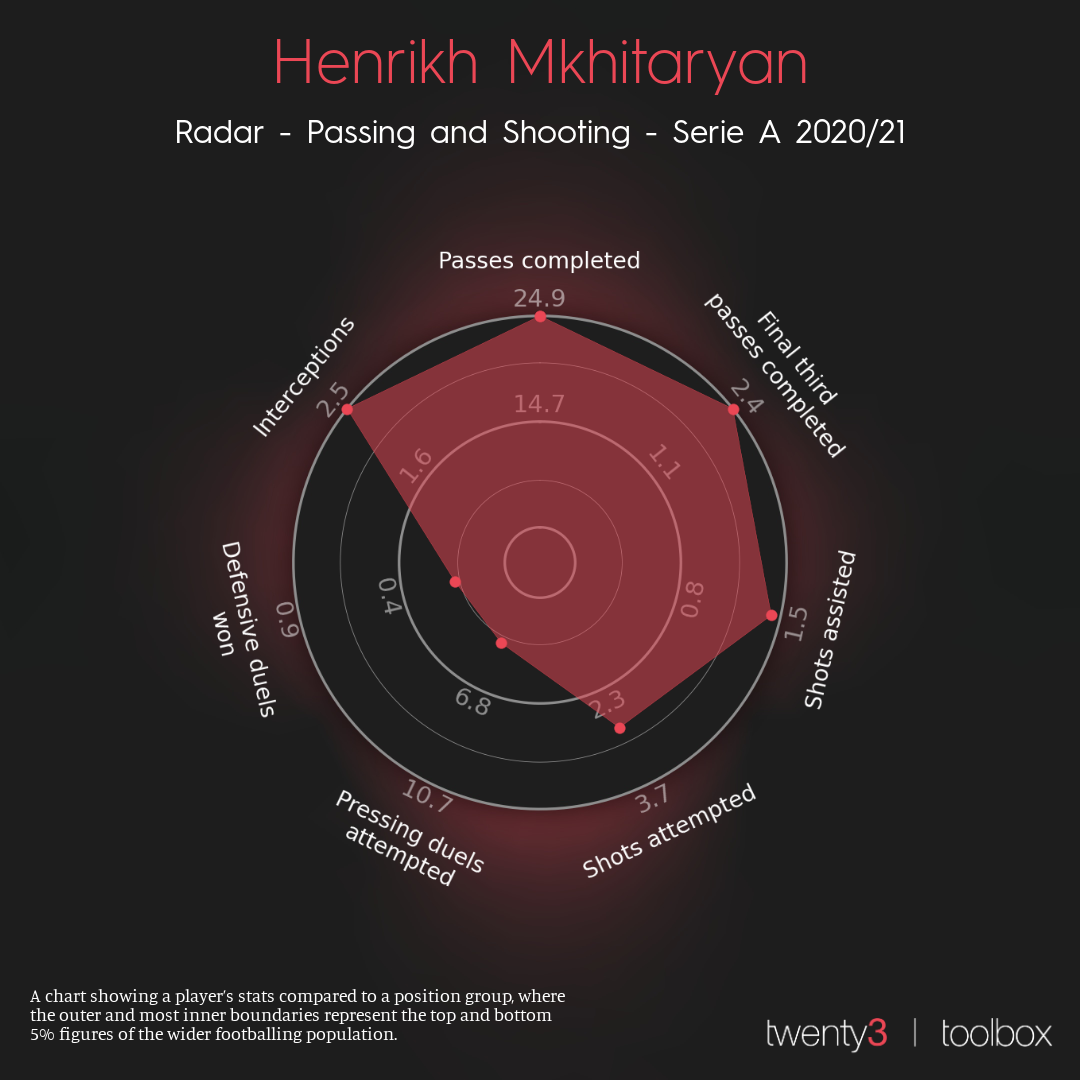 Photo: Twenty3/Wyscout
Mkhitaryan features highly in most of the statistical tallies so far this season. He leads the Roma squad for the most goals and assists; he also has the most shots with 54; is second to Leonardo Spinazzola for the most completed dribbles, progressive runs, and attacking duals won, completing 65 out of 88 dribbles, making 59 progressive runs, and winning 93 duals; and he is fourth overall for passes received with 580. 
The ex Manchester United man's attacking influence per 90 minutes is also quite impressive. He assists in 1.31 shots, completes 3.3 final third passes, attempts 2.62 shots, and completes 30.86 passes. Defensively, his stats do not look overly impressive. He only wins 0.29 of defensive duels, which is 16th overall at the Giallorossi, he does not attempt many pressing duals, and he has a low number of defensive actions attempted at 9.04. His 3.21 interceptions per 90 though still put him in the upper five percent figures of the wider football population.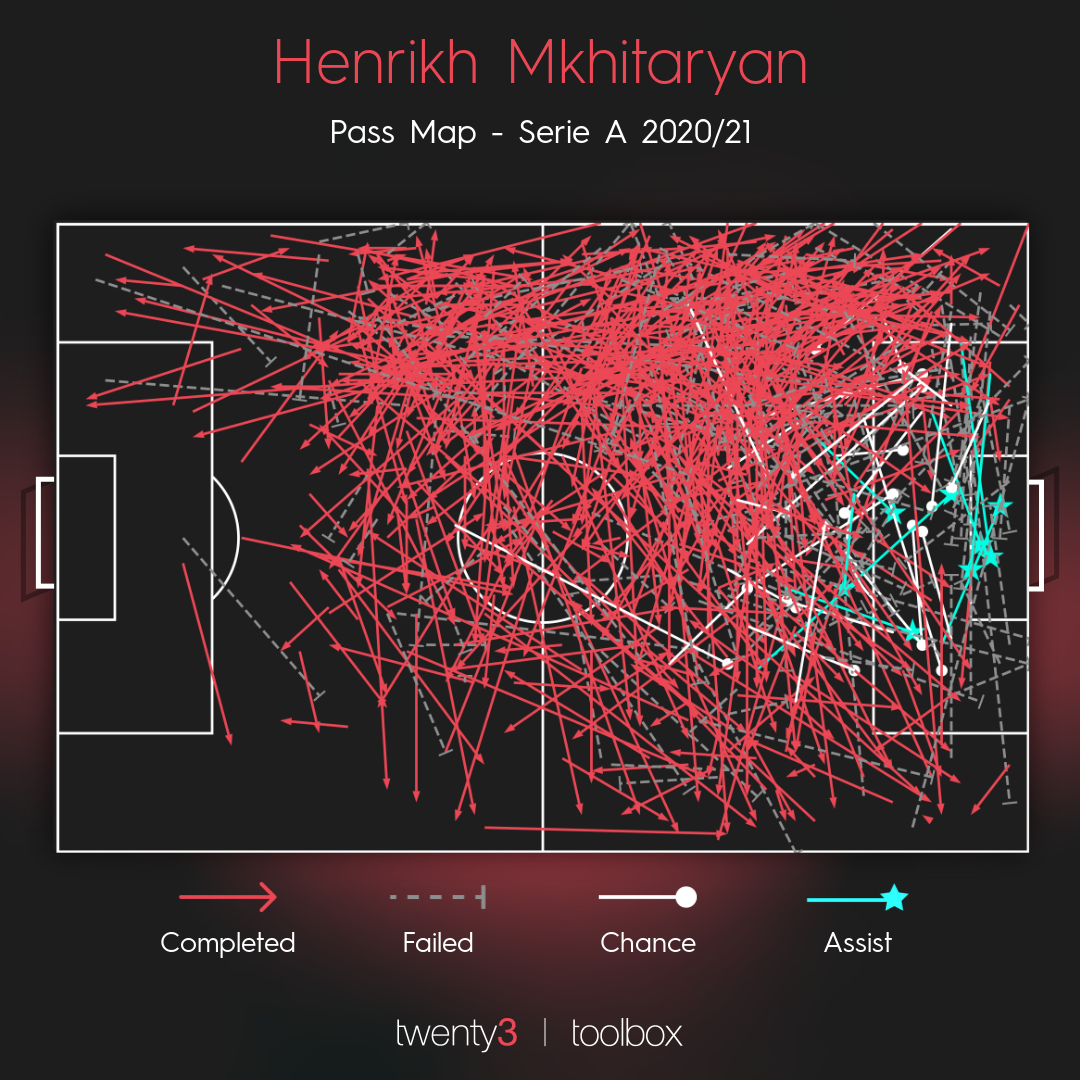 Photo: Twenty3/Wyscout
Throughout the 2020/21 Serie A season, Mkhitaryan has completed 635 out of 797 passes, 68 out of 93 final third passes, 153 forward passes, and 165 backward passes, which is the second-highest in the Roma squad. From the pass map above, the passes are made from the areas that he is in the most, which is on the left side of the pitch.
Looking at the map gives another indication as to why Mkhitaryan might not want to drop into his half too often. Many of the passes go sideways and backwards and the passes that fail indicate that too. Hardly any of his incomplete passes in his own half are vertical balls that go forward.
It is evident that Mkhitaryan does his best work in the final third. Out of all the chances created, only one was created in his own half while the rest were created in and around the penalty area. If you also look at his assists, they are all in the final third and most of them were provided in the opposition box. 
Mkhitaryan's nine goals have come from a variety of positions. He has shown that he can score goals inside the penalty area as well as outside of the box. When looking at the xG Goal Map, his shots can come from anywhere within the penalty area, but within reasonable angles. Although he takes his share of shots within the box, he will have a go from long distance when the opportunity presidents itself.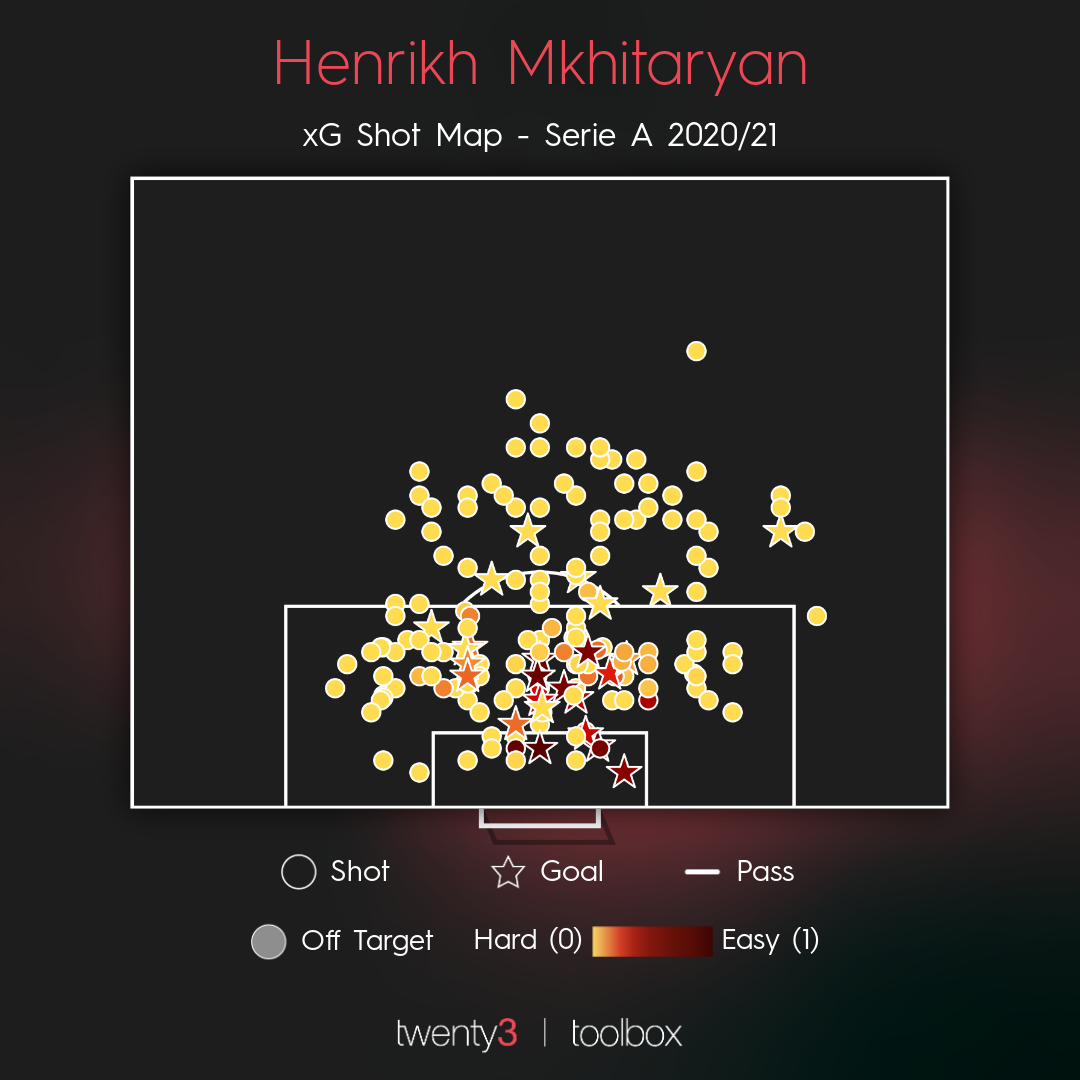 Photo: Twenty3/Wyscout
If we look at some of the goals he has scored, they are goals of exceptional technical quality. His first three goals of the season came in the Week 7 victory against Genoa. To complete his hat-trick, Mkhitaryan volleyed the ball into the net after receiving a cross from the right from Pedro and in spite of losing his balance.
The Armenian scored twice in the following round against Parma and his first goal in the 3-0 win was sensational. Spinazzola made a bursting run down the left flank and played a through-ball to Mayoral. The Spaniard took a heavy touch just before he was tripped by a Ducali defender, and after the ball took one bounce, Mkhitaryan hit a thunderous volley from about 25 meters which Crociati goalkeeper Luigi Sepe had no hope in saving.  
In the 3-1 victory against Hellas Verona in Week 20, he received the ball from Mayoral, controlled the ball with his first touch, and then powerfully side-footed a shot past Gialloblu goalkeeper Marco Silvestri. The importance of Mkhitaryan to Fonseca's Roma cannot be understated. The Giallorossi were third in Serie A before Juventus defeated them in Week 21 and took that position from the Eternal City club. 
As mentioned earlier, injuries to Zaniolo and Pedro have forced Roma to look to the Armenian as a creative outlet and he has delivered in spades. With Džeko in decline and Mayoral slowly adapting to Italian football, his ability to score goals from midfield has become fundamental.
This does not necessarily mean that the Giallorossi are a one-man team. Lorenzo Pellegrini has benefitted from playing as the right attacking midfield in the absences of Zaniolo and Pedro instead of playing deeper in midfield while Spinazzola has been performing admirably at left wing-back. However, the Armenian midfielder has been decisive and demonstrated his creative and scoring qualities in great fashion. If Roma are able to hold onto a Champions League spot, Mkhitaryan will surely deserve any plaudits that come his way.
By: Vito Doria
Featured Image: @GabFoligno / DeFodi Images