How Important Was Olivier Giroud in France's 2018 World Cup Triumph?
When Didier Deschamps announced his 23-man France squad for the upcoming 2018 FIFA World Cup in Russia, many eyebrows were raised. Alexandre Lacazette was not included in the squad following a season that saw him register 17 goals and 5 assists for Arsenal. Neither was Anthony Martial, who provided 11 goals and 9 assists for Manchester United, or Wissam Ben Yedder, who scored 22 goals and 5 assists for Sevilla, or Karim Benzema, who notched 12 goals and 11 assists for Real Madrid.
The sole central forward on the France squad was Olivier Giroud. The 32-year-old had fallen out of favor at Arsenal following the arrival of Lacazette from Lyon the previous summer, and was sold to Chelsea in the final days of the January transfer window. Amid all competitions, Giroud had registered 12 goals and 3 assists in the 2017/18 season.
Giroud found himself on the bench for France's opening match against Australia at the Kazan Arena, but by the time he was subbed on for Antoine Griezmann in the 70th minute, the Socceroos were holding Les Bleus to a 1-1 draw. It didn't take long for Giroud to make his mark on proceedings; receiving a quick pass from Paul Pogba, he played a quick one-two into the Manchester United midfielder's path. Pogba's shot careened off Aziz Behich, rebounded off the post, and bounced beyond the line.
France held onto a 2-1 victory, and from that point on, Giroud held onto his place in the starting line-up for the rest of the tournament. Perhaps even more stunningly, he was only subbed off twice — once in the semi-final against Belgium, once in the Final against Croatia.
This is despite the fact that Giroud picked up more yellow cards (1) than goals (0) in Russia. In fact, in 546 minutes of action, he didn't even register a single shot on target during the World Cup. And yet, France cruised past the rest of the opposition in commanding fashion, before lifting their second ever World Cup on July 15 at the Luzhniki Stadium.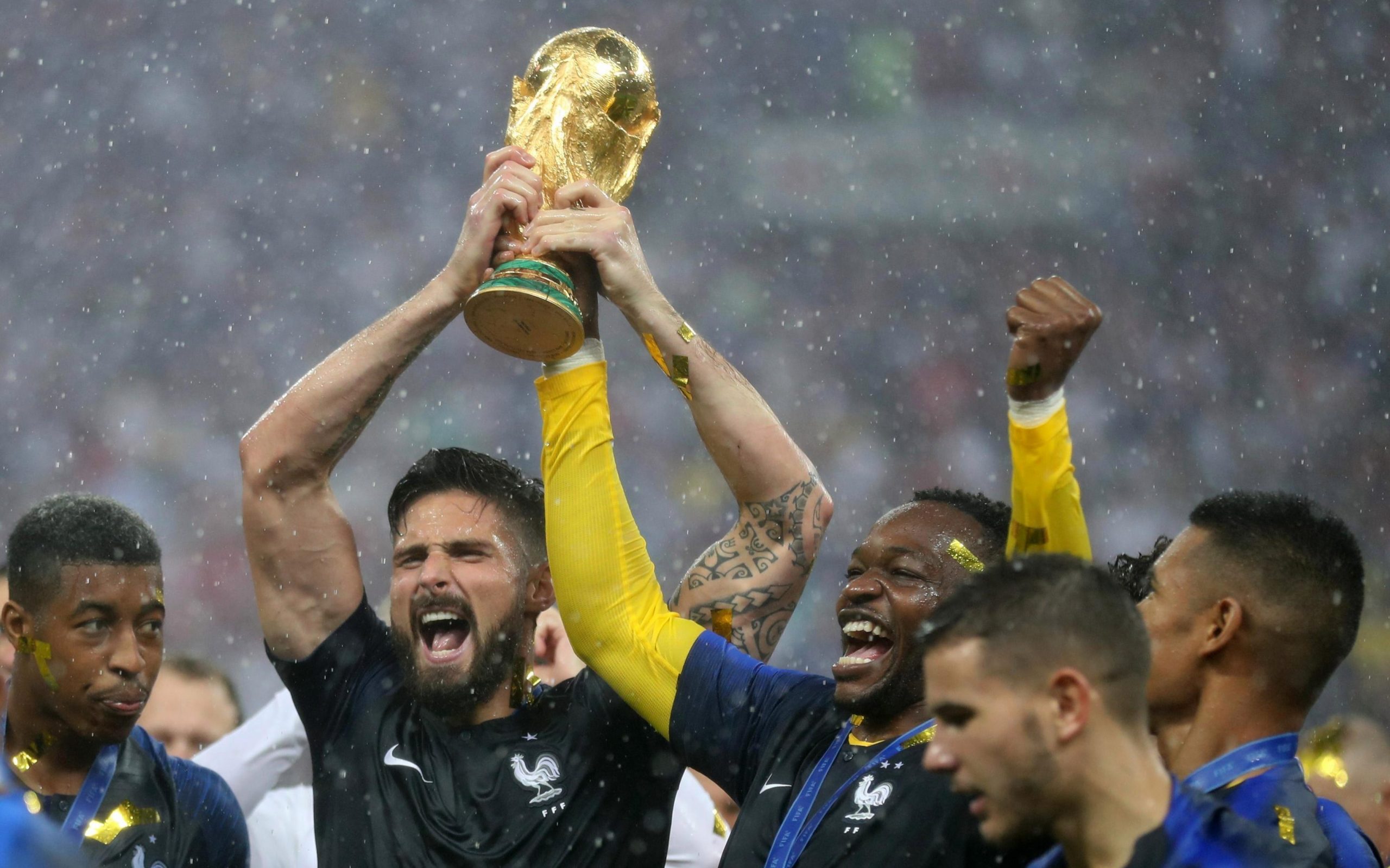 Photo: Getty Images
Speaking to Le Parisien in September 2018, Giroud said:
"I often had to do a little bit of different work, make sacrifices to help the team hold the lead. In fact, you have less energy to be decisive in the last third. Except against Belgium in the second half, I do not have the memory of having missed many opportunities. I even produced two assists.

My zero goals does not stop me from sleeping. In the street people tell me: even if you have not scored, you have been important. We might not have been world champions if I scored. Statistics can be used for anything and everything. I was decisive in another way."
It begs the question: why did Deschamps continue to start Giroud in the World Cup despite his lack of end product in front of goal? Moreover, what role did Giroud play in France's resounding World Cup triumph?
For one, his hold-up play and aerial ability allowed France's center backs and central midfielders to play direct to Giroud, who could then control the long balls and knock it down for his teammates. In contrast to Kylian Mbappé (5'10" and 161 lbs), Griezmann (5'9″ and 161 lbs), and Ousmane Dembélé (5'10" and 141 lbs), Giroud's physical presence (6'4″ and 201 lbs) enabled France to play with a target man in attack.
After the drab performance against Australia, Deschamps switched from a 4-3-3 to a 4-2-3-1, making two individual changes to his line-up; Giroud came in for Corentin Tolisso, whilst Blaise Matuidi entered in the place of Dembélé. Giroud could drift from the focal point of attack and into the middle third of the pitch, dragging out the opposition center backs and creating space for Griezmann and Mbappé to advance into scoring positions.
To further analyze Giroud's role for France, let's compare his heat map in the World Cup with that of five elite strikers during the tournament: Luis Suárez, Timo Werner, Robert Lewandowski, Romelu Lukaku, and Harry Kane.
Olivier Giroud (France)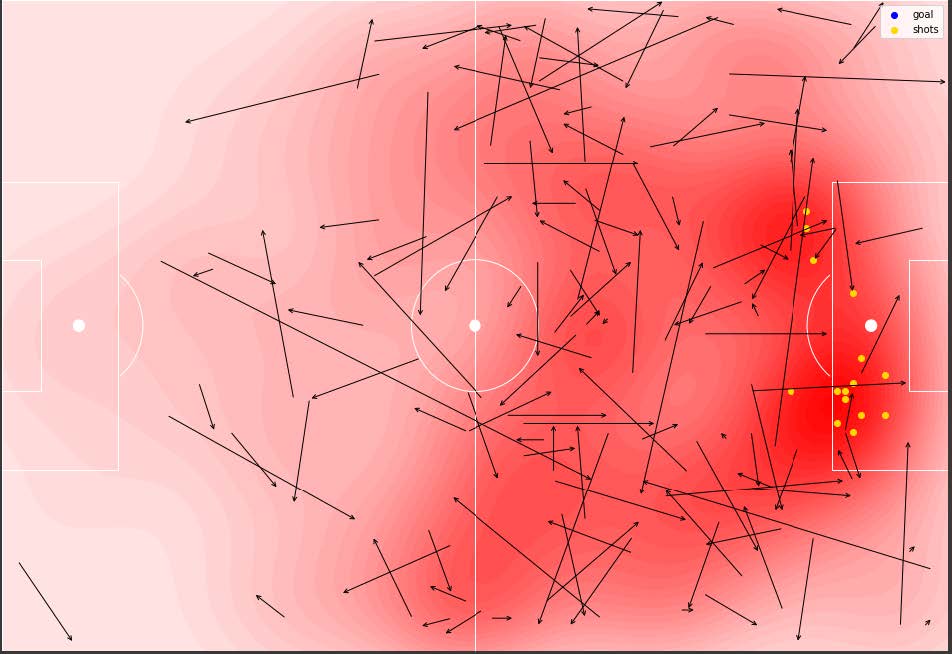 Romelu Lukaku (Belgium)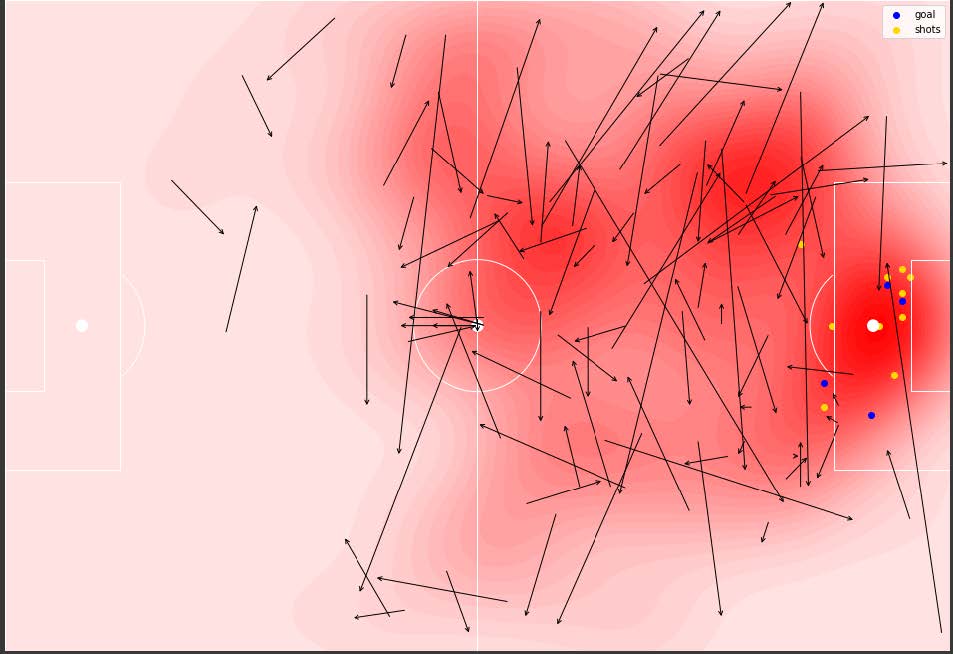 Robert Lewandowski (Poland)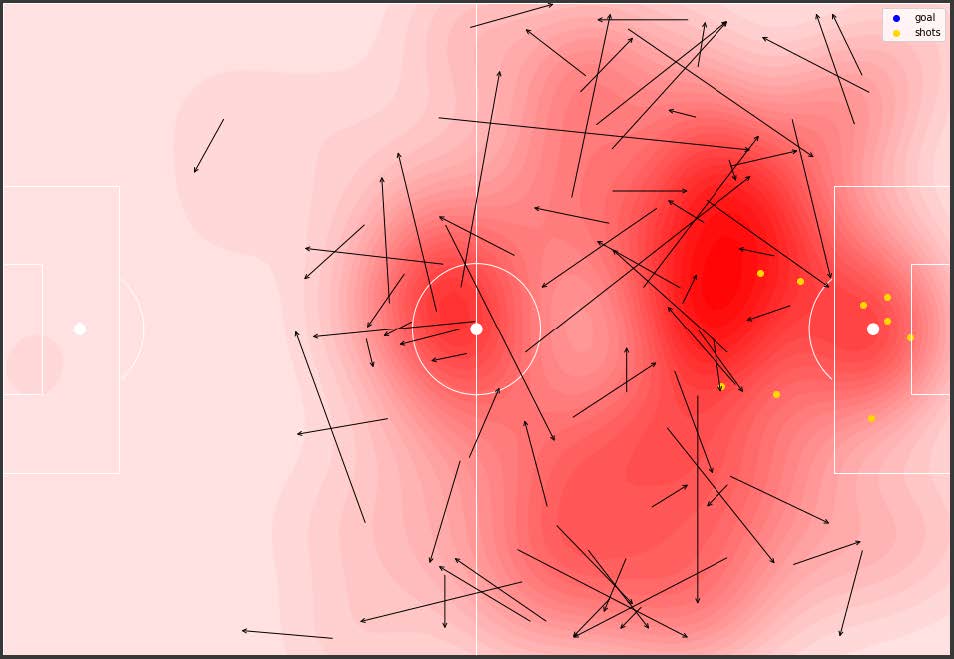 Timo Werner (Germany)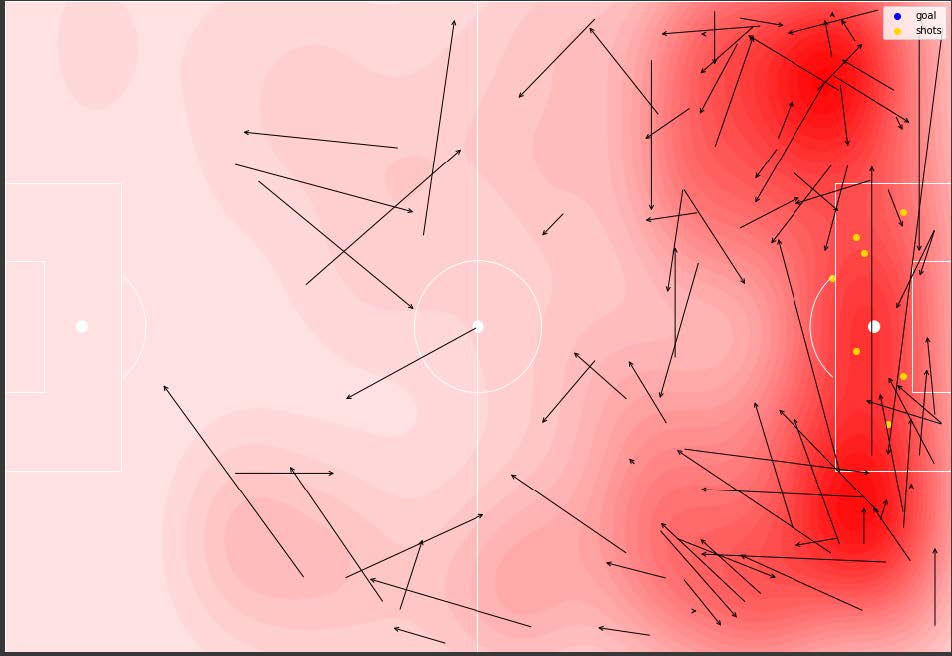 Luis Suárez (Uruguay)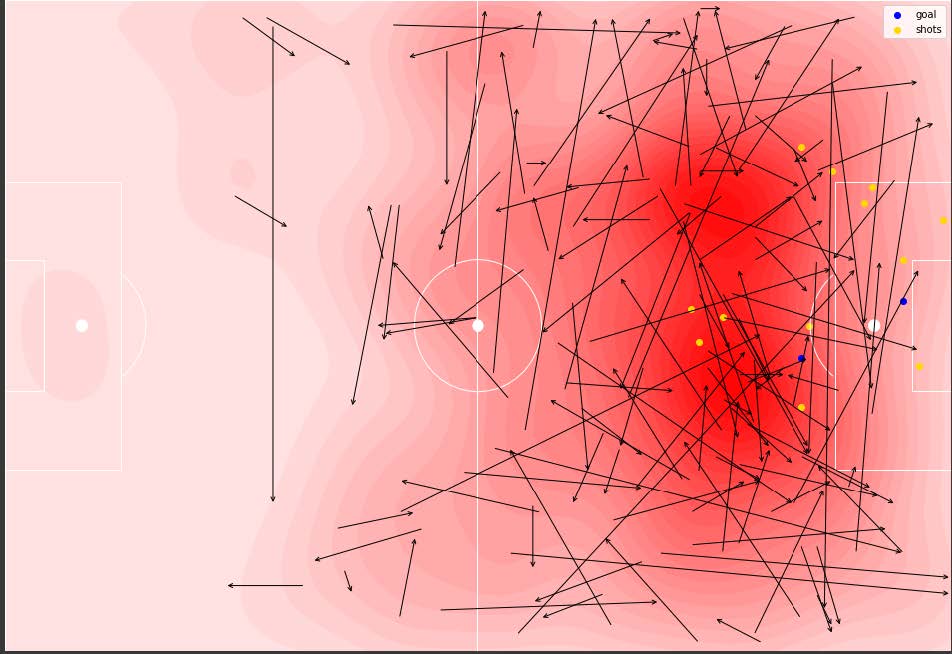 Harry Kane (England)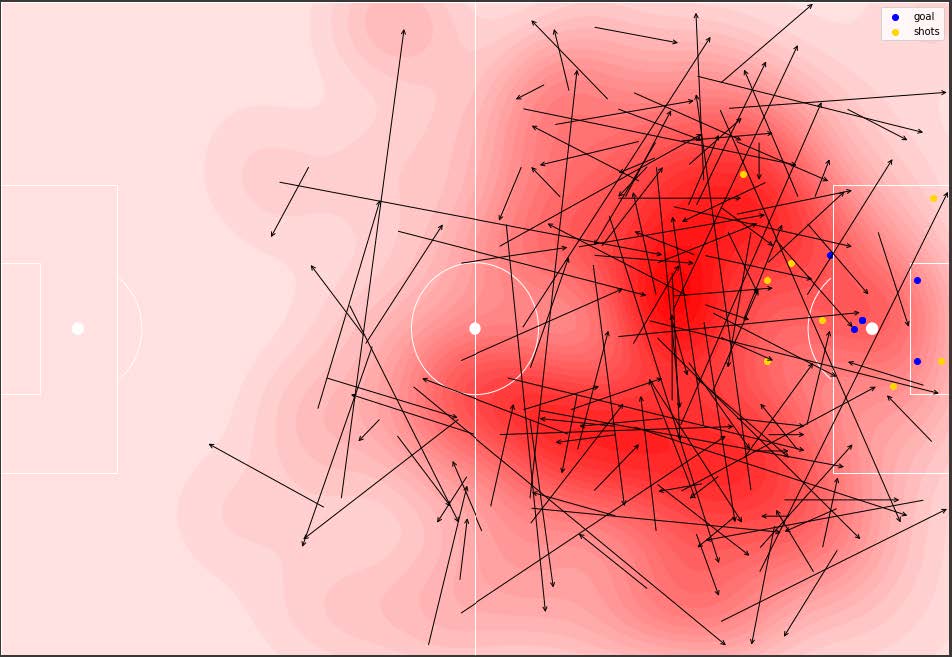 When compared with the other five strikers, we see that Giroud tends to drop deep to create space for his teammates, given the fact that many of his passes are outside of the final third. Let's now visualize the touches outside the final third per 90 against the pressure applied outside the final per 90 on the opponent.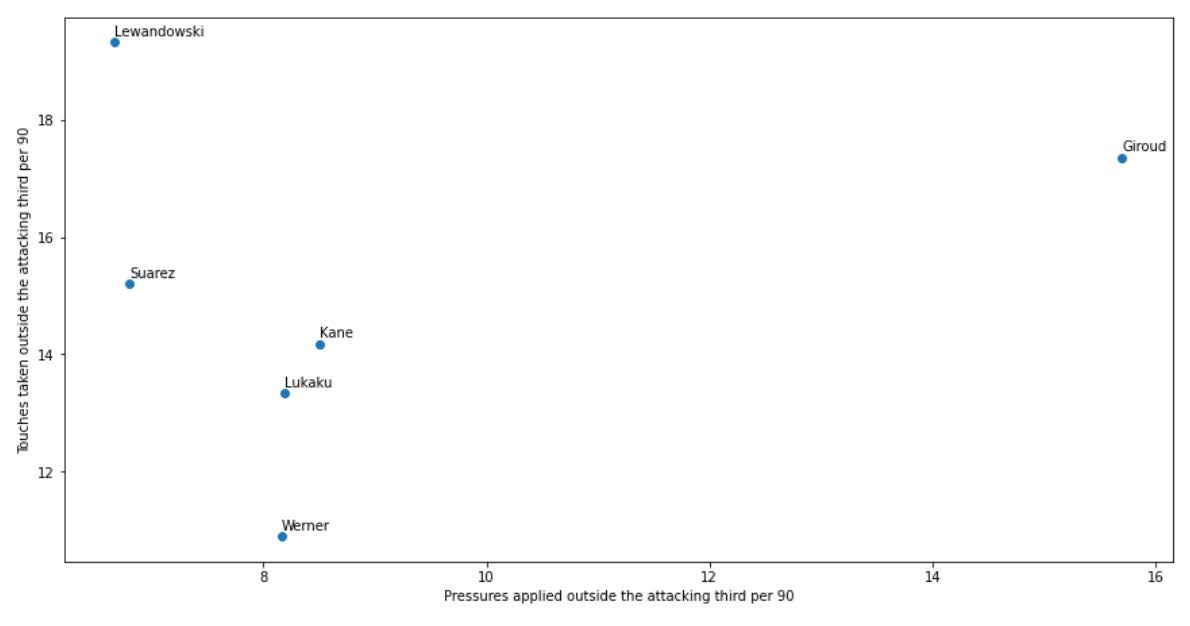 Out of the six strikers who are taken into consideration, Giroud ranks first when it comes to pressures applied on the opponent outside the attacking third per 90 and second only to Lewandowski in touches outside the attacking third per 90. This means that he spent a lot of time outside the attacking third,
pulling the opposing center back inwards and creating spaces behind as well, as laying off balls for his teammates in the middle of the pitch.
Apart from his phenomenal physical attributes, Giroud's role as the focal point of attack in the 4-2-3-1 allowed him to focus his energy on using his chest and head to control aerial balls and passing them to the nearby player with his first touch. Because of his target man role, he enabled the likes of Pogba to roam forward, whilst also allowing the other attackers to advance into scoring positions.
In contrast, Suárez played alongside Edinson Cavani in a 4-4-2 diamond, whilst Kane played alongside Raheem Sterling in Gareth Southgate's 3-5-2. Lukaku played as the focal point of attack in Roberto Martínez's 3-4-2-1, whereas Lewandowski and Werner typically played as the lone center forward in the 4-2-3-1 for Poland and Germany, respectively.
We can also differentiate between Giroud and his competitors's roles by looking at this bar graph which represents progressive distance in yards run by the player with the ball towards the opponent's goal per 90.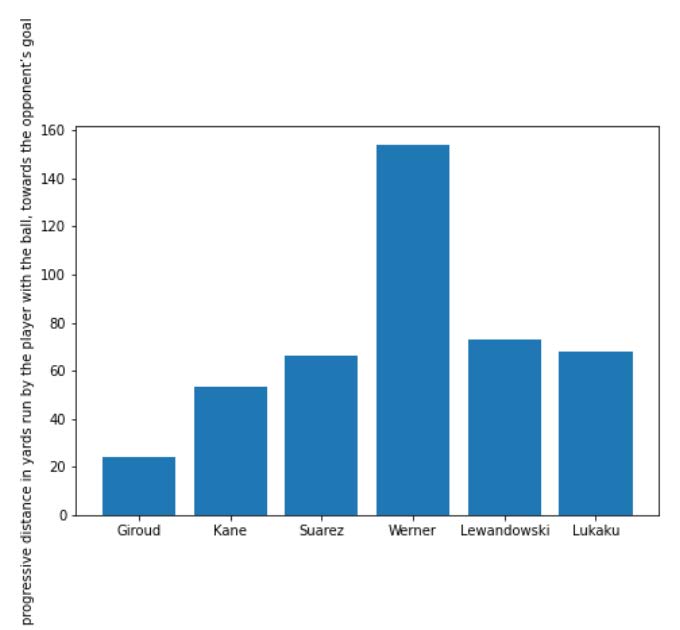 Whilst Giroud failed to find the back of the net in Russia, he has since netted 12 more goals for France, and on October 7, he surpassed Michel Platini to become France's second all-time top scorer with 42 goals. At 34 years of age, his time at the top is waning, but if he can continue his impressive form for the national team, he stands a chance at surpassing Thierry Henry's total of 51 goals and becoming France's all-time leading scorer.
Even if he doesn't beat Henry's tally, Deschamps will be the first to tell you that Giroud doesn't need to score goals to make a difference for his team.
By: Mohammad Haris
Featured Image: @GabFoligno / Robbie Jay Barratt – AMA / Getty Images
All data taken from fbref.com / Graphs and heat maps made via Python