Keira Walsh X Lia Wälti: Manchester City's Young Livewire Against Arsenal's Flamboyant Veteran
The world of football can be as cruel as it is beautiful. Oftentimes, it's the forwards who find themselves on the front page of the daily newspaper, because they might've scored four goals in a 4-0 victory for their team. However, it's almost criminal the way that zero in the scoreline is overlooked. 
The importance of a clean sheet is no less than that of a goal or an assist. Besides scoring lots of goals, it's always solid defences that build champion sides. But even if the defenders are recognized for their performances, there is always one person on the pitch who goes unnoticed: the Central Defensive Midfielder. Usually the unfussy one, the one who gets the work done; a traditional "number six" holds the team together and anchors them during a game. 
In this article, I'll attempt to take you through the role and responsibilities of a defensive midfielder by comparing two of the best holding midfielders in the WSL – Manchester City's Keira Walsh and Arsenal's Lia Wälti. Both the 23-year-old and the 27-year-old are critical to the way their teams play and have been consistently excellent over the past few seasons. While Walsh is still young and blossoming, Wälti has been a long-standing veteran. Towards the end, we'll be able to see how similar yet different both players are from each other.
Analysing the Role of a Defensive Midfielder
The role played by a defensive midfielder is twofold. The defensive side, which is prioritized more, mainly includes patrolling the space between the back four and the more advanced midfielders. This action brings along with it several more aspects, like intercepting passes, tackling when necessary and breaking up the play when the other team is dictating.
However, the attacking side is also vital. A good defensive midfielder is press-resistant and is composed on the ball. It's mandatory for them to keep possession of the ball because losing it in their position can be overly dangerous. Someone who can also indulge in one or two-touch passing in the middle third is perfectly suited for the role of the "volante" (Brazilian footballing term for "holding midfielder").
Depending on formations and systems, these attributes can be subject to slight changes. Looking at the average formations of Manchester City and Arsenal this season, it becomes crystal clear that the Cityzens tend to play a 4-3-3 formation with one defensive midfielder – a single pivot, while the Gunners usually resort to a 4-2-3-1 formation with two defensive midfielders – a double pivot.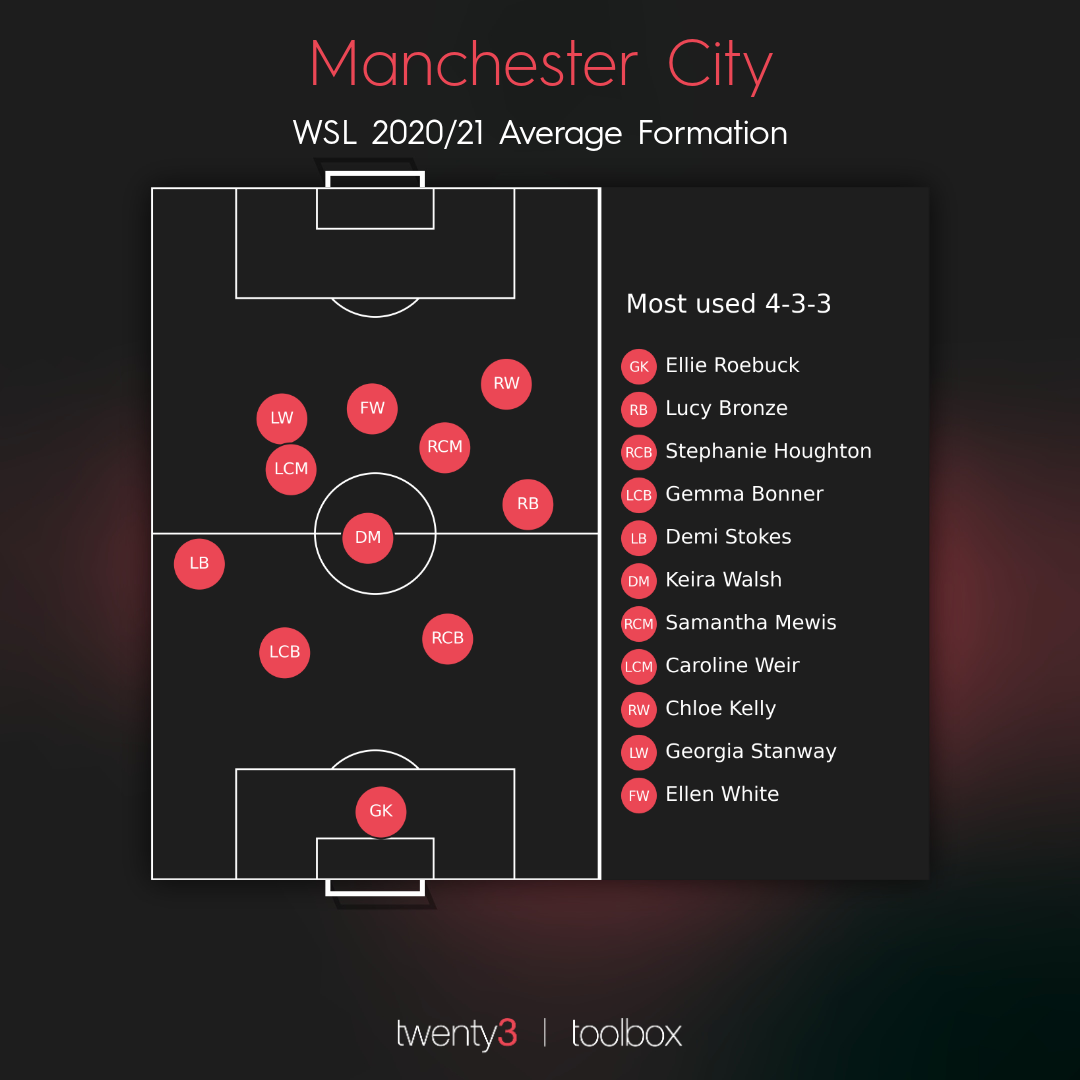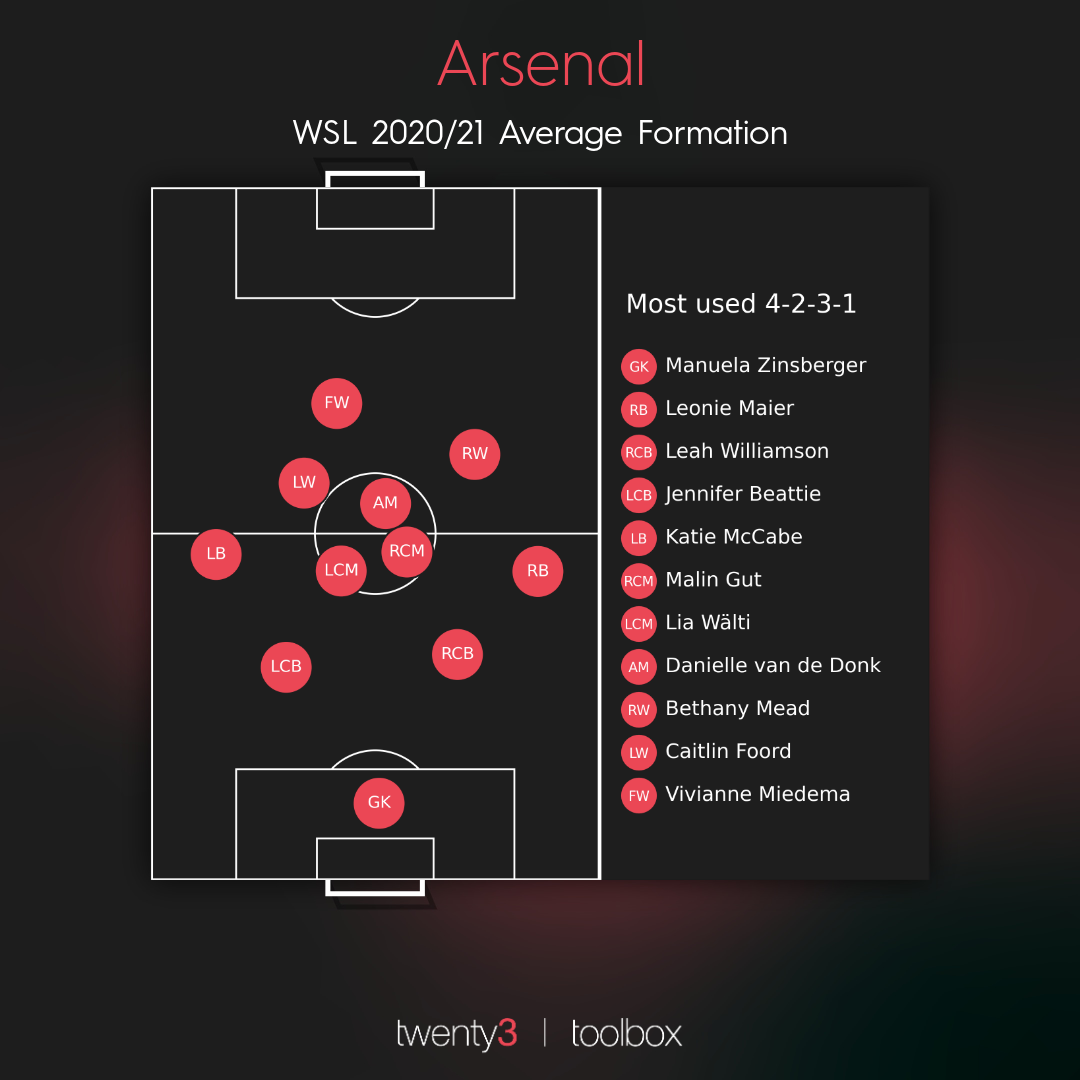 Photo: Twenty3/Wyscout
This instantly distinguishes Walsh's role from that of Wälti. However, Joe Montemurro's side have frequently shifted to a 4-1-4-1 formation, with one of the holding midfielders moving further up the pitch. This leaves the other defensive pivot to take up a more individual, central role. And in most cases, this job is assigned to Lia Wälti.
This difference in systems from both teams also highly impacts the average positions of both players. Arsenal have flexible formations throughout a game so as to be able to adapt to different situations while City religiously stick to a single formation as per Gareth Taylor's philosophy. This essentially means that Keira Walsh finds herself playing as a proper holding midfielder as the heart of the City midfield while Lia Wälti takes up positions anywhere in the Arsenal midfield line.
Her versatility has also seen her drop into the backline whenever the Gunners have needed more defensive protection or an out ball to resist the opposition press. It is indeed this difference that becomes a stark observation in their average minutes played per position map. Walsh has played more minutes and most of them have come in a single pivot role while Wälti's map is more distributed with minutes all over the middle of the pitch.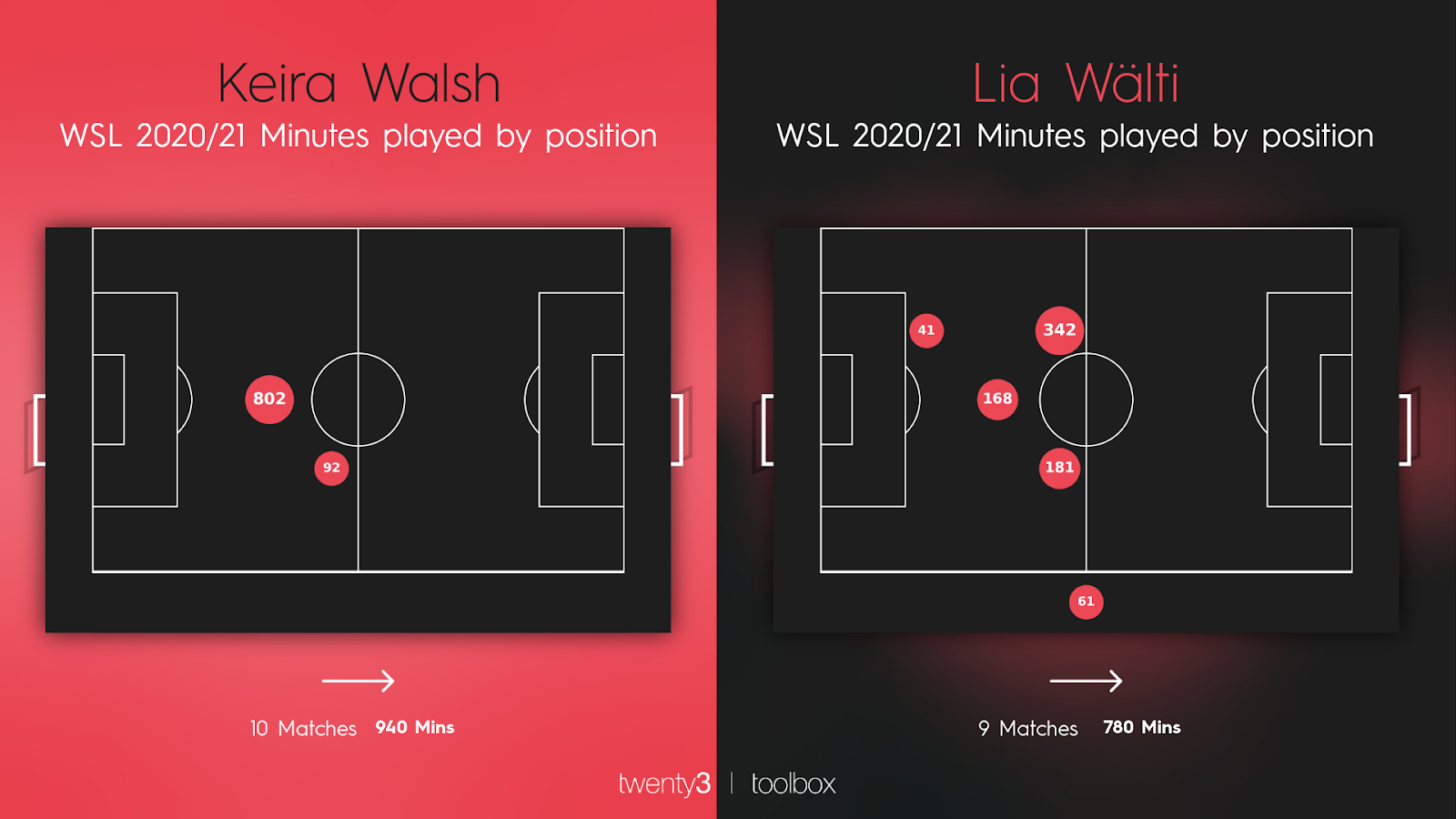 Photo: Twenty3/Wyscout
Comparing Playing Styles
Although both Walsh and Wälti are very similar players, the systems they play in have helped them develop different qualities. For simplicity of explanation, we will assume that Walsh plays in a single pivot while Wälti plays in a double pivot as mentioned previously.
As a single pivot, Walsh finds herself doing most of the defensive work herself. Her pace and ability to read the play allow her to cover when the City forward press is surpassed. Every time there is an opposition attack, she quickly closes down any space by cutting off any passing options. This forces the opposition midfielders to make more backward passes.
Her energy is an added bonus for the Sky Blues as the manager can depend on her to work tirelessly at the base of the midfield for the full 90 minutes. Compared to this, Wälti is a more calming presence in the double pivot. She is usually the more defensive-minded half of the pivot. Having said that, the existence of a second holding midfielder alongside provides more freedom for Wälti to attempt riskier forward passes.
This is tougher for Walsh to do in a single pivot role because any loss of possession can leave the City backline heavily exposed. This is clearly portrayed when we compare their passing network map. Walsh tends to play more simple, sideward passes while Wälti looks to play that longer diagonal out to the right winger, besides the natural side or back pass.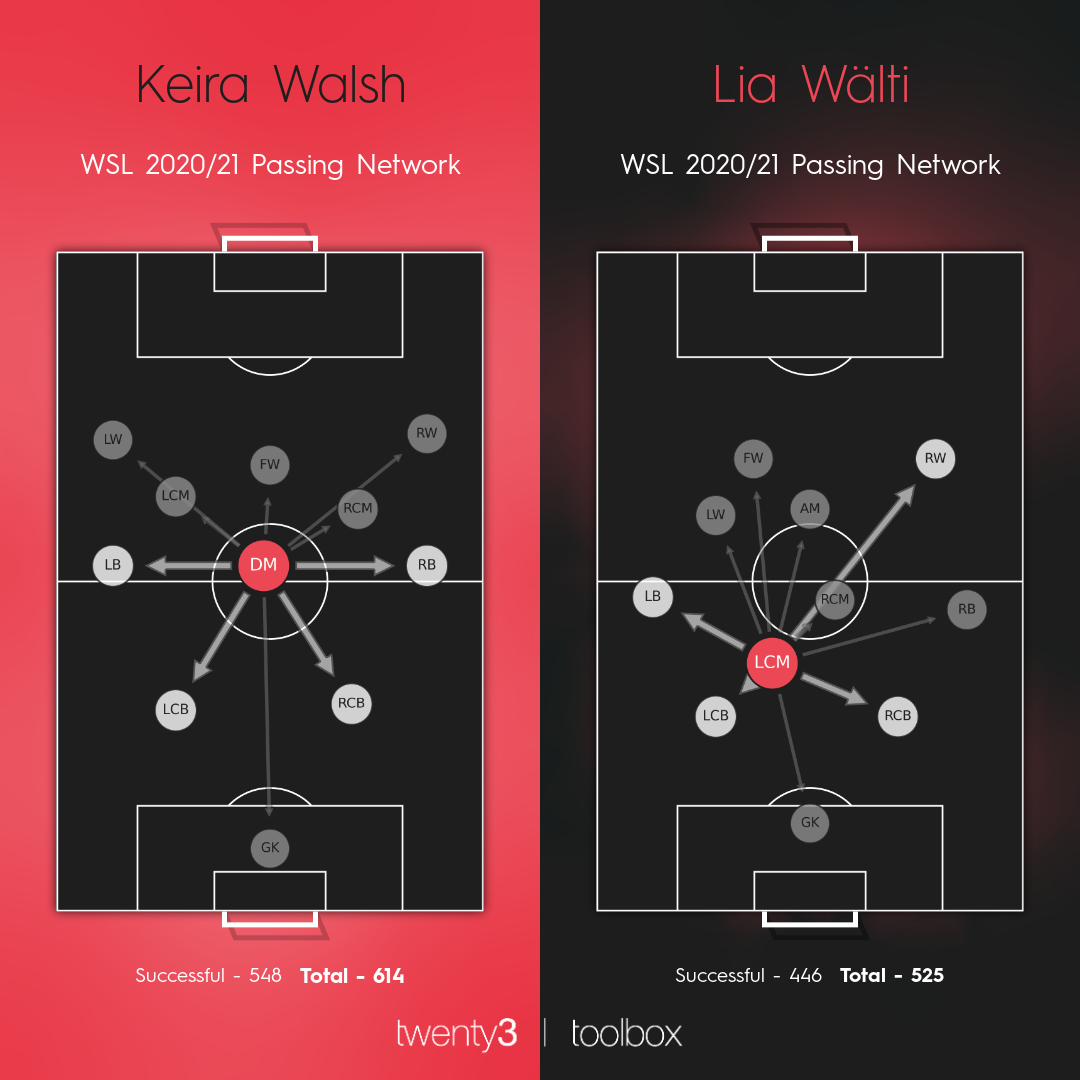 Photo: Twenty3/Wyscout
However, when Wälti finds herself alone in the heart of the Arsenal midfield, her role becomes more similar to Walsh's. In a 4-1-4-1 or a 4-3-3 then, her experience gives her better ability to anticipate opposition movement while her top drawer passing range helps with neat distribution. She is also tremendously reliable in this position and allows the full backs to move higher up the pitch whenever Arsenal are attacking. 
In a purely statistical comparison, there isn't much separating both players. Walsh has 93 successful defensive actions as compared to Wälti's 89. The youngster also has more interceptions (44 to 39) and has won more loose ball duels (16 to 14). However, it is necessary to keep in mind that Wälti has played lesser minutes this season.
Even so, the Swiss edges the Englishwoman when it comes to attacking statistics. Wälti has completed more dribbles (14 to 12), has more than twice the amount of progressive runs (12 to 6) and has won a significantly higher number of attacking duels (37 to 23). Wälti, however, loses out in terms of passing accuracy – hers being 84.95% compared to Walsh's 89.25%. Talking about expected assists (xA), Walsh betters Wälti's 0.41 with a resounding 0.78.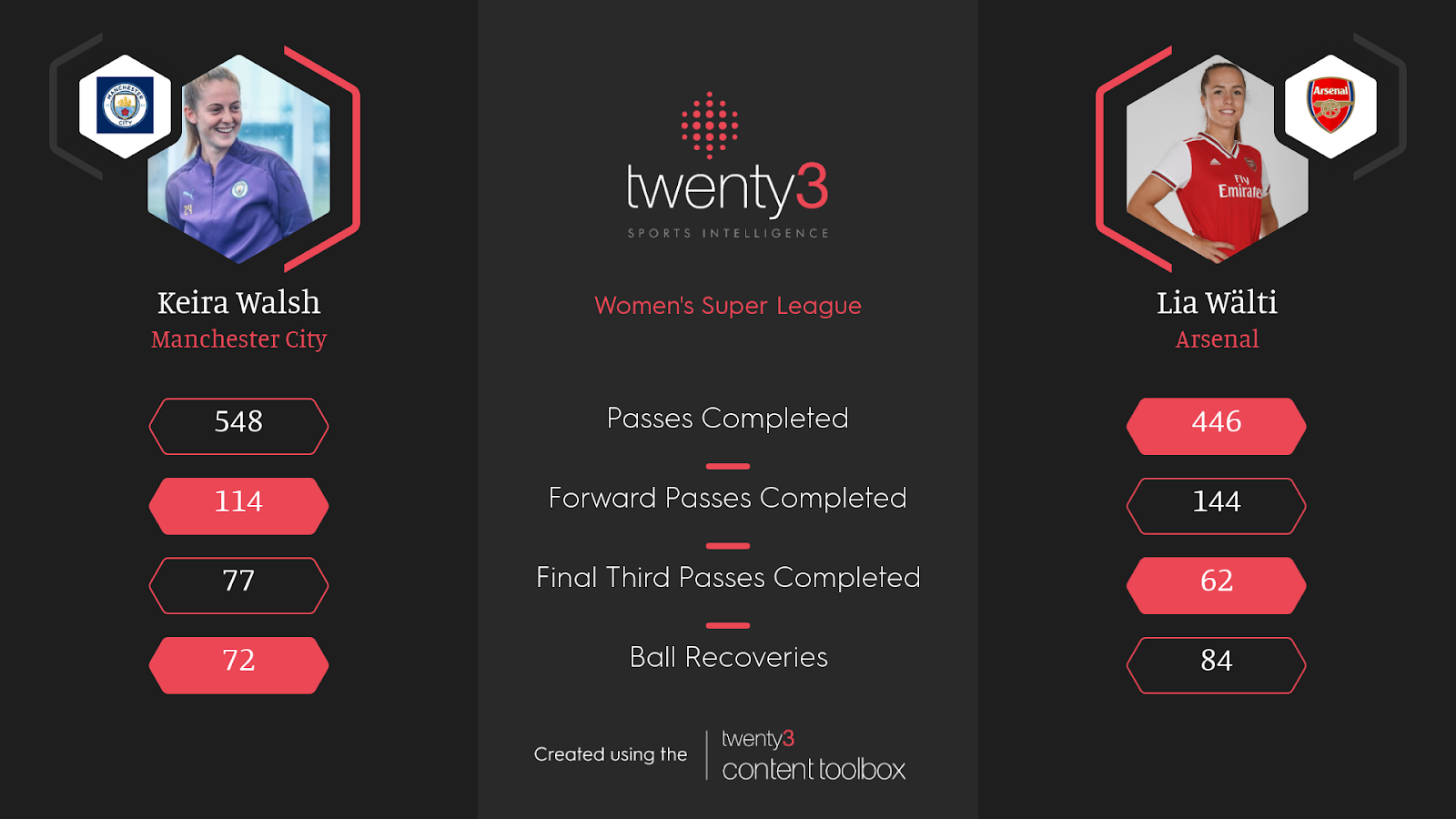 Photo: Twenty3/Wyscout
A Final Assessment of both Midfielders
By now, it has become imminent that both Walsh and Wälti play similar roles but possess very different skills and attributes. As for a final verdict on both players, a comparative player radar (with statistics per 90) can help us reach a conclusion.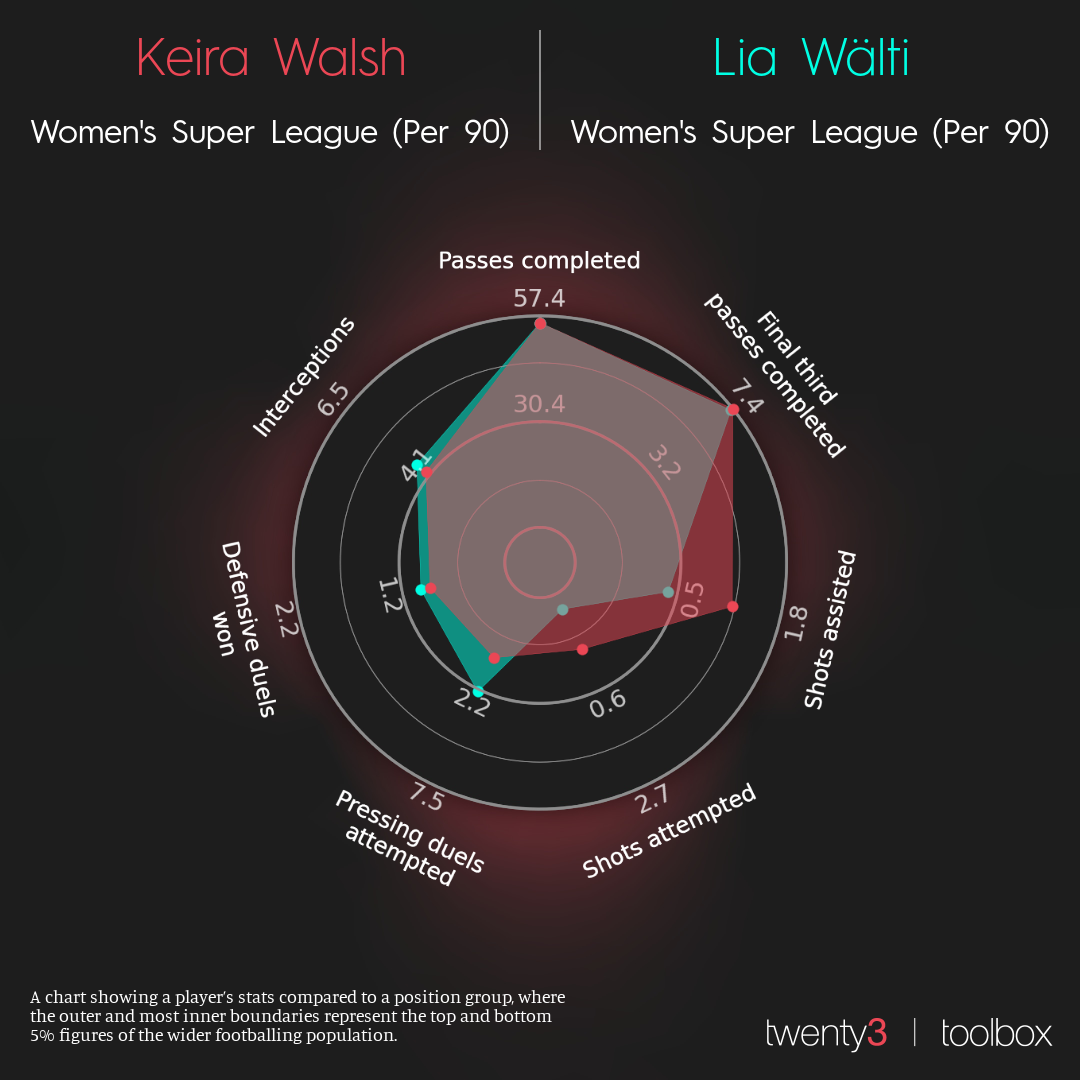 Photo: Twenty3/Wyscout
Interestingly, both holding midfielders are ranked highly relative to other defensive midfielders in the league. This is made evident by a lot of the corners touching the two outermost circles. The difference comes in closer to the inside. The narrow strip of teal shows that Lia Wälti has more interceptions, successful defensive duels and attempted pressing duels per 90.
Another way to interpret this would be to say that Wälti showcases more quality in these attributes every 90 minutes. On the other hand, the red strip shows that Keira Walsh has more shots, shots assisted and successful final third passes per 90. Although these statistics complement the statistics mentioned in the above subsections, they only help us deduce that both Keira Walsh and Lia Wälti are world-class and complete players.
By: Rahul Agarwal
Featured Image: @GabFoligno / David Price – Arsenal FC / Tom Flathers – Manchester City FC