Lorenzo Pellegrini: The Giallorossi's Creative Maestro
If you were asked to name some of the top midfield creators of the last 5 years or so, chances are that, unless you were a Roma superfan, Lorenzo Pellegrini would not make your list (and even then, it's doubtful). But the Giallorossi youth product has quietly turned into one of the continent's most productive creative players, and though a move has never materialised, Pellegrini is never far from the rumour mill.
Still only 24 years old, and already into his sixth season of senior football (all in Serie A, with a 2-year loan spell at Sassuolo), he should be a prime target for several of Europe's elite clubs. Despite his explicitly stated desire to follow in the footsteps of Francesco Totti and Daniele de Rossi, and remain at Roma to cement his status as a club legend, a contract expiring in 2022 with a release clause rumoured to be set at €30 million means it's worth it to at least try to prise him away this summer. But what is Pellegrini's game all about?
Areas of Influence
First, we need to define what Pellegrini's position is. Or, more specifically, his role. This can be quite difficult to nail down, given the frequency with which he has been shunted around in midfield.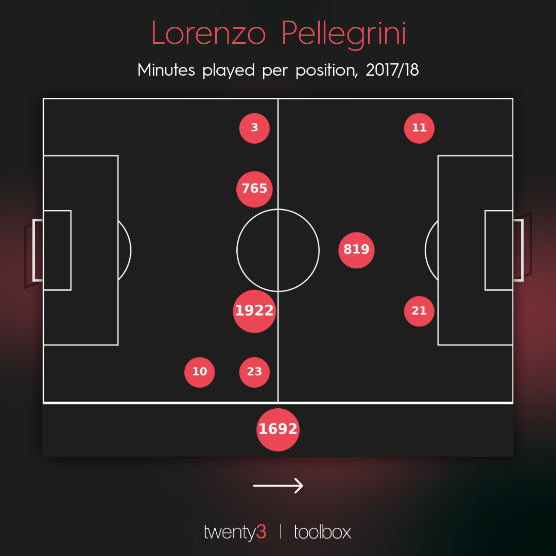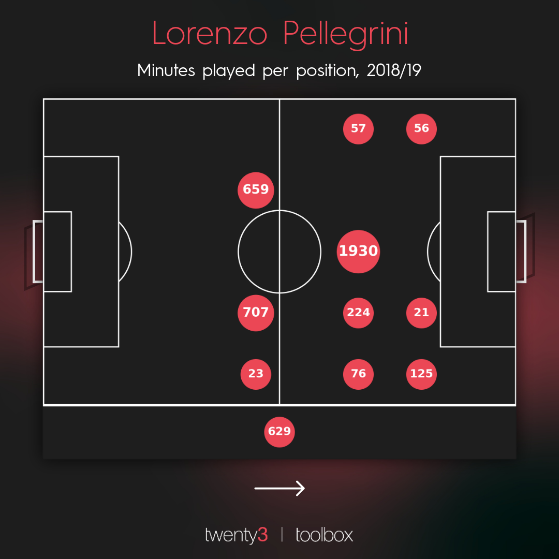 Photo: Twenty3/Wyscout
On his return to Roma in the summer of 2017, Pellegrini was deployed as the right-sided number 8 in manager Eusebio di Francesco's preferred 4-3-3 set-up, having played 47 times in the preceding 2 seasons for him. The following year, Di Francesco's shift to a 4-2-3-1 saw him pushed up into the number 10 role, playing a supporting role behind striker Edin Džeko, though also dropping into midfield to cover as part of a double pivot.
He continued to play this role under Claudio Ranieri, who replaced Di Francesco midway through the campaign, and under Paulo Fonseca, who took over the reins at the start of last season. Despite all this moving around, however, Pellegrini does have a few characteristic tendencies. When in a deeper role, he often comes deep to provide a passing option for the centre-backs.
When playing further upfield, he looks to receive the ball in dangerous areas, usually between the opposition's defensive and midfield lines, to ensure he is in the best position to set a runner free or provide the final ball. He also has a tendency to drift towards the right-hand side of the pitch, and initiate passing combinations with the full-backs/central midfielders. The upshot of all this is that Pellegrini more often than not can be roughly compared to Kevin De Bruyne, in terms of his general area of operation and his designation as chief creator of the side: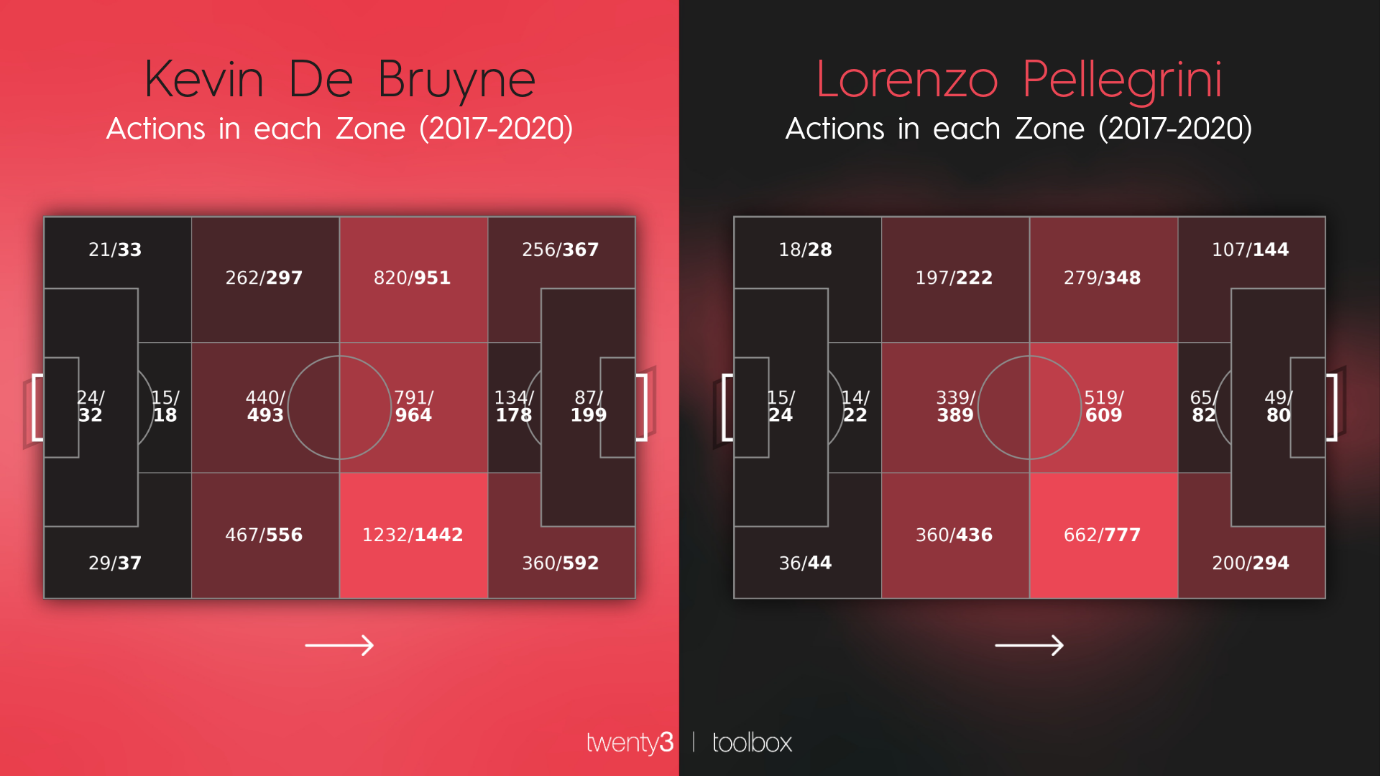 Photo: Twenty3/Wyscout
This tendency of Pellegrini's to drift to the right, and between the lines has been given a natural outlet this season, as he has often been paired in midfield with Jordan Veretout or Gonzalo Villar to his left, both more defensively sound players than him, giving him the opportunity to form natural passing triangles with the right wing-back (Rick Karsdorp) and the right-sided attacker (Pedro) in Fonseca's 3-4-2-1 formation.
Since Pedro's injury in December, Pellegrini has even moved into the Spaniard's role, which still allows him to play in a similar vein, as well as getting him closer to the more natural forwards, Džeko and Henrikh Mkhitaryan.
Creative Output
Now, all this talk of comparing Pellegrini to De Bruyne is moot without proof. One of the Belgian's greatest strengths is his ability to consistently create quality goal-scoring chances for his teammates. So how does Pellegrini fare in that aspect?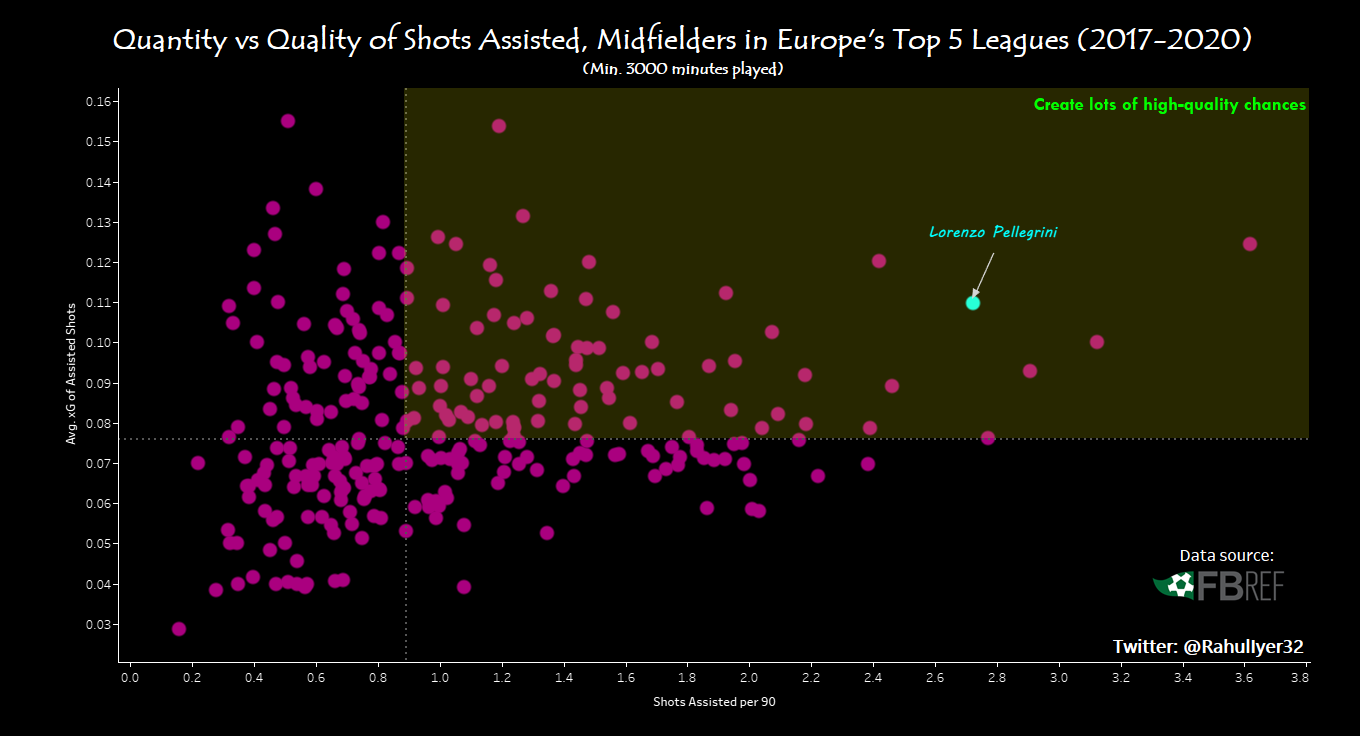 The above graph plots the number of chances created (horizontal axis) vs the average quality of those chances, based on the expected goals value of the shot. The sample size used here was midfielders who had played 3000+ minutes across the last 3 completed seasons. As we can see quite clearly, Pellegrini falls comfortably into the category of chance creators who provide both quantity and quality, creating 2.7 chances per game, with an average xG value of 0.11 per chance.
Even more impressive is the fact that this is his output over 3 full seasons of football, which also goes to show his ability to perform in this fashion on a consistent basis. For comparison, the point on the far-right is De Bruyne (3.6 chances at 0.12 xG), while the one just above Pellegrini is David Silva. Others in the vicinity include Kerem Demirbay, Luis Alberto and Cesc Fàbregas. There's no doubt that this is impressive company to be in.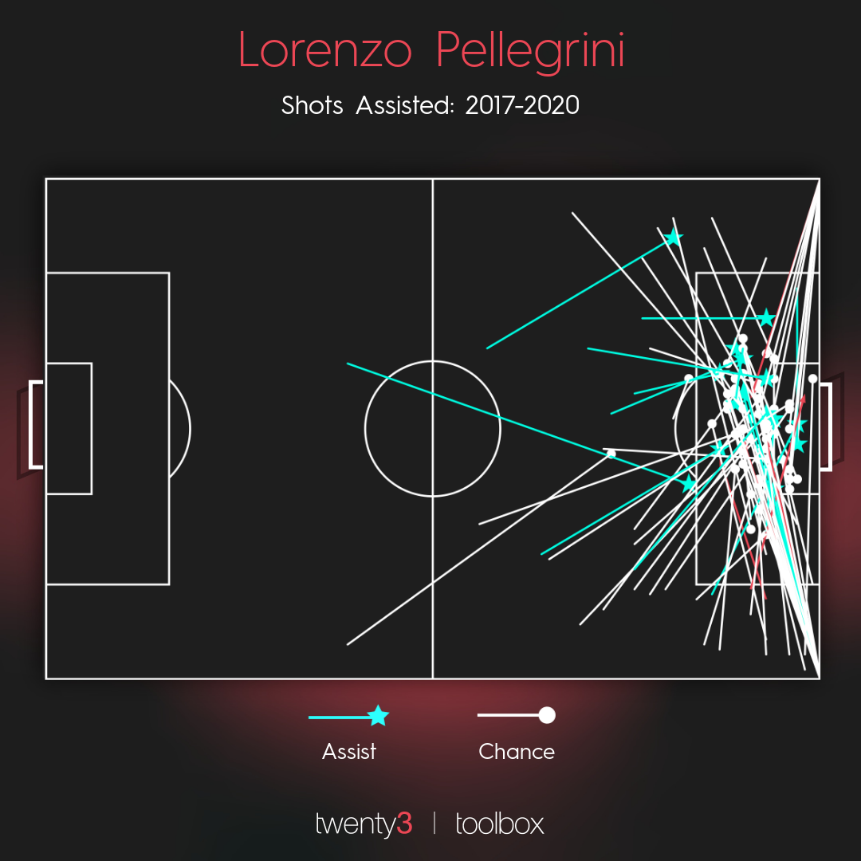 A quick look at Pellegrini's shot assist map gives us a good idea of how he creates his chances. While dead balls (i.e. the high concentration of passes starting at the corner flag) are a big help, many of his open play chances are created by playing runners in via through balls, such as a midfielder bursting into the box, or a winger moving in behind the backline. 
He also plays quite a few balls from the right half-space with the aim of picking out attackers making a run to the back post. This is especially effective in the current Roma setup, with a natural target man in Džeko often presenting himself as an option in the middle, while Mkhitaryan makes his runs to the back post off the back of opposition defenders. So far this season, he has scored 4 goals and set up 4 more, his best return at this stage of a league season.
Looking Ahead
There are enough examples of players who have shown promise but not succeeded in other teams due to the lack of a proper team structure, and any team interested in Pellegrini would do well to either have this sort of template in place, or at least plan to set it up if they wanted to buy him. With this in mind, it might be worth it for a club like Arsenal to make an approach for him.
Now that Mesut Özil is off the wage bill, space must surely be available, both financially and tactically for a player like Pellegrini. As Martin Ødegaard is only at the club on loan, and there is no assurance that a permanent move could materialise, a summer run at the man they call 'Montellino' could be in the works. Last season, Arsenal's attempt to sign Houssem Aouar was fairly public, and with prices upwards of €50 million being quoted, the deal does seem unrealistic.
Shown below is a comparison between Pellegrini and Aouar, and if this cursory glance of sorts is anything to go by, the acquisition of Pellegrini for almost half of Aouar's price (assuming the release clause does exist) could prove to be a very shrewd one.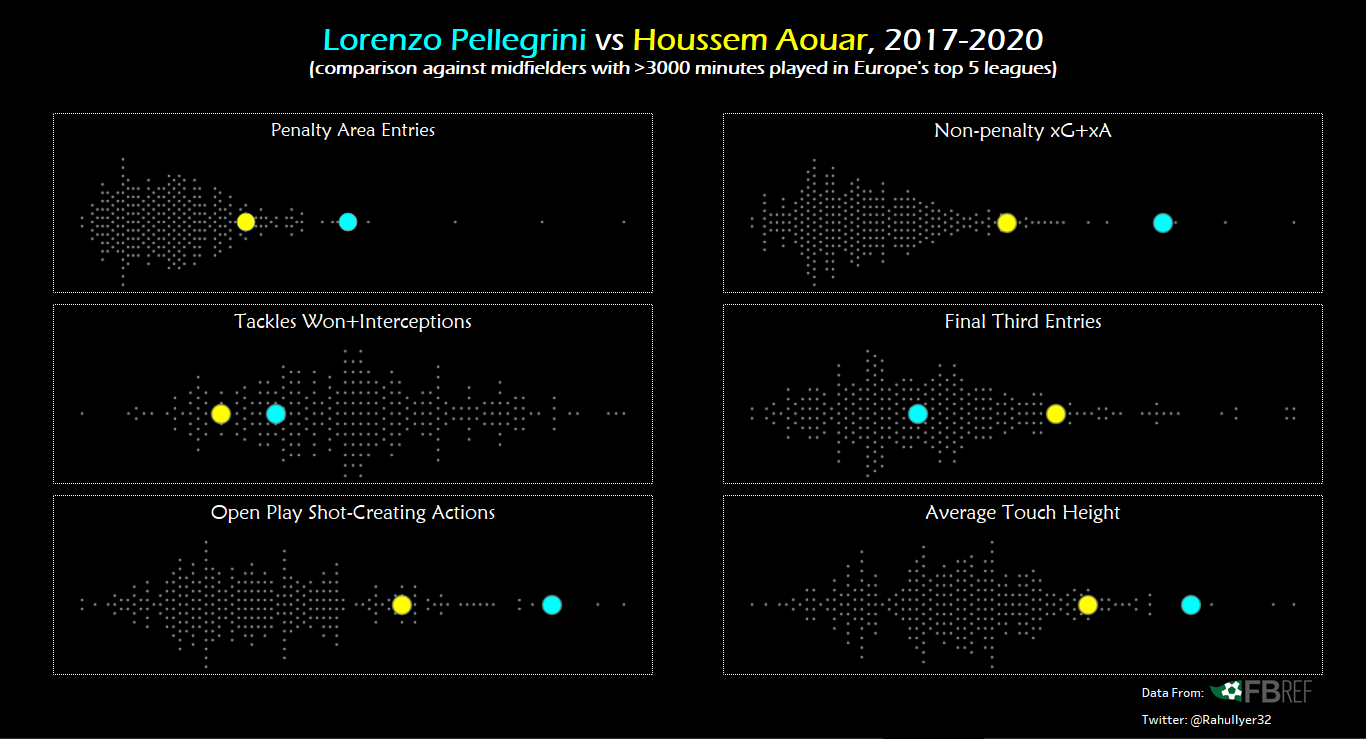 Now, there are a couple of downsides to Pellegrini's game. Number one, he is not a safe passer. Much of this is as a consequence of his adventurous passing nature, something Manchester United and Sporting fans would have seen in the form of Bruno Fernandes.
He rarely completes above 80% of his attempted passes, and he would be unlikely to fit into a side that values holding on to the ball for long spells at a time, unless, of course, they had the capability to account for this 'weak link' in the system, such as a reliable and effective counter-pressing scheme, or a solid midfield base, adept at winning the ball back. In addition, his defensive contribution is average at best. While he is a relatively willing presser, he often shies away from getting stuck in, and on the occasions that he does do so, the results are not great.
Over the last few seasons, injuries have troubled him as well. Since August 2016 (a span of roughly 4 and a half years), Pellegrini has missed 41 league games through injury, or the equivalent of just over a full season. Most of these have been contact-induced, such as a metatarsal fracture in September 2019 which saw him miss 10 games, but one worry could be the occurrence of three separate hamstring problems in just over 12 months, between November 2018 and February 2020. This problem may have to be handled carefully.
It may seem strange to end on a negative note, so here, essentially, is the rub: There are rough edges to Pellegrini's game, but he possesses an extremely valuable skillset, which should be available at what would be a relatively knockdown price for that kind of talent. In addition, at the age of 24, he has the experience of 6 senior seasons behind him, as well as 6 of his prime ahead of him. In this writer's opinion, the upside is well worth the risk.   
By: Rahul Iyer
Featured Image: @GabFoligno / Mondadori Portfolio