Rodrygo: What Makes Him One of the Hottest Prospects in World Football?
Real Madrid have claimed their first Copa del Rey title in nine years and are looking to add a second straight Champions League title as they face off against Manchester City, having drawn 1-1 in the first leg in Madrid. One player who will be vital to their hopes of getting past City is Rodrygo, the latest Brazilian wonderkid to take the Bernabéu by storm under Carlo Ancelotti.
Rodrygo's impressive performances for Santos would see him earn a Brazil call-up and a €45 million move to Real Madrid at 18 years old, where he quickly made an impact, scoring his first league goal against Osasuna within a minute of making his first-team debut, and scoring a hat-trick in a 6-0 win against Galatasaray. He would claim a league title in his debut campaign in 2019/20 and followed that up with a league title and a Champions League in 2021/22, but it hasn't been until this season that Rodrygo has finally emerged as a key fixture in Real Madrid's attack.
At just 5'9″, Rodrygo may not be the tallest player on the pitch, but he makes up for it with his agility and technical ability. He has a low center of gravity that allows him to change direction quickly and make sharp turns, making it difficult for defenders to keep up with him. He has racked up 16 goals and 11 assists in 52 appearances and played in a World Cup this season, and with an eye for a killer pass, he is indispensable for Ancelotti either as a supersub or a starter.
Today, we're going to be taking a look at Rodrygo's season through an analytical lens, utilizing data from FBRef to compare Rodrygo's numbers with players who have played between 450 minutes and 1,980 minutes of league football this season, with Rodrygo being highlighted in gold.
Player Overview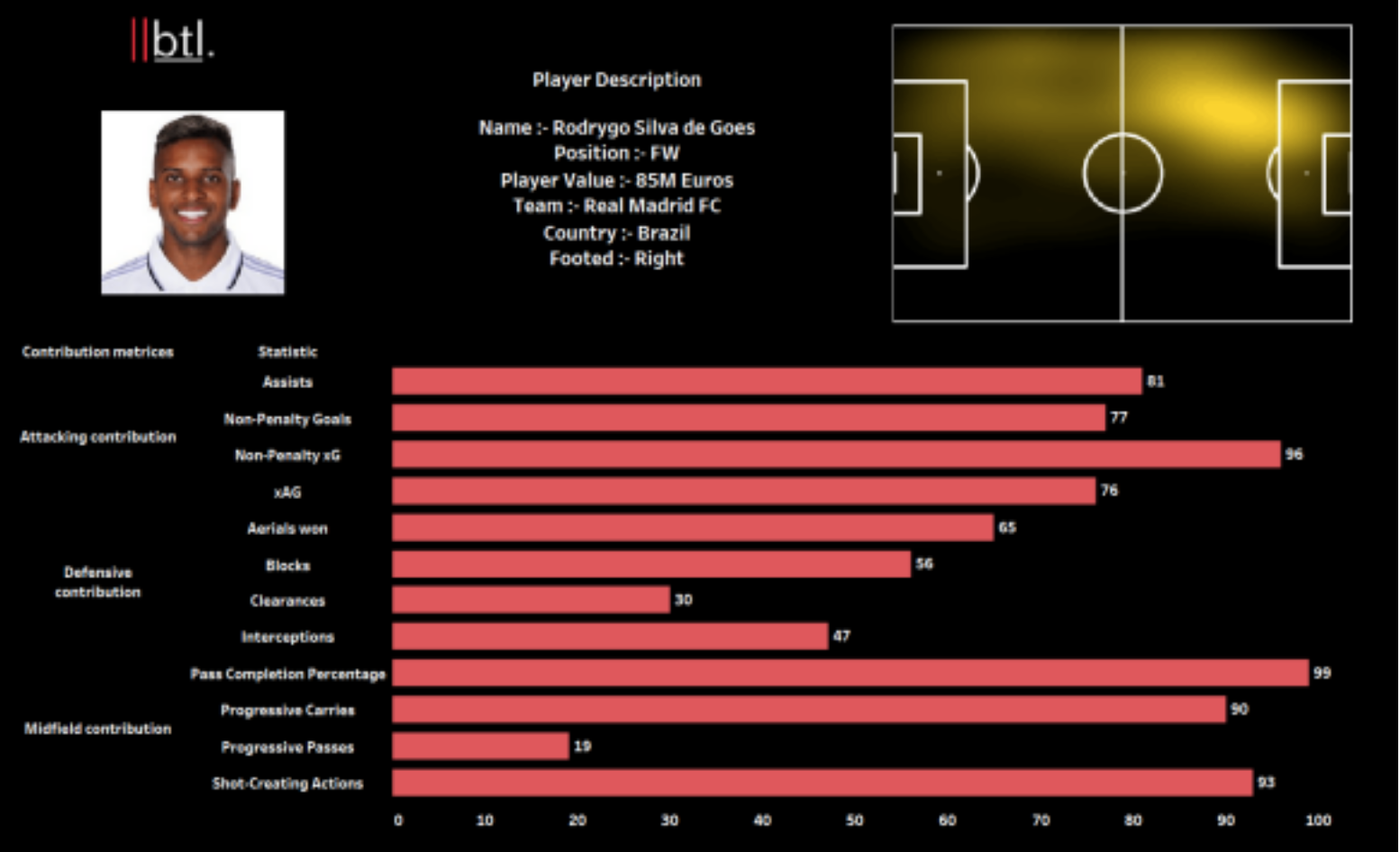 The Brazilian wonderkid has 61 goal contributions — 33 goals and 28 assists in 157 appearances for Real Madrid since signing for the club in 2019 — including a brace in the 2023 Copa del Rey Final to lead Los Blancos to a 2-1 win against Osasuna. Standing at 174cms, Rodrygo might lack the required amount of pace for a forward or winger, but his ability to shift directions along with his ability to pounce into little pockets of space makes him one of the most dangerous players with the ball. The above picture also tells us he is a defensively imposing player.
Attacking Analysis
To begin our analysis, we will look at the scatter plot for Goals+Assists vs xG/90+xAG/90.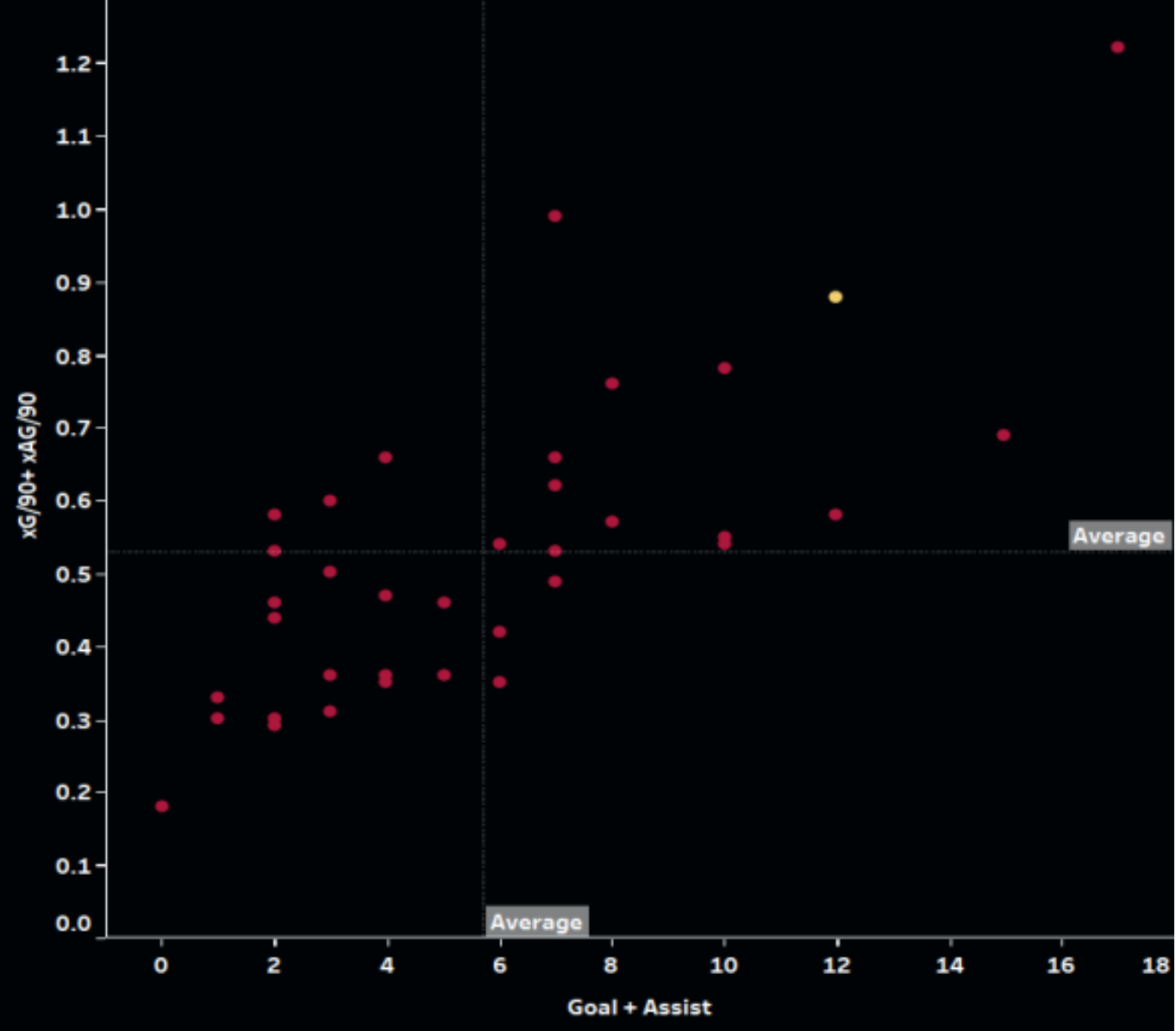 Rodrygo has 27 goal contributions this season in all competitions, and having played under 2,200 minutes of football, he has delivered impressive metrics in terms of Expected Goals and Expected Assists per 90, finishing amongst the top of the players selected alongside the likes of Karim Benzema.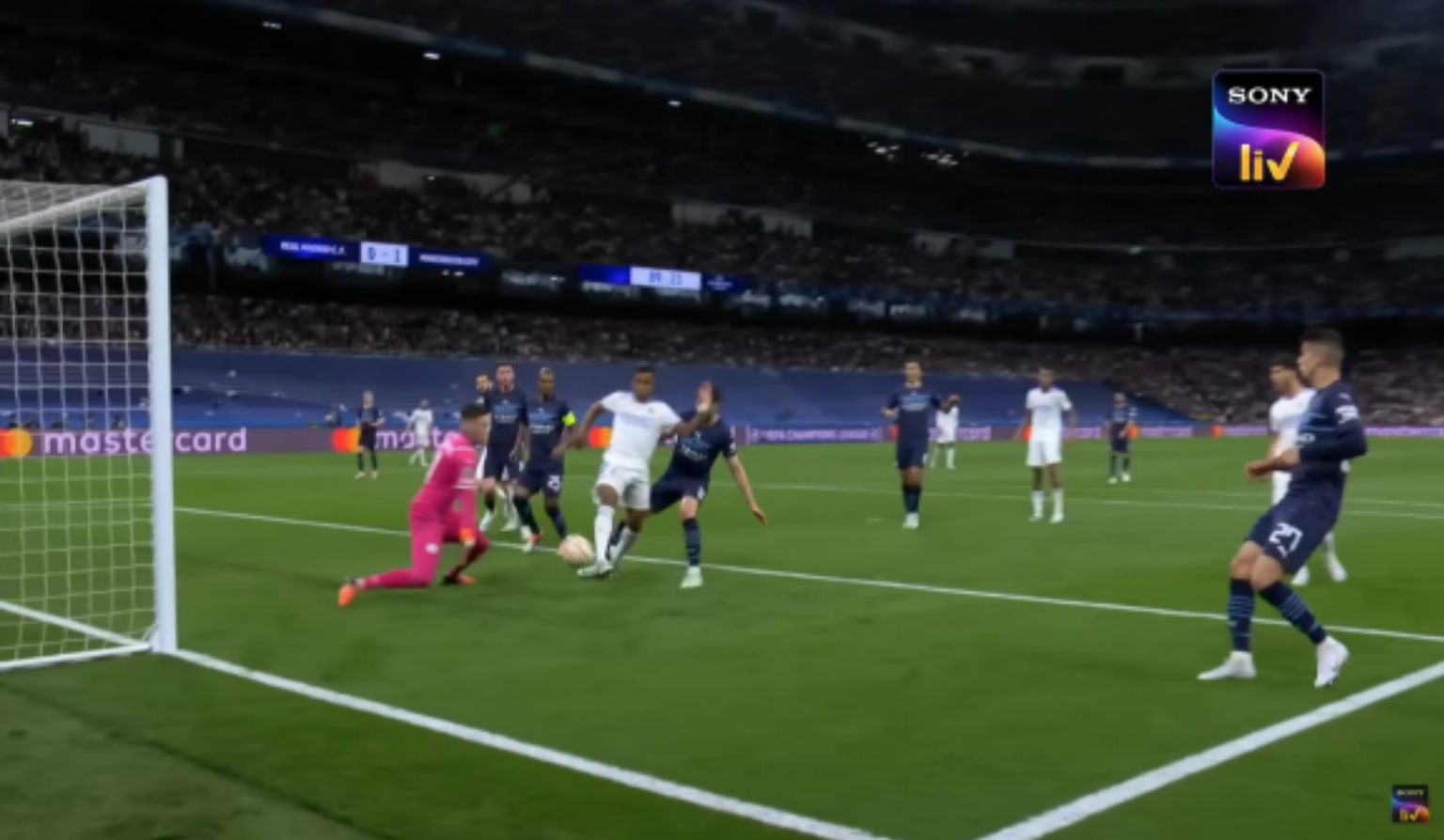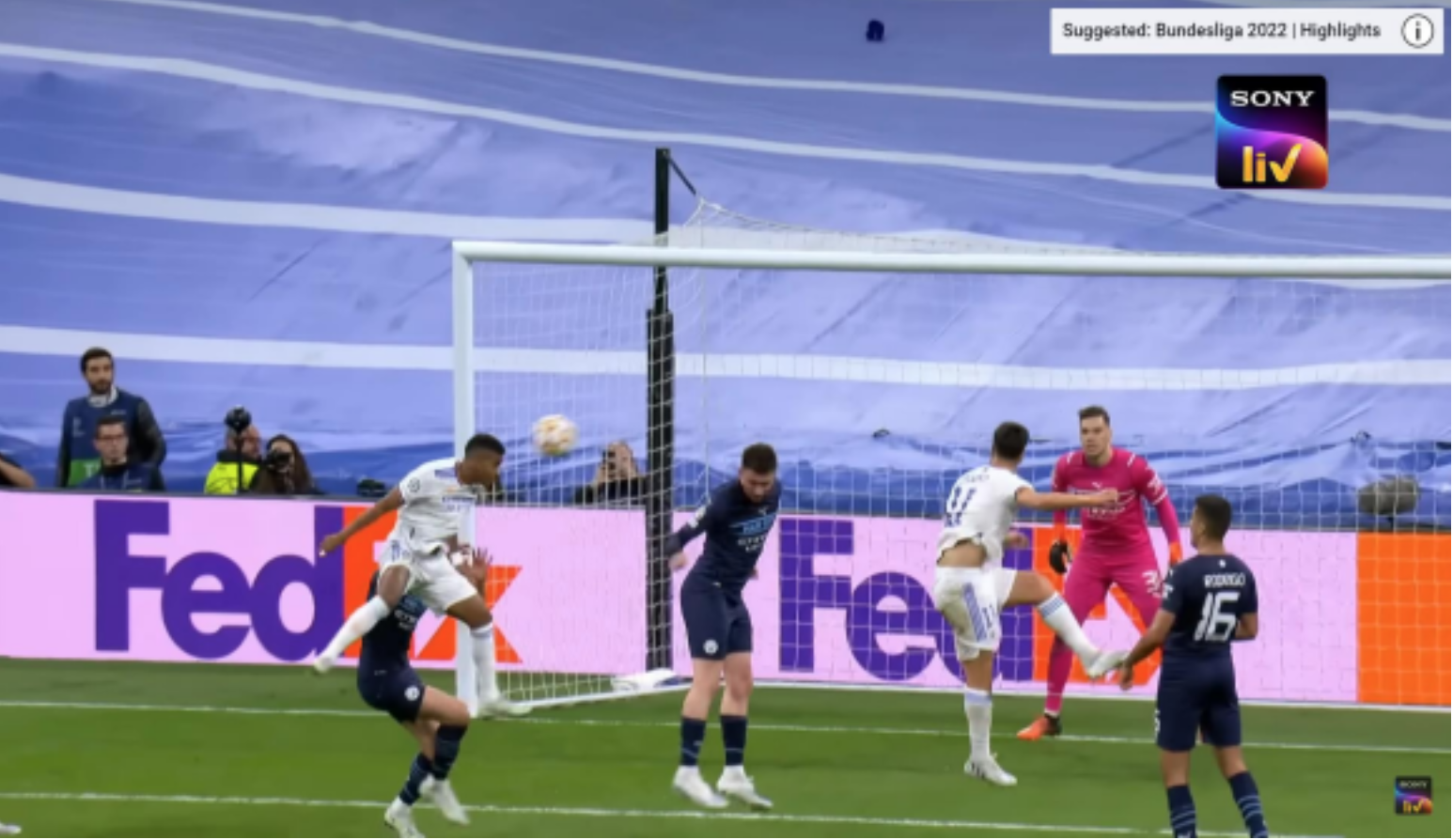 As we see from last year's Champions League semifinal clash against Manchester City, Rodrygo has excelled in his attacking positioning and has once again proven why he is a player who can hold his nerve on big occasions. Whether in the Champions League or the Copa del Rey Final, when his team needs him to step up, he will lead by example and provide a key boost of creativity.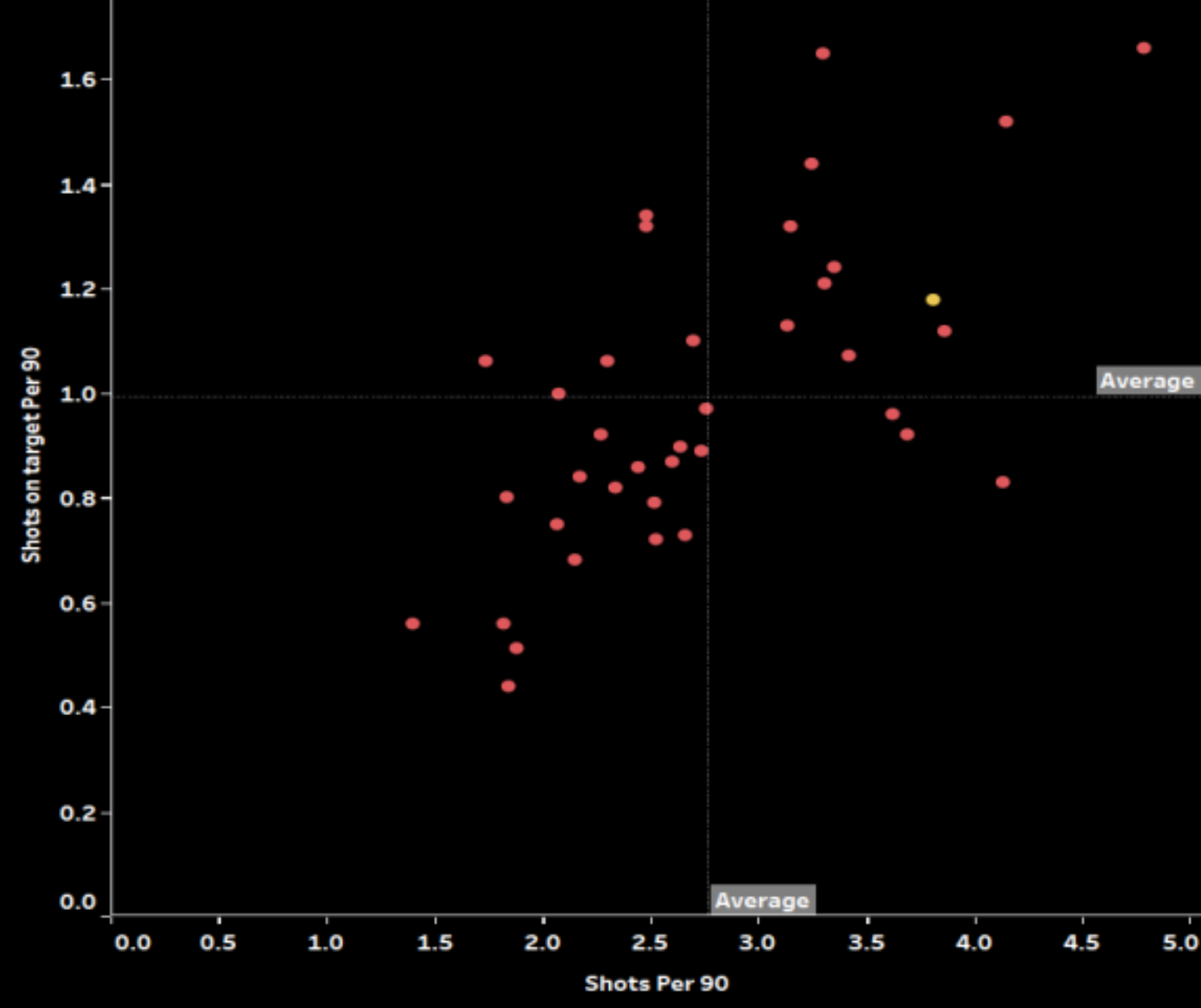 With 3.80 Shots per 90 and 1.18 Shots on Target per 90, Rodrygo stands as one of the best players in La Liga for his threat in the final third, but the Brazilian has just 0.19 Goals per Shot on Target. He still has to work on his finishing, but at 22, he has plenty of time to perfect this area of his game.
Passing and Progressive Ability
Rodrygo might not have the height and speed of a traditional winger but he has a natural ability to move into pockets of spaces and move around the opposing defense, making it incredibly hard for the defenders to mark him. We will be looking at a scatter plot for Progressive Carries vs Touches in the Attacking Third in order to analyze his ability in this regard.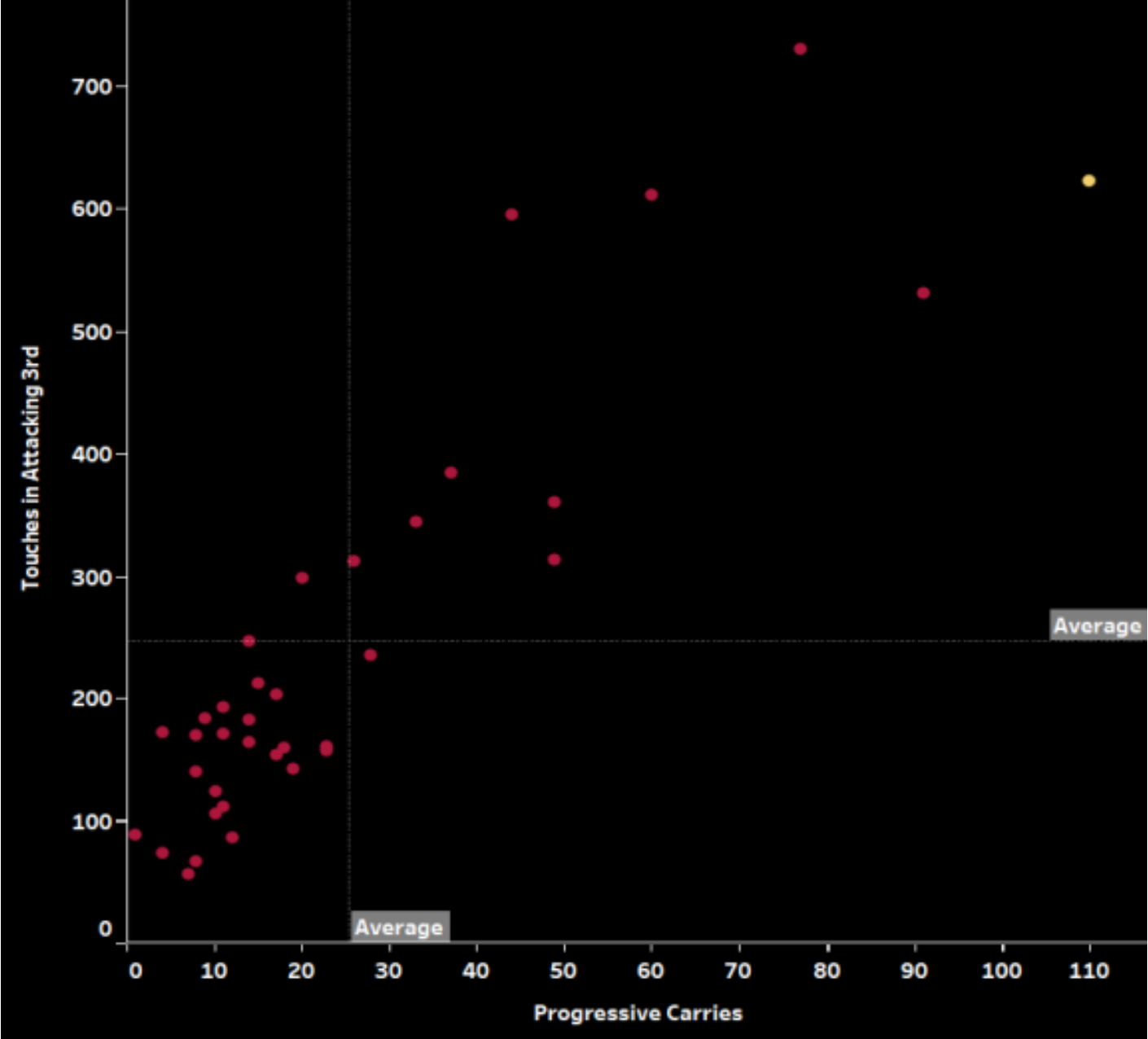 Rodrygo has over 110 carries toward the attacking goal along with more than 600 touches in the final third, which proves the player has an attacking mindset when in the opponent's midfield area of play. The number of touches in the final third exemplifies his ability to move into open pockets during the game.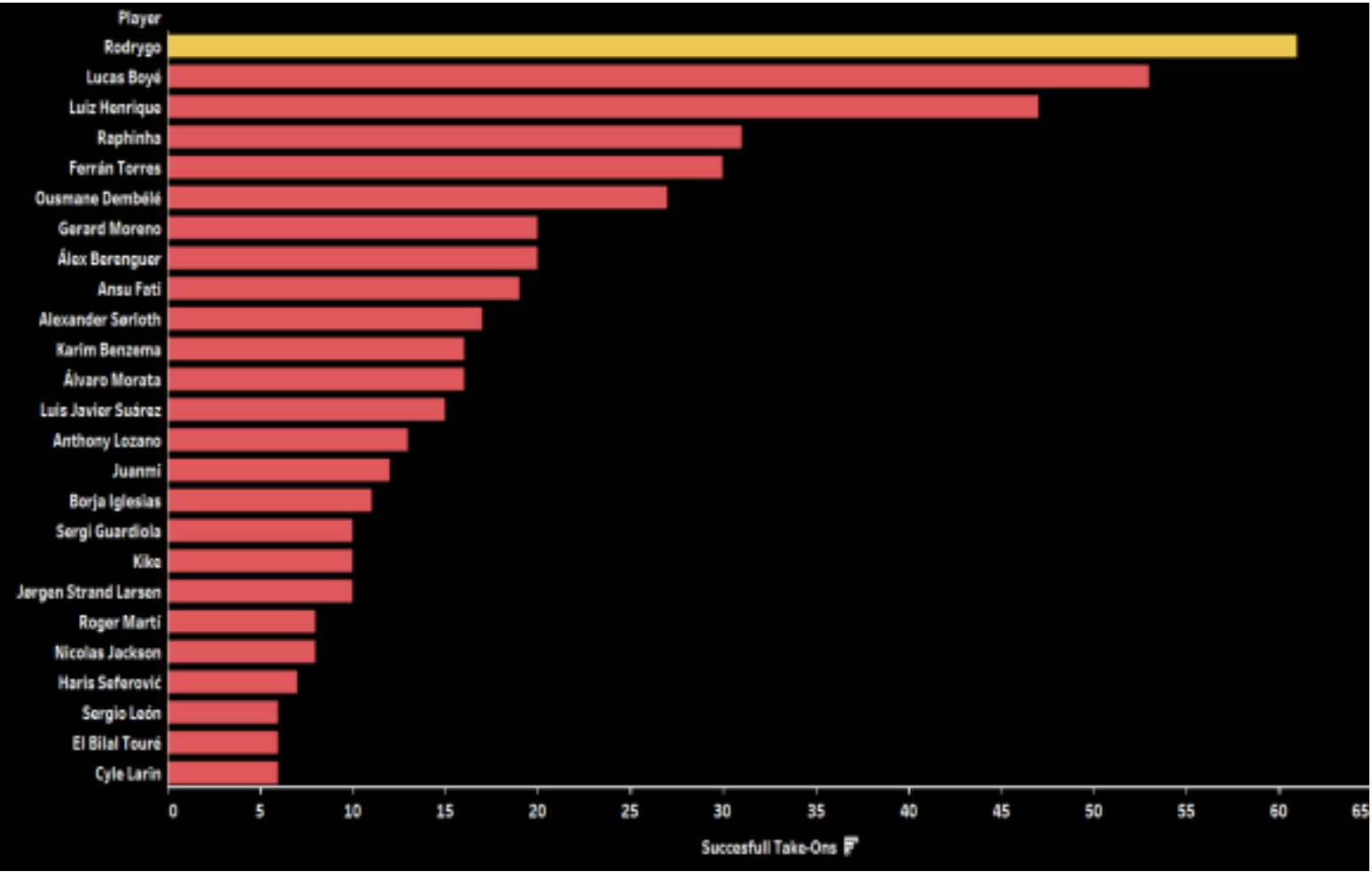 The Brazilian international has 60 successful take-ons, which shows his dribbling prowess and his ability to change directions with the ball. He has a low center of gravity which helps him with his ability to make quick turns and also helps him in making quick runs along with his quick turns.  
Defensive Analysis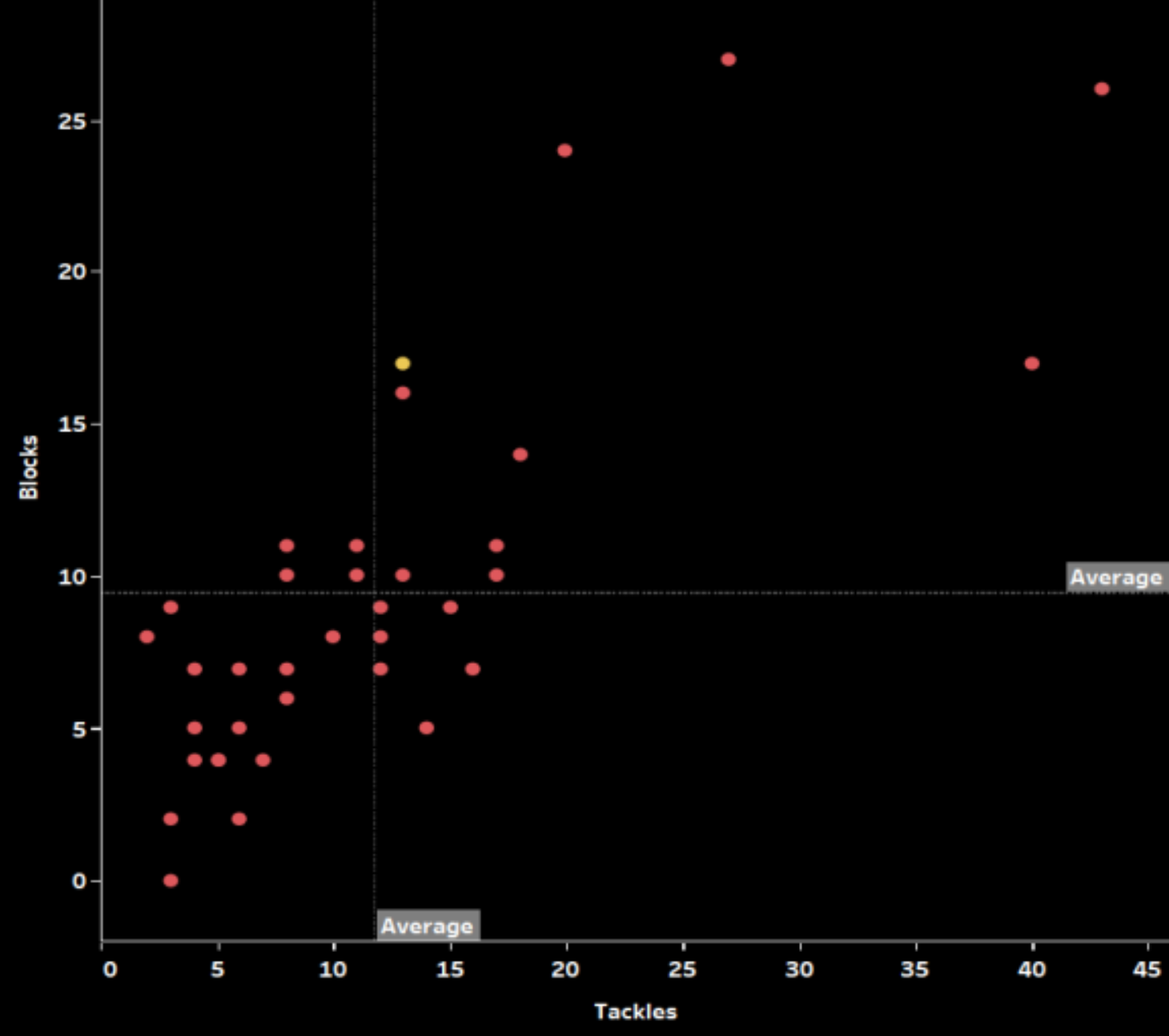 Moving onto his ability off the ball, Rodrygo has been impressive with his defensive duties as he is amongst the top players in the league with his numbers for Tackles and Blocks.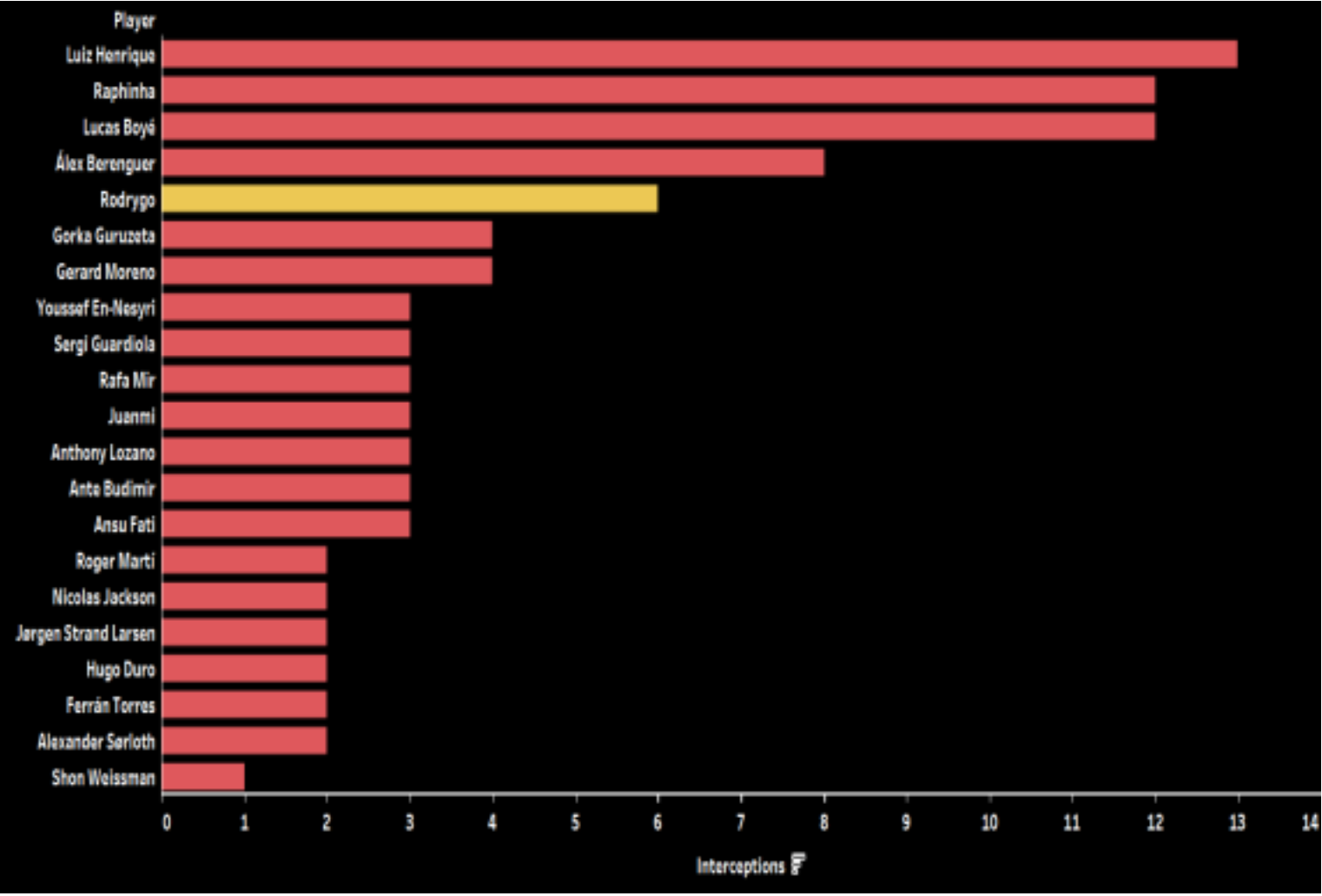 From the above chart, we can conclude that the Brazilian international is exceptional when it comes to pressing higher up on the pitch and also helps his team in the middle and defensive third. Whilst he is an undersized, attacking player, Rodrygo is not one to desert his side when it comes to helping out on defense, tracking back, and keeping the team compact when needed.
Conclusion
At 22 years of age, Rodrygo has emerged as a vital player for Real Madrid both in terms of unlocking defenses and creating goal-scoring opportunities and helping out on defense. He still has plenty to improve on, namely his shooting and his decision-making in the middle third, but his contribution to the team's pressing, his work out of possession and his ability to glide past opponents, Rodrygo is one of the most intriguing young prospects in world football, and alongside Endrick (16), Vinicius Junior (22) and Eder Militao (25), he looks set to play a key role for a Real Madrid side whose future is bright….and Brazilian.
By: Sive Vishwa / @Sive_vishwa
Featured Image: @GabFoligno / Pressinphoto / Icon Sport