Takefusa Kubo: Real Sociedad's Japanese Phenom in Attack
Takefusa Kubo was 10 years old when he left Japan for Spain after receiving an invitation to join FC Barcelona's La Masia academy, scoring 74 goals in 30 matches during his first full season (2012/13) at the club before being promoted to their U-14 side for the 2014/15 season, but his dreams of becoming the first Japanese player to don Blaugrana colors were quashed when Barcelona were found to have violated FIFA's international transfer policy for U-18 youths.
Kubo returned to Japan in March 2015, spending four years at FC Tokyo before deciding to head back to Europe after turning 18. He joined Barcelona's arch-rivals, Real Madrid, on a five-year contract, regularly featuring for Los Blancos during their preseason tour of the United States and Germany, before being loaned out to newly promoted Mallorca, who would finish 19th and suffer relegation. The following season would see Kubo struggle to impress at Villarreal before his loan was cut short in January, with the youngster heading out to Getafe for the rest of the campaign.
Another season-long loan at Mallorca would follow before Kubo decided to leave Real Madrid after three years, having failed to make a single appearance for their first team. After becoming the first Japanese player to sign for the Basque club, Kubo quickly became a key player under Imanol Alguacil, grabbing 2 assists in 7 matches as La Real fell to Europa League finalists Roma in the Round of 16. He shined in La Liga with 9 goals and 7 assists in 35 matches, leading Real Sociedad to a fourth-place qualification and their first Champions League qualification in 10 years.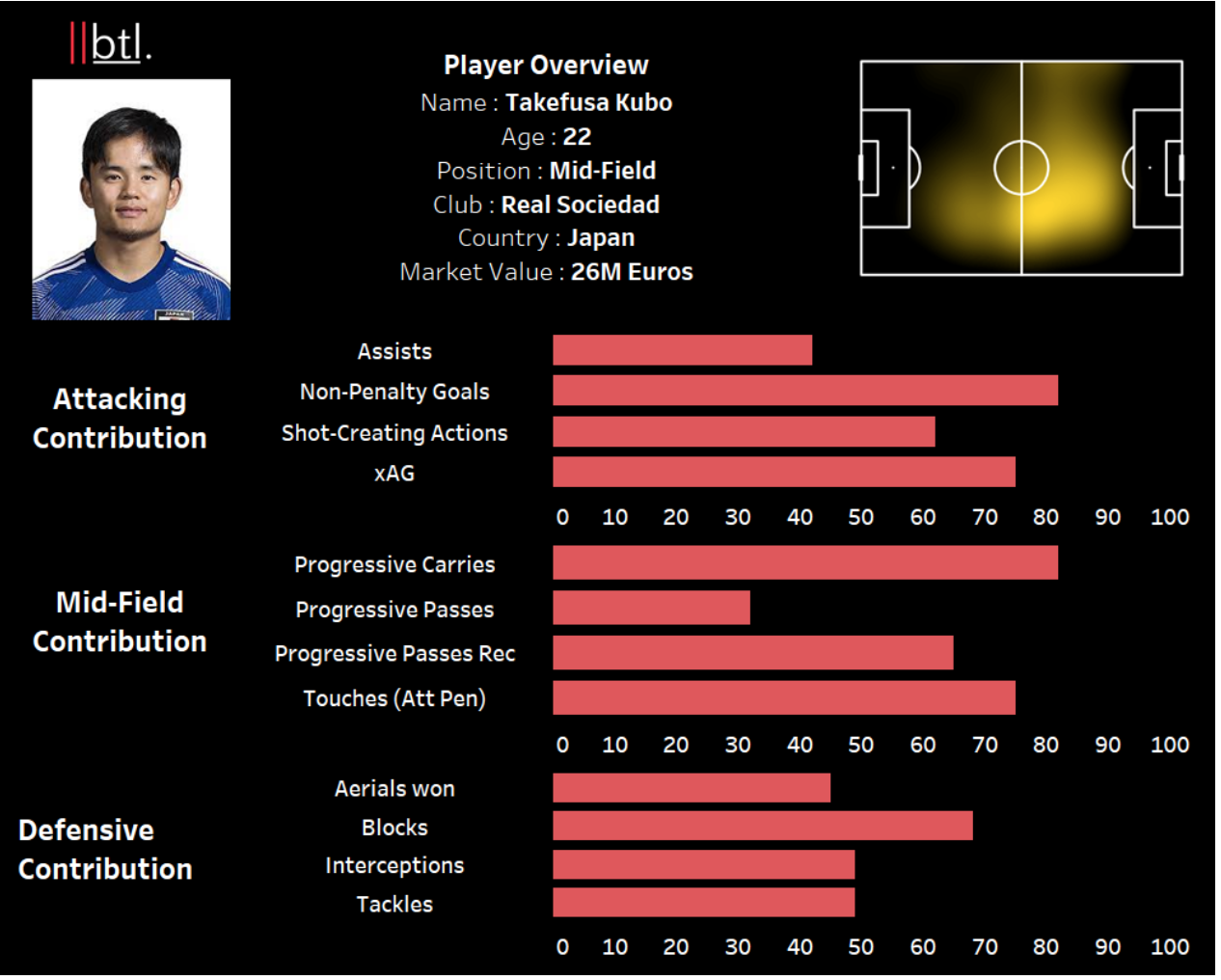 Whilst the 22-year-old is a fairly diminutive presence at 1.73m (5'8″), he has the ability to dribble through defenders with his quick feet, sensational dribbling and change of pace, and so far this season, he's picked up where he left off with 5 goals and 1 assist in 7 league appearances.
Having won Real Sociedad's Player of the Season award for 2022/23, Kubo was named as the La Liga Player of the Month for September 2023, beating out competition from Robert Lewandowski, Jude Bellingham, Antoine Griezmann and more. He's also made an impact in the Champions League, starting in their 1-1 draw to Inter and grabbing an assist in their 2-0 win against Red Bull Salzburg. Today, we're taking a deep look at what makes Takefusa Kubo such a special talent, and why he could be vital to La Real's hopes of going deep in Europe's premier competition.
Attacking Analysis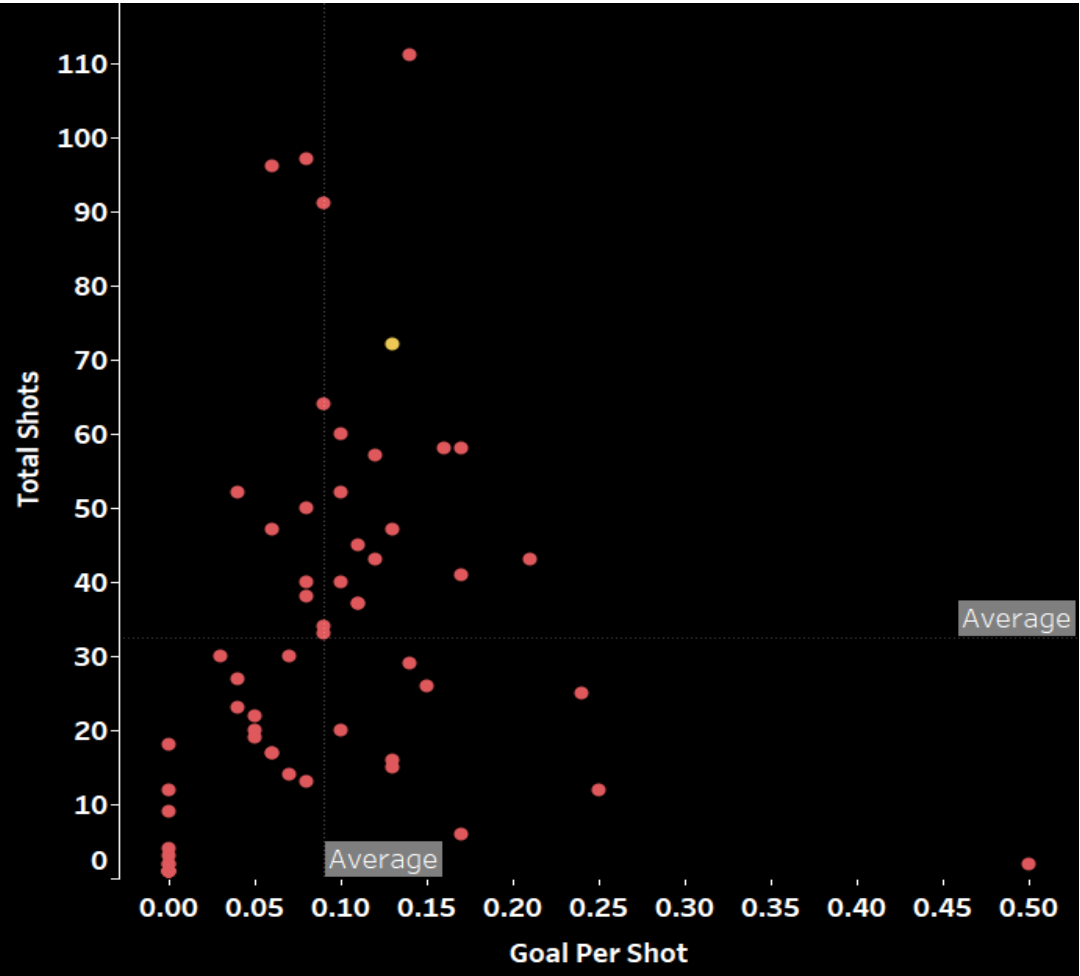 The above scatter plot tells us that Kubo has often found himself in scoring positions and gets multiple attempts on target but has struggled for efficiency at times, registering 83 shots and putting just 43.6% of them on target. He certainly has room for improvement in terms of making better decisions in the final third and choosing to set up teammates with simple passes rather than trying to capitalize on every shooting opportunity possible.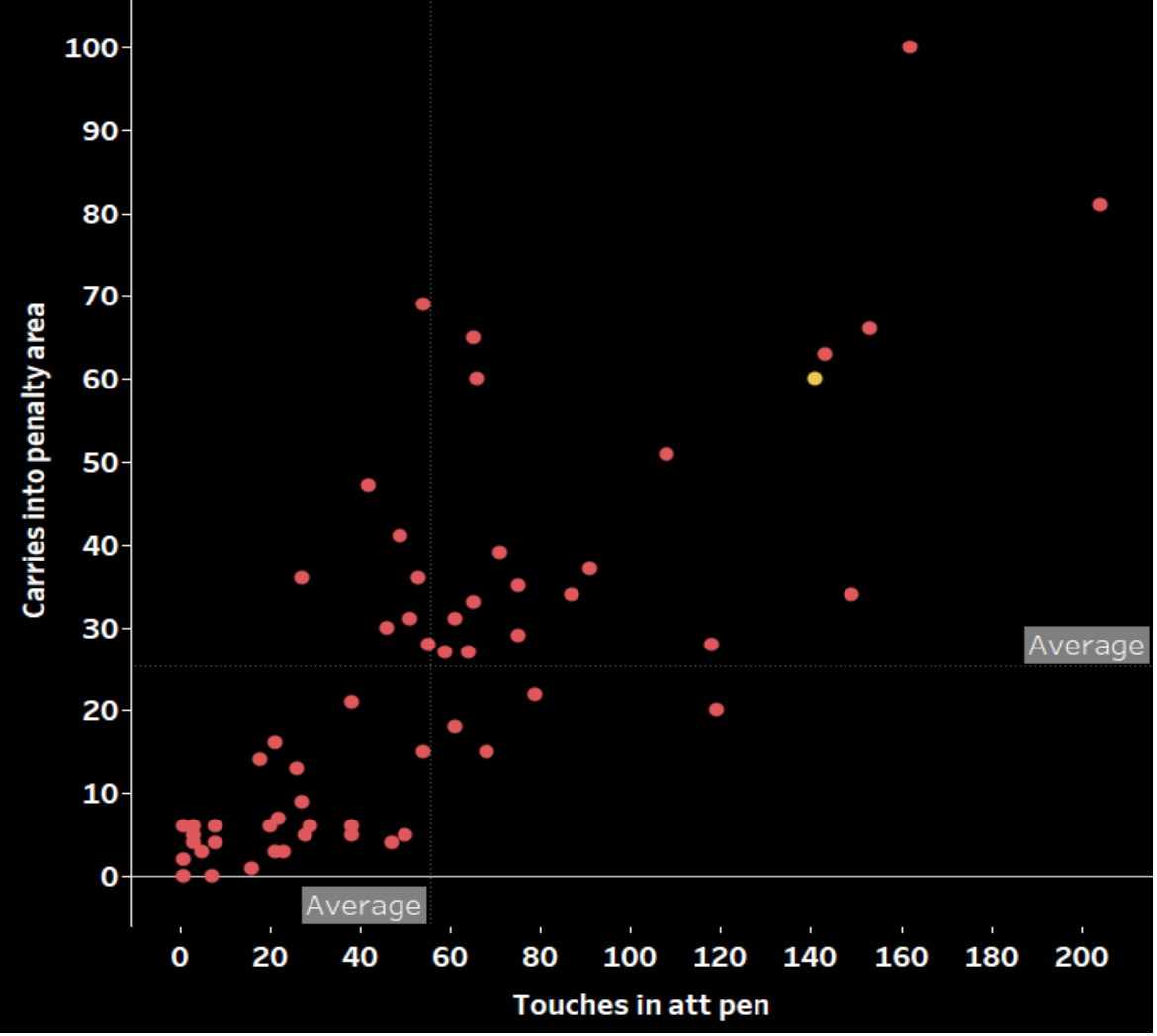 Here, we can see that Kubo has registered 140 touches in the attacking penalty area and has made nearly 60 carries into the attacking penalty area. The Japanese international loves to move in and around the box and is a constant threat with the ball at his feet, as his pace and dribbling along with his low centre of gravity enable him to change pace and take on his defender, making him an unpredictable threat on the ball.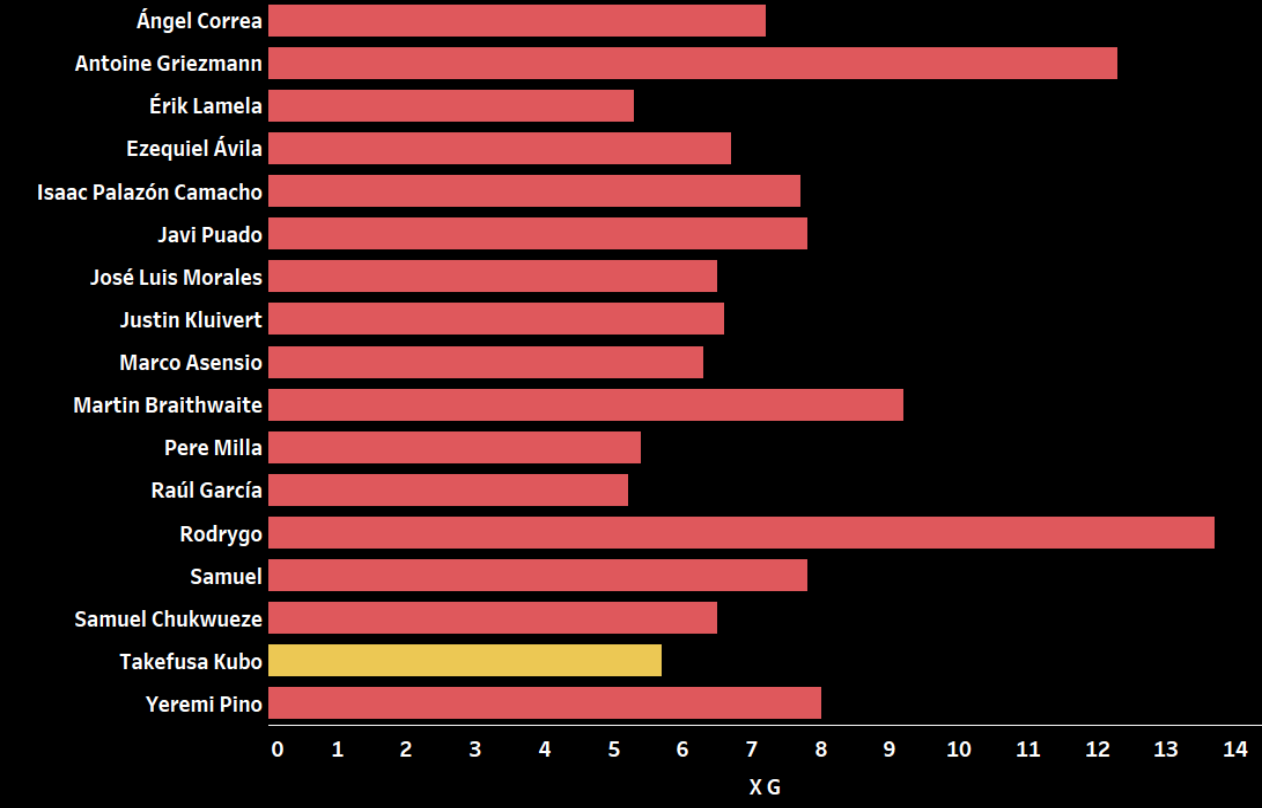 In terms of his expected goal numbers (xG), it's evident that Kubo still needs to improve not just in terms of converting more chances that arrive on his plate, but also in getting into more dangerous goal-scoring positions. Nevertheless, if he can continue his positive form in front of goal, he may just be able to become a double-digital goal threat for the Txuri-Urdin.
Midfield Analysis
Typically used as a right winger in a 4-4-2 or a 4-3-3 this season, Kubo's ability to link midfield and attack makes him a valuable presence for Alguacil. When comparing his touches in the middle third with his successful take-ons, it's clear to see that he is not only effective with the ball but able to make quick decisions in order to get out of tight spaces and work the ball to teammates. He has more than 500 touches in the middle third, showing how important he is in terms of the team's attacking build-up.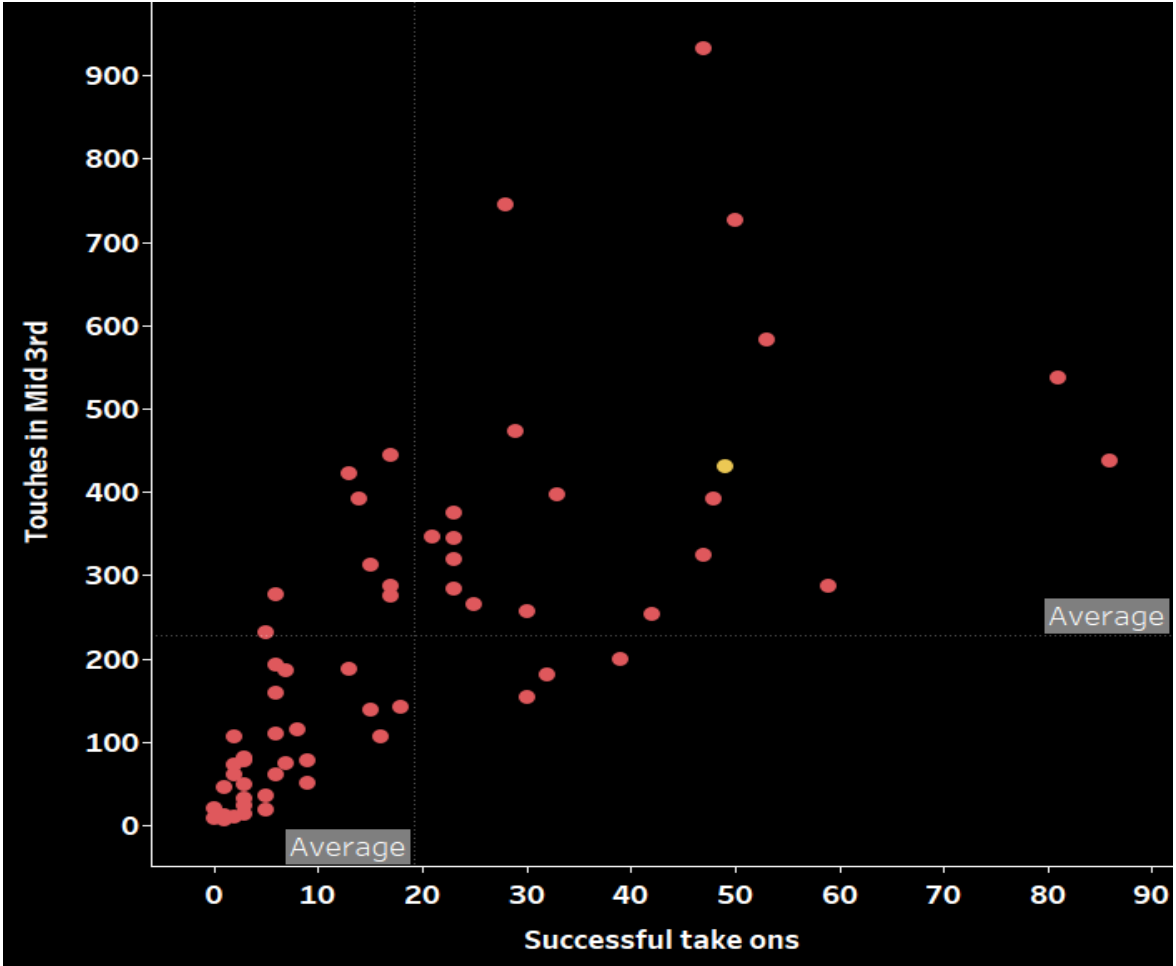 The next scatter plot analyzes Kubo's numbers for both switches and through balls. Kubo's long passing, combined with his constant scanning of the match and in-game IQ, allows him to stay calm under pressure and shift the ball towards open spaces, allowing him to jump-start a counter-attack with his pinpoint vision.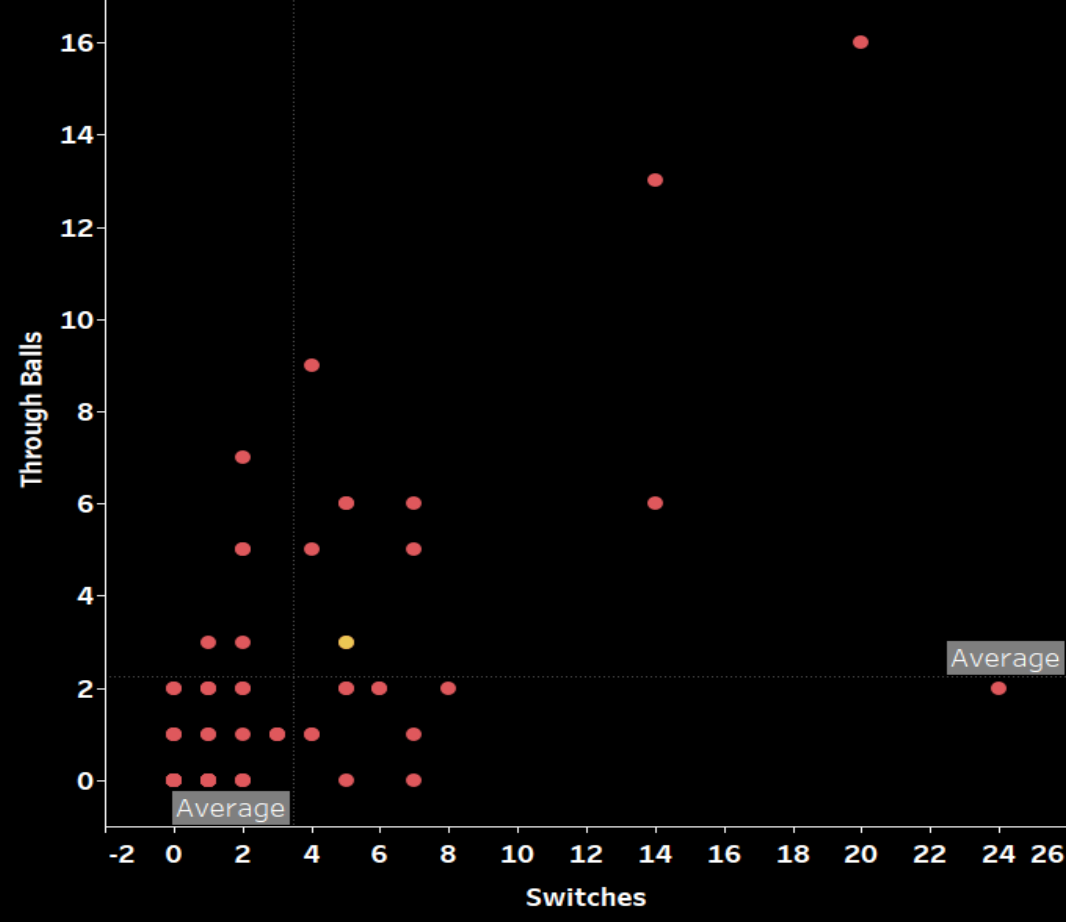 Kubo has attempted over 1,000 passes, completing 70% of them, and he has the ability to control the rhythm of the game and dictate the flow of possession for La Real. Capable of shifting direction whilst moving towards goal, Kubo excels at creating space for teammates and rewarding their incisive runs with inch-perfect through balls.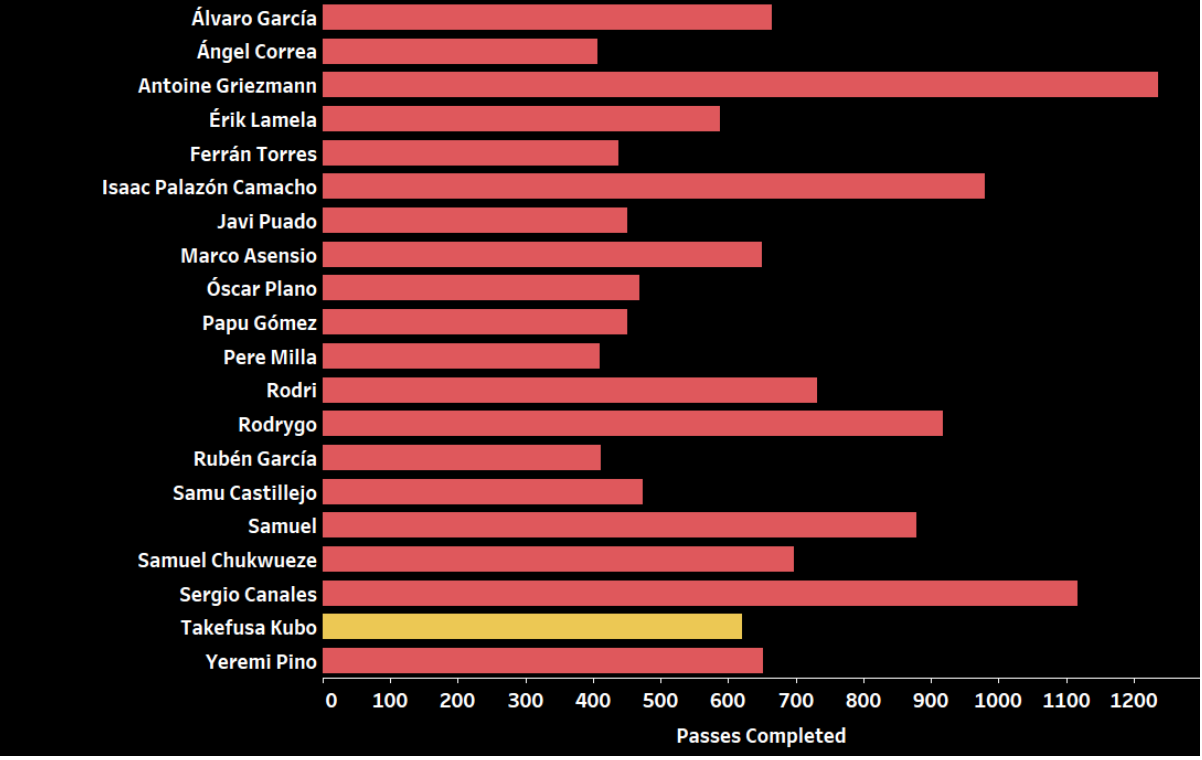 Defensive Analysis
Whilst defending certainly isn't his strong suit, he's far from a liability off the ball, playing a key role in La Real's counter-pressing and constantly blocking passes to prevent opponents from launching counters.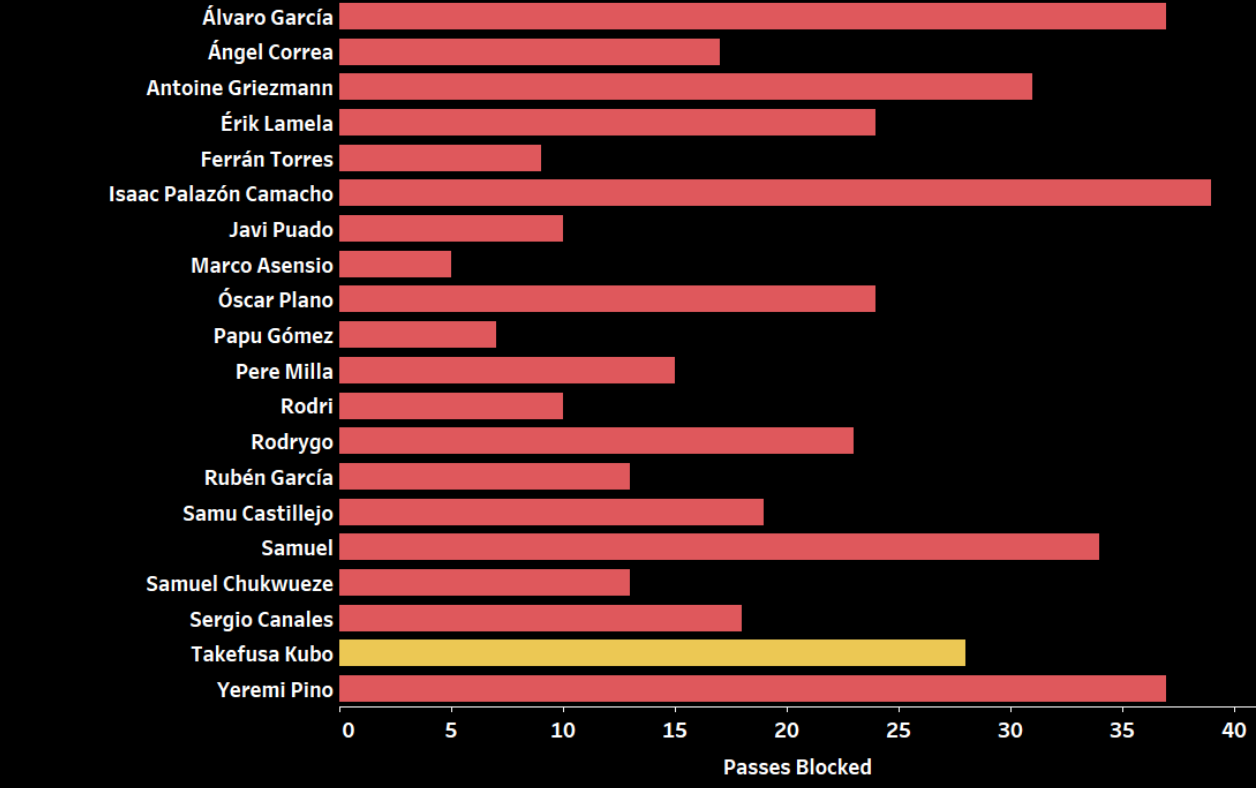 Kubo utilizes his intelligence to steal the ball from opponents, tricking them into passing into open space before anticipating the action and intercepting the ball. As we see below, Kubo stands out not just in terms of passes blocked but the percentage of dribblers that he has tackled.
Kubo puts his extraordinary footballing IQ to use in not just attacking but also defending, positioning himself in a way that helps him pounce on the balls played by their opponents and exploiting his pace to trace back and win the ball back.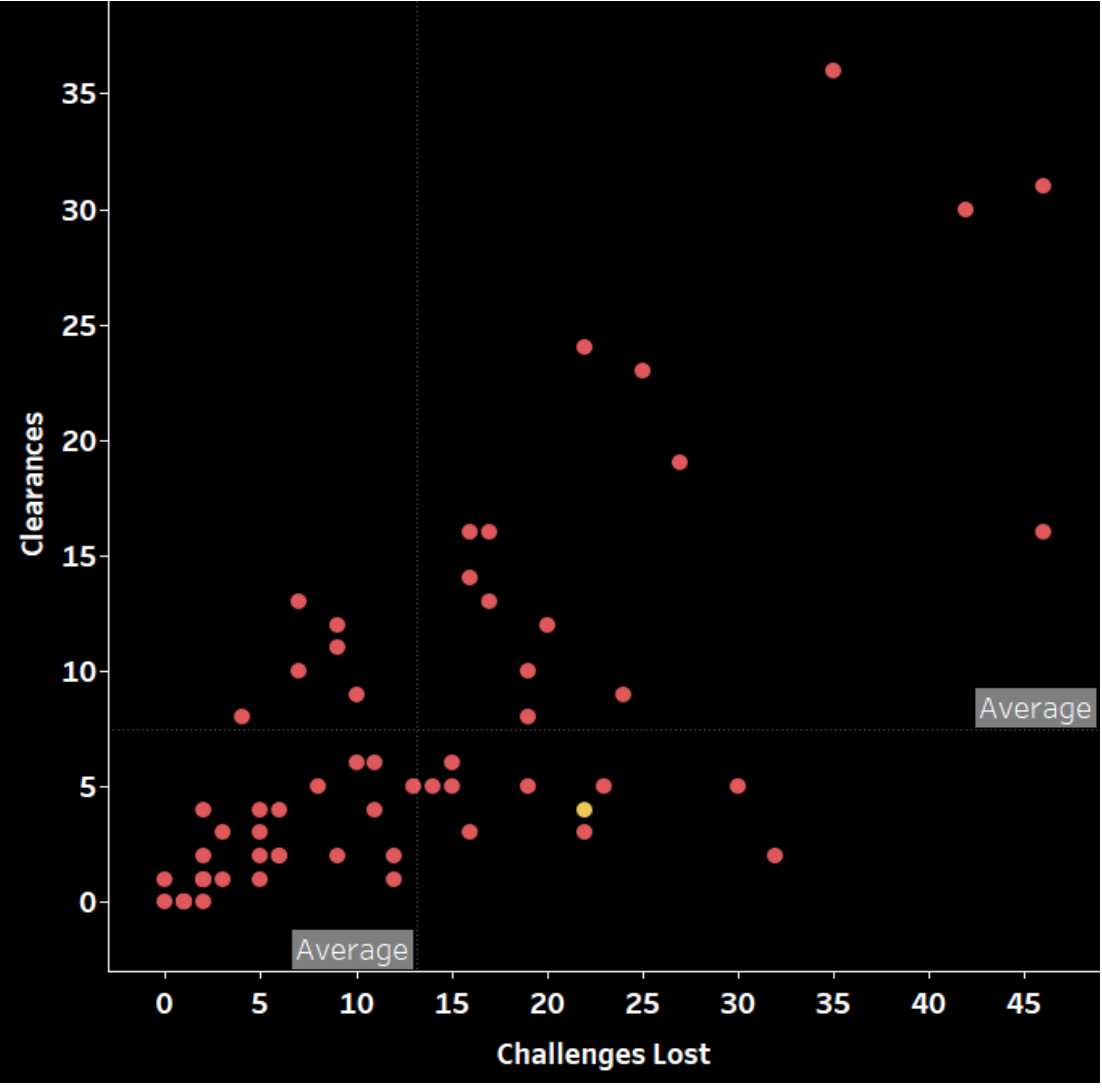 Kubo does need to improve on his ground duels, as his lack of physicality and aggression has resulted in him winning over 15.8% of his challenges. Whilst he positions himself astutely, it does not help him in very much in terms of 1v1 situations, and he also shows struggles in terms of heading and making last-ditch clearances in the defensive third.
Conclusion
Many have lamented the demise of the #10 position, with languid playmakers such as Juan Román Riquelme and Mesut Özil apparently being a dying breed, but Takefusa Kubo is proof that these kinds of players are far from extinction. Whilst he doesn't play as a central attacking midfielder in a 4-2-3-1, he essentially performs the role of La Real's #10, capable of roaming around the pitch, opening up a deep block with an impeccable pass, and controlling the tempo of a game, although he does need to improve in terms of his decision-making in front of goal, aerial and ground duels, and his finishing — in general, bulking up and adding more muscle to his game would help take him to the next level as a player.
After beginning their season with three straight draws, Real Sociedad have dropped points just twice in the league — 2-1 defeats to Real Madrid and Atlético Madrid — and they currently sit sixth in La Liga, two behind Basque rivals Athletic Club, four behind Atleti, and one above Real Betis and Rayo Vallecano. They also sit atop their Champions League group with four points, level with Inter and one above Red Bull Salzburg, and they'll be counting on Kubo as they look to navigate a jam-packed schedule that will see them host Mallorca and travel to Benfica and Rayo Vallecano, before kicking off November with a visit from FC Barcelona.
By: Sive Vishwa / @Sive_vishwa
Featured Image: @GabFoligno / Adam Pretty – FIFA