Using Data to Find Rangers a Goalkeeper in a Lesser Known League
Allan McGregor is considered a grandfather and a pertinent figure of the modern-day Rangers. After a hiatus, amidst financial difficulty, McGregor returned to the club that initially introduced him to senior football in 2001. A myriad of memorable moments from day one and a multitude of simply incredible saves yet every story comes to an end; and often it is not a satisfying conclusion.
The case of Allan McGregor is no different as he has seemingly been phased out after deteriorating performance levels and has been usurped by de facto replacement, Jon McLaughlin, who has since incurred a rocky start at the helm of the Ibroxians' defence which poses questions over his long-term tenability of the position. 
Therefore, despite a youthful Robby McCrorie waiting in the wings, Rangers need to replace their deficient and ever-ageing goalkeeper department. However, there is an underlying, irrefutable caveat to this. The lack of concurrent funds available to the 55-time champions. Thus, when I conducted this search, the first filter I imposed was a maximal estimated transfer value of no greater than €5,000,000. Therefore, a plethora of leagues would be rendered futile in this search. Hence, I only ran the numbers on the below leagues (with a prerequisite of 1230 minutes played in concurrent/ most recent season): 
EFL Championship 
League One 
Bundesliga 2 
Ligue 2 
Serie B 
Austrian Bundesliga 
Eerste Divisie 
LaLiga2 
Belgium 2. Division 
Serbian SuperLiga 
Turkey SuperLig 
Swiss Super League 
Czech First League 
Eliteserien 
Liga Portugal 2 
Ukrainian Premier League 
Denmark SuperLiga 
Croatian Football League 
Greek Super League 
Israeli Premier League 
Allsvenskan 
J League 
K League 
A-League 
Argentina Liga Professional 
Brazil Serie A 
Canadian Premier League 
Veikaussaliga 
Indian Super League
Liga MX 
Northern Ireland Premiership 
Ekstraklasa 
ROI Premier Division 
MLS 
Uruguay: Primera Division 
Moreover, it is of great significance that this hypothetical acquisition is proficient in a number of facets of goalkeeping; apropos to shot-stopping and distribution capabilities. Consequently, I opted for the following statistics and coinciding metrical weights; 
Prevented Goals Per 90: 35% 
Save rate , %: 27.5% 
Accurate Passes, %: 20% 
Accurate Long Passes, % 17.5% 
Below, in its entirety, is each and every eligible players (30 in total) overall weighted score with a maximal score being one. The top 5 recommendations for Rangers on the basis of this dataset are: 
1: Philipp Köhn of Red Bull Salzburg 
2: Milan Borjan of Crvena Zvezda
3: Jindřich Staněk of Viktoria Plzen 
4: Aarón Escandell Banacloche of Cartagena
5: Lawrence Thomas of Western Sydney Wanderers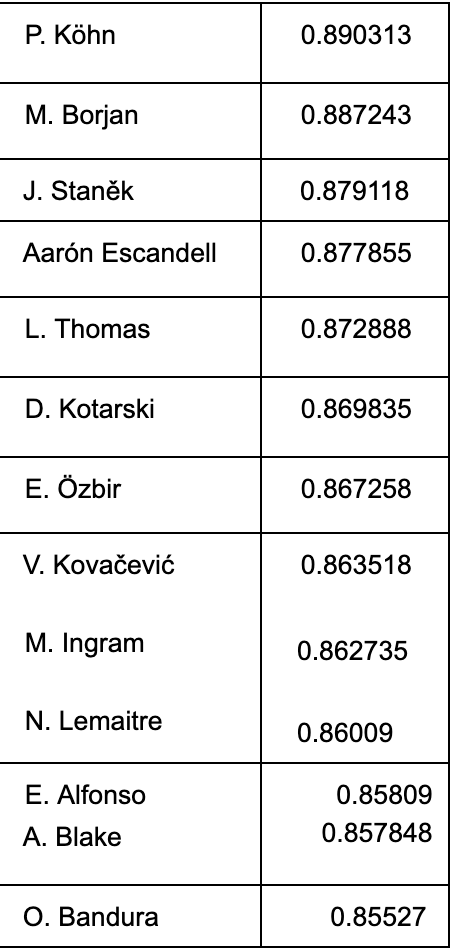 By: Max Nicholls / @maxnicholls14
Featured Image: @GabFoligno / Bryn Lennon / Getty Images