Enzo Bearzot's Italy: Part 2: From Whipping Boys to National Heroes
Italy was awarded the right to host the 1980 European Championship, the first edition to have eight teams, and as a result, they only played friendlies prior to the tournament. Between September 1978 and April 1980, the Azzurri won most of their games by close margins, but they also had a couple of heavy defeats; a 3-0 loss away to Czechoslovakia in November 1978 and a 4-1 thumping at the hands of Yugoslavia in June 1979.
A couple more players that eventually featured at the 1982 FIFA World Cup made their Italy debuts in that time. Inter utility man Gabriele Oriali played for the Azzurri for the first time in December 1978 in a 1-0 victory against Spain, whilst AC Milan stopper Fulvio Collovati made his debut in a 3-0 win against the Netherlands in February 1979.
On March 23, 1980, Italian football was rocked to its core. The Totonero match-fixing scandal came to public light, and found more than 30 players guilty of accepting money from two businessmen — Massimo Cruciano and Alvaro Trinca — to throw matches, some of them even betting against their own teams.
The scandal would implicate several clubs and players, but none more important to the Azzurri than strikers Paolo Rossi and Bruno Giordano. Rossi remained a regular in the Italy side after a stellar 1978 World Cup and had now moved to Perugia, while Giordano was a star on the rise after finishing as Serie A's leading goalscorer whilst playing with Lazio in 1978/79.
Photo: Italia Star Magazine
AC Milan and Lazio were relegated to Serie B, while Rossoneri president Felice Colombo was banned for life from football. Rossi was suspended for three years, reduced to two years on appeal, and Giordano was banned for three and a half years but only served a ban of one year and six months. Without the two banned strikers, Italy manager Enzo Bearzot placed his faith in Roberto Bettega and Francesco Graziani to score the goals. 
The Azzurri were drawn in Group B with Belgium, England, and Spain, and they commenced the 1980 Euros with an uninspiring 0-0 draw against La Roja in Milan, with veteran winger Franco Causio in particular receiving whistles from the crowd for a dismal performance. 
Italy would win the next match 1-0 against England, a scoreline that, quite frankly, flattered the Three Lions. The Italians were afforded an abundance of chances to score, especially in the second half, but it took the unlikely source of Marco Tardelli to find the back of the net.
The box-to-box midfielder was assigned to mark English star Kevin Keegan, who had won back-to-back Ballon d'Ors in 1978 and 1979, but he decided to venture forward and tap Graziani's cross into the net a mere 12 minutes from time, and celebrated ferociously by running and shouting towards the bench.
Photo: Colorsport / REX
A win was needed against Belgium if they were to reach the final, but they could only muster a stalemate. The Italians were aggrieved when Portuguese referee António Garrido awarded a free kick on the edge of the box instead of a penalty for a handball by Belgium's Walter Meeuws. Debutant Alessandro Altobelli had replaced club teammate Oriali at half time and hit the free kick over the bar.
Italy faced Czechoslovakia in the Third Place Play-Off match, losing 9-8 on penalties after drawing 1-1 in 90 minutes. Fulvio Collovati had his penalty saved, but it is still disputed today if the ball had crossed the line completely or not before Czechoslovakia goalkeeper Jaroslav Netolička retrieved it. Austrian referee Erich Linemayr did not allow a goal, so Jozef Barmoš was able to win the shootout for the visitors.
Hero status for Italy had not come yet, but it would eventually.
Photo: FourFourTwo
After their heartbreaking loss to Czechoslovakia in Naples, Bearzot and his players turned their attention to the 1982 World Cup qualifiers, where they were drawn in Group 5 with Denmark, Greece, Luxembourg, and Yugoslavia. 
Italy won their opening qualifier 2-0 away to Luxembourg in October thanks to goals from Collovati and Bettega, while Roma winger Bruno Conti made his international debut after coming off the bench. A month later, the Italians won two qualifiers 2-0 on home soil. A Graziani brace was enough to beat Denmark, while an Antonio Cabrini penalty and Conti lob earned a victory against Yugoslavia.
Their final qualifier in 1980 was a 2-0 win away to Greece in December, with Giancarlo Antognoni and Gaetano Scirea finding the back of the net in Athens. In January 1981, Italy participated in the 1980 Mundialito in Uruguay, which commemorated 50 years since the Uruguayans hosted the first ever World Cup in 1930. The Azzurri flopped, losing 2-0 to the hosts and then drawing 1-1 to the Netherlands.
Photo: Placar
Bearzot's team did not play a qualifier until June 1981 when it traveled to Denmark, and it was one to remember for the Danes, who had not qualified for a World Cup yet.
Italy conceded two goals in as many minutes in the second half, first from veteran Danish defender Per Røntved and then attacking midfielder Frank Arnesen. Graziani pulled one back for the Italians, but Lars Bastrup sealed the 3-1 victory three minutes from time.
Two 1-1 draws followed – one away to Yugoslavia and another at home to Greece – before finishing the qualifying campaign with an uninspiring 1-0 win over Luxembourg. The Italians finished second in the group with 12 points from eight matches, one less point than the Yugoslavs, and scoring two less than the Danes, who failed to qualify. At the very least, Bearzot could count on a solid defense, who conceded just five times.
1982 did not begin well for Italy. They lost 2-0 to France and 1-0 to East Germany, and in the final friendly before the World Cup, Switzerland was winning 1-0 before Cabrini scored an equalizer. The team suffered mass criticism from the Italian press after the draw against the Swiss, and were considered unworthy of representing the country on the world stage.
There were quite a few criticisms with the squad selections too. Bearzot was lacking a prolific striker after Bettega, who had begun the 1981/82 season with five goals in seven Serie A matches, suffered a serious injury.
Photo: Hurrá Juventus
A regular in the national team since 1975, the Juventus forward injured his left knee in a European Cup tie in November 1981 against Belgian champions Anderlecht after colliding with opposition goalkeeper Jacky Munaron. Despite being unlucky at the 1978 World Cup and flopping at Euro '80, he was a forward with great skill and experience, as well as someone that the coach had faith in.
Meanwhile, Roma centre forward Roberto Pruzzo had been Serie A's leading goalscorer for the last two seasons, but the Italian coach overlooked him. Despite his scoring prowess for the Giallorossi, he failed to score in six internationals for his country, so "Vecio" decided to turn to Rossi, who had returned from his suspension from the Totonero scandal. 
Rossi was back at Juventus after having come through the youth team almost a decade ago and had played in the last three Serie A matches for 1981/82, scoring one goal. Bearzot still admired the striker, who impressed at the 1978 World Cup with his overall play, but the coach was initially taking a huge risk on him.
Photo: Getty
Antognoni was given the attacking midfielder role despite missing out on half of the Serie A season with Fiorentina due to a head injury suffered in a collision with Genoa goalkeeper Silvano Martina, whilst Inter trequartista Evaristo Beccalossi was surprisingly overlooked. The mercurial midfielder is still considered to be one of the greatest Italian players to have never been capped by the senior team.
Italy was drawn in Group 1 with Cameroon, Peru, and Poland. Like in Argentina, Bearzot decided to build his side around Juventus, and six players from La Vecchia Signora started in the 0-0 draw against Poland. The Bianconeri contingent faced future club teammate Zbigniew Boniek, but the Polish forward was well contained.
Against Peru, Conti opened the scoring early on by launching a rocket of a shot from outside the box into the top right corner, but Los Incas evened the scoreline seven minutes from full time after Rubén Díaz's shot rebounded off Collovati and into the net. They would grind out the final minutes and earn a draw.
Photo: Depor Peru
For the final game, Italy faced tournament debutants Cameroon and things seemed to be going to plan when a Rossi cross from the left wing found Graziani, who scored with a looping header in the 60th minute. Only a minute later, there was confusion in the Italian penalty area and Grégoire M'Bida raced in to equalize. 
Criticism of the team was still rife due to the lackadaisical performances, and there were even rumors that Cabrini and Rossi were a homosexual couple so Bearzot decided to impose a press silence on the squad, only allowing his laconic captain Zoff and himself to speak to journalists.
The Azzurri finished with three points after three games and progressed at the expense of Cameroon, having scored one more goal than the Indomitable Lions. For the second group stage, the European side was drawn in Group C with reigning World Cup champions Argentina and tournament favourites Brazil, and the winner of the group would reach the semi-finals.
Despite a scrappy first half, Italy improved in the second half against Argentina, and won 2-1 thanks to well-worked goals from Tardelli and Cabrini, while Daniel Passarella pulled one back for the Argentinians.
This match is forever remembered for the aggressive, if not violent marking of Claudio Gentile on Argentine superstar Diego Maradona. After the match, Gentile replied to criticism of his methods by saying that "football is not for primadonnas."
Photo: Egypt Today
Brazil had won its game against Argentina 3-1 so the Italians had to beat the Seleção at the Estadio de Sarrià if they were to reach the semi-finals. The narrative before the match was Brazil's beautiful football against Italy's defensive solidarity and tactical nous, but Bearzot and his men didn't read the script.
After four uninspiring performances to start the tournament, this was the game that Paolo Rossi achieved legendary status in Italy. Both sides went on the attack, and the Italians displayed their own confidence on the ball.
Rossi broke his duck after five minutes when he headed a Cabrini cross into the net. The Azzurri tried to double their lead, but Brazilian captain Sócrates beat Zoff from a tight angle seven minutes later to equalize the score.
In the 25th minute, Toninho Cerezo played a casual pass from the right flank, and Rossi pounced on the loose ball, surging towards goal and scoring from just outside of the box to put Italy back in front. Although Brazil attacked with panache, the Azzurri also created chances to kill the game off.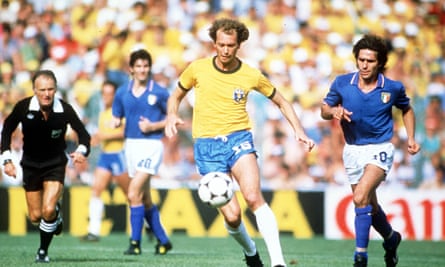 Photo: Bob Thomas / Getty
Bearzot's team had a scare in the 68th minute when Paulo Roberto Falcão equalized with a splendid goal from 25 minutes but Rossi completed his hat-trick after 74 minutes when Italy won a corner and he was left unmarked to tap the ball in. Antognoni had a fantastic game in midfield, and he was even robbed of a legitimate goal by an incorrect offsides call by Israeli referee Abraham Klein.
The Brazilians nearly made it 3-3 at the death, but Dino Zoff made a phenomenal save from Serginho's header, grabbing the ball just inches before crossing the line. Rossi was voted Man of the Match, and that game inspired the name of his autobiography "I Made Brazil Cry."
Italy played Poland again, but without Boniek – who had scored four times since that scoreless draw – to trouble them, the Italians won 2-0 thanks to a Rossi double. It was a pyrrhic victory though, with Antognoni coming off with a foot injury just minutes after assisting for the opening goal, while Graziani had been poleaxed by Polish defender Władysław Żmuda. 
Photo: Bob Thomas / Getty
Bearzot had exceeded expectations by taking this team to the final, but he had a conundrum. With Antognoni out, he lacked another proven playmaker. Torino midfielder Giuseppe Dossena was lacking in big game experience, so the Italian tactician decided to use Oriali, who was more suited to playing left-back or defensive midfield, as his regista against West Germany. Tardelli and Oriali were Italy's central midfielders in the final, whilst another defender would be added to the starting line-up.
Inter starlet Giuseppe Bergomi made his debut in the defeat to East Germany, and he had made some cameos throughout the tournament. After starting in place of the suspended Gentile against Poland in the semi-finals, he would start in the final as well, and was given the task of marking West German talisman and captain Karl-Heinz Rummenigge.
It was an uneventful first 45 minutes with barely a shot on target for either team. Graziani still started the final but he was taken off for Altobelli after nine minutes due to a shoulder injury. Cabrini missed a penalty in the 24th minute after Conti was fouled by Hans-Peter Briegel, becoming the first man to miss a penalty in the World Cup Final.
Photo: Steve Powell / Getty
West Germany looked sluggish after its dramatic semi-final win against France on penalties and Italy took the lead after winning a free-kick in the 57th minute. Tardelli took it quickly, Gentile bent a cross from the right-wing, and after bouncing once as well as deceiving West Germans Harald "Toni" Schumacher and Manfred Kaltz, the ball was headed in by Rossi. 
Italy went 2-0 after 69 minutes when Paul Breitner failed to control Rummenigge's pass and Scirea collected the loose ball for the Italians outside of the penalty area. He passed to Conti on the right, and the Roma winger drifted into the middle.
After a quick turn, Rossi took the ball off him and found Scirea. The Italian sweeper played a one-two with Bergomi, slowly held up the ball, and laid the ball off for Tardelli. His first touch was heavy, but despite losing balance, he struck the ball with his left foot with his second touch, and the ball went into the bottom right corner.
Tardelli had made several passionate celebrations in his day, but this topped them all. His "urlo" or yell has become one of the most iconic goal celebrations in World Cup history, and it is arguably the greatest celebration in the history of Italian football. Italian president Sandro Pertini was also in attendance and he too rose to his feet in jubilation.
Photo: PA / EMPICS Sport
Nine minutes from time, Altobelli made it 3-0 after Conti raced down the right wing and found the Inter striker with a low cross. "Spillo" stopped the ball and while Schumacher was charging at him, and found the time to swing his left foot at the ball and beat the goalkeeper. Breitner's daisy cutter in the 83rd minute was a mere consolation.
Franco Causio was 33 years old by then and playing his club football at Udinese, but Bearzot put him on for Altobelli two minutes from time.
Italy finally broke a 44-year drought and won their third World Cup. Bearzot had been savaged by the critics, but he had tremendous confidence in his players and they defeated tough opposition to win the trophy.
Photo: Reuters / Action Images
At 40 years old, Zoff became the oldest World Cup-winning captain of all time. He had made many decisive saves, none more important or spectacular than his save from Brazil's Serginho in Barcelona. Scirea was a graceful sweeper capable of turning defense into attack. Gentile was notorious for his rugged man-marking of Maradona, Brazilian playmaker Zico, and West German winger Pierre Littbarski.
Collovati was a clean and sensible defender, Cabrini made many runs along the left flank, Oriali an unsung hero in midfield, Tardelli was an all-round presence in the middle of the park, Antognoni provided guile and grace in midfield, Conti dazzled with his trickery on the right-wing, Graziani worked tirelessly in attack, and Rossi found form at the right time, giving the world a lesson in opportunism. Rossi was the tournament's leading goalscorer with six goals, and would go on to win the Player of the Tournament and the 1982 Ballon d'Or.  
For Bearzot and his squad, this was their apotheosis.
By: Vito Doria
Photo: @GabFoligno