Enzo Bearzot's Italy: Part 3: The Slow and Painful Demise of Bearzot and His Boys
Euphoria swept over Italy after they won the 1982 World Cup in Spain. A 44-year drought was broken and the team went home in the private jet of Italian president Sandro Pertini. One of the most iconic images after the tournament is of Coach Enzo Bearzot playing cards with several of his players on the flight back home.
After the excitement died down, the decline of 'Bearzot's Boys' began, and it was an embarrassing decline. The need to rejuvenate the team was apparent, but Bearzot persisted with the heroes in Spain out of loyalty.
Italy was drawn in Group 5 of the 1984 European Championship qualifiers with Czechoslovakia, Cyprus, Romania, and Sweden. The Romanians and Swedes had already played twice before the Azzurri faced Czechoslovakia in November 1982.
Alessandro Altobelli gave the Italians the lead in the first half, but the Czechoslovaks equalized through Jiří Sloup, who scored his only goal for his country. Italy regained the lead when Ján Kapko deflected a Giampiero Marini strike into his own net in the second half, but Pavel Chaloupka leveled the score and both sides had to settle for a 2-2 draw in Milan.
Photo: Soccer Nostalgia
Worse was to come. The Azzurri drew 0-0 against Romania in December and then had to face Cyprus in Limassol in February 1983. The Cypriots took a shock lead through Takis Mavris two minutes into the second half; like Sloup for Czechoslovakia, his goal against the Italians was his only one for his country.
Cyprus' lead only lasted for 11 minutes as Francesco Graziani's header took a deflection off Nikos Patikkis. The reigning world champions could only muster a draw against one of European football's minnows.
Romania was a revelation so far in qualifying with two wins and a draw, but no other result topped their feat against Italy. The Azzurri traveled to Bucharest in April, and once again, Dino Zoff's vulnerability with long-range shots was exposed again. Ilie Balaci laid a free-kick off to László Bölöni, who unleashed a low and powerful shot from about 30 metres and gave the Romanians a shock 1-0 victory.
The defeats continued for Italy. The Azzurri lost 2-0 to Sweden in Gothenburg in May and it marked an end of an era as Zoff played for the 112th and final time for his country. When the two sides faced each other in Naples in October, the Swedes emerged as 3-0 victors.
A month later, the Italians lost 2-0 to Czechoslovakia in Prague thanks to Petr Rada scoring a brace and joining the growing brigade of footballers who scored their only international goals against Italy. Giancarlo Antognoni came on as a sub for the Azzurri, and it would mark his last appearance on the international stage.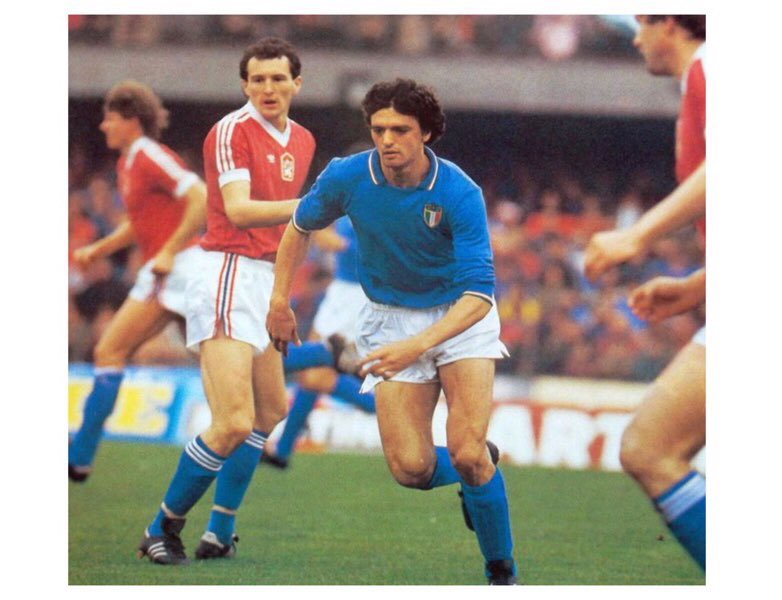 Italy got its only win in the qualifiers at home to Cyprus in December. Alessandro Altobelli's goal eight minutes into the second half was cancelled out by a Markos Tsingis penalty, but Antonio Cabrini and Paolo Rossi eventually found the back of the net in the last eight minutes to earn the Italians the victory.
1983 was a horrible year for Bearzot's team. Heroes from the World Cup-winning squad were beginning to retire from international duty, and aside from that win against Cyprus in Perugia, the only other victory for Italy was when it put three goals without reply against Greece in a friendly. Romania qualified for Euro '84 with 12 points whereas Italy failed miserably, just collecting five points in eight matches.
Between 1984 to May 1986, Bearzot and his team only had to worry about friendlies, but they brought some mixed results. Italy demolished Mexico 5-0 in February 1984, with Paolo Rossi getting a first half hat-trick, but they lost twice to West Germany, suffered a 2-1 defeat to Norway, and lost to a solitary goal against Poland in November 1985.
The Azzurri won their last friendly before 1986 World Cup 2-0 against China, but expectations were low and the squad was predominantly an overlap of two generations.
Photo: Soccer Nostalgia
There were several rookies in the squad. Bearzot brought the Hellas Verona trio of Roberto Tricella, Antonio Di Gennaro and Giuseppe Galderisi, all of whom were protagonists when the Gialloblu won the Serie A title for the first time in 1984/85, as well as young workhorse midfield Fernando De Napoli from Avellino.
Since Zoff had retired, Bearzot struggled to find his heir for the national team. Ivano Bordon, who was second choice at the 1982 World Cup, was tried and tested, but he was past his best at 35. Both Giovanni Galli from Fiorentina and Franco Tancredi from Roma took turns proving their worth, but neither goalkeeper looked overly convincing. Galli, who was third choice at España '82, became the first choice in 1986, and it did not bode well for the side.
As usual, there would be debates about certain selections in the squad. Rossi scored just twice in Serie A for AC Milan in 1985/86 whereas Roberto Pruzzo, who finished as leading goalscorer with 19 goals, was ignored. He was still in outstanding form at club level and deserved a chance at redemption, but Bearzot neglected to increase his miserly six caps.
Instead, Bearzot selected a young forward called Gianluca Vialli from Sampdoria, but he was not yet the complete center-forward that he later would become. At the time, he was still a raw left winger, but he did score in Il Doria's Coppa Italia victory in a two-legged affair against AC Milan in 1985. The Italy coach did ignore Vialli's teammate, the mercurial Roberto Mancini, who could have added some extra creativity into the team.
Juventus had won the Serie A title, but it was a side in decline. Defenders Gaetano Scirea and Cabrini were selected, but AC Milan sweeper Franco Baresi still could not get a look in while his brother Giuseppe, a defensive midfielder from Inter, had been included.
Italy opened the 1986 World Cup on May 31 against Bulgaria and Alessandro Altobelli put the Italians in front with a half-volley at the far post after a Di Gennaro free kick in the first half. The Bulgarians drew level five minutes from time when Galli was too slow to parry Nasko Sirakov's bouncing header.
Photo: Getty
Argentina was the Azzurri's next opponent in Group A, and they took the lead over the Albiceleste when Jorge Burruchaga hand-balled in the penalty area and Altobelli scored with the resulting kick. However, eleven minutes before half-time, Diego Maradona scored from a nearly impossible angle. More so than the goal against Bulgaria, Galli was at fault for not covering his near post, as he allowed the ball to bounce into the net.
After two 1-1 draws, Italy finally got a win in the final group game against South Korea. The Azzurri surprisingly lost to the Asian team's northern neighbors 20 years earlier, and this encounter was a bit of a struggle as well.
Altobelli opened the scoring in the first half after a scrap in the penalty area, but he also missed a chance to double the lead after hitting the post with a tame penalty, and Choi Soon-Ho equalized 17 minutes into the second with a cannon of a shot from outside of the box.
Italy equalized after Bruno Conti's rabona free kick took several bounces off the Korean and Italian players before falling into the path of Altobelli, who blasted his shot past Oh Yun-Kyo. They added a third after De Napoli danced past the Korean defense before sliding it into the path of Altobelli, whose shot was deflected into the goal by Cho Kwang-Rae.
Photo: YouTube
South Korea added a consolation goal with Huh Jung-Moo latching onto the end of a well-worked free kick routine and smashing it past a hapless Galli who failed to come off his line, but it was too little too late for the Taeguk Warriors, as they finished bottom of the group with 1 point.
Italy finished second in Group A with four points, one point behind Argentina, and would go on to face France in the Round of 16. Bearzot dropped Di Gennaro, and Giuseppe Baresi took his place so he could man-mark Michel Platini. The move backfired miserably as it was Platini who opened the scoring after 15 minutes, chipping the ball over an advancing Galli. Di Gennaro replaced Baresi at half-time but it was to no avail as Yannick Stopyra doubled the lead for Les Bleus.
It was an end of an era. Bearzot would be replaced by Azeglio Vicini, who revolutionized the squad immediately, and when he selected his squad for the 1988 European Championship, only five players had been in the team at the previous World Cup. He led the Azzurri to the semifinals of the 1988 Euros and the semifinals of the 1990 FIFA World Cup.
Photo: Joe Mann
Even today, "Vecio" still holds the record for the most games as coach of Italy, with 104 appearances on the Italian bench. It took 24 years for the Azzurri to reclaim their spot atop the footballing elite, when Marcelo Lippi's men defeated France in the 2006 World Cup Final.
Bearzot passed away on December 21, 2010, exactly 42 years after Vittorio Pozzo, Italy's coach in its two World Cup triumphs of the 1930s, died. Perhaps he stayed in the Azzurri job longer than needed, but his reign still fills Azzurri fans with many delightful memories.
He rejuvenated the national team after a poor showing in 1974, and his youthful and vibrant side were a revelation in the 1978 edition. The Azzurri finally triumphed in 1982 after defying the odds and shaking off a wave of criticism by defeating some of the strongest teams of that era.
Through good times and bad, Bearzot's Italy left its legacy on football locally and outside of Italian borders.
By: Vito Doria
Photo: @GabFoligno