How Manchester United Built the Most Potent Attack in Premier League History: Part 2: Reaching the Pinnacle
With the aid of his prominent assistant coach Carlos Queiroz, Sir Alex Ferguson had revitalised Manchester United by revamping their style of play by simultaneously using innovative methods and drawing inspiration from other top sides.
In the past, Ferguson had implemented a lone single striker, a 4-5-1 formation and man-marking ploys by drawing inspiration from top European sides (while the rest of the Premier League remained fixated on the 4-4-2), but his 2006-07 side was comprised primarily of novel tactics.
The question was, however, could United take it up a notch; raising the bar from Premier League Champions to European Champions? Could they replicate the form and attacking brilliance of 2006-07? Could they stave off a vibrant Arsenal side and a revitalised Chelsea in 2007-08?
While they did win the league title with a six-point gap over Chelsea, the 2006-07 side still had limitations. They ultimately fell short in Europe, losing 3-0 at the San Siro in the Champions League semi-final; unable to control the game at any stage.
Photo: Giampiero Sposito / Reuters
United relied on a multitude of 'clutch' moments to maintain Premier League momentum in February and March, while injuries could easily ravage United's front line. With Ole Gunnar Solskjaer retiring and Alan Smith departing to Newcastle for £4 million, only Wayne Rooney and the injury-prone Louis Saha remained up front. On the wings, Cristiano Ronaldo and the 33-year-old Ryan Giggs were retained, while Park Ji-sung could play a variety of attacking positions too. 
Fortunately, United dipped into the transfer market, and convincingly: the high-octane, 19-year-old central midfielder Anderson was signed from Porto for €30 million, 20-year-old fleet-footed winger Nani arrived from Sporting for €25.5 million, and England international Owen Hargreaves joined from Bayern Munich for around £17 million. Hargreaves' signing went somewhat under the radar, but as a versatile midfielder of incredible pedigree and technique, he played a significant role in United's tactics.
In defence, Patrice Evra and Wes Brown would start 33 and 34 games in the league respectively due to Gabriel Heinze's departure to Real Madrid, whilst Gary Neville managed just one appearance off the bench (in midfield versus Roma in April 2008) due to injury. Nemanja Vidić and Rio Ferdinand were undisputed starters at centre back, limiting young Catalan defender Gerard Piqué to nine starts across all competitions.
Their most high-profile signing, however, was Carlos Tevez. Tevez had already made himself a hero at Old Trafford for United fans. Just not Manchester United; rather, West Ham United, as he scored the solitary goal in the final game of the 2006/07 season to hand West Ham a last-ditch escape from relegation.
The plucky Argentinian was dogged and determined in and out of possession. He possessed deadly finishing skills, and good link-up play. In theory, he was a perfect fit for United.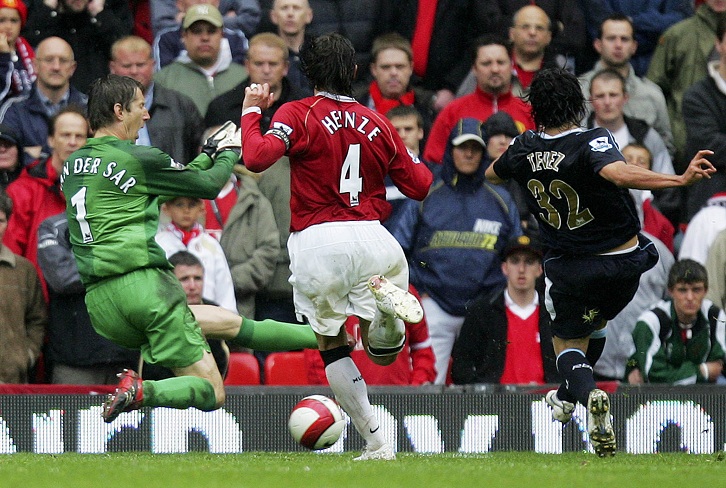 Photo: Michael Regan /  Action Images
Life and football, however, are rarely so simple. Despite a Charity Shield victory (on penalties) over Chelsea, United started the season sluggishly. In their Premier League opener at home to Reading, criticism was already being levied in United's direction in the Sky Sports studio pre-game.
After seeing Chelsea scrape past Birmingham in the early kick-off, Ruud Gullit remained sceptical over United's title chances. Jamie Redknapp further dampened the mood by questioning United's lack of strikers: "If I had one worry… it would be United's lack of strikers… Rooney and Tevez are very similar."
The punditry then cut to Sir Alex's pre-game interview where he professed that Tevez "didn't train well" and wouldn't be involved. Rooney came off with an ankle injury at halftime, leaving Evra to play at left wing and Giggs to play up front, as United stumbled to a 0-0 draw. It was a great performance from Steve Copple's Reading side, who remained resolute, applying a man-marking system, and nullifying United in an intriguing tactical battle.
The following two games saw United drop down to 18th in the table: a 1-1 draw at Fratton Park where Ronaldo was dismissed for a head butt (but at least Tevez started and assisted Paul Scholes), followed by a 1-0 defeat at Manchester City. 
Two-thirds into the fourth game, United were locked in a stalemate with similarly struggling Spurs at Old Trafford. Nani broke the deadlock to give United all three points with a powerful effort from 30 yards.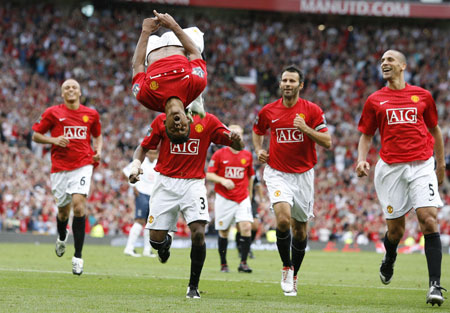 Photo: Reuters
A Saha header and a Vidić header, both directly from corners, gave United victories over Sunderland and at Everton. United broke the streak of 1-0's with a 2-0 victory over Chelsea, who had acrimoniously sacked José Mourinho two days prior. Tevez scored from a corner, whilst a Saha penalty gave United two goals in a league game for the first time in 11 games; a run stretching back to a 2-4 victory at Everton in April.
Ronaldo opened his 2007-08 league account after firing home from an under-hit back pass at Birmingham, giving United another 1-0 victory. A solid defence had helped United to climb the table and silence the critics, but seven goals in eight games (five of which came directly from set pieces) was hardly a step forwards from last season.
If someone were to say that United would top the table on Boxing Day, with 29 goals in the next 11 games, they'd have been scoffed at. But when a team relies on individual decision making, positional rotation and sporadic, unpredictable moments of attacking brilliance, form can return in an instance. This watershed moment came for United at home to Wigan, in a sun-baked lunchtime kick-off at Old Trafford.
It wasn't all rosy from the start, as United limped into halftime at 0-0. However, in the 54th minute, United finally clicked, creating a goal exemplifying positioning and combinations akin with the most destructive attacks anyone could imagine.
Ferdinand drove out of defence with intent, playing a typically progressive pass into Rooney. Rooney had dropped out of the front line, almost like a false nine would. This wasn't atypical to his previous positioning and movements, but the key was Anderson creating another progressive passing angle. Rooney, such an instinctive combination player, was able to slip Anderson through the lines.
The key for this goal was Tevez's movement. Rooney compressed United's shape by dropping deep to offer for the ball. Tevez maintained a high position, threatening to run in-behind, stretching Wigan's shape, giving space for Anderson to run into. Anderson then proceeded to slip Tevez in behind, and he showed immense composure and strength to hold off two defenders and fire home emphatically.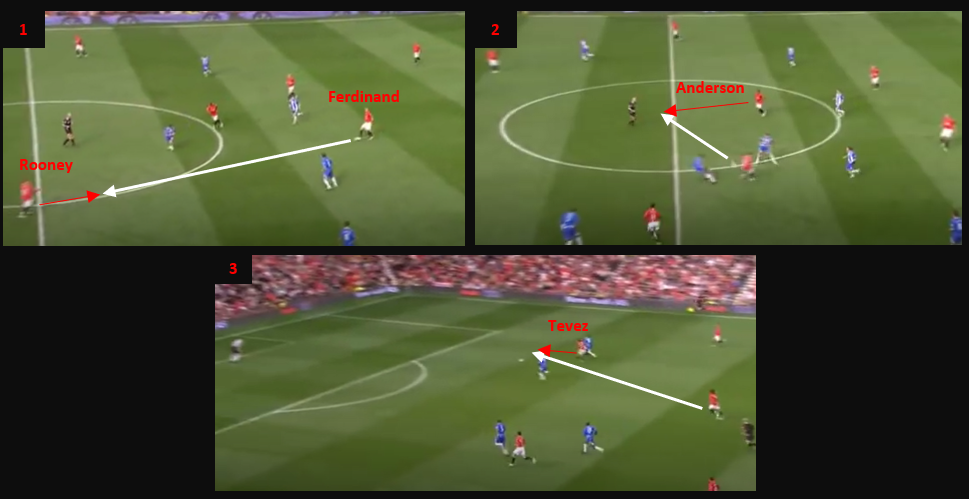 This was a goal that exemplified perfect combination play, premeditated movement, destructive vertical passing and individual quality. Upon scoring, the United players seemed to realise that they had the ability to demolish virtually any team. Ronaldo scored a brace, the second of which coming from another flowing move, and Rooney scored the other from a cross. United were back, and better than ever before; the football on show in this second half was astounding. 
Two more four-goal victories at Villa Park and at home to Middlesbrough saw United head into the top-of-the-table clash at The Emirates joint-top of the league; only goals scored placed Arsenal ahead of United. Both teams were in scintillating form; United's attackers were looking particularly deadly, with Ronaldo and Tevez having scored three a piece in the last three games, and Rooney four. Nani and Giggs made up the other two scorers.
Arsenal managed an 80th minute equaliser at Anfield the week prior through Cesc Fábregas, but were unbeaten with eight wins out of 10 and had a game in hand over United. United drew inspiration from Rafa Benítez's Liverpool for the match by implementing a largely zonal defensive system that ignored tracking runners unless absolutely necessary.
This defensive system saw Liverpool and United take points off Arsenal, who exploited man-marking systems by constantly making decoy runs to open central spaces for Fábregas, Tomáš Rosický and Alexander Hleb.
The first sighting of United's tactical innovation in this game came an hour prior to kick-off when the line-ups were released. Some media outlets had predicted United to go with a 4-4-2 with Giggs – Anderson – Hargreaves – Ronaldo making up the midfield, others with a 4-3-3 with Giggs – Anderson – Hargreaves.
This inconsistency was fitting; because United's formation was fluid, depending on the phase and state of play. In transitions, Giggs would act strictly as a third midfielder in order to offer United progressive passing options and overloads to play through Arsenal's high tempo counter-pressing.
In the first phase of build-up, Giggs often dropped as deep as the left back position to give United a good passer from deep; Evra would then make a forward run. Giggs would quickly attempt to find runners in behind with raking long passes; United's front three would look to stretch Arsenal's shape with runs in behind. Rooney, Ronaldo and Tevez wreaked havoc by doing so.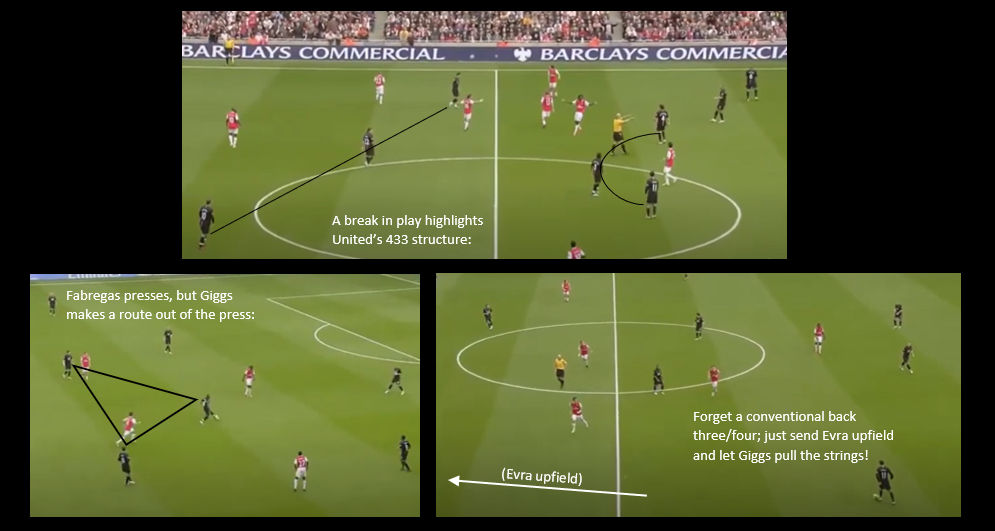 If United were enjoying sustained possession, often progressing to the second phase if Arsenal dropped off, Giggs would maintain reasonable positional discipline at the left midfield position, like a conventional winger in a 4-4-2. He would seek to cross early, mainly to Rooney and Ronaldo. 
Evra had license to attack in a structured manner, as did Brown. Both fullbacks were key aspects of United's attacking play throughout the season, and the magnitude of the Arsenal clash exemplified their impact and importance to Ferguson's side.
Feeding off less service than normal, such was Arsenal's quality and ability to hold their own, United's attack required an alternative method, a secret weapon. This came in the form of strategic runs from Evra and Brown.
Brown would supply width on the right for Ronaldo to make inside runs, as well as being an option for recycling possession in the final third. Evra would make tireless underlapping or overlapping runs (depending on the situation), as well as providing width and an in-behind threat on the left where Giggs would move centrally and deep.
As pictured below, both were integral to United, with Brown picking up a pre-assist and Evra an assist. Their performances were a microcosm of United's reliance on specialist attacks from "defensive" players.
A late goalmouth scramble and a subsequent William Gallas equaliser gave Arsenal a point, taking the gloss off of United's performance. The seeds were sown, however; in their last four league games, United had shown how destructive they could be against deep blocks, with telepathic combination play.
Against high-pressing teams or on the counter, they devastated their opponents by using strategic runners and premeditated positioning, with the requisite speed and passing quality to carve open defenses.
They were no longer reliant on sporadic individual genius and smart positional rotation, as they had been in 2006/07; this was cold-blooded, clinical football that could scythe open teams through a number of repeatable methods. And just when it seemed United were peaking, a certain someone decided to one-up his PFA Player of the Year Award; by becoming the world's best player. That someone was Cristiano Ronaldo.
Such is the misconception that Ronaldo only became elite at Real Madrid, the temptation remains to speak solely about Ronaldo for the entire 2007/08 article. Ronaldo won the 2008 Ballon D'Or, but his performance levels reached the world's best between October and November 2007.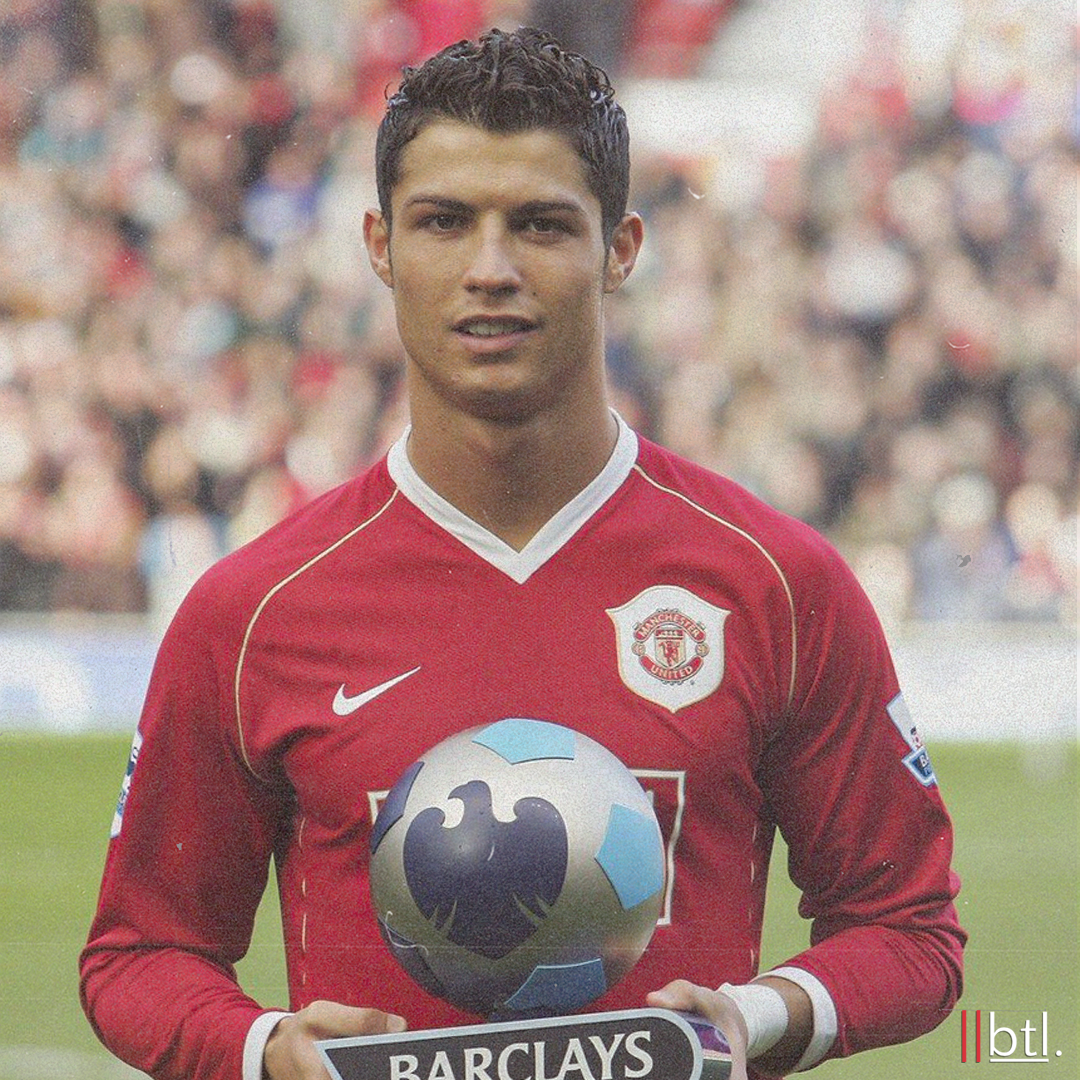 Braces versus Blackburn the week after the Arsenal match and Fulham at the end of November brought his Premier League total up to seven; and his trajectory was on a steep upwards curve. Ronaldo had also scored five in five in the Champions League. He went on to score five more before the turn of the year, bringing his total up to 17 goals the half season (his per90 total is more impressive due to him missing two games due to suspension).
When looking at Ronaldo's improvements, it is uncanning how he embodies United's whole-team improvements; he became a cold, ruthless, powerful winning-machine. Ronaldo's physique morphed into that of a superstar; powerful leg muscles to allow for explosive acceleration and a monstrous standing jump saw him score more headers than ever (five of his first 17).
Ronaldo no longer roamed the pitch to receive and dribble at different defenders; he roamed the pitch to sniff out a chink in the opposition's armour. And when he found that chink, he'd make them pay. Ronaldo was no longer a good finisher; he was the world's best finisher.
Hours and hours of work with René Meulensteen in the training ground gave Ronaldo a forensic insight into which type of finish to apply in hundreds of different scenarios; right-footed, left-footed, headed, acrobatic, heel flicks, volleys driven into the ground, side footed, dribbling round the keeper, near post, far post; you name it: Ronaldo scored it in 2007/08.
In November and December, Ronaldo single-handedly won three games for United with his goals, and contributed to all but two matches with goals; a 1-0 defeat at Bolton and a 1-0 win at Anfield. Apart from the Bolton blip, and yet another festive season defeat at West Ham, the Red Devils ended 2007 with 14 wins from their last 17 league games.
The New Year… but Same Fortunes for Manchester United
United romped to four consecutive victories at the start of 2008, as they kept pace with Arsenal. A 1-0 home victory over Birmingham, capped by a lovely goal from Tevez following a Ronaldo back-heel (yes, when he wasn't scoring, Ronaldo was assisting too) was followed by a 6-0 demolition of Newcastle, where Ronaldo scored a his maiden hat trick for United.
Photo: Clive Brunskill/Getty
A trip to Reading's Madjeski Stadium provided the perfect opportunity for United to rubber stamp their credentials as a devastating attacking unit, as Reading had held United to a stalemate at Old Trafford earlier on in the season.
United set up in a 4-4-2/4-3-3 hybrid shape again, this time with Park playing in the Giggs hybrid role. Less of a passer, but more of a diminutive player who liked to receive on the half turn, Park brought different qualities to the team, looking to combine with 2nd phase players and distribute to Ronaldo or Rooney to carry into the final third. Tevez largely hovered on the last line in this game.
The team's shape varied, often a 3-4-3 with one fullback advancing to join Hargreaves – Carrick – Park in midfield and the other sitting, usually Evra. This gave rise to United having overloads in nearly all phases of the game: a 3v2 at the back, a 4v3 in midfield, a 3v2 on the wings and three up front.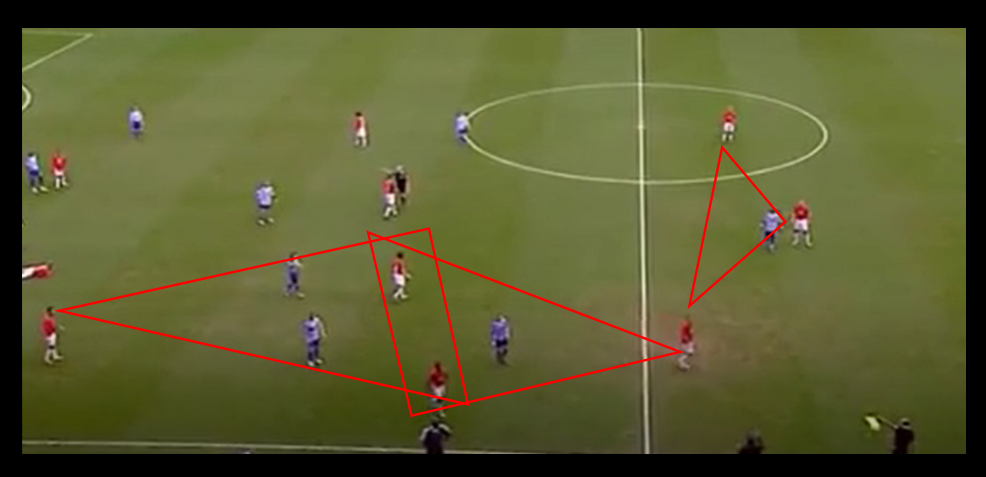 With the score line at 0-0 and time ticking away, United used more unconventional, and novel methods to try and break the deadlock; a win would see United top the table as Arsenal previously drew 1-1 with Birmingham. Ferdinand seemed to take matters into his own hands, as he used his vertical passing and press resistance to break the lines.
In panel 1 below, he passes to Ronaldo and then continues his decoy run to distract defenders so Ronaldo can shoot with less pressure. In panel 2, Ferdinand uses his press resistance to get into the final third and combine with the front three.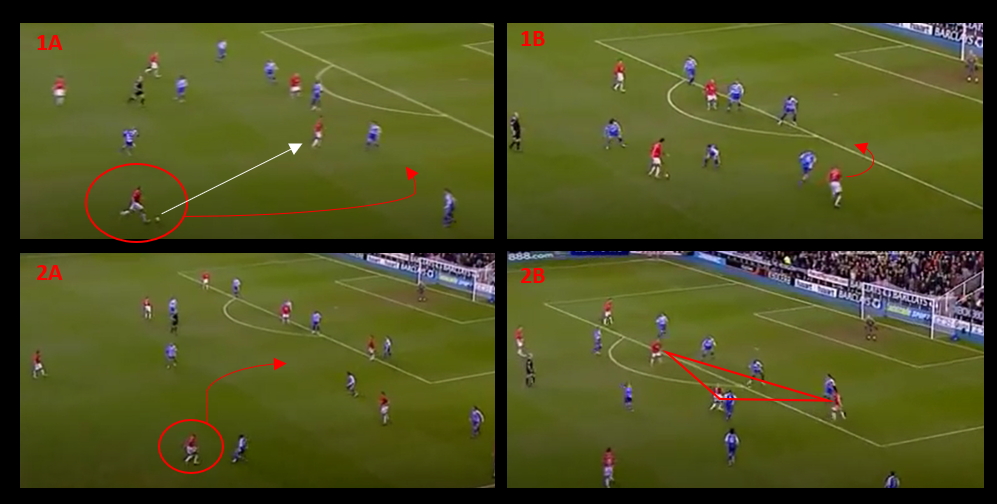 It is worth noting that United never congested central areas; one of the front three (in these pictures, Tevez) stayed wide to keep Reading's defence stretched. As the second half wore on, Ferdinand was essentially playing in a double pivot in the 1st/2nd phase build-up, and in the right half space as Reading dropped deeper to soak up pressure.
United eventually forced a breakthrough in the 77th minute with Tevez crossing for Rooney to finish with a sublime flick. They killed Reading's chances of taking anything from the match after Ronaldo dribbled 60 yards and slotted past Marcus Hahnemann, in what was his eight shot on goal in the match.
This game was United's watershed moment in the 2007/08 season, on par with the late wins at Fulham and Liverpool in 2006/07. United persevered in a difficult away game when the fixture list was at its busiest, and scored two goals of real quality.
It gave everyone at the club the confidence that United could always salvage points from difficult games. And this proved true, although United still won many games at a canter; such as Portsmouth at Old Trafford the following week, when Ronaldo scored a brace inside the first 12 minutes, including that free kick.
Photo: Neal Simpson / EMPICS Sport
A 90th minute Tevez equaliser salvaged a point at White Hart Lane, before United were sunk 2-1 by City in a fixture overshadowed by the 50th anniversary of the Munich Air Crash. United then went on to win their next six, scoring 18 and conceding one. This run included a 1-5 win at Newcastle, and a 3-0 beating of Liverpool.
Most notably in the Liverpool win was United's freedom in attacking transition. It was no secret that United could a high tempo side, with Rooney and Tevez diligent in regaining possession in transition, but it was Brown who won the ball from Álvaro Arbeloa, spread the play out left to Tevez, continued his run into the box and scored the opener.
Even the most meticulous defensive managers, like Benitez, couldn't keep United down. Ronaldo also scored in the win to take his league total to 25; he would eventually finish with 31 in 31 starts in the league.
This run of form saw United firing in all cylinders; they were simply unstoppable. The consistency at the back laid the foundations, and took the pressure off United's attackers, who had clarity in the knowledge that they didn't have to score more than two goals to win 90% of games.
Darren Fletcher, Anderson and Park could be used as more high energy options in midfield to relieve the defensive burden off the front three, although you'd do well to stop Rooney and Tevez from running over 12km per 90. Scholes, Michael Carrick and Hargreaves helped United sustain pressure on teams by controlling games, consistently picking vertical passes into the front three and recycling possession in dangerous areas to pin the opposition back.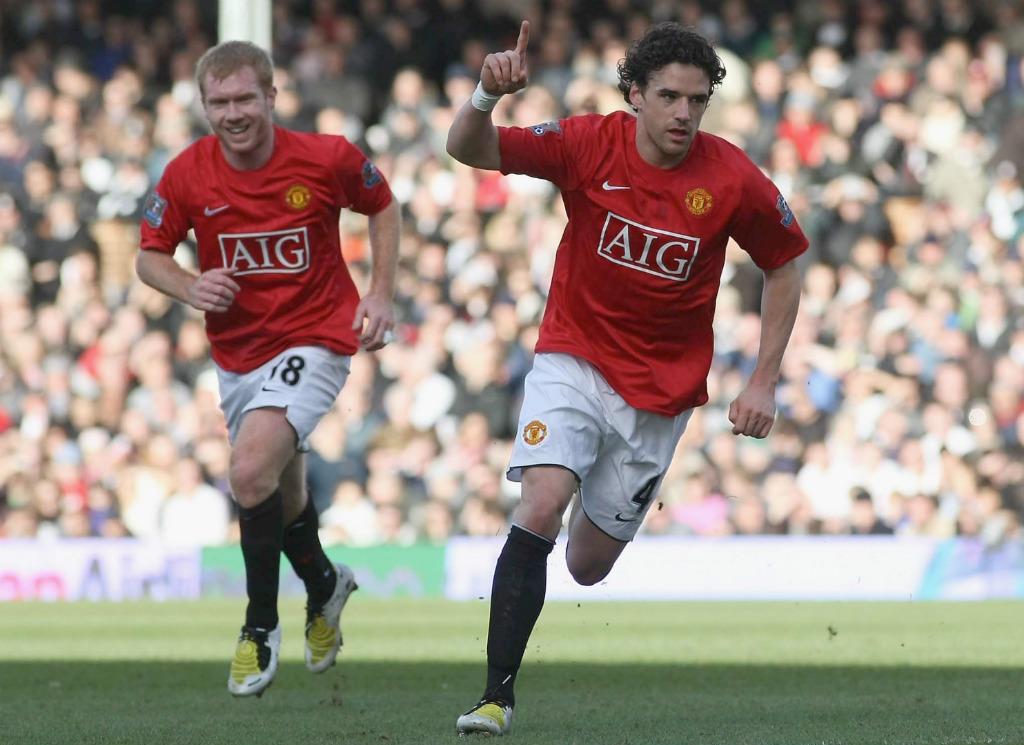 Photo: Premier League
Despite a 2-2 draw in the snow up at Middlesbrough (yes, snow in early April), United were top by virtue of previous good form and Arsenal capitulating to one win in six. United subsequently killed Arsenal's title challenge with a 2-1 victory in which Ronaldo and Hargreaves scored. A rejuvenated Chelsea under Avram Grant were realistically United's only challengers. A 1-1 draw at Blackburn by virtue of an 88th minute Tevez equaliser left United two wins from the title.
They'd be made to sweat it out, however. United were sunk 2-1 at Stamford Bridge, in a game that saw Ronaldo amongst others rested for the Champions League semifinal with Barcelona the following Tuesday. Although there was now added pressure, you couldn't have guessed it from United's penultimate game; a 4-1 demolition of West Ham (despite United having 10 men for 50 minutes).
Ronaldo broke the deadlock with a direct dribble and shot on goal after four minutes. This goal almost exemplified his progression into an end-product machine; he would just go at oppositions defences from the opening minute. Ronaldo then added a second from a Hargreaves cross, and Tevez made it three in the 26th minute with a 20-yard screamer. United were able to see the game out comfortably by the time Nani got himself sent off for a head butt.
United won the title with a Ronaldo penalty and a Giggs finish at Wigan, braving a biblical downpour to seal their second straight league title. It wasn't their best performance, but as was often the case with the team, they got the job done. The incessant rain just made for more dramatic scenes as United celebrated an undoubtedly deserved league title; their second in succession.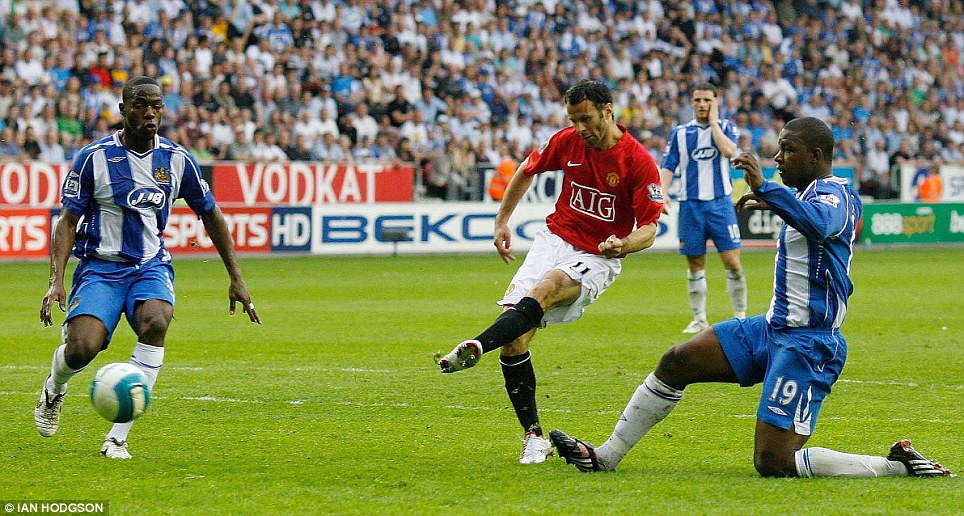 It is fair to say that Manchester United took their game to a new level in 2007/08, particularly in attack. The unpredictability and sporadic moments of genius were retained from 2006/07, as Ronaldo became a goal-scoring machine. Rooney further refined his game as a false nine, playing in brilliant harmony with Tevez, who also did not play in an orthodox striker's role.
United would probe, and pry opposition for goals, and nearly always got them. Evra and Brown both held width for the team, while making a decisive impact in big games. Ferdinand charged out of defence at times too, just adding to the unpredictability and off-the-cuff brilliance of this United team. They simply couldn't be matched in the Premier League.
The only question that remained, was could the Premier League's best ever attack perform on the European Stage? Stay tuned for part three.
By: @LaJoya22
Featured Image: @GabFoligno