The Tragic Story of Wilfred Agbonavbare
An idol in Spain and a champion in Nigeria, ex Rayo Vallecano goalkeeper Wilfred Agbonavbare faced racism and prejudice throughout his seven years in Spain, before retiring at 31 years old due to a lack of teams that were willing to take a chance on him.
After his retirement, the Lagos native settled in Madrid and bounced around from job to job, working as a delivery man and a goalkeeper coach. He lost his wife to cancer in 2012, and three years later, he passed away at the age of 48 from the same disease. At the time of his death, he was unemployed and seeking financial aid from Nigerians and the Nigerian government.
But before life's obstacle course ensnared him in its trap, Willy, as he was known back then, built an impressive reputation for himself as a goalkeeper, beginning his career at 16 years of age.
Early Beginnings in Lagos
Born in Lagos, Nigeria on October 5, 1966, Agbonavbare began his career in 1983 for New Nigerian Bank FC, a team based in Benin City. He remained there for six years before joining Gboko-based BCC Lions. His excellent performances between the sticks called the attention of Rayo Vallecano, who signed him in 1990.
At the international level, he started in goal for the Super Eaglets in the 1983 FIFA World Youth Championships in Mexico. Nigeria crashed out at the group stage, but that didn't stop him from amassing 15 caps for the senior team. While he played second fiddle to Peter Rufai, he made history in 1994 by winning the African Cup of Nations and being called up for the FIFA World Cup — Nigeria's first ever appearance in a World Cup.
Despite retiring a year earlier, there were still expectations that 'Willy' would be called up for the 1998 World Cup in France. However, while he entered in the preliminary list for the tournament, then manager Bora Milutinović went with FC Sion's Abiodun Baruwa in his place.
Rise to Fame in Vallecas
Between 1990 to 1996, Agbonavbare played in 177 matches for Los Vallecanos, 76 of which came in Spain's first division. The Nigerian spent his first two seasons in Iberia playing in the Segunda, before becoming an undisputed starter in his second season and leading Rayo to promotion.
On December 6, 1992, he had one of the best performances of his career, against Benito Floro's Real Madrid. The Franjirrojos scored twice in the first half, but Los Blancos responded with a flurry of attacks. Nevertheless, Agonavbare was up to the task, producing a plethora of incredible saves to keep a clean sheet. With each save, the Vallecas faithful chanted, "Willy, Willy!"
In the return fixture on May 9, Agonavbare not only saved Míchel's penalty, but managed a number of incredible saves to earn a point at the Santiago Bernabéu. Real Madrid would go on to lose the title by one point to Johan Cruyff's Barcelona; the Blaugranas can thank Rayo's Nigerian goalkeeper for their 1992-93 championship.
These incredible performances left a sour taste in the mouths of Madrid fans, who shouted racist insults at him during the match. "Negro, cabrón, recoge el algodón." "Black, bastard, pick the cotton." They also chanted "Ku Klux Klan" at him.
One middle-aged Madrid fan even exclaimed in Spanish, "The fucking black guy of Rayo is to blame," on live television, much to the amusement of the teenage fans surrounding him. One younger fan said, "We are going to beat up the black son of a bitch of Vallecas on Sunday, at least I am."
When asked after the match about the racist abuse he suffered, Agonavbare responded, "It's normal, I'm black, and having made as many saves as I did today, I expected them to shout at me. But I'm a footballer and it's nothing, I'm only concentrated on the match."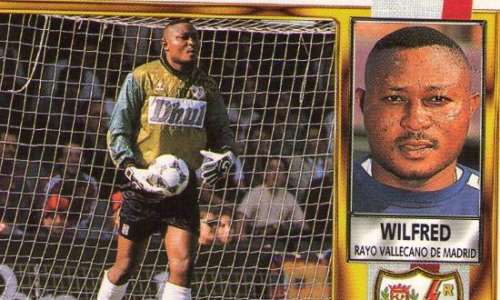 After the disgusting racist incident, the Bukaneros, an extreme wing of the Rayo Vallecano fanbase, emerged with a mission plan dedicated to fighting discrimination of any kind. With a left-leaning, anti-fascist philosophy, the Bukaneros are far more than any regular ultra group.
Retirement and Post-Playing Career
In the 1995-96 season, Agonavbare lost his starting spot to ex Spanish international Abel Resino. In search of playing time, he joined second-division side Écija, but after the Andalusian side was relegated to the third tier, the Nigerian's contract was not renewed. He spent a year training in order to stay fit and prepare for a new opportunity, but without any offers, he retired at the age of 31.
He remained in the Madrid area, working as a goalkeeper coach and a deliveryman for a mail service. In 2012, his wife was diagnosed with breast cancer, and Agonavbare had to scrape together the little money he had to pay for her medical treatment. After she passed away, he switched jobs, working as a baggage and cargo handler at Madrid's Barajas Airport.
In the final months of 2014, Agonavbare was diagnosed with cancer. Unable to return home to see his children, who he had not seen in nearly 10 years, the Bukaneros raised money so that his children could visit him one last time.
One Rayo fan, who himself had been aided financially by other Rayo supporters, donated the majority of the funds to meet the campaign's goal. However, his children's visit was delayed due to visa problems, and on January 27, 2015, Agonavbare died alone.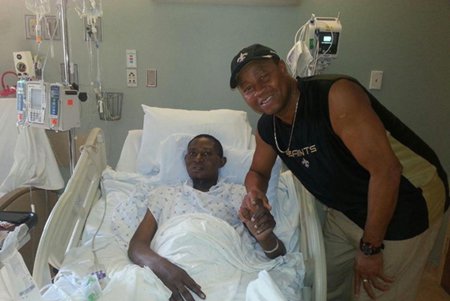 Legacy in Vallecas
It's been over 24 years since Agonavbare last played for Rayo, and yet, he is still fondly remembered by the fanbase. In 2011, he was invited to participate in the 15th annual "Anti-Racism Week," an event organized by Rayo supporters to combat racial discrimination.
As a tribute, one of the entrances to the Estadio de Vallecas is named after him, titled, "Willy Forever." On the top left corner, the dedication reads, "For your defense of the red stripe and your fight against racism, Rayismo will never forget you."
By: Karoline Tavares of Ponta de Lança
Translated by: Zach Lowy
Featured Image: @GabFoligno