Andy Cole: A Tale of Fiery Relationships, Injuries and One Fateful Afternoon at Upton Park
13 clubs, 229 goals and an illustrious trophy cabinet. Only Alan Shearer and Wayne Rooney have scored more Premier League goals than him, but yet English forward Andy Cole has played for his country fewer times than Matthew Upson. This is by no means to discredit the career of Upson, but the disparity between the pair's ability is more than apparent. So, it begs the question, why was Cole overlooked?
A raw but exciting young goalscorer during loan spells at Fulham and Bristol City, Cole was coveted by a host of Premier League teams during the early 1990s. He had an eye for goal, but stability continued to elude him as a character clash with then Arsenal manager George Graham saw him leave Highbury having played just twice.
Bristol City snapped at the opportunity to bring Cole back to the club, shelling out £500,000 for the youngster. Again, however, Cole's chemistry on the pitch did not transpire off of it and another move beckoned. 
Photo: Bristol Post
Newcastle is a city ingrained with the passion of their football club. And this was no more apparent than in the days of 'The Entertainers'. Idealistic, fearless but perhaps naive this band of merry men restored pride to a city suffering under the shadow of Cool Britannia.
The gradual emergence of Oasis vs Blur, Manchester vs London, a cultural clash that epitomised a country at the forefront of the new Millennium. But where did this leave Newcastle? Demoralised by the digression of the manufacturing industry, there was little to celebrate on Tyneside. Enter Kevin Keegan.
Few have managed to harness the energy of the Gallowgate End like Keegan. A frizzy-haired firecracker with a magpie mind, his passion for Newcastle United was infectious. Taking over the reins in 1992, however, the two-time Ballon d'Or winner faced a quandary that would later seem unfathomable by the time of his departure. Newcastle found themselves struggling in the second tier of English football. Relegation beckoned.
Now Keegan was only half of the solution, he needed a partner in crime, someone with whom his eccentricities and experiences as a player could find solitude in. See Cole did not know it yet, but he and Keegan shared an intrinsic link between the perils of potential and perception.
For all his talent, Keegan is synonymous with one impassioned cry in a stuffy media room at the back of Elland Road. Cole had not yet discovered what ill-fated trait would befall him but like dominoes, his peripeteia would ultimately coincide with Keegan's. 
Photo: Newcastle Chronicle
Club record fees were becoming commonplace for Cole and having seen Bristol City break theirs to bring the youngster to the West Country, Newcastle followed suit by shelling out £1.75million for his services. The impact was almost immediate as from the doldrums of a relegation dogfight Cole spearheaded Newcastle's ascent to the summit of the then First Division.
The records didn't stop there, and Cole would go on to score 41 goals in all competitions during Newcastle's first season in the Premier League – breaking a 70-year-old club record. Cole was suitably named PFA young player of the year and catapulted into the hearts and minds of every Geordie the length and breadth of Tyneside. 
Newcastle United had the hottest prospect in British football on their books and they weren't going to forget it quickly. But amidst all their hasty tattoos and cries of adoration, they had forgotten Cole's history. He was not one for sentimentality. And even Keegan, a mentor and perhaps the most stable influence in Cole's career could not prevent coming to blows with his young forward. 
When asked why he fell out with Keegan, Cole told TalkSport's "Up Front with…" Podcast: 
"We just had some crossed words. We played Southampton on Sunday and it was a long trip. I was tired, I was really tired. We went up to London because we were playing Wimbledon in the League Cup. He asked on Monday if I fancied training and I said that I didn't, and I was tired.

Kevin used some explicits at me to explain he wasn't happy. So, I used a few explicits at him to say not a problem, I will go in. He told me a few expletives to leave the building and I said that wasn't a problem for me."
These bust-ups were quickly coming to dominate people's opinion of Cole, and whilst the goals never dried up after moving to Manchester United, there was a perception that the Englishman's attitude would always serve to undermine his legacy. And much like Cole, it was Keegan too whose legacy would suffer.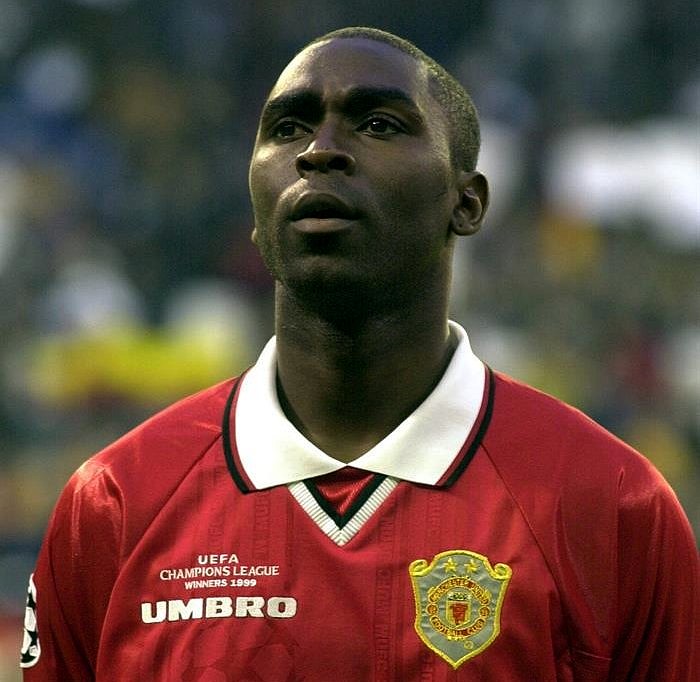 Photo: EFE
Cole's departure would later coincide with Keegan's transition from enigmatic player turned manager to an anecdotal figure of ridicule following the 'sermon on the steps' and the infamous 'I would love it if we beat them' soundbites. Newcastle's fortunes unfurled just as quickly as Keegan's, but for Cole, there was still more to come.
At the height of his powers following a third successive record transfer, Cole scored 12 goals in 18 games after his midseason switch. Including a five-goal haul against Ipswich and a brace against Coventry. His goals had put Manchester United in with a chance of edging Kenny Dalglish's Blackburn to the title going into the final game of the season. 
Piercing sunlight and everything to play for, the 15th of May 1995 was a day where heroes and villains came to the fore. Put Ludek Miklosko and Andy Cole in this scenario and you'd probably be obliged by virtue of familiarity to suggest Cole was the hero of the hour. But nothing could be further from the truth.
With a scintillating Jamie Redknapp free-kick condemning Blackburn to defeat, Manchester United only needed one more goal to take the title back to Old Trafford for the third season in a row. And in the dying minutes of the game, there'd surely be no one better than Cole to grab that elusive goal.
Remarkably though, it would be a combination of goalkeeping heroics from Miklosko and lacklustre finishing from Cole which would hand Blackburn their first and only Premier League title to date. 
Photo: PA Images
Whilst losing out on a Premier League title was of little consequence in hindsight, the notion that Cole needed several opportunities in order to score was perhaps more harmful than the perception that he harboured a poor attitude. 
Injuries blighted his next two campaigns and as a result, the image of Cole as a wasteful forward persisted. This impression was further perpetuated by his failure to deliver on the international stage, which had its roots in then-manager Glen Hoddle's deep-seated grudge against Cole. 
According to Cole himself, the pair just didn't get on and unlike his relationship with fellow United forward Sheringham (whom Cole also didn't get along with), this animosity wasn't able to be put to one side. Unable to present Cole's omission from the 1998 World Cup squad as a result of personal grievance, Hoddle suggested that he hadn't included the forward due to the fact that it took Cole "six or seven chances to score one". This despite the fact Cole had ended the 1997/98 season with 25 goals in all competitions. 
And here, distilled into one moment, is perhaps the main reason as to why Cole's legacy continues to elude him. Poor personal relationships with his professionals being covered for by an unfounded accusation ahead of one of the most pivotal decisions in any professional footballer's career.
Injuries, fiery relationships and one ill-fated afternoon at Upton Park Cole continued in vain to move beyond these demons and strive for international success and a legacy that best reflects his talent. 
By: Sam Tabuteau
Featured Image: @GabFoligno