Breaking The Monopoly – Bursaspor's 2009-10 Triumph
Irrespective of the pandemic, the title race in Turkey's Super Lig this season has been compelling. However, unlike recent seasons, none of the likely contenders are from the so-called "Istanbul Big Three" clubs of Beşiktaş, Fenerbahçe and Galatasaray. If one of Trabzonspor, İstanbul Başakşehir or Sivasspor win the league this season, it will be just the third time in Super Lig's 61-year history the league champions has come from outside Istanbul's big three. The first club to achieve this was Trabzonspor, with their sixth and final league title coming in 1983-84, but it was Bursaspor's exploits a decade ago that would stun Turkish football. 
When Ertuğrul Sağlam took over as Bursaspor manager in January 2009, the club was on their third coach of the season, ninth in the table after just one win in nine games. At the age of 39, Sağlam was young compared to other managers in the league, but had relative experience coaching in the Super Lig. Impressive stints at Samsunspor (2003-05) and Kayserispor (2005-07) was rewarded with a big managerial role at Beşiktaş in summer 2007. However, Sağlam would last just 15 months, finishing third in the league during the 2007-08 season and resigning in October 2008.
Coaching one of Turkey's big three clubs is always a bruising experience, but such was Sağlam's talents as a coach, he found a managerial role at Bursaspor within three months. The ex-striker quickly displayed his coaching acumen by raising the club's performances and propelling them to finish sixth in the league.
Just missing out on playing in the Europa League, the club made sure to build on Sağlam's achievements by strengthening the squad during the summer. In came Tomáš Zápotočný on loan from Beşiktaş to bolster the defence, Argentine playmaker Pablo Batalla from Vélez Sarsfield to add creativity, midfielder Ivan Ergić from Basel to add to the midfield, Hüseyin Cimsir from Trabzonspor to add steel in front of the defence and Turgay Bahadir from Kayserispor to improve the attack. 
The last three players mentioned were acquired on free transfers but the real jewel in Bursaspor's crown were their young talents like Volkan Şen and Sercan Yıldırım. The latter had benefited greatly from Sağlam's arrival by scoring 11 goals last season. Despite such reinforcements, expectations were somewhat modest in what Bursa could do heading into the 2009-10 season.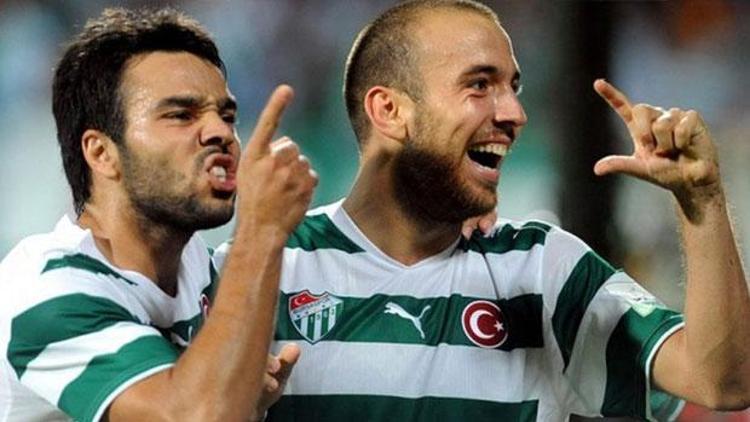 Photo: AA
"Bursaspor has always been a decent team. A one city club with a fanatic following," explained Emre Sarigul, an expert in Turkish and European football. "They had been doing well for a few years but nobody really thought they would go on to win the league. No team outside of Istanbul had lifted the league title since 1984."
Observers felt the best they could hope for was a push into the European places and breaking into the top three. Such predictions seemed to be playing out into one of inconsistency for Bursaspor in the first five league games. Opening the league season with a 2-1 win against Kasımpaşa, their next match was a surprise 3-2 defeat at Eskişehirspor, soon rectified by defeating Ankaragücü 1-0 six days later.
However, drawing 1-1 at Trabzonspor was compounded by a 1-0 defeat at home to Fenerbahçe, leaving Bursaspor in 11th by mid-September. Their indifferent start to the season had the hallmarks of repeating the previous season that caused the sacking of two managers. 
But Sağlam made sure history did not repeat itself. Starting from mid-September, Bursaspor went on a six game unbeaten run in the league, which included five straight wins. Their run of form included three clean sheets, scoring an impressive 19 goals and conceding just four.
In addition, Bursaspor were not reliant on a single goalscorer, as everyone from strikers Bahadir and South Korean Young-Rok Shin, wingers Volkan Şen and Yıldırım, midfielders Batalla and Ergić along with defenders Zápotočný and Ömer Erdoğan contributing. Even veteran goalkeeper Dimitar Ivankov scored a penalty in the 4-0 win against Diyarbakirspor. 
Photo: Fanatik.tr
Their impressive form put Bursaspor up to third in the table, despite their unbeaten run ending in early November with a 2-1 defeat at home to Gençlerbirliği. Such a mini blip was corrected by defeating Antalyaspor in their next game, but their next fixture against Galatasaray (second in the league) was a test of their credentials. It was an examination well passed, as they edged their illustrious opponents thanks to Volkan Şen's winner in the second half. 
Infuriatingly for Sağlam, Bursaspor's hard work against Galatasaray was thrown away in their next game when they were comprehensively beaten 3-0 by Kayiserispor and drop to fifth in the table. Beating lowly Ankaraspor 3-0 lifted them into fourth in mid-December, but their next game prior to the winter break was away to Beşiktaş, a major test of their aspirations in breaking into the top three. 
Bursaspor would have the perfect start by taking the lead on 19 minutes when Volkan Şen's cross was met by Ozan Ipek at the far post. However, Beşiktaş seized the initiative in the second half, with substitute Mert Noble scoring from close range on 56 minutes and took the lead seven minutes later when Bobo converted a penalty. Undefeated in their last six league games before facing Bursaspor, it was assumed Beşiktaş would hold on to win the game. 
They were wrong.
With five minutes of normal time remaining, a long ball deep into Beşiktaş' half was flicked on by Erdoğan towards Ivan Ergić. Controlling the ball with his chest, the midfielder hit an outrageous volley on the outside of his right foot, which curled away from the goalkeeper and into the top corner. It was a brilliant equaliser but more drama was to come three minutes later.
With Beşiktaş' players unable to clear their lines from a free kick, Ipek dribbled past two players before crossing the ball into the 18 yard box. While all of Beşiktaş' defenders were ball watching or focused on Ipek, Zápotočný was unmarked at the near post and guided his header into the top corner. Wheeling away in delight at scoring against his parent club, the defender silenced the once voracious crowd, as Bursaspor held on for a famous 3-2 win.
Victory leapfrogged Bursaspor into third, giving Sağlam the platform to push his team forward. Upon returning from the winter break in January, Bursaspor went from strength to strength in the league, going nine games unbeaten in a streak yielding seven wins and two draws. Once again, their unbeaten run consisted of attacking prowess by scoring 19 goals, but also defensive resoluteness by conceding just five goals and keeping five clean sheets. 
Such domination from late January to mid-March lifted Bursaspor to the top of the table and now entered the fray as title contenders. What put them in that category was a stunning 3-2 win at Fenerbahçe in mid-February, coming back from two goals down thanks to Ozan Ipek's brace in the last five minutes.
Though their unbeaten run was ended by losing 2-1 to İstanbul Başakşehir in late March, they still had a three-point lead with seven games remaining. However, with growing talk in the media of whether Bursaspor could actually do the unthinkable, it meant the pressure was on the players to perform. Many in Bursaspor's squad were not used to such forensic scrutiny and it began to impact on results.
Though undefeated in their next four league games, this included two goalless draws on the road against Gençlerbirliği and an ill-tempered affair at Galatasaray. These setbacks resulted in Bursaspor dropping to second, a point behind new leaders Fenerbahçe with three games left.
Photo: AA
Bursaspor and Fenerbahçe matched each other by winning their next two games to set up an exciting scenario on the last day of the season on May 16th. Fenerbahçe were at home to Trabzonspor while Bursaspor hosted Beşiktaş, with both games being played at the same time. Fenerbahçe had to at least match Bursaspor's result to win their fourth league title in seven years. 
Fenerbahçe quickly took the lead on 14 minutes but Trabzonspor equalised ten minutes later. The atmosphere inside Bursaspor's Bursa Atatürk Stadium was one of tension, exacerbated when fans heard what was happening at Fenerbahçe. Anxiety would soon turn into pandemonium on 32 minutes. Omer Erdoğan's lofted pass from his own half initially looked as if it would be easily dealt with by Beşiktaş. 
That was until Bahadir skipped between defender İbrahim Toraman and goalkeeper Rustu Reçber. Moving away from goal under pressure from Toraman, the striker played the ball to the arriving Pablo Batalla who curled the ball past Reçber into the roof of the net.
With Fenerbahçe still drawing to Trabzonspor, Bursaspor doubled their lead just before half time when Yildirim's low cross from the right was turned in by the unfortunate Toraman. As the second half progressed, countless Bursaspor fans remained glued to their radios, aching for news on what was happening to Fenerbahçe. Beşiktaş clawing a goal back a few minutes before full time merely heightened the tension.
When the full time whistle sounded to confirm Bursaspor's win, Sağlam and his players waited anxiously for news. After a few minutes of uncertainty, the roar of the players and crowd soon confirmed Fenerbahçe had drawn 1-1, making Bursaspor league champions for the first time in their history. Players hugged each other wildly, some embracing Saglam or those fans who ran onto the pitch. Sağlam did not hide the enormity of what his team has achieved. 
"After taking pole position in the league during the course of the season, we believed in our hearts that we could win the title. Despite losing the lead to Fenerbahçe we did not give up hope. We were always waiting to pounce if Fenerbahçe dropped points. Following in Trabzonspor's footsteps, we have brought success back to Anatolia. We have taken this honour."
So what was the secret of their historic success in shocking Turkey and overcoming Istanbul's big three?
"Bursaspor gave a talented crop of young domestic talent a chance," explained Sarigul. "The club have always been renowned for developing players but they had a really strong crop that gelled the previous seasons, with Pablo Batalla providing the creative genius and spark.

Ozan Ipek, Sercan Yildirim, Serdar Aziz, Volkan Sen were tipped as being the future of Turkish football at the time. It was a really exciting group of young players balanced with experience managed by Ertuğrul Sağlam who won the league in his first season at the club."
Another factor in their triumph was a sense of collectiveness in the squad, no superstars or a player that was irreplaceable. The fact Bursaspor's top scorer in the league that season was Pablo Batalla and Ozan Ipek on eight, followed by Volkan Şen, Ömer Erdoğan and Turgay Bahadir on six shows how much of a team effort it was. They topped the league in goals scored with 65, conceded the second lowest amount of goals with 25 and kept an astounding 17 clean sheets out of their 34 league games.
Photo: 90min
However, Sağlam could not replicate their efforts the following season, faltering at the latter part of the season and finishing third. As a result, Istanbul's big clubs flexed their muscles in summer 2012 by poaching Bursaspor's young talents, Volkan Şen heading to Trabzonspor and Sercan Yildirim to Galatasaray. Their replacements failed to have the desired effort and Bursaspor ended the 2012-13 season in eighth. Saglam would leave the club at the end of the 2012-13 season after finishing fourth. 
So does Bursaspor's success in 2009-10 mirror that of Trabzonspor, Sivasspor and Istanbul Basaksehir? 
"I'd say Bursaspor's title run was far more impressive with the exception of Sivasspor in that list," answered Sarigul. "Trabzonspor are a big club with a big budget. Başakşehir have a big budget. Bursa at the time were on a shoestring budget compared to the Istanbul clubs."
The likelihood is a team from outside Istanbul's big three clubs will be crowned league champions by the end of this month. Yet Bursaspor's league title a decade ago still remains the moment when breaking the monopoly of the Istanbul Big Three no longer remained a disappearing mirage in the 21st Century.
By: Yousef Teclab
Featured Image: @GabFoligno