Cristiano Lucarelli: How a Political Enemy Became Italy's Best Goalscorer
Shirt tucked in. Captains armband. Livorno was Cristiano Lucarelli's ninth club, but the one closest to his heart. A divisive figure, known for having La Bandiera Rossa as his ringtone, he scored one-hundred and one goals in four seasons to fire Livorno from tenth in Serie B to ninth place in the Italian top flight. 
"Some players pay a billion (Lira) for a Ferrari or a yacht; with that money I bought myself Livorno's shirt. That's all."
Born in the sea-faring town of Livorno, where renaissance-era architecture litters the promenade, Lucarelli had garnered an understanding of what it was really like to grow up poor. But now it was time for the Italian to create a revival of his own.
"There were five, maybe six families with money in our entire area". In a largely right-wing Italy, Tuscany was known for its socialist views, and Livorno was no different. The birthplace of the Italian Communist Party, this had a big impact on Lucarelli. Both on and off the pitch.
A Cuban, a Capocannoniere and a Hair Transplant
"Cristiano is a bit…problematic". The words of Italy manager Marcello Lippi as he left the 2004/05 Capocannoniere out of his 2006 World Cup squad. He replaced him with Vincenzo Iaqinta, who had nine goals that season (five from penalties). For comparison, Cristiano Lucarelli had twenty-five.
This was a trend throughout his career. Ever since he revealed a t-shirt with the face of Cuban Marxist Che Guevara after scoring for Italy, things just weren't quite the same. Lucarelli made six appearances in total for his country, scoring three times. When he got his chance he made the haters pay. It just happened that the hate outweighed just about everything else. Though he did have his fun in Milan, more than often at the expense of Silvio Berlusconi.
To the romanticised tune of Hasta Siempre by Boikot, Cristiano Lucarelli single-handedly damaged his international career with a single side-footed volley. Not many times you can say that.
Berlusconi was a right-leaning Prime Minister of Italy on two separate occasions. He was the President of AC Milan for 31 years, turning I Rossoneri into a continental superpower. But he also had a hair transplant, and this is key. It's key because when he met with British Prime Minister Tony Blair on the world stage, he hid his faulty hairline with a bandana. Fatal mistake.
What we saw next was magnificent. On the opening day of the 2004/05 season, 11,000 Livorno fans, bandanas in tow, made a trip to the San Siro. They had sewn in a message for Berlusconi: "Under the bandana, nothing" and "We are coming for you, Silvio."
The match itself finished 2-2 and Cristiano Lucarelli scored both: One from the penalty spot and another through a glorious free-kick, stumping World Cup winning Dida. Thirty yards out too. But his post match press conference was more of a delight.
"To say scoring against Berlusconi doesn't mean more is as silly as saying football is just a sport"
The political feud had broken onto the football pitch and divided the country. Lucarelli was by far the best striker Italy had but he couldn't get within 1,000 miles of the training camp. It just so happened that Italy managed to win the World Cup. If they hadn't, I promise you there would've been riots on the street. The topic of Cristiano Lucarelli was one always up for debate. Some hated. Many loved. But one thing was the same: he was one of the best number nines in European football at the time.
Partnering up with Igor Protti was a pleasure and a privilege for Cristiano Lucarelli. Top scorer in the 1995/96, Protti ended up with 108 goals in the 192 games for Livorno. A retired number ten shirt and the keys to the city, few could imagine that the 37-year-old would then go on to lead a mid-table Livorno to the Serie A for the first time since 1949.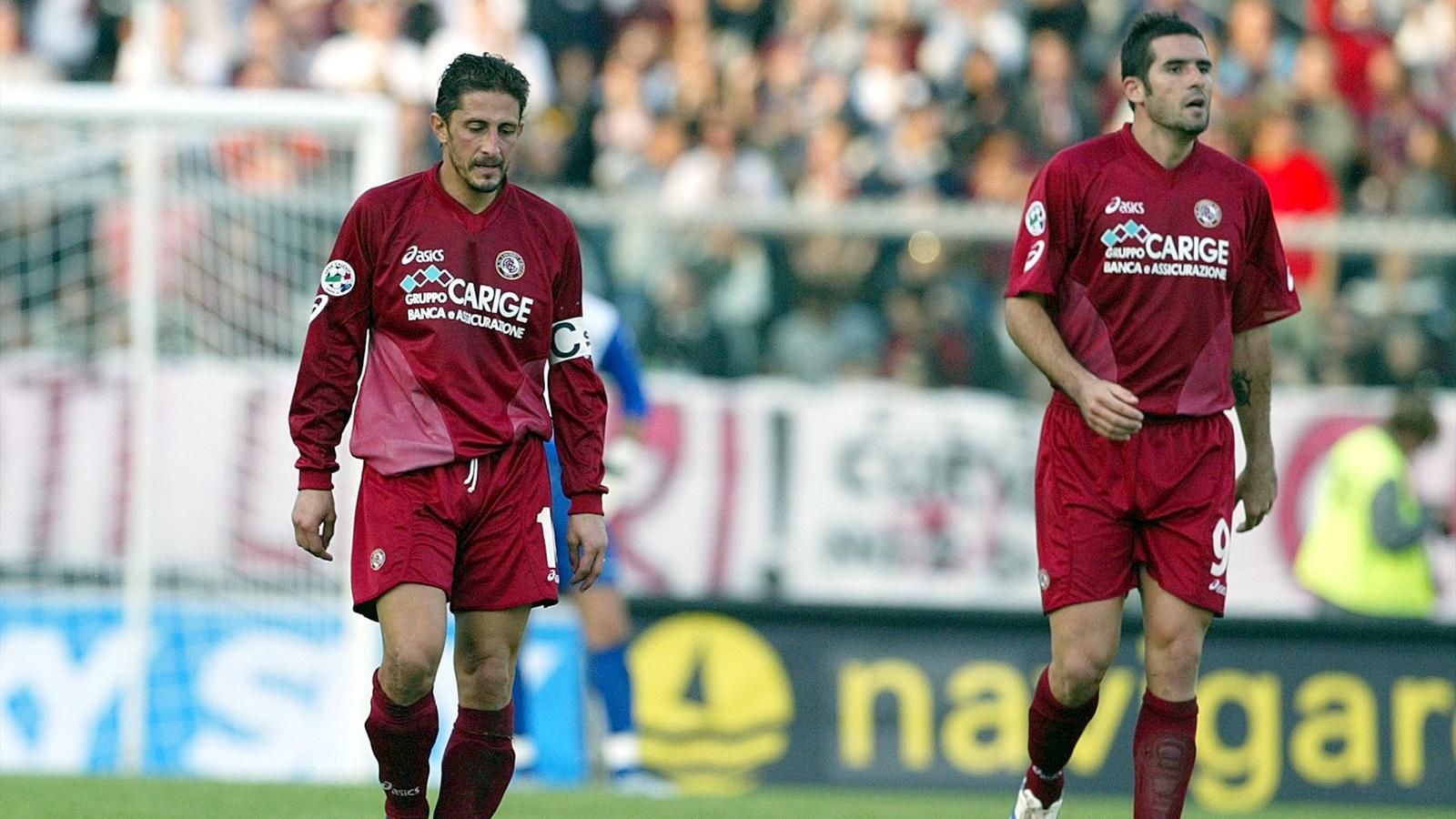 Photo:LaPresse
On the pitch, Lucarelli had a good start to his time at Livorno. 29 goals in 41 games in the Serie B, not many thought that he would replicate that form once Livorno arrived in the top flight. They were wrong. Here came his one and only Capocannoniere. 24 goals in 35 Serie A games and a ninth placed finish. Quite implausible really. But it was reality. 
A timely combination of brute strength and positional nouse, it's hard to pinpoint exactly what Lucarelli brought to the table. He was great with both feet, a fine striker of the ball and was as good as anybody with his head. Goals, I guess. Lots of goals.
The raised fist (Communist symbol) in front of Livorno's Curva Nord capped off a magnificent 2004/05 season with a €30,000 fine. Lucarelli wore number ninety-nine, a homage to BAL, the ultra group (formed in 1999) and had the Livorno badge tattooed on his arm. It was never about the fine. He was the top marksman in Italy, playing for the club of his dreams. Nothing more satisfying.
A Final Hurrah and the Decline
Protti had retired and the armband was Lucarelli's. Another fine season (25 goals in 42 games), but this time it was some striker named Luca Toni that took the Capocannoniere. To be fair, Toni managed to score 31 goals; the first time a player had done that in the Serie A for 50 years.
For Cristiano Lucarelli, a naturally volatile relationship eventually turned sour and, after beating off deals from all over Europe, he submitted, joining Shakhtar Donetsk. Though very much appreciated in Ukraine, this really signalled the beginning of the end. Then sold to Parma for €4 million, he enjoyed four years alongside his brother, Alessandro, but never recaptured the golden years.
Averaging just under twenty games a season, injuries took its toll and Lucarelli faded away into the footballing abyss. What followed was a loan move to the now struggling Livorno. It almost worked, but his 10 goals in 28 games was not enough to keep Livorno afloat and they were subsequently relegated. That was it for Cristiano Lucarelli. He hung his boots as the final whistle blew in May.
He was a dreamboat. A worker's fairytale brought to life. He put the ball in the goal on a scarily regular basis, but he was so much more than that. A Tuscan symbol, etched into the history of Livorno. Cristiano Lucarelli turned the seaside town into a fortress. In more ways than one.
By: Tom Quartly
Featured Image: @GabFoligno / Gabriele Maltinti / Getty Images