Darijo Srna: Dedication, Dependability and Durability Defined
Growing up as a football fan in Yorkshire, few things caught my eye outside of the spectacular stratosphere of English football. When I wasn't watching or dreaming of Hull City's extraordinary ascent through the Football League, the handful of the week's hours that remained were set aside for swapping Shoot Out cards at school or the local park, where I would also strive to recreate the latest great goal from the weekend's Match of the Day.
An inability to stay up on school nights for the Champions League, or access anything other than the BBC's football coverage meant that throughout my childhood, football only existed within this blissful bubble. And it would take something special, such as Spain and Barcelona's breathtaking superiority, for footballing discussions with family and friends to veer from our native game. 
Another subsection of the game that broadened that of mine and my brother's footballing brains was Football Manager. Years were spent PSP in hand, as we set on another quest to recreate the Hull City story we both knew and obsessed over. Venturing into strange surroundings would so often lead us to a selection of the same trustworthy servants. 
From the first season free agent signing of Stephen Appiah to the inevitable capture of the upcoming Axel Witsel, there were many family favourites in the Jones household. There was, however, one man more dependable, more diligent, and more satisfying to sign than any other. That man? Croatian sensation, Darijo Srna. 
With more green stats than almost every other player on the game, we never understood why he stayed at Shakhtar Donetsk for so many years. Though, having matured and expanded our knowledge of the sport ever since, it was clear to see why.
Srna was no ordinary servant of Xerez, or Standard Liege, or whoever else we unseeingly started a save with. His loyalty and longevity as an elite player would often outlast our prolonged managerial tenures. Much like his playing spell with Shakhtar – spanning a remarkable 15 seasons – outlived Mircea Lucescu's 12-year reign.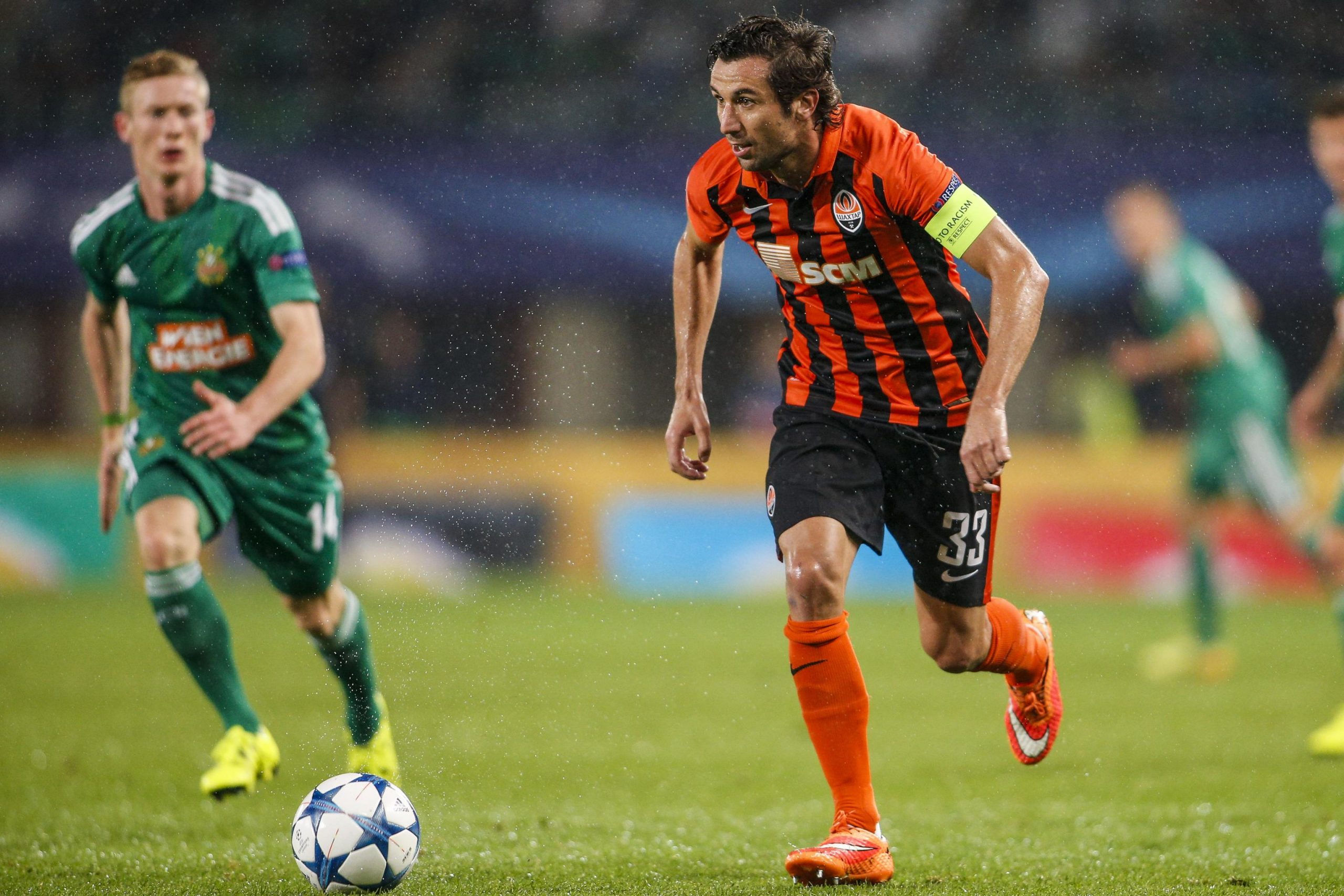 Photo: Christian Hofer/Getty Images
Upon his arrival in Ukraine, the full-back had already established himself as one of Croatia's brightest young players, having helped Hajduk Split to a league title and two cups during four standout seasons which earned him a spot in Croatia's Euro 2004 squad.
From one country's colossus to another, the switch from Split to Shakhtar Donetsk, on the surface, would suggest a plain sailing start to a successful career for Srna. However, he had to overcome rough waters in order to represent the Masters from the Sea. 
In Metkovic, a small town where football was extraneous in comparison to handball in a sporting sense, and sport as a whole was insignificant in the midst of the Yugoslav War, the potential of a flourishing football career was far from favourable. Nevertheless, Srna found his way to local club NK Neretva, where he went from strength to strength in a more offensive role before Hajduk Split came calling for his signature amidst the interest of many Croatian teams.
Just to emphasise the sentiment and the awe-inspiring attitude he is now characterised by, Srna showed interest in returning to Neretva to finish his career after leaving Shakhtar Donetsk in 2018, although a move never materialised. 
Though it's one thing to be lauded as loyal and a legend at a single club, that can sometimes be misconstrued as someone with great character and charisma, who is merely competent and capable of fulfilling a role that is designed to facilitate the more technically gifted players. Take Gary Neville, for instance. Therefore, it is important we understand just how consummate and compelling Srna was not only as a man, but as a player as well. 
His move to Shakhtar Donetsk was met with surprise as interest across Europe came flooding in, and the questions became increasingly justified when months later, Srna was seeking a transfer elsewhere with infrequent appearances proving enough to want out of Bernd Schuster's plans.
However, an impressive Ukrainian Cup run gave Srna an opportunity to adapt to his new surroundings and regain his taste for trophies, despite being suspended for the final. In an initially sluggish season that could, perhaps should have set out a much different career path for the Croatian, he stayed put and reaped the rewards for his self-restraint henceforth. 
As Schuster left after less than a season in charge of Shakhtar, he was replaced by Mircea Lucescu for the Romanian's twelfth spell in management in May 2004. Just three weeks after his appointment, Lucescu led his new troop to a 2-0 victory over Dnipro in the aforementioned final, signaling his intentions almost immediately. 
The switch proved fruitful in many aspects of the emerging Donetsk dynasty, but none more so than increased inclusion of Srna in the starting eleven. During the 2004/05 campaign, Srna's second at the club, his all-round attributes and exemplary attitude gave Lucescu little choice but to cement him into his plans.
The Croat featured 42 times altogether as he helped Shakhtar to win their second ever league title. The tide was turning for Shakhtar and Srna alike. The right-back's spot was secured through his astute ability to organise and compose his fellow defenders before embarking on indomitable bursts forward. All of this, symbolic of his side's new-found superiority.
The consistent standout performances carried into World Cup qualification with Croatia, as they advanced through to the finals joint on points with first-placed Sweden. The Swedes lost just twice, both to Croatia, both 1-0, both goals scored by Srna. In fact, the full-back netted five times in nine starts to help The Chequered Ones go unbeaten on their way to Germany.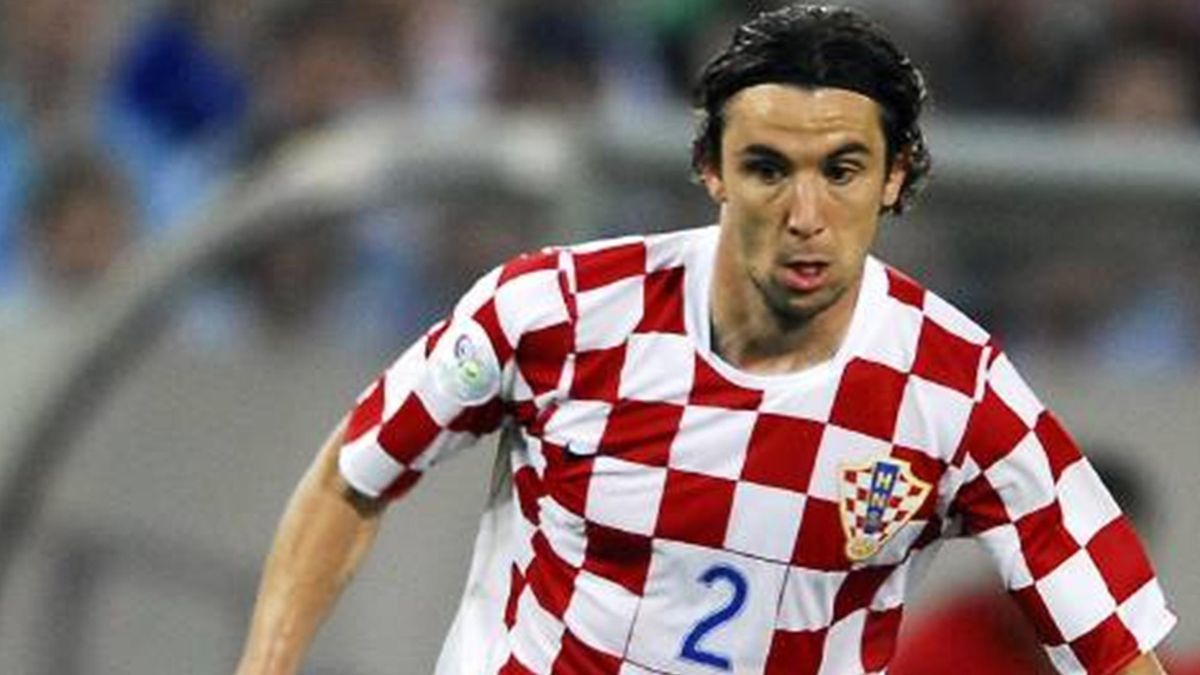 Photo: imago images
Meanwhile, with Shakhtar he lost just once all season, matching a Dynamo Kyiv outfit desperate to return to the table's top after succumbing to a surprising seven-point deficit the season prior. The two teams finished 30 points above anyone else, both winning 23 and drawing six of their 30 matches, meaning a decider was to be played to decipher the league winner. 
In a match that meant so much more than the single trophy, in a year when the two sides were completely in their own league, the losers would no doubt suffer devastating detriment. They both thoroughly deserved their own trophy after extraordinary, unrelenting displays. But Shakhtar proved worthy, albeit marginal winners in extra time. 
Be it for club or country, in a friendly or a final, Srna had an ever-growing grasp on football matches. He owned the right flank in its entirety, winning defensive duels that tested both physicality and pace, before providing quality and precision in possession. Attackers avoided him, defenders trembled as his right foot wrapped around the ball to deliver another pinpoint cross.
In displaying such dominance in every third of the pitch, he instilled assurance and an infectious winning mentality into his team. At 24, he had a footballing mind far beyond his years, and each and every one of his team mates fed into the energy and the intelligence he emitted. 
From then on, the clubs eager to swoop him into more typically appealing leagues grew in stature and quality, but Srna was at the centre of something special, and he knew that Shakhtar Donetsk still had more to give, even when Dynamo Kyiv's domestic double saw them go trophyless in 2007 for the first time in four years.
That setback only strengthened Shakhtar, who retained their core that included Srna, Dmitro Chygrynskiy, Fernandinho, Brandao and Lucescu in charge. The league and cup were retained in due course, and with that, their Ukrainian crown. Their competitors from Kyiv would fight back once more in a captivating game of trophy tennis, but their 26th league title was completely overshadowed by Shakhtar in a season that will be remembered as Srna's greatest. 
In a continental campaign that started in the Champions League, the Ukrainian's claimed a famous 3-2 win at Camp Nou, and though it wasn't enough to progress through to the knockouts, it certainly sparked some momentum heading into the UEFA Cup. A third-placed finish set up a two-legged tie with Tottenham Hotspur, which Shakhtar won 3-1 before seeing off CSKA Moscow and Marseille on their way to the semi-finals. Next up, yet another classic encounter with Dynamo Kyiv. 
As had been the case throughout every match of their European exploits thus far, Srna started both legs in an unforgettable period of Ukrainian football history. Before this season, no team from the Eastern European nation had ever reached the final eight of the competition, so to have two teams in the final four was beyond belief.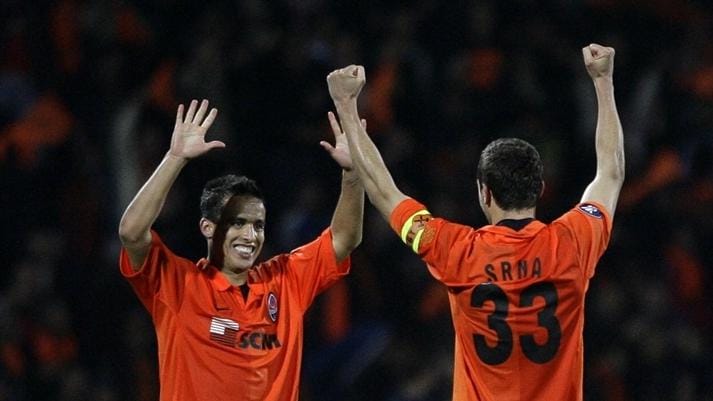 Photo: Getty Images
After a 1-1 draw in the away leg, Srna and co. started the home leg on the front foot, with the Croat causing constant havoc alongside Ilsinho on the right. It was a signature Srna cross that set up their first. Whipped in with frightening pace and pinpoint accuracy, the Kyiv defence fumbled a clearance as far as Jadson on the edge of the area, who finished emphatically. 
Immediately after the break, Kyiv responded through Ismael Bangoura as the tension increased tenfold. Forty gut-wrenching minutes ensued, with both teams threatening a famous winner, but nothing could separate them as extra time approached.
With one minute left of the ninety, a surging cross-field pass from Willian picked out Ilsinho, who drove into the box before beating his man and slamming the ball home to become the hero. Yet again when it mattered, the mentality and game management proved pivotal for Shakhtar, with Srna's ability to marshal his side into a solid defensive structure before kick starting their fluid, free-flowing attacks made a monumental difference.  
After overturning a 2-0 deficit against Hamburg, Werder Bremen were Shakhtar's opponents for the UEFA Cup final in Istanbul. And after dominating the early stages, Luiz Adriano gave Lucescu's men a deserved lead, only for a Naldo free kick to cancel out their opener ten minutes later.
As the game progressed, both teams probed hoping their attacking firepower would be enough. The Brazilian flair of Willian, Luiz Adriano, Ilsinho and Jadson was dangerous and deceitful in equal measure for Shakhtar. Werder Bremen, had a prime Claudio Pizarro in their ranks, partnered with the promising Mesut Ozil. But after 90 minutes, neither team showed enough going forward to win the game, they both needed something different, and in Darijo Srna, Shakhtar had exactly that.
Seven minutes into extra time, a switch of play from Willian found Srna in space, his sights already scanning the penalty area with staggering focus considering the intensity of the play. Scan complete, his impeccably calibrated right foot delivered the ball into the path of Jadson to squeeze the ball past Tim Wiese.
It was the perfect way to cap off an immense man of the match performance from the Croatian, as Shakhtar became the first ever team from Ukraine to claim European silverware. In doing so, he sealed his legacy as a club legend along with many others that night, and it's safe to say that without him, none of it would have been possible.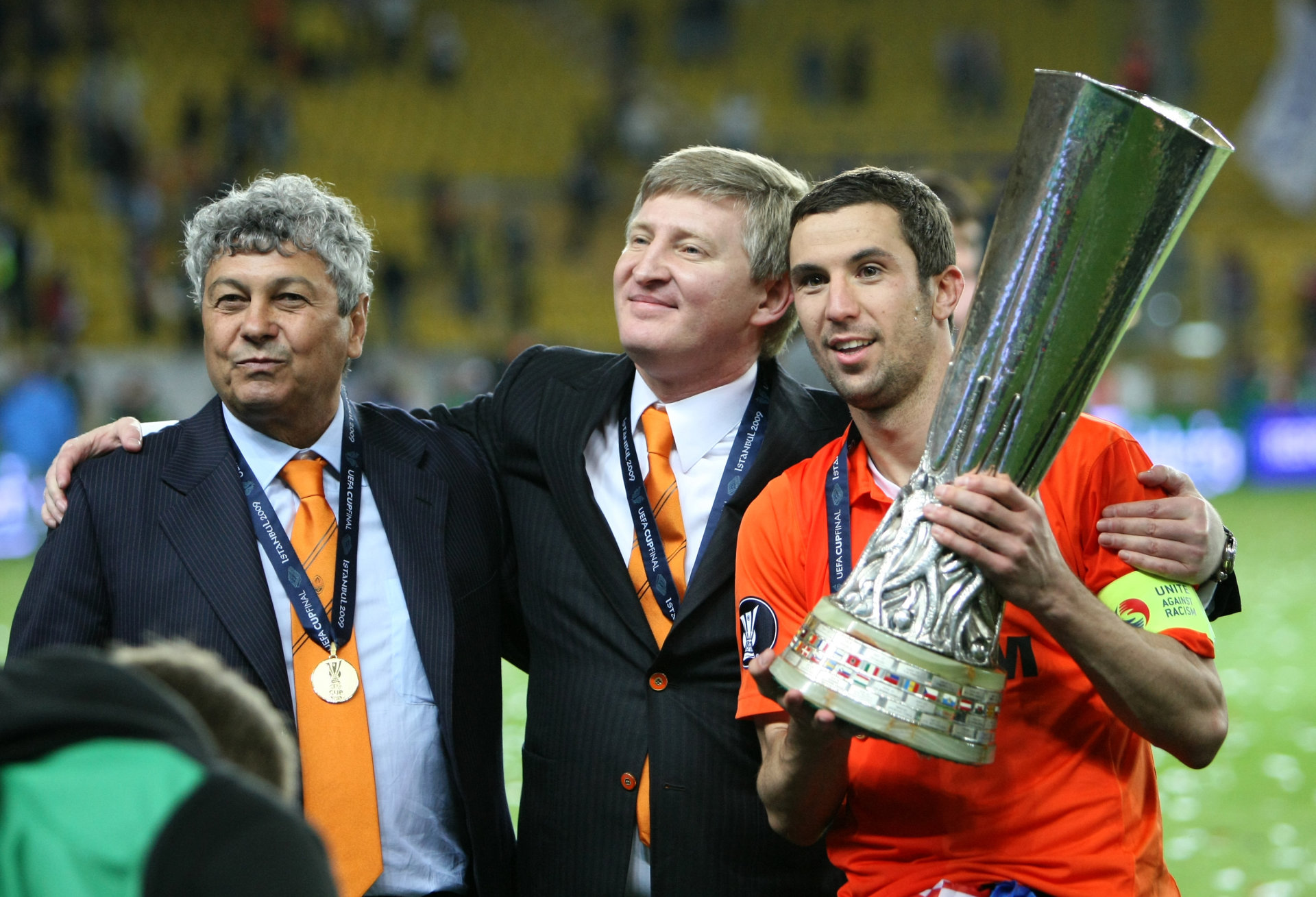 Photo: Tolga OVALI/TURKPIX
In a career of this calibre, crammed with moments of success and outstanding individual performances, it is impossible to include each and every detail within the confines of an article under 5000 words. And so, as Srna entered his prime years, I'm thankful that his all-round brilliance was simply inexplicable.
He emerged as one of the world's best right backs in a league that wasn't even considered in the top 10 in Europe, and as five successive league titles between 2010 and 2014 followed, two of which came as part of domestic doubles, one in Ukraine's first ever domestic treble, he and his associates were quite simply making a mockery of a once competitive division. 
As a result of their comfortable command in Ukraine, Shakhtar embarked on a continental conquest once more, this time in the Champions League. Srna registered a goal and five assists in nine Champions League starts, with Lucescu's men making club history once more in reaching the quarter finals, before eventual winners Barcelona defeated them 6-1 on aggregate. 
At first glance, a professional spell spent so long in Ukraine seems unlikely to ignite the interest of Europe's elite, but Srna continued to captivate the footballing world, with his inspiring, unique persona spreading joy far from the football field. As the Donbass region of Ukraine continued to endure the ongoing war which began in 2014, he purchased 20 tonnes of tangerines from Metkovic, where he grew up in Croatia, before donating them to over 20,000 primary school children in Ukraine. 
On top of that, he frequently bought match tickets and financed travel expenses for orphans whilst at Shakhtar, as well as buying over 100 laptops for children in the local area. A source of inspiration for fans and locals in Croatia and Ukraine alike, Srna has cemented his legacy as an incredibly loyal, endlessly determined and world class footballer and human being. 
For his country, he retired on a record 134 caps, scoring 22 goals. For his club, he made an incredible 536 appearances, also a record. After leaving for a season at Serie A side Cagliari in 2018, Srna returned to his second home, first as an assistant manager, and now as the club's director of football as he looks to rewrite another chapter in Ukrainian football folklore. 
After leaving the club in 2016, Mircea Lucescu is now in charge of Dynamo Kyiv, of all teams, as he looks to break Shakhtar's seemingly impenetrable stranglehold. In the likes of Marcos Antonio, Dodo and Tete among others, they have continued their philosophy centred around Brazilian talent that has seen them flourish for over two decades under the ownership of Rinat Akhmetov.
Alas, in the wake of an unforgettable Champions League double over Real Madrid, as the club's captivating credo continues to grow, it goes without saying that they will never field a player so reliable, so relentless, so special as Darijo Srna.
By: Brad Jones
Photo: @GabFoligno / NurPhoto