Feyenoord City: How a Stadium Project Created a Divide Between Fans and Their Club
A few things are a trademark of a football club's identity. Its colours, its crest, its fans, and very often, its stadium. The last is one that sticks around for ages, something fans call their home and something they can associate with for a long time.
Moving stadiums or modernizing them to accommodate the 21st Century support is normal – something that clubs aim to do and fans look forward to, but sometimes, clubs and their fans don't see eye to eye. 
At a time where the disconnect between clubs and their supporters are growing further than ever, a time where fans feel their team is further away from them than ever before, Feyenoord, one of the Netherlands's most famous clubs, are having a battle within. The club wants to make a move away from De Kuip, a historic ground in the country, and make a move that could have long-term ramifications for Feyenoord. 
Photo: Feyenoord
The club have planned to make a move for nearly a decade, with their aims to modernize their stadium. Initially, there were plans to make it a 100,000-seater stadium as the Netherlands bid for hosting rights of the 2018 World Cup, but after Russia won that, those plans were scrapped. Soon after, a target of a 70,000-seater stadium also came about, but that too was vetoed.
As time went on, the option of renovating the ground was considered and eventually discarded, before the new plan: Feyenoord City, an unfeasible, unsustainable idea that would put the long-term financial future of this great Dutch footballing institution in doubt. 
It was in 2016 that Feyenoord City became more of a reality, and within the plan, it was noted that it wasn't just the stadium that would be improved. Alongside the new 63,000-seater ground (9,000 more than De Kuip), there would be modern facilities and a total change in the area's scenery.
De Kuip, a legendary venue that has hosted some great Feyenoord teams, Dutch players and enjoyed some memorable moments would've vanished, and elements that made the ground so famous: the closeness of the fans to the pitch and the terraces, would've been replaced in the new stadium.
This was something that fans were against, and for about the last four years, they've made their voices heard to the club. Campaigns like #StopFeyenoordCity have been prominent on social media, while on matchdays, there are banners and placards throughout the stadium as fans make their disgust clear. 
Photo: Stadion Sport Niewus
Ever since the Feyenoord City plans came to fruition, the club have often published reports stating its progress, but that has been one of the causes of disinterest and fan resistance. Stadion op Zuid, one of the leading groups against Feyenoord City, claim the facts and numbers stated in those reports are often inaccurate and overstated.
They also believe that Feyenoord City will be less accessible and the costs of improving accessibility will be down to the club rather than the local municipality. In all, the total cost for the project is expected to be around €1.5 billion, out of which €444 million will be on the new stadium alone. 
Feyenoord's rivals, Ajax and PSV Eindhoven, are in a much more secure position than them. It is believed that Ajax, given their frequent Champions League qualification and talent sales, are in a much more secure position and have about three times more budget per season to spend (estimated at €55 million). Feyenoord haven't had much glory on the pitch in recent times and the gap between them and their rivals is increasing. 
The new stadium, when complete, will be one of the costliest in the world – more than that of clubs like Juventus and Atlético Madrid, who moved to new state-of-the-art grounds in recent times, play in more prominent leagues than the Dutch Eredivisie, earn more money and generate more success on the pitch.
Even in the Netherlands, it is believed that Feyenoord's new stadium, when adjusted for inflation, will cost nearly double what the Johan Cruyff ArenA cost Ajax back in 1996.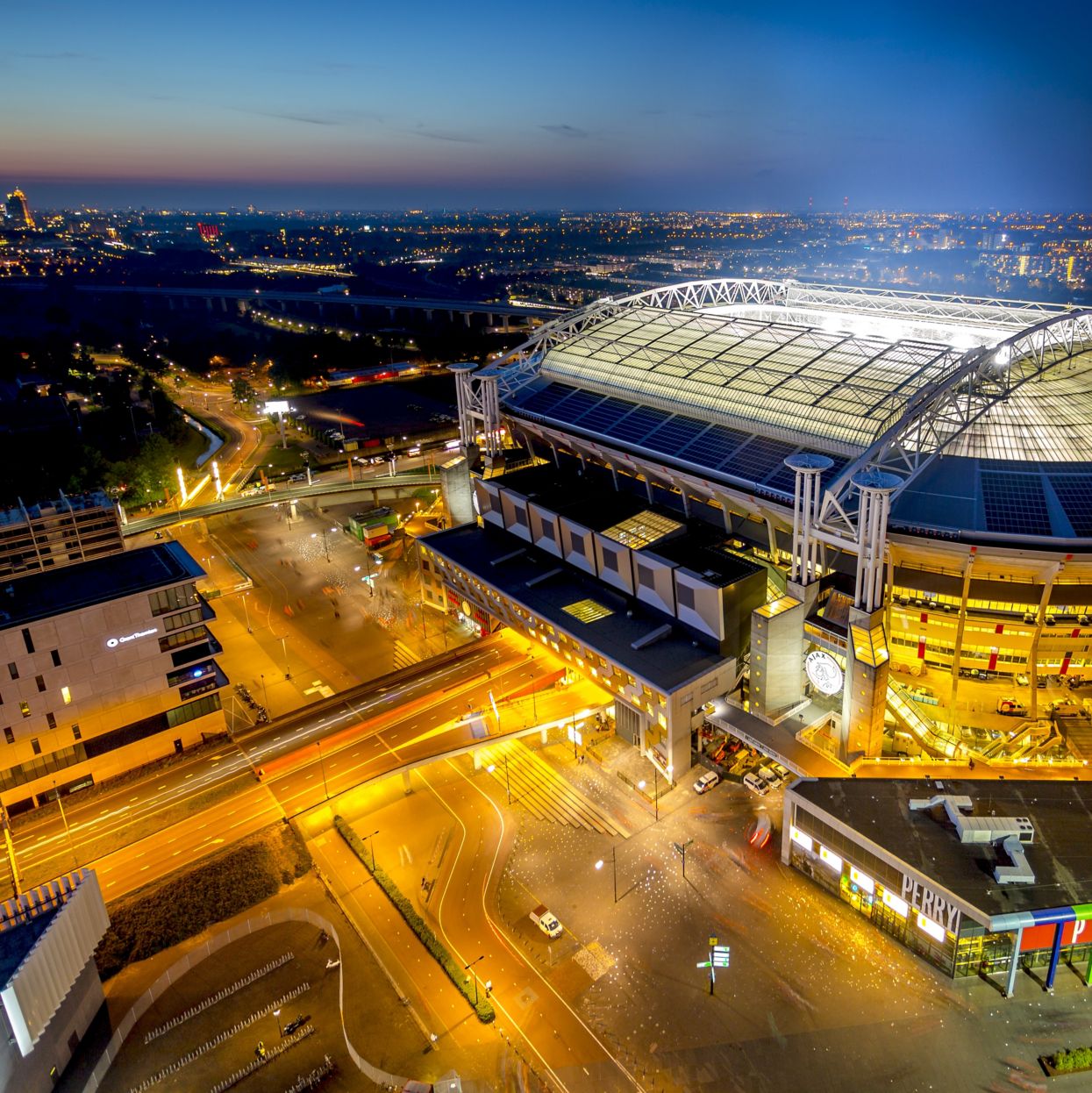 Photo: Johan Cruijff Arena
More than that, it's the history of Feyenoord and the fans' connection with De Kuip that's being altered. Imagine Liverpool no longer playing at Anfield, Barcelona no longer at the Camp Nou or Boca Juniors no longer at La Bombonera.
De Kuip has that same aura: the inward terraces and closeness of the fans as well as the history. It's in an area of Rotterdam that's well regarded, not just from a footballing standpoint, but from a cultural one too and keeping a piece of history is important. Losing it for something unfeasible is just senseless. 
A more preferred alternative for many of the Feyenoord fans would be the renovation of the current stadium, something even many rival fans are in favour of. The current De Kuip is tiring and bland, and a change is necessary to accommodate modernity.
According to data collated from fans, renovating the stadium would cost less than half compared to building a new one altogether. Additionally, the renovation would be complete by 2024 provided it starts this year. The renovated ground will be able to hold 63,000 people.
Photo: OMA
The aim of the renovated stadium also considers local surroundings as they look to improve the area for a much lesser cost and in a sustainable manner: 
The new plan is a far more accessible stadium that even focuses on reducing traffic and making public transport easier on matchdays;

There is an aim to create an attractive public area – the surroundings must look lively;

The plan also looks to boost employment in the area and improve socio-economic conditions.
The team behind this is group called De Moderne Kuip (The Moderne Kuip, also known as DMK) and Erwin Eekelaar, one of the people involved, is optimistic.
"The plan is intended as a solution, should the new Feyenoord stadium ultimately prove financially unfeasible," Eekelaar says. "We don't want to stop the new building, but we are ready when necessary. We are a kind of lifebuoy if Feyenoord City would not succeed."
Even those from Stadion op Zuid are interested in this option: "Yes, we are happy with this," says group spokesman Frans Reichardt. "We have long thought that there should be an alternative to new construction, and that is now there. I assume that at Feyenoord they will now at least see what is best for the club. The advantage of the plan of the consortium is that there is no tax money, less risk and De Kuip is preserved. A win-win situation."
Photo: YouTube
Despite all that, the club remains adamant that Feyenoord City and not a renovation to De Kuip would be the more suitable option.
Feyenoord continue to say that by 2025, the year in which Feyenoord City was expected to be completed, that the club would be in a much better financial position than their rivals, but those claims are proven to be untrue by the fans opposing the project. Many believe that Feyenoord City will put the club at long-term risk that may take lots of time to recover from. 
More recently, earlier in July 2020, the local municipality of Rotterdam produced a report that the new stadium and the entire Feyenoord City masterplan was unfeasible and that they would not contribute more than €40 million to it – something that would be problematic for the club. This, in turn, has raised doubts with the club themselves and considering the global financial circumstances as a result of the COVID-19 pandemic, they are looking at how to go about things. 
The next few weeks will be crucial, not just for Feyenoord City and the entire project, but for the club as a whole. Given that fans can no longer attend games for a while as well and that there will be stadium restrictions for the foreseeable future, income is tight at Feyenoord.
Furthermore, rumours are always rife about a change in ownership at Feyenoord – in June 2020, there were talks about American investors coming and putting their interests behind the club. This may result in them having their own plans, and perhaps even rejecting Feyenoord City.
Photo: OMA
De Kuip is one of Dutch football's great venues and replacing that for a stadium that exemplifies the greed of modern ownership and control would be a great loss of a country and club so deeply-rooted in football history. Many of the fans don't want to see it go away. Many of them don't want Feyenoord City to become a reality. 
Even now, when fans aren't allowed into games and the Dutch season came to an end, fans have continued their protest in Rotterdam with banners across the city. Tradition still matters in some parts, and this is one cause many people can get behind.
In a game and club stratosphere that's so constantly disconnecting from the fans, keeping the original De Kuip would be a major victory.
By: Karan Tejwani
Featured Image: @GabFoligno