Football and the Indian Subcontinent
Football is the most famous sport on the planet with over 4 billion estimated fans. However, it plays second fiddle in Asia, where Cricket reigns supreme as the primary sport of choice. As the second most sport in the world, Cricket boasts 2.5 billion viewers, many of whom come from South Asian countries such as India, Sri Lanka and Pakistan. Cricket may have originated in England, but South Asians have adopted it like their second child.
Cricket originated in south-east England around the 16th century, and they spread it to the various countries that they invaded as a colonial power. By the 18th century, cricket was everywhere, and it was the Indian Subcontinent who embraced it more than anyone else. For those colonies — present day Bangladesh, Bhutan, India, Maldives, Nepal, Pakistan and Sri Lanka — it was a quest for revenge. They dreamt of beating their rulers at their own game. It gave them a sense of freedom; it made them feel alive.
"Why should we care about the subcontinent?" some may ask. And that's a legitimate question. But here's why: While several Asian countries including South Korea, China, Iran and Japan embraced football fairly early, the Indian subcontinent kept on raving about cricket – they were left behind.
Cricket Pre-Independence
Despite boasting a population of 1.7 billion people — over 22% of the world's population — the Indian subcontinent has not quite taken to football with the same passion as West African colonies due to a lack of infrastructure. However, that's starting to change right now.
Football is the newfound love of the Indian subcontinent. The craze for football is ever-growing and although steps are being taken in the neighbouring countries of India and Pakistan to facilitate the sport, neither country has managed to advance to a FIFA World Cup.
India and Football
India's love affair with football actually started back in the 19th century, when British soldiers brought the game to the subcontinent. The All India Football Federation (AIFF) was established in 1937, but it only became affiliated with FIFA once India won independence from British rule a decade later.
The Blue Tigers qualified for the 1950 World Cup in Brazil, but they were forced to withdraw due to a lack of financial resources. There are varying sources who also claim that FIFA had implemented a ban on playing while barefoot, causing the India to withdraw from the tournament.
Indian Football Team 1950 World Cup Photo: CPD Football
India went on to win the gold in football in the Asian Games held in 1951 and 1962 and grabbed fourth place in the Melbourne Olympics in 1956, but ever since this golden period, things have gone south for Indian football. Coincidently, this period coincided with the rise of the Indian Cricket team. 
India's first nationwide football league started in 1996 by the name of National Football League (NFL). Ten years down the line, it was rebranded as the I-League, but it didn't catch on as the whole country was fixated on the ongoing Cricket World Cup. The popularity of the league was hurt further amidst the introduction of a cricket tournament, the Indian Premier League (IPL). The IPL was the perfect marriage of the two things India loved the most – Cricket and Bollywood. Now, football was not just competing with another sport, it was competing with a brand. 
IPL Opening Ceremony 2017
After the success of the IPL, many saw this as the perfect marketing opportunity to bring football to the masses using the same medium. In 2013, the Indian Super League was launched in India to promote football, and with various cricket stars and film stars showing interest in the newfound competition, the ISL's inaugural season was a massive hit.
The average attendance of ISL's inaugural season in 2014 was 25,371, making it the fourth-highest football league attendance in the world after the Premier League, Bundesliga and La Liga. In 2015, the average attendance went up to 27,111, overtaking La Liga. The participation of world-renowned stars like Roberto Carlos, Alessandro Del Piero, and David Trezeguet took the league's popularity to a whole new level. For the first time in 60 years, things looked bright for Indian football.
Atlético de Kolkata win the inaugural ISL trophy. Photo: NDTV
In 2014, India ranked 171st in the FIFA rankings. Today, they're 108th. The words of former FIFA president Sepp Blatter finally seem to be coming true, who described it in 2006 as a "sleeping giant of world football."
India hosted the U-17 FIFA World Cup in 2017, setting a record for the most attended U-17 World Cup ever, with an attendance of 1,347,133 people. Upon attending the Final in Kolkata between England and Spain, FIFA president Gianni Infantino declared, "India is a football country now."
Sunil Chhetri
The greatest football player to emerge from India has been Sunil Chhetri. With 72 goals in 115 appearances, Chhetri has scored the 10th-most international goals at FIFA level, and his exploits at international level earned him the AIFF Player of the Year a record six times in 2007, 2011, 2013, 2014, 2017 and 2019. But despite his goalscoring heroics for the Blue Tigers, Chhetri never found success in Europe.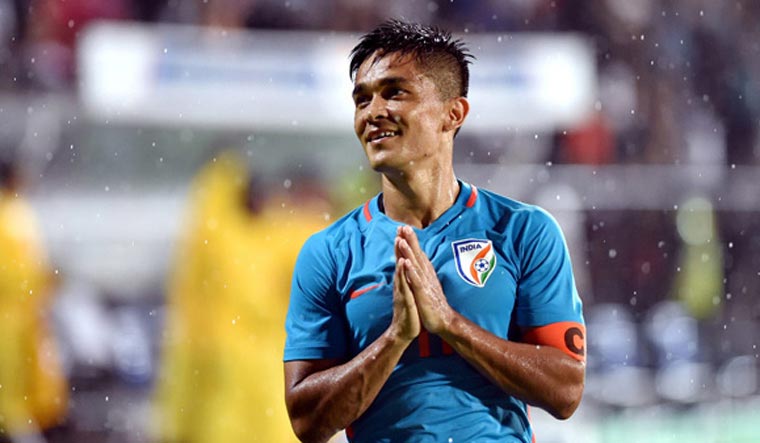 Chhetri celebrates a goal. Photo: PTI
Celtic were interested in signing the Secunderabad native in 2009, with Chhetri's agent Yogesh Joshee saying, "I'm waiting to get feedback from Celtic, who saw him on Monday by head scout and then another scout came to watch the game, I'll let you know the outcome when I know."
A few days later, Chhetri was reported to have signed a 3-year deal with QPR in English Championship. However, Chhetri was denied a work permit by the British Government, since India was not ranked within FIFA's top 70 spots.
Chhetri went on to have short stints for Kansas City Wizards in MLS and Sporting Lisbon's reserves in Portugal's second tier, but eventually returned to India in 2013. Along with the likes of Robert Pires and Nicolas Anelka, he has played a vital role in the revival of football in India.  
Pakistan and Football
From the emerging success story of India, we move across the border to Pakistan. Shortly after gaining independence from England, the Pakistan Football Federation was established in 1947. It gained recognition of FIFA in 1948, and joined the Asian Football Confederation (AFC).
Photo: DAWN
Pakistan went from winning four gold medals in South Asian Games in 1989, 1991, 2004 and 2006 to being suspended in 2017 by FIFA due to third party interference in PFF. This suspension, however, was lifted a year later. Good news came in January of last year when Atlético Madrid's academy opened its doors in Pakistan, becoming the first European team to take the step. 
Nevertheless, football in Pakistan continues to lag behind that of its neighbors due to lack of infrastructure and focus. The Pakistan Premier League is the nation's top footballing division, but a scarcity of regulation has seen teams starved of investment. There is no team or individual salary cap, no squad size limit, no age restrictions; clubs have complete freedom to sign as many players as they wish. Despite playing football at a professional level, players need second jobs to support themselves.
In November 2019, an event was held to promote football in Pakistan. Luís Figo, Ricardo Kaká, Carles Puyol and Anelka all showed up to the exhibition match in Karachi, but they were met with a small crowd as the event wasn't publicly announced until the prior day.
Street Football in Pakistan
Make no mistake it's not that there isn't a hunger for football in the nation of 220 million people. On a typical weekday, students draw out World XIs in their journals during classes, they create a plan to play football in the evening and text everyone when the game will start, and everyone arrives half an hour late. Because everything starts late in Pakistan.
There is a running joke that the country's adolescent street footballers are better than Pakistan on the international stage. They're not far off; in 2014, Pakistan participated in the Streets Child World Cup (SCWC) after diligent efforts from Azad Foundation, and went on to win the bronze medal in the competition. The 2010 edition of the tournament, on the other hand, was won by India.
Pakistan's 2018 Street Club World Cup team. Photo: Muslim Hands Foundation
"Now I'm getting calls, but initially the system didn't work for us, it didn't help us. I hope this win from our team is not just a triumph on the football field, but also for the street children all over the country," said a member of Azad Foundation after 2014 tournament.
In 2018, Pakistan participated again and played the final of the SCWC, only to lose in the penalty shootout against Uzbekistan. They may not have won the competition that day, but they proved one thing: it's not the talent they lack, it's the opportunity.
Chitral Women's Sports Club
Another success story from this region comes in the form of Karishma Ali, a 21-year-old footballer who became the first girl from her hometown of Chitral, Khyber-Pakhtunkhwa to have represented the country on a national and international level. 
Growing up in the ultra-conservative region of Chitral isn't easy for a young girl. Most women are restricted to house work and don't have access to basic education. Having started playing the sport due to her Dutch teacher and football crazy father, Karishma blazed a trail for girls all over the nation, and now, she's using her platform to provide more opportunities for young Pakistani girls.
Karishma opened the Chitral Women's Sports Club in 2018 to provide football education to girls across Chitral, which has a population of 220,000 people. It wasn't easy to launch a club in a city where most girls are married and are with children by the age of 16, but Karishma overcame the barriers, and today, more than 100 girls are part of the program.
Chitral Women's Sports Club. Photo: FIFA 

In an interview, Karishma stated, "If your dream is not scary – if it doesn't scare you, or the people around you, then is it even a real dream? So, keep dreaming big, and anything is possible in this world. You just need to be very focused, and you need to believe in yourself, and you need to work hard. That's what I believe."
Culture
Football is a game that spreads across borders and oceans. Often known as the "poor man's sport," football is a game that spread like wildfire across borders and oceans due to its low economic barrier to entry. However, the football of today requires modern infrastructure, and whilst countries such as India have recognized its necessity, Pakistan is watching its talented footballing generations fade away before its very eyes.
A lack of structure, third party influence and utter negligence has caused the utmost damage to nations such as Bangladesh and Pakistan. It doesn't seem fair that over 22% of the world population isn't actively taking part in the biggest sport on the planet. Thankfully, there seems to be a light at the end of this tunnel, but it'll take a while before we see more than just a faint glow.
There has certainly been a shift in culture regarding football in this region. The success stories of people like Sunil Chhetri and Karishma Ali give more confidence to the children kicking the ball in the streets. It's more than just a game, it's more than just a rush of adrenaline – it's a feeling of freedom.
By: Shaharyar Atique
Photo: @GabFoligno