Football in War-Torn Yemen
In 2018, a chilling video circulated around the internet showing a group of men casually watching an amateur game of football whilst rockets lit up the sky above them.
That short clip was from Yemen, a country ravaged by war and while a situation like that would terrify many, for these men, it seemed like a regular occurrence. The Middle Eastern nation – one of the poorest in the world – has been deeply affected by war for much of this decade, but football has perhaps provided one of the few solaces over the years. 
While the country has lost much of its sporting infrastructure and with its domestic league being inactive since 2014, it seems unimaginable that they would make much progress in football. However, like Iraq in the 2007 Asian Cup and Syria during the 2018 World Cup qualifying campaign, the Yemeni national side has defied the odds and have made great strides in the sport, proving to be one of the few silver linings on a dark cloud. 
The war has its roots in the Arab Spring of 2011 – the uprising that saw several Middle Eastern nations delve into the depths of war and overthrow their respective monarchies. From Egypt to Libya, this was one of the most devastating periods known to mankind, and Yemen was eventually affected too. That year, Ali Abdullah Saleh, the country's long-time president, gave power to his deputy, Abdrabbuh Mansour Hadi.
Hadi's arrival was meant to change things, but three years in, it was much of the same. The country was still struggling economically, corruption was rife, food was in short supply and the poor became even poorer. In 2014, the fighting began with the Houthi Shia Muslim rebel movement taking control of the country's capital, Sana'a, forcing the president into exile.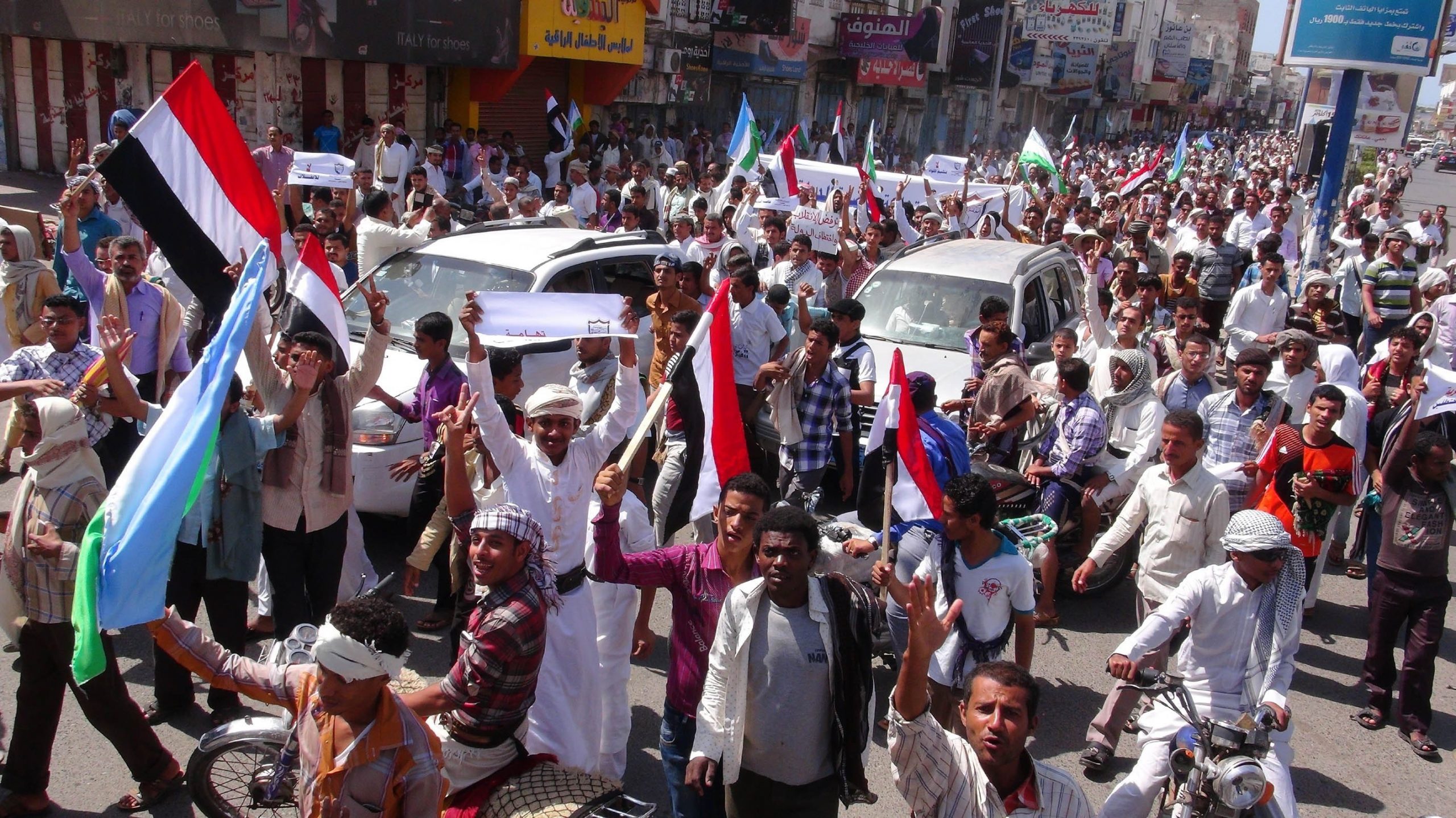 Photo: Stringer/Anadolu Agency/Getty Images
A few months later, Saudi Arabia, Yemen's Middle Eastern neighbours, got involved with air strikes against the Houthis. They had support from eight other Middle Eastern nations whilst the United States of America and the United Kingdom, amongst others, also backed them. With claims that the Houthis were backed by Iran [something they deny], Saudi Arabia continued their involvement and to this day, have been tangled in the conflict. 
Yemen has been in a vast humanitarian crisis for years. The UN Refugee Agency reports that more than 15 million people – or 53 percent – of the country's population, are on the brink of starvation as access to food is limited.
In 2017, the country encountered the largest cholera epidemic in history, something which is difficult to control given the harsh nature of the conditions in the area. The UN Refugee Agency also suggests that three million people have been forced to flee the country as 75 percent of the population requires some form of humanitarian aid. 
It's astonishing to think that despite all the trouble faced at home, the country's national team is doing well at football. They haven't got a home ground, most clubs are out of money and most importantly, the local league is all but finished.
Over the last 18 months, the side have taken part in the Arabian Gulf Cup in Kuwait and the Asian Cup in the United Arab Emirates and while they failed to achieve anything of note there – going out in the group stages in both competitions with no points – merely the fact that they were there to take part is a big achievement. 
Since the war began, many players have dropped their football careers and joined the force to combat the Houthi rebels. Several of these names, such as Abdullah Aref, Ali al-Saudi and Mohamed al-Dailami, were killed in the fighting.
Aref was a goalkeeper for the country's youth teams and local side Shoala Club, while the latter two played for capital side, Sha'ab Club. There has been plenty of more talent lost due to the war, and that hasn't been the only thing that has restricted Yemeni football. 
The local clubs have felt the negative effects of the fighting too. After the domestic league was suspended, clubs like Al Entelaq, Al Tilal, Al Saqr and Al Yarmouk, amongst others, were all bombarded and destroyed. These clubs had their stadiums bombed, infrastructure ruined and their trophies destroyed.
Al Tilal, who are based next to the presidential residence, first faced airstrikes at their 30,000-seater 22 May Stadium, then had a lot of their property stolen. The Houthi rebels even took the club's buses as well as their headquarters, using it as a base for their planning. Despite these troubles, several clubs still defiantly host cultural events in their wrecked venues as they hope to keep the spirits up.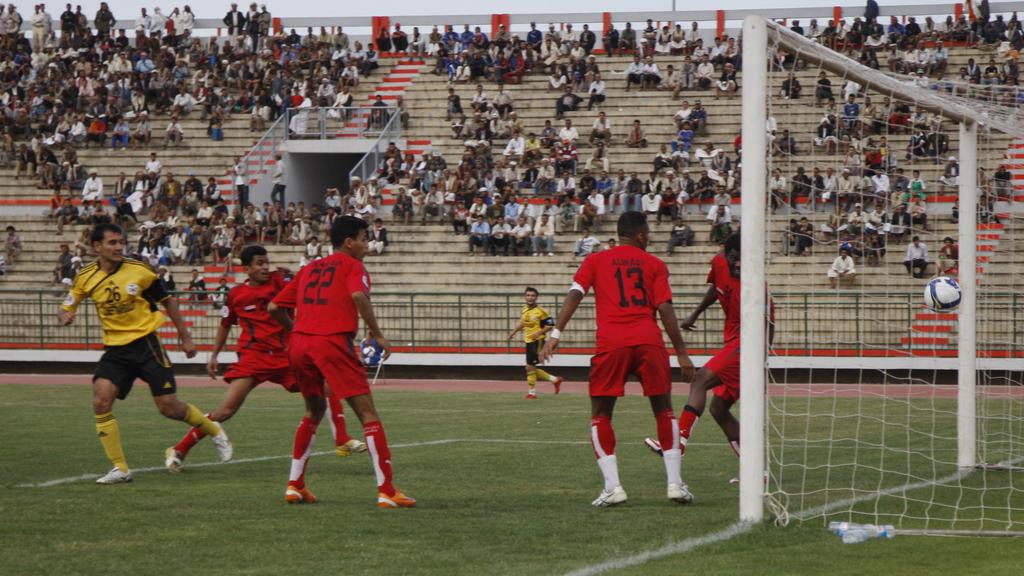 Photo: Khaled Abdullah / Reuters
Clearly, with little hope for the future of the game in the country as well as no facilities to practice in, many of these players have fled from the country in the bid to ensure they still have careers in the game. Nearby countries like Qatar and the United Arab Emirates have provided a new home for many of these footballers, whilst some have moved far and wide to countries like Malaysia. 
Deadspin spoke to Khairi Yousef, a player who has played in several amateur teams in Malaysia and he has been deeply affected by the happenings at home: "Most footballers place their entire focus on the sport because they envision their futures in the sport and neglect any other aspect. A war simply never crossed our minds."
Alaa Al-Sasi, the team's captain, spent much of the last year playing in the Qatar Stars League before being released earlier this year, while Abdulwasea Al-Matari left Yemen to play for Dibba in the UAE before moving to Al-Nahda in Oman in the past summer. Naturally, not all players are lucky enough to go abroad and continue their careers, so the ones that do stay back end up playing in ad-hoc competitions. 
Conditions aren't easy for those still playing in Yemen. Most don't earn well enough from football itself and must end up taking secondary jobs, such as working in a supermarket, driving taxis or getting government roles.
Fear is constant in the minds of these players – not just about their careers or their futures, but their lives. Several players have been kidnapped by rebels and put in life-threatening circumstances and there is always the worry for each of these players that they could be next. For that reason, many have considered giving up football and joining the army. 
It's difficult for these players who chose professional football as their career path to acclimatize to something that's well beyond their control. Having trained for years to get to a point where they could represent a club as well as their country on the highest stage, these players now have to find alternate careers in a field they have no experience or training in just to make ends meet. It's been that way for the national team as well, who have no official home venue and have had to play in nearby countries like Qatar. 
That part about training isn't simple as well. Yemen's preparations have often been dampened and they've been forced to make treacherous travels by boat, due to the high risk of airstrikes on their plane. Journeys like theirs to Qatar could ideally take an hour-and-a-half by air, but the team's travels by sea take up to two days.
Even then, they have to face several difficulties, as Fouad Al Omeisi, a Yemen international, says, when describing his team's Asian Cup qualifiers: "We stumbled onto a lot of obstacles, particularly traveling. The shortest trip we take is 48 hours by land until we reach the Amman [Jordan] or Saudi borders, where we pass through war zones."
In the early days of the war in 2015, prior to a World Cup qualifier in Doha, the national team had to travel separately to make it to the location. It took six players to gather all the players together in one place – each of them had to make it to the venue by boat, and they had to take a 13-hour trip down to Djibouti to get there. This just goes to show how passionate many of the players still are about the game, despite the situation suggesting it's best to drop the sport altogether.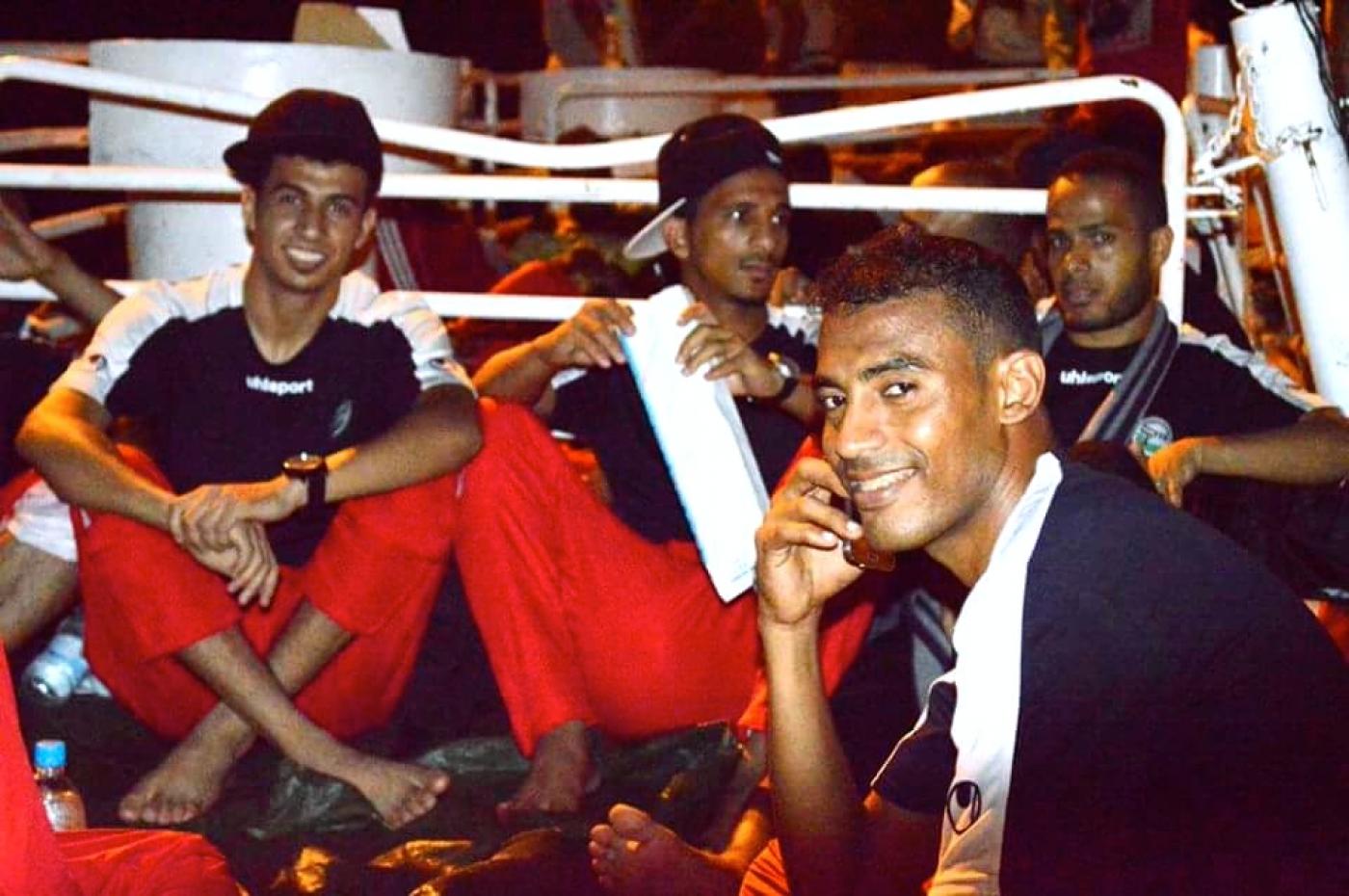 Photo: MEE / Mohamed Al-Khamisi
Amazingly, the Yemen Football Association has managed to survive this traumatic period, and that's largely due to its willingness to cooperate with both sides – the Houthi rebels and President Hadi's loyalists. However, although understandably, they haven't been able to do an adequate job.
After Yemen's exceptional feat of qualifying for the 2019 Asian Cup, they weren't able to set up training camps in time for the team's preparation, whilst finances were tight and logistical issues were aplenty. The FA hasn't been able to organise too many matches for the team – they just played four times in 2018, one of which was a mandatory qualifier. The fact that they don't have a locked-down home venue only adds to their problems.
Since 2017, Yemen have played in several countries as their 'home' venue. These include Qatar, Iraq and the United Arab Emirates, while Bahrain has become a viable place as well – that is where they have played all of their home matches in the ongoing 2022 World Cup and 2023 Asian Cup qualifiers. 
The story of their run to the Asian Cup in the United Arab Emirates was quite impressive. In qualifying, they were drawn in a group the Philippines, Tajikistan and Nepal. They opened with a 2-1 comeback win over Tajikistan and were even able to earn two points from six against the Philippines, who won the group.
It took another comeback win against Nepal in the final match of the group and amidst a small group of Yemenis that made it to Doha for that qualifier, there was plenty to celebrate about for a country that has been reeling for years. 
The team has been short of players to field in major international matches and that, along with a seemingly bleak future and poor funding prompted coach Abraham Mebratu to leave his role after helping the team qualify. Mebratu, who is from Ethiopia, also aspired to return to his nation and make his name in Africa.
He was replaced by Ján Kochian, the Slovakian coach who was no stranger to conflict. Kochian played for Czechoslovakia before the country dissolved in 1993 and has since taken up major roles, including managing his own national team between 2006 and 2008. 
Although the job is difficult, he set out a positive precedent early in his tenure as the coach of the Yemen team: "The political situation makes for some unusual conditions for training a national team. For one thing, I won't enter the country; that's in my contract. But it's an honour to lead this team."
He started the team's preparations for the Asian Cup in November, a tad later than expected, but there wasn't much expected from the country at the finals anyways. This was mostly seen as a unifying event back home, something that allows people to forget about the harrowing war and get behind a common cause for 90 minutes. 
At the finals in the UAE, Yemen were given a difficult draw against top favourites Iran, their rivals Iraq and Vietnam. They ended up losing the three group games 5-0, 3-0 and 2-0 respectively, and while these results were sour pills to swallow, the fact that they had made it this far when they had their back against the wall was big enough.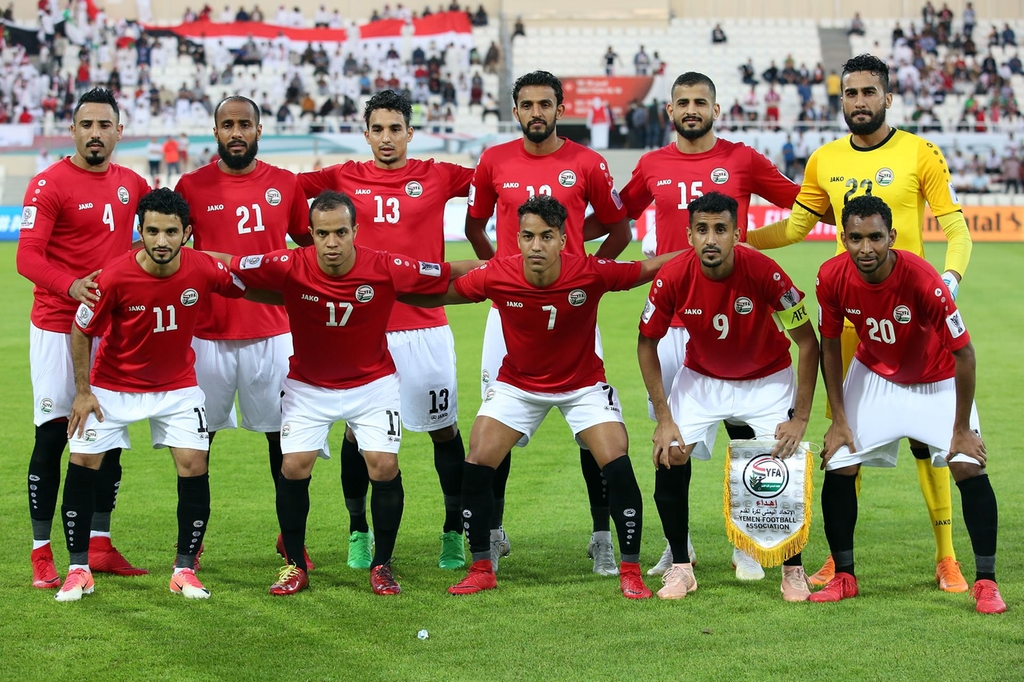 Photo: EPA
Kochian didn't remain in the job for too long; he quit after the tournament and was replaced by local Sami Hasan Al Nash, who is leading them through the next qualifying campaign. 
Despite heavy defeats, there were incredible images of groups of people in a war-torn Yemen huddled around a single smartphone, keeping track of their team's progress. In the north of the country, in Houthi-controlled Taez, there were large groups of fans who had come to watch their team in a hall that had screens set up by the country's Office of Youth and Sport.
These were the exact scenes that the national team's staff and members wanted and amidst so much trouble, it was a wholesome atmosphere around several areas of the country. 
The National, one of the Middle East's leading media publications spoke to several fans and one of them, Mansour Abdullah, nostalgically said as he watched the opening match against Iran with commentary in Spanish:
"I don't understand what he says but at least I changed my mood watching our team playing under one flag. This reminds me of when we were living in peace, we really miss such nice days when we flocked together to cheer on our national team all together in our street."
Sport has always been able to unite people, and this was another perfect example of it. 
Yemen have made a decent recovery from their Asian Cup disappointment in the latest set of qualifiers. They do sit bottom of their group but picked up two points early on after draws against Singapore away and, controversially, Saudi Arabia, who they 'hosted' in Riffa, Bahrain. The draw against Saudi Arabia was a particular moment of pride, seeing as it is them who are so involved in the country's dangerous political and social climate. 
Given the circumstances, making it to a tournament as big as the Asian Cup was brilliant enough. The nation has been struggling for years and it seems unlikely that the fighting will stop anytime soon, but football, as it has done so many times in the past, has provided a sense of temporary relief, a feeling that things can get better soon.
For now, Yemen are focused on making noise in the qualifiers as their players carry the hope of a nation right now and possibly be a reason for joy once again in the near future.
By: Karan Tejwani
Featured Image: @GabFoligno / Mustafa Abumunes – AFP / Khaled Desouki – AFP
This article was originally published on Football Chronicle.