Francesco Totti and the Eternal City – How Rome's Prodigal Son Bought the Scudetto Back to the Capital
"From the dome of St. Peter's one can see every notable object in Rome…He can see a panorama that is varied, extensive, beautiful to the eye, and more illustrious in history than any other in Europe,"-Mark Twain.
The Eternal City, a melting pot of history, a homage to the beauty and elegance of civilisation. And at the heart of it, a football club starved of success. 
The Stadio Olimpico itself conjures up misty-eyed images of Italian football in its pomp. The sun-kissed clay running track that encases the pitch, a breeding ground of emotion for players. A stage on which performers can bridge the gap between fiction and reality.
As fans, you are no longer a spectator, a voyeur of sorts, but the collective motivation behind which the Giallorossi step out onto the pitch for every other weekend. 
17th June 2001
Streamers flooded the track as Francesco Totti jumped the advertising hoardings, shirt off, yelling in ecstasy, the carnival atmosphere inside the Olimpico had reached fever pitch.
A snapshot of a city reveling amid glories both past and present. Totti, their prodigal son, immortalised in Roman history. His goal the first of three on an afternoon in which Roma secured their third Scudetto.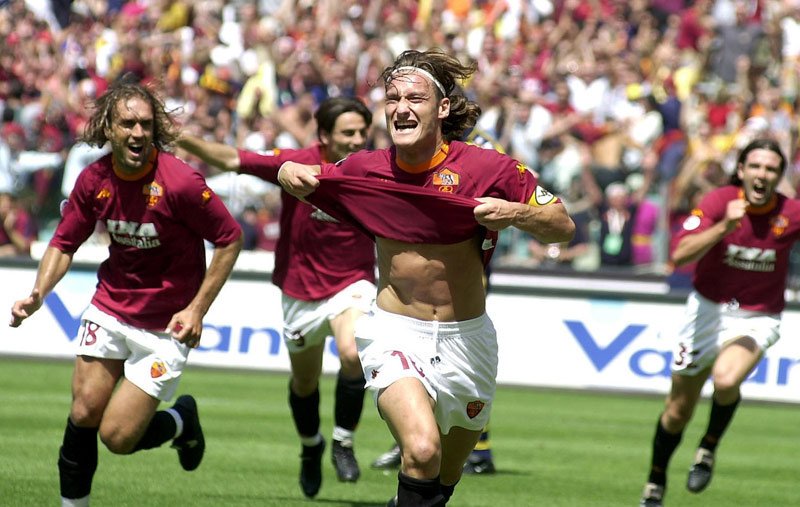 Photo: Getty
This title meant more than a ceremonial trophy lift, for many it signaled a power shift. Eight of the previous nine Serie A winners had come from Milan and Turin, with only Sven Goran Eriksson's famed Lazio side breaking up this three-way power struggle.
Roma's victory, coming just a year after Lazio's triumph, was supposed to usher in a new era of supremacy. The reality, however, couldn't have been more different and as of the resumption of the Serie A, neither Roma nor Lazio have managed to reclaim their stranglehold on Italian football. Instead, we look back with a certain yearning at a season where the established elite began to topple across Europe.
The likes of Deportivo, Leeds United and Valencia had begun to assert their presence both at home and abroad. The turn of the Millennium had bought with it a newfound optimism. But whilst these sides are fondly remembered as cult favourites of the football purists, Roma are the most successful and yet commonly ignored result of this unprecedented boom. 
18 years on from the Giallorossi's golden years under the stewardship of Nils Liedholm and Paulo Falcão, there was an insatiable thirst for a return to basics.
Photo: IlRomanista
No longer was Roma a product of the romantics, its reputation on and off the field decimated by accusations of fraud and doping. Whilst the implementation of the Catenaccio 3-5-2 formation had harvested a sterile environment inside the Olimpico. No longer was football an escape it was merely a proliferation of the turmoil the club had encountered in the early 1990s
But where there is life there is hope. Born in the Porta Metronia neighbourhood of Rome, Fiorella and Lorenzo Totti bought up their two sons under the shadow of the Colosseum. A monument to the illustrious fire and fury of the Roman empire it was no wonder a young Francesco was soon dubbed 'The Gladiator'. 
Growing up amongst the ritz and the rubble of Mussolini's fascist regeneration project, Totti saw influences to the old regime everywhere he went. But whilst material monuments to the dictatorship were scattered across the country – with fascist-style stadia built in Milan and Genoa, it would be the intrinsic link between national pride and football that would have the most profound effect upon Totti. 
This is no means drawing any parallels between the pair's political beliefs, but ultimately the deep-seated militarism of Italy's play that saw the Azzurri become the first side to retain the World Cup during the 1930s still holds weight even today.
Photo: Getty
There's a "greater forcefulness and physical conditioning" that underpins the Italian style of play both domestically and internationally, remarked Brian Glanville. It makes up for technical deficiencies and explains why Italy, despite little mention of a golden era, have enjoyed so much success on the international stage. 
With Rome designated as the epicentre of this cultural revolution, Totti was surrounded by a sense of pride not only in his country but also in the city of his birth.
Born and raised as a Roma fan there has arguably never been a player more entwined with the history of one club. Dedicated artworks and squares can be seen plastered all over the city. Home to The Vatican, the Trevi fountain and the Piazza Navona, Totti, in a city of immortals, somehow stands alone in his splendour. 
Consolidating his place in the first team during the 1993-94 season, Totti would go on to establish himself both as the key to success and submission. A team of great inconsistencies during the decade, Roma would often trade momentous victories over the likes of AC Milan and Juventus with humbling defeats at the hands of their bitter rivals Lazio.
This erratic thinking eventually spilled out into the boardrooms and when the team enforced a media silence due to Totti's relationship with then-manager Carlos Bianchi a loan move for the forward was mooted. But the transfer was never completed, and Bianchi paid for this with his job. Totti was more than an expendable member of the squad, he was elevated to an almost alter-rex figure. Keep Totti happy or risk losing the dressing room. 
Photo: AS Roma
Totti wasn't a destructive figure but his talent and connection to the club held an awful lot of sway, and it wasn't until Czech manager Zdeněk Zeman came to Roma that Totti truly came into his own. Zeman had championed the 4-3-3 during spells at Foggia and Lazio and intended to build his squad around Totti – whom he handed the legendary number 10 jersey.
This clean break from the sterile and defensive Catenaccio style of play was a welcome reprieve. Entertaining and free-flowing attacking football made Roma the envy of Italian football, but still, they were plagued by the same inconsistencies. Ultimately though a fourth-place finish saw them usurp Lazio for the first time in five years.
There was an appetite for football once more in Rome and a Scudetto challenge was no longer wishful thinking. But following Zeman's allegations of doping against Gianluca Vialli and Alessandro Del Piero had tarnished the reputation of Italian football it was reported that the Czech's sudden departure was due in part to pressure from league officials to relieve him of his duties. 
In came Fabio Capello. The mastermind behind AC Milan's trophy-laden transition following the departure of Arrigo Sacchi. If there was one man who knew how to win Serie A, it was Capello. He had lifted the title on four separate occasions, guiding the Rossoneri to a 58-game unbeaten run in the process, before departing for Real Madrid in 1996. 
Now back in his native Italy, Capello began shaping Roma's team from perennial underdogs into one that resembled would-be champions. 
Photo: AC Milan
The arrivals of Vincenzo Montella and Hidetoshi Nakata from Sampdoria and Perugia respectively were pivotal to Roma's rise up the table.
With the Giallorossi trailing two-nil away to Juventus, Nakata came off the bench and halved the deficit with a rasping 30-yard drive. The Japanese midfielder, a player widely known for sporting some of the most iconic kits in world football, then saw his shot parried into the path of Montella who duly equalised and restored Roma's six-point lead at the top of the table. 
This was a turning point in Roma's fortunes, in rescuing a draw from the depths of defeat they were seen to have overcome their inconsistencies against the top six. But this transformation did not transpire overnight, and just a year earlier, Capello's inaugural season in charge had brought disappointment in the shape of defeat against David O'Leary's aforementioned Leeds side in the UEFA Cup. 
To rub salt into the wounds, Lazio had claimed their first Scudetto since 1974, the pressure was mounting on Capello. They lacked a goalscorer, a focal point to their attacks, but Capello found his man. Gabriel, 'Gabigol', Batistuta. 
The Argentine forward of Fiorentina fame was entering the twilight of his career at 31 years of age, but that didn't deter Capello or sporting director Franco Baldini. 
Photo: Getty
The other stumbling block in Capello's pursuit of Batistuta was the earlier arrivals of Walter Samuel and Emerson, who had joined for a combined £35 million. If Capello was to complete his South American spine he would need to draw on his contacts within the Italian press. 
A plan was subsequently hatched with journalist Mario Sconcerti of Corriere Dello Sport to spread a rumour that Roma were in the market to buy Batistuta. This placed pressure on owner Franco Sensi to get the deal over the line as fans became enamoured by the idea of such a statement signing. 
The plan worked, but not without its difficulties. Batistuta had become the league's most expensive player over the age of 30. He had to hit the ground running.
Capello had assembled a squad that bought the best out of Totti and most importantly was ready to challenge for the title. Setting up in 3-4-1-2, Capello's three-man defence were all comfortable with their feet and this allowed the wing-back pairing of Cafu and Vincent Candella to roam forward uninhibited. 
With Totti operating in a free role just behind the two strikers, Capello deployed two defensive midfielders in Damiano Tomassi and Cristiano Zanetti to break up play and circulate the ball.
Photo: Reuters
Much of Roma's play was focused centrally, and the aim was to quickly transition play into Totti, who would, in turn, use his vision and superb range of passing to find his teammates in pockets of space.
Batistuta's reputation, even at 31, was well documented and he played as an out and out forward whilst his striker partner Montella or Marco Delvecchio would operate in a more withdrawn role to make space for the Argentine to run into. 
An early exit to Atalanta in the Coppa Italia appeared to suggest another season of disappointment for Roma, as the club's ultras stormed the training ground in anger at the result. Capello's side bounced back though with three wins from their opening three Serie A games. 
Their reputation as title contenders was soon cemented with a 1-0 victory over Fiorentina, in which Batistuta scored the winning goal against his former club. Seven wins from their first eight games, and there was soon to be even more reason for optimism within the Italian capital.
Photo: Sportcafe24
Lazio, champions the previous season and staunch rivals of Roma, succumbed to a 1-0 defeat at the hands of Capello's team. Ever since Zeman's arrival, Roma's fans had been used to attacking football, but now for the first time, they were capable of grounding out results when necessary. They had all the makings of champions. 
"Winning like this a sign of destiny"-Francesco Totti.
Every setback was counteracted by a devastating response. Draws turned into wins, Montella suitably replaced the injured Batistuta's goal return and even a loss away to AC Milan could not derail Roma's momentum. Nakata's crowning glory against Juventus, one of the few games he would play due to labour laws surrounding non-EU players, left Roma with five games to win the title. 
Two successive wins against Atalanta and Bari were matched by the chasing pack before Montella rescued a point for the Giallorossi with a sumptuous lob from outside the box against AC Milan. A bit-part player under Capello, Montella's impact in fleeting minutes deserves far more recognition. 
Photo: Siamo La Roma
A further draw against Napoli bought Roma's lead at the top down to just two points. The title would be decided against Parma on the final day of the season. 
And here we are, back where we started, Totti basked in the adulation of a packed out Stadio Olimpico.
It is rather fitting to note that the three players who scored that day were perhaps the three most integral components of bringing the Scudetto back to Rome. Totti, Montella and Batistuta. A feat that took 18 years to build towards and one that will take even longer to replicate. Roma's story is one of the quintessential title victories of its generation. 
By: Sam Tabuteau
Featured Image: @GabFoligno