Hoddle, Waddle and 'Le Professeur' – The French Riviera's Unrequited Love Affair
It's midway through the 1986/87 season, and Arsène Wenger has just touched down in North London. Fresh-faced and by no means the heralded revolutionary he would become in these parts, the then Monaco manager has made arrangements with countryman Gérard Houllier to watch what he perceives to be the envy of European football. 
It would be easy to presume that Wenger, in light of his future relationship with the club, had come to watch George Graham's Arsenal just a year out from claiming perhaps the most dramatic of league titles. However, it was in fact the balletic poise and technique of boyhood Tottenham fan-turned-player Glenn Hoddle who had bought the Frenchman to White Hart Lane.
Snapped up that summer by Monaco, Hoddle had graced French football with the continental flair that continued to divide opinion back in England. Wenger, far from implementing the ideas that would come to dominate the English game just under a decade later, was keen to harness the uniquely British blend of physicality and flamboyance that had earned Hoddle two FA Cups and a place in the PFA Team of the Year on five separate occasions.
The Frenchman would find these qualities in diminutive attacking midfielder Chris Waddle, who had previously played alongside Hoddle at Tottenham. What is to follow is a story of both Love Labour's Lost and Won. Our exposition places us on the south coast of France, namely Monaco, a principality that hosts the hedonistic riches of Europe's wealthiest individuals.
At a time when football was still shunned as a working man's game, there seemed no place less befitting of a football club, but alas, tucked away amongst the fleet of luxury yachts that line Fontvieille – a locale within Monaco itself, whose vast coastline port encompasses AS Monaco FC.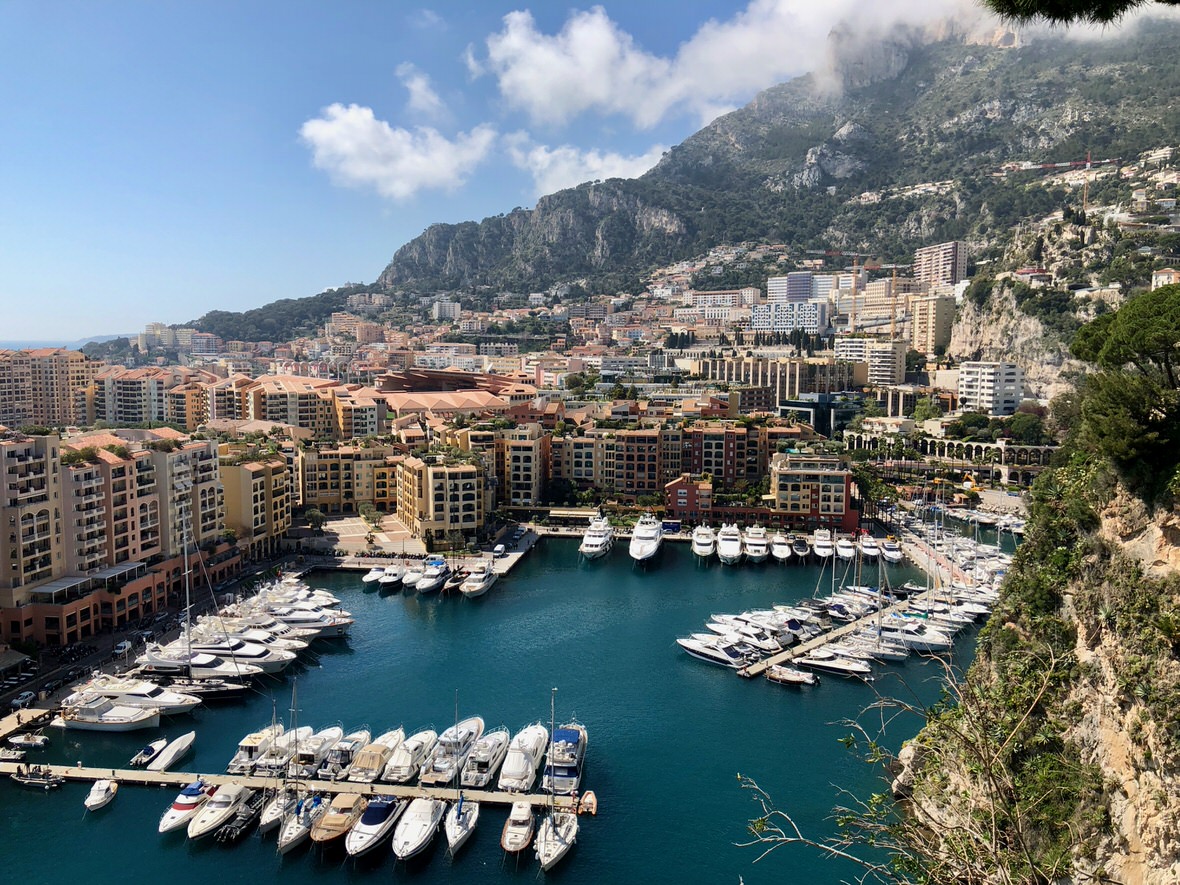 Photo: French Riviera Travel
Hoddle seemed the ideal fit both as a foil to Liberian forward George Weah, but also as the English anomaly at a club well accustomed to standing out in a place where football takes little precedence. Alongside fellow countryman, Mark Hateley, the other anomaly in a sea of red, white and blue, Hoddle picked up exactly where he had left off at Tottenham. He formed a potent attacking partnership alongside Weah, as they inspired Monaco to the Ligue 1 title in his first season at the club.
The following season, more success followed as Monaco reached the quarter-finals of the European Cup. Dubbed 'the team's switch', for he was the one through which came the light and current, Hoddle went on to be voted the best foreign player in France in 1989. One such climax must, however, be met with an equally devastating downfall, and when Hoddle suffered a severe knee injury, his three-and-a-half year stay in the French Riviera was tragically cut short. 
Hoddle and Waddle, aside from their masterful 1987 single Diamond Lights (one of the more forgettable football anthems), never seemed destined to fulfill their potential alongside one another. They shared clubs, countries and chart-topping singles, but their paths never crossed again on a domestic level once Hoddle left Spurs in 1987. Herein lies the story of Waddle's success in France and Wenger's unsuccessful attempts to reunite the pair. 
We return to Highgate and that mid-season break. Wenger's fascination with the English game has bought him back to Tottenham and following the aforementioned success of Hoddle, the Frenchman is looking to bring in Waddle to supplement his attack and draw on the pair's unequivocal connection both on and off the pitch. But as Wenger later reflected on, this was easier said than done: 
"I discovered him in 87 when he played alongside Hoddle, Hodge and the Allen brothers…we bought Hoddle and prepared the move for Waddle the season after. The problem is that in the meantime, he signed a lucrative five-year deal with Spurs and the transfer fee became rather inflated."
This new contract would see Marseille go on to shell out an eye-watering £4.5 million for Waddle, making him the third most expensive player of all time after Ruud Gullit and Diego Maradona. He did not disappoint though, and after winning three consecutive league titles from 1990-1992 as well as an ultimately unsuccessful run to the European Cup final in 1991, he was given the nickname 'Magic Chris' in reference to his impeccable hair cut (the now renowned mullet that he spotted during the 1990 World Cup) and his ability to dribble at speed. 
This only intensified Wenger's interest to bring Waddle to Monaco, but by then, Hoddle had followed in the footsteps of his former mentor by moving into management, whilst Waddle himself only had eyes for a return to England, which Sheffield Wednesday duly offered him.
A near ten-year endeavour to try and bring Hoddle and Waddle back together on the other side of the English Channel had proved fruitless for Wenger, and for all their personal success stories there will always be the question of what could've been. 
By: Sam Tabuteau
Photo: Gabriel Fraga