How CONMEBOL Lost Its Competitive Edge in the FIFA Club World Cup
Last Sunday, Tigres de Monterrey defeated Palmeiras (1-0) in one of the FIFA Club World Cup semifinals. They made history by becoming the first club from CONCACAF to reach the final match of this tournament. This was a massive frustration for the 'Verdaõ', but most of all was a big disappointment for CONMEBOL. Brazilian football fans expected a final between them and the UCL winners (Bayern München), resembling the old & discontinued Toyota Intercontinental Final.
In 2001, FIFA created a parallel Championship to the Intercontinental Cup, looking to endorse the "best club of the world". They've chosen a dynamic format and included winning clubs from the AFC Champions League (Asia), CAF Champions League (Africa), CONCACAF Champions League (North America), and OFC Champions League (Oceania), to create a worldwide inclusion feeling, and generating better fan engagement.  The results weren't as FIFA expected in the beginning due to the collapse of its marketing partner (ISL) between 2001-2004.
Both competitions merged in 2005 after organizing properly the tournament around the different club seasons across each continent, and it officially changed its name to FIFA Club World Cup. Since then, European clubs have dominated the competition by winning 12 out of the 15 editions, and only 3 clubs from CONMEBOL have won it so far (São Paulo 2005/06, Sport Club Internacional 2006/07, and Corinthians 2012/13).
These clubs have not become obsolete or lost their passion and desire to win, with their youth academies, players, and a historic tournament like the Copa Libertadores as its most valuable assets, but in the modern game, that's simply not enough if they want to become "the best club in the world." The reality has shifted dramatically for them over the past 20 years.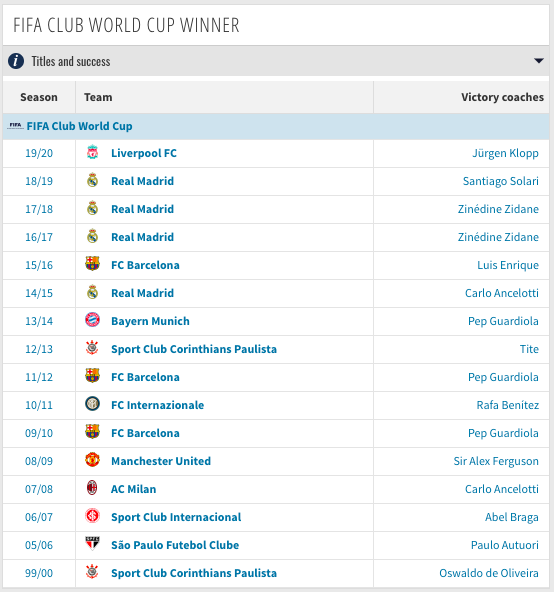 Photo: Transfermarkt
Most of the teams trail with a historical financial crisis, but since the early 2000's it has increased due to political situations and traditional corruption over the South American continent. Clubs and directives look up to survive (or get money under the table) by selling their assets with shady clauses at wholesale prices without realizing they're strengthening future rivals. 
From the player's perspective, that sounds like a great opportunity because it's better to grow up in a healthy environment than develop its talent in a toxic ecosystem. Sometimes they even give up a percentage of their transfer fees in order to close the deal. It's not a secret that other continents look in South America, a great source for talented young players. Only a few clubs worldwide can afford to pay astronomic amounts of money for having a specific player in their squad and scouting has become a trend for clubs around UEFA, CONCACAF, or AFC. 
But the current market shows that there's a bigger gap in South American clubs between very young talented but inexperienced players and experienced names looking up for retirement.
That's why scouts are looking up more in South American academies to develop themselves under better conditions instead of targeting expensive first-team players.
Here's a shortlist of the most promising U-20 players that have been sold without playing more than a season in their first team in the past 5 years:
Leo Balerdi = $19.5 M (Boca Jrs → B. Dortmund)

Vinicius Jr. = $45 M (Flamengo → Real Madrid)

Rodrygo Goes = $44 M (Santos → Real Madrid)

Adolfo Gaich = $12.1 M (San Lorenzo → CSKA Moscow)

Santiago Sosa = $7.5 M (River Plate → Atlanta United)
Even though clubs from other continents have leveled or passed in terms of competitive performance, CONMEBOL has done a great job trying to close that gap mentioned in the last 4 years. They have changed the whole directive board, created and keep regulating clubs, players, scouts, agents, and the confederation itself with a healthy blueprint. But still have a long road to walk for getting back the prestige and privilege earned between 1970-1999.
By: Juan Castro
Featured Image: @GabFoligno / Mohamed Farag – FIFA