How Jackson Martinez Stole the Show on His Way To Porto, Then Fell Apart at Atlético
Since the turn of the millennium, FC Porto have signed, sealed and developed a host of South American players from cut-rate, unproven circumstances into acclaimed, unstoppable stardom. The names that instantly spring to mind are James Rodríguez, Alex Sandro and Radamel Falcao who stunned the Primeira Liga at a young age before inevitably going on to achieve bigger and better things. 
It is one man, however, whose career before, during and after his time at Estádio do Dragão was far from the straight street to the summit of world football that his three continental counterparts enjoyed. The aforementioned trio had all left Portugal for pastures new by 25. Whilst at that age, Jackson Martínez was still on a steady ascent through South America.
By this point, however, Martínez had already established a remorseless reputation in front of goal that had earned him a handful of Colombia call-ups and interest from a host of European clubs. To really grasp an understanding of the forward's remarkable rise, we travel to a time when tormenting top class defenders week in, week out was merely an unthinkable fantasy. 
In 2008, Martinez emerged from the fringes of an Independiente Medellín (DIM) side that he had featured for sporadically throughout his formative years to help them secure Copa Libertadores qualification for the first time in four years.
Scoring 10 times in 23 appearances, it was the first real insight into the quality of a young striker who was previously branded "skinny and weak" by former manager, Pedro Sarmiento. A stature that was, for the most part, the reason for his stagnant growth as a player.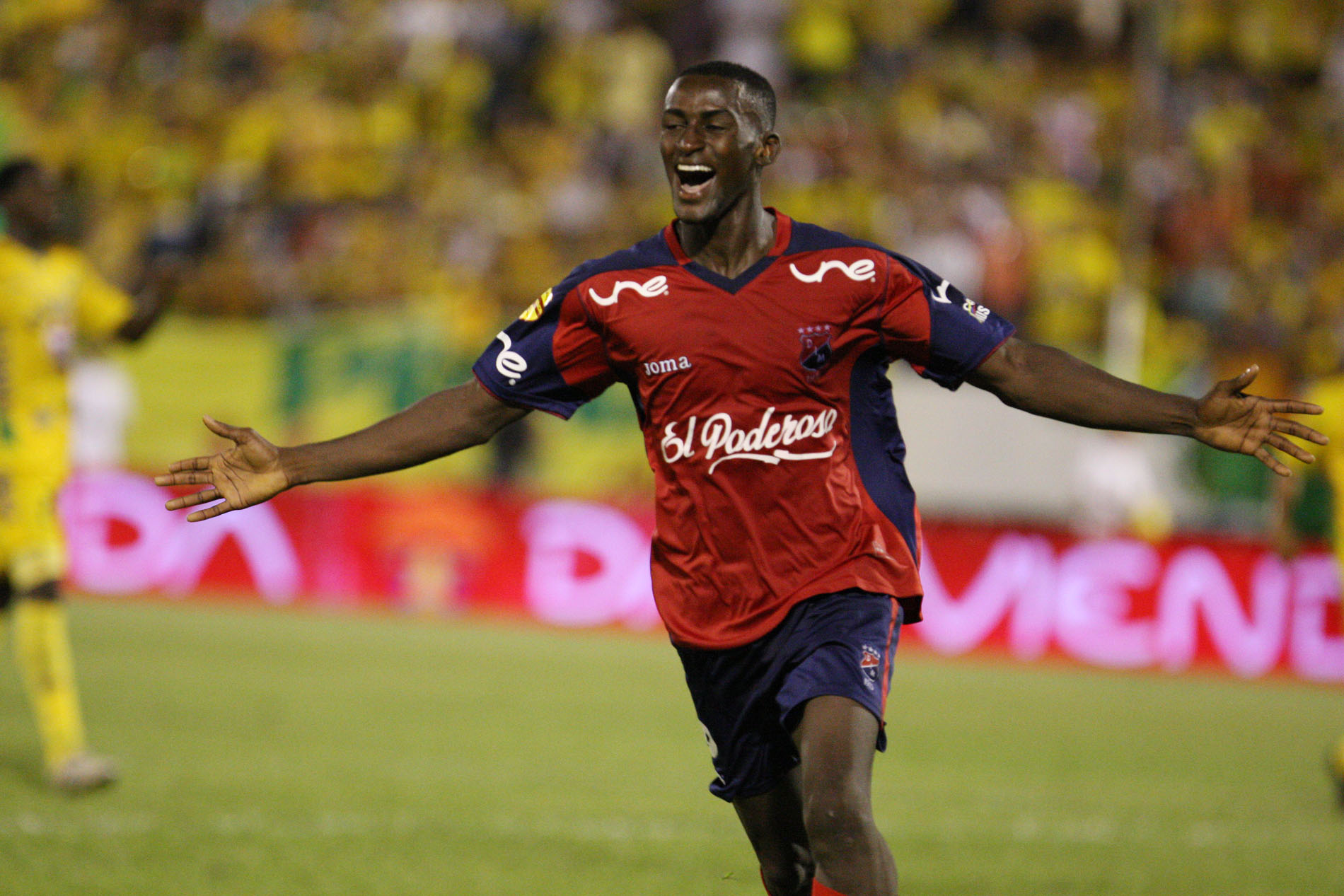 Photo: COLPRENSA-EL COLOMBIANO
Alas, his breakthrough season was certainly impressive, but his name was still some distance from the spotlight surrounding the likes of Fredy Montero and Adrián Ramos, and his work was still far from complete.
This was further amplified throughout the next six months, two wins from eighteen saw El Rojo Paisa fall swiftly to the foot of the Torneo Apertura table. The reality check was needed, and when significant changes were needed, boy did they arrive.
Two wins became twelve as the table turned on its head from a DIM perspective, The Mighty of the Mountain had planted their flag at the peak of Categoría Primera A, with Martínez as the spearhead. The firing forward netted 13 in 17 as his side qualified for the quadrangular semi final.
The following four-team group stage saw the rich vein of form continue for both the club and the clinical forward to set up a final against Atlético Huila, who Martínez bagged a brace against earlier in the season.
The Bambuco Dancers were left shambling as Cha Cha Cha (as Martínez later became known) waltzed through to score the solitary goal in the away leg before netting a vital equaliser twenty minutes from time in Medellín to etch his name in the club's folklore. The tie finished 3-2 on aggregate as DIM were anything but what their name might suggest, having claimed their fifth national title, five years on from their last triumph.
After scoring just eighteen during an amateuristic Torneo Apertura campaign earlier in the year, Independiente Medellín were indebted to their shining striker, who managed the same tally all on his own in the Torneo Finalización to break the goalscoring record for a single season. Categoría Primera A, Colombia, the hearts of everyone at the club he came through the ranks with: conquered.
On the back of a season that saw the merciless, more imposing Martínez emerge from his feeble roots, the 23-year-old earned a move to Mexico with Jaguares de Chiapas and instantly picked up where he left off, despite playing in a struggling side. 
In a debut season that saw him feature just 13 times in Liga MX, Martínez managed to directly contribute to 11 (nine scored, two assisted) of his side's 22 goals as they finished an unremarkable 14th.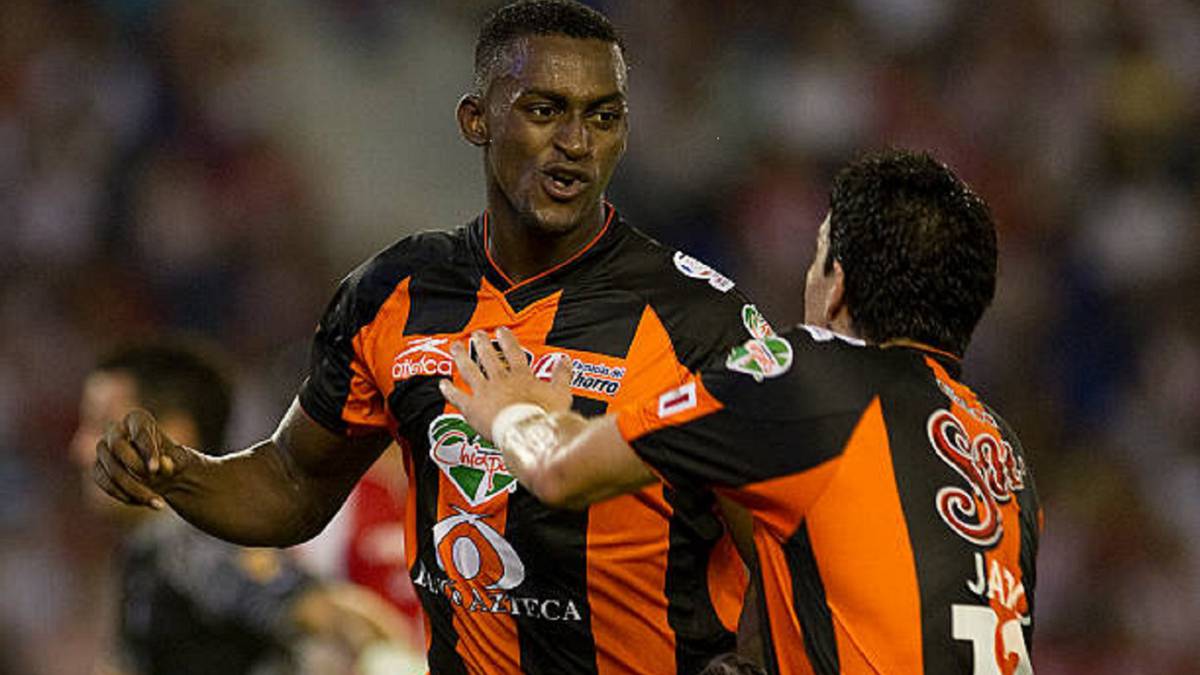 Photo: Getty Images
The following campaign, the Colombian didn't quite reach the domestic heights expected of him due to injury, but his displays in the Copa Libertadores, helping Los Jaguares reach the quarter-finals, showed he was still alive and on the ascent towards further success.
That arrived during the 2011/12 Liga MX season, at least from a personal perspective, as Chiapas were reliant on their talisman to pave over their inconsistency and incompetence to mount a genuine challenge for the title. Though they claimed a spot in both the Apertura and Clausura knockouts, Chiapas were outdone by Santos Laguna on both occasions, in spite of Martínez's best efforts.
Alongside countryman Luis Gabriel Rey, Jaguares had a front two that scored 36 of their 63 goals, and whilst a tally of 20, including four in four knockout encounters wasn't enough for Martínez to get his hands on another trophy, he was busy using them to fight off the array of clubs poised to snatch his signature. 
After three fruitful seasons in Mexico, the last of which saw him surpass the standard on show by some distance, be it through the calibre of his finishing or the quality of his overall play, it was safe to say that Martínez was ready to make the leap across the Atlantic and into the deep end of Europe's elite. 
Porto came calling for Colombian talent once more, one year after their beloved Radamel Falcao departed. With that – alongside Hulk's inevitable exit two months after his arrival – placed a hefty weight upon Martínez's shoulders. 
As the Dragões went in search of their seventh Primeira Liga title in eight seasons, little separated them from fellow contenders Benfica, who boasted the likes of Óscar Cardozo as well as new signings Eduardo Salvio and Lima. Their fresh faces hit the ground running immediately as the Águias dropped just eight points in their first 20 league games, with Salvio and Lima directly contributing to 29 goals combined (seventeen goals and twelve assists). 
Meanwhile, Martínez and co. had managed the same staggering feat, winning sixteen and drawing four as March approached, only their new man had scored and assisted 24 all on his own. It was a serious step up in standard that the striker had made a mockery of, and as the season neared a captivating climax, that only continued.
Jorge Jesus's Benfica looked all but unstoppable come May. Scoring freely, winning religiously on their way to the Europa League final and top spot as Porto dropped points at Sporting and Marítimo. And so, as they travelled to Estádio do Dragão on the campaign's penultimate encounter, a draw was needed to all but secure their first piece of silverware. 
Lima struck first blood early on for his 18th of the season, but Silvestre Varela's deflected effort six minutes later leveled things up. The Dragões faithful roared their team on with deafening effect as the game approached it's end, and they got what their ensuing sore throats deserved as 19-year-old Kelvin netted a historic winner on 92 minutes.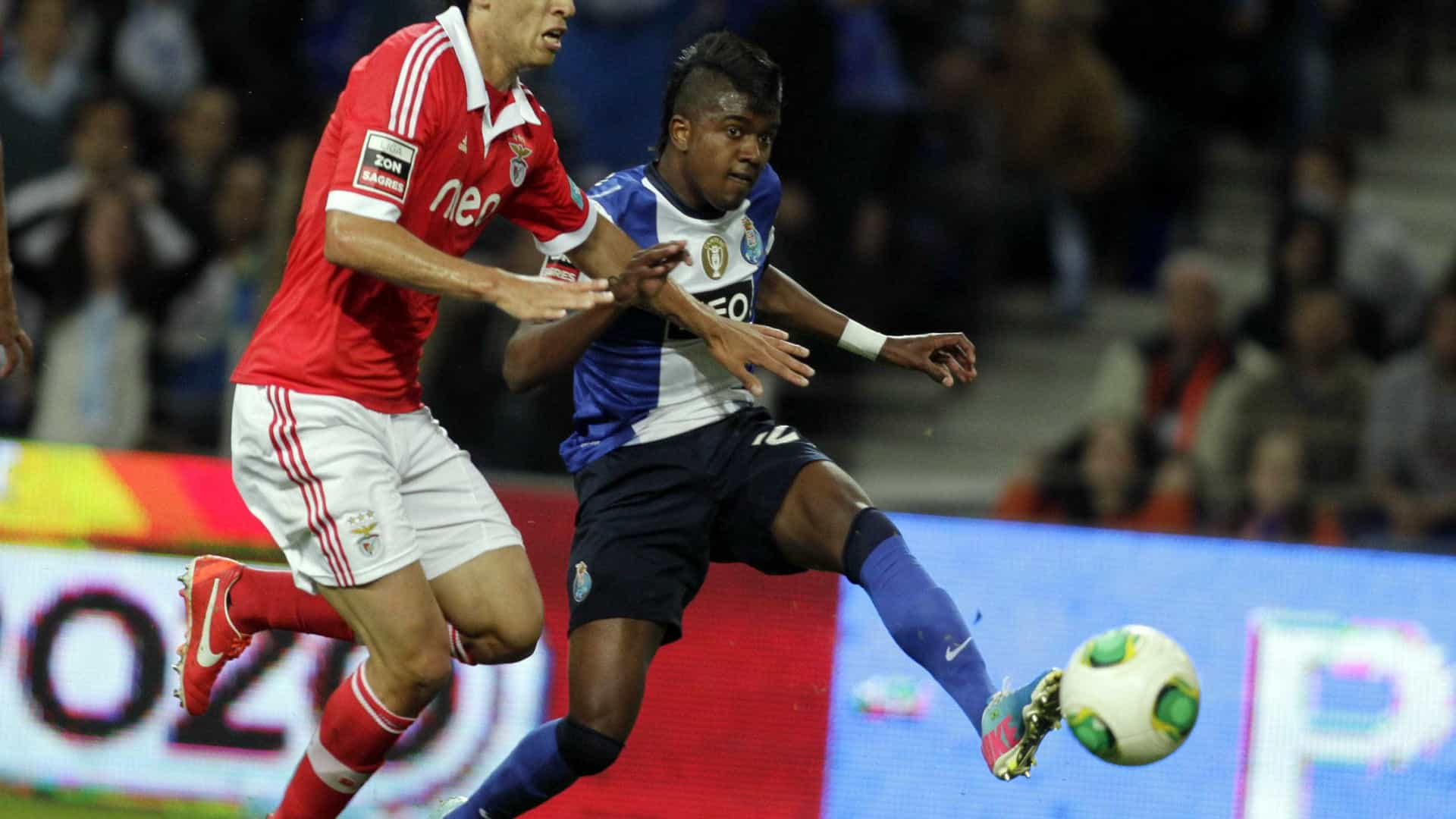 Photo: Reuters
This was a night that belonged to the teenager, but a season – that so often would've belonged to a cold-blooded, brilliant Benfica side – which was foundered by the untamable Martínez. 
As his reputation, and his rampancy reached it's peak, Porto held their talisman tightly as James Rodríguez, João Moutinho and Nicolás Otamendi slipped through the cracks with Juan Quintero, Héctor Herrera and Diego Reyes stepping respectively into their shoes. 
The instant impact Martinez had – perhaps understandably – couldn't quite be replicated by his South American counterparts as Porto fell to third, with old foe Fredy Montero finishing second with Sporting.
Alas, the subdued standard of football didn't seem to faze Martínez, who claimed a second successive golden boot in emphatic fashion, finishing seven goals above Montero and four higher than anyone else. His last came in another 2-1 win over Benfica on the final day for only their second defeat of the season, this time, though, it wasn't quite the same fairytale story. 
Speaking of fairytales, Martínez mustered everything in his power to keep Porto's Champions League dreams alive during the following 2014/15 season. He netted seven in eight during the campaign, and he gave Pep Guardiola's Bayern Munich an almighty scare, slotting Porto's third of the first leg into an empty net to seal a 3-1 victory. Only for the Germans to put six past the Portuguese at the Allianz Arena six days later. 
Back to domestic dealings, and the Colombian again found himself at the top of the goalscoring table in a dominant but ultimately deficient team that fell three points short of the Águias again. Benfica's brilliant Brazilian duo of Jonas and Lima scored 39 between them, but neither could reach the tremendous tally of 21 Martínez managed.
Be it audacious flick or a ferocious header, a scorcher from distance or a skillful run and finish at the heart of the defence, the Colombian had all that a striker needed, all that a defender despised, and that was certain to take him right to the top of world football.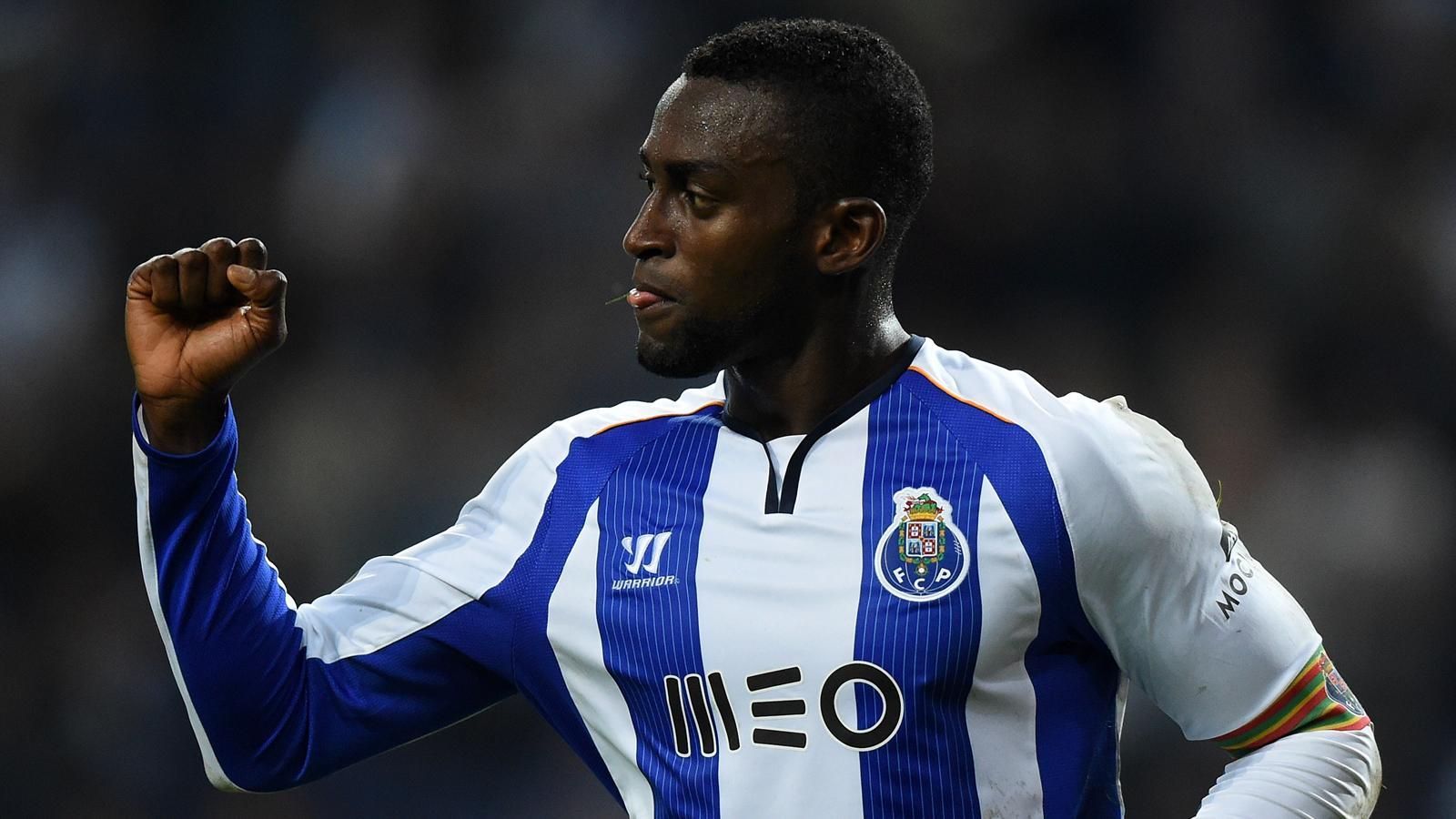 Photo: AFP
That well-rounded repertoire took him to Atlético Madrid, where he would again be set the task of recreating Radamel Falcao's extraordinary spell with the club. But when an injury and an inconsistent run of minutes staggered his stunning rise to this point, it soon became apparent his peak had been and passed. Six months on from his sought after move to Spain, all the promise and poise he came with had descended into pain and disappointment. 
Almost five years later, and spells with Guangzhou Evergrande and Portimonense have since seen his injuries worsen and his level of performance at Porto merely a distant, dissatisfying memory. Whether his greatness and his goals – of which hold him in such high regard at Estádio do Dragão – could have translated into bigger and better things should not come into question.
The talent was definitely there, but the timing of incidents at Atlético, from his ankle issues to the immense impact of Antoine Griezmann, the pieces never quite fell into place.
Brand him as a flop all you like – the facts from Porto onwards are there for all to see – but let's not forget his misfortune, what could have been, and what once was one of Europe's most feared, most fascinating forwards, and his devastating, albeit delayed rise. 
By: Brad Jones
Featured Image: @GabFoligno / NurPhoto / Corbis News