José Mourinho: The Inter Years
At the end of August 2018, following a 3-0 defeat of Manchester United at home to Tottenham Hotspur, a frustrated José Mourinho quoted the German philosopher, Georg Wilhelm Friedrich Hegel, in defence of himself when asked whether he was still one of the world's great managers. 
"Did you read any philosopher? You spent time reading Hegel. Just as an example Hegel says: 'The truth is in the whole,'" said Mourinho, claiming that his CV answers the press' questions. Much of his last few months at Old Trafford were spent defending himself. Under fire at a club that demands success, the Portuguese managers methods at Manchester United were often criticised, but it was clear that it wasn't his reputation that was ever in doubt. 
Mourinho's history in the game is strong and there are no qualms that when he does call it a day, he will go down in history as one of the best. League and cup successes in various countries and clubs, multiple European honours and an iron-clad relationship with several players that made him a revered figure.
After taking Porto to new heights, breaking records with an aspiring Chelsea team, cracking the code in Spain with Real Madrid and bring Europe's second-tier trophy to Manchester United for the first time, Mourinho guarantees success. However, it was at Inter Milan that it all came together for him and perhaps where, he was at his very best.
This was a club that wanted to create a dynasty domestically whilst also adding some European pedigree, and in Massimo Moratti, they had a President who was willing to support it all. Much of Mourinho's problems wherever he has managed has been down to disputes with the ownership, but at Inter, he had an excellent working relationship and its positives were shown out on the pitch. This was important.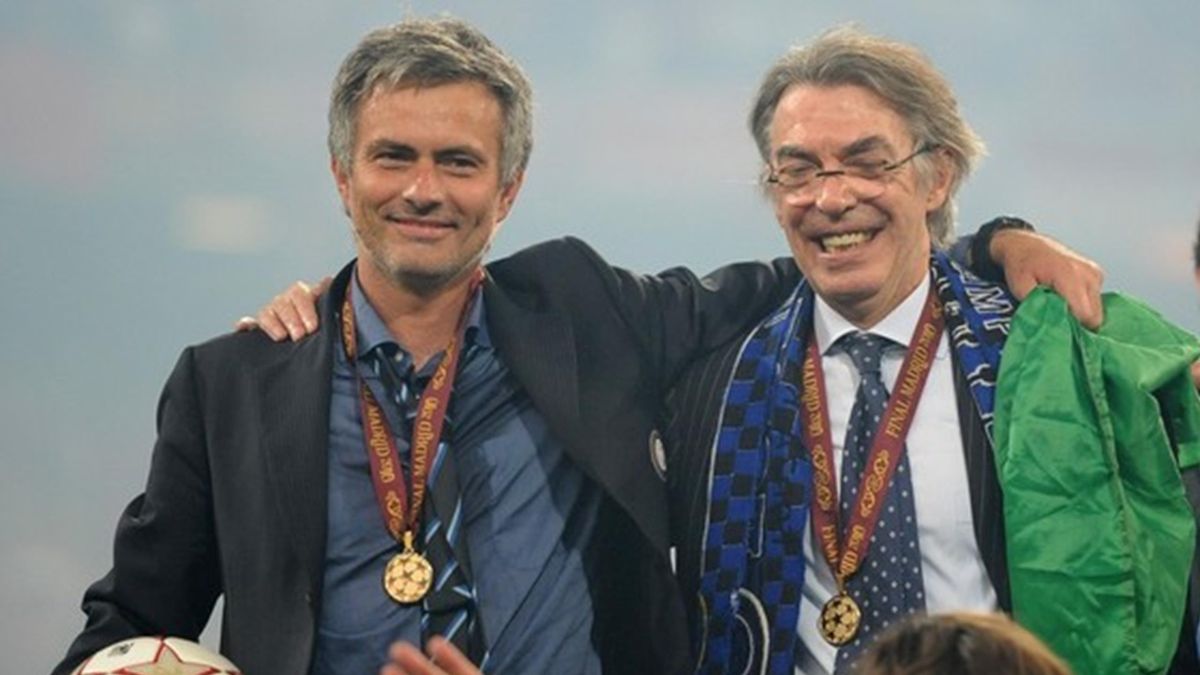 Photo: Michael Mayhew/Sportsphoto Ltd
Philosophy has always been relatable for Mourinho, and in the fashion capital of the world, the case was strong. In his two-season stay in Milan, there was the usual Mourinho-ness: success, scandal, trophies, fight and more.
***
"We have it in our power to begin the world over again."
When Mourinho left Chelsea as a relatively young manager with lots to prove in the game, there were plenty of suitors willing to take a punt on him. After all, he was still only 44-years-old and had one Champions League title, four league titles, one UEFA Cup victory and four cup successes in two different countries – he was silverware guaranteed. It would take a while for the right role to pop up – 10 months – but he made the right choice. Inter Milan would be his next destination. 
The San Siro outfit were in a strong position themselves. At the time of Mourinho's appointment, they had won the Scudetto in the previous two seasons under the tutelage of Roberto Mancini. Although the Italian boss was doing a decent job, the prospect of bringing in Mourinho, his tactical nous, European pedigree and overall fanfare was an opportunity too difficult to ignore.
With a good squad filled with experience and featuring the likes of Patrick Viera, Esteban Cambiasso, Zlatan Ibrahimović, Luís Figo and more, the Nerazzuri had a sombre transfer window, spending on the Ricardo Quaresma, Sulley Muntari and Mancini. With a good roster, Inter started the season strongly, losing just one of their opening 10 games with the Portuguese manager setting a strong precedent for what was to come. 
There were, however, minor problems facing the team that often hindered them – especially in the Champions League. While there were several legendary names amongst the side, many of them were ageing and were unable to fully convey what Mourinho expected of them. Another key issue was the injuries faced by players who covered defensive zones. This often forced Mourinho to tweak his set-up, switching between his favoured 4-2-3-1 and a 4-3-1-2, with the emphasis being on the defensive side of things. 
Walter Samuel, Nicolás Burdisso and Christian Chivu, three players who played in the back-line often found themselves on the treatment table and although Inter were able to strengthen their position at the top of Serie A, it was something that affected their consistency and coherence. 
Up top, there seemed to have been an over-reliance on Ibrahimović's goals, with the team seemingly bereft of ideas without their key man. By the time Christmas came around in the 2008-09 season, the Swede had scored in important wins against the likes of Roma, Lazio and Palermo, and was going into the second-half of the campaign in good spirits, eager to bring home the Capocannoniere.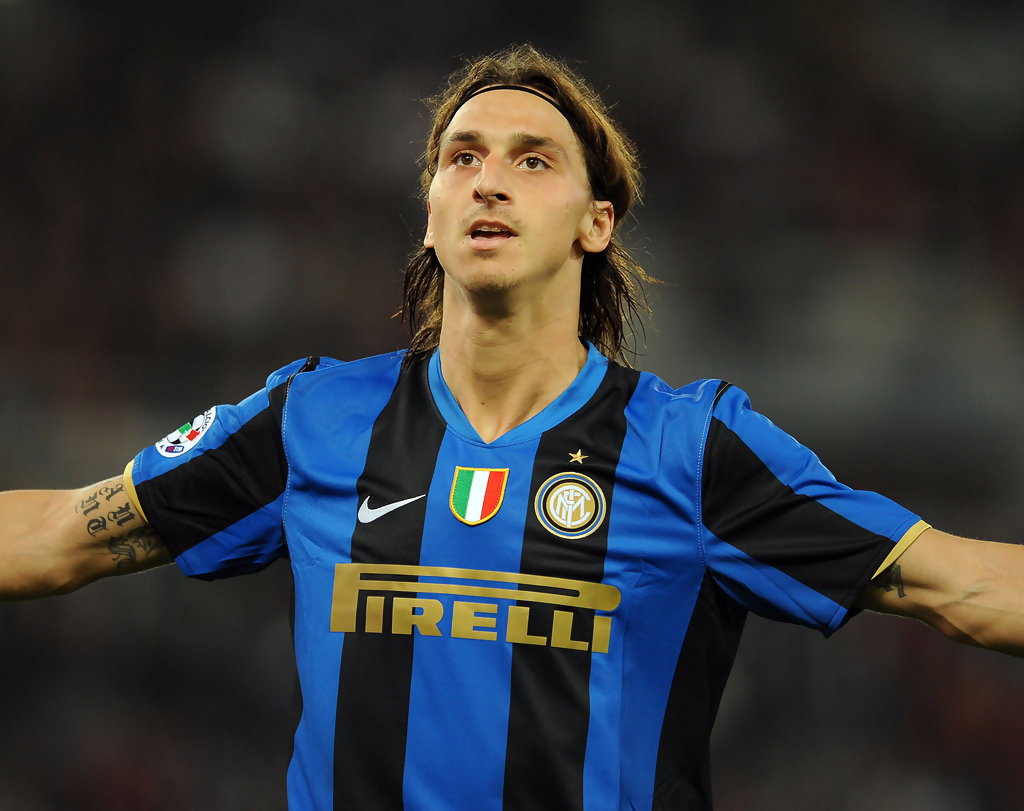 Photo: Getty Images
While they were flying in Serie A, the Nerazzuri were stuttering in the Champions League – the very competition President Moratti had been so eager to excel in when he hired Mourinho. The San Siro outfit were given a fairly easy group with Panathinaikos, Werder Bremen and Cypriot side, Anorthosis, and given Mourinho's European record, one would've expected Inter to steamroll through the first stage and send out a statement. 
Instead, Inter struggled, winning, drawing and losing two games each and were forced to rely on results from other fixtures in order to make it through to the second round. They qualified as the runners-up of their group and when they got to the second round, they had to face the defending champions: Sir Alex Ferguson's Manchester United. 
It was here that Mourinho, Moratti and Inter got a harsh reality check. After a 0-0 draw in the first leg in Milan, the second match at Old Trafford was a comfortable 2-0 win for the home side, with Nemanja Vidić and Cristiano Ronaldo scoring early in each half to knock the Italian champions out. Both manager and President recognised that their side wasn't good enough to challenge the higher elite in European football and were keen on ringing change in the summer transfer window. 
Mourinho, often compared to the legendary Helenio Herrera for his similar style of football, knew how desperate Moratti was to bring the famous big ears back to the blue-and-black half of Milan. Herrera was the last Inter manager to win the European Cup in 1965 and Moratti, since taking over in 1995, had spent big money trying to recreate those glorious days but it was all to no avail. 
Back in Italy, Inter, in typical Mourinho fashion, would cruise through the final stages of the season, tasting defeat just thrice from the Christmas break until the end of the campaign and retaining the Serie A title in convincing fashion. The season was, however, rather disappointing with Inter having suffered defeat at the hands of Sampdoria in the semi-final of the Coppa Italia, meaning that they would end the season with just one major trophy and an overall feeling of dissatisfaction. 
A massive area of concern at the end of the season was the fact that they had few outlets for goals. Despite scoring 86 goals across all competitions – 70 of which came in the league (the most) – they mainly had to rely on Ibrahimović, who scored 29 of those goals (33.7%). Their second-highest goalscorer that season was an 18-year-old Mario Balotelli, who had struck 10 times. 
Moratti also had to worry about Mourinho's transfer record in his first window. Quaresma, the most expensive of the signings, was used sporadically and contributed to just one goal all season before being shipped out to Chelsea on loan. Mancini, too, was a seemingly a squad player with several of his minutes on the pitch coming off the bench. It was just Muntari who had proven to be a solid signing and was a trusted member of the squad.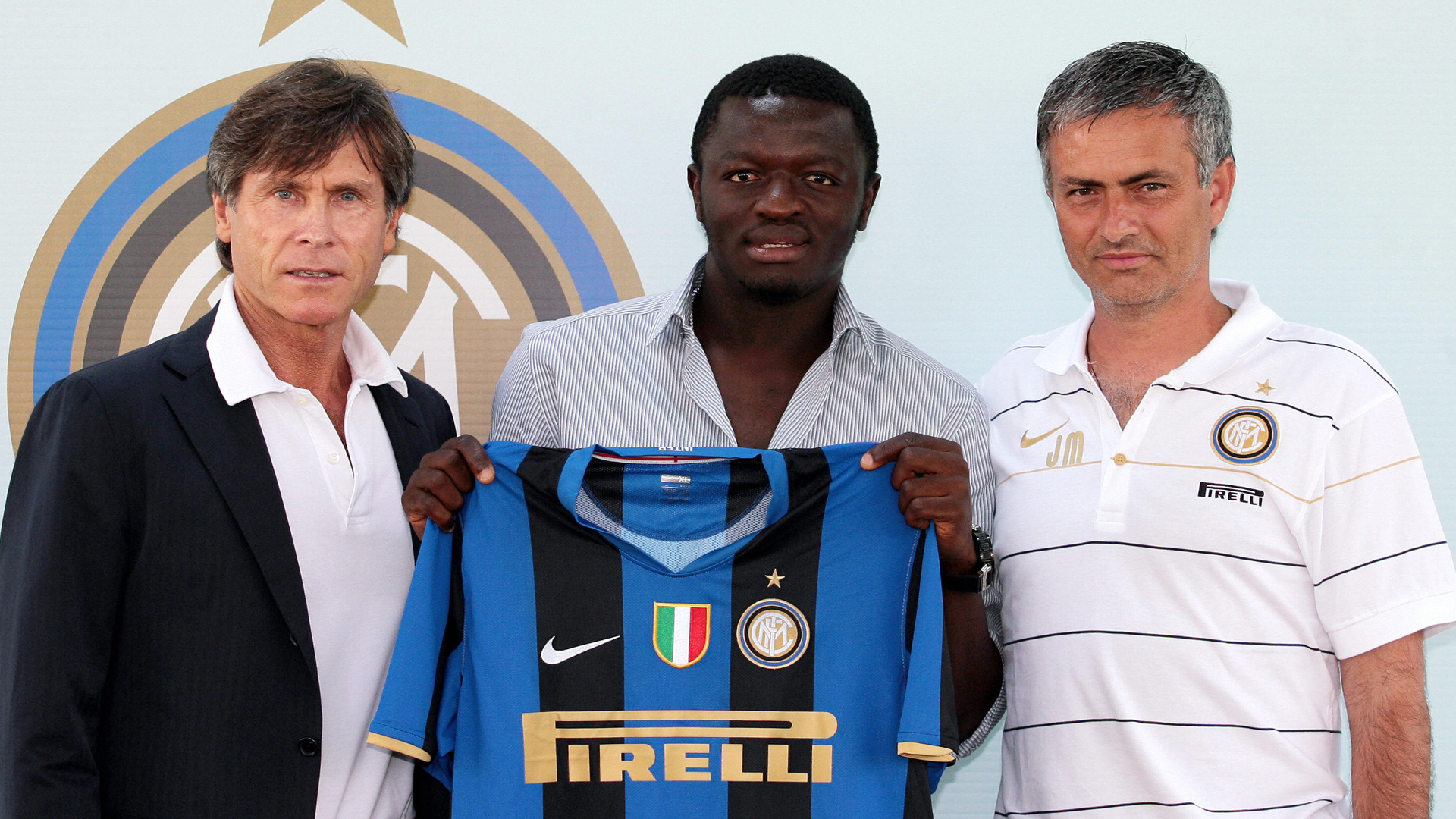 Photo: Getty Images
With lofty ambitions and another Serie A title in the cabinet, Moratti had made the right call in the following summer. Perhaps he recognised from Mourinho's time at Chelsea that not backing his manager would do him and the club no good, and he chose to support the Portuguese fully in the summer. What was to come was a revolution, and the fruit that followed was wonderful. 
***
"We are sorry for the inconvenience, but this is a revolution."
Ibrahimović always cited his love for Barcelona. In July 2009, he signed for the Catalan club. Inter's best outlet in front of goal had gone, thinking that he had a greater chance of winning the Champions League. In a good deal, Samuel Eto'o moved the other way, and this was a trade that impressed Mourinho as he added a versatile replacement and got a few extra million in the transfer kitty.
"To me that seems like an incredible deal, a deal worth €100 million, the deal of the summer. Kaká 70 [million euros – his transfer fee to Real Madrid that summer], Cristiano Ronaldo 96. For me, this is worth €100 million because Eto'o is not worth even one euro less than Ibra," said an uncomplimentary Mourinho to Gazzetta dello Sport.
It could be said that the Swede had every right to feel as though he had a greater chance to achieve European success at Barcelona. They had the best manager in the world in Pep Guardiola, the best player in the world in Lionel Messi and they were the European champions themselves, having dazzled the world with their incredible football over the previous 12 months.
What Ibrahimović couldn't see was that change was set to take place and there was massive interest from Mourinho and Moratti to adjust their position and make Inter a superpower. In addition to Eto'o, Diego Milito was signed from Genoa to be the more direct replacement in attack and become the side's primary goalscorer. Thiago Motta also came in from Genoa and was thought to be a good complement to Cambiasso in midfield.
In attack, Goran Pandev was brought in from Lazio to add more grit and persistence down the wings, while Wesley Sneijder, whose career was stalling at Real Madrid, was the cream of the crop that summer and his acquisition lit up most eyes. To support their defensive frailties, Lúcio, the experience Brazilian centre-half was brought in as Inter wanted to prevent injury issues from haunting them, like the previous campaign.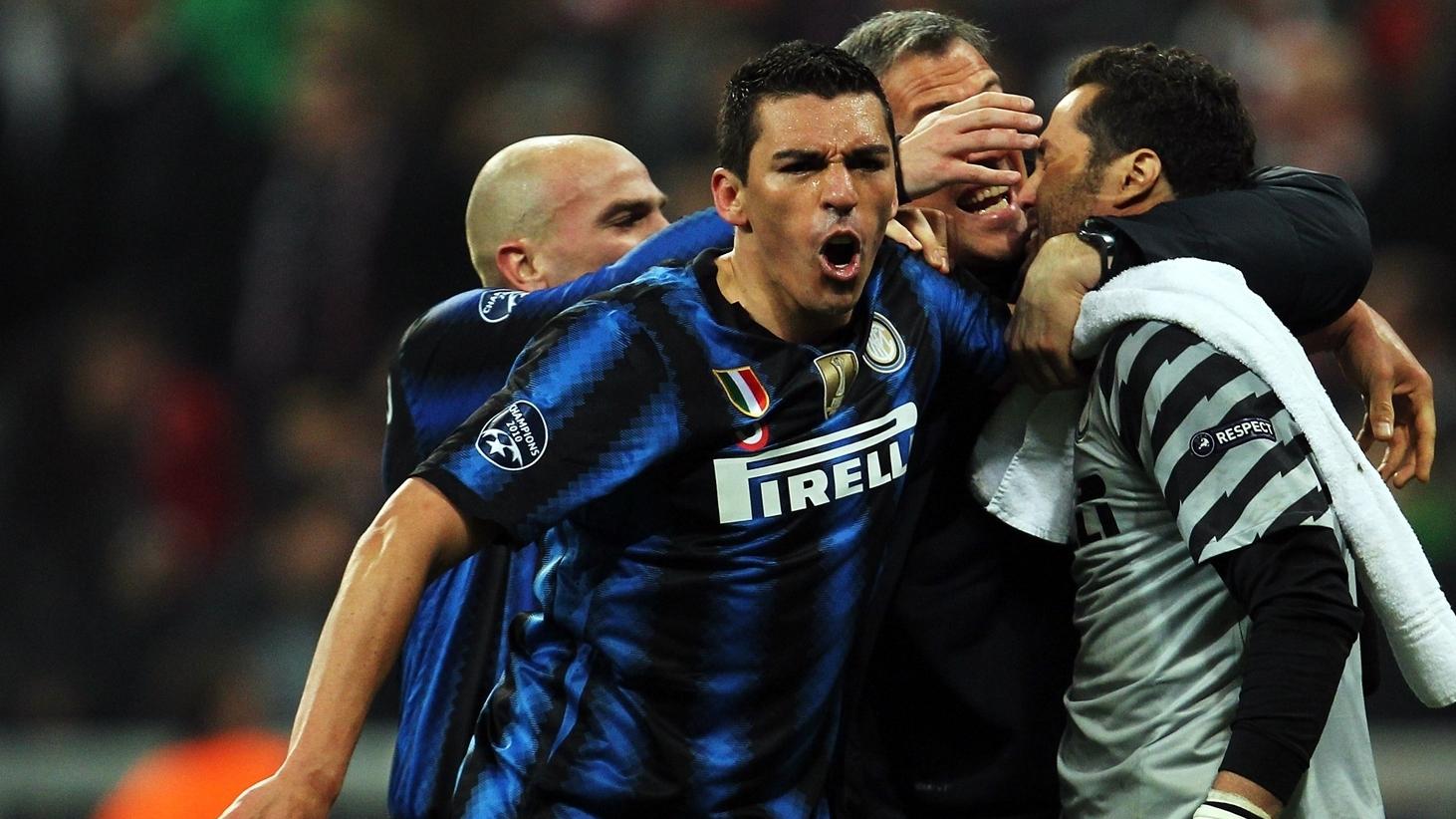 Photo: Getty Images
To signal how massive this summer was, it was worth noting the players that left as well. Figo went into retirement, Viera moved back to England to join the gleaming project at Manchester City, Burdisso was loaned out to Roma while Mancini stayed in Milan, swapping blue for red and going to AC Milan on a temporary deal. An overhaul was needed to challenge, and an overhaul was what Moratti gave Mourinho. 
The Portuguese was now able to deploy his more preferred 4-2-3-1 more frequently now, and his new additions to the side were of the ideal profile to fulfil his tactical plan. Ever so insistent on seeing his wingers track back and perform duties on the defensive side of the game as well, Pandev and Eto'o were brilliant on the sides and contributed heavily on either half. Eto'o also had the freedom to join Milito in attack, with the gut-busting Maicon always ready to cover on the flanks. 
With a hard-working midfield duo of Cambiasso and either Motta or Dejan Stanković, the full-backs, Zanetti and Maicon had the freedom to go and join the attack and with Mourinho being a perfectionist at organising the defensive aspect of a game, he would face little trouble knowing the qualities of his players. Being the sole creator, the stage was set for Sneijder and he was given all the freedom in midfield to create chances at will for Milito. 
This was an Inter side that functioned ever-so-well and in the few months from signing to the middle of the season, they proved their quality once again. Carrying on from where they stopped in the previous season, the Nerazzuri were untouchable in the league, winning 14 of their first 19 league games of the season. This run included successes over Napoli, Genoa, Fiorentina and a 4-0 success over AC Milan to claim local bragging rights. 
It was in Europe where they were worrying again. Placed in a more difficult group this time around with the defending champions Barcelona, and far away Eastern European outfits, Dynamo Kyiv of Ukraine and Rubin Kazan of Russia, Inter would face difficulty once more.
They drew their first three matches and had to scrape to victories against Dynamo Kyiv and Rubin Kazan, while an away loss against Barcelona was sandwiched in between. Nine points was enough to get them out of the group, and the knockout rounds were an emotional rollercoaster for the Portuguese manager – but that didn't stop his tactical genius. 
Chelsea, Mourinho's former club, who were now coached by Carlo Ancelotti, were drawn against Inter. In the first leg of the tie at the San Siro, Mourinho deployed a 4-3-1-2, with Milito and Eto'o being supported by Sneijder in the free role, as Motta, Cambiasso and Stanković aimed at neutralising the Chelsea attack who were rampant in the Premier League. 
Focusing mainly on getting the Blues on the counter, it was the speed of Inter's transitions as Eto'o and Maicon proved to be crucial in adjusting from their defensive phase to a threatening 4-3-3 when they rapidly attacked. An early Milito goal and Cambiasso's winner after Salomon Kalou had equalised gave the Italians the advantage ahead of the return leg.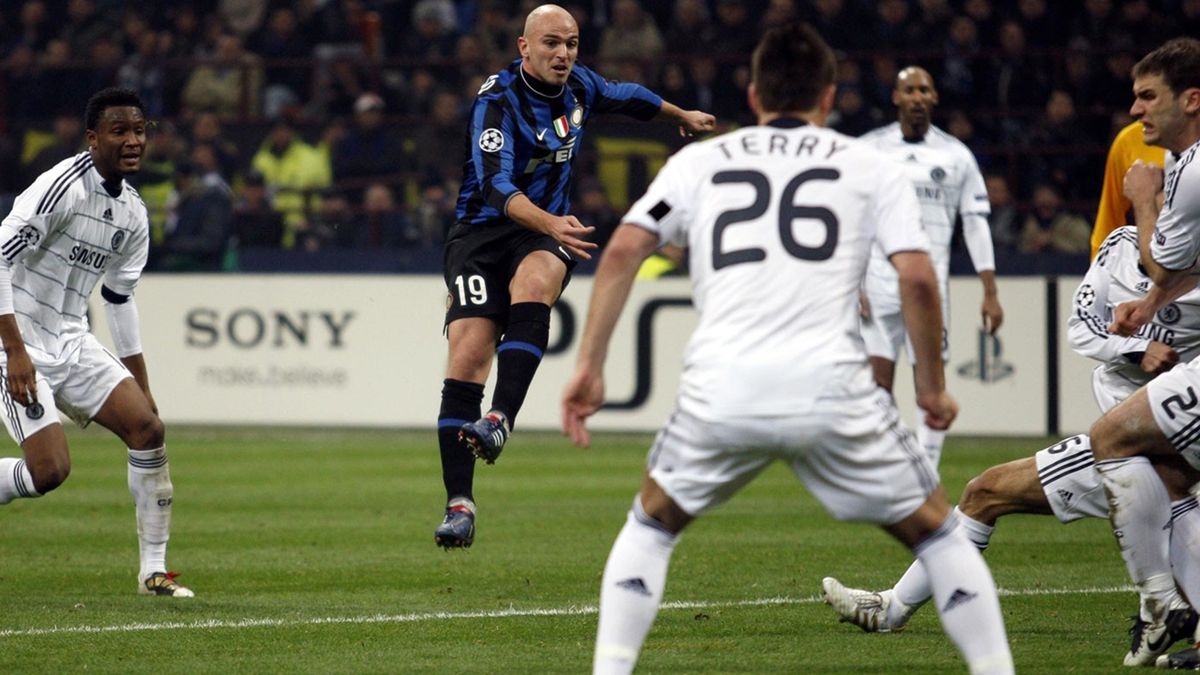 Photo: Reuters
In London, defensive discipline ensued once again as Mourinho aimed at rendering Chelsea's away goal advantage to be useless. In typical Italian fashion, Inter were astute, hardly giving the home side a chance and came back from the English capital with a good result. Eto'o would score late in the game and ensure Inter's progression to the quarter-finals, where they would make a return trip to Russia to face CSKA Moscow. 
In between European knockout games, Inter's domestic form suffered. They often threw away advantages in the second half of the season and there were goalless draws aplenty. Fortunately for them, their dominance in the first half of the season ensured they were still firm favourites to retain their title and their solid defensive foundations were a source of inspiration. 
Back in the Champions League, their 2-0 aggregate success over CSKA Moscow was the perfect example of how organised Mourinho's side were. They won the first leg at the San Siro 1-0, with the goal coming from a rapid transition from defence to attack that was orchestrated by Cambiasso and finished by Milito. In Russia, an early Sneijder free kick extended the Nerazzuri's advantage as their discipline at the back got them over the line. 
It is worth praising the usual centre-half pairing of Samuel and Lúcio, as well as goalkeeper Júlio César. The three were at a combined age of 95 and brought wealth of experience to the side that provided a stern foundation that opposition attackers found difficult to breach.
For Mourinho, strong foundations have always been a blueprint of his teams. At Chelsea, it was the pairing of Ricardo Carvalho and John Terry and they were joined by Petr Čech in the side that broke records in the Premier League, while before that at Porto, Carvalho was joined by Jorge Costa in defence and Vítor Baía in goal as they won the Champions League. 
Add to that the loyalty of captain Javier Zanetti and other well-travelled stars like Motta, Maicon, Cambiasso and Eto'o and this was a collective group that had seen the lot in the game and were hungry for more.
Another blueprint of Mourinho sides is his will to see his players give it their all for the team. Pandev was an example of this. An attacking player by trade, he would often find himself in his own half, making runs, challenges and leaving his heart out on the pitch. The Macedonian wasn't the flashiest or the most recognised of footballers, but to his manager, he was an invaluable asset and a key cog in this well-oiled machine.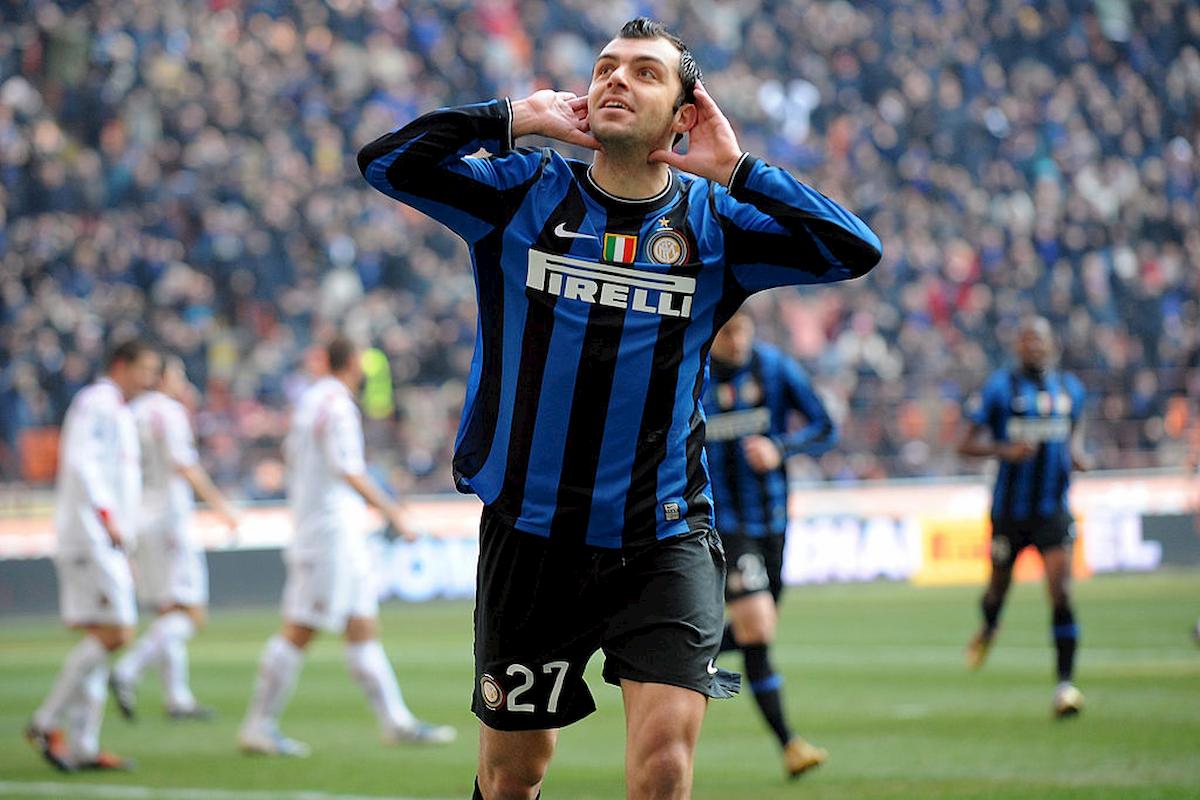 Photo: Getty Images
The run was now three-fold for Inter. On one side, they had their ambitions in the league, where stuttering form and focus on Europe made their title defence a little complicated. On another side, they were keen on winning the Coppa Italia and avoiding the mistakes of the previous season; so far, they had eased through the competition – including a defeat of Juventus in the quarter-final. The third aspect was, of course, the Champions League, where Barcelona were once again waiting, and it could've been said that the winner of this tie would win the whole competition. 
In Serie A, fortunately, their form picked up. Following an away defeat at the end of March to their nearest rivals, Roma, Inter would drop points just once from then on until the end of the season. Impressive 2-0 wins over Juventus and Lazio were included in that run and in the final matchday of the season, a tough away win against lowly Siena confirmed Mourinho's second-successive Scudetto. 
In the cup, Fiorentina were easily dispatched. The awkward scheduling meant that the two sides met in the first-leg of the semi-final in February, before completing the tie two months later in April. The 2-0 aggregate success opened Inter's path to the final, where it was Roma once again.
With home advantage for the Giallorossi, a tough fixture awaited, but knowing Mourinho's sturdy ways in major finals, only results mattered. A Milito goal was enough to win the match in a rather dire final, but it was two domestic trophies for Inter at the end. 
The dreams of a treble were huge and having got a grip domestically, all attentions turned to Europe, where they would face their toughest challenge. 
***
"The best revenge is not to be like your enemy."
Mourinho doesn't tend to have a good relationship with clubs that reject him. When Guardiola was given the Barcelona job in 2008 despite having no experience of top-level management, a new grudge was formed between the Portuguese and the Catalan club. Mourinho had worked at Barcelona under Sir Bobby Robson and Louis van Gaal, so it only seemed right that he would be given the top job when the time came. 
But he didn't, and that led to him taking the role at Inter Milan. The semi-final in the Champions League was a shot at a small piece of redemption. Barcelona, arguably the best club side in the world at the time, were in top form. Six trophies including a treble of the Champions League, La Liga and Copa del Rey in the previous year as well as a group of world class footballers at the peak of their powers made them the overwhelming favourites to become the first side in the Champions League era to retain the famous big ears. 
In the build-up to the first leg in Milan, Guardiola's side faced logistical trouble in getting to Italy. The eruption of the Eyjafjallajökull volcano in Iceland meant that a massive ash cloud disrupted European air travel. This resulted in flights around the region being cancelled, and that saw Barcelona make the 14-hour journey to Italy via coach.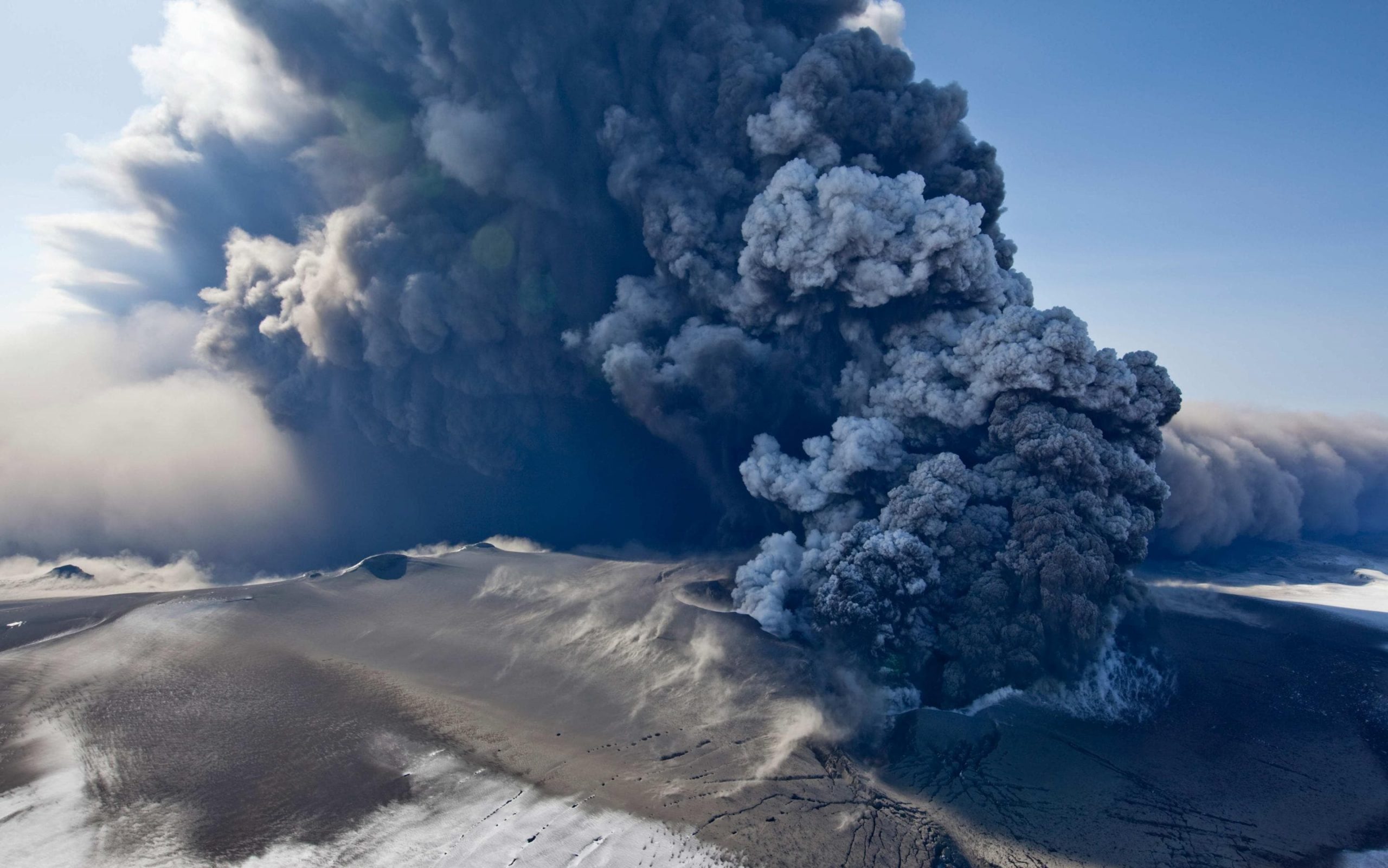 Photo: Getty Images
The tie was set to be a clash of styles. Barcelona's free-flowing, super-controlled passing game which put an emphasis on pressing and attacking was set to be battled by Inter and Mourinho's world-famous pragmatism – the sort that had won the manager trophies in three different countries. Coming up against Lionel Messi, Mourinho had a massive task on his hands and in the first leg, he laid it out to perfection. 
Once again, the 4-2-3-1 turned 4-3-2-1 was in effect, with Eto'o taking the role up top when Inter were in position. In conversation with The Coaches' Voice, Mourinho revealed his plan of getting a result and ensuring Barcelona have little to no chance when they returned to Spain for the second leg:
"Obviously the strategy to try to hurt them was in our attacking transition, the moment we recover the ball. And we know of course the way of their building-up, going with Dani Alves and Maxwell forward really, really wide and leaving lots of spaces."
Counter-attacking was what Inter had done so well across Mourinho's two years in charge and that is what they had to do here as well in a game where they knew they were to have few clear-cut chances. Every opportunity had to count.
The team recognised that they would have very little of possession, very few opportunities to get forward and would be left frustrated by Barcelona's persistent passing. In his pre-match press conference, Mourinho described it as "a game played with the head more than the feet", and that was exactly what it was. 
Pedro gave Barcelona the lead in the 19th minute and it continued to be all Barcelona from there on out, albeit Inter made their few moments count. By the end, the Nerazzuri had won 3-1 and it was all down to aspects they had been all too familiar with since Mourinho took over: discipline, organisation, speed of transitions and effectiveness.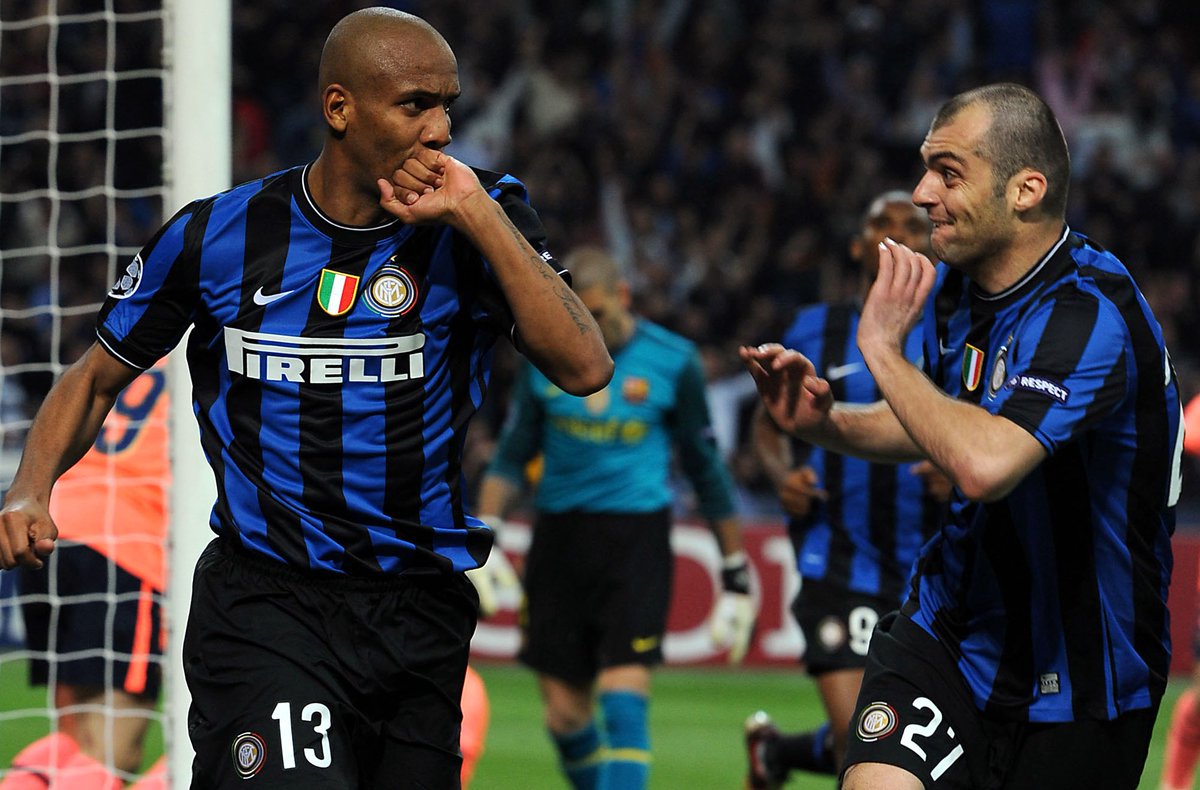 Photo: AP
The second and third goals for Inter that evening, scored by Maicon and Milito, was exactly what Mourinho had been talking about before the match. They had to wait for their opportunities and when they got them, charge forward with intent and take their chances. This was arguably the finest win in Mourinho's career. Not only had he planned and executed it to perfection, he had one foot in the Champions League final having beaten the favourites.
The second-leg brought out the war of words. With the final to be hosted in Madrid at Real Madrid's Santiago Bernabéu Stadium, Barcelona had a once-in-a-lifetime chance to win the one prize their esteemed rivals adored the most in their very home.
Mourinho, in his mood of playing mind games, expressed his feeling about it: "We want to follow a dream. But it's one thing to follow a dream and another to follow an obsession. For Barcelona it's an obsession… It's an obsession you can see and feel. To have a Catalan flag in the Bernabéu is an obsession."
With nearly 100,000 backing the Blaugrana to overturn the deficit, Inter had their backs against the wall. That pressure was further added to when Motta was sent off just before the half-hour mark in a bizarre situation involving him and Sergio Busquests, who theatrically went to ground. With 10 men playing against 11 and a partisan atmosphere, Mourinho wanted to bring some confidence back to his players and more importantly, back to himself.
The Portuguese was on the prowl on the touchline. Always moving, always instructing, and even going over to Guardiola's touchline to share a few words when the latter was in conversation with Ibrahimović.
By the end, there was a dramatic finale. Gerard Piqué scored six minutes of time to send tensions rising in the Inter camp and expectations in Barcelona's. A few minutes later, Bojan Krkić had the ball in the Inter net, but that was ruled out for offside. A resolute Inter held on, and Mourinho set off. 
The win meant the Inter boss got one against his old employers and newest nemesis, and to celebrate that, he went on a sprint on the Camp Nou turf, enraging the locals, with Víctor Valdés particularly annoyed. He had won the Champions League with an unfancied Porto, he had taken Inter to a win away from his second Champions League, he had two successive Premier League titles with Chelsea, but this defeat in victory was what Mourinho described as the greatest moment of his career.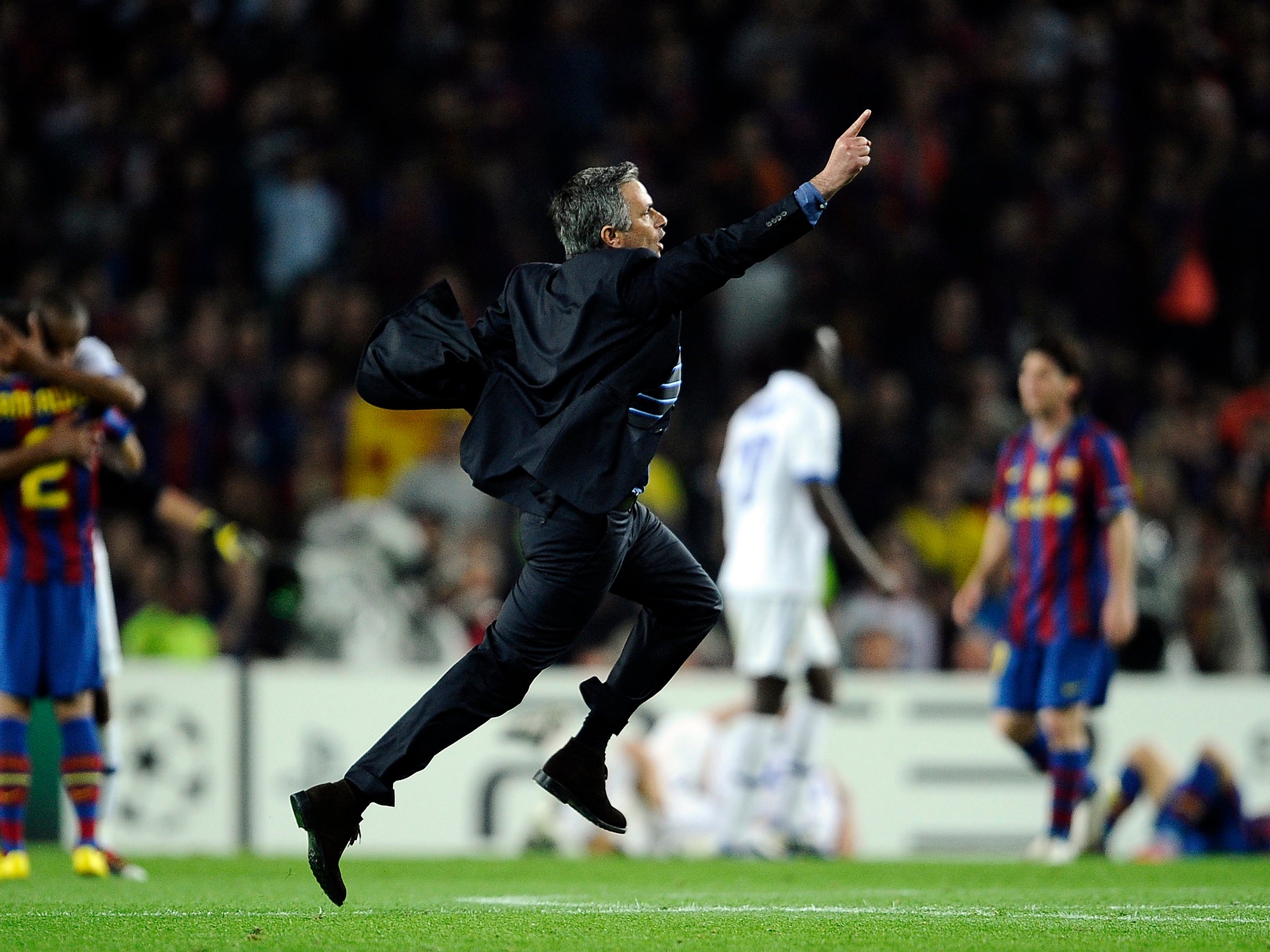 Photo: Getty Images
Before the final in Madrid, speculation was rife that no matter what happened in the match against Bayern Munich, Mourinho was set to stay in the Spanish capital and take the job at Real Madrid. That was, however, for another time and all attentions went towards beating his former boss, Louis van Gaal. Both sides here were chasing a treble – they had won the league and cup in fine fashion, and the Champions League was the final hurdle. 
Once again, it was Mourinho's famous pragmatic philosophy that had worked wonders. Inter, just like in the Barcelona tie, were fine with seeing less of the ball but making their moments count. The first goal, going to Inter, epitomised just that.
Júlio César cleared the ball away following a Bayern attack and that came straight down to Milito, who after some fine interplay with Sneijder, finished the move off to give the Nerazzuri the lead. First blood to Inter, and if Mourinho's previous finals were anything to go by, there was a long road back for Van Gaal. 
Both managers worked together at Barcelona. Van Gaal had the top job while Mourinho was his interpreter. They spoke about the respect they had for each other before the game and appreciated the work they had done to reach this point. But in Madrid, it was clear who was the superior: the apprentice was outdoing the master – and he did it in his own style. 
In the second-half, Milito closed the curtains on Bayern's hopes. He received the ball from Eto'o just outside the box, beat Daniel Van Buyten with a smooth dribble and finessed it past a helpless Hans-Jörg Butt. Inter went two goals to the good and for the first time in 45 years, the big ears were set to return to the blue-and-black side of Milan.
It was the best possible ending to two glorious years in Milan. When President Moratti hired Mourinho, he aimed at replicating the success the great Helenio Herrera brought to the club, and the Portuguese obliged. Support from the hierarchy and willingness from the players combined with a siege mentality from the manager made this Inter team undefeatable, and they have been one of the most unique Champions League winners of this century.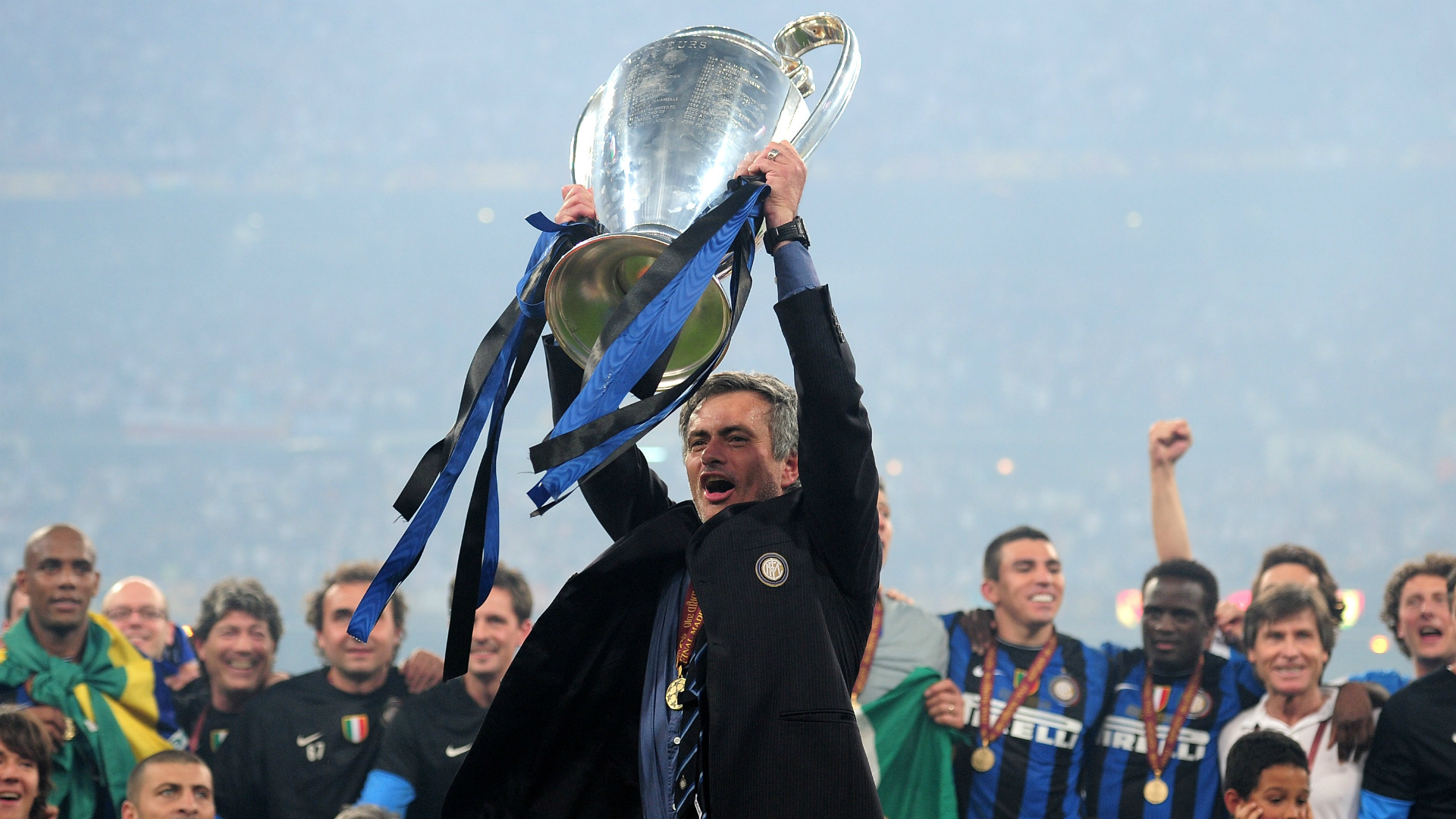 Photo: Getty Images
A few days after lifting the Champions League trophy in Madrid, it was confirmed that Mourinho had signed for Real Madrid where he would continue his rivalry with Guardiola and Barcelona. His Inter career is remembered fondly, for it is perhaps the best phase of his career. Several times, Mourinho has ended a stint at a club on a sour note, but that wasn't the case here – this had silverware and pure loyalty, allowing him to succeed in full. 
When Mourinho burst out at the press at Old Trafford after the defeat to Tottenham, he knew exactly what he was talking about as he aimed at defending himself. A large part of his idea at quoting Hegel was to remind everyone how much success he had enjoyed, but perhaps there was a subtle message as well. 
Perhaps to the Manchester United board, who unlike Inter, had failed to back him in the previous transfer window? Perhaps to the Manchester United players, who unlike players such as Maicon, Cambiasso, Milito and Zanetti, amongst others, were seemingly not as adhering.
Maybe he just solely wanted to remind everyone how good he was and can be. But whatever the reason, it is clear that his time at Inter was great, proving to everyone that even in times of beautiful football brought to the world by the Spanish national side and Guardiola's Barcelona, that there was more than one way to win in football that's beautiful in its own way. He has always been a rebel, always been a winner, and his time at Inter Milan was the perfect embodiment of José Mourinho the man and the manager. 
By: Karan Tejwani
Featured Image: @GabFoligno / Martin Rickett – PA Images
This article was originally published on Football Chronicle.