Juventus 3-2 Fiorentina: A Star Is Born
Juventus vs Fiorentina is a unique rivalry in Italian football. Unlike other derbies in Serie A, mainly forged out of geography, the enmity between these two sides goes back to a plethora of incidents in the early 1980s and early '90s. From Juventus edging Fiorentina to their 20th Scudetto in the last round of games in the 1981/82 season or Roberto Baggio's move to Juventus from Fiorentina in 1990 causing fans to riot in Florence, it is a fixture that elicits strong emotions. 
The rivalry has transcended across Serie A, Coppa Italia finals and the 1990 UEFA Cup final. However, when the two sides met in the league at the Stadio delle Alpi on Sunday 4th December 1994, it would produce the greatest game in the history of this illustrious rivalry and the birth of a new star. 
Both sides came into the game on the back of strong starts to the season. After losing their first league game of the season at Foggia (2-0) in mid-October, Juventus had won their last four league matches. Such good form propelled them up the table into 2nd, just a point behind league leaders Parma.
Under manager Marcello Lippi's 4-3-3 formation, Juventus had reduced the dependence on Roberto Baggio by utilising Gianluca Vialli, Fabrizio Ravanelli and a young 20-year-old named Alessandro Del Piero. So when Baggio suffered a long term knee injury during the 2-1 win at Padova, just a week before facing Fiorentina, Lippi was not short of attacking options.
As for newly promoted Fiorentina, they had become the surprise team of the season under Claudio Ranieri. Prior to facing Juventus, La Viola had gone undefeated in seven league games (four wins and three draws) to sit just a point behind the Bianconeri in 3rd.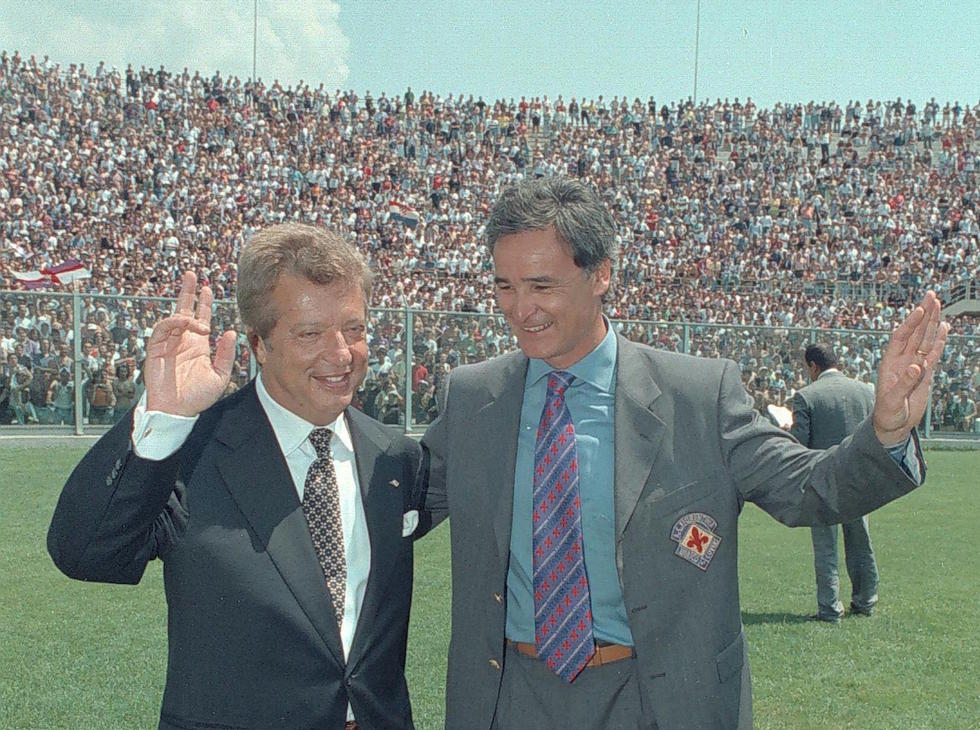 Photo: ANSA
Most of their goals came from Gabriel Batistuta who had continued his lethal form in Serie B by wreaking havoc in the top flight. Thanks to an increasingly effective partnership with playmaker Rui Costa, acquired from Benfica in the summer, Batistuta had scored 13 goals in just 11 league games.
However, both sides had contrasting worries when it came to injuries. While Fiorentina had just one starter injured in Fabrizio Di Mauro, Juventus were missing a host of first team players such as Roberto Baggio, Jürgen Kohler, Angelo Di Livio and Antonio Conte.
Despite the injury problems, it would be Juventus who started the game strongly with a string of chances. Firstly, a cross by Del Piero from the right into the 18-yard box was met by a firm header from Sergio Porrini, which was wonderfully parried away by Francesco Toldo.
Juventus then went even closer when Ravanelli skipped past two Fiorentina players to find himself one-on-one with Toldo. The striker went around Toldo but his shot was brilliantly hacked off the line by Brazilian center back Marcio Santos. 
The Bianconeri may have been on the front foot yet it was Fiorentina that scored against the run of play on 24 minutes. Paulo Sousa's pass to Ravanelli was easily cut out, with Fiorentina's Anselmo Robbiati quickly playing a first time pass to release Batistuta.
His first touch took him away from goal, allowing goalkeeper Angelo Peruzzi to rush out from goal and narrow the angle. Batistuta's shot was blocked by a combination of Peruzzi and Juventus defender Massimo Carrera but fellow striker Francesco Baiano was faster than Carrera and tucked home the rebound. 
Fiorentina would take control of the game 11 minutes later. Winning a free kick near the touchline, Alberto Malusci clipped the ball deep into Juventus' half, where Batistuta flicked it towards Angelo Carbone, who had managed to skip ahead of Juventus' left back Alessandro Orlando.
Carbone controlled the ball with his chest as he entered the 18 yard box and then unleashed a dipping half volley over Peruzzi into the back of the net. It was a stunning finish that sent Fiorentina's fans into a jubilant frenzy. Juventus' fans were stunned at what they were seeing and made their displeasure widely known by loudly whistling their side off at halftime.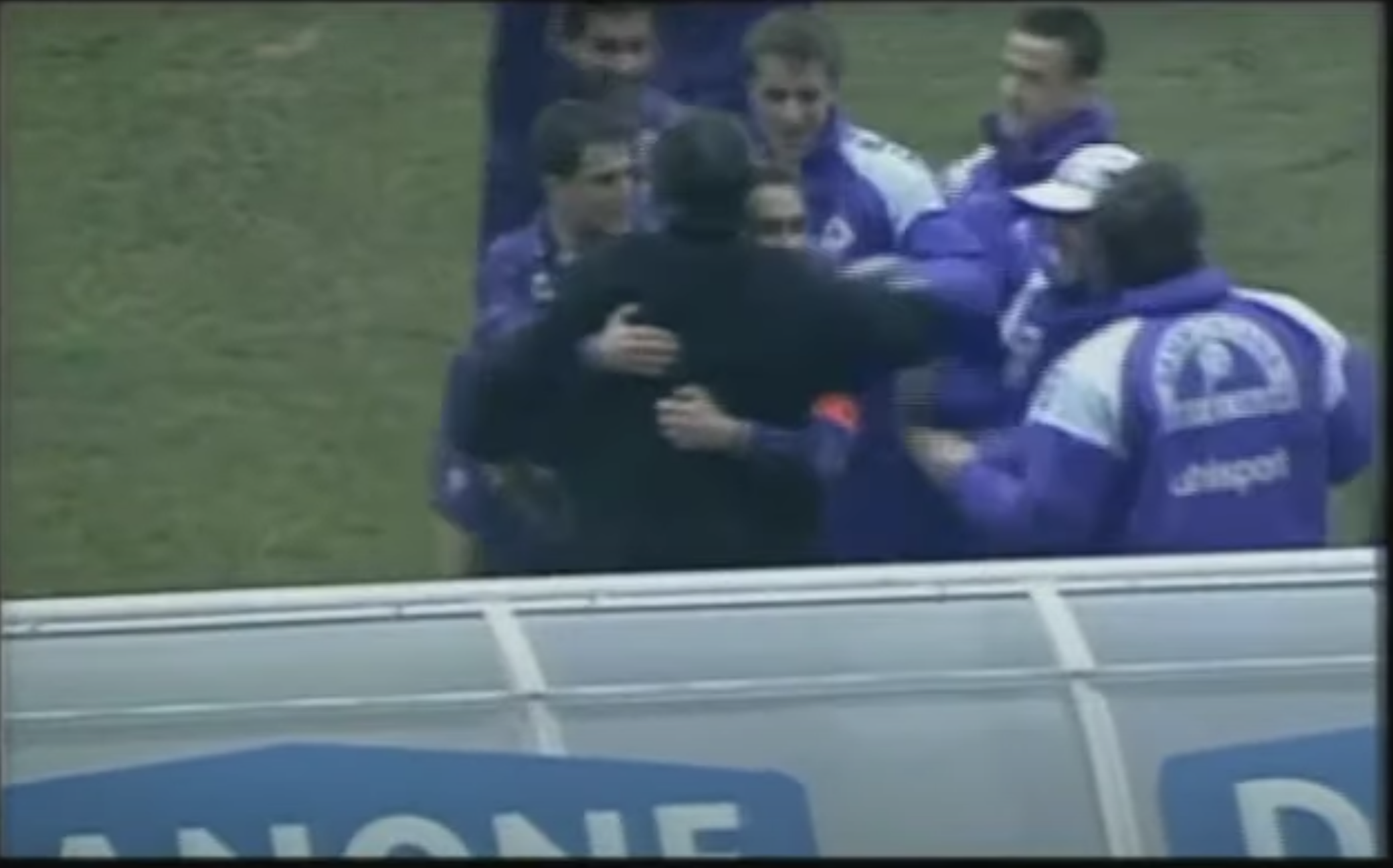 Photo: YouTube
Stung by their fans' anger, the Bianconeri went on the attack in the second half. Looking for a way back into the game, Vialli began to get frustrated, as his penalty appeal was turned down when his cross seemingly hit the hand of Marcio Santos.
His mood did not lighten when his near post header from defender Ciao Ferrera's cross was stopped by Toldo. When Ravanelli and Vialli spurned yet more chances it seemed that Fiorentina were on the way to a memorable win. That was until the 74th minute. 
A through ball by Del Piero found Ravanelli in some space on the left. Heading towards the byline, with Malusci closing him down, Ravanelli whipped a cross towards the near post. Instinctively, Vialli got ahead of Marcio Santos and flicked the ball past a prone Toldo into the far top corner. With hope now kindled, the crowd roared their team on for an equaliser. It took Juventus just three minutes.
From a corner taken by Paulo Sousa, one of the Juventus' players miscued a scissor kick attempt, yet the resulting cross led to Vialli's diving header hitting the woodwork. The ball was cleared only as far as Carrera who launched a hopeful cross into the box.
Ravanelli tried to control the ball with his chest, but ricocheted off his chest and arm towards the path of Vialli. While Fiorentina appealed for handball against Ravanelli and offside for Vialli to no avail, the latter took one touch before striking the ball into the bottom corner. 
Multiple flares lit up across the Stadio delle Alpi in celebration of the Bianconeri getting back into the game. The pendulum had swung and now Juventus had all the momentum. With just three minutes of normal time remaining, the derby would be decided by a moment of sheer individual brilliance.
Receiving the ball near the left hand touchline just inside Fiorentina's half, Orlando pinged a 50-yard ball towards Del Piero. Located in between Marcio Santos and Malusci, Del Piero kept his eye solely on the ball while entering the 18-yard-box. As it dropped over his shoulder, he outrageously flicked the ball with the outside of his right foot past the outstretched right hand of Toldo into the back of the net.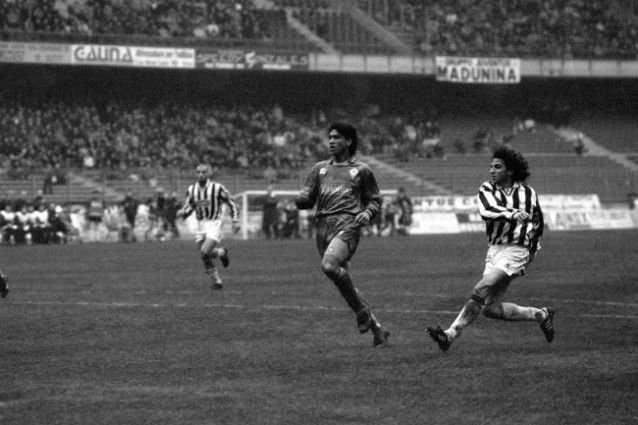 Photo: calciomercato-juve.it.
The look of sheer joy on Del Piero's face is triumphed by the cacophony of noise from Juventus' fans in delirium at what they have just witnessed – a goal that announced the arrival of a star that would become a club legend. It was fitting that Del Piero's moment of individual wizardry decided such an entertaining game. Such was its significance that Juventus' fans in November 2017 would vote it the greatest ever goal in the club's history. 
"I scored many goals in my career but maybe that one was the most beautiful," Del Piero later recalled. 
What transpired at the Stadio delle Alpi on that cold December afternoon would impact both sides for the rest of the season. Del Piero's winner cemented a changing of the guard that led him to prominence in the absence of Baggio. Juventus went on to win their first Scudetto in nine years, going on to win the double by defeating Parma in the Coppa Italia final. 
As for Fiorentina, such a traumatic loss to Juventus impacted them negatively, as they won just six out of their remaining 22 league games to finish the season in 10th. The only bright spot would be Batistuta, as the Argentinean scored a further 13 goals to become Capocannoniere with 26 goals.
Juventus may have won on that cold December afternoon yet in the end, Calcio was the real winner. It encompassed what the rivalry is all about – drama, tension and a little bit of controversy.
By: Yousef Teclab