Klaas-Jan Huntelaar: The Prince Returns to his Fallen Kingdom
Whether you have been out of work, lost a family member, or have been forced to put your life on hold due to an unprecedented pandemic, 2020 has been a year to forget for everyone. Amongst all the loneliness, and heartache that has been endured across the past 365 days, the only reassurance for many is that somewhere out there someone is having it even harder than themselves.
But when it comes to football, Schalke 04 fans have nobody to relieve their self-pity, experiencing 2020 as a hellish culmination of on and off-field disasters that no other set of football fans can even come close to comprehending.
A 30 game winless streak, numerous mutinies amongst the playing squad, debts of almost €200 million, and a backroom staff that continues to be plighted by controversy; these are just some reasons why the faith of Schalke's fanbase has been tried like no other in 2020. With Schalke's 30-year topflight status unraveling before the empty stands of the Veltins-Arena, even the most optimistic of S04 supporters have begun to give up on a revival.
With the league's worst defense, and an attack reliant on 19-year-old Matthew Hoppe to provide any sense of goal threat, Schalke are in desperate need of reinforcements in the January window.
In the defensive department, Schalke have bolstered the ranks with the arrival of Sead Kolasinac, an academy graduate of the club who brings attacking drive and leadership from left back. Yet up top is where Schalke have made perhaps their most impressive acquisition, bringing back another former star in the form of 37-year-old Klaas-Jan Huntelaar.
Entering the final 5 months of his playing career, Huntelaar returns to help a side he entertained Champions League football within 2015 escape top-flight relegation just 6 years later. A major challenge to embark on in a period of the Dutchman's career where he could easily be reclining into retirement with one final payday if Huntelaar were to save Die Königsblauen from the drop it would provide the final bang to conclude an esteemed career.
On August 31, 2010, Klaas-Jan Huntelaar signed in Schalke for a fee of €14 million. A player once regarded as the next great Dutch forward to follow in the footsteps of Ruud van Nistelrooy, Huntelaar had just endured a disastrous year and a half in Italy and Spain.
Following a move in January 2009 from Ajax to Real Madrid for €27.00m, a then 25-year old Huntelaar was set to be the next great striker for Los Blancos, boosted by the 6-year contract he was handed that incited a huge commitment to his talents from Florentino Pérez and the rest of the Madridistas. Yet after less than 6 months the Dutch international was already on his way out, failing to impress despite scoring 8 goals in 6 matches between February and March.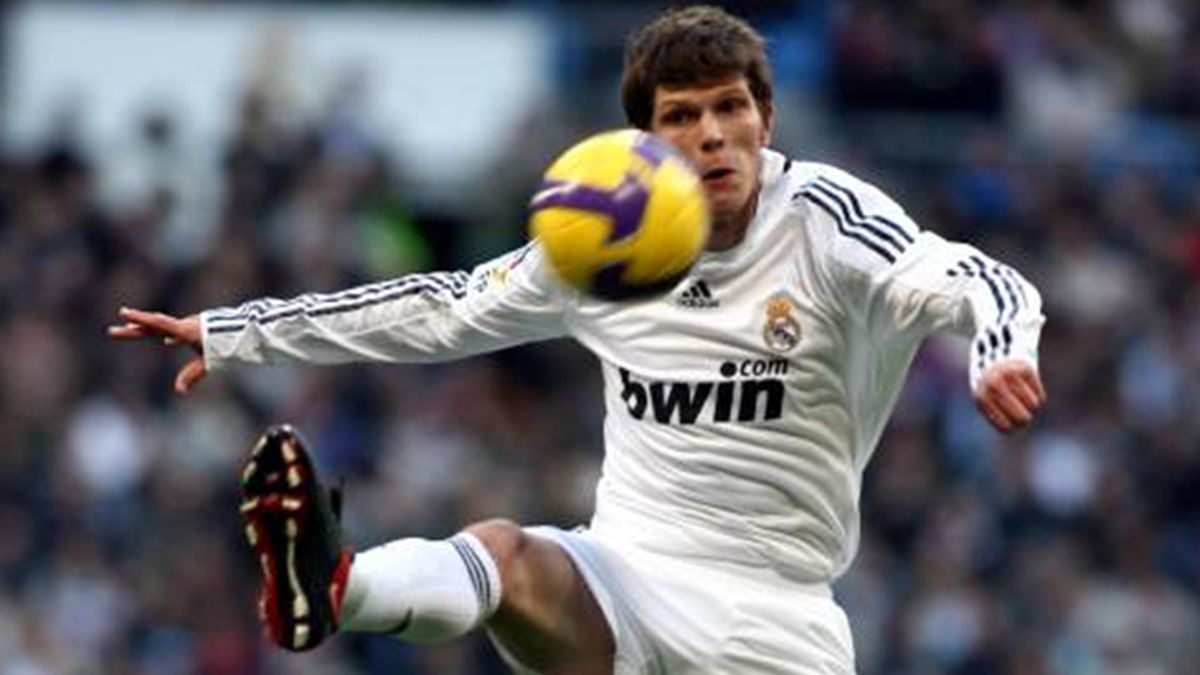 Photo: imago
The complete reason for Huntelaar's quick departure from Spain has never truly come to light, however, Spain's leading news outlet Diario AS had confirmed as early as February that Huntelaar was looking to leave Madrid. Featuring an article following Los Blanco's 4:0 decimation of Sporting Gijón that read Huntelaar: I want to Leave Real Madrid, meant the ties between the fanbase and player had already taken a sizable hit before their new striker had even mustered a dozen appearances for Los Blancos.
For the Dutch striker, this felt like a stab in the back. Having never openly spoken to any news reporter about his displeasure under Juande Ramos meant that the headline had to have been leaked by one of his Dutch teammates, Robben, Sneijder, van der Vaart, and Drenthe, with whom he shared his discontent at a dinner days earlier.
With the bridges burnt between both the fans who turned on him after his public desire to leave and his own teammates who had leaked his confidential grievances to the media, Huntelaar pushed for a move that summer. Unveiled at AC Milan just 215 days after taking in his first minutes at the Santiago Bernabeu, who was supposed to be the long-term heir to Raul, quickly became just a blip in Madrid's decorated history of prolific number nines.
Having left Madrid for €12.00m less than what he had been signed for that winter, Huntelaar's reputation as an elite up and coming striker had taken a sizable hit. Though Milan weren't the all-conquering outfit that they had been in the 90s, Huntelaar was joining a side hell-bent on securing their 18th Scudetto under the tutelage of former player Leonardo. Huntelaar too was expected to be the major factor in any chances of success, the only marquee signing of the window that could bolster their chances of challenging city rivals Inter who had taken home the previous four league titles.
With the likes of Marco van Basten, Frank Rijkaard, and Ruud Gullit carving out a legacy as legendary Dutchmans in Milan's history, everyone expected Huntelaar to follow in the esteemed Oranje footsteps that had taken to the San Siro before him. Yet it was to be another disappointment at one of Europe's elite sides for Huntelaar, once more suffering from a lack of faith from the club that employed him.
Particularly Leonardo's usage of Huntelaar was questionable, playing him out of position on the left wing, or benching him after an impressive performance the previous week. Even van Basten became publicly incensed by Leonardo's decisions, explaining in a Gazette interview his disdain for the Brazilian manager's decision to consistently play a 37-year-old Filippo Inzaghi ahead of the far younger Dutchman.
With Milan once again finishing the campaign well adrift of arch rival's Inter atop of Serie A, Leonardo was given his marching orders, replaced by Massimiliano Allegri who would bring a title back to the Rossoneri the following season. However, Huntelaar would not be a part of that triumphant campaign, as Milan's summer acquisitions of Zlatan Ibrahimović and Robinho meant the Dutch forward was left to spoil on the bench.
With Huntelaar's value almost halved in price after failed stints at two of Europe's elite clubs, the sides willing to bring the out of form Dutchman in were becoming increasingly less and less amongst the historic establishment of European football. With Schalke 04 one of the few clubs capable of paying his transfer fee and wage packet, Huntelaar would be afforded a make or break opportunity in Germany, and ultimately one that would define his legacy to this day.
Though hard to believe today, heading into the 2010-11 season, Schalke were amongst the favorites to succeed Bayern atop the Bundesliga. Having finished the past season in second place, whilst retaining the services of their chief creator Jefferson Farfán, and German international Manuel Neuer, things were looking up for Die Königsblauen. When it came to new signings, Huntelaar also wasn't the only arrival capable of getting fans off their seats, with Real Madrid's very own Raúl González coming on a free transfer to the Veltins-Arena to add to an already tantalizing attacking setup.
Fast forward to the end of the season though, and Schalke had displayed a horror show in the league, finishing 14th in the table, 2 places ahead of the drop zone, and 25 points lesser off than their previous season's tally. Despite the arrival of two formidable strikers, Schalke's 38 goals that year were the third-lowest of any side in the division, with a 24-year-old Neuer forced to bail his boyhood club out on numerous occasions to even keep them in the top flight. Despite qualifying for the cup final and journeying all the way to an unprecedented Champions League semi-final, the jury was still out on Schalke's season with their poor showing in the league looming large.
For Die Königsblauen's new striker it was much the same as his previous two clubs, starting brightly before succumbing to poor form as the matches piled up. 5 goals in Huntelaar's first 6 appearances, including one against Schalke's great nemesis' Dortmund, left Schalke fans ecstatic over what was looking like a transfer coup. Yet just 3 more goals in the remainder of the season, as well as a knee injury that kept the Dutchman out for 2 months, meant the long term goal-scoring prowess of Huntelaar was still up in the air.
Was Schalke to be the next club outside of the Eredivisie in which Huntelaar was unable to make the grade?
Cup finals are always a good chance to prove doubters wrong, with a date in the DFB Pokal in Berlin's Olympiastadion awaiting the Dutchman. There Schalke would face MSV Duisburg, a side just 30 minutes up the road from the Veltins Arena, adding an extra element to an already heated affair for silverware and a place in next season's Europa League. With MSV Duisburg finishing in mid-table in the second Bundesliga, Schalke were clear favorites and looked to take the game to The Zebras.
The gun-ho style Ralf Rangnick deployed didn't disappoint, with Die Königsblauen coming out 5:0 victors and showing the full might of their attacking quartet consisting of Julian Draxler, Klaas-Jan Huntelaar, Raul, and Jefferson Farfán. With 2 goals from Huntelaar as well as another he set up for teammate José Manuel Jurado, perhaps now the Dutchman was ready to kick on in the coming campaign.
The DFB-Pokal Final was more than just a good omen for the following season, but the beginning of a splendid run of form for Huntelaar in the royal blue of Schalke 04. By the end of the 2011-12 season, Huntelaar had scored 29 goals in the Bundesliga, winning the Torjägerkanone in the process, an award given to the highest goalscorer in the league.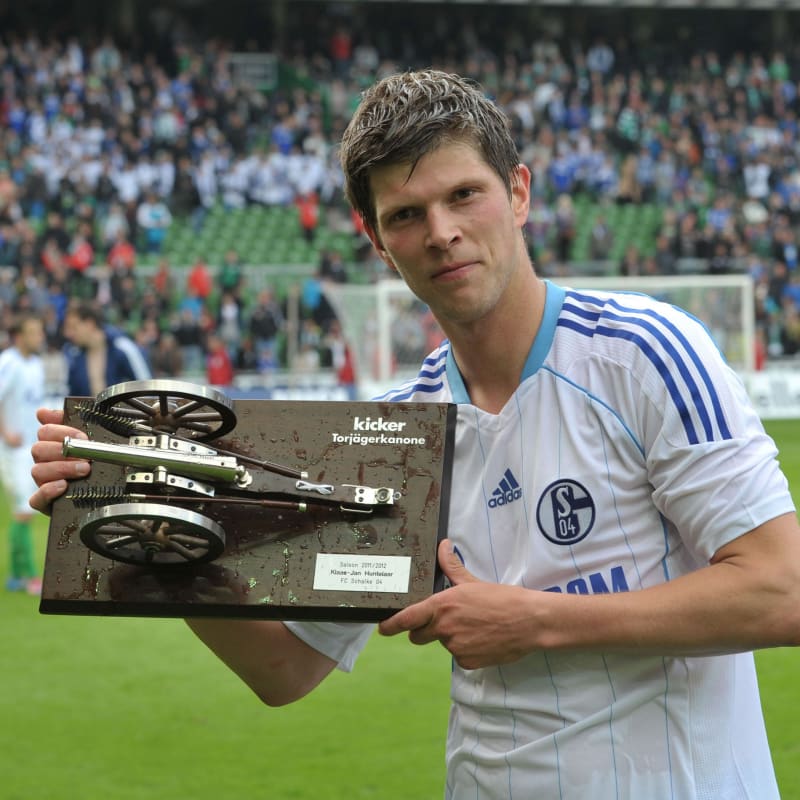 Photo: AFP
Internationally the Dutchman was just as prolific, ending both the Europa League and DFB Pokal with more goals scored than games played. In total, the 48 goals and 14 assists he contributed to were amongst the best in the world that year, let alone for a player signed for just €14.00m.
After almost 3 seasons dictated by injury and lengthy barren spells in front of the net, Huntelaar had finally materialized as the consistent goalscorer he had shown in his time at Ajax. Unburdened by the pressures of Real Madrid's galactico ideals nor AC Milan's long lineage of Dutch legends, Huntelaar was becoming one of Europe's elite strikers again and a fan favorite for Schalke's ardent Nordkurve.
With Huntelaar's problems in front of goal firmly behind him, the PSV academy graduate would go on to almost legendary status at the Veltins-Arena, remaining true to the club even as the likes of Julian Draxler, and the other Pokal heroes of 2011 had left the Ruhr-Gebiet.
Across the ensuing 4 seasons, Huntelaar would consistently come up with double digits in the Bundesliga, adding 5 goals across 12 matches in the heated local derby vs Dortmund, and a fantastic brace against Real Madrid in 2015 that saw Schalke a goal away from unthinkably progressing past Cristiano Ronaldo & Co in the Champions League.
Though Huntelaar's goals always remained his most important attribute to the Schalke squad, the striker became more and more of an integral figure in the dressing room throughout his 7-year tenure in Germany, even captaining the side on multiple occasions from 2014-15 on as Benedikt Höwedes struggled with injuries.
A once prickly youngster chastised for his conduct towards the Madrid and it's fanbase, Huntelaar had blossomed into a leader of men for one of Germany's most passionately followed clubs, squashing any doubts that his career would fizzle out after his poor year and a half at Real Madrid and A.C. Milan. Now 37, just months away from retirement, Huntelaar returns to the Veltins Arena, joining S04 on a short term deal until the end of the season.
Though not the bristling 26-year-old who joined the club in 2010 looking to revitalize his career, Huntelaar will be joining with a similar appetite for success, this time looking to enact a positive turnaround for the club rather than his own career.
Perhaps it is a bit fanciful to think Huntelaar alone can be the presence required to steer a sinking ship at the bottom of the Bundesliga. However, the Dutchman knows the club like the back of his hand and is still scoring goals at a rate required to give a side in a relegation dogfight an outside chance of survival. With 7 goals and 1 assist in 383 Eredivisie minutes this season, Huntelaar is averaging a goal contribution every 48 minutes, a rate that stands amongst the very best in Europe's top five leagues.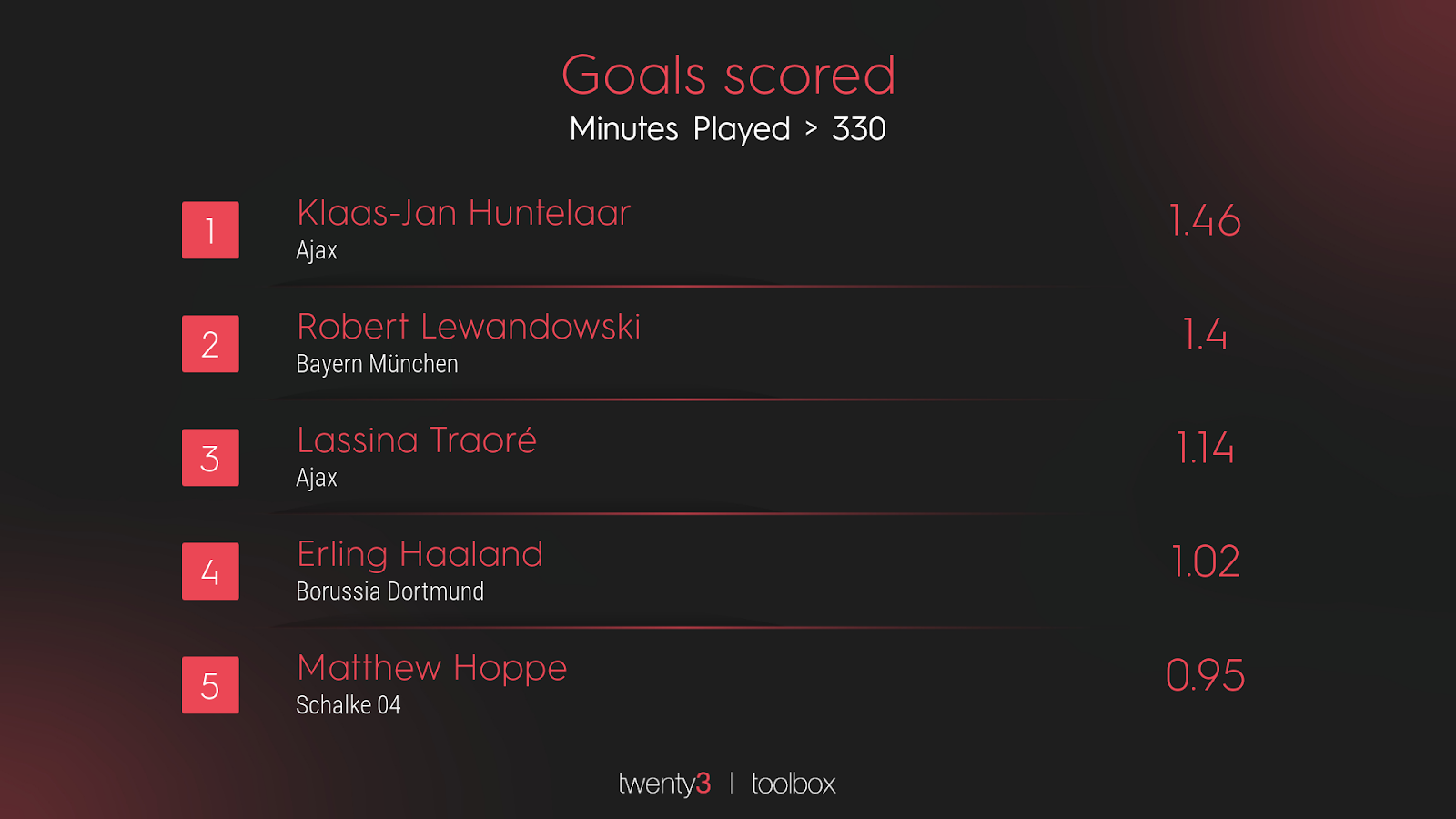 With an average of 1.46 goals per 90, Klaas-Jan Huntelaar is the most prolific goalscorer across both the Eredivisie and Bundesliga this season. Though it would be unreasonable to expect Huntelaar to maintain such impressive numbers when joining a far less dominant Schalke side, it shows that the 37-year-old striker still knows where the net is.
Though 2 of his 7 league goals came in Ajax's 13:0 thrashing of VVV-Venlo, most of his tally has come at crucial moments for Erik ten Hag's side, often in a short cameo at the end of matches where he secured crucial points in Ajax's bid for their 35th league title. His final match for Ajax exhibited the full extent of his ability to impact off the bench, coming on in the 89th minute with the score tied at 1:1, before two late goals from the veteran secured a 3:1 victory.
Even if Huntelaar is unable to come into Schalke and score at the same exceptional rate he was averaging in the Eredivisie, his experience at the top-level for Die Königsblauen will make him a massive tool for the host of young players in the squad to look towards.
With the likes of 19-year-old Matthew Hoppe and 23-year-old Amine Harit bearing much of the attacking burden this season, bringing in a proven goalscorer will be crucial to turning around Schalke's floundering season, as well as aid in the continued development of the two aforementioned attackers game going forwards.
It is unclear which outlook we will have when looking back on Huntelaar's second spell in 5 months from now. Will the goal-scoring phenom be able to drag Schalke to top-flight survival, or will he be yet another desperate signing in the hopes of salvaging what is already a lost cause? Only time will tell, but one thing is for certain, if anybody has proven they know how to score goals for Schalke, it is Klaas-Jan Huntelaar.
By: Adam Khan
Featured Image: @GabFoligno / ANP Sport – Getty Images