Mourinho and Robson: An Apprenticeship for the Ages
In recent years there has been an almost overwhelming influx of football documentaries, some good some less so.
And with more time on my hands than usual, I re-watched one of the better ones, that being Gabriel Clarke's and Torquil Jones's exhaustive 'Bobby Robson: More Than a Manager.'
The film painted the picture of a fundamentally kind man who was years ahead of his time in terms of his man-management skills.
Warm, friendly, but unflinching when challenged, Robson's style would fit seamlessly amid the current crop of top global managers amongst whom a driven yet ultimately more benevolent approach is the modus operandi.
And yet there was one person who cut an interesting figure throughout as Robson's assistant. That man was Jose Mourinho.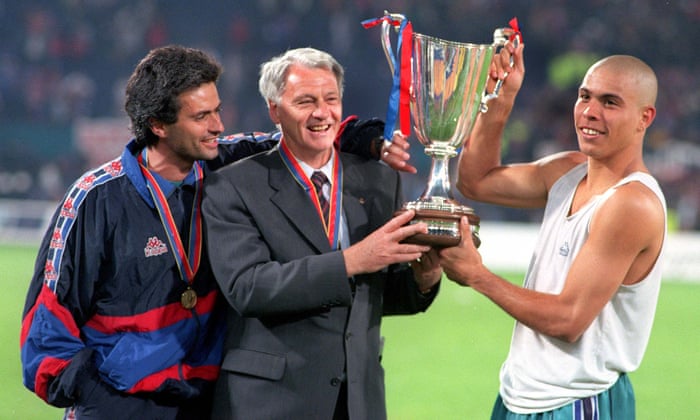 Photo: Colorsport/Rex/Shutterstock
On the surface, it's difficult to imagine two managerial styles and, indeed, men as different as Bobby Robson and Jose Mourinho.
The pragmatic and defensively compact style often associated with Mourinho teams is at a loggerheads with the thrillingly attack-minded football Robson employed at Barcelona during the 1996/97 season.
And this is before we talk about the spiky persona Mourinho has portrayed to the media in recent years. 
And yet the two personalities were the perfect complement for one another as the pair won 8 trophies during their time at Sporting, Porto and Barcelona, including two Portuguese League titles and the Copa del Rey.
The two would part ways professionally in 1998 when Robson went on to manage PSV Eindhoven and Mourinho stayed in Barcelona to work under Louis van Gaal.
But his time with the once-England manager would immeasurably shape Mourinho's career as the divisive young tactician carved out a legacy of his own. 
"Mr Robson would come to the training ground and say: 'What are you going to do? What's the training session?," Mourinho said in an interview with Sky in 2019, "because today I'm very focused on the golf match that I have after training so today you make the decisions."
This is the level of trust Robson placed in a young Mourinho just beginning to find his feet as a coach and with good reason. 
Having failed to pursue a career as a player at Rio Ave, Belenenses and Sesimbra, becoming Bobby Robson's translator at Sporting Lisbon was the break Mourinho needed to get his career as a coach on track.
And yet working under Robson as a footballing unknown, commanding respect within the squad when he too was of playing age, was an act of enormous resilience and self-belief. These are qualities that have come to define Mourinho.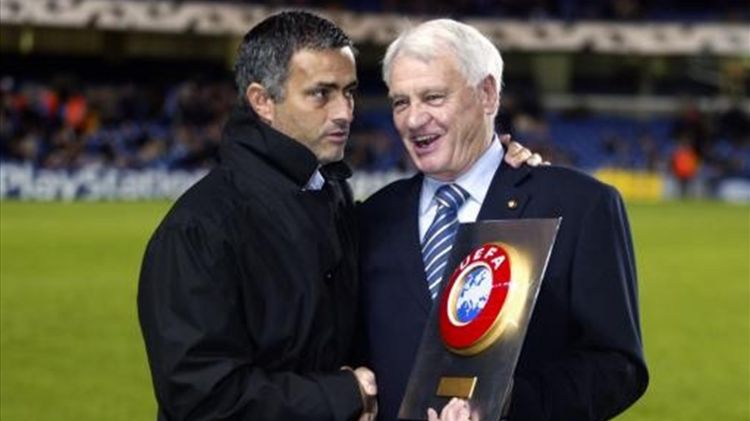 Photo: Eurosport
He threw himself into his job with Robson, not in an attempt to emulate the man, but rather to prove his own individual worth.
"He'd come back and hand me a dossier that was absolutely first class," Robson said in 2005 after realising Mourinho's talents lay beyond mere translation.
"[They were] As good as anything I'd received. He was in his early-30s, never been a player or a coach to speak of, giving me reports as good as anything I ever got."
Mourinho's meticulous work rate won him the trust of the players in Portugal, and was a key reason why Robson demanded he work with him when he took over from the deified Johan Cruyff at Barcelona. 
But Mourinho also took into his own career the very man-management skills Robson had employed to allow his young assistant's career to blossom.
Robson invested such belief in his players that "you didn't want to let him down" Terry Butcher states in the documentary, and to those he saw as key, Mourinho did the same.
From boosting Frank Lampard's self-confidence at a key-period during 2004 pre-season by claiming he was the best player in the world, to resurrecting John Terry's Chelsea career in 2013 when he told the previously out of favour centre half "you're my captain, I love you, I need you to be on it," Mourinho knew just what to say and when to say it. 
In typical Mourinho style, however, he took to it in his own way, often teaming it with somewhat temperamental behaviour to keep his players on their toes.
Speaking to The Athletic in 2019, Terry noted that "You'd be sitting there watching television and you'd get a text from him saying: 'Are you watching this?' It'd be a comedy sketch show or something, and you'd end up having a two-way chat about it, and then it would just stop. And…you'd go into work the following morning and he wouldn't speak to you and you'd be thinking: 'Did I upset him?'…Then, you come in the next day and he's putting his arm around you, asking how you were the previous night, how the wife and kids…He knew how to press buttons. As an individual, it made you think you had to impress him every single day." 
It's his timing, however, that has let him down in recent years. With the relevancy of his tactics waning, his combative approach with the media and players during poor runs of form is partly to blame for his bitter departures from Real Madrid, Chelsea and Manchester United.
What can't be overstated, however, is that when he gets it right his players would run through walls for him – just watch Francisco Costinha's last minute equaliser at Old Trafford for evidence of that. 
Mourinho is at the end of the line now, however.
The glories and the swagger have ceased and, despite his claims to the contrary when he signed for Spurs, an embittered figure continues to take the spotlight.
Bearing in mind Robson built his career around persistently resurrecting it all across Europe, question marks will loom ominously over Mourinho's head during his first full season in charge of Spurs.
Should results continue to falter it may be worth taking in mind his old mentor's words when he was discussing his time at Newcastle, "I don't want to overstay my welcome you know.
The moment the public or the players or the board think 'Bobby, you're getting a bit old,' I'll know and I'll chuck it in."
By: Ben Miles
Photo: Gabriel Fraga