Redemption and Recognition – Andrea Pirlo and the 2000 Euro U-21s
Several great players have announced themselves on the international stage in youth tournaments for their country – Robert Prosinečki for Yugoslavia in the 1987 World Youth Championships, Lionel Messi in the 2005 U20 World Cup and Paul Pogba in the 2013 edition. Among such a list would be Andrea Pirlo who announced himself at the 2000 European U21's Championship held in Slovakia. 
Prior to the tournament, Pirlo had a productive season on loan at Reggina from his parent club Inter Milan. Deployed in his initial role as a creative attacking midfielder, Pirlo's six goals helped Reggina finish 12th in their first season back in the top flight.
Photo: Getty
Furthermore, Pirlo was also productive for Italy U21's, playing a key role in qualifying for the Euro U21's, becoming his country's joint top scorer in qualifying with five goals alongside Nicola Ventola.
Italy U21's squad for the eight team tournament consisted of mostly established Serie A players like goalkeepers Christian Abbiati alongside Morgan De Sanctis, center back Matteo Ferrari, full back Francesco Coco, midfielders Gennaro Gattuso, Simone Perrotta, Cristiano Zanetti, as well as strikers in the form of Nicola Ventola and Gianni Comandini. 
Italy were drawn in Group B with England, Slovakia and Turkey. The tournament format consisted of two groups of four teams each, but only the winners from each group would progress to the final. Each game mattered with very little margin for error. 
The Azzurini's opening game was against England in Bratislava on the 27th May. Under Premier League winning manager Howard Wilkinson, England had a squad laden with talent from the English top flight. Their names would become long standing veterans of English football during the 2000s – Frank Lampard, Jamie Carragher, Ledley King and Danny Murphy.
England would dominate the opening period of the first half, but Italy soon took control of the game when Gianni Comandini guided his header past goalkeeper Nicky Weaver on 24 minutes. The Italians' dominance was rewarded through controversy when German referee Herbert Fandel awarded a penalty, Carragher adjudged to have fouled Ventola. 
Pirlo calmly converted the penalty before half time to double Italy's lead. The young playmaker was at the heart of all that was positive in Italy's attacking play, the score remaining 2-0 through a mixture of wasteful finishing and great saves by Weaver. Importantly, the Azzurini had won their opening game of the tournament. 
Photo: Getty
However, things would not go smoothly two days later against the hosts Slovakia. It seemed business as usual when the  Azzurini took the lead on 17 minutes – Roberto Baronio's long range drive skidding along the ground into the bottom corner. Yet Pirlo would imperil his side by acting rashly in the second half, a far cry from his composed performance against England. 
Booked after just six minutes, Pirlo was already on a tightrope and uncharacteristically lost his cool on 54 minutes. Petulantly kicking the ball away after Slovakia won a free kick, under the shouts of the partisan home crowd, Swiss referee Dieter Schoch gave Pirlo his second yellow card.
Slovakia made their advantage count when Peter Babnič equalized with a brave diving header from a corner on 73 minutes. Luckily for Pirlo, Italy managed to hold on for a draw. 
The result meant the final group games had everything to play for. If Italy, who played Turkey, bettered Slovakia's result against England, then they would progress to the final. Without the suspended Pirlo, the Azzurini stamped their authority against the Turks, scoring twice in the first half through Gionatha Spinesi and Baronio.
Turkey pulled a goal back less than 10 minutes into the second half but Italy restored their two goal lead when Ventola scored with seven minutes remaining. Although Slovakia had impressively beat England 2-0, Italy's superior goal difference by a single goal secured them a place in the final. 
The Azzurini's opponents were the Czech Republic, who overcame a tough group consisting of Croatia, the Netherlands and Spain. Managed by Karel Brückner, who would go on to have a lengthy spell as manager of the senior national team, the Czechs had future stars in their squad such as full back Zdeněk Grygera, center back Tomáš Ujfaluši, wing back Marek Jankulovski, midfielder Jiří Jarošík and a 18 year old striker named Milan Baroš.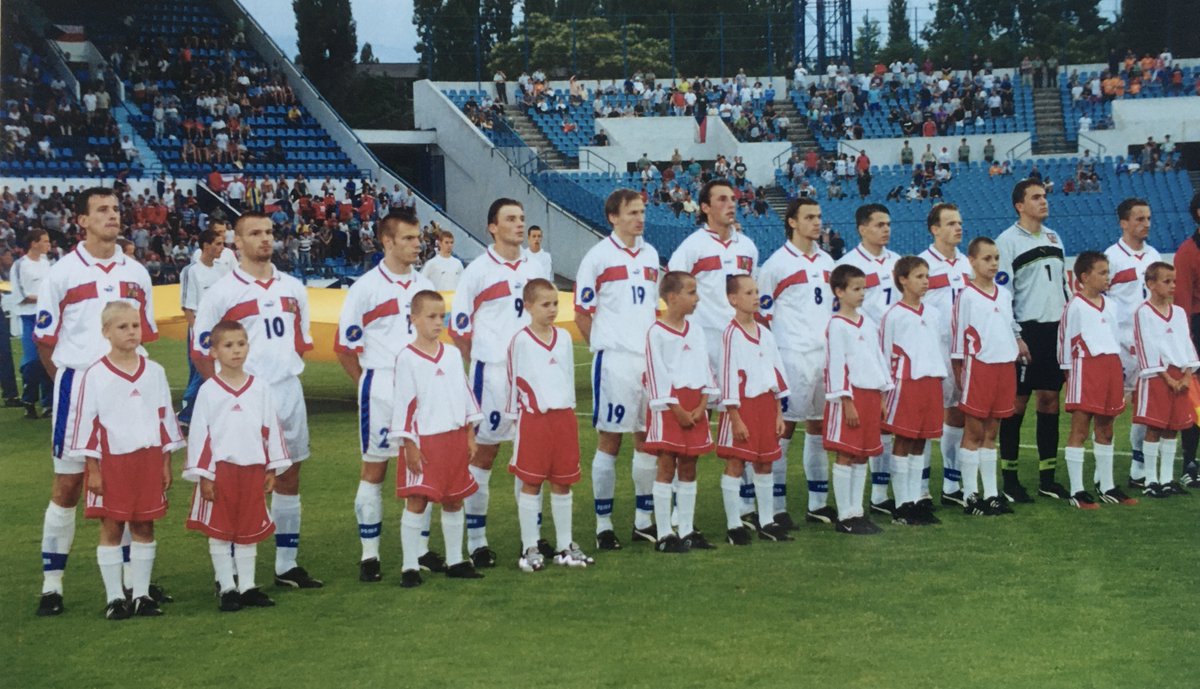 Photo: Fotbal.cz
Reaching the final was new ground for the Czechs. Italy had won three of the last four editions of the tournament but the Czechs last won the competition in 1972 as Czechoslovakia. Marco Tardelli had no hesitation in restoring Pirlo to Italy's starting lineup for the final. Pirlo saw it was a chance to make amends after his red card against Slovakia. The midfielder recalled:
"I had to repay my team-mates who did not say anything to me when I was sent off."
The majority of the first half was tightly contested, both sides probing each other for an opening. However, with just a few minutes before half time, it would be an error that led to the opening goal of the game. Receiving a flicked on header from Pirlo, Comandini drove into the Slovakian half, skipping past two players as he entered the 18 yard box. 
The striker's powerful run was stopped by Czech captain Roman Týce clipping his heels, Swedish referee Karl-Erik Nilsson quick to award a penalty and book Tyce. Pirlo just managed to convert the penalty, as goalkeeper Aleš Chvalovský's right hand was not strong enough. 
It took just six minutes into the second half for the Czech Republic to equalize. A wayward clearance on the right gave Marek Heinz ample freedom to sprint down the right wing, putting Italy in a vulnerable two vs two situation.
Italy's Marco Zanchi was trying to close down Heinz while in the box Alessandro Grandoni was watching Tomáš Došek. As Heinz played the ball across the six yard box, the Italian captain could not reach the ball, allowing Došek to score from close range past Abbiati.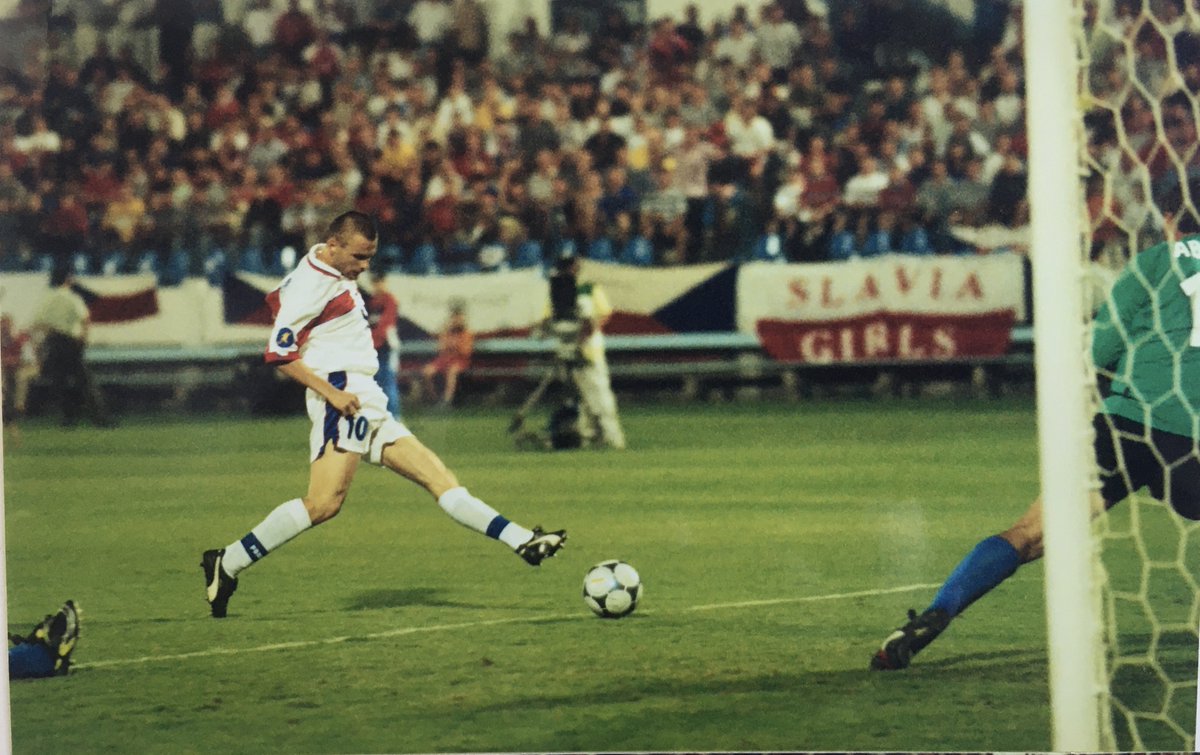 Photo: Fotbal.cz
Finley poised at 1-1, the game was deadlocked with either side unable to find a breakthrough as the game wore on and substitutes were made. Extra time and penalties seemed a possibility, until the 81st minute, when Italy won a free kick roughly 25 yards out from goal. Pirlo had already decided he was to take a free kick, with no player near him to act as a decoy.
Striking the ball on his right foot, it glided over the wall, curling away from Chvalovský into the top corner. The goalkeeper's positioning was not good, placed too far on his left, but so sweetly placed was Pirlo's free kick it wouldn't have mattered where he was positioned. Pirlo understandably celebrated wildly, he ran towards the touchline, quickly embraced by the coaching staff. 
The Czech Republic had no answer to Pirlo's individual brilliance and Italy were crowned winners of the tournament for the fourth time in five editions.
Photo: Getty
Pirlo completed his redemption by being awarded Player Of The Tournament and was joint top scorer. His summer would improve by winning bronze as part of Italy's Olympic football team in Sydney. Those two weeks in Slovakia would kick start his path from promising midfielder to footballing legend.
By: Yousef Teclab
Featured Image: @GabFoligno