Roberto Baggio: The Legend of Il Divino Codino
The mullet. The number ten. Echoing cries of 'é fino di Baggio' from high up in the gantry. Few would've expected the Divine Ponytail to recover from that many setbacks. But here he was.
Eight years after he scared Paolo Maldini and Franco Baresi to pieces at the San Siro, Baggio simply drifted beyond legendary Juventus centre back Ciro Ferrara, latching onto an exquisite Andrea Pirlo through pass before unleashing one of the greatest first touches of all time.
Not only did he distance himself from the encroaching defenders, but he also made Dutch icon and future four-time Premier League winner Edwin van der Sar look absolutely ridiculous. Nikos Dabizas should count himself lucky.
Accompanied by the whimsical words of Dancing by Elisa, this goal encapsulates the career of Roberto Baggio. Majestic yet so incredibly rugged. He was known as 'Il Divino Codino' across Italy. The Divine Ponytail. And he was a proper striker…
Roberto started his senior career for Vicenza in the summer of 1983 as a bright 16-year-old. What began in the northeast corner of Lombardy was something special, something Italy craved. They hadn't had a 'fantasy' player, someone that would get the crowd on their feet, since Gianni Rivera. But would this magical little man, at such a young age, have his career severed at the knees? Quite literally.
They say that childbirth is the most painful thing you can experience, but shattering your Anterior Cruciate Ligament (ACL) is certainly up there. The loud pop, the cartilage breaking away. Roberto Baggio was only 18-year-old when his knee collapsed from underneath him and an allergy to painkillers meant that he felt all 120 stitches during the attempt to piece it back together.
The doctors said he'd never play again. The promise of a glittering career had capitulated in front of his own eyes after just one slide tackle.
"I told my mother. If you love me, then kill me."
A long, hard 18 months later and Baggio stood in front of 70,000 people at the Stadio San Paolo in Naples. He had just found the bottom right-hand corner, stumping Napoli goalkeeper Raffaele Di Fusco. It was one of those moments that once you watch it, will stay with you forever.
The return of Baggio after a year and a half will go down in the folklore of Italian football; not only did he halt title-chasers Napoli in front of their own fans, but he did it, perhaps symbolically, in the presence of Diego Armando Maradona. 
The Argentinian had just been upstaged by a kid that was in a wheelchair whilst he was lifting the World Cup. However, what was the most striking was the post-match comments from Fiorentina legend Miguel Montuori: "More productive than Maradona; he is, without doubt, the best number ten in the league". Perhaps a slight stretch at the time, but what Montuori and everyone else had seen before them was a player of miraculous quality.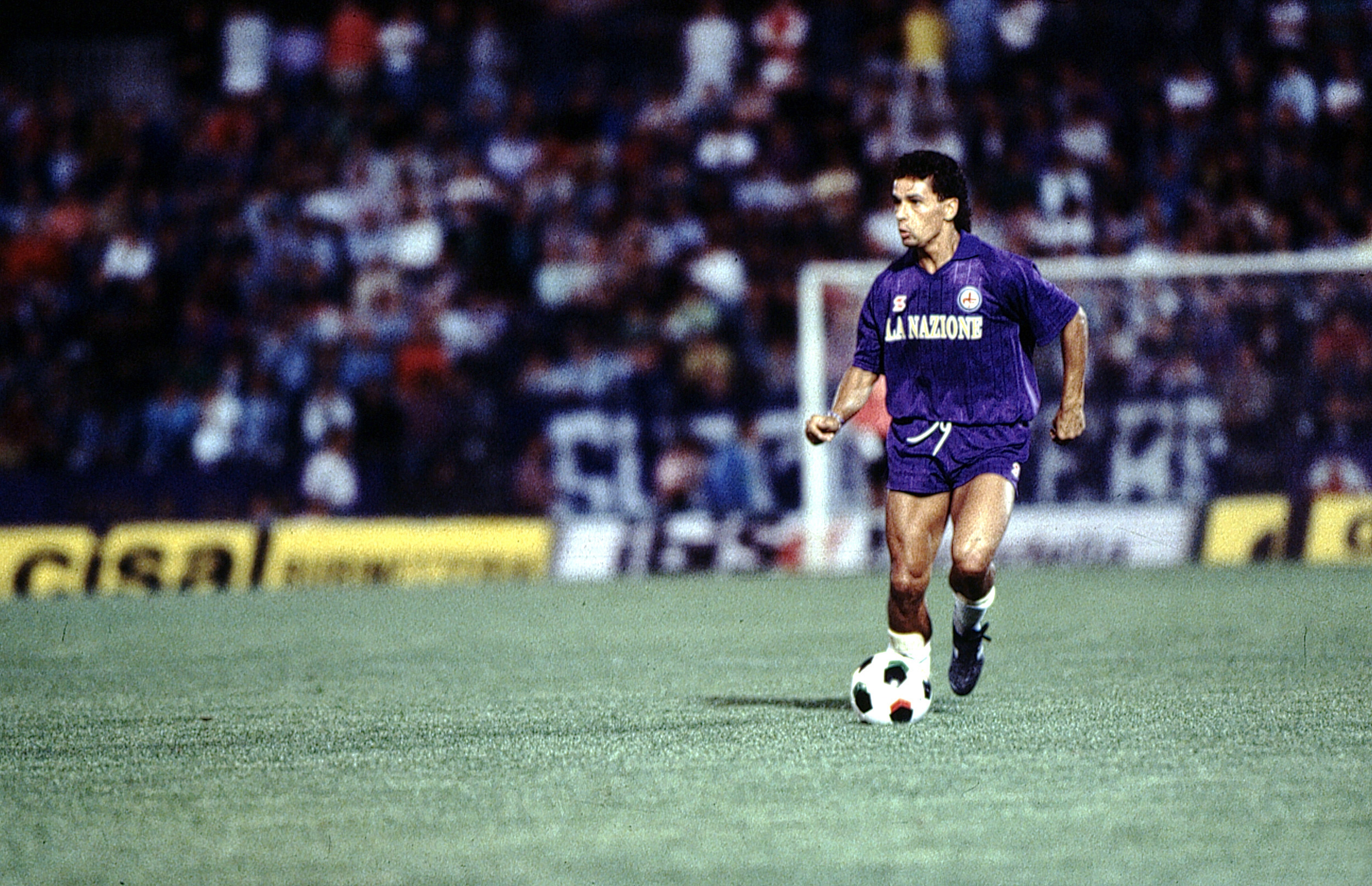 Photo: DELMATI / LaPresse
The presence of a dynamic goalscorer, equally lethal on both feet and with the brightness of mind to not only find a needle in the haystack, but to control its whereabouts, made managers dedicate weeks of work on simply stopping him. Defenders would take red cards in a futile attempt to slow 'Il Divin Codino' down.
Baggio was always one step ahead. He was quite simply unstoppable. Celebrating a hat-trick whilst his opponents were still working out which foot is his strongest. His final season at Fiorentina saw him score 17 goals in just 32 Serie A games. An outstanding effort in a side that finished 7th in the Italian top flight.
Baggio watched his knees fall away in front of him, yet still went on to make 605 appearances. A missed penalty in the final of the 1994 World Cup drew tears across the entirety of the footballing world but he revolted, winning the double with Juventus the following season. A tale of true resilience and character.
Roberto Baggio scored 276 goals and created 111 assists in his career. He is highly regarded as one of the greatest footballers of all time, winning the Scudetto for Juve in 1995 and again for Milan in 1996.
He won the Ballon d'Or in 1994 and sits fourth in the 1999 FIFA poll of the Best Footballers of the Century. He was no joke. It's interesting how often he is forgotten when discussing the best players of all time. He is up there, battling with the best.
By: Tom Quartly
Featured Image: @GabFoligno / Matthew Ashton – EMPICS / PA Images