The Greatest XI in World Cup History
Putting together 'The Greatest XI in World Cup History' is both one of the most daunting tasks and dicey propositions in football for obvious reasons:
Recency bias can skew jurors' judgment to lead them to favor the players they saw in action over the ones they never had the chance to witness.

Cultural bias can shape one's view and assessment of players from their native continent or geographical zone since we are heavily influenced by the media. European media, punditry, and fans will tend to overrate European players and underrate South American players while South Americans would generally do the opposite. 

Name reputation can weigh heavily in someone's choices and selections. For instance, Cristiano Ronaldo is a bigger name and a greater player historically than Paolo Rossi. But in the context of the World Cup, Rossi had a much better legacy in the tournament than the Portuguese legend.
I have religiously followed, witnessed, covered, and even attended each World Cup edition from 1994 to 2018. I also have done my homework to read about and see thorough reviews, highlights, footage, and in some cases, full games of all the previous editions from 1930 to 1990. That diligent homework, I hope, inoculates me from recency bias. 
Although I grew up reading French and English football media mostly, I have also read South American newspapers and magazines specialized in football regularly. This exposure to these two regional football punditries has given me the necessary balance and fairness required for such an endeavor.  Because I'm trying to be as unbiased as possible, I have thought through some ground rules that will serve as eligibility criteria and guidelines for my selections.
The player must have played at least 5 games in his World Cup career.

The player must have been voted to at least one Official World Cup Team of the Tournament

Only the player's performance in the World Cup matters, what he did outside of the final tournament has no bearing on my selections.

The teams need to be balanced and functional
Goalkeepers: Lev Yashin (RUS), Dino Zoff (ITA), Sepp Maier (GER), Fabien Barthez (FRA), Oliver Kahn (GER), Gianluigi Buffon (ITA), Iker Casillas (SPA), Thomas N'Kono (CMR), Manuel Neuer (GER)
Center backs: Daniel Passarella (ARG), Bobby Moore (ENG), Aldair (BRA), Franco Baresi (ITA), Pablo Cannavaro (ITA), Carles Puyol (SPA), Marcel Desailly (FRA), Laurent Blanc (FRA), Gaetano Scirea (ITA) 
Right backs: Lilian Thuram (FRA), Sergio Ramos (SPA), Cafu (BRA), Carlos Alberto Torres (BRA), Nilton Santos (BRA), Jorginho (BRA)
Left backs: Roberto Carlos (BRA), Giacinto Fachetti (ITA), Paolo Maldini (ITA), Paul Breitner (GER), Philip Lahm (GER), Gianluca Zambrotta (ITA), Djalma Santos (BRA)
Defensive midfielders: Josef Bozsik (HUN), Franz Beckenbauer (GER), Lothar Matthaus (GER), Didier Deschamps (FRA), Sergio Busquets (SPA), Xabi Alonso (SPA), Dunga (BRA), Andrea Pirlo (ITA), Falcao (ITA), Johan Neeskens (NED), Falcao (BRA), Mauro Silva (BRA)
Central midfielders: Michael Ballack (GER), Xavi Hernandez (SPA), Andres Iniesta (SPA), Zinedine Zidane (FRA), Diego Maradona (ARG), Rivaldo (BRA), Michel Platini (FRA), Valdir Perreira (BRA), Zico (BRA), Giuseppe Meazza (ITA), Bobby Charlton (ENG), Johan Cruyff (NED), Jose Leandro Andrade (URU), Teofilo Cubillas, Waldyr Didi Perreira (BRA)
Forwards: Guillermo Stabile (ARG), Leonidas Da Silva (BRA), Juan Schiaffino (URU), Mané Garrincha (BRA), Edson Arantes Do Nascimento Pelé (BRA), Gerd Müller (GER), Ferenc Puskas (HUN), Sandor Kocsis (HUN), Eusebio (POR), Juste Fontaine (FRA), Roger Milla (CMR), Thomas Müller (GER), Romario (BRA), Gabriel Batistuta (ARG), Ronaldo Luiz Nazario Da Lima (BRA), Miroslav Klose (GER), Lionel Messi (ARG), Diego Forlan (URU)
World Cup Greatest XI
First Team: 4-3-3
Buffon
Cafu, Moore, Passarella, Brehme
Beckenbauer
Zidane, Maradona
Ronado, G. Müller, Pelé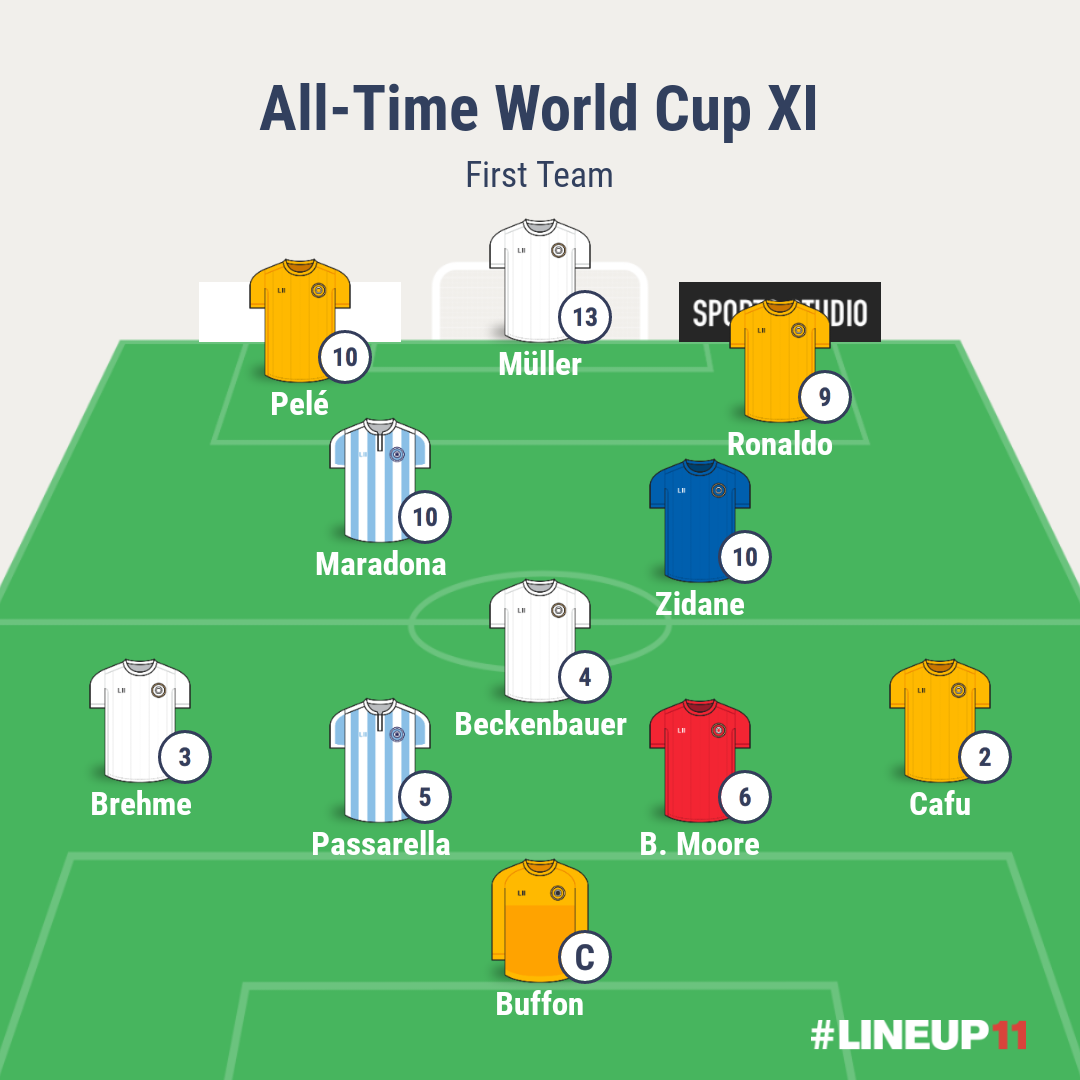 Gianluigi Buffon: 5 clean sheets, 8 goals conceded in 14 games (06 Champion, 10, 14)
The third player to receive a call-up for five different World Cups (he did not play in the 1998 edition before starting the next four), Gianluigi 'Gigi' Buffon is regarded by many as one of the greatest goalkeepers of all time.
What sets him apart among great goalkeepers is his aura, and his natural leadership, capable of carrying Italy to final victory, as in the 2006 World Cup. At the 2006 World Cup, he conceded only two goals while registering 5 clean sheets on his way to winning the Golden Glove award for best goalkeeper individually.
Cafu Evangelista de Moraes: Still holds the record for featuring in three World Cup Finals (94,98, 02)
From the moment he was introduced into the World Cup Final in 1994 against Italy, Cafu has been the linchpin of the Seleção for more than 12 years. His consistency and longevity have made him one of the most iconic and respected players in the long and legendary Brazilian national team's history.
Cafu comes from a long lineage of great Brazilian attacking fullbacks from Djalma Santos to Nelinho, to Mazinho or Jorginho. He remains to this day the only player to feature in three consecutive World Cup Finals, beating Italy in 1994 before losing to hosts France and beating Germany in 2002.
Bobby Moore: 2 assists in 14 games (62, 66 Champion, 70)
Bobby Moore was arguably one of the greatest center-backs in the history of football. The West Ham legend was both an outstanding leader and an exceptional player revered for his qualities on and off the pitch. The redhead star is forever remembered for two of the most iconic pictures in World Cup history.
In the first one, right after beating West Germany in the 1966 final, a young Moore in a red jersey is carried in an exuberant triumph by his teammates while he brandishes the Jules Rimet Cup. In the second one, four years later, at the end of the historic England – Brazil match, as a gracious loser, the smiling English gentleman exchanged his jersey with his equally brilliant opponent, a certain player called King Pelé.
Bobby Moore was not as technically gifted as Bobby Charlton, but he was much more charismatic than his prestigious teammate. His physical presence and work rate were all the more pleasing as the man exuded class and elegance in his movements.
For many, Moore embodied the perfect defender: domineering in aerial play, clean and sure in his tackles, impeccable in his offensive outlets, and in outsmarting his opponents. His ability to read the game allowed him to compensate for a slight lack of speed.
Daniel Passarella: 3 goals, 1 assist in 12 games (78 Champion, 82, 86 Champion)
Daniel Passarella had a short, bulky build, but an incredibly good leaping ability. His thighs were incredibly strong. He would take free kicks and penalties as he felt it was his to bear the burden of duty. He came from a line of captains that includes Monti and Rattin, who were typically given the reins because they were the toughest player around.
At the age of 22, Passarella was selected as Argentina's captain for the 1978 competition, and he guided his squad to victory against Holland in the competition's finale on home soil. He was then selected as Argentina's 1982 World Cup captain, but owing to an injury, he was forced to step down from both team leadership and the roster. He returned for Argentina's 1986 campaign, where he would win his second World Cup title although he was a reserve player at this point.
Andreas Brehme: 4 goals, 3 assists in 16 games (86 Finalist, 90 Champion, 94)
Andreas Brehme, regarded as the greatest German left-back in history, is most known for scoring the game-winning penalty against Argentina in the 85th minute to give Germany the 1990 World Cup. He represented Germany in three World Cups, but his best performance came in 1990 when he beat Maradona's Argentina.
Despite the tremendous pressure on him, he was able to step up at the very end of the game—in crunch time—and did so in front of Lothar Matthaüs or Rudi Völler, two stars of the tournament who were watching. Brehme decides to use his weaker right foot to shoot it. The choice is unexpected for a natural left-footer, but also to mark history.
1 goal to 0, Die Mannschaft is the world champion, and Andreas became a hero of the German nation. A defender by trade, his skill at set pieces and his composure in key moments have undoubtedly contributed to making him one of the most prominent fullbacks of his generation.
Franz Beckenbauer: 5 goals and 1 assist in 18 games (66 Finalist, 70, 74 Champion)
Beckenbauer left the everlasting image of an all-around and versatile player, both technically gifted and tactically intelligent. He is considered the greatest German player of any generation and is regularly cited as one of the greatest footballers of all time.
On the pitch, his handling of the ball exuded a certain elegance which in the eyes of some of his opponents came across as arrogance. Although he was never a great goalscorer, his influence on his team's attacking play was undeniable. He possessed a panoramic vision and was capable of connecting a wide variety of accurate passes. Der Kaiser has left his indelible mark on the World Cup both as a player and a manager.
He burst onto the scene as a young svelt twenty-two-year-old In England in 1966 and guided the Nationalmannschaft to the final against the host nation. Four years later, his heroics in what is considered the Game of the Century (semifinal against Italy) when he played more than 30 minutes with a dislocated right shoulder added to his mythical legend. He will finally guide his country to glory at World Cup 1974 in a new role he made his own and reinvented: the sweeper.
Zinedine Zidane: 5 goals and 3 assists in 12 games (98 Champion, 02, 06 Golden Ball & Finalist)
One defining theme of Zidane's career: he seems to always show up in big games. The French maestro is only the 4th player after Pelé, Vavá, and Paul Breitner to score in two World Cup finals. He rose to stardom and instantly became a household name on July 12th, 1998 when he led France to glory by scoring a brace against the mighty Selecao in the World Cup final.
Four years later, as he got injured just days before the tournament, France bowed out in the group stage unceremoniously. He came back in 2006 to Germany to deliver his final masterpiece by leading the French to their second final in 8 years. 
Diego Maradona: 8 goals and 8 assists in 21 games (82, 86 Golden Ball and Champion, 90 Finalist, 94)
Diego Maradona was one of the most skillful footballers ever. In the eyes of many, he was the GOAT (Greatest of All Time). As an outstanding and creative dribbler capable of mystifying the best defenders of his time, he could count on a particularly tight close control as if the ball was an extension of his left foot. He had that "garra" (will to win) and immeasurable pride.
Football is the ultimate team game. But if there ever was a time a tournament was won singlehandedly it was undoubtedly Mexico 1986. Diego Maradona carried a group of misfits, rejects, and ordinary players to the pinnacle of the game with charisma, exuberance, sheer genius, and force of will.
El Pibe de Oro delivered his opus magnum in the quarterfinal against England where he scored the two most talked about goals in the history of the game: one with his hand, the other after dribbling past 5 English players and the goalkeeper before going on to win the tournament in the final against Germany. He would take Argentina back to the final at the World Cup 1990 against the same German foe but with a different outcome. 
Edson Arantes Do Nascimento Pelé: 12 goals and 10 assists in 14 games (58 Champion & Golden Boy, 62 Champion, 66, 70 Champion and Golden Ball)
Pelé embodies the very essence of Brazilian football; his influence can be traced to this current generation of Brazilian players. Over his 21-year career, he captivated the planet with his immense talent. He could execute the most difficult and innovative technical moves with disconcerting simplicity and be a prolific scorer, a masterful playmaker, an outstanding passer, and a maestro of genius inspirations.
His insane statistics and unrivaled international record are a testament to his all-around game. At the risk of offending some, Pelé to this day remains, and will remain "O Rei". From the moment he burst onto the world scene in the game against the Soviet Union at the World Cup 1958, at 17, to his climatic coronation at the Azteca Stadium at the World Cup 1970, Pelé's legend is inseparable from the World Cup saga.
The man many consider the GOAT, had that knack to turn the most prestigious football tournament in the world into his showcase. He is the only three-time World Cup winner, the youngest to score a hat-trick in a World Cup, and the youngest to score in a World Cup Final. He scored 12 goals and assisted 7 in 14 appearances in the tournament. 
Gerd Müller: 14 goals, 6 assists in 13 games (70 Golden Shoe, 74 Champion)
Bayern Munich icon of the 70s and supreme predator, Gerd Müller is considered one of the greatest German players in history and one of the most lethal goalscorers ever. He spearheaded the attack of Germany's most successful team ever. He won the top scorer honors in 1970 (10 goals) and added another 4 decisive goals in 1974 to help the Mannschaft win their second world crown. His 14 goals in 13 World Cup games puts him third on the all-time goalscoring list.
With the Mannschaft, he would reveal himself at the 1970 World Cup. Teaming up with Hamburg's legendary scorer Uwe Seeler, he would score 10 goals during the tournament. During what is dubbed The Match of the Century in a dramatic semi-final against Italy, he score a brace. This performance despite the defeat allowed him to be the first German to receive the Ballon d'Or in 1970. In 1972, the Mannschaft won the Euro and stretched the USSR in the final (3 goals at 0). He finishes again top scorer in the tournament with four achievements.
His moment of glory would come in 1974 by winning the World Cup with his Bayern teammates. The most beautiful goal of his career remains without a doubt his title-clinching goal in the final against the Netherlands. It would be the pinnacle of his career and his last appearance in the white and black jersey as he retired after the tournament at 28 years old.
Ronaldo Luiz Nazario Da Lima: 15 goals 5 assists in 19 games (94 Champion, 98 Golden Ball, 02 Golden Shoe & Champion, 06)
Ronaldo was heralded as the prototype of the post-modern striker. The Brazilian crack combined the perfect blend of power, athleticism, finesse, and ruthlessness. His legendary solo dribble runs were so devastating that he made world-class defenders look like training cones. His resume with the Auriverde is both unimpeachable and unmatched.
He's the only player to win 5 major tournaments at the international level. He's also one of only two players to tally 10 goals or more at the two major international tournaments. His accomplishments in the World Cup amount quite possibly to the most complete World Cup resume both individually and collectively.
The only player to win MVP (Golden Ball), top scorer (Golden Shoe), be champion twice (1994 DNP, 2002), and finish runner-up once (1998). Il Fenomeno did it all in the most prestigious football competition. His 15 goals (7 in the knockout stages) in 19 games puts him second all-time in the goalscorers' list.
Second Team: 1-4-3-3
Zoff
Carlos Alberto, Cannavaro, Desailly, Roberto Carlos
Matthaus
Cruyff, Charlton 
Garrincha, Kocsis, Rivaldo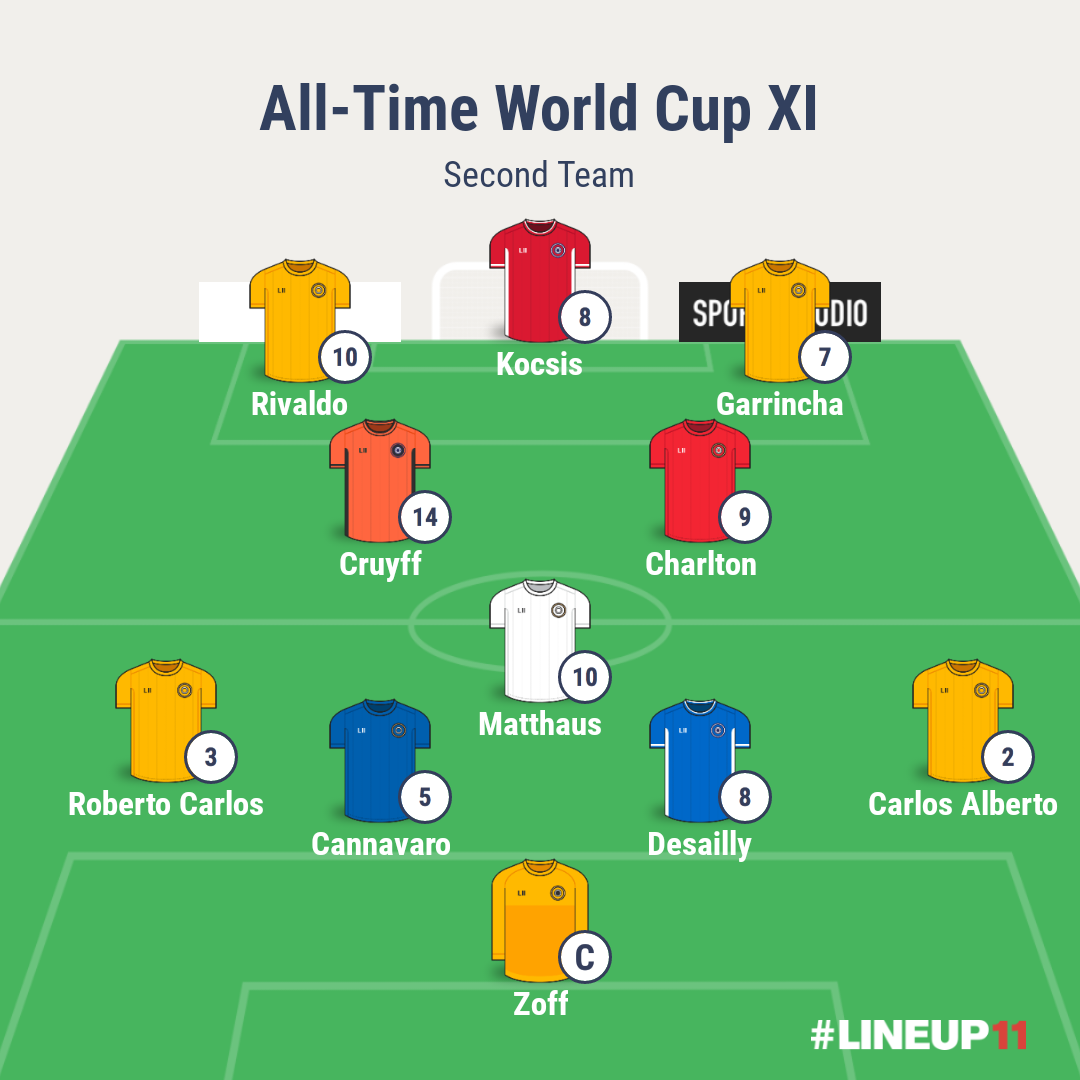 Dino Zoff: 5 clean sheets in 17 games (74, 78, 82 Champion)
Dino Zoff left a lasting impression on Italian and world football history most notably because of his extraordinary longevity. He did serve as the Squadra Azzura's captain in 1982 when they defeated West Germany in the World Cup final in Spain. He was 40 years old at the time. He broke the record for the oldest World Cup winner by raising the trophy.
He featured 112 times with the Italian team and went at some point 1143 minutes without conceding, a record that stands to this day. Dino Zoff was regarded as the best goalkeeper in the world during his era that stretched over two decades due to his serenity, constant calmness, steel-tempered head, and incredible efficiency on the line.
Carlos Alberto: 1 goal in 6 games (70 Champion) 
Elegant, comfortable with the ball, capable of projecting himself forward, and endowed with a strong personality, the slender right-back, modern for the time, was one of the outstanding figures of Brazilian football in the years 60 and 70. The mercurial captain of the victorious Seleção of the 1970 World Cup in Mexico, he was also the leader of Santos which formed the backbone of the Brazil team.
His extroverted character and his leadership were also perfectly suited for him to take on this role with the Brazilian selection. His goal to seal the Brazilian emphatic victory against Italy in the 1970 final at Azteca Stadium is considered one of the most beautiful goals in World Cup history and a defining moment that crystallized the essence of that legendary Brazilian team. 
Fabio Cannavaro: 18 games (98, 02, 06 Champion, 10) 
Before the 2006 World Cup, Fabio Cannavaro was well-liked but not completely recognized. He was there in 2002, but he had a few cautions and missed the disastrous match against South Korea, which was perhaps a wise career decision. The Juventus player was now the center of the back four alongside Alessandro Nesta or Marco Materazzi as it turned out, four years after the great Paolo Maldini retired. His ability to easily transition to a new spouse is evidence of his qualities.
Despite Cannavaro's short height of 5′ 9″, his timing and leaping are exceptional, making up for it. He is a center-back you don't notice since he doesn't do anything flamboyant or commit careless errors. He is quick without being a whippet and strong in the tackle. Just take note of how few goals the opposing teams manage to score. One unfortunate own goal and Zidane's penalty in the championship game were Italy's two World Cup goals.
Marcel Desailly: 4 clean sheets in 10 games (98 Champion, 02)
Marcel Desailly formed with Laurent Blanc one of the most impenetrable and complementary defensive partnerships at the international level. Thanks to his supreme athleticism and his mastery of the art of tackling, he was indomitable in both ground and aerial duels.
After a brilliant start to his club career where he was an integral part of the famous Nantes side of the early 90s, he went on to win the Champions League with Marseille and Milan in back-to-back seasons. As Aime Jacquet took over the French national team from Gerard Houllier in the fall of 1993, he handpicked Desailly with the likes of Didier Deschamps, Lilian Thuram, Youri Djorkaeff, and Zinedine Zidane to form the core of the greatest generation in French football history.
After a good showing at Euro 1996, Marcel Desailly would produce a defensive masterclass two years later at the World Cup on his home soil. He and Blanc were the bedrock of that French national that would go on to win the tournament.
He repeated his stellar performance at the Euros 2000 in the Netherlands and Belgium. However, in 2002 in South Korea and Japan, as heavy favorites, he crashed out of the group stage. By then, father time had caught up with him and robbed him of his athleticism. 
Roberto Carlos: 1 goal in 17 games (98 Finalist, 02 Champion, 06)
Roberto Carlos is undoubtedly one of the finest left backs in the history of Brazil and Real Madrid, well known for his striking power and top speed. The Brazilian rocket particularly loved bombing forward to explode the opposing cage by hitting a missile from very far away. Not to mention his free kicks that defy the laws of science, like the one against France in 1997. With the Seleção, he was never have been criticized for his forward rushes.
During the 2002 World Cup, Luiz Felipe Scolari solved the problem by opting for a 3-4-2-1 which required less defensive withdrawal from Roberto Carlos and Cafu, with at the end the fifth star for Brazil. Double winner of the Copa America (1997, 1999) and the Confederations Cup (1997, 2005), Roberto Carlos also has a lost World Cup final (1998). The rest will however be less idyllic for the Brazilian, at least sportingly.
Lothar Matthäus: 6 goals and 1 assist in 25 games (82 Finalist, 86 Finalist, 90 Champion, 94, 98)
Lothar Matthäus is after Franz Beckenbauer, the second most emblematic figure of the domination of the German team in world football. If the "Kaiser" reigned over the 70s, "The Terminator" reigned over the 80s and 90s. Bavarian, versatile and an exemplary leader of men like his illustrious elder, Lothar Matthäus was perhaps not as technically gifted and silky, but with the advantage of being able to adapt his game over time and to acclimatize to all possible tactical devices.
The great talent of Matthäus is above all to be able to express himself in all registers of the game, whether in defense or attack. During the 1982 World Cup, he only played two short games before literally exploding during the 1986 tournament, where he became an indisputable starter on the team playing in the final against Diego Maradona's Argentina.
Although the Mannschaft lost (2-3), he got his revenge four years later against the same opponent. Promoted to captaincy, he led West Germany to a 1-0 victory against the Argentinians at the Stadio Olimpico in Rome. He raised the World Cup, sixteen years after Beckenbauer, who was the coach of the Mannschaft at that time.
At the end of the year, he won the Ballon d'Or ahead of Toto Schillaci thanks to his brilliant World Cup campaign. Four years later, he traveled to the USA for the 1994 World Cup, as a sweeper. Unfortunately, Germany's title defense was cut short by a surprising Bulgaria side led by Hristo Stoitchkov.
Although many believed this would be his last tournament, he came back in 1998 at 37 years old, as he was recalled to replace Matthias Sammer injured. He then participated in four matches at the 1998 World Cup in France before being eliminated in the quarter-finals by Croatia (3-0). On this occasion, he broke the record for the most matches played in the final phase of the World Cup with 25 matches.
Johan Cruyff: 3 goals 7 assists in 7 games (74 Golden Ball, Finalist) 
As the 1974 World Cup was approaching, it was said that the hour of Johan Cruyff's final coronation had arrived. Rebellious and sometimes a little too individualistic, Cruyff originally found it difficult to fit into the mold of the selection. But in 1974, he was ubiquitous, with the captain's armband, ready to offer his country its first international title.
The "Oranje" were the big favorites to win the tournament. Along with the likes of Johnny Rep, Rudi Krol, Johan Neeskens, and Robbie Rensenbrink, Cruyff form the backbone of the greatest Dutch national team. Throughout the competition, they outrageously dominate their opponents. Argentina is swept away 4-0, thanks to two goals from Cruyff, and Brazil is beaten 2-0 (another achievement by the Dutch captain in this match).
During the final at the Olympic stadium in Munich, everyone was convinced that the trophy could not escape the Netherlands. Especially since from the first minute of the match, Johan Cruyff started a series of incredible dribbles in the defense of West Germany. Brought down by Uli Hoeness in the penalty box, he won a penalty, converted by Neeskens.
The tone of the match is set and the Dutch captain was winning the much-anticipated duel with Franz Beckenbauer, his only rival for the title of the best player in the world. The rest of the match would be catastrophic for the Dutch. Marked individually by Berti Vogts, Cruyff will only be a shadow of himself.
Unable to make the decision when he could have killed the match, he would collapse mentally and physically. Without his genius, the Oranje were no longer the same and would lose this match which should have not escaped them. He didn't know it yet, but it would be his only World Cup since, in 1978, he would not be traveling to Argentina.
Sir Bobby Charlton: 4 goals in 14 games (62, 66 Champion, 70) 
Charlton excelled in a variety of roles thanks to his football knowledge. In his early years, he was a lethal penalty box operator who excelled in the attacking role, scoring 29 league goals in 38 games in his first full season after the Munich tragedy. He was more frequently seen on the left wing in the early 1960s, where his direct running and capacity for accurate ball delivery made him one of the best wide players in the nation.
The deeper midfield position he carved out for himself as United ascended back to the pinnacle of English football in the middle of the 1960s, though, was perhaps his best position. He produced his finest football there as well. He also gave his best football performance for his nation there, and with his bold runs and deft passing, he was a key contributor to England's World Cup victory in 1966. That competition solidified Charlton's standing as one of the greatest athletes in history.
Garrincha: 5 goals and 3 assists in 12 games (58 Champion, 62 Champion/Golden Ball, 66) 
Garrincha was both one of the greatest players ever and unquestionably the finest dribbler of all time. Thanks to his dribbling abilities, which were legendary, his body feint, and quick and magical feet he was virtually unstoppable. His methodical, predictable, and unmanageable style of play made him one of the greatest attackers to ever don the Seleçao shirt.
The Brazilian legend was dubbed elusive, wonderful, and confusing. His heroics and mastery of the art of dribbling are largely responsible for the Auriverde's success in winning back-to-back World Cup titles in 1958 in Sweden and 1962 in Chile. When Brazilians refer to Pelé as the best technician in history, they remember Garrincha for his audacity and inventiveness.
From the time they were both introduced against Wales in the 1958 World Cup quarterfinals, Garrincha and Pelé became formed the most devastating duo in the history of international football. Together they played 40 games for Brazil with 36 wins and 4 draws and 0 losses. Garrincha combined innate technical mastery and crazy speed.
His quirky legs give him that unpredictable side that would drive a whole generation of defenders crazy. His consecration would come in Chile in 1962. After Pelé picked up an injury that ruled him out the rest of the tournament, Garrincha singlehandedly carried the Auriverdes to ultimate victory. He scored twice against England in the quarter-finals and another against Chile in the semis.
During this game, he was sent off for kicking a player's hindquarters. The Brazilian federation pleaded in his favor and Garrincha was allowed to play the final. While he didn't score against Czechoslovakia, he won the World Cup for a second time and would be voted best player of the tournament as well as joint top scorer.
Sandor Kocsis: 11 goals and 1 assist in 5 games (54 Golden Shoe) 
Nicknamed 'The Man with the Golden Head' thanks to his supreme heading game, Sandor Kocsis is one of the players who have forever etched their name in the pantheon of football as one of the best strikers ever. After winning the Olympics in 1952, and the International Cup a year later, he starred in the historical demolition of England at Wembley (6-3) in 1953.
Six months later, in the revenge match, the thrashing was so total as the English team was completely overwhelmed, (1-7) in Budapest. The Mighty Magyars entered the 1954 World Cup as the overwhelming favorites in Switzerland. Kocsis started the event with a hat-trick against South Korea (9-0) then a quadruple against Germany (8-3). In the semi-final, against Uruguay, undefeated until then, he scored two headed goals in extra time.
He remained silent only in the final, which the Germans finally won somewhat to everyone's surprise (3-2). Ironically, this failed final will be the only defeat conceded by the Golden Eleven out of the 49 matches they played between 1950 and 1956. In total, the big guy with an imposing physique wore the Hungarian national team jersey 68 times while scoring 75 goals.
Rivaldo: 8 goals and 3 assists in 14 games (98 Finalist, 02 Champion)
Despite being one of the most iconic players to ever don the famous Brazilian national team jersey, Rivaldo remained both misunderstood, and underrated. His international career with the Seleçao got to a rocky start when he was designated as the scapegoat for Brazil's elimination in the semifinal of the 1996 Atlanta Olympics at the hands of Nigeria.
Oft-criticized and benched afterward, he would turn his fortune around by the sheer force of will and determination. After a successful move to Barcelona, he became a linchpin of the Brazilian team. During the World Cup 1998 in France, he proved his uncanny ability to raise his level of play in critical moments against Denmark in the quarterfinals.
As Brazil trailed 1-2, he took matters into his own hands and scored a clutch brace to see past the Vikings. Unfortunately, Brazil would lose the final. However, Rivaldo and Brazil were even hungrier four years later in South Korea and Japan.
What he accomplished during this tournament is nothing short of legendary. Rivaldo was decisive in all seven games but the semifinal. His goals and assists seemed to always come when Brazil was in danger and he would come as a savior time and time again. For many pundits and fans, he should have won the Golden Ball for Best Player of the Tournament.
Third Team: 1-4-3-3
Kahn
Thuram, Puyol, Aldaïr, Breitner
Falcao
Cubillas, Didi
Romario, Eusebio, Baggio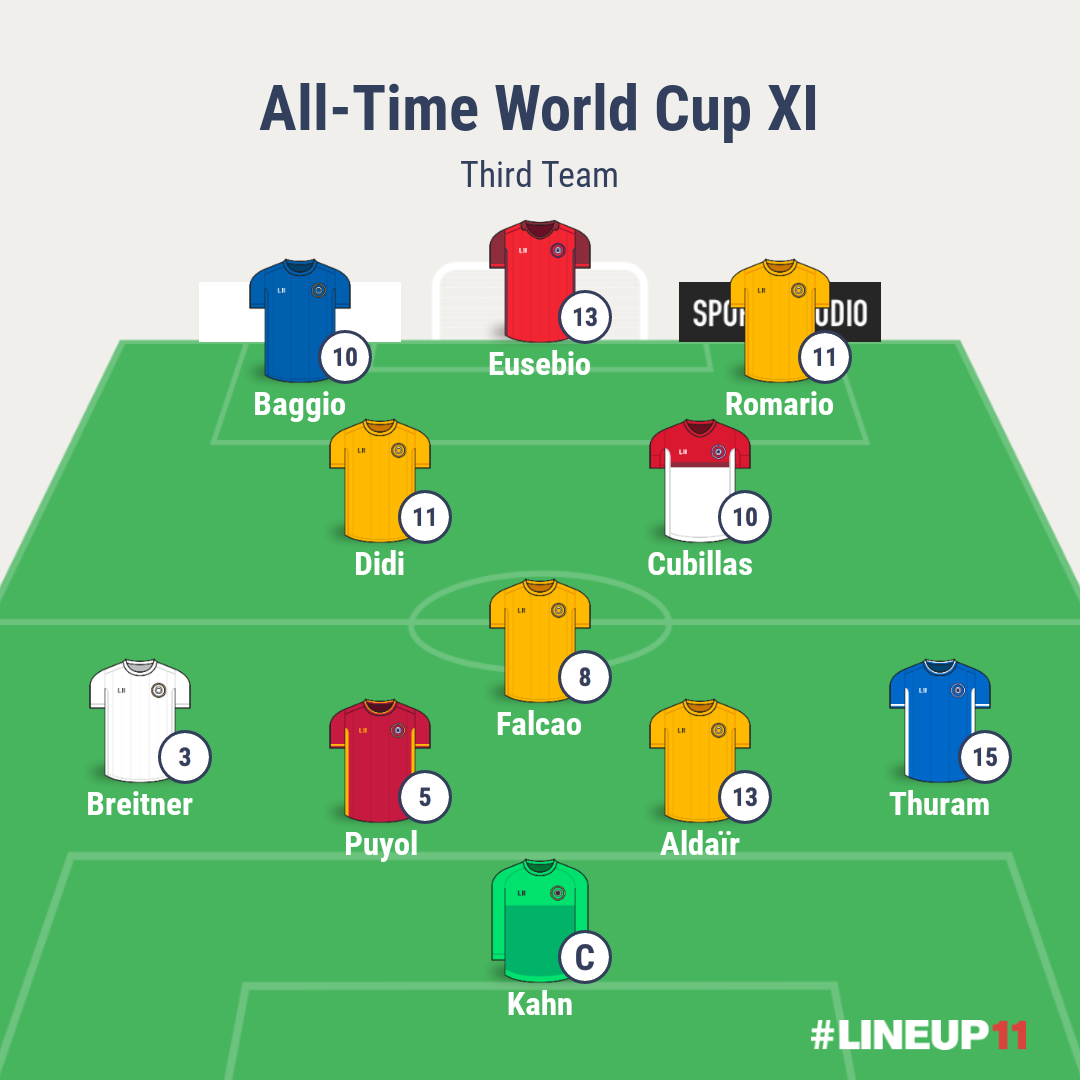 Oliver Kahn: 3 clean sheets in 8 games (02 Golden Ball/Finalist, 06)
The Mannschaft left for the tournament in South Korea and Japan following two devastating defeats at Euro 2000 and the 1998 World Cup. By the time the 2002 World Cup rolled around, Oliver Kahn had surpassed Peter Schmeichel as the best goalkeeper in the world and was facing fierce competition from Iker Casillas and Gianluigi Buffon.
All of these goalkeepers committed a mistake or two during the competition, but Kahn's error in the championship game is the one that everyone remembers. Kahn continued to play for Germany for a further four years because he didn't want to miss the World Cup in his nation, even though he was Jens Lehmann's backup. Kahn played in the third-place game but retired after that match with 86 caps.
Lilian Thuram: 2 goals and 1 assist in 16 games (98 Champion, 02, 06 Finalist)
Lilian Thuram played 102 matches for France, starting as a right-back before switching to the middle of the defense. He featured in three World Cup tournaments and four European Championships. He scored only two goals for his country in all of those games and during all of that period. And these two goals could not come at a more crucial time than the semifinal against Croatia in 1998.
Most people have come to believe that France 1998 won the World Cup due to Zinedine Zidane's dominance, but in reality, their airtight and rock-solid defense was the most decisive factor. Thuram was one of the outstanding French defenders who dominated the 1998 World Cup.
That defense had the ideal balance, with a strong ball-winning center-back in Marcel Desailly, a ball-playing sweeper in Laurent Blanc, a quick attacking full-back in Bixente Lizarazu, and a steady Mr. Reliable on the other side.
Carles Puyol: 1 goal, 7 clean sheets in 14 games (06, 10 Champion) 
Carles Puyol was both a tremendous center-back and a charismatic leader. He swiftly rose to the occasion for both his club and national team. He has made a name for himself as a solid and physically imposing defender. Puyol was regarded as one of the most crafty and intelligent players of his generation, with a dominant aerial presence, and exceptional tackling and recovery skills.
During the semifinal against Germany in 2010, as the game was tied and about to head to extra time, he came to the rescue with a powerful and well-placed header to propel Spain past the Mannschaft. He would go on and win the tournament in the final against the Netherlands where he had a defensive masterclass to neutralize the likes of Robin van Persie and Arjen Robben.
Aldair Nascimento Dos Santos:  8 clean sheets in 13 games (94 Champion, 98 Finalist)
Not particularly tall nor strong, Aldair made a habit of harassing his opponents and pressing them as soon as they recovered the ball. His defensive work was impressive. As a pure sweeper, he was also technically gifted and could bring the ball out cleanly. He counted 81 caps for Brazil while winning two Copa Americas in 1989 and 1997 and above all the 1994 World Cup. The man whom they call "Pluto" also took part in the 1998 World Cup final, in which Brazil lost to France (0-3).
Paul Breitner: 4 goals in 14 games (74 Champion, 78, 82 Finalist)
Paul Breitner left an indelible mark on German football in the 1970s and 1980s. He was both talented and contrarian. Recognized for his strong personality, he identified as both a liberal Marxist and a professional footballer outside the pitch.
The year 1974 was particularly prosperous for Breitner: in addition to winning a new Bundesliga title, he also won the European Cup for champion clubs (4-0 vs Atlético Madrid in a replayed final). Two months later, it was the World Cup, played on home soil, which would cement his status at the pinnacle of the game.
In the final against the Netherlands, Helmut Schön's men were down a goal from the first seconds after a penalty scored by Johan Neeskens. But Breitner, already the author twice as a goalscorer during the tournament, put them back on track by equalizing, also from the penalty spot. The "Bombardier" Gerd Müller would give a definite and decisive advantage to West Germany.
By then, the strong personality of the whimsical fullback clashed with that of Franz Beckenbauer, the Bavarian captain. The "new hero of the West German counter-culture" as quoted by the "New York Times" was painted as the antithesis of the Kaiser.
After a three-year hiatus, he returned to the Mannschaft as the 1982 World Cup was approaching. West Germany would reach the final in Spain and lose to Italy (1-3). Along with the Brazilians Pelé and Vava, Breitner became only the third player to score in two World Cup finals. Zinedine Zidane would eventually sneak into this exclusive club many years later. 
Roberto Paulo Falcão: 3 goals and 2 assists in 7 games (82, 86)
Revered as a legend at AS Roma, Falcão is one of the most talented and influential Brazilian midfielders of all time. Tactical genius and skillful playmaker, he was the complete midfielder with the complete package of technique, vision, grit, and underrated physical abilities.
When Tele Santana took the reins of the Seleçao, Falcão became his brain trust within the team's ranks. He participated in the 1982 World Cup in Spain with the free-flowing, aesthetically pleasing, and ultra-offensive new generation that included Zico, Toninho Cerezo, and Socrates.
He was unquestionably one of the greatest players in the tournament. Having scored three goals and assisted two. Unfortunately, Brazil would lose to Squadra Azzura, led by an inspired Paolo Rossi, who scored a hat-trick that fateful day. And just like that, the Canarinhos were eliminated before the semi-finals (2-3).
This Brazil 82 team is still regarded as one of the greatest sides to never win a World Cup. Four years later, as a luxury substitute, he took part in the 1986 World Cup in Mexico. At the age of 33, he hung up his boots soon after the tournament, capping off a successful career. He featured in 34 caps with the Seleço in all between 1976 and 1986.
Teofilo Cubillas: 10 goals and 2 assists in 13 games (70, 78, 82)
1970 saw Teofilo Cubillas compete in his first World Cup match in Mexico. He rapidly won over fans and analysts with his trademark close control and his potent shot at the age of twenty-one. He is often referred to as "El Nene" (The Kid) and was the first player from Peru to score at least one goal in three different World Cups.
Cubillas has been referred to as a player who was challenging to mark because he could head the ball well, shoot with ferocity, and easily dribble past opponents. He is regarded as one of Peru's all-time greatest athletes. He represented Peru until 1982 when they suffered defeats to Argentina and Poland.
Waldyr Didi Pereira: 3 goals and 7 assists in 15 games (54, 58 Champion, 62 Champion, 66)
1958 would be the year Brazil won its first World Cup title. When we look at the 22 players, a name piqued our interest, even if this team already included the legendary Pelé or the magical Mané Garrincha. His name was Didi. He was not a well-known player.
The 'Prince of Ethiopia', however, with his lean build, arrogant demeanor, and inherent class, is arguably one of the most significant figures of his generation. He would represent Brazil for almost a decade by donning the famous yellow shirt at 1958, 1962, and 1966 World Cup tournaments, winning two of them. Waldyr Perreira is one of the most iconic Brazilian football players of all time.
Romario Da Souza Faria: 5 goals and 3 assists in 8 games (90, 94 Golden Ball/Champion)
O Baixinho (The Little One) came to the 1990 World Cup having barely healed from a broken leg that kept him off the pitch for several months. He wasn't fit enough for the big show and he left Italy with regrets. He came back four years after emphatically announcing to everyone who would listen that World Cup 1994 would be his tournament.
And what he did is simply turn the competition into in own personal show. Romario dazzled, impressed, and mesmerized the opposition, fans, and pundits alike with his unparalleled creativity, immaculate technical skills, and ruthless killer instinct en route to deliver the "Tetra" (fourth) star to a nation 24 years after their last coronation.
Eusebio: 9 goals and 1 assist in 6 games (66 Golden Shoe)
The Black Panther took the Portuguese Seleçao to the semifinals in their first-ever appearance at the World Cup in 1966. In the only World Cup of his illustrious career, he would deliver some genuine masterpieces against established and valuable sides by scoring a brace against the two-time defending World Cup champions Brazil and a quadruple against North Korea to help Portugal complete an improbable comeback in the quarterfinals. He would be eliminated by the host, England in the semis. In total, he scored 9 goals in 6 games and the Golden Boot.
Roberto Baggio: 9 goals and 2 assists in 16 games (90, 94 Finalist/Silver Ball, 98, 02)
The Divine Ponytail scored 9 goals and assisted 3 in 16 World Cup games spread over 3 editions (90, 94, and 98). His masterpiece came in the knockout stages of WC94 where he willed the Azzurri to victory successively against Nigeria, Spain, and Bulgaria on the road to the final where they lose in the penalty shootout to Brazil. His grace, dribbling ability, flair, and propensity to shine in the biggest games have made him one of the most iconic players in World Cup history. 
By: Ralph Ganthier / @ralphganthier
Featured Image: @GabFoligno / Ben Radford – Getty Images