The History of Father-Son Duos in the World Cup
In the 87th minute of the 2022 World Cup Final, referee Szymon Marciniak awarded a yellow card to Marcus Thuram, for diving. Apart from the very keen eyes of the ref, this moment stood out as the cameras immediately panned to Lilian, Marcus' father, smiling coyly in the stands.
If the spot kicks had gone a bit differently, the Thurams could have become the first father and son duo to be crowned world champions on football's biggest stage. From the lesser-known to the most obvious, here is a rundown of both famous and lesser-known footballing dynasties.
Mexican duo Luis Perez and Mario Perez kick us off, having played as a forward and a defender at the 1930 and 1970 World Cups. Following them are Luis Regueiro and Luis Regueiro, and yes that is not an error. Luis Regueiro Pagola, nicknamed Corso, played as a forward for Real Madrid and represented the Spanish National Team at the 1934 World Cup.
He finished his career at America in Mexico, which meant his son, Luis Jr., represented Mexico in midfield at the 1966 World Cup. Another Spanish-Mexican connection is the father-son team of Marti Ventorla and Jose Vantorla. Father Marti played for Spain at the 1934 World Cup, whilst Jose represented Mexico in 1970.
Bayern Munich and Inter Milan: 40 Years of World Cup Dominance
Still remaining in 1934, we have Roger Rio, a midfielder, whose son Patrice represented Les Bleus in defence in 1978. At the last World Cup before World War II, Domingos da Guia made four appearances in defense. His nickname was O Divino (the Divine One), the same nickname applied to his son Ademir da Guia. Unlike his father, who is considered one of the best Brazilian defenders of all time, Ademir was a fantastic playmaker, being a cult icon among Palmeiras fans.
The post-war period brought about names that are more familiar to today's football fans and we start out bona fide footballing royalty: the Maldinis. Father Cesare was a superb defender, winning 4 Serie A titles and one European Cup with AC Milan. He represented Italy at the 1962 World Cup, captaining the Azzuri. His son did arguably even better, spending his entire career in Milan's defense.
His impressive trophy haul includes 5 European Cup/Champions League titles and 7 Serie A titles. With the national team, he took part in four World Cups, retiring from international duty before Italy's 2006 triumph. His son Daniel switched things up a bit, playing as an attacking midfielder and based on his performances he looks poised to become the third Maldini to represent Italy at the World Cup.
And now onto one of my all-time favorite players: Diego Forlan. His father was a defender, who spent his entire career in South America and represented Uruguay at the 1966 and 1974 World Cups. As for Diego, he went one better appearing at the final tournament in 2002, 2010 (where he received a bronze medal) and 2014.
In an exclusive BTL interview, Diego Forlán chats with @ZachLowy about his time at Manchester United, how Darwin Núñez could fit at Old Trafford, his post-playing career, and more.

Watch the full interview on our YouTube channel: https://t.co/s6dq1Gh7st pic.twitter.com/TygOJQpjbv

— Breaking The Lines (@BTLvid) April 25, 2022
Just like the Maldinis, who tasted European Cup success with AC Milan, two representatives of the Sanchis family lifted the prestigious trophy. At the 1966 World Cup father Manuel was in Spain's squad, whereas son Manolo played in the 1990 tournament. After two pairs of defenders, some goalkeepers are in order. First up are the Reinas, Miguel, the father, playing at the 1966 World Cup.
His son Pepe's very long and trophy-laden career meant that he was named in Spain's squads from 2006 to 2018. You figure out how many tournaments that is, I can't spoon-feed you all the facts. Pepe's win in 2010 brings us to another player who won the tournament 12 years earlier. Youri Djorkaeff played in two World Cups for France (1998 and 2002), his father Jean making an appearance at the 1966 edition.
Pepe Reina's teammate in the 2010 winning squad was none other than Xabi Alonso. Instead of dedicating the next two pages to the brilliance of this midfielder, I will only tell you he took part in the 2006, 2010 and 2014 World Cups. His father, Miguel Angel Alonso managed to play in only one World Cup tournament in 1982.
And now we come to one of the most recent inclusions, barring the Thurams, the Blind family. Danny, the father, took part in two tournaments for the Netherlands, in 1990 and 1994, whilst Daley played in 2014 and 2022. The dream of father and son both lifting the trophy still eludes us, despite Thiago Alcantara's best efforts in 2018, his dad having lifted the trophy for Brazil in 1994. You can find honorable mentions and a few bonuses below.
The first bonus: two pairs of players with identical names representing Czechoslovakia for the dads and Slovakia for the sons:
Ján Kozák (Czechoslovakia, 1982)                Ján Kozák (Slovakia, 2010)
Vladimir Weiss (Czechoslovakia, 1990)           Vladimir Weiss (Slovakia, 2010)
The second bonus: the dominance of the Schmeichels over the Danish number one jersey, which has lasted for almost 30 years. The third bonus: Javier Balcazar (World Cup 1954) is the father-in-law to Javier "Chícharo" Hernández (World Cup 1986) and grandfather to Javier "Chicharito" Hernández (World Cup 2010, 2014, 2018.
 Honorable mentions:
Nicolae Lupescu (Romania, 1970)                 Ionuţ Lupescu (Romania, 1990/94)
Jan Verheyen (Belgium, 1970)                    Gert Verheyen (Belgium, 1998/2002)
Julio Montero Castillo (Uruguay, 1970/74)       Paolo Montero (Uruguay, 2002)
Ilija Petković (Yugoslavia, 1974)               Dušan Petković (Serbia & Montenegro, 2006)
Roy Andersson (Sweden, 1978)                    Patrick Andersson (Sweden, 1994/2002)
Roy Andersson (Sweden, 1978)                    Daniel Andersson (Sweden, 2002/06)
Anders Linderoth (Sweden, 1978)                 Tobias Linderoth (Sweden, 2002/06)
Włodimierz Smolarek (Poland, 1982/86)           Euzebiusz Smolarek (Poland, 2006)
Cha Bum-Kun (South Korea, 1986)                 Cha Du-Ri (South Korea, 2002/10)
Alexandre Guimarães (Costa Rica, 1990)          Celso Borges (Costa Rica, 2014)
Oh, and one last bonus: the definitive father-son XI: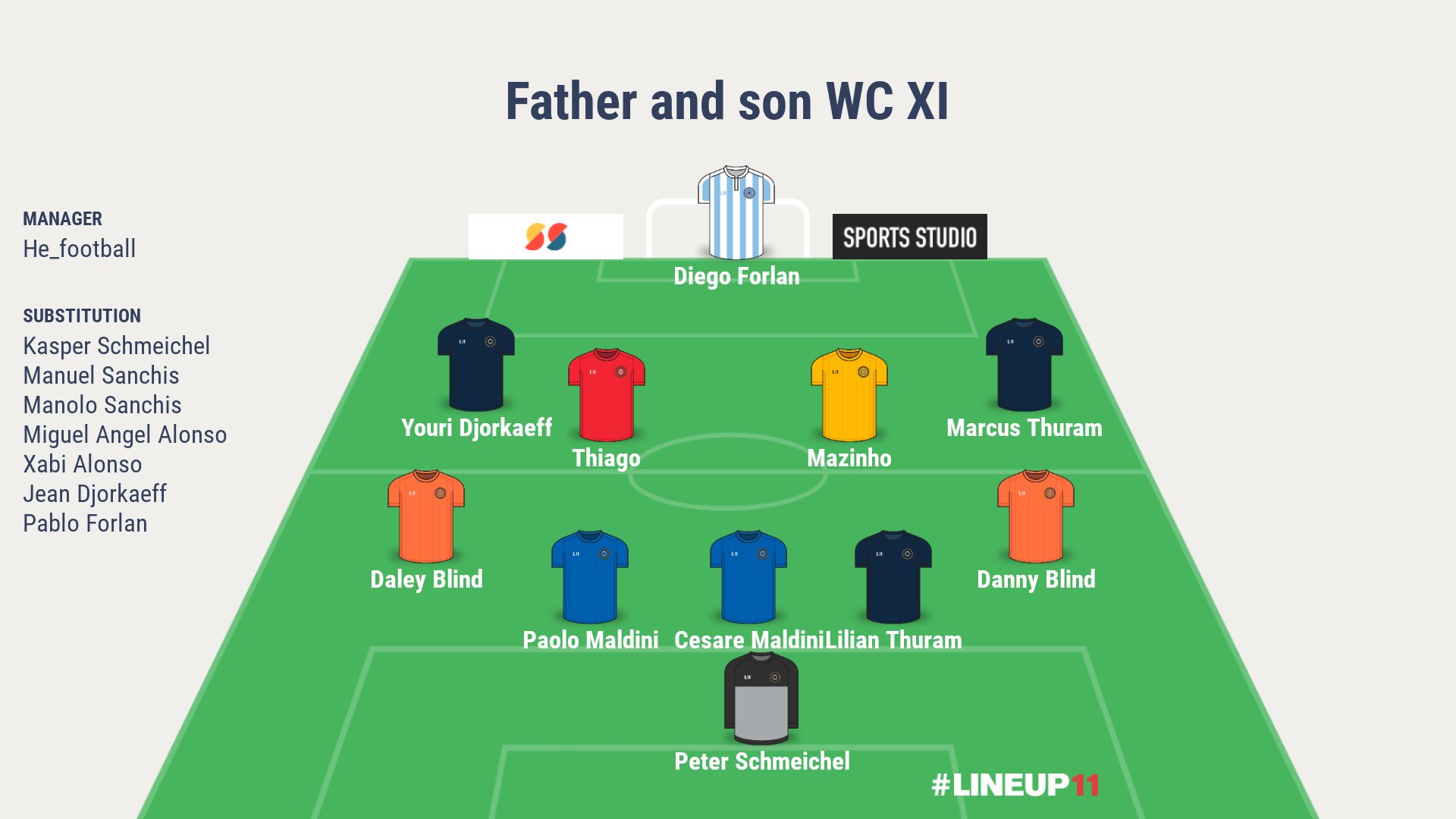 By: Eduard Holdis / @__He___
Featured Image: @GabFoligno / Neal Simpson – EMPICS / PA Images