The History of Māoris and Aboriginals in Football
Kia ora! Me pēhea koe? / Sew ngapa! Ngi migh? The first half corresponds to a language so hitched on the New Zealand culture – Māori; the latter is la language called Kala Lagaw Ya, spoken by fewer than one thousand people on the Torres Strait islands, between Queensland and Papua-New Guinea. I am so thrilled to join Breaking The Lines, with accomplished analysts and authors from English-speaking countries.
My name is Sebastián Alarcón, I come from Mexico and I feel a tremendous responsibility in keeping up with all of my colleagues, talking about this passion which gathers us to read magnificent excerpt. I want to start from Oceania, specifically Australasia.
Musical Recommendation 1
Along with the texts, there will always be music to listen while you read. Music at the Australian Aboriginal peoples has a spellbinding story. The exact moment when their instruments were created still remains as an enigma.
Truth be told, while Northern Australia is relatively bleak, neglecting the culture there would be a mistake, as the instrument called didgeridoo was born here. With this wind instrument performed thanks to a technique called circular breathing, you can of Australia. You are going to listen an exponent: Richard Walley. The song is called Wardung.
This is a translation of the text I had written for El 9 y Medio website as part of Geobalón/Zemljopis NK series: Futbol en los pueblos originarios de Australia y Nueva Zelanda. Click here to read it in Spanish.
Brief History of Aboriginal Peoples
During the migration of the first humans, all four corners of the Earth were populated. It all started in Africa, and some people decided to spread all around the continent by filling it. On the contrary, some other people felt bolder and went all the way north and reached Asia. Then the human mass split: a part stayed, a fraction went North and West, unveiling Europe, while some people went North but walked to the East. This is how human presence in America started.
As you know, Asia is the biggest continent, so a group went East and South. Islands and islands welcomed them with a lukewarm climate and still many people stayed, but others wanted to chase the edge of the world. As a result, they could arrive at a bigger soil portion called nowadays New Guinea. Going back to 65,000 BC, the sea did no cover so much earth, and then still more soil was found. Humans crossed it and then spread. This territory was a genuine continent with a wide range of weather, from a suffocating heat to jungles blessed by tons of rivers.
[AUNZ 1 | Migration towards Australia]
Those early humans had their offspring and divided in tribes. Each tribe hunted with weapons such as the boomerang, had their own government system, and passed their ancestral knowledge from generation to generation, so young people heard every night enthralling stories about how the world was created. They revered the land that gave them birth and had no gods; instead, they believed in gigantic, ancestral beings with supernatural powers who lived there before, back in the days of the Dreaming. 
[AUNZ 2 | Art from Australian Aboriginals]
In the 17th Century, Europeans came, settled, and started to overview this land, Terra Australis, "the South Land" in Latin. The name slowly shifted to Australia. By the moment they arrived, there were 750,000 people.
The finding incited curiosity among them and swooped in whatever they could. The Dutch were first, followed by Spaniards, yet the Englishmen ended up staying. We have to thank navigators like James Cook. As soon as England lost the North American colonies, it turned back to Australia and much of this 8,000,000-square-kilometre wide island was the fate of several convicts.
[AUNZ 3]
The descendants of those prisoners soon developed an identity deeply engaged in the British lifestyle, yet somehow different; they nevertheless held scorn and incomprehension towards these peoples. The aboriginals were enslaved, treated worse than animals.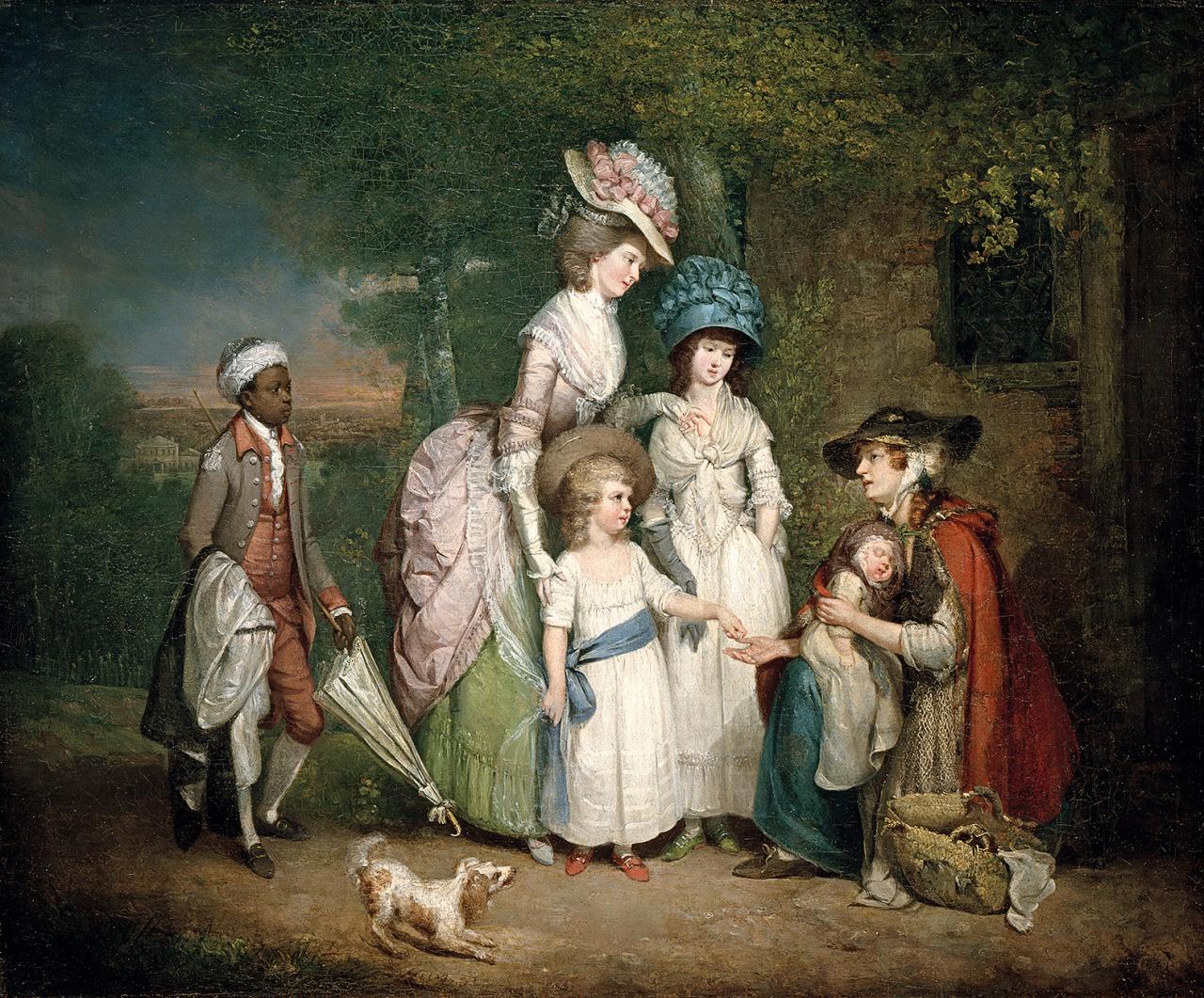 Photo: National Gallery of Victoria
Not fewer Aboriginal children were snatched from their parents to receive education from the Empire – the Stolen Generation. Australia declared their autonomy, but still regarded the Aboriginals as livestock. In the 1960s, the attitude changed, but the long-awaited reconciliation came 30 years later; after all, Aboriginals had so much to contribute to Australia.
[AUNZ 4]
Nowadays there are fewer than 650,000 Australian aboriginals (3.3% of the total Australian population), living mainly in the Northern Territory (making out roughly 30% of the population) and Tasmania. In the Northern Territory, the Pitjantjatjara people have a sacred land: the Ayers rock, also known as Uluru.
This does not necessarily mean there are no aboriginals in other regions. In fact, the name of the capital, Canberra, is the most renowned Aboriginal toponymy – a "gathering place" in the Ngunnawal language. The linguistic abundance of Australian aboriginals is in no way inferior to other hotspots in the world: 290-363 language either belonging to 28 families or isolated. Their millenary knowledge, their respect for the wildlife, and their culture preserved against all odds are their priceless heritage.
[AUNZ 5]
History of Māoris
All colonial powerhouses inevitably had a thorn in their side; there was always a people who set their face against them when the invaders attempted to conquer. For Spaniards, it was Chilean Mapuches; for the French, the Algerians; for Russians, Caucasic people gave them a hard time… while for the Englishmen, the Māoris were untameable.
Unlike Australia, New Zealand has no trace of a human settlement during the first millennium. This is no surprise because before this occult land several islands were on the way of these Polynesian people stemming originally from Taiwan. Polynesian migration eventually arrived there in the 13th Century, naming this location Aotearoa, "Long White Cloud Land".
[AUNZ 6]
After settling, all those Polynesians began to develop their own culture and adopted a name – Māori, which means "normal person". At first, they were peaceful, their way of feeding was the Moa bird… until it finally became extinct. Soon afterward they organised themselves in fortresses on hills known as pa and they crafted their own canoes. Then the clans, or iwi, started to make war one to another. It was not seldom that the defeated men were the dinner of the vanquishers. Yes, this was indeed cannibalism.
[AUNZ 7]
In the 17th Century, a Dutch explorer, Abel Tasman (yes, with relation to Tasmania) claimed that this land might be part of South America. His fellow countryman Hendrik Brouwer refuted that and warned that this was indeed an island, receiving the name of New Zealand, in memory of the westernmost Dutch province of Zeeland.
They stayed briefly, though, not even James Cooked dared to approach. Unlike other peoples, Māoris crossed swords… literally. After Māoris were so hostile to the pākehā, Māori term to Europeans, they saw that they did have something to endow, so they let them stay.
[AUNZ 8]
To complete their journey to New Zealand, they set sail for three months, and Māoris were not precisely doormats, so they were not really into going to war after such a trip. Then, in 1840 the Waitangi agreement between the British Crown and 500 Māori chiefs was signed. Māoris accepted Victory Queen's full sovereignty, while the British left them alone in exchange.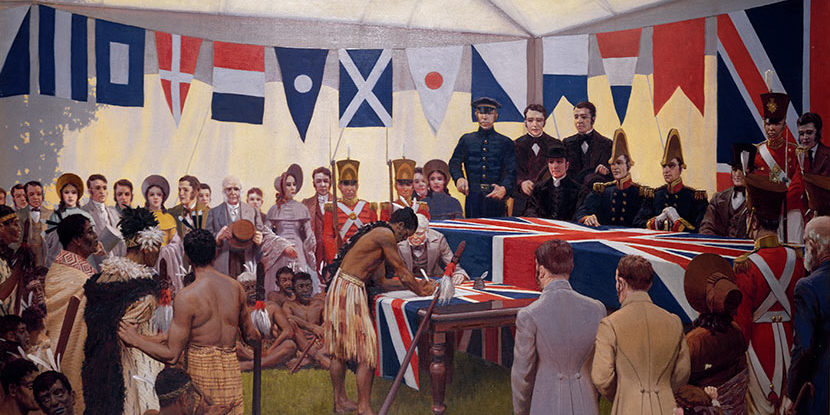 Photo: Waitangi
Relations started peacefully; pākehā minded their own business, Māoris kept their nose in the grind. But soon afterward, the ambitions of the Europeans started to grow. Some Māoris joined them to screw other tribes, some Englishmen did not agree with the greedy attitude and helped Māoris. And a civil war broke out in New Zealand; as a result, many lands were seized and given away to the conquerors.
[AUNZ 9]
At the end of the 19th Century, Māoris realised that if they mixed with pākehā, then they would not be wiped out of this earth, so they merged. It is true that Māoris had tough times with diseases such as smallpox and chickenpox, but the British army happily benefited with their bravery, so there were Māori battalions in both world wars.
[AUNZ 10 | World War II Māori battalion]
New Zealand kept a Māori print in its DNA; this is why it was an example of autonomy within the British Empire: it was the first country which granted women the right to vote, here was born the first organised political party and the adoption of compulsory arbitration between employers and unions.
Following a great performance in both World Wars, Māoris started to be regarded as a valuable asset of an already unique New Zealand society. They got victory after victory – the unprofitable Waitangi agreement was revised; their language had a revival claiming an official status. Currently, more than 770,000 Māoris live in New Zealand (around 16.5% of its population).
[AUNZ 11]
Australia and New Zealand had been both the spokespersons of Oceanic football so to speak, until Australia headed onto Asia in order to level up right after the 2006 FIFA World Cup. Football is regarded in both countries as a sport practised only by those descendants of European colonisers. This is far from the truth – let's see first the football at the Australian aboriginals.
Harry Williams: Blazing the Trails in Germany
Australia broke into world football at the very moment the conditions of Aboriginals started to improve. Harry Williams grew in this context. Proudly belonging to Wiradjuri and Yorta Yorta tribes, he was born in Sydney. Williams was tempted to follow the herd and play Rugby League so that he would become part of the Kangaroos; however, his best friend used to play football and he asked him to go to a practise session. Williams fell in love immediately.
[AUNZ 12]
He charmed their mates with his superb defence coverage, his recovery sprints to catch the opposition strikers, and his refined ball skills. He then switched sides to St. George Police Boys, then joining afterward St. George-Budapest, a team from the Hungarian community.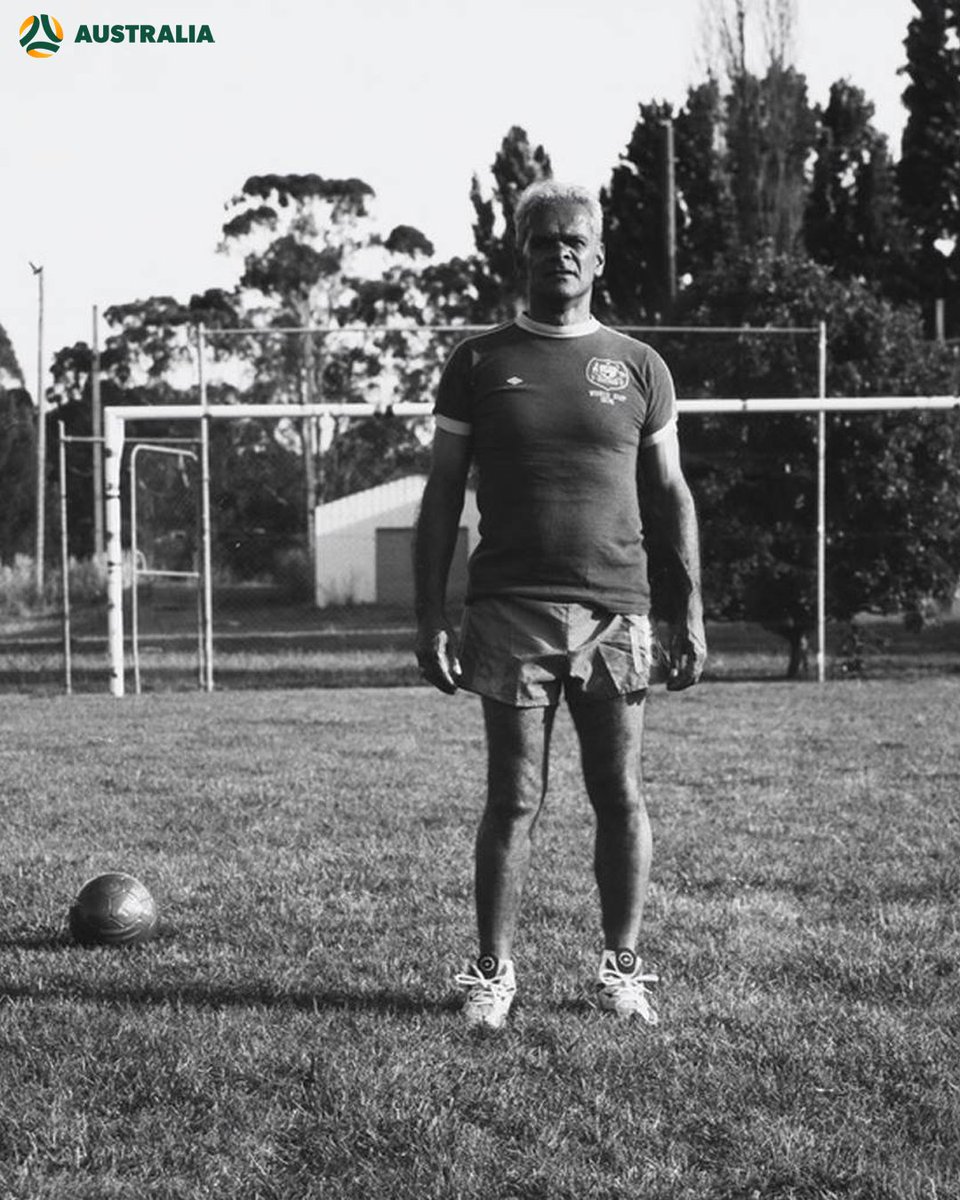 Photo: Socceroos
Williams proved to be a key player to rule Sydney football, and he was capped for a tour with the Socceroos when he was only 19. He became the first Aboriginal ever to make it to the Australia national team – playing matches in Indonesia, Israel, Hong Kong, China, Germany, Iran and Mexico.
[AUNZ 13]
Six matches were enough to prove his worth to the Head Coach Zvonimir Rašić, so he hopped on to the plane to play at the 1974 FIFA World Cup in Germany. He stayed in the substitute bench for the games against both Germanies. At the final span, Australia took on Chile. Both teams knew beforehand that the reward was no longer a spot in the next round.
When it seemed that he will not be considered again, "Rale" Rašić called him to warm up. He was about to have his first ever world cup match. With the number 15 on his back, he substituted number 5 Col Curran at the 79th minute. Williams helped Australia to earn his first point in World Cups.
[AUNZ 14]
Williams still played at 14 more matches with the golden-green shirt before retiring with Inter Monaro, at the New South Wales League, but he never neglected his Aboriginal roots. Firstly, he was appointed as the Indigenous Services and Cultural Diversity for ACT Correctional Services, then he helped to launch the Harry Williams Cup where New South Wales Aboriginals can make teams and compete.
[AUNZ 15]
Aboriginals, new Blood for
Matildas
While it is true that Australia reaped benefits from confederation swapping, the Socceroos have struggled so far to have a quality leap at the international level, failing to progress from the group stage in the last three World Cups. With the Matildas, Australia's national women's football team, the situation could not be more opposite.
[AUNZ 16]
So, 6 Aboriginals have made it through the Socceroos so far, but hold key positions in Matildas. For instance, we have the goalkeeper Lydia Williams. Her father was a prominent indigenous leader in Kalgoorlie, Western Australia, where she started to grasp some fondness to sports.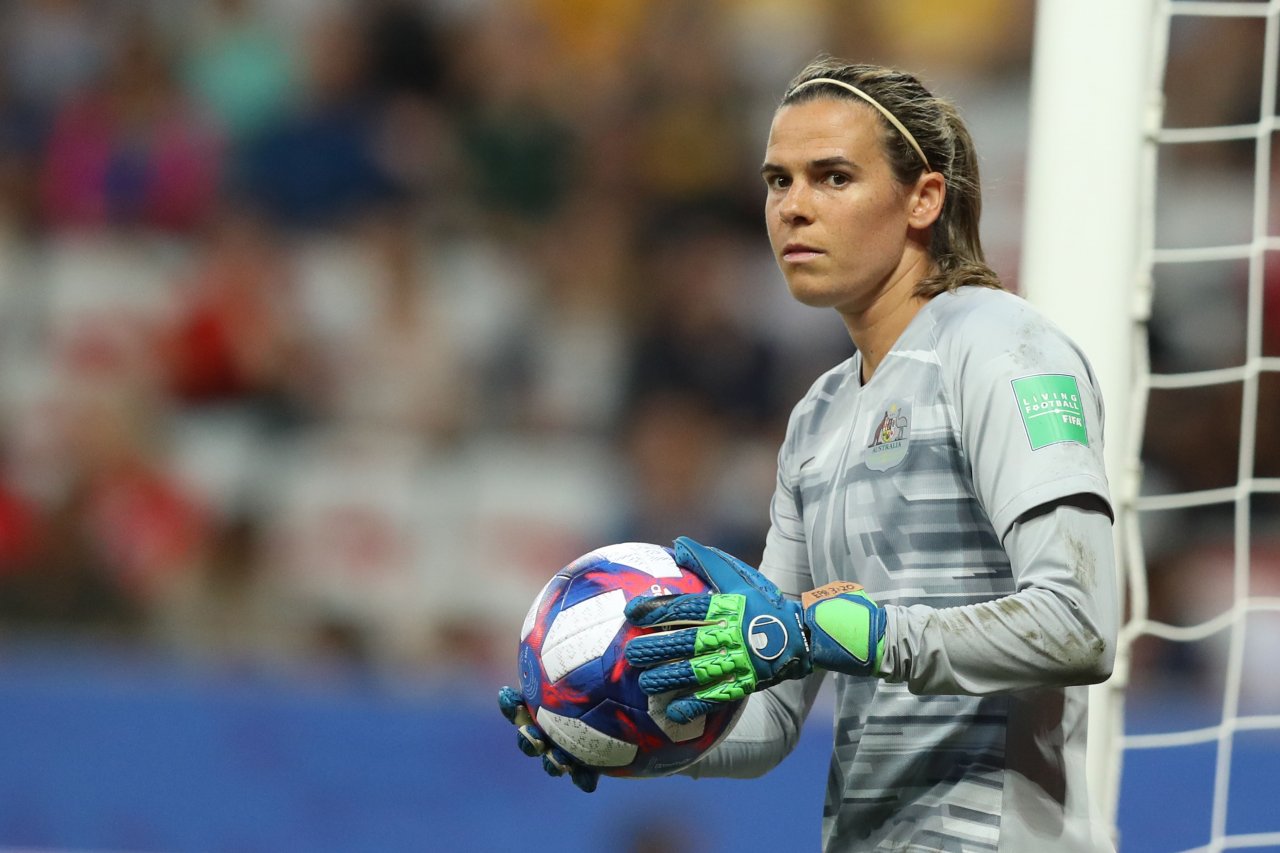 Photo: Valery Hache / AFP / Getty Images
In order to seek better opportunities, they moved to Canberra. There they started from scratch and she joined knitted her way with her classmates through sports. At first, it was Australian football, then association football. As her school team had no keeper, she gave it a shot and from then she has guarded all three posts.
[AUNZ 17 | Lydia Williams]
She outperformed and as a result, then earning a cap in the Matildas for the Asian Cup and the U20 World Cup both in 2006. Next year, she became the first female Aboriginal to appear on the senior team roster; she however was not the first one to play on the field, but Kyan Simon instead.
Born in New South Wales, Simon got bored of scoring with Central Coast Mariners and Sydney FC when she received an opportunity for the 2021 FIFA Women's World Cup in Germany, where Matildas qualified with almost no suffering. In Germany, she scored twice in the clash against Norway which ended 2-1, and Australia claimed a berth in the quarterfinals. With those two goals, Simon was the first Aboriginal ever scoring with the senior team.
[AUNZ 18 | Kyah Simon]
The Matildas are the pride of Australian association football. Lydia Williams and Kyan Simon both featured in the documentary No Apologies, which told about the story of the best two Aboriginal footballers. Both took the plunge to the US WSL, the best women's football league in the world, where they became heroes.
[AUNZ 19]
It was the 2015 FIFA Women's World Cup in Canada. Australia would take on Brazil in the last-16 round, and the South Americans had ruled their group flawlessly. Good news for Australia: the match was in Winnipeg, where 11% of the population is indigenous.
This situation boosted Williams and Simon to give the match of their lives. The first hero was Simon, who stopped all long-distance shots from Formiga and Marta. Then, the glory. Minute 80' and the now PSV-playing Williams drilled the net. It was not a minor feat: it was the first Australian win in a knockout stage, all thanks to an Aboriginal pair.
[AUNZ 20]
Mariya Seek to Impress at ConIFA
Australian Aboriginal peoples have raised the hand to compete also at ConIFA. [AUNZ 21] The responsible thereof is Mariya team, which has been so active in the Aboriginal sports realm, mainly in the Indigenous National Football Championships. This competition has been organised by them thrice, so they thought in applying for world participation. Then, the Mariya team joined ConIFA in 2019, where Oceania countries like Kiribati and Tuvalu were already there (Hawaii would join later).
[AUNZ 22]
Due to a healthy budget, Mariya was granted the honour of representing the Oceania confederation at the ConIFA World Cup the next year, which would mean that Mariya has earned the right to do the Corroboree, an ancestral dance with rhythms produced with sticks which mimics animals such as the kangaroo and the emu. The draw set them in group C, against Mapuches, Matabeleland (western Zimbabwe) and Kernow (aka Cornwall).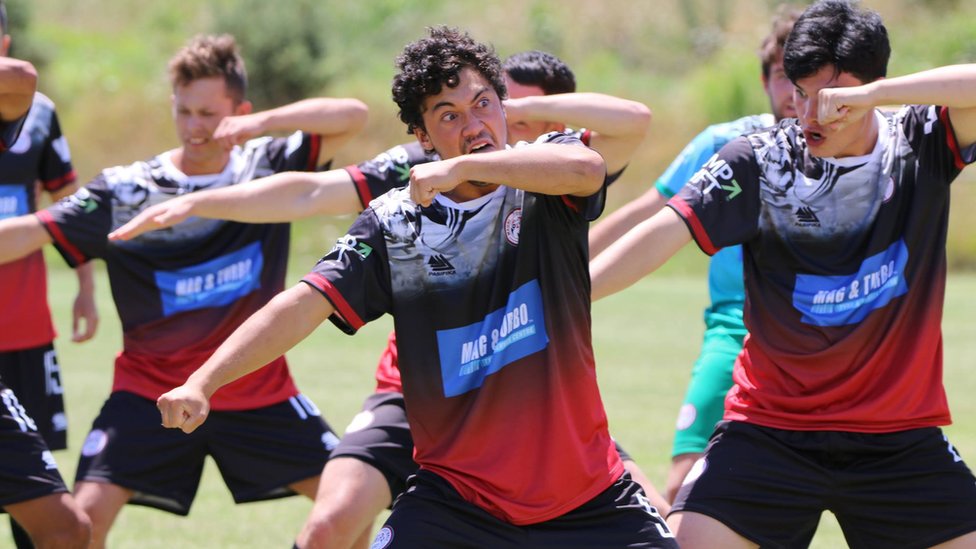 Photo: JLS Photographs
[AUNZ 23]
Unfortunately, the 2020 ConIFA World Cup at Skopje, North Macedonia had to be called off due to the COVID-19 Pandemic, which was a frustration for the Aboriginals; nevertheless, their future is granted.
[AUNZ 24]
Māori Football
Mariya's football-warming, both for women and men, was against the New Zealand Māori team. Both matches were part of the "Culture Clash" series. The men's side were trounced barely 3-2, while the women's side were trashed 5-0.
[AUNZ 25]
The Māori football team arose especially to raise a voice for their people. Generally speaking, they play this Trans-Tasmanian series against Australian Aboriginal peoples, though they have shown interest to take on Oceanic national teams, such as Papua-New Guinea or Fiji.
[AUNZ 26]
Māori football rivets more in grassroots, with an extensive job for U-14 teams. They have already enjoyed the opportunity of meeting the FIFA President, Gianni Infantino, when he took part in the 2019 OFC Congress in Auckland, New Zealand. Speaking about Māoris, how is their influence at the New Zealand national football team?
[AUNZ 27]
Māoris at
All Whites
and
White Ferns
If the presence of Australian Aboriginals is relatively odd, the situation is far worse at New Zealand football. The main reason is that rugby is the most popular sport there. And how come rugby should be defeated when All Blacks are a force to be wrecked, even though they lost the crown against England at the 2019 World Cup in Japan? Māoris also have a special team in Rugby League, and another one made up only of players with Māori whakapapa (background) on both sides.
[AUNZ 28 | Māori All Blacks]
This does not necessarily imply there is no presence of Māoris at All Whites. Māoris are so embedded in New Zealand society than it is common that Māori blood runs through the veins of even the most common New Zealander due to his or her grandparents. With all this said, we have Heremaia Ngata, perhaps the first Māori ever at the European football (he played at Hull City). There is also Leo Bertos, Moses Dyer and Winston Reid (his parents are both Māoris).
[AUNZ 29 | Winston Reid, West Ham United player, greets as a Māori]
What about White Ferns, the New Zealand women's national football team? Abby Erceg takes the lead. With a career in United States, Spain and Australia, Erceg is the first footballer (either female or male) to go beyond the milestone of 100 caps for a national team.
In the final line, there is Amber Hearn, who belongs to the Ngāpuhi iwi. She was considered as the best footballer of New Zealand back in 2003. She had a great stance at Frauenbundesliga side Jena, and now she plays at Spanish side Logroño. She is the top female Kiwi scorer.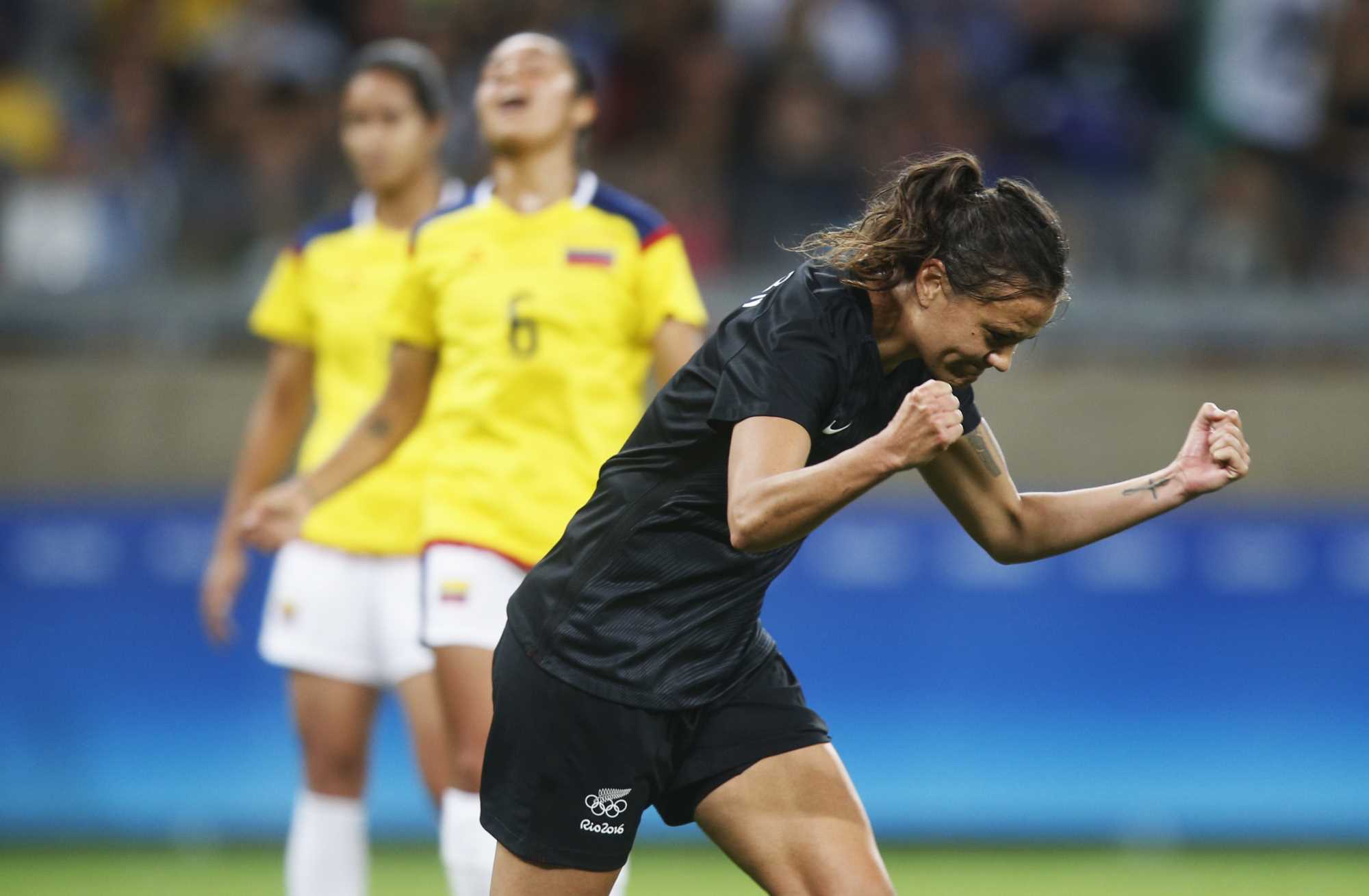 Photo: Getty Images
[AUNZ 30 | Amber Hearn]
Why is there no Haka in Football?
Māori sports simply cannot be understood without Haka, a warrior dance where aggressive moves are performed, different body extremities are hit and really intimidating facial gestures are made. Haka can be for several uses: from welcoming distinguished guests to giving the last farewell, for a wedding… and for telling the foes at a war that they fear not. This is for sure the first feature the European settlers found, and that is why they were reluctant to give Māoris the white glove.
[AUNZ 31]
In any case, Haka is known worldwide thanks to sports. The tradition started with the Māori rugby team in 1898, with a tour around England, Scotland and Ireland. The British were captivated by the bravery of Māoris, and they could not help but to talk all the day about Haka warrior dance, which broke the strict Victorian protocol.
The All Blacks received the racket in 1905 and ever since they perform it before every match to daunt their rivals. It works – be the Ka Mate (the most renowned), be the Kapa o Pango (in service since 2005), All Blacks rarely fail to get the victory.
[AUNZ 32]
Haka is used by almost all sports teams: Tall Blacks (basketball), Steelblacks (American football or grindiron), Black Caps (cricket), Black Sticks (field hockey), Ice Blacks (ice hockey), Diamondblacks (baseball)… the only exception are All Whites.
New Zealand qualified for the 2017 FIFA Confederations Cup in Russia. A Russian journalist asked them just before the opening match between Sbornaya and All Whites. The defender Michael Boxall answered that this is due to the FIFA rigid logistics: the teams must be at the tunnel six minutes before the kick-off, and should line up to listed to the national anthems no later than four minutes before.
There is not enough time to perform it, but that does not mean it is forgotten. Rory Fallon states that some of them perform it in the dressing room. And Haka was a highlight during the 2012 Summer Olympic games in London… as FIFA has no jurisdiction at International Olympic Committee competitions.
[AUNZ 33]
Things are different with White Ferns. We have seen a female Haka in the 2011 FIFA Women's World Cup in Germany after a thrilling match against Mexico which ended 2-2, we have seen it at the Summer Olympics. White Ferns perform it at the end of the match to celebrate wins, not at the beginning to gain some courage to have a valiant performance.
Some team attempted to take over Haka for show's sake… and New Zealanders were not exactly content.
Outrage by Crows
Haka is something regarded as sacred for Māori culture and sports. If another culture performs it for entertainment, it can trigger some anger. And this is exactly what happened with the Mexican Netflix series, Club de Cuervos (Club of Crows), which depicts the power struggle to bring an underdog team to a similar status of Real Madrid in the Americas.
For the fourth and last series of the team from the Mexican fictional city of Nuevo Toledo, Aitor Cardoné and Potro get the laughs and the hype with the Haka that featured in the official trailer uploaded on the official Facebook profile of the main actor, Luis Gerardo Méndez. The Black Death danced it before a couple of matches and in memoriam to Zombie, a late player.
[AUNZ 34]
Latin Americans gave Haka a great welcome, though some Māoris were not so flattered. Several Kiwi comments flooded Luis Gerardo Méndez's Facebook page, claiming that not only it was poorly performed, but it perpetrated the violence stereotype from Māori culture… Spice Girls had already some troubles with that. Some other people asserted it was just an overreaction: for them, All Blacks should not be performing that, as it was appropriated from Ngāti Toa iwi. This tribe obviously owns the right… but the producer Gaz Alazraki is yet to pay them.
Aboriginals and Māoris' Current State
Australia and New Zealand have worked hard to give a well-deserved recognition to their Original Peoples since the 1960 years. New Zealand has a more supportive situation – Māori is a compulsory subject in the school curriculum, and public clerks must have a proficient command of this language, besides English. Several Māori words have already entered the New Zealand English, such as Kia ora, kiwi, hangi and mahi, just to mention some of them.
[AUNZ 35]
Australian indigenous languages are still in a sticky situation. The most ubiquitous language so far (Pitjantjatjara) barely exceeds the 3,500 native speakers, almost all of them in Northern Australia. Despite this, the Australian government has raised awareness for Aboriginal culture with some initiatives, like the Forgiveness Week (May 27 – June 3). A blunter action was the last torch relay of 2000 Summer Olympic games in Sydney: Cathy Freeman, Aboriginal runner. As her last name states, Freeman gave Aboriginals the freedom to reach out for stars and make the inhabitants of this Dreamland feel proud.
[AUNZ 36]
Sources
Gugliotta, Guy. The Great Human Migration. Smithsonian Magazine. July 2008
Dorey, Fran. The spread of people to Australia. Australian Museum. October 22, 2020 (last update)
Blakemore, Erin. Aboriginal Australians. National Geographic. January 31, 2019
Johnson, Ryan. How Aboriginal Australians Work. How Stuff Works. October 19, 2020 (last update)
Simpson, Jane. The state of Australia's Indigenous languages – and how we can help people speak them more often. The Conversation. January 20, 2019
NZ Pocket Guide. A Quick Guide to The Māori History in New Zealand. Date unknown
The Sydney Morning Herald. First Aboriginal Socceroo confident. September 18, 2006
Gibbons, Connor. In a Class of His Own: Harry Williams. Socceroos. May 6, 2020
Australian Olympic Committee. Lydia Williams – Grassroots to Greatness. November 8, 2020
FIFA. Uncovering a pathway for indigenous Aussies. November 16, 2020
Greco Schwartz, Samuel. NAIDOC Week and Indigenous Football Week: Celebrating the contribution of indigenous peoples to football. My Football. November 8, 2020
Buddenberg, Fred. Hoe PSV-voetbalster Kyah Simon een rolmodel voor de Aboriginals werd. Trouw. November 2, 2020
Ward, Courtney. Australian First Nations set for CONIFA World Cup debut. South Coast Register. February 25, 2020
New Zealand Football. History made in Clash of the Cultures. Date unknown
Williams, Olie. Where the Premier League's players come from. BBC Football. August 13, 2009
Te Kanawa, Wepiha. Winston Reid announced as new Māori Soccer Ambassador. Te Ao Māori News. July 23, 2014
de Graaf, Peter. Tug-o-war champs up for sports award. The Northland Age. November 25, 2015
RE3DE3M. Māori Female Footballers Heading To Rio. Aotearoa Football Dot Com NZ. July 15, 2016
Richardot, Robin. Pourquoi les Néo-Zélandais ne font pas le Haka ? SoFoot. June 21, 2017
Capital México. Qué significa la danza que hacen en Club de Cuervos. January 27, 2019
Te Karere. 'It's perpetuating the stereotype' – outrage over Mexican Netflix show's rendition of haka. TVNZ. January 29, 2019
Māori Language. Māori Words used in New Zealand English. Constantly updated
Pullar, Jess. One flag, one moment: How Cathy Freeman single-handedly became a symbol for Aboriginal reconciliation at the Olympics. Now to Love. September 16, 2020
Musical Recommendation 2
Māori culture has also been reflected in music in one way or another. In rock metal we have for instance Alien Weaponry, labelled as the "New Zealand Sepultura" thanks for blending Māori elements into metal. However, Māoris are not always displaying testosterone. They have an interesting mythology and cosmogony, and this gets its way into the music of Maisey Rika, a New Zealand singer. Listen to this song, Tangaroa Whakamautai, about Tangaroa, the mighty god of the sea.
Let's Recap
There are indigenous peoples in Australia and New Zealand where football is also played. The first Socceroo was Harry William, who even was at a World Cup match. In the Matildas, the situation is the opposite due to the striker Kyan Simon and the goalkeeper Leah Williams. The national team of Australian Aboriginals is Mariya, which recently joined ConIFA.
Had it not been for the pandemic, they would have competed in the ConIFA World Cup this year. As for Māoris, they have their national team as well. There are some Māoris who have got caps for the national team, like Winston Reid, Leo Bertos, Abby Erceg and Amber Hearn. The All Whites are the sole New Zealand national sports team that cannot perform Haka due to FIFA protocol. There was some anger there because the Mexican Netflix series called Club de Cuervos poorly performed the dance, leading many to feel disrespected by the show's perceived 'cultural appropriation.' 
[AUNZ 37]
See you next time. Haere rā! / Sew ngapa!
By: Sebastián Alarcón
Featured Image: @GabFoligno / Mike Hewitt – FIFA