The Miracle Match of 1950: England vs. USA
Up until recent years, you would almost always struggle to find comparison in terms of stature and wealth of footballing talent when it comes to the United States of America and England. Many other sports serve the reverse purpose, but football belongs on the east side of the North Atlantic, or so many would believe.
When it comes to the two tales of World Cup encounters between the countries, however, the most prestigious, most important stage of all spotlights a much different narrative. In association with Football's Finest, we take a trip down memory lane to the Miracle Match of 1950. 
Despite not competing in any of the previous World Cup tournaments throughout the 1930s due to a dispute over player payments with FIFA, the Three Lions had already established a reputation as the 'Kings of Football' and were carrying immense post-war momentum – both on and off the pitch – into their trip to Brazil.
With that came an unmatched burden of expectation – signified by their 3-1 odds to take home the trophy – which was further cemented when they strolled past Chile 2-0 in their opening group game to bring their record spanning five years from World War Two to 24 wins from 31 matches. 
Up next, an American side who were well worth their 500-1 odds having rallied a repertoire of players who had trained just once together in the wake of an inevitably woeful World Cup. With Edinburgh-born Bill Jeffrey at the helm, USA had shipped 45 goals in their seven previous internationals, before three late Spain goals in Brazil sunk them further into disarray in their first fixture of the tournament.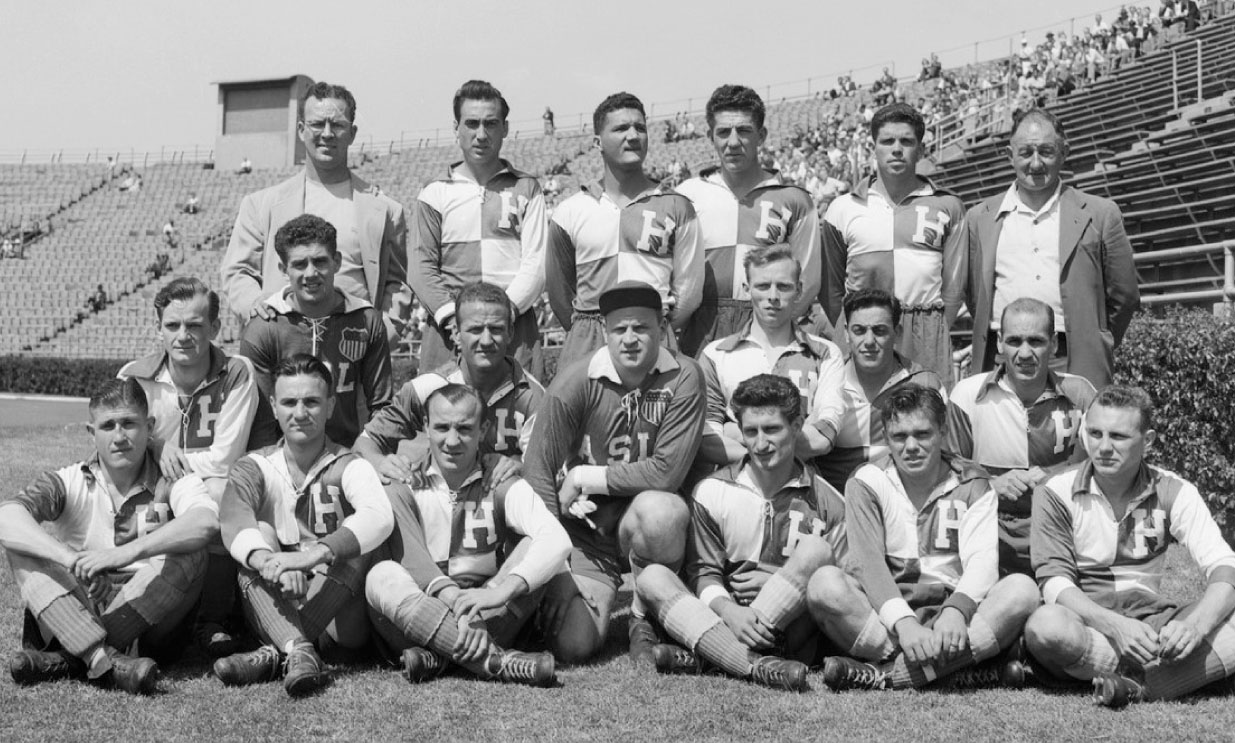 Photo: Bettman/Corbis
With the build up to Belo Horizonte absorbed, you're with everyone, Bill Jeffrey included in the belief that annihilation awaited the Americans. Even Jeffrey – the man tasked with doing everything in his power to help his men succeed – told the press prior to the match that they were "sheep ready to be slaughtered." Just as the English Daily Express claimed they would need a three goal head start to stand even the slightest chance of getting a result.
Due to their acceptance of failure and dismissal of football's unforeseeable nature, the Americans turned up with nothing to lose with the Brazilian locals all behind them in the hope they would help the hosts avoid England at a later stage.
On the one hand, England were without Stanley Matthews, who was supposedly rested for their more testing ties to come with Tom Finney and Stan Mortensen already amongst their attacking setup. On the other, USA were without Ben McLaughlin, who had to withdraw from the tournament because he couldn't get time off work. As both sides filtered into position, awaiting Generoso Dattilo's whistle, there was only one feasible outcome. 
As expected, the onslaught ensued with immediate effect as the Three Lions pierced through their opponents with an anticipated level of attacking freedom and superior skill level in every aspect. American 'keeper Frank Borghi – on the ropes throughout – stood firm and was equal to every attempt from the English, along with the help of the woodwork. 
Even with the unbeatable Borghi at one end, England knew it would take something spectacular for their own stalwart stopper in Bert Williams at the other. He had been given little to do until the 37th minute, when a Walter Bahr strike from 25 yards looked to call him into action with little trouble. His eyes were fixed, his stance was steady with a comfortable save sure to follow. But in the blink of an eye, the ball was diverted past him and into the back of the net. 
The crowd celebrated in dubiety at what they were witnessing as much as in joy at its marvel. Centre forward Joe Gaetjens flung himself full-length, into the ball's path and glanced home an inconceivable opener in unorthodox but extraordinary fashion.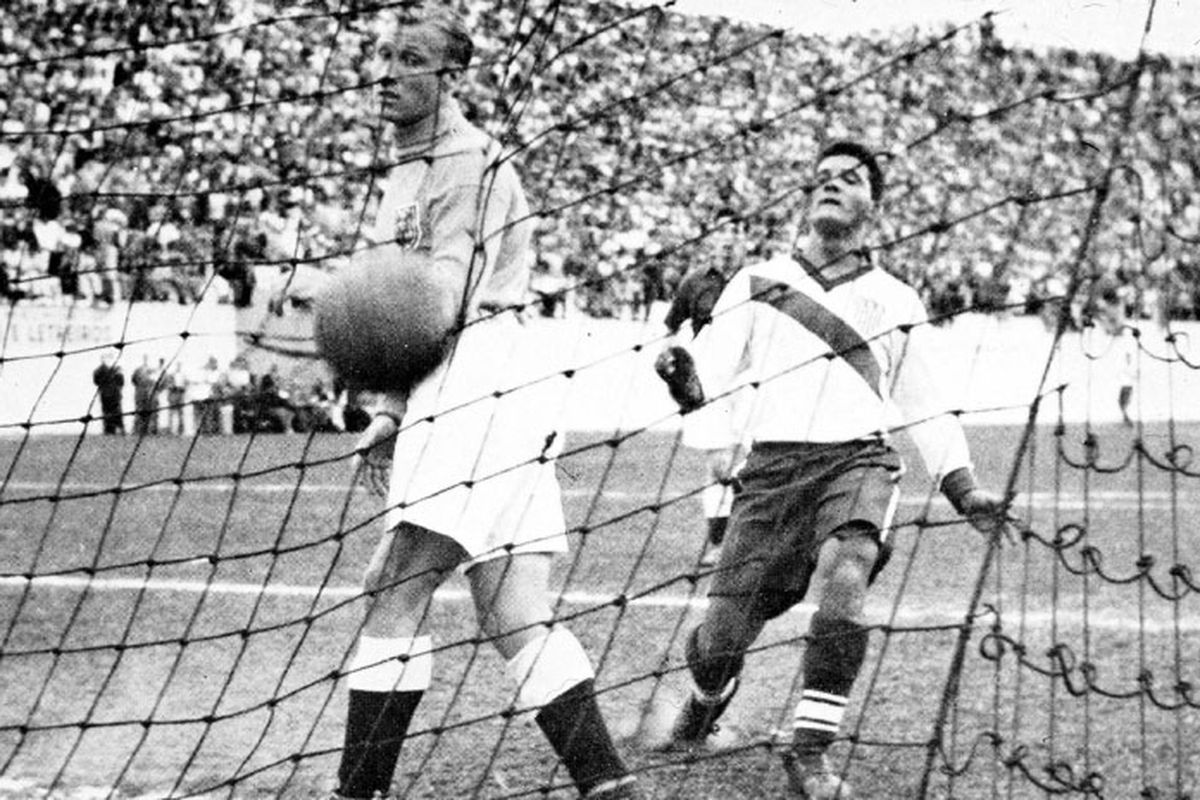 Photo: Popperfoto / Getty Images
The goal came much to the visible frustration of Walter Winterbottom's men, who pushed for a prompt response. Their pushing, their possession, their poise was clearly too much for the US team to handle, or at least that could be said of their ten outfield players. The American penalty area was a hotspot for action, but Borghi's hands were magnetic to the melee that submerged his side into a long, suffocating second half. 
Mortensen then Jimmy Mullen, then Wilf Mannion; they were all queuing up for their turn to unlock the door with the wrong key which Borghi held tightly in his hands along with this entire game, and this entire chapter in history.
England were defeated, wearing a blue kit – symbolic both of the sky-high snobbery they arrived with and the sea of shame that submerged them in the aftermath – that was never to be worn again. But that shame, that disappointment that remained as Spain sent them home three days later should take nothing away from USA. To a man, they should be held national heroes for their individual excellence in 'The Miracle Match'. 
To reinforce just how sensational their showing of resolve and rigidity when no one gave them a chance was, they wouldn't qualify for the World Cup again for four decades. Even after claiming an infamous victory, some publications presumed the 1-0 scoreline was a correction from a more probable 10-0 or 10-1 England win, and it received an underwhelming amount of attention in the States.
Nevertheless, 'The Game of Their Lives' – as author Geoffrey Douglas titled his rendition of the remarkable match – prevails aptly as the greatest game in the country's long and lowly footballing lifespan seventy years on.
By: Brad Jones
Featured Image: @GabFoligno / Matthew Ashton / Corbis Sport