The Swan Song That Never Was: Aritz Aduriz's Last Dance
In a career spanning over two decades, securing 219 goals and 63 assists across 573 appearances is no small feat. Yet, injury woes, a global pandemic, and a slightly premature retirement was not how Aritz Aduriz would have expected his final campaign to conclude. 
In another world, Aduriz would have played in the all-Basque final of the Copa del Rey with Athletic Bilbao set to face Real Sociedad. The tie has since been postponed as the clubs decided to wait till it's safe to play in front of their fans. Meanwhile, in La Liga, Bilbao sit in 8th, with their final league game against Granada on July 19 and a place in the Europa League on the cards.
This season, before he announced his decision to retire in May, Aduriz had played in 17 games across all competitions, scoring the single deciding goal in the season opener against Barcelona in August, before a hip injury in December ruled him out for much of the campaign, and eventually, led to him hanging up his boots.
Photo: La Liga
Let's rewind to 2002. After making his debut for Bilbao in 2-0 loss to Barcelona on September 14 that year, Aduriz mostly played for the B side before spending time at Burgos CF and Real Valladolid over the next three seasons. He returned to the Basque club in December 2005. 
In the 2006-07 campaign, Aduriz scored nine goals in 34 games. The next season, despite making 33 appearances and contributing seven goals, he was overshadowed by a young Fernando Llorente.
In 2008, Aduriz was on the move again, this time to Mallorca. Over two seasons at the Palma side, he registered 24 goals and 10 assists, making 78 appearances. 
In 2010, a 29-year old Aduriz, swapped the Balearic Islands for Valencia. In his debut for the Yellow Submarine, Aduriz scored in a 3-1 win over Málaga on August 28.
When Brazilian forward Jonas joined Los Murciélagos, then coached by Unai Emery, Aduriz often found himself on the bench, and down the pecking order behind the starter Roberto Soldado and newcomer Jonas. Despite that, Aduriz managed to net 14 goals in all competitions. 
Photo: Getty
2012 was the year that changed Aduriz's career. At 31, most players are nearing retirement. Following his return to Athletic Bilbao, Aduriz's peak was just getting started. In his first campaign back in the Basque country, he proved to be solid competition for Fernando Llorente, registering 14 league goals and 18 in all competitions. 
The next few seasons saw him rise to even greater heights as Llorente moved to Juventus in 2013 and new manager Ernesto Valverde made Aduriz the starting forward. In Aduriz's glittering journeyman career, no star shines brighter than the 2014 to 2016 period.
In February 2014,  he scored three goals in a 4-0 triumph over Granada. On February 8 the following year, he scored in a 2-5 home loss to Barcelona, reaching 100 La Liga goals. On the final day of that season, he netted a brace in a 4-0 win against Villareal, clinching the Zarra Trophy, surpassing Rayo Vallecano's Alberto Bueno. That season, the Basque country side also qualified for the Europa League. 
While Aduriz remains one of the several talents to have come through the Bilbao academy, with the likes of midfielder Beñat Etxebarria and forwards Iñigo Córdoba and Iker Muniain, among others still at the club, his journey was somewhat different. Unlike other youth prospects, he joined the club aged 19, and only got his big break at 23. But it wasn't until his third spell that the player really excelled. 
In 2014, then manager Ernesto Valverde said of Aduriz, "Aritz is a very important player for us. He's a born finisher and he sets the tone of the team." His contributions that campaign and in Bilbao's recent successes underscore the forward's key role at the Basque club.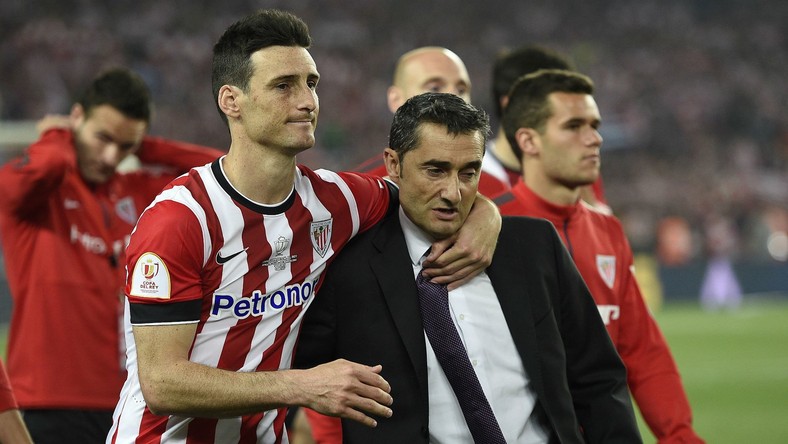 Photo: EFE
In 2014-15, he finished as the La Liga top scorer with 18 goals. He repeated the feat in 2015-16, a season in which he netted two of his four career league hat-tricks. That season, the forward was also instrumental in securing Athletic's first trophy in 30 years when they won the 2015 Supercopa de Espana. Aduriz scored all of his side's goals in a 4-1 aggregate thumping of Barcelona.
Yet, his age-defying success has not been limited to domestic football either. Aged 29, Aduriz made his debut for the Spain national team, coming off the bench for 13 minutes in a 3-1 Euro 2012 qualifying win over Lithuania.
In 2016, the Bilbao striker made three appearances for Vicente del Bosque's side at the Euros. In November that year, Aduriz became the oldest Spanish goalscorer, aged 35 years and 275 days old, netting once in a 4-0 triumph over Macedonia. 
Traditionally, and even more so in modern football, the 30-plus years are a period of decline. Certainly, there are some exceptions to this rule, improving each campaign despite their advancing years, with the likes of Lionel Messi, Cristiano Ronaldo, and Zlatan Ibrahimović, to name a few. Aduriz, then, is another among these elites, a stalwart of Spanish football and an icon of the sport.
By: Manan Bhavnani
Featured Image: @GabFoligno