Progression, Principles and Player Development: An Interview with FC Helsingør Co-Owner Jordan Gardner
Although Denmark might not be the first name that comes to mind when discussing international football, it's worth remembering they are ex-European Championship winners and the Danish Superliga is increasingly yielding teams such as Midtjylland and FC Copenhagen that are starting to make a splash in UEFA Competitions on a more regular basis. 
However, for Jordan Gardner, co-owner of FC Helsingør, the opportunity lies elsewhere. With ambitious plans for growth, that directly tie into the fates of future development for players from one of the most expectant nations in the world, there is massive potential to create a new powerhouse in Denmark, relying on a unique strategy to acquire top players and a business model that tantalises young stars with the prospect of regular first team football, so they can move onto the upper echelons of European football when the time is right. 
Jordan Gardner, the man behind the ambitious plans at FC Helsingør. Photo Credit: Jordan Gardner.
To start, Jordan emphasises one of the most common misconceptions about club ownership: "People assume club ownership is glamorous (which often at times it is!)." He's quick to refocus, however, towards the workload behind the scenes to keep it running on a day-to-day basis: We are still a business at the end of the day and most of our time and energy is spend on mundane tasks that are not particularly sexy or exciting."
Jordan himself has interests in Danish, English and Irish football. Although he's keen to stress the latter is purely a passive investment, I'm still curious to pick his brains on why the League of Ireland has not suffered the same inflation of transfer fees that other leagues have had.
His answer is short, and not very surprising. "Most of the clubs in Ireland are not sophisticated or professionalized in a way to maximize transfer fees on players." It's probably worth remembering that despite Dundalk FC's recent success, both domestically and on the European stage, they like every other team in Ireland have been unable to shake away from the shackles of semi-professional status. 
FC Helsingør moved into their new home – the Helsingør stadium in August 2019. Image Credit: Nordicstadiums.com
On the topic of finances, what are Jordan's top three principles for investing, in either the football or business sphere?
"I [Jordan] have tried to apply many of the principals and philosophies I learned in the business worth to investing in football. Of course, certain things need to be adapted, as football is not strictly a business and has an intrinsic emotional and community value."
He follows up, "This is a relationship business. As an investor, if the plan is to be absentee, and you are not willing or able to put the time and energy in to build relationships in your club's local community then you are going to have a difficult time having success."
Photo Credit: FC Helsingør
As arguably the world's most famous club's motto echoes: More than a club. He continues onto the second principle:
"Football cannot strictly be treated as a business, but it also cannot be treated as only a vanity project. No one should be getting into football to become a billionaire, there are better uses of money and time than to own a football club if that is the case. However, there needs to be a balance between operating a football club as an efficient, successful business and providing value and enjoyment to your supporters, community and yourself."
His final principle is one that is nearly applicable to every industry:
"Creating the right organizational culture, and hiring good people on both the sporting and commercial side is essential. Most clubs spend the bulk of their time identifying the one manager or sporting director who they identify as the key to success. When in reality the priority should be much broader, by establishing leadership at the top (from ownership), and hiring smart, savvy executives across the entire organization."
Gardner hopes he can attract other young US stars to Denmark for a spell, to follow in the footsteps of stars like Reggie Cannon. Photo Credit: USA Today Images
With the emphasis now suddenly planted firmly on leadership, this is a point I want to explore further. Chairpersons have many targets to hit and parameters to consider: the success of the club, playing attractive football, having a strong brand and being a pillar of the community. Is there a dominant factor?
"The success of the club and being integrated in the local community. Like any other sport, people want to be involved with a winning product and on field performance is always crucially important. Being respected and integrated in the local community becomes most important when you are not having success on the field."
The importance of corporate social responsibility cannot, in Jordan's eyes, be understated, "During those times, it's important for people feel connected to the club (and ownership) and feel invested in the product and willing to support it even in the most difficult times."
The mention of the 'most difficult times' brings the current situation sharply back into focus, with Danish football paralyzed by COVID-19 like so many nations. "Our entire organization at FC Helsingør has been closed since early March due to the virus. Like many football clubs, we are very reliant on match day revenue to operate, so without games being played we are in a difficult position." 
He doesn't want to focus on the negatives, though, and praises the Danish government's response and support for sporting clubs.
"We are participating in a government wage reimbursement plan in Denmark which will help mitigate some of the financial strain of the virus on our business. We are hopeful matches will resume at some point soon when it is safe and reasonable to do so."
Photo Credit: Soccer America
When FC Helsingør do return, they'll be the cornerstone of an ambitious project. Aiming to return to the Superliga after their recent relegation, Gardner is wary of being overambitious, but he's acutely aware of the club's recent lofty history. "One of the reasons we picked FC Helsingør was because it had a history of success in the higher divisions of Danish football, progressing to the Danish SuperLiga in 2017."
To plot their course back up to the top, he's identified the other models to replicate these previous successes. "I have been very impressed with the American ownership group at RCD Mallorca in Spain," continuing to add, "They bought the club when it was in the Segunda División, and then were relegated to the third tier. However, they subsequently got promoted the next two seasons and are now in La Liga with one of the lowest budgets in the league."
It's an apt reminder that the biggest budgets do not necessarily guarantee success, and instead astute planning and behind-the-scenes magic can really make or break club fortunes. 
Photo Credit: Stu Holden
Talking of fortunes, there is a grander scheme at play. Jordan is amongst those trying to strengthen the national infrastructure of football in America. The short-term goal is to produce a 'Golden Generation' akin to the likes of Belgium and Portugal. In the longer term, the USA wants to be competing at the top level for international competitions every single year.
Jordan takes a philosophical approach to this dilemma, "U.S. Soccer is now in a transition period after failing to qualify for the 2018 World Cup and is undergoing major leadership changes at the Federation level. There's no doubt that the U.S. is producing some top young talent, both in Europe like Christian Pulisic at Chelsea, Weston McKennie at Schalke 04 and also via academies in MLS, such as Julian Araujo, Gianluca Busio, Reggie Cannon and Jesús Ferreira."
There's still work to be done before they can get to the pinnacle that they so desire, however. "I think we are still years away from producing a critical mass of talent that can elevate us to top levels in international competition." Jordan admits honestly. "We need more players in top European academies, and more MLS clubs to replicate the success of a youth-focused model like at FC Dallas," which developed McKennie, Ferreira, and Cannon in their academy. 
Photo: FC Dallas
Nevertheless, the improvement over time cannot be ignored. It's worth noting that as a boon for developing players, Denmark's leagues have lax rules regarding foreign restrictions, which Jordan confesses another one of the main reasons why FC Helsingør presented an attractive option for investment. 
He's keen also to stress that players benefit from getting experience in other European leagues, rather than remaining in academy structures. "The environment in European academies is critical to the development of young American players. MLS has made great strides and commitments to their academies, but it cannot compete yet with the environment in Europe."
Young players need to get a chance with senior pros to develop further. It's "very important for development that players do transition to first team minutes, as there is no substitute to playing against real men in a professional environment" in his view.
Photo: Getty
Rightly, Jordan views FC Helsingør as a great chance for young US players to come to for playing opportunities. The unwanted tag of 'feeder club' doesn't concern him, "Every club in the world is a selling or 'feeder' club to someone else unless you are Barcelona."
Although one Royal club from Spain might object to that tag (as might other European giants for that matter), it's clear to see why Jordan has such a holistic view of FC Helsingør's position in the footballing hierarchy.
"As a club, once you accept that [you are a feeder club], then you can understand where you fit in the global football ecosystem and find ways to thrive. We are happy being a club that develops top quality young talent who can move on to bigger clubs in Denmark, or the Bundesliga, or the Premier League for example."
As a final point, it seems appropriate to refer to another Danish success story. FC Midtjylland stunned the Superliga to win the title for the first time in 2015, using a revolutionary approach centered around big data and embracing technology.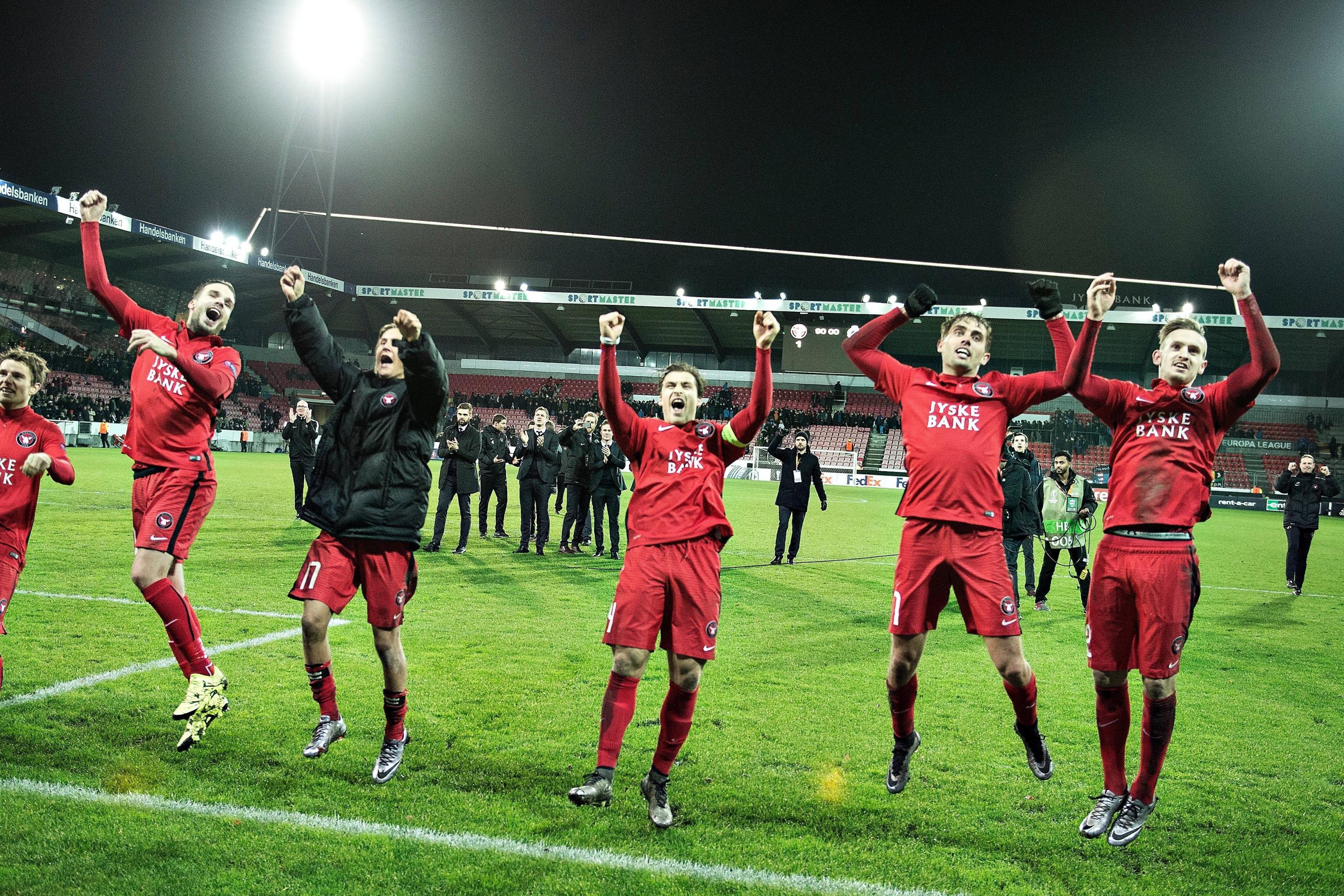 Photo: Henning Bagger / Getty
In Jordan's view, this is going to become the normality, rather than the exception. "I think data will continue to be a vital piece in the success in sport (football included). There are countless examples of big clubs using data in a very sophisticated way and having success. In general, most clubs still operate in an old-fashioned way, with data being a low (or non-existent) priority, but I think that is gradually changing."
It certainly won't be easy, and Jordan Gardner is not trying to kid anyone. But in the city of Kronborg Castle, the foundations seem to be stable and successful. In fifteen years time, a loan stint at the club might be an integral step for the development for young American players eager to break into the next generation of USMNT stars. It might also yield a surprising chance at silverware, and a shot at European knockout football.\
Kronborg Castle in Helsingør: An impressive institute. The Football club hopes to live up to this lofty standard. Image Credit: Thomas Rahbek
There is no tragedy coming in the near future for the town that inspired William Shakespeare's Hamlet – instead FC Helsingør looks towards a bright future.
By: Rob Pratley
Featured Image: Gabriel Fraga