The Art of the Throw-In – An Interview with 'The Throw-in Coach' Thomas Grønnemark
Although throwing the ball back into play should be one of the simplest components of football, it is an endless source of frustration for fans when possession is cheaply ceded. Although not everyone treats the throw-in with the level of attention it deserves, Thomas Grønnemark is on a mission to change this attitude. 
Described by the BBC as 'the weirdest job in football', there is no denying he is successful at doing what he does. Having held the Guinness World Record for world's longest throw-in, he has now turned his talents to working with football clubs around the globe to revolutionise this simple procedure to turn the marginal gain into genuine competitive advantage. FC Midtjylland even went as far as to win a title on set pieces.
The likes of AFC Ajax, RB Leipzig, Atlanta United and Liverpool FC – the latter with which he has won a Champions League with – call on the services of the man whose website describes him as having 'a lifelong passion for football throw-ins.'
Grønnemark's first success was with FC Midtyjlland, who won the Danish Superliga. Image Credit: Thomas Grønnemark.
Question 1: https://youtu.be/CovRdNKCyJA?t=20 
To start, Thomas outlines his 3 archetypes of throw-ins, and the situations with which each one can be applied. "I call my throw-in philosophy the long, the fast and the clever throw-ins. The first one, the long throw in, that's how I make the players throw longer. I'm using 30 different technical parameters, I'm also using video analysis."
The results are impressive. "I'm improving players's throw-in distance between 5-10 metres, some up to 15 metres. It's only technical training, no weight training here." The benefits of this seem self-explanatory, but Thomas expands anyway.
"It's really important to throw longer. In a few teams, you can use it as a set-piece weapon, for example, in FC Midtjylland we scored 35 goals in 4 seasons with the long throw-in. But even in teams like Liverpool and Ajax [who don't necessarily rely on this tactic], I still teach the long throw. The longer throw-ins have the longer throw-in areas and the longer throw-in areas, the harder it is to put pressure on the team and the more options you have as a thrower. So, the long throw-in is important in every team."
Midtjylland's first league title could not have been achieved without the throw-in expertise and set piece strategy Thomas provided. Image Credit: Søren Palmelund, The Guardian.
His second tactic is starkly different. "The fast throw-in is both about how we can mark players in the right way, and how we can throw fast. Some might think throwing fast is the best thing to do every time – No! – Sometimes this is the worst thing if you are throwing it down through pressure."
The methodology behind each situation is carefully considered and precisely managed by the meticulous Grønnemark. "That's why I am doing a lot of different throws to the players. The fast throw-in is also counter-attack throw-ins. You can't be offside from a throw-in, so it's really good. It can give you some really good chances, not at every throw-in, but sometimes."
What about the final tactic? "The clever throw-in is how we create space all over the pitch with throw-ins. We work with 3 zones, 40-50 different throw-in tools and a specific assignment for each player. Players also use their own creativity and fantasy, so we have millions of options."
Although this sounds truly limitless, Thomas is keen to clarify a detail. "My 40-50 throw in tools, that's not like the American Football playbook. It's more like players have 10 to 15 different options in each of the three zones. They are learning to tune their throw-in decisions to choose wisely between these options."
Question 2: https://youtu.be/CovRdNKCyJA?t=173
With this breakdown, one would imagine that every club should find it easy to manage these common situations. Apparently not. Clubs constantly lose possession from throw-ins, so why does Thomas think this is the case?
"It's because almost all teams in the world – Champions League, Premier League, Bundesliga and so on – either have no throw-in strategy, or a really bad one, or a really simple one. Many teams just choose to throw it down the line and that's absolutely the worst thing you can do. Coaches all over the world are lacking knowledge in throw-ins and there's a really need for improvement in football."
This isn't just a malaise that affects the senior game. "[The need for improvement is] not only in pro-football, but also in youth football and amateur football." Thomas wants to help spearhead change. "This is the reason why I'm writing my book about throw-ins, I don't know when it will be published, but I really want to help all the coaches all around the world because the throw-ins are really low quality, no matter what team you are coaching." 
Question 3: https://youtu.be/CovRdNKCyJA?t=230
Should clubs treat throw-ins as an extension of their possession? Although he isn't quite sure how to answer, he still offers wisdom on the matter. "Instead of thinking throw-ins are just a situation you have to do, it's really important to keep possession, create chances or score goals after throw-in situations."
Thomas provides a topical example, "With Liverpool FC, the season before I came in, we were 18th in the league for throw-in retention under pressure, with a possession of 45.4%. In my first season, the 18/19 season, we came up to 68.4%, an upward rise of 23%. We went from 18th to 1st in the Premier League, also 2nd in Europe – after one of my other clubs, FC Midtjylland!"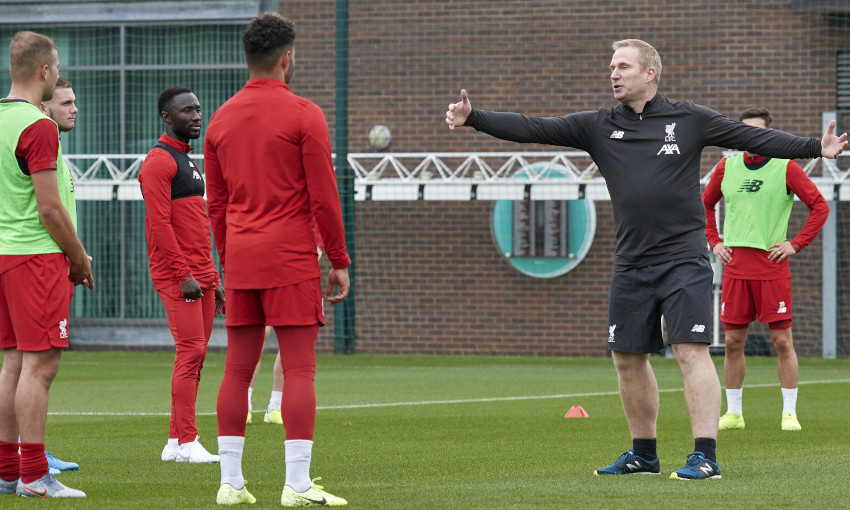 Image Credit: Thomas Grønnemark
He succinctly concludes, "If you are only treating the throw-in as something you just have to do to continue the game, it's a waste of the throw-in because it can give so many options. In Liverpool, we've scored 13 goals from throw-in situations so it can really help you, not only to keep possession, but also to score goals all over the pitch."
Question 4: https://youtu.be/CovRdNKCyJA?t=320
With this in mind, what are the most common mistakes from throw-in situations?
"I said one of them – one of the worst things you can do is throwing the ball down the line without any specific strategy. Some coaches are saying 'Yeah, it's better to lose it thirty metres down there than here', but that's the worst thing you can do."
It's not the only frequent malaise that Grønnemark has noticed, "Another really bad thing all over the football world, players are really unprecise with short throw-ins over 7 metres or 14 metres. It should go to the feet, but instead it goes to the chest or the hip and it creates a lot of things."
Again, the big common denominator is a lack of tactical direction. "In general, I don't see any really big strategies in the clubs in world football – besides the ones I am coaching – but there is really a big margin of improvement there for all teams."
Question 5: https://youtu.be/CovRdNKCyJA?t=374
What's perhaps most interesting about Grønnemark is his route into coaching. His own background is athletics and so he is acutely aware of the importance of fine margins. "I've been doing athletics, and taking a lot of things from there, but I've also been playing football myself."
Image Credit: Thomas Grønnemark
However, it's not just football that can claim an influence on his career direction. Lots of sports have helped to shape his expert vision, some more surprising than others. 
"[I've] also been on the Danish bobsleigh team which influenced me a lot with video analysis and innovation, but also taking a lot of things from basketball. I've been playing a lot of street basketball and I was in a club for one season. I've taken a lot of things in from American football too, about space creation. I like taking things in from a lot of different places."
Knowledge clearly is power in this world, "I've taken some things from athletics, but it is still only a little part of the influence on the throw-in coaching in general."
Question 6: https://youtu.be/CovRdNKCyJA?t=420
It's too tempting to not ask him about which player has ended up with the longest throw-in as result of his coaching. The answer is a surprising one.
"Actually, the longest in the test is Mads Beck [Sørensen]. I coached him first in Horsens in the Danish Superliga, but I've also been coaching him at Brentford FC in the Championship. He's been throwing 42.80 metres. That's really really crazy! The one throw [with 42.80m] was a little bit too high, so we're working with his flatness. 
Still, with the rocket-like throw-in, flat and hard, he threw approximately 40 metres, 39.70m so that's the best if you are only looking at the length." Although he rightly draws attention to this extraordinary distance, it's not just about how far it can be thrown.
"Again, I'll say,, my throw-in coaching in the teams – of course I am doing long throw-in coaching in all teams – but it has 10 or 15% focus. The rest is when I'm coaching the whole team and how we create space whilst using the throw-in tools." 
A bonus piece of insight reveals who is currently the best player for throw-ins in his opinion. "At the moment for me, it's Andy Robertson and Trent Alexander-Arnold from Liverpool. They are the best throw-in takers if you are looking at precision, when to throw fast, when to wait, when to see space created and everything. For me, the best two fullbacks in the world if we are talking about throw-ins."  
Trent Alexander-Arnold and Andy Robertson: The best throw-in fullbacks in the world? Image Credit: Getty Images.
Question 7: https://youtu.be/CovRdNKCyJA?t=520
On the topic of Liverpool, a smile lights up on Thomas's face when asked about being part of the coaching team that won the UEFA Champions League last season. "It was just crazy! It was amazing, it was like a dream come true for me. 
Back in the start of July 2018 Jürgen Klopp called me and it's been like a dream. One thing is to coach Jürgen Klopp's Liverpool FC, but I'm coaching 8 pro clubs in the world this season. But to win the Champions League, to win the Club World Championship, perhaps winning the Premier League this year – let's see what happens now!- it's totally crazy, it's like a dream come true. 
If you had told me that when I was a 10 year old boy, I'd say 'Okay, you are crazy! That's not realistic!' but it's happened because of my many years of work as a throw-in coach. I've been working since 2004 professionally, I've been having passion for throw-ins since I was a kid! 
But, of course, I'm really thankful because Jürgen Klopp called me that day in July 2018, and since then, of course, it's not only me if you want to succeed in throw-ins. It's a collaboration between the throw-in coach, the players, the manager, the assistant coaches and so. I'm just really happy that we did that together."
Thomas's first season at Liverpool ended with a memorable Champions League win in Madrid. Image Credit: Carl Recine, Reuters.
Question 8: https://youtu.be/CovRdNKCyJA?t=608
The throw-in is a common commodity, but one that Grønnemark clearly feels is hugely undervalued. There has been some improvement: 'Over the last two years, every day, people are writing to me, managers, coaches, analysts, a lot of different soccer or football people are calling or writing to me because they are say we are really happy that you influence, that you are a part of the movement to bring throw-ins forward." The statistics suggest it is an aspect that certainly deserves more focus.
"It's totally undervalued because normally there are between 40 to 60 throw-ins within a match. When I'm getting the videos from Liverpool FC because I am analysing every throw-in in every match, I'm getting attacking and defending videos from every match from just before every throw-in and then the following situation affected by the throw-in. These two videos are normally between 7 and a half, to ten minutes each. So together, 15 to 20 minutes are either the throw-in, or affected by the throw-in in the match." 
He's quick to re-emphasise how important that could be for teams, "It's not marginal gains! It's a really big thing in football so I think it is totally undervalued. But from my point of view, it's about the coaches lacking knowledge around this subject because they don't know what to do about it. As Jürgen Klopp said to me when he called me 'I tried to do something in the 17/18 season, but it didn't work!' 
So, that's what I'm doing now with helping the big clubs, but also by publishing my throw-in book about the long, fast and clever throw-ins in the future, so I can help coaches around the world because I want to have better throw-ins. They are really bad in general at the moment, but I also want to do it because of the development of football." 
Thomas sets out his grand plan. "We'll have better throw-ins, more entertaining football and it will be good for the fans. My biggest dream is to change so that when football fans see a match, they can see 'Oh fantastic space created there by the throw-in', or 'fantastic precise throw-in', or 'what a movement', or 'what a chance created by the throw-in.' That's my biggest dream and yes, it's totally undervalued."
The Johan Cruijff ArenA, another stadium where Grønnemark's ideas are put into practise. Image Credit: Ajax English Official Website.
Question 9: https://youtu.be/CovRdNKCyJA?t=746
In the near future, will throw-ins get the respect they deserve, and be practised with such care and attention as corner-kicks, as a mainstay of tactical training routines?
"I think they will do in the future. In many clubs, they have a conservative approach to set-pieces. For example, they do it on Friday and don't really work on it. With my coaching, I'm working with all the players and I'm also working on the throw-ins Monday, Tuesday, Wednesday, Thursday. It's not like it is only throw-ins, it can be 20, 30, 40 minutes into training, and integrated into normal play. 
So, you'll see in the future that throw-in coaching (following my philosophy) can be integrated into normal training and you can learn it much easier, instead of only working on it thirty minutes on a Friday before a match. It's not so effective. But again, back to the knowledge part, one reason is also the coaches, the managers don't realise how much improvement they can get from throw-ins. If you keep the ball at the throw-in, you have control, if you lose the ball, you are often caught out of balance, the opponents can score. 
If you keep the ball – for example, with my coaching and throw-in tools, you can create chances and score goals. I think people will spend much more time on throw-in coaching in the future."
Question 10: https://youtu.be/CovRdNKCyJA?t=839
As a final point, Thomas shares his thoughts on the importance of data analytics on improving player performance for throw-ins. "Data analytics is really important, but it's also really important to have the right data." 
He elaborates on what he means by this, "It's super cool that a lot of people have been analysing my throw-in coaching and my work at Liverpool FC, and that's super, but I also see a lot of bad stats, data that you can't really use because they are measuring the wrong thing. I think we can use data a lot in football – we already do use data a lot – but like everything else, there is a lot of bad data.
Image Credit: Thomas Grønnemark
I think it's super cool that everyone who has passion for data is doing a lot around data, but I have to say, when I see data around throw-ins, there are – of course, not everything – but a big part of the data is not relevant for the match, for the game itself, for the outcome of the game. Sometimes data people are also analysing and measuring the wrong things." 
He sums it up neatly, "So yes, data analytics are important regarding throw-ins and performance, and it doesn't matter if it is attacking, or defending throw-ins, and the movements, and space creating, precision, everything, but you just have to measure the right thing."
Thomas Grønnemark is no stranger to criticism of his role, and the chances are that some people will still snipe and criticise his coaching as being unnecessary indulgent. However, whatever they might think, there is no denying that Grønnemark's methods are leading to success. 
Midtjylland used their set-piece potency to win their first Danish Superliga, Ajax are the dominant tour-de-force in the Netherlands, leading the league before COVID-19 caused the early cancellation, RB Leipzig are battling Bayern at the Bundesliga summit and have knocked Spurs out of Europe's premier football competition, and Liverpool could be set to win the Premier League just one single season after lifting club football's biggest prizes. 
The common denominator linking them all is the influence of Thomas Grønnemark and his throw-in philosophy. 
By: Rob Pratley
Featured Image: Gabriel Fraga
You can find out more about Thomas here, discover his online courses here and check out information on his book here. 
Thomas often posts content in his Facebook group. You can also follow Thomas on Twitter @thomasthrowin and Instagram: thomasgronnemark