For Every Samuel Eto'o, There Are Hundreds Who Are Left Abandoned: Player Trafficking in Football
There are millions of young boys and girls all over the world who dream of becoming professional footballers. They want to play the sport they love, and they want to earn the wages that being a footballer brings so they can provide for their families. 
Some people see those dreams as a money-making opportunity. The trafficking and abandonment of young footballers has been a problem that has blighted the sport for the past 15-20 years. Most commonly, it involves players from African countries such as Nigeria, Cameroon, Liberia, and Kenya. 
The practice is very straightforward for the agent. They offer to represent a young player and take them to a country where a club is waiting to sign them. The agent will take care of the contracts, the flights, the accommodation, and critically the player's visa, for a fee of anything up to £8000.
Almost no young player from cities like Lagos or Nairobi has a spare few thousand pounds. This means they have to borrow money from family, extended family, friends, or anyone they can find. Entire families devote their entire savings to this enterprise, with the understanding that their loved one is going to make it all back tenfold as a professional footballer. 
Once they are in their new country, the agent lets the player's visa run out with no warning and flees with the money. All contact is ceased and the player becomes an illegal immigrant with no money or prospects.
A Dream Realised
Whilst his methods of reaching Paris are unknown, this is the situation that former Inter Milan, Barcelona, and Chelsea striker Samuel Eto'o found himself in at the age of 15. He was an undocumented migrant in Paris at that young age, hoping to sign for French champions Paris Saint Germain. They passed on his services, and suddenly Eto'o had a life-defining decision to make at 15-years-old. 
He decided to return to the Cameroonian capital Yaoundé, and start again. He was unsuccessful in a trial with Le Havre FC, but eventually got signed by Real Madrid. They quickly deemed him not good enough either and sold him to Mallorca. That's where he got his rewards for never giving up.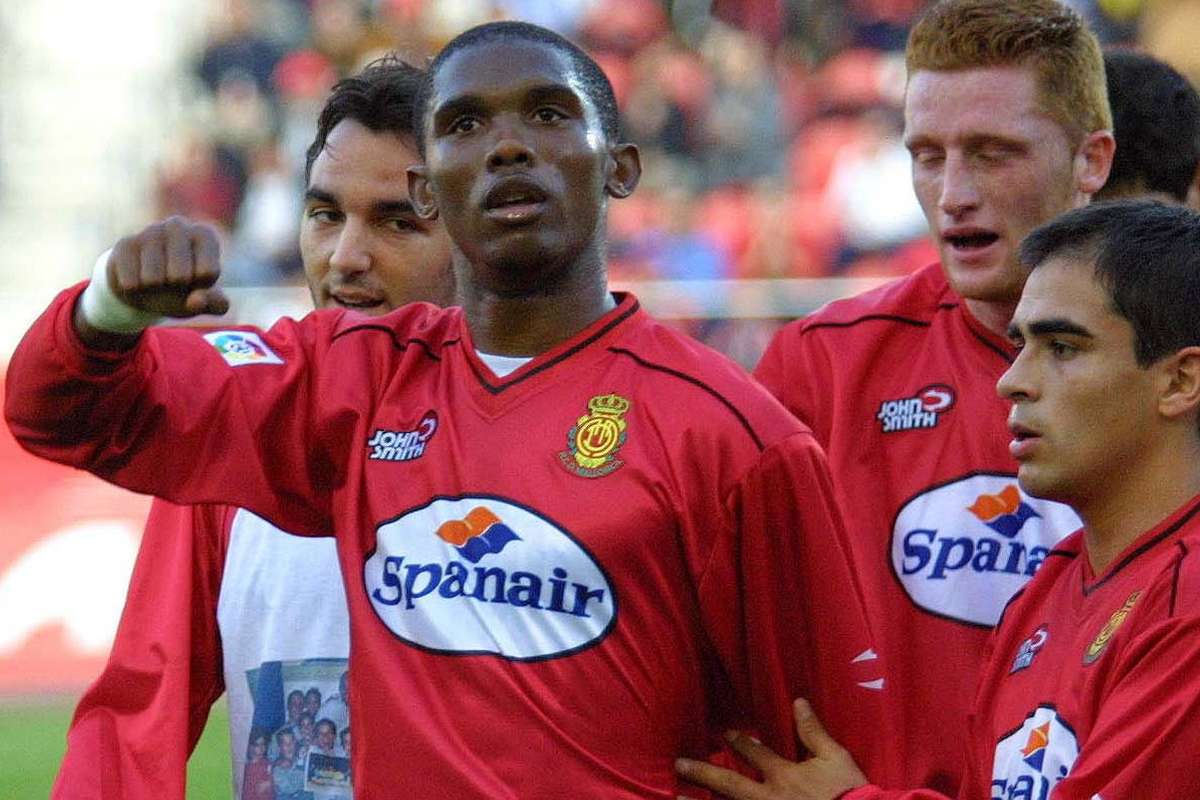 Photo: Getty Images
Eto'o went on to become one of the best strikers in the world, winning the African Player of the Year four times, and Champions Leagues and league titles at Barcelona and Inter Milan. He has also earned more money than he could have ever dreamed of when he made his way back to Yaounde at 15. In 2011 he actually became the highest-paid player in world football, picking up a reported £350,000 a week at Anzhi Makhachkala.
Dreams Shattered
Someone who has first-hand experience with the other side of this issue is former Mongolian football club owner Paul Watson. He owned Bayangol FC between 2013 and 2017 and ended up helping two African players who had been abandoned in Mongolia. Watson came across two men sleeping rough in a park, and it turned out they were victims of player trafficking. In this case, the club had played a very calculated role as well as the agent, as Watson explains:
"Their mode of operating was you get about halfway through the season and then his visa had run out and they weren't able to get him a new one, he was now an illegal immigrant. Then they just started reducing his paycheck, until it became basically nothing because the agent was taking the rest of it. So it was very very calculated. They basically get them playing for a while, and realise then that they can slowly just reduce the terms of their contract."
Many players are left with the same decision to make as Eto'o. Do you fess up to being tricked or do you stay and try to get signed by another club or even just build a life for yourself away from home and football? According to Watson, through shame more than anything, players often stay and try to get by in this new country. 
"I also think one of the things that's really crippling for these young guys is that a lot of the time they borrowed money to get out there, they've had to borrow money from friends and family to get the flight to go to this country, with the promise that you'll make x amount of money and you'll be able to send it back. Then when the club stops doing that, one of the strongest motivators to try and stick it out is the shame I think. That feeling of having been tricked and having failed." 
Players are mostly trafficked to Western Europe, as that's where the world's best football leagues are. Nonetheless, Watson's experience in Mongolia and other reports from countries such as Laos and Uzbekistan show the extent of the problem. Players are so desperate to launch their football careers, they are willing to put their lives in the hands of these pretenders who abandon them in countries they've potentially never even heard of. It is an abhorrent trade that football must work harder to crack down on and eradicate.
Euan Burns writes for immigrationnews.co.uk. This is a media platform that helps to raise awareness about migrant injustices and news around the world.
Featured Image: @GabFoligno / PH