Turki Al-Sheikh's Ill-fated Involvement in Egyptian Football
Turki Al-Sheikh's footballing ventures have been nothing if not eventful. After being named head of the Saudi General Sports Authority in August 2017, the Mohammed Bin Salman confidant strode into Egyptian football in December of the same year, becoming honorary president of Al-Ahly SC.
Al-Ahly, the most historically successful club in Africa, were looking for external financial backing. Sources differ on the reasons for this; some claim Al-Ahly were in significant financial difficulties for the first time in a long time, others that the financial assistance was merely for a new stadium (Ahly had been playing at a different home stadium every year).
Regardless, the Saudi billionaire was well-placed to assist, and was duly named honorary chairman in December 2017. The position was one of his conditions upon agreeing to provide financial backing. 
Photo: Al-Ahly SC
The end of December was a busy time for Al-Sheikh and his Egyptian counterparts. On the 30th, Al-Sheikh met with Egyptian President Abdel Fattah Al-Sisi, discussing amongst other things the prospect of increasing cooperation in a number of sporting fields – the establishment of bilateral sports projects was a pertinent partial focus.
The next day, Al-Sheikh was announced honorary president of Al-Ahly, stating, "We see Al-Ahly as an investment opportunity. It is a successful investment for us with 80 million fans and several championship wins. It is the African club of the 20th century. It is our gain, not yours."
The 'Project of the Century' was announced by Al-Ahly chairman Mahmood al-Khatib on the same day, an Al-Sheikh-backed venture which would see a state-of-the-art stadium built for Al-Ahly. 
Not a bad start to 2018 for Al-Ahly fans, then. Bizarrely, Ahly rivals Zamalek announced grand plans on the 31st too, stating that Al-Sheikh had also agreed to help fund a stadium and sports city for them. The significance of this surely wasn't lost on Al-Sheikh himself – this was a Saudi government advisor coming into Egypt like a bull in a Santa Claus outfit, advancing the Egyptian football industry out of apparent goodwill. 
Whilst Al-Sheikh's Al-Ahly presidency got off to a promising start, it didn't take long for issues to arise. Within a week of his presidency being announced, three Al-Ahly players had moved to Saudi clubs.
Photo: eg24.news
After a few disagreements with the board regarding transfers, the first major squabble occurred when Al-Sheikh promised that Argentine coach Ramon Diaz would become Al-Ahly manager – only for him to end up going to Saudi outfit Ittihad Jeddah instead. Al-Sheikh tactlessly stated that 'Diaz was so close to signing for an Arab club (Al-Ahly), but the Saudi Arabian teams have the priority.'
Fans were vocal about their anger regarding this appointment, annoying Al-Sheikh. He left the club just one day after Diaz was announced head of Ittihad Jeddah – though disagreements over player contracts with the Al-Ahly board and rebuffed attempts at having more involvement with the running of the team also supposedly contributed to his departure. Al-Sheikh departed in May, less than five months after joining. Whether it was of his own volition or due to pressure from the board is still unclear. 
In a bizarre and surprising turn of events, Al-Sheikh then decided to file a lawsuit against Al-Ahly, intending to sue them and recover the money he had invested. According to his Facebook, he was 'disappointed by the disrespectful way people have treated me here, despite my efforts to help'. However, the case was withdrawn a week before the 18/19 season began, as Al-Sheikh perhaps realised the amount of damage a vengeful lawsuit would do to his already hurting public image. 
Turki Al-Sheikh took his second bite at the Egyptian cherry just two weeks after leaving Al-Ahly as he was announced president of Al-Assiouty Sport, a team located about 400 miles south of Cairo. Al-Sheikh had something of a transformative vision for Al-Assiouty, who had been promoted to the Egyptian Premier League for the first time in their history in 2014. 
Drastic changes were wrung immediately. He moved the team from Asyut, on the banks of the Nile, to Cairo. Their name was changed to Pyramids FC and an accompanying TV channel called Pyramids TV was set up to provide coverage of the new team, matching the television channels run for Al-Ahly and Zamalek.
Their badge was changed to feature a large sphinx and to say 'established in 2018'. This was a new team which was unmistakably Egyptian, and ready to be marketed globally as such. It certainly ruffled feathers in Egypt; some saw it as cultural colonisation, others as much-needed investment in the Egyptian league. Whatever it was, it was sure to upset the balance. 
Photo: YouTube
Al-Sheikh's changes weren't merely cosmetic. The government minister oversaw the most financially substantial period of transfer activity in African football history, as an entirely new squad was built from scratch during the 18/19 summer transfer window.
33 million euros were spent on 23 new signings. Four players from Brazil were brought in, complemented by the Brazilian team of backroom staff Al-Sheikh had assembled. This was not a modest venture; Al-Sheikh stated that he was 'concentrating all of [his] work on Pyramids FC, which is going to leave its mark on Egyptian, Arab and world football.'
Drastic changes were made to the backroom, too. Former Al-Ahly manager Hossam Al-Badry, who was about to sign for South African club Kaizer Chiefs, was brought in as chairman, perhaps tempted by a $2.5 million a year deal. Other well-respected names were added too, including former Mexico Manager Ricardo La Volpe and Hady Khashaba as football directors, the latter being something of an Al-Ahly legend.
Former Egyptian captain Ahmed Hassan was hired as club spokesman. "Pyramids is a professional football club and venue that will set new standards in Egypt," Hossam al-Badry said at the club's press launch. Alberto Valentim, who had been impressing as head of Botafogo in Brazil, was brought in as manager.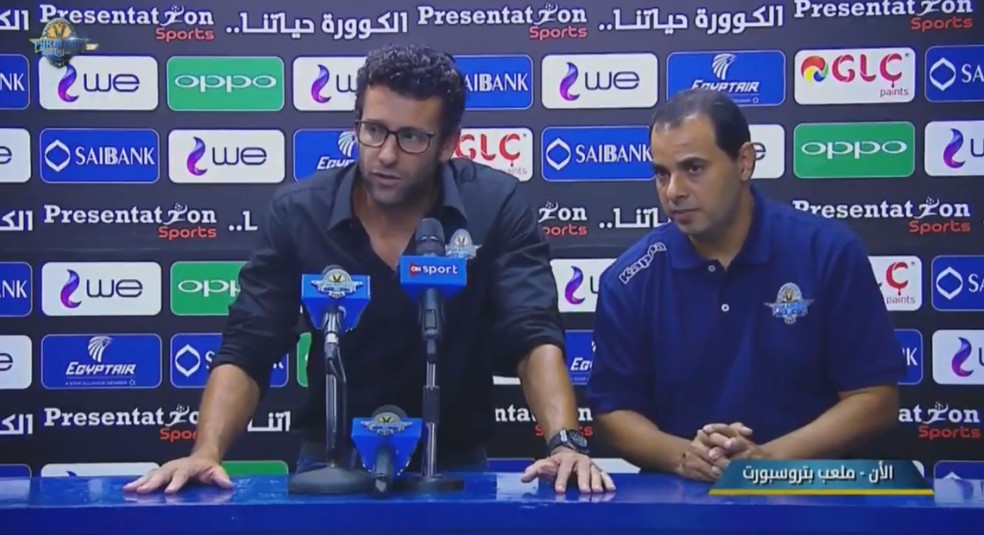 Photo: Pyramids TV
However, two weeks later Valentim would find himself booted out, having won two games and drawn one. Just two weeks into his tenure, Brazilian manager Alberto Valentim left the club following a dispute with Al-Sheikh.
Al-Sheikh wanted to ship Pyramids forward Ribamar on to Saudi side Ohod just a couple of days after a Ribamar brace gave Pyramids a 2-1 win over Talae El-Geish. Understandably unhappy, Valentim left Pyramids whilst top of the table, having achieved seven points from a possible nine during his time in charge. 
Ricardo la Volpe was next up, lasting slightly longer with a seven-game stint. His arrival was marked by this rather bizarre video being posted to Instagram, in which a cigar-bearing Ricardo La Volpe says 'Support your principles, support Pyramids'. He resigned after staff were added to and removed from the coaching team without his consent and was replaced by Hossam Hassan, Egypt's all-time top scorer.
Despite a busy transfer window in which £12 million was spent Hassan only managed 6 wins from 11 games, a record not quite up to Al-Sheikh's standards. Hassan was sacked after a 3-3 draw with title rivals Zamalek, despite the team going unbeaten under his management. Al-Sheikh, in unconventional style, posted on Facebook that he would be holding a meeting with players and staff to find the next coach. 
And so Al-Sheikh's managerial carousel came full circle. Ramon Diaz – the original fuss-causer from Al-Sheikh's Al-Ahly days – was hired. He would last from February until the end of the season, recording 8 league wins, 3 draws and one loss during his time in charge. On the 4th of July 2019 Emirati businessman Salem Al Shamsi assumed ownership of the club from Al-Sheikh. Diaz left two days later. 
Photo: Amr Abdallah Dalsh 
But there was more to Al-Sheikh's Pyramids tenure than mere managerial shenanigans. During the year, after which Pyramids finished 3rd, Al-Sheikh was consistently involved in off the pitch controversies. Pyramids started the year by running a marketing campaign which implored fans of Cairo's Big Two (Al-Ahly and Zamalek) "change your principles, support Pyramids." Again, subtlety is not Al-Sheikh's thing. 
Members of the public were reportedly offered 10,000 Egyptian pounds (about £500) a month to become members of Pyramids' fan association. Their TV channel won the rights to a number of Egyptian Premier League games and hired several well-known footballing names to analyse the games. John Terry appeared as a pundit as Pyramids played their inaugural league match. Ex-Boro favourite Mido appeared as host alongside names such as Ronaldinho, Robbie Keane and Roberto Carlos. 
Despite an extensive marketing campaign which involved adverts in Times Square featuring Ronaldinho, complemented by their sophisticated and active social media team, interest from those in Cairo remained meagre. Their games were played in front of little to no fans despite their stadium having a capacity of 30,000. 
AL-Sheikh's controversies weren't limited to domestic football, though. A few weeks prior to the tournament he angered Pharaohs fans, tweeting an apparent wish that Salah would miss the tournament. A couple of days before Saudi Arabia and Egypt faced off in Group A, Pyramids announced the signature of five Egyptian national team players, thereby causing them something of a conflict of interest in the upcoming match. Whether this unsettled the players is, of course, unclear, but it understandably didn't sit well with Egyptian fans, as the club could easily have waited a week to announce their new signings. 
Al-Ahly fans were still bitter with Al-Sheikh after he left the club despite promising them a new manager, a new stadium and significant investment. His comments during the World Cup, the fact that Pyramids went unbeaten for their first two months, and Al-Sheikh's recruitment of numerous figures who have connections with Al-Ahly seemingly to spite them didn't help smooth things over.
In September, Al-Sheikh demanded that non-Egyptian referees officiate Pyramids FC matches after accusations of bias. When the EFA agreed and foreign referees were drafted in for Pyramids games, allegations of corruption and bias caught fire. 
Photo: SIPA USA/PA Images
These tensions boiled over later in September, as Ahly fans made derogatory chants about Al-Sheikh's mother at a widely televised game. Al-Sheikh was appalled. Sela, a Saudi-based sponsor withdrew its investments in Al-Ahly and a number of Ahly ultras were reprimanded by police.
Al-Sheikh threatened to remove his investment from Egypt completely, stating on Facebook that it would save him from the daily attacks he'd been subjected to. After announcing that he had withdrawn all investments from the club whilst Pyramids sat second in the table, Al-Sheikh reneged on this two days later, stating he would continue his tenure as owner. He then doubled down, claiming that although he received a generous offer for Pyramids, he didn't want to sell. 
Controversies continued well into 2019; in February, Pyramids publicly accused the EFA of favouring their rivals Al-Ahly and Zamalek, causing the fixture schedule an 'injustice' and filing a complaint to FIFA. Al Ahly publicly hit back stating they wouldn't bow to pressure 'from a certain party' regarding scheduling.
Their match was cancelled due to security concerns and moved back a month. On the 22nd of February Al-Sheikh once more withdrew his investment in Pyramids, as the club officially announced that their assets had been transferred to Salem Saeed Al-Shamsi just a month after Al-Sheikh announced his renewed refusal to sell. Ownership again boomeranged back to Al-Sheikh, however, after an alleged 'series of demands and calls' from Mr Al-Shamsi and a range of figures at the club. 
Though he stayed on with Pyramids for the remainder of the season, Al-Sheikh evidently felt his time in Egypt hadn't gone as planned and left promptly in July. Al-Shamsi again took over, and Al-Sheikh pursued a new venture, this time buying UD Almeria for a reported £15 million.
Photo: EFE
Whilst Pyramids' season under Al-Sheikh was successful on the pitch – they finished 3rd in the league and achieved good results vs the top two – the shenanigans off the pitch were what led him leave Egyptian football behind. 
UD Almeria currently sit third in the Segunda Division, and Al-Sheikh's Spanish project has so far been calm compared to his Egyptian excursion. He brought in Mohammed El Assy as general director, ex-Pyramids assistant Dario Drudi as sporting director and assigned Pedro Emanuel, who had been coaching in Saudi Arabia, to the managerial position. Pedro Emanuel was sacked after losing 2 and drawing 6 of his first 12 games, and Real Madrid legend Guti has since taken over managerial duties.
After spending considerable (but not outrageous) amounts of money during both transfer windows, Al-Sheikh sees his Spanish enterprise sitting 3rd in the league at time of writing. Al-Sheikh's time in Spain has been rather uneventful by his standards, but has included a headbutt imitation during a meeting with Zidane, a weekend spent with Messi, and pledging $1.3 million to fighting coronavirus. So far, it seems as if Al-Sheikh has at least learnt from his mistakes in Egypt, though if Almeria fail to get promoted, we will perhaps see his erratic side rear its head once more. 
As Al-Sheikh is a close confidant of Mohammed Bin Salman, ex-head of the Union of Arab Football Associations and President of the Saudi General Sports Authority, it's no surprise that theories abound about the purpose behind his Egyptian projects. From accusations of sports-washing, to exerting soft power, to gaining more control of the Egyptian sports industry – one thing is clear; it was not well-planned or well-executed.
For someone who is supposed to be an expert in public relations and sports strategy, Al-Sheikh displayed some serious misjudgements of culture and consequence. Perhaps we should put this down to inexperience, but if Mohammed Bin Salman wants to craft his own spheres of influence in global football, the Saudi government's movers, shakers and investors will need to show a little more tact than Al-Sheikh did in Egypt. 
By: Ewan Morgan
Featured Image: @GabFoligno