Toulouse's Analytical Revolution and Return to Ligue 1 Under Philippe Montanier
With four teams being relegated from Ligue 1 in 2023 one might suspect newly promoted Toulouse to be under heavy pressure several weeks into the season. It may be surprising then to hear that the French outfit are heading into the World Cup break with four wins and four draws under their belt, and just six defeats. They currently sit 12th in the table, five points clear of the relegation zone.
Much of that is down to the analytical revolution that's taken place in south-western France, which has been instituted by the new owners RedBird Capital and director of football Damien Comolli. Their religious loyalty to data was covered well in an in-depth piece by The Athletic.
That approach saw the club arm manager Philippe Montanier with a large group of rogue youngsters and wildcards that have nearly entirely paid off. One such youngster who currently tops the squad alongside Branco van den Boomen for assists is Fares Chaïbi with four, level with Rémy Cabella, Dango Ouattara, Florian Sotoca and Faitout Maouassa, one behind fullbacks Caio Henrique and Jonathan Clauss, five behind Neymar and six behind Lionel Messi in Ligue's top assists chart.
How Do They Play?
Toulouse have used the 19-year-old fairly sparingly still, as Montanier has used 22 players already in the league.  The base of their tactics is a 4-2-3-1 system that likes to push teams high with a carefully organised press. At least, that's the general aim, because while Toulouse's squad is one of the weakest in France, they like to try some high-risk tactics.
Take that aforementioned press for example, which often sees the side overload one area of the pitch in a bid to try and win possession, crowding the lines. To go further, in terms of positional play, Toulouse are not focused in covering multiple spaces, and instead crowding one.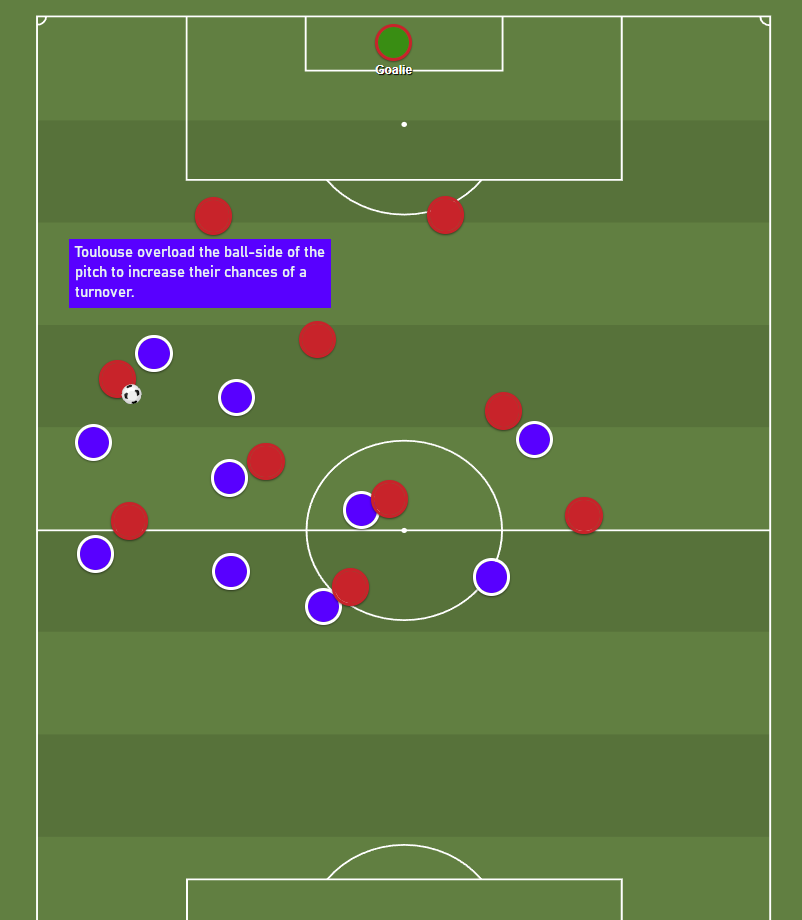 Sometimes, this can see them win the ball in advantageous positions and take full advantage. Other times, it can see them get torn apart by one switch of play, such as in a recent game against Angers when the away side should have come away with more than a 3-2 defeat.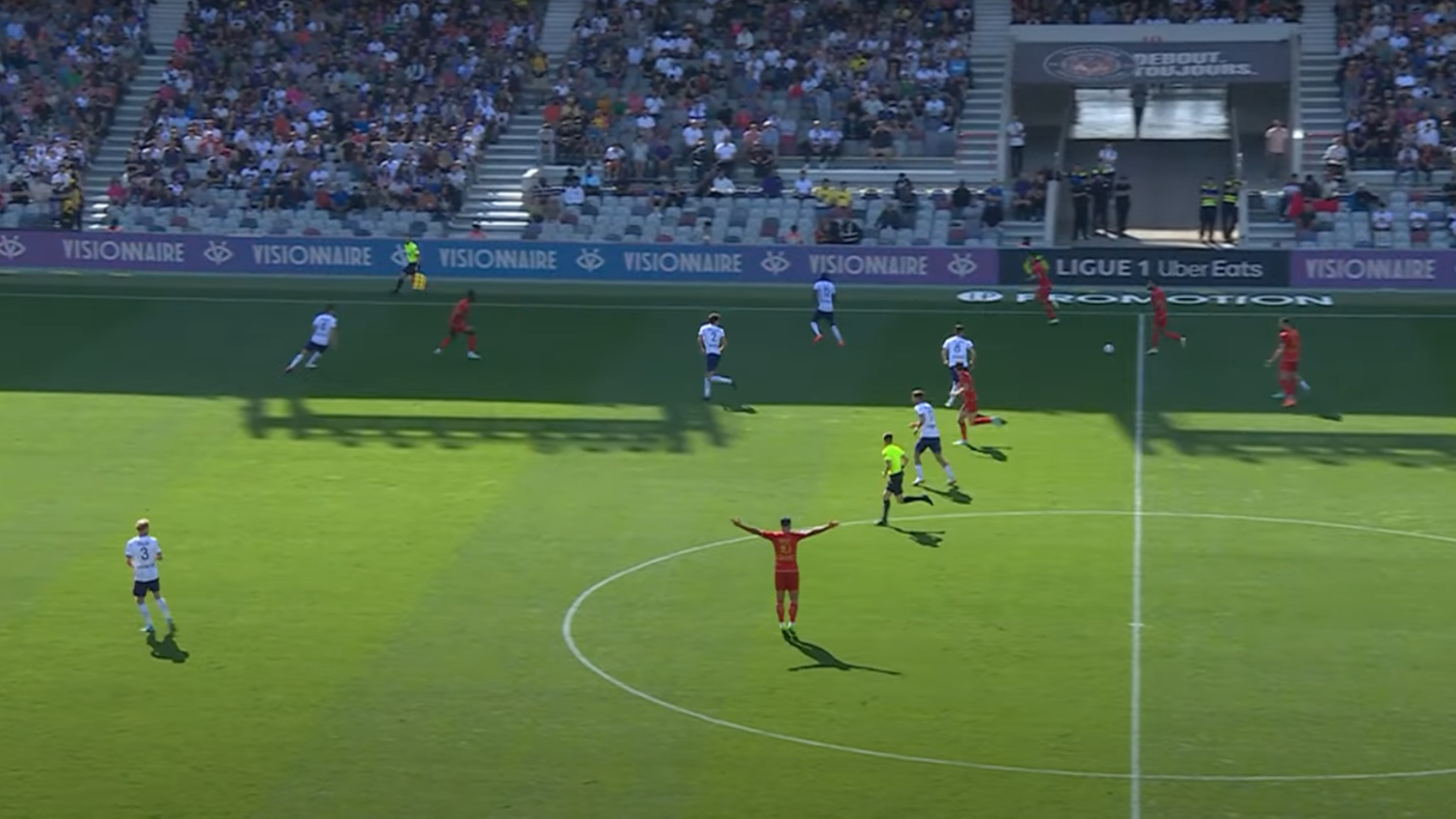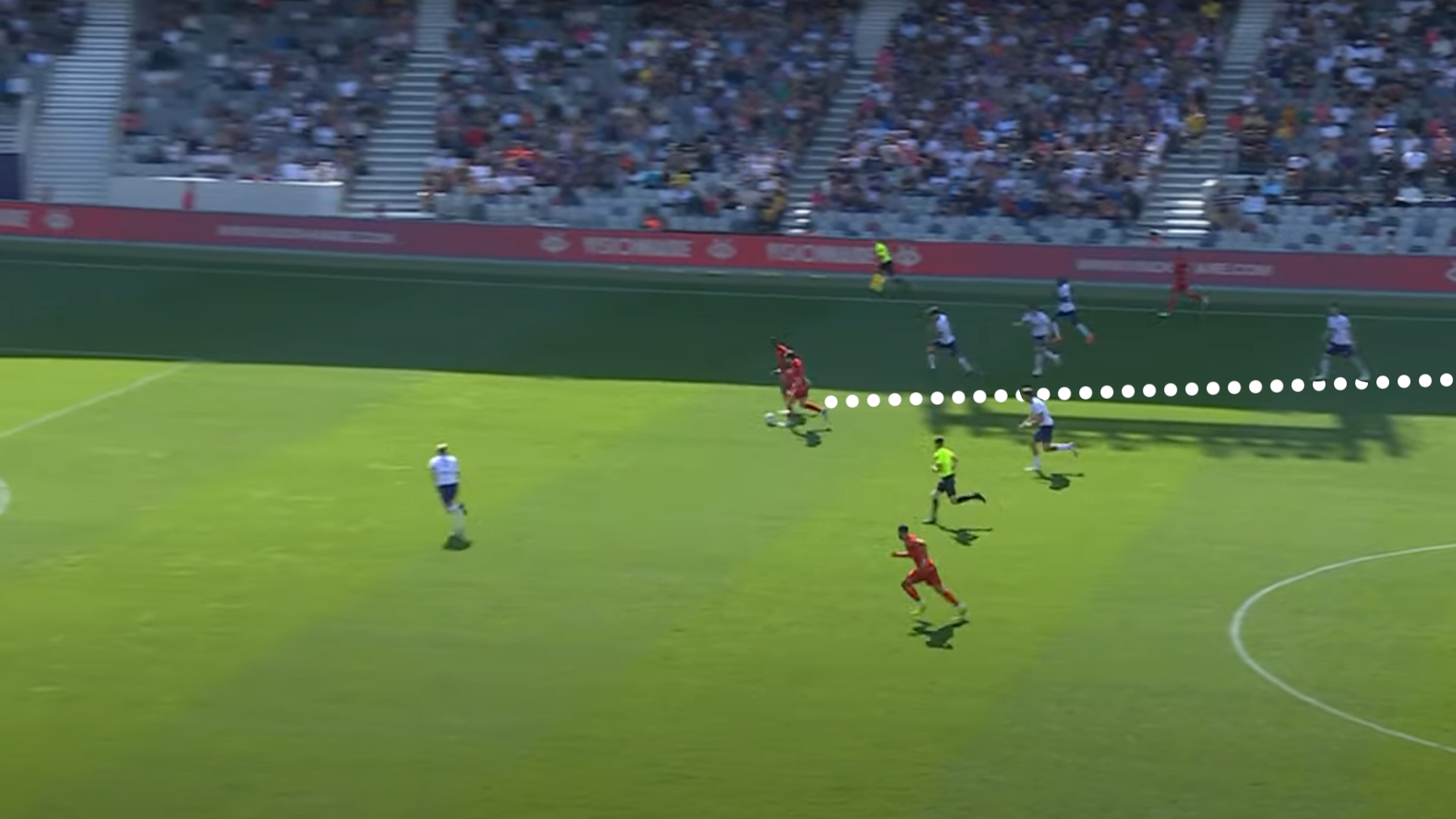 Toulouse deploy their press, before being undone by a line-breaking pass and going on to concede.
Some may even argue the most important player in the squad is the goalkeeper Maxime Dupé, who has saved 1.7 more goals than expected according to FBRef's PSXG statistics and remarkably, three out of four penalties faced this season. With their attacking numbers putting Toulouse firmly in mid-table, perhaps Le Téfécé Les Violets Le would likely be much closer to relegation, if it wasn't for the impact of their wide roster of talent.
Who is Fares Chaïbi?
Chaïbi looks to tragically be another one who got away from Lyon, a team who just in the last three years have waved goodbye to Melvin Bard, Martin Terrier, Amine Gouiri and Oumar Solet all for measly fees.  The 19-year-old Chaïbi may be young, and in his first season of senior football, but the signs show he could go on to outshine all of those names listed. He's been deployed mainly as a substitute, across the striker and left wing role.
What stands out about him on the pitch is that, much like Dejan Kulusevski across the channel and Nicolo Zaniolo over the alps, Chaïbi is a physical behemoth with a touch of class. He does tend to operate a little more centrally than those two wingers, having sometimes started upfront for Toulouse, but that preference for wide spaces is still there. His finishing is looking very confident too for a young man, evidenced by his belting strike against Paulo Fonseca's Lille.
Toulouse are 9th in Ligue 1 after earning promotion last season, and one key reason has been 19-year-old striker Fares Chaibi.

2 goals and 4 assists for the Algerian in his last 5 games — one to keep an eye on in Toulouse. pic.twitter.com/K4WN60031b

— Zach Lowy (@ZachLowy) October 20, 2022
What's the most eye-catching though is his creativity, with his 0.33 expected assisted-goals p90 putting him in the top 8% of attacking midfielders and wingers in Europe's big five leagues. That puts him 11th in Ligue 1 for that metric, and 0.09 behind Messi who is in the form of his life. Against Angers, he showed great awareness to assist Brecht Dejaegere back-heeling it into the midfielder's path. Chaïbi again showed this awareness and combined it with perfect execution in an assist against Stade Reims, playing in former AZ Alkmaar winger Zakaria Aboukhal with a deft reverse pass.
That physicality came into play once again against Montpellier after Chaïbi raced to the near post on a corner and flicked the ball to the back post, creating an easy tap-in for Stijn Spierings to equalize in the 18th minute after Nicolas Cozza opened the scoring early on, with the hosts adding two more goals in the next 13 minutes as Van den Boomen set up Aboukhal and Chaibi with goals, with Dejaegere adding a fourth after the break. Toulouse would go down to 10 men at the hour-mark as Mikkel Desler picked up a second yellow and conceded eight minutes later to Sepe Elye Wahi, but they nevertheless held on for a 4-2 win.
The following match would see Toulouse break the deadlock at the interval via Anthony Rouault before doubling their lead in the 55th minute from Dejaegere, only to concede to Strasbourg's Lebo Mothiba 10 minutes later, go down to 10 men as Rasmus Nicolaisen picked up a second yellow, and concede to Kevin Gameiro shortly after, with the hosts holding on for a 2-2 draw whilst playing with 10 men for the final 26 minutes.
Toulouse would proceed to lose 3-0 at Lens as Loïs Openda became one of the only players in Ligue 1 to score a hat-trick after coming on as a substitute, with the Belgian opening the scoring at the hour-mark just four minutes after coming on before adding two more in the final minutes. They fell to a 2-0 defeat against Monaco with Aleksandr Golovin breaking the deadlock after halftime and Breel Embolo adding another at the hour-mark, and they'll be looking to bounce back with a trip to Rennes on Saturday.
Still raw, Chaïbi could still work on his shooting. His 11% goal conversion puts him in a distinctly average category, however, that's to be expected for someone so inexperienced. Intriguingly, the French-Algerian ranks terribly in dribbling statistics for a winger with just 1 successful attempt from seven. That should climb though, as the attacker finds a home more on the wing rather than the attacking zones.
What's Next for Toulouse?
With such jeopardy this season, it's not guaranteed that Toulouse stay in the division and avoid a collapse. Still, it's better than their last outing in the division. That year, 2019/20, saw them go winless from October until the de facto end of the season, forced by Covid-19 in April 2020. The side before the supporters today bears similarity in only the colour of the kits.
Damien Comolli's Toulouse spearheaded by Philippe Montanier and his band of Moneyball buys are a wonderful addition to Ligue 1 in 2022/23. Let's hope they stay there, and that Fares Chaïbi becomes another former Lyon youngster who goes on to do incredible things in France.
By: Alex Barker / @EuroExpert_
Featured Image: @GabFoligno / Baptiste Fernandez / Icon Sport