An Analysis on Ryan Lowe's Managerial Style
Since taking over Plymouth Argyle in July 2019 due to the unexpected fall and abandoning of Bury FC due to the owner Steve Dale's mismanagement, Ryan Lowe has done a fine job. Within his first managerial position, he helped Bury gain automatic promotion to League One with Nicky Maynard, a striker with zero goals at his time at Aberdeen in the 2017-18 season, being the club's top goalscorer with 21 goals in the 2018-19 season.
This was a key factor in the way that Lowe transforms players, especially strikers into all-out goalscorers, of which there will be more detail further down. Ryan Lowe has stamped his authority onto the club with his high-pressing attacking football which transitions through various formations throughout the game.
Lowe was brought up in Liverpool and was a member of the same age group at Liverpool FC's youth team as Steven Gerrard until an ankle break in Lowe's early teens caused an unfortunate release from the club, which then caused Lowe to jump from non-league youth team to another. Before finding his feet at Shrewsbury Town in the football league, a move which would turn him into a lower league legend for those who took notice to English football. 
Lowe, a striker who fought for every ball that was there to be won, a fox-in-the-box and what he lacked in height and pace, he made up for in being able to beat a defender. Given if you could describe Lowe in one word it would be 'passion'. 
Formation Analysis
Going into managerial terms, the formation most commonly used by Lowe is a 3-5-2, with wing-backs used to allow easy transition within attacking and defending. If the play is over, the wing-backs can drop alongside the three centre-backs to create a 5-3-2 diamond.
This allows holding midfielders like Tyrese Momodu Fornah to step slightly in front of the centre-backs to compact the opposing team causing more risks to be taken, which therefore creates a greater chance of mistakes to be made from the opposition, allowing the quick counter-attack from Plymouth. 

FIGURE 1: Here shows the 3-5-2 in action from a Plymouth goal-kick, with the highlighted Niall Ennis trying to receive the ball over the opposing defender, with Luke Jephcott in close proximity for the knockdown to allow a chance to occur seeing as the play will have beaten the four opposing midfielders leaving a 2-on-4 situation.
Lowe is also renowned for overloading the opposition box with attacking players, transforming captain Joe Edwards from a holding midfielder into a flying wing-back. Edwards has scored six goals this year due to Lowe's tactics which allow Edwards to wait on the edge of the area waiting for the ball to reach him if an opposing defender makes a mistake with the clearance. 

FIGURE 2: Highlighted again is Niall Ennis pulling the right centre-back away from Jephcott which allows space for movement for the forward. When the ball gets played in behind, Plymouth's left-back Adam Lewis has an open cross for the three attackers to try and get onto. It gives a much higher chance on Jephcott being open.
This screenshot also shows another change in formation with Ennis moving onto the left to leave Jephcott in a number 9 role and Panutche Camara to move from central midfield to the right of Jephcott causing a 3-4-3 formation. Also highlighted here is Joe Edwards standing on the edge of the 18-yard box.

FIGURE 3: Through pulling the right centre-back closer to him, Ennis then peels off to the back post from the left forward role to generate space for not only himself but also Jephcott and Camara to attack the cross, which in the end misses both of them, only to land at Ennis at the back post to make it 1-0.  
Passing on the Torch
Nicky Maynard was one of the first strikers to work under the new Ryan Lowe era at Bury. He was brought in by Lowe from Aberdeen on a free transfer due to Maynard not scoring in any of the 25 games he played at Aberdeen under Derek McInnes. Lowe saw some of himself in Maynard with the skill and movement to be able to create chances for himself.
In the first full season under Lowe, Maynard scored 21 goals in 37 League Two games. To put things into perspective, Nicky Maynard scored more goals in the 2018-19 season (21 goals and 6 assists) under Lowe than he had in his past five seasons prior accumulated.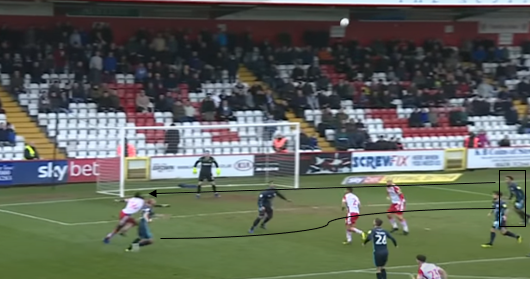 FIGURE 4: Maynard, like Ennis recently for Plymouth in a diagram above; peeling off to the back post for the chance to fall to him rather than following the ball. This has been implemented by Lowe to allow a better chance of a goal being scored, which in this instance happens. 
FIGURE 5: Maynard at Aberdeen under Derek McInnes. As the ball is swung in, Maynard finds himself out of the play almost immediately through his positional intent. Maynard interpreted that he needed to go towards the ball rather than placing himself in an area where the ball could reach him. 
When Lowe moved to Plymouth, he pushed the board to try and sign Maynard, only for talks to break down consequently meaning Maynard signed for League 2 promotion rivals Mansfield Town. Lowe wanted someone in the same mold as Maynard, a striker that he could see himself, one to be able to transform their game into how he would like chances to be played for a natural striker. Up stepped Luke Jephcott, a product of the Argyle academy who had scored seven goals in 14 games on loan at Truro City in the Southern League Premier Division South.  
Jephcott came straight into the starting line-up at Plymouth in January 2019 and won the EFL Young Player of the Month and EFL League Two Player of the Month. Jephcott had scored five goals in four starts since the recall from Truro and repaid the faith shown by Lowe immediately. He scored four goals from five shots on target with his first two games under Lowe, consequently finishing the promotion-winning 2019-20 season with seven goals in 14 games – conveniently the same number of games to goals as he had at Truro, only doing it instead at Plymouth, three steps higher in the football pyramid.
The 21-year-old Welshman has maintained his form throughout the 2020-21 season in League One, at the time of writing (29/03/2021), Jephcott has the same number of goals scored per 90 minutes and averaging 0.63, which is more than a goal every other game. 

FIGURE 6: Jephcott in his second game under Lowe scores the first goal of the game from this play. Jephcott spots the area of where the winger wants to play the ball and matches his run in-between the opposing centre-backs to generate confusion in between the backline and more space for himself to score.

FIGURE 7: Jephcott, as seen above has placed himself in the perfect position in which the ball being blocked then rolls towards him allowing a 1-on-1 situation from merely seven yards out, in which he finishes it emphatically, a poacher-esque goal.

FIGURE 8: Jephcott, as seen in many plays from Lowe's games as a manager, peels off to the back post to allow two goalscoring opportunities. Instead in this play, Camara drags the defender away from Jephcott allowing an easy tap-in at the back post.
Ryan Lowe is a top-class man-to-man manager, specializing in helping his forwards score goals. His tactical knowledge for how football should be played is brilliant: fast-paced, attacking football and being able to transition his team from defensive against the larger teams to putting them on the back foot on the fast counter. Personally, I believe that Lowe would be a perfect candidate for a job in a higher division, especially one with an opening like Preston North End.
Although it is deemed that Lowe had an influx of more money to get teams promoted from League Two, it is clearly not the case when it comes to scoring goals with Maynard who arrived on a free and Jephcott, who has grown through the academy. And with young strikers who can beat defenders and need confidence on how to better their positional sense, it screams out one name who Lowe could help flourish, Emil Riis Jakobsen. 
By: Oliver Hargreaves
Featured Image: @GabFoligno / Dan Mullan / Getty Images