Carletto's Way? Not Quite
When Everton won their last piece of silverware in 1995, Carlo Ancelotti had only recently embarked on his maiden managerial journey with Reggiana. A quarter century later, the onus is entirely on the Italian to put and end to the trophy drought at Goodison Park.
Carlo Ancelotti has been a manager for 25 years. To say the Italian has had an extremely successful career would be akin to stating the obvious. The 61-year-old's managerial statistics make for an impressive read.
If league titles in four different countries and a haul of 20 pieces of silverware (across competitions) don't look imperious enough, the Italian's record in Europe's most coveted competition is enviable to say the least. Besides being one of the only three managers along with Bob Paisley (Liverpool) and Zinedine Zidane (Real Madrid) to win the Champions League three times, Ancelotti is also one of the only five to win it with two different clubs – AC Milan (2003 and 2007) and Real Madrid (2013). 
He is also one of the only two managers – along with Manchester United legend Sir Alex Ferguson – to have managed teams in four finals, having witnessed his Milan side throw away a 3-0 lead against Liverpool in the 2005 decider that has since been labeled the Miracle of Istanbul.
Ancelotti's impressive career notwithstanding, his 26th year as a manager looks set to be his most difficult yet. When the 2020-21 Premier League season commences the Italian will embark on his biggest managerial challenge – his first full season at the helm of a "once decorated, now modest" English club.
Have mercy, it is the Merseyside
Everton and Ancelotti are the perfect oddball combination. The decorated Italian managing the Toffees is a matter of prestige for the Merseyside club but not vice versa. When the football analysts or media persons associate a top manager with the Merseyside it is not Everton they are talking about. It is their more illustrious neighbors; the reigning Premier League champions Liverpool.
Who is the last reputed name to have donned the managerial hat at Goodison Park? 
Howard Kendall, who oversaw the most successful post-war phase for the club between 1981 and 1987, happened to be a former player. As was Joseph Royle, who ensured Everton their most recent major trophy till date – the FA Cup in 1995.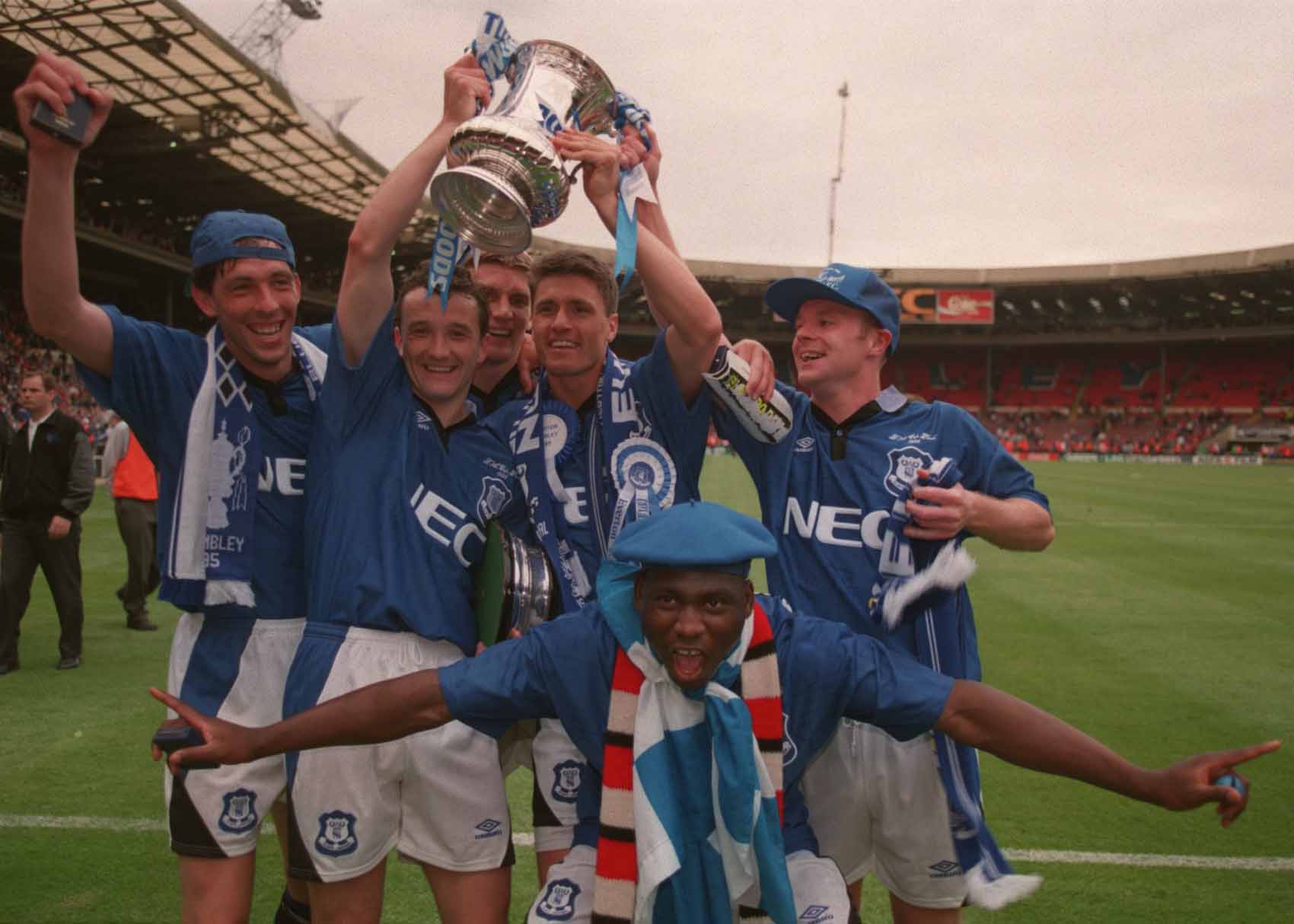 Photo: Clive Brunskill / Allsport
Walter Smith is a legend as far as Glasgow Rangers are concerned. But the Scot's name doesn't resonate as much outside of his homeland. David Moyes, Roberto Martínez and Marco Silva weren't well known names when they signed for the club. While there are no questions as regards Ronald Koeman, the player, the Dutchman's career as manager thus far, with all due respect, does have chequered history.
That makes Ancelotti, Everton's 18th permanent manager, the most high profile name in the list. In deciding to take charge at Goodison Park, Ancelotti has taken a big risk.
From an upward surge…
After successful stints as a reliable midfielder first with AS Roma, and then with AC Milan,  Ancelotti began his managerial career in 1995, with Serie B club Reggiana, achieving promotion in his only season at the club. In 1996 Ancelotti joined Parma, where he had commenced his career as a player two decades earlier. 
The Gialloblu was on an upward trajectory in the 1990s. Winning the now-defunct European Cup Winners Cup in 1993 and the UEFA Cup (now Europa League) in 1995 had helped increase the profile of the Emilia-Romagna club considerably. Ancelotti succeeded the immensely popular Nevio Scala.
In his maiden season Ancelotti guided the club to a record second place and Champions League qualification. Ahead of his second season in charge Parma had the chance to sign Roberto Baggio but Ancelotti vetoed the movie, opting to stick to his system rather than accommodating a new player.
Il Divino Codino proceeded to score 22 times for Bologna in the 1997-98 season even as Parma finished a disappointing sixth. Ancelotti would later describe his veto as a "big mistake".
After a not so memorable stint with Juventus, Carletto, as Ancelotti is affectionately called, proceeded to join AC Milan. He spent eight seasons with the Rossoneri, winning as many titles – and that included two Champions League trophies.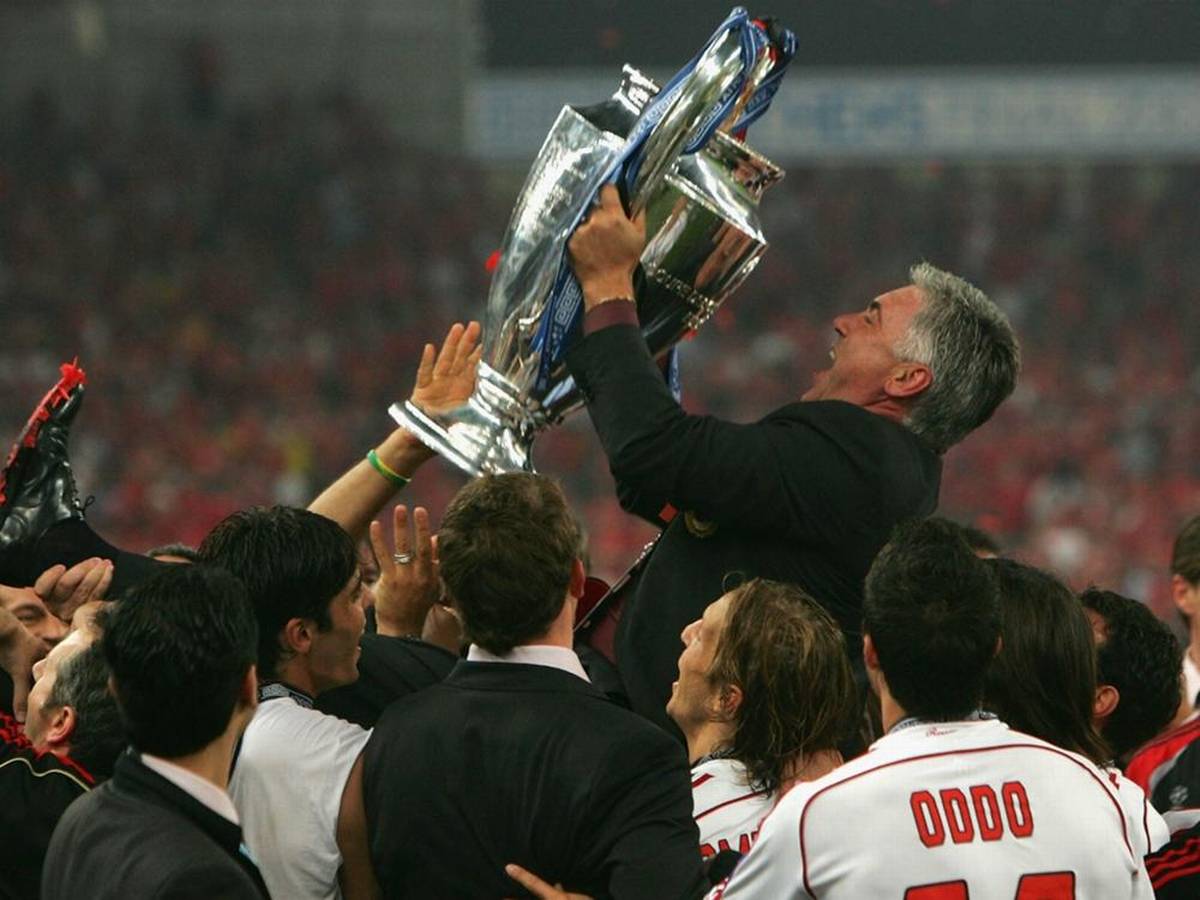 Photo: Getty Images
A subsequent move to high-flying Chelsea ahead of the 2009-10 season ensured he became the first Italian manager to win the Premier League, while also managing the Blues to their first ever domestic double – after a solitary goal win over Portsmouth in the FA Cup Final.
While failure in the following year cost him his job at the Stamford Bridge club, Ancelotti proceeded to join big spending Paris-Saint Germain in December 2011. In his first full season in charge he led the capital club to their first Ligue 1 title since 1994, ensuring the first major success for the club's new owners – Qatar Sports Investments (QSI). No surprise then that when Real Madrid came calling Ancelotti was allowed to leave.
In his first season at the Santiago Bernabéu Ancelotti helped the club fulfill a long cherished ambition. The Italian guided Los Blancos to La Décima – a historic 10th European Cup/Champions League title. Success in the Copa Del Rey, UEFA Super Cup and FIFA World Club Cup followed.
While Real could only finish third in La Liga in Ancelotti's maiden season in charge they began the second season extremely well, in the process setting a Spanish record of 22 consecutive match wins (across competitions) in the final four months of 2014. However, things began to fall apart in 2015.
Real Madrid lost to crosstown rivals Atlético Madrid in the quarter-finals of the Champions League, got eliminated in the round of 16 of Copa Del Rey and finished second to Barcelona in the league. Enough reasons for the club's management to relieve Ancelotti of his duties.
…

To a downward curve
The Italian's exit from the Spanish powerhouse also marked the beginning of a decline of sorts in professional terms. 
After taking a year's break, to undergo an operation, Ancelotti replaced Pep Guardiola at the helm of affairs at Bayern Munich. Die Roten is one of the world's topmost clubs alright, but the Italian achieved nothing significant to bolster his reputation. 
Bayern winning the Bundesliga is given, and the club did win a fifth consecutive title that year – ensuring the Italian a league title in a fourth country. However, the management had expected more than the basic requirement from a three-time European champion. Guardiola had failed to take the club to European success in his three seasons in charge, and Ancelotti added to that disappointment.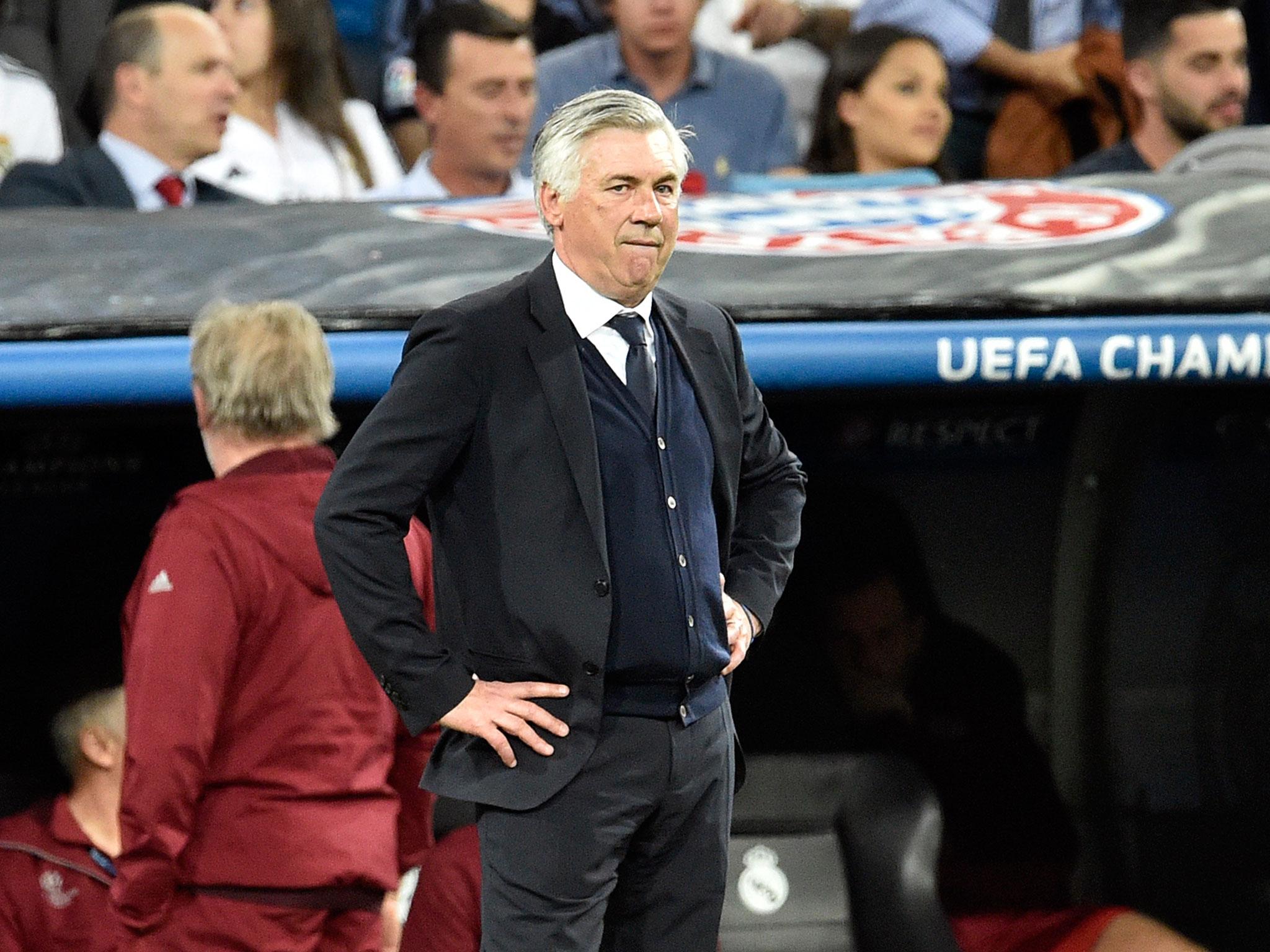 Photo: Getty Images
More importantly, a couple of weeks into his second season the Italian had lost his dressing room, with a few senior Bayern players demanding his ouster. In what became a choice between saving their manager's job and saving the club from disintegration, the management palpably opted for the latter. 
After witnessing his reputation getting dented considerably in Munich, Ancelotti, instead of waiting for a bigger club, chose to join Napoli. Their popularity notwithstanding, the Partenopei may be among the best clubs in Serie A, but they don't quite compare to the ones Ancelotti managed early on in his career. The Naples side's sole European success came in 1989 and their second and last Scudetto was won a year later, when a certain Diego Maradona was busy adding new chapters to his growing reputation.
Though Napoli has been among the consistent performers in Serie A in the last decade, and have also added a couple of Coppa Italia trophies to their cabinet, they were a step down in Ancelotti's illustrious career. The manager did little to salvage his, or for that matter the club's reputation, with Napoli finishing a whopping 11 points behind champions Juventus.
A poor run of results in the following season left the club seventh in the table and Aurelio de Laurentiis, the club's ambitious owner, decided it was time for a change.
It is not about the expectations alone
That brings us back to Everton, Ancelotti's current club. 
The ambition of Farhad Moshiri, the majority shareholder at Goodison Park, coupled with the Italian's availability and desire – to prove himself one more time, has ensured the club its most high profile manager in history.
However, beyond this beautiful narrative is a reality check. As things stand Everton is a mid-table club in every which way. Its last successful period came in the 1980s, and its last major trophy in the mid-1990s. Now only the vestiges remain. 
To make a club that hasn't won anything for ages, not only requires a lot of patience but also a change of mindset. It doesn't have to be said that it takes years for mindset to change. In his 11 years in charge, the best position Moyes could guide the club to was fourth – in the 2004-05 season. That apart, the Scot also failed to win any silverware during his tenure. 
Moshiri has learnt this the hard way. During his reign (since February 2016) the club has seen four managers get sacked. Martínez had ensured fifth place in his first season but failed to breach the top 10 in his two subsequent seasons. Koeman ensured European qualification in his debut season but couldn't control the free fall at the start of his second season. Marco Silva's tenure had a similar trajectory, followed by a mid-season exit.
Last December, Ancelotti took charge, with the club four points outside of the relegation zone. While results weren't as bad thereafter suffice to say he failed to ensure a significant turnaround in fortunes. A disappointing campaign saw Everton finish 12th – their lowest since the 2003-04 season and the Italian's worst ever league placement.
Domestic Season

Club

League Position

1995-96

Reggiana 

Promoted (with 4th place)

1996-97

Parma 

2

1997-98

Parma

6

1998-99

Juventus

(February '99)

7

1999-00

Juventus

2

2000-01

Juventus

2

2001-02

AC Milan

(November '01)

4

2002-03

Milan

3

2003-04

Milan

1

2004-05

Milan

2

2005-06

Milan

2

2006-07

Milan

(Calciopoli deduction)

4

2007-08

Milan

5

2008-09

Milan

3

2009-10

Chelsea

1

2010-11

Chelsea

2 

2011-12

Paris-Saint Germain

(Dec '11)

2

2012-13

PSG

1

2013-14

Real Madrid 

3

2014-15

Real Madrid

2

2015-16

Sabbatical

2016-17

Bundesliga 

1

2017-18

Sacked in September 2017

2018-19

Napoli 

2 

2019-20

Everton

(December '19)

12
Money can buy players, not mentality
Ahead of the new season Ancelotti issued an ultimatum: that there has to be a major backing in the transfer market from the club's hierarchy if they wanted him to stay at Goodison Park for the long-term. To their credit the club has thus far backed their manager, making funds available.
That investment, coupled with the Italian's reputation, has ensured the arrival of high profile names like James Rodriguez (from Real Madrid) and Allan (from Napoli). French midfielder Abdoulaye Doucouré has also been signed from Watford.
Everton is also looking to make further acquisitions before the transfer window shuts. However, it is not that all this summer spending will ensure a change of fortunes. Had it been only about making investments then the Toffees' management deserve credit for never being parsimonious. 
Moyes broke the club's transfer record on four occasions while during Martinez's tenure Belgian Romelu Lukaku was signed for a club record fee of £28 million. Subsequently, Koeman also made use of the biggest transfer budget in Everton's history, ahead of the 2017-18 season, acquiring the likes of Gylfi Sigurdsson (£40 million plus add-ons), Richarlison (£35 million plus add-ons) and Michael Keane (£25 million plus add-ons).
In recent years the Merseyside club has also splurged on the likes of André Gomes, Cenk Tosun, Fabian Delph, Jean-Philippe Gbamin, Jordan Pickford, Lucas Digne, Moise Kean, Theo Walcott, Yannick Bolasie and Yerry Mina among others.
Save for Lukaku, who became the first Everton player since Bob Latchford to score 25 goals in two consecutive seasons (in all competitions) before being sold to Manchester United for £75 million – the highest fee the Toffees have received for a player, it won't be wrong to say all the other big arrivals have failed to justify their respective price tags.
Moshiri himself has incurred a massive investment in excess of £450 million. The results palpably haven't met expectations. Therein lies Ancelotti's biggest challenge. With the club backing him financially the pressure will be on the Italian to deliver on the field. 
Where is the ambition?
Ancelotti's immediate objective is to improve on the club's appalling goal-scoring statistics. Everton scored a paltry 44 goals in their 38 Premier League matches last season, while conceding 56. Even though Dominic Calvert-Lewin and Richarlison scored 13 each – or 59% of the club's total, the other players were found lacking. A bigger goal count, and more scoring options, will lead to better results.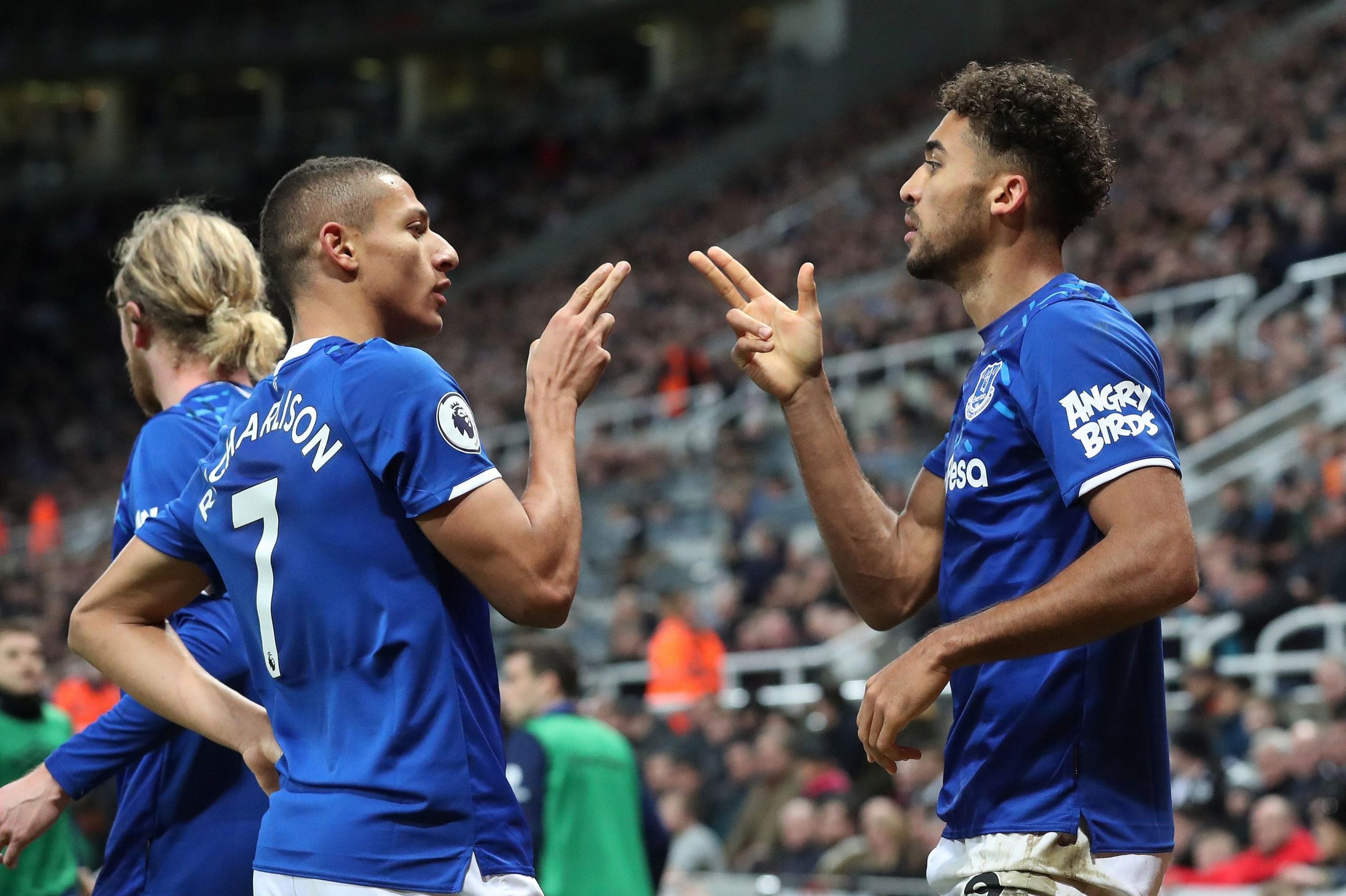 Photo: Reuters / Scott Heppell
The second pertains to Everton's appalling away record. The Toffees won only five matches away from home last season, all by a one-goal margin. Ancelotti is aware this statistic has to improve considerably and there has to be a continuity in terms of results for the Merseyside club to finish higher up the table.
More importantly, and in the long run, Ancelotti needs to instill a winning mentality in his players. A 25-year trophy drought and a barren run of results in major competitions had dented the club's reputation considerably, raising many question marks about their ambition, both in the short term as well as the long term.
The Italian, on his part, has already asked his players to return with more ambition in the new season. He now needs to ensure his words get translated into action on the pitch. The club, as reported by the British media, is targeting a top six finish. But is that ambitious enough?
It is imperative here to mention that when Everton last finished in the top six, Martínez led them to a fifth place in the 2013-14 season on a negative net spend. With so much expenditure incurred in the last few years the club has no alternative but to aim for more. Only then they can achieve something.
It is Ancelotti's responsibility to reset the club's targets and make his players believe it is possible. Everton's ambitions must commensurate to the credentials of their manager, and not the other way round.
The circumstance notwithstanding Ancelotti opting to sign for Everton is a big risk. Here's a storied manager in charge of a club that hasn't won for a long time. Imagine a Guardiola making such a move. It is up to Ancelotti now to ensure his decision is vindicated, and his reputation restored.
Everton's first assignment in the new Premier League season is an away encounter in north London. Hosting them will be Tottenham Hotspur, another club that has entrusted an equally high profile manager (Jose Mourinho) with a similar responsibility – to end their trophy drought.
By: Bikash Mohapatra
Featured Image: @GabFoligno / Tony McArdle – Everton FC